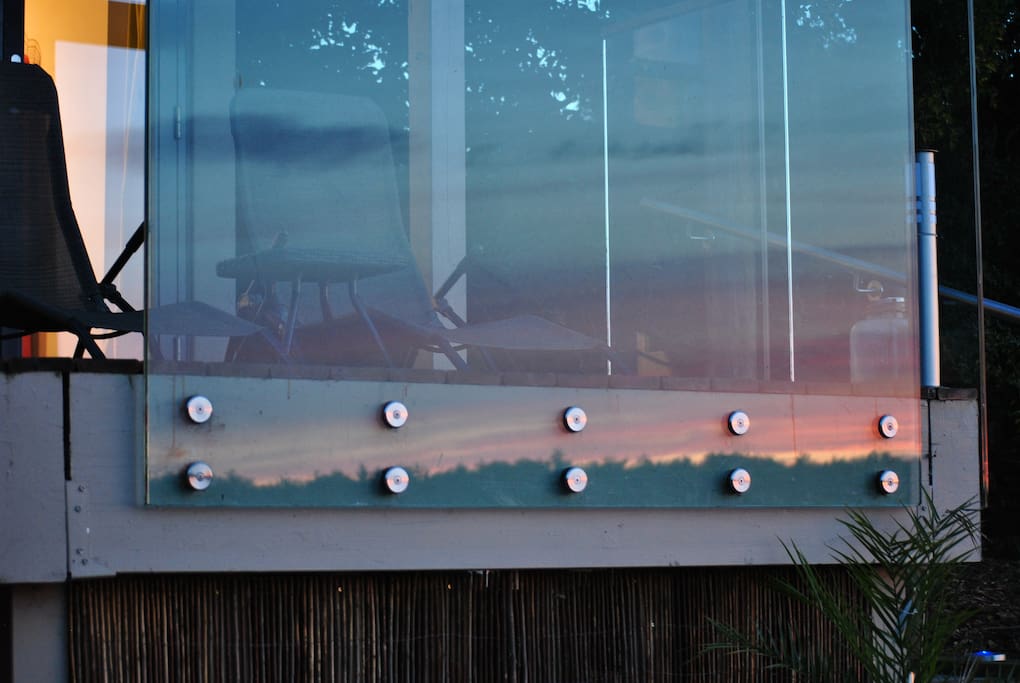 This is one of two exceptional holiday homes, the hot tub and surrounding decking has uninterrupted views of the valley, walk in 500 acres of woodland without meeting anyone. A luxury kingsize four--poster-bed a "state of the art" woodburner and for more info see the space description.
Ruang
We have had some fantastic reviews, and we attract guests hunting for what we offer, therefore we want to be clear on what you can expect so you can then have the very best experience and therefore Stiltz can not be suitable for everyone or all tastes, it is very rural and designed for couples wanting to get away from it all. Stiltz has been compared to tree house and would not suitable for every one, so Stiltz is not suitable for children, but our other property the lodge is child friendly and sleeps up to four or five and you can also book via Airbnb. Stiltzs is a building surrounded by decking and is on stilts as it is built on the side of a hill. It is only accessible by steps on both sides as pictured, the retreat has dual aspect decking, allowing you to maximise sun and shade from dawn till dusk, with the best uninterrupted views of the valley and 12 acres of meadows which surrounds our hot tub. This has been perfect for couples wanting a special break away. We have done all we can to make it as comfortable as possible, the luxury inside, alongside the pleasure of watching the sunset with a glass of bubbly at any time of the year from the warmth of the hot tub is something special that a photo cannot capture! The only better experience is that, on a clear night, you can lay back in the hot tub under a canopy of stars, which is something our guests have been amazed by and loved!
As the decking is on different levels, we would not recommend it for infants who are toddling up to the age of around 7. For the same reasons, it is also not suitable for anyone who has mobility issues or disabilities, and again best pick the lodge, also with so much decking if it gets wet, care also needs to be taken for all our guests, and again, some more elderly guests would not find it practical to stay at Stiltz either. It is especially designed for couples looking for a romantic brake from the bustle of everyday life, curling up in front of a roaring fire with that special someone. We are miles away from the nearest village, and access is via an unmade track. Also some mobile providers also have poor coverage in our area too, it is rural with a capital R! The lodge is located with access to 600 acres of heathland and woods close to the leisure area called Top Farm, but Stiltz is completely separate and the field to the south-west has caravans and the field to the south-east has camping pitches, also the camping area can be used for Weddings in the summer and the area becomes busier in the School Summer Holiday periods, however, there is no access to the field around Stiltz, it is totally private, and all the facilities, including the hot tub, are for the exclusive of our guests during their stay and is tucked away from view. However, it's charm can be felt in the Autumn and Winter months, the area is so quite and it feels like you are the only people for miles around!
From the bedroom you can see the same views through triple glazed windows and, when you wake, relax in the luxury ash grey four poster bed, on a mattress which has over a 1000 individual pocket springs with deep, luxury fillings, this is a hand tufted mattress to give optimum support for a peaceful night's sleep. We provide high quality and fresh bed linen for all guests, with luxury soft pillows and duvet. Many of our guests have said that, when combined with a couple of hours in the hot tub, it has made for the best night's sleep they've had in years! (We also provide, free of charge, lavender, raspberry and other scented oils for use in the hot tub). We built Stiltz for relaxing in, and it is ideal for guests who want to stay somewhere a bit special. Our happiest clients seem to be couples who want to get away from it all, but not to scrimp on comfort!
The french solid oak flooring in the bedroom steps you into the travertine stone floor of the ensuite, with shower, basin and toilet, with soft deep towels provided, or your robes provided for the spa. The en suite is clad in hand cut timber painted with soft eggshell. From the shower room step into the lounge, with a deep four-seater, grey, leather sofa, to curl up on for a cosy night in front of the contemporary wood burner, with the option of watching the Panasonic 40" Smart TV, with Freeview TV, DVD player and selection of DVD's. It is unlikely you will feel either too cold or, too hot, as the building is super insulated, but the 5 kilowatt state of the art Scandinavian wood burner can make the place very hot quite rapidly. (The manual has details on its operation), and with a flick of a switch the warm aromatic air can be pulled through into your bedroom. We provide all wood and kindling free of charge for your stay, as it is a must for our winter guests!
You can exit the lounge stepping onto your personal decked areas on both sides of Stiltz via sets of double patio doors. To the sun deck or covered breakfast area, all areas can be again fully lit in the evenings.
The dining table separates the lounge from the kitchen area, and you will find DAB radio and an Ipod dock for visitors' use. Both the lounge and kitchen have white bespoke New England adjustable shutters for maximum privacy and shade.
The kitchen is well equipped with all your home comforts, seasoning (Tuscan, Italian , French, chilli and others) plus your own top of the range bean to cup coffee machine (Instructions to be found in the manual), also find complimentary fresh coffee beans kept in the fridge for your use also. Dishwasher, toaster, blender and kettle are also provided. Instant coffee and a selection of twelve types of tea bags from herbal to Earl Grey are complementary . Also, all necessities, i.e. dishwasher tablets, washing up liquid and cleaning products. The cooking area has a ceramic hob, extractor fan and a large separate combination microwave/grill/oven (Instructions in the manual), also commentary cooking oils, balsamic vinegar, sauces, herbs and spices. To brighten up our kitchen we have a fun, bright orange, retro fridge-freezer and on top you have your very own ice machine. We even provide a full set of condiments, ketchup, mustard, chilli, tabasco and much more!
At the end of the kitchen you can exit on to a further decked balcony via the third set of patio doors. This time, the deck has a glass roof, and you can step out onto the sun deck with sun loungers ready surrounded by a glass balcony, so as not to spoil your view! From there you can step straight into the spa, which is level with the deck.
With external down lighters outside the north facing glazed wall, these, and all the extensive external lighting, are controlled from the door by the bedroom, which leads you on to the decking. The framed edge of the decked balcony is also lined with stainless steel handrails and cabling.
The hot tub is a Catalina XL21000, with twin loungers so you can lay back. It seats five comfortably, and with three pumps and a heated blower the 64 stainless steel jets should not miss a spot delivering the ultimate relaxation. However, if you wish to chill in this idyllic country setting, then pop up the built in speakers, and turn on the CD player, with topside controls from within the tub, or plug in your phone or iPod to listen to your own playlist, and at night you can always turn on the tubs own underwater LED lights.
On the decking next to the hot tub are two padded rattan chairs and table, perfect for breakfasts, and a bistro set with low chairs and a table perfect for evening prosecco. Our guests can enjoy their evening with subtle light from blue up lighters on the deck (for safety, champagne flutes, tumblers and wine goblets provided are polycarbonate for use in the hot tub).
The decking area can also accommodate hammocks provided, the area to the south has a corner rattan sofas and large table with a 3.5m Anthracite Overhanging Parrassol, and the picnic table and seats with brolly. Additional shade can also be introduced by raising both the three metre sails. This decked area is ideal if you wish to fire up the three burner gas BBQ (Full set of tools provided for BBQing), and with the down lighters in the evenings along the soffit, create a perfect area for relaxation.
Beyond this decking is a gravel courtyard, framed with willow fencing adorned with solar lanterns, this area too has a bistro set of chairs and table on the stones safe for those wishing to smoke. but if you fancy something funky one of the two moulded stools lights up, just select your Colour by remote control.
If you hanker for straying a bit further in the outdoors, then down the stairs off the decking into miles of woodland walks (map on the wall of the 500 acres in total without crossing a road) or, venture onto the adjacent heathland on bikes, which we can organise hire for your stay if you would like? Even if you clock up the miles on your walk, you will be lucky to come across anyone else, but you will find miles more beautiful scenery without a house in sight. Just as with the views from the decking around Stiltz!
We except guests with well-behaved pets, but we require information on your pet before we accept the booking.
We want your stay to meet our high standards, and so, we like to change the water in the hot tub every week, but this takes more than 12 hours to empty, refill and get back to the correct temperature, therefore to allow this to happen, we do appreciate a prompt departure to allow us to be able to do this for our next guests. However, if we do not have guests arriving the following afternoon we are happy to be more flexible on departure times, so please just ask. Also, weekends are our most popular time for bookings, so we do discount week nights and longer stays!
With only one bedroom Stiltz normally only caters for 2 adults maximum, however, we can also provide a fold away spare bed and the large sofa can be used as a single bed due to its size and comfort, as some guests have wanted to bring their children. However, as previously stated, we do not recommend toddlers or the disabled to stay due to the lodge layout and safety around the hot tub, steps and decking.
Please browse our pictures, although our guests (and us) don't believe they do Stiltz the justice it deserves!! Why not come see for yourselves!!
We do ask for a minimum stay of two nights, this is because cleaning, inside and out thoroughly can take three to four hours. Also, the emptying, filling and regular maintenance of the hot tub has to be completed and returning it to operating temperature can take many hours. We always clean and flush the hot tub every week, and it is only for your exclusive use only during your stay.
Akses tetamu
We have a manual, instructions on how to use and where we eat, but many guests never leave Stiltz, but you may miss out, see below and you will find the contents of the local access to Supermarkets, Restaurants and places we like to go, we can email it to you before you come if you need, just ask, or download discover Aylsham app at the istore it is free and help inform you on other facts in the local area. The space as described, is set in 50 acres of meadows, and is located between the meadows and a camping and caravan site, School holidays it can be busy, outside these periods and the summer months you can feel totally isolated. The uninterrupted view from Stiltz is your own 12 acres of meadowland and woodlands beyond , and, if this is not enough, you can walk directly into the 500 acres of heathland and woodland further afield or, visit the two nearby lakes. It is unusual to meet many people on your walks, and we often bike on a Sunday around this area seldom meeting anyone!
If you wish to cycle to get around, we can offer help organising reasonable hire rates if u require this, just ask, and mountain bikes are recommended!
You have your own private car parking space beside the lodge, and it is secure and exclusive for your use during your stay, the outside areas and Hottub are only for your use, no one else has access to these areas without your permission, gates and signage make this clear to public areas. So a bit more about STILTZ, it is located in Marsham and during your stay, you may like to explore your surroundings. You will notice that, like many small Norfolk villages, there are few amenities nearby to support your stay in the village of Marsham. The closest town being Aylsham, a historic market town on the River Bure, about 9.3 miles north of Norwich. Alysham is only a mile and a half away, as the crow flies from our home. The town is close to some large Estates and grand Country Homes at Blickling, Felbrigg, Mannington and Wolterton, which are all important tourist attractions in our area. The town is 3 miles from STILTZ, and is less than 10 minutes to drive and park in the centre, about 15 minutes to cycle and, if you walk via the roads, it is about 50 minutes.
Alysham has a host of shops, however, we will focus on a few that we like and feel you may like too, although there are many more!
Alysham has a Tesco's Superstore, which you can't miss as you enter the town. Tesco's is on the Norwich Rd, and opposite the Bure Valley Railway (NR11 6BW). SHOP before you arrive? Many of our guests complete an online shop with Sainsbury's, Tesco's or Waitrose before they arrive. They then contact us to arrange for delivery of their groceries before their arrival. A little further along the Norwich Road, and also on the left, is Budgens, with its own carpark, which is owned and operated by C T Baker of Holt, giving it a nice local produce twist. For that reason, we prefer it to Tesco's, however, they both keep the same opening hours. Alysham market square also has a small Co-op Supermarket, and the first Saturday of every month, Aylsham holds a Farmers Market in its Market Square, with wide selections of fresh meats, breads, jams, fruit and veg, after lunch, the stalls start to close up. Parking in the town, can be difficult, the town has two car parks which both offer free parking, although Budgens can be a good place to shop, when parking there, you will need to stay within their free hours, or charges may apply. G F White - We like this Butcher! White's, they do some great prepared BBQ food in the summer, and a fantastic selection of local pies, and fresh meats. Their shop can be found on Red Lion Street, which is just off the Market Square. Some guests have ordered online for delivery from them. (URL HIDDEN) Wed,Sat 8-1 M,T,T,F 8-5. The recommended places to shop, outside of Aylsham, and may be a little harder to find, but well worth a look, is Clarke's Quality Meats. Yes, they are a Butcher, however, they have a lovely Country Kitchen alongside. Their home-made pies are delicious - steak and kidney is our favorite! Norfolk Shortcake is a must too, (my Nan used to make it and we have never seen it anywhere else!) The scotch eggs are a meal in themselves, and so on! They are open Tues, Thurs and Fri 8.00-4.00 Weds, Sat 8.00-1.00, t: (PHONE NUMBER HIDDEN). Low Lane Farm, Hevingham, NR105QY.
Places to Eat..................
The closest pub isTthe Plough, situated in Marsham Village and 2 minutes in the car, about 15 – 20 minutes to walk. It is open all day and food is served from 12-2.30pm, Dinner 6-9pm. Good carvery (Booking (PHONE NUMBER HIDDEN)) on a Sunday, and a nice country pub NR10 5PS.
(EMAIL HIDDEN) .
The Black Boys Inn is our favourite, I describe it as a traditional décor, but Gastro food, doors open at 8am to welcome you for Breakfast. It's sister pub, equally as good The Buckinghamshire Arms, in nearby Blickling, is also excellent. Real ales from the bar include Adnams and Woodfordes and a selection of wines are available by the glass or bottle. The menus cater for both traditional and more imaginative tastes using local produce. On Sundays there is a choice of Traditional Roast Lunch from £10.95. Table Reservations (PHONE NUMBER HIDDEN) .
This is a bit special, so say our top foodie guests, maybe the best for miles is the Walpole Arms. It is in the village of Itteringham, standing on the River Bure, four miles north west from Aylsham. A great place to eat and from Aylsham follow the signs to Blickling Hall (B1354), after passing the Hall (and approx 1½ miles), take the right turn for Itteringham. The Walpole Arms is at the bottom of the hill on the right hand side as you approach the village. (PHONE NUMBER HIDDEN)
The Fox is in the opposite direction from Alysham, on the main Norwich Road. You will find it in the next village of Hevingham, postcode for the Sat Nav-NR10 5LY. We have not eaten here, but our guests have said the food is great.
The Crown, is 5 miles from Stiltz, and you will find it on the Colby Road in Banningham, (NR11 7DY), this is good place to eat with very good food. Lunch Monday-Friday 12-2pm, Saturday & Sunday all day. Dinner Monday-Friday 6-9.00pm. Saturday and Sunday all day -9.30pm.
The Gate of India is in the Market square in Aylsham you will find it in the north west corner, it is an Indian Restaurant and Takeaway. I doubt you will find a better Indian in Norfolk, it is open seven days a week from 12-2pm and 5.30pm - 10.30pm. Highly recommended.
The Marsham Arms, is not actually in Marsham, in fact, it is the next village, Hevingham, on the main Holt to Norwich Road (NR10 5NP) and is 4.5 miles from Stiltz - we like to pop here for a bit of family lunch, recently refurbished, our favourite meal is their beer battered cod. Nice food and well decked out family pub . Easy to get to by carwith plenty of parking outside, and a good menu.
•Heading to Cromer? Then No1 Cromer is just great, off the high street, New St, NR27 9HP it is the latest restaurant from renowned chef, Galton Blackiston. We love this place with locally sourced produce -our favorite Fish and Chips Restaurant, also 'Upstairs at No1', for true Modern British Cooking. Offering unrivalled views of the sea and Cromer Pier. To make a booking (PHONE NUMBER HIDDEN) or email (EMAIL HIDDEN) no booking required for Downstairs.
The Pigs at Edgefield, a favourite of ours, the menu is great for those who like Pork, Ham or Bacon, not too far and on the way to Holt, you will find them on the main Norwich to Holt Road, and Edgefield is near Melton Constable (NR24 2RL). It can be busy so you will need to book in advance: (PHONE NUMBER HIDDEN) (EMAIL HIDDEN)
Cawston Village is due West, and at 9 High St (NR10 4AE) you will find All Things Nice, we like to have Breakfast here. You will find several places in Aylsham for both afternoon tea and Breakfast, however, we like here as it is close and you can park outside. Also, you can have a light lunch, or just use the Deli, which serves fresh bread, cakes, pies, and other homemade provisions – all local and fresh and just 4 miles from Stiltz.
Takeaways?...............
Aylsham has a Fish & Chip Shop, Chinese and Kebab/Pizza Places - the Kebab Place you will find a menu in Stiltz, our opinion is the Kebab is ok and does deliver, but the others are not favourites! Fancy a curry? - The Gate of India is excellent – eat in or takeaway.
The best Fish & Chip Shop is in Buxton and is excellent, superb fresh fish, good value but not easy to find! 4 miles from Stiltz and on Crown Road, in the village of Buxton, East of Marsham NR10 5EN.
This is the best Chippy for miles, next best is in Roughton on the Cromer coast road.
With Takeaways It may seem a bit odd, but if we want a Chinese we go to the Hong Kong in Horsford. Chinese food to take away, 77 Holt Road, Horsford, Norwich, Norfolk, NR10 3AB. At the top of the hill you will find Spice of India, a great Indian Takeaway and restaurant, or back in town another Indian, the Naga, next door to the Horsford Kebab & Pizza, and also a good Chippy.
Where to go…..
Many of our guests love Stiltz as it sits on a cross roads, you can travel to the main places in 11 or 12 miles, pretty much most points of the compass in any direction and you will come across one of the below!
Stiltz is 11 miles from Holt, which is a market town, 9.5 miles (15.3 km) west of Cromer. When we visit Holt, we love to have cream tea or a light lunch, here at Byfords (Deli too), just off the main street, 1-3 Shirehall Plain,NR25 6BG. This part of Norfolk has become very expensive, Holt forms a triangle with Wells and Burnham Market (Called Chelsea by sea). Some other nice places to eat and shop too!
Stiltz is 11 miles from Cromer, which is perched on the very edge of the North Norfolk coast, and is famous for its tasty crabs and wide open beaches. It has a traditional pier and lighthouse, plus a proud tradition of RNLI service. In Cromer you will find a vibrant Norfolk Town with a wide variety of cafes, restaurants, shops and our favourite you will find Mary Janes Fish & Chip Shop, in the centre of town.
Stiltz is 11 miles from Wroxham and Hoveton-two connected villages, split by the River Bure. Most of the village facilities are actually in Hoveton, but are generally known as Wroxham - the capital of the Norfolk Broads. Boats of all kinds are for hire and there are also an abundance of pubs, restaurants, shops and a large department store. Most of the shopping is dominated around the Roys brand, claiming to be the worlds largest village store! Wroxham contains many visitor attractions including a riverside park. The village certainly is a busy spot in high season. Large free car-parks can be found behind Roys Department Store. Also. you can cycle in under an hour via the cycle way which runs alongside the Bure Valley steam railway from Alysham into Wroxham.
Stiltz is about 11 miles from Norwich, a city on the River Wensum in East Anglia. During the 11th century, Norwich was the largest city in England after London, and one of the most important places in the kingdom. Until the Industrial Revolution, Norwich has around 200,000 people living there and the Castle and Cathedrals are just a few of the amazing buildings. From the cobbled Norwich Lanes to the Royal Arcade's Art Nouveau elegance, you'll be wowed by the mix of independent shops!
Norwich is the only place outside of London's Oxford Street to have four of the major department stores – John Lewis, Debenhams, Marks & Spencer and House of Fraser - and of course, it also has Jarrolds, Norwich's flagship independent department store which has been at the heart of Norwich since 1823. In addition, Norwich is home to the Norwich Lanes, where you will find an array of independent and boutique shops winding through the historic heart of the city. There are also two modern shopping centres – Chapelfield which opened in 2005 and Castle Mall. In the midst of all this, is also the historic Norwich market place which dates back to Saxon times. No wonder Norwich rates sixth in the top 10 of shopping destinations in the UK.
Cycle Hire can be organised for you. They are local and can arrange any bike delivered and basic prices per bike start, 1/2 day - £8 (1pm onwards) 1 day - £12, 3 day - £30, 7 days - £45, helmets and lights extra, stockist for Norfolk Coast Cycleway.5Payment arranged direct with usual deposits.
Or our Muddy Fox package, two adult mountain bikes, helmets, locks and lights, the bundle is £40 half week or £60 per week. Storage provided even if you bring your own bikes, payment on day of arrival.
WHY CYCLE?
Close to us is Marriott's Way (In Yellow) which is a 26 mile footpath, bridleway and cycle route, which follows the routes of two disused railway lines, and runs between the historic market town of Aylsham and the medieval city of Norwich. Or head in the other direction to Wroxham from Alysham along the Bure Valley Railway cycle track (In Green). Marriott's Way has something for everyone, from families and casual walkers to ramblers, joggers, cyclists and horse-riders. At Aylsham, you will find the entrance on Norwich Road, opposite the Bure Valley Railway station near Tesco's. If you are not a hard core Cyclist you might want to stop at Reepham Station Tea Rooms, and have a cream tea, then bike on or return? You will end up in Norwich, it ends by the roundabout at Barn Road and Barker Street on the inner Ring Road. Alternatively, there are many other access points at villages and road junctions.
Wildlife is abundant near us, much you can see from the hottub without taking a single step, the field can be a sea of Rabbits. You may hear the chatty call of the chiffchaff or the cheery chirrup of the whitethroat, whilst swifts and swallows can be seen swooping and diving overhead, as they return every to the Buildings on the farm year after, they have even nested in Stiltz before it was a holiday home . Look around you and you may be fortunate secretive animals such as foxes, one year there was a den at the bottom of the field and you could see the clubs playing in the sunshine, being watched by mum, but Stiltz is too busy for a return to that den! Many guests say they have seen roe or Chinese water deer in the field from the bedroom windows very early in the morning, or in the Winter then the tracks and prints appear overnight in fresh snow will let you know how close they come during your slumber. The farm and surrounding woodland has some very mature trees, the Chestnut tree behind the lodge has been played in buy generations of our family, the scotch pines above the lodge have marked this location for a hundred years. Butterflies flit among the branches of trees on the farm and dragonflies hover and dart on the "Long Meadow" you can see beyond the tree at the bottom of the field following from the edge of our holiday home . Geese can be seen grazing in nearby fields, whilst kestrels fly for food, During your stay I would be surprised if you do not see the pair of barn owls who have a home in an oak tree you can see from the decking. Walk quietly and with luck you may see the electric blue kingfisher flash by looking for minnows on the Mermaid River, which has a spring on the farm. In the summer guests enjoying the stars in the hottub may also hear the nightjars, they are largely nocturnal and roosts in well-camouflaged cover in the daytime. The characteristically unusual flight patterns and the bright white spots on the male are helpful features when identifying this bird. Habitat destruction led to a major decline in the nightjar population after the Second World War and were heading for extinction. But the nearby forestry plantations and heathlands has enabled a steady rise in numbers. In 2003 a UK population of 4,500 males representing well over 60% of recorded males came from our region.
In the Autumn Paths are awash with the reds and browns of falling leaves and squirrels and hedgehogs busy themselves in preparation for winter. Look out for weasels and stoats as they
dash across the fields and small birds, (such as tits and finches) attracted by the abundance of berries and wild grass seeds. It's a good time to see other birds too, including tree creepers as they search the trees for grubs and insects. You can see also and hear noisy gatherings of fieldfares and other thrushes. In the fields, lapwings (A bird closely associated with the Village) feed whilst flocks of geese fly overhead. In the winter sunshine, hawthorn berries and rosehips
glisten and rabbits scamper back to the safety of their burrows.
For true Foodies
Here are some ingredients more readily available, just as traditional to the county, and which are a must-have if you're spending any time here if you want to say you've truly eaten Norfolk food…
Cromer crab: It had to be in pole position – it's as distinctively Norfolk as pasties are to Cornwall and champagne to northern France. The reason they're so good is that Cromer crabs thrive in the shallow waters of the unique chalk reef just off the coast, producing the sweetest, meatiest crustaceans.
Theoretically Cromer crabs are the same brown crabs that are caught all around the coast of Britain. In practice everyone knows they are unique. The special nature of a Cromer crab isn't a matter of opinion, it's recognised in law. The minimum legal shell span of Cromer crab (115mm) is smaller than any other UK crab – Cromer crabs, with their 'pie crust' shells, really are little bombs of flavour!
Cromer crab is revered by foodies, brimming as it is with a high proportion of white meat. It's also very healthy, full of brain-boosting Omega-3 and low in fat. Eat with a little black pepper, a squeeze of lemon juice and a dash of smoked paprika on buttered brown bread, with mayo, cucumber or avocado. They're usually available from around April.
There's also a Crab and Lobster festival each May in Cromer and Sheringham. Oh yes, did we mention the lobsters...
Samphire: Otherwise known as 'sea asparagus', it thrives in our tidal salt marshes, and is FAB-UUUU-LOUS steamed and eaten with butter. If you're here in Spring, the asparagus is simply stunning too and you can often find it sold from trailers in countryside lay-bys. Both are usually best in May, can be bought in supermarkets, or on the coastal roads between Stiffkey and Brancaster.
Brancaster mussels: They're big blighters, tender and juicy. Collected when they're young, they're then moved to lays (beds) in the tidal creeks and left to mature nicely before harvesting. You think the French have the monopoly on cracking moules et frites? Don't you believe it, but many places along the Norfolk coast has mussels.
Stiffkey cockles: Also known as Stewkey Blues on account of their colour, a pale lavender to dark grey-blue, that comes from their habitat a few inches under the mud and sand. They're still harvested with short-handled, broad rakes and nets. Traditionally the cockles are steamed, put in soups and pies, or boiled and eaten with vinegar and pepper.
Cheese: Nothing like a Binham Blue, a soft blue veined cheese made by the redoubtable Mrs Temple of Copys Green Farm at Wighton using milk from the Chalk Farm herd of Holstein Friesians and the Copys Green herd of Swiss Browns. Once you get a taste for that (and you will), move on to her Copys Cloud, with a fluffy white rind and melting centre; Wighton, a fresh curd cheese; the hard, matured Walsingham; a supple mountain-type called Wells Alpine; or Warham, a semi-soft available in mustard, tomato and herb, or cumin flavours.
Beer: Norfolk produces the best malting barley in the country and that is turned into gorgeous, thirst-quenching real ale. Norfolk also has the most microbreweries of any county in the country - bet you didn't know that. Order a foaming flagon and toast those wonderful brewers. Less than few minutes in the car you will find Panther Brewery, an award winning microbrewery based in Unit1, Collers Way, Reepham (NR10 4SW). They use traditional brewing techniques to create a range of sleek, modern and full flavour real ales which are available in seven different breeds. They supply bottled conditioned and cask conditioned real ale to outlets all over the UK. T: (PHONE NUMBER HIDDEN) or (PHONE NUMBER HIDDEN),. E: (EMAIL HIDDEN) Opening times: Mon to Fri – 9.00 til 18.00. Sat – 10.00 til 15.00
Interaksi dengan tetamu
We like to greet and induct all guest, but on occasions we maybe at work and we will need to do it a little later.
We check the Hottub condition 2-3 times per day, and we give clear instructions on it's safe use.
We ensure visitors have fresh coffee and a selection of teas on arrival.
We also provide fresh towels and bed linen for your stay.
If you need items washed or dried we can organise this.
We are around should you wish to discuss anything during yr stay if needed.
Some guest have asked for bike hire, others have organised for a Tesco's delivery timed for their arrival (other super markets are available ! )
You will find a wall map of the 500 acres of wood and Heathland.
If we have no guests following you in then we can relax departure times, just ask as we have have to be fair to our cleaners and other service providers.
Perkara lain untuk Diketahui
This was not originally built to let, Stiltz was originally our private holiday home, we have only decided to share it with others from July 2015 due to constant interest for such stays -which is why the standard and quality is so high
We have tried to think of all the things we would need for a hassle free stay - just bring your personal items and yourselves!!
Aylsham is the local town 3 miles away, a great curry house (gate of India ), Tesco's or local super market Budgens part of the Bakers of holt business, Holt is 11 miles away, which is the same distance, to Cromer, Norwich and Wroxham.
---
Haiwan peliharaan dibenarkan
Tempat letak kereta percuma di premis
---
Sentiasa berkomunikasi menerusi Airbnb
Untuk melindungi bayaran anda, jangan sesekali pindahkan wang atau berkomunikasi di luar laman web atau aplikasi Airbnb.
---
Bilik tidur 1
1 katil king
---
Tidak selamat atau sesuai untuk kanak-kanak (0-12 tahun)
Daftar masuk ialah bila-bila masa selepas 14:00.
Daftar keluar sebelum 10:00
Guidance is provided on how to use the Hottub.
Smoking is not permitted in the hottub, Lodge or on the decking, however, you can on the gravel area to the rear of Stiltz where we provide ash trays and seating is provided.
- Babies (pre crawlers) are welcome at both properties, but toddlers and small children we only allow in the lodge, you still need care with children, but the hottub is lockable and the wood burner is best not used when you have children , with babies we recommend you bring your own travel cot, bedding, high chair etc for reasons of safety !
- Please bring your dog beds, bowls and leads.
- Up to two well behaved dogs are most welcome, Stiltz is ok for small and medium dogs, the lodge can accommodate bigger dogs.
- Dogs must not be left alone in the property, damage will need to be covered.
- Sorry no dogs in the bedroom and dogs not on the furniture as the leather will be damaged, dogs must not sleep on the bed.
-Any fouling in the garden, needs bagging, when you walk around the 70 acres of the farm Poo bins are provided when on your walk!
- this home is not suitable for big dogs is a bit too much as Stilitz has to be pristine for all our guest, so small and medium dogs work well!
Stiltz is designed for couples to get away from it all, for total relaxation.
Children are welcome but, not recommended for the very young so best above 7 years of age, due to the design of Stiltz it is not ideal for toddlers, due to split levels, woodburner and Hottub!
Pls contact us if u have any questions.
Regards
Chrissy and Paul
---
Stiltz is just amazing! It's such a home away from home. Chrissy and Paul have thought of everything to make your staff comfortable. From wifi, smart Tv, dvd's board games, robes, wood for the fire, condiments, great quality kitchen wares! Even an outdoor speaker so you can hear your music over the hot tub jets! I'm Norfolk born and bred anyway but it never fails to take my breath away. It is the ideal distance from the city it you wanna explore the city or all around the coast. I took my boyfriend for his birthday weekend and it was just so romantic. Came back feeling in love and rested but missing Stiltz. Can't wait to book again!
---
This is a wonderfully peaceful place to recharge your batteries. The hot tub and log burner were very much appreciated as was the bottle of prosecco on ice ready for our arrival. An ideal base to explore the nearby places of interest as well as pleasant walks to enjoy straight out of the door.
---
Marsham, United Kingdom
Telah sertai dalam tahun Ogos 2015
Pretty easy going with a good sense of humour - most of the time!! Have dogs and kids and like to travel - but equally love being at home with our families.
Kadar jawapan:
100%
Masa menjawab:
dalam masa sejam
Jelajah pilihan lain di dan sekitar Marsham
Lebih penginapan di Marsham: