Åstol is an old fishing village in the archipelago consisting of 8000 island near Gothenburg.
Toplocation! Sverre knows anything of the Isle and is very helpfull.
Frits
2016-05-07T00:00:00Z
Mooi compleet appartement op het schitterende Astol. Sverre was erg vriendelijk en behulpzaam en had goede tips. Enige nadeel wat genoemd moet worden: er is geen system bolaget op het eiland. Dat kan in de supermarkt op bestelling maar dat kost tijd.
Stan
2016-08-10T00:00:00Z
The accomondation was super clean. Åstol is a very tiny island but really charming with a really tasty restaurant. Sverre was really easy to communicate with and super nice. Thank you for everything, I really recommend the place to stay.
Anna
2016-06-30T00:00:00Z
Sverre vad väldigt hjälpsam redan vid bokning av boendet. Han hjälpte till att boka bord på restaurang, svarade på frågor om vad som fanns på ön samt hjälpte till att hämta delar av familjen som missade sista färjan. Sverre är en superhost och jag kan rekommendera andra att hyra boendet av honom.
Daniel
2016-06-28T00:00:00Z
This is a very uniqe place to visit in the Swedish archipelago . The hosts were helpful and very nice to us. We enjoyed three nights here.
Tina
2016-06-20T00:00:00Z
Great apartment situated in the heart of the island, very clean, good shower and bbq area & terrace. The hosts are very helpful and a true guide for the area. During low season it's very quite which is nice however bare in mind that not all ferries go and a lot of restaurants / bars are closed.
Toby
2016-06-05T00:00:00Z
A lovely place, spotlessly clean and a great base for exploring this tiny island. We all spent a whole day on the miniature 'beach' going round and round on the waterslide (both the girls and the parents) and swimming in lovely clear water (the excellent washing/drying facilities were much appreciated). The little café was great for fish & chips and watching harbour life around us, and we could dream about the posh food at the restaurant on the other side of the harbour. The girls loved the little park where they found tiny frogs and a grass snake. Getting to the island was easy with regular ferries from Ronang - you just need to drop bags at the quay and then park the car about a kilometre away behind the 'ice hall'...easy to find and a quick walk back.
Richard
2016-08-15T00:00:00Z
Jenis Bilik
Keseluruhan rumah/apt
---
Jenis Penginapan
Apartmen
---
Memuatkan
6
---
Bilik tidur
Åstol, Västra Götalands län, Sweden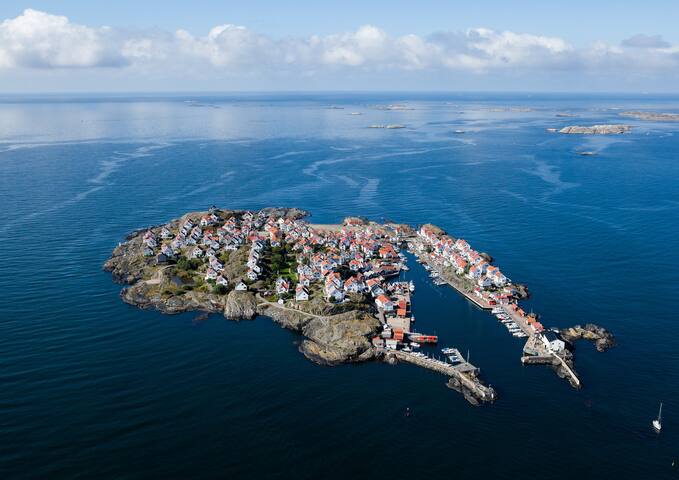 * English bellow * Completely renovated and top fresh 1a with more than 10 minutes to the city center by tram, which runs around the clock. 1 minute walk to the tram stop 4 trams (Wieselgrensplatsen). Glass balcony. Well equipped kitchen. Floor 2. Grocery stores and restaurants are within a radius of 200m. Reserved Parking for a fee is available just outside the apartment. The apartment is located right next to Keiller Park, which is definitely worth a visit. 140-bed, sofa and air mattress available.
Completely new renovated and top fresh 1-room apartment with maximum 10 minutes to the city center by tram, which runs all around the clock. 1 minute walk to the tram stop (Wieselgrensplatsen). Glass balcony. Well equipped kitchen. Floor 2. Grocery stores and restaurants are within a radius of 200m. Parking lot for a fee is available just outside the apartment. The apartment is located right next to Keiller Park, which is definitely worth a visit. 140cm-bed, sofa and air mattress is available.
Jenis Bilik
Keseluruhan rumah/apt
---
Jenis Penginapan
Apartmen
---
Memuatkan
2
---
Bilik tidur
Göteborg, Västra Götalands län, Sweden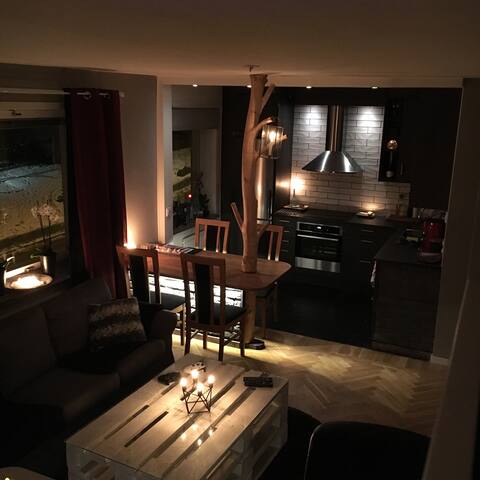 Szépen berendezett apartman található, mely "Eriksberg", az egyik legszebb és legkülönlegesebb hely Göteborgban. Az apartman található, mintegy régi dokkoló, amely most tele vízzel és csónakok. Van egy hatalmas daru, amely megadja a terület egy szép tengeri hangulata van. A lakás két erkéllyel és egy nyitott tér megoldást.
A lakás nagyon korszerűen berendezett és úgy érzi, "levegős", mert teljesen nyitott a konyha és a nappali. Úgy tartják nagyon tiszta és rendezett, hiszen mi magunk él a lakásban.
A környék nagyon különleges, mert ez található a víz, és közel egy több kilométer hosszú sétány fut csak mellé a vízbe. Ebben a sétányon élvezheti számos kávézó, étterem és üzlet, hanem hajóval-ride Göteborg központjában (15 perc).
En mycket fin lägenhet i ett fantastiskt område. Lätt att ta sig till centrum med älvsnabben, på den får man se Göteborg från sin bästa sida. Nära till restauranger men framför allt de finaste promenadstråken. Ola har en smakfullt inredd lgh som jag verkligen kan rekommendera
marika
2017-01-01T00:00:00Z
The apartment is located in a nice modern neighborhood with a few scattered cafes and take away places. Enough for a quiet evening but is not a "lively" neighborhood in the evenings. The apartment is nicely decorated, has all the basic necessities and more in the kitchen. It is not at walking distance to the city center, some 4 km away or so, but can be easily reached. It has a private allocated parking spot which is great when traveling by car as a family. The apartment has one bedroom and a inflating mattress is available to put up in the living room. Its easy to inflate but beware it will loose some air during the night, but not too bad. The things that need improvement are the duvets and pillows are a bit old and not very comfortable. One duvet had a bit of a smell as well. The linens made available to guest could be improved, none of the flat sheets fit the double bed or mattress :s . Towels are also made available to guest albeit thin, but is enough for a short stay.
Josh
2016-10-23T00:00:00Z
We had a wonderful stay at Ola's place! The apartment and Eriksberg are just gorgeous. It's very clean, there is a comfy bed, two balconies and a great equipped kitchen - so after a long drive from Stockholm it was the perfect place to relax in the evening before exploring beautiful Gothenburg. Ola is very easy to communicate with and a very good host! I would recommend staying at that place to everyone who is looking for a little home-feeling in Gothenburg. Definitely going to stay here again, when in that area. 5/5!
Chiara
2016-09-18T00:00:00Z
Ola is very nice and easy to communicate. The apt is very clean and the location is good.
Abby
2016-10-01T00:00:00Z
Der er kun super gode ting at sige om Ola´s lejlighed og om Ola. Vi følte os virkelig godt modtaget og lejligheden var fantastisk. Vi var så heldige at få nogle solskinsdage og kunne benytte de 2 dejlige altaner. Meget tæt på lejligheden ligger der en "bus" færge så man kan tage denne båd indtil byen og har man købt turkort kan dette benyttes til både færge, bus og sporvogn. Alt i lejligheden var fantastisk der var alt hvad vi skulle bruge. Sengene var fine, køkkenudstyret perfekt. Vi kan kun give de bedste anbefalinger til Ola og lejligheden.
Melanie
2017-04-03T00:00:00Z
Amazing location,modern,light,great for family's with kids ( awesome playgrounds all around ), garage for car,5 minutes walk to ferry to old town in Gothenburg, several cafes within walking distance,
jaroslaw
2016-09-11T00:00:00Z
Fantastisk leilighet! Hyggelig vert som kan anbefales:) hilsen Erik og Lara
Erik
2017-03-05T00:00:00Z
Jenis Bilik
Keseluruhan rumah/apt
---
Jenis Penginapan
Apartmen
---
Memuatkan
4
---
Bilik tidur
Göteborg, Sweden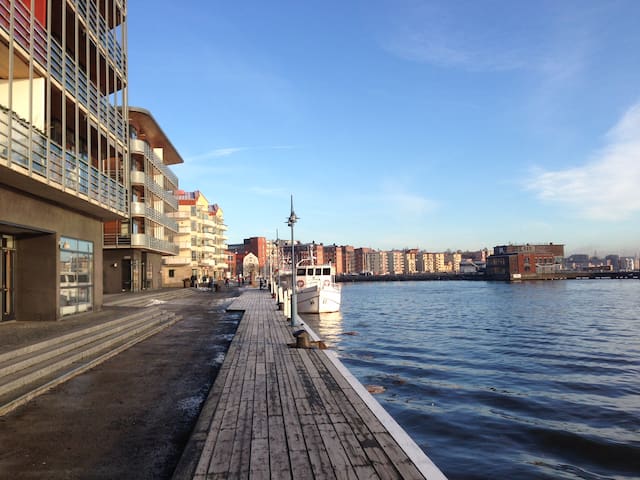 A large apartment on the entire 93 square meters with balcony and patio. The room includes 2 single beds. The apartment is located in a natural area while being close to shops and tram / bus. Town by car in 10-15 minutes or 20-25 minutes by bus / tram.
The apartment is centrally located close to everything.
Calm familiar area
Hej! Det är jätte mysigt och fint ställe. Vi trivdes jätte bra, lägenheten är rent, stor och fint. Det tar bara 20-25 min till stan. Nalan är jätte snäll och har förklarat allting.
Aika
2016-05-20T00:00:00Z
Nalan's place was really nice and clean, me and my friend enjoy to stay at her cozy place... Thanks dear Nalan. We hope to visit your place soon. P.s : we had a little bit problem with wifi and internet speed... But it wasn't such a big deal.
Paniloo
2016-08-13T00:00:00Z
The host canceled this reservation 86 days before arrival. This is an automated posting.
Heidi
2016-04-22T00:00:00Z
Vi koste oss. Verten var rask med å svare, fin og ren leilighet, stor balkong med kveldssol.
Hild Irmelin
2016-08-18T00:00:00Z
Jenis Bilik
Keseluruhan rumah/apt
---
Jenis Penginapan
Apartmen
---
Memuatkan
2
---
Bilik tidur
Göteborg, Västra Götalands län, Sweden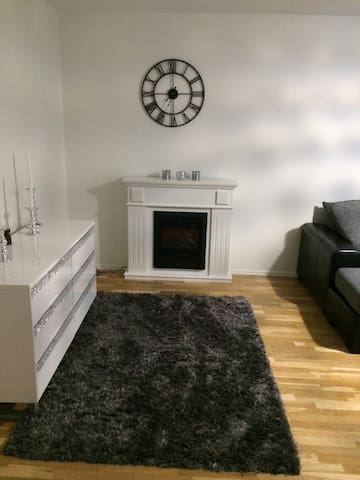 Big 2 monolocale con balcone. Letto matrimoniale, tv con chroomecast, veloce wi-fi, il tram e l'autobus che vi porterà nella città di Gbg in 8-10 min. In un accogliente vicinato con ristoranti, 2 pharmacys e alcuni negozi vicini. Ho solo affittare Mag-maggio.
Quiet and cozy, yet close to the pulse
Excellent place and friendly host would definitely recommend for other travelers!
Francois
2017-03-12T00:00:00Z
The host canceled this reservation 2 days before arrival. This is an automated posting.
Julia
2017-02-26T00:00:00Z
The host canceled this reservation 172 days before arrival. This is an automated posting.
Mady
2017-03-04T00:00:00Z
The host canceled this reservation 131 days before arrival. This is an automated posting.
Joel
2017-02-22T00:00:00Z
The host canceled this reservation 11 days before arrival. This is an automated posting.
Lea
2017-03-13T00:00:00Z
The host canceled this reservation 16 days before arrival. This is an automated posting.
Esmeralda
2017-03-23T00:00:00Z
Great place to stay. Not far from downtown by car. Would stay there again.
Rafael
2017-03-19T00:00:00Z
Our stay at Elsas place was perfect, we had everything we needed there and Elsa is a really kind host that wants you to feel satisfied! All communication before and during the time was good, we will defiantly come back! =)
Evelina
2017-04-02T00:00:00Z
Jenis Bilik
Keseluruhan rumah/apt
---
Jenis Penginapan
Apartmen
---
Memuatkan
2
---
Bilik tidur
Göteborg, Västra Götalands län, Sweden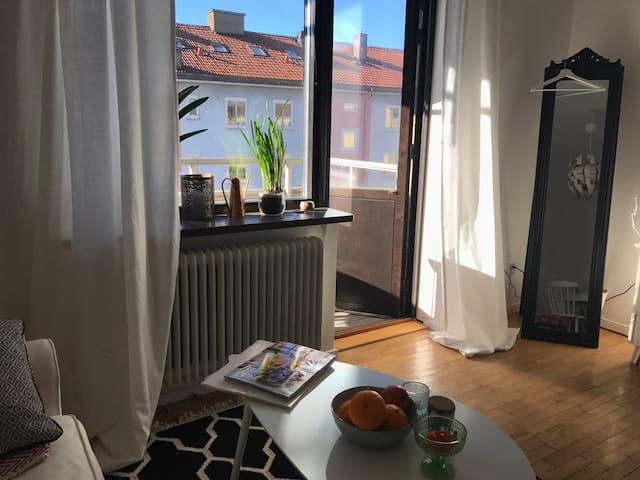 Among 8000 islands on the west coast of Sweden Åstol is one of the most spectacular places to visit. The island is situated in the open sea between Sweden and Denmark and can be reached in 10 min by ferry. Here we can offer high quality apartments.
Åstol is a beautiful island, I loved staying there. The house is conveniently located and very nice. The beds were really comfortable. One hint is that the overnight parking for the ferry is at the ice rink in Rönnäng, make sure you get to the ferry station early as the ice rink is pretty far away. Also make sure you bring food and supplies, there's only a little shop and 2 restaurants on the island.
Bryce
2016-07-09T00:00:00Z
Åstol is a magical island in the Gothenburg archipelago. It has everything you need - a well-stocked shop, cafe, restaurant and smoke house where we bought amazing prawns and salmon. The harbour is very pretty and the rest of the island is great for clambering over rocks and exploring. We spent four days there but easily could have stayed for longer. The apartment was very comforable, nicely furnished and much bigger than we expected from the photos. Getting to Åstol from the mainland is very straightforward, with boats every hour or so from Ronnang. All in all in amazing experience - thanks Sverre.
Simon
2016-08-05T00:00:00Z
Åstol is such a picturesque and quaint island, and Stephanie and Sverre's apartment was very nice, clean, and comfortable. They were very kind hosts and made sure we had gotten in comfortably and were very responsive to any questions.
Taylor
2016-06-27T00:00:00Z
Astol is a magic Island and Sverre's place is very charming : even with a windy & rainy weather, the flat was warmy, lightful, very clean and very comfortable for our family (2 adults/2 children).
Guirec
2016-08-10T00:00:00Z
Fin lägenhet och trevlig ö. Enkelt och rent boende.
Jesper
2015-08-05T00:00:00Z
Fin och mysig lägenhet på Åstol. Rent och fräscht. Bra kommunikation med Sverre. Långt att gå till parkering i Rönnäng där båten till Åstol går.
Toni
2016-08-11T00:00:00Z
Trevlig lägenhet, fräsch & fin. Bra med både tvättmaskin & diskmaskin.
Karin
2016-07-24T00:00:00Z
Idyllisk sted, perfekt leilighet å bo i, hyggelig og svært behjelpelig værtskap.. Definitivt et sted å komme tilbake til!!
Harald Ravn
2016-05-16T00:00:00Z
Jenis Bilik
Keseluruhan rumah/apt
---
Jenis Penginapan
Apartmen
---
Memuatkan
6
---
Bilik tidur
Åstol, Västra Götalands län, Sweden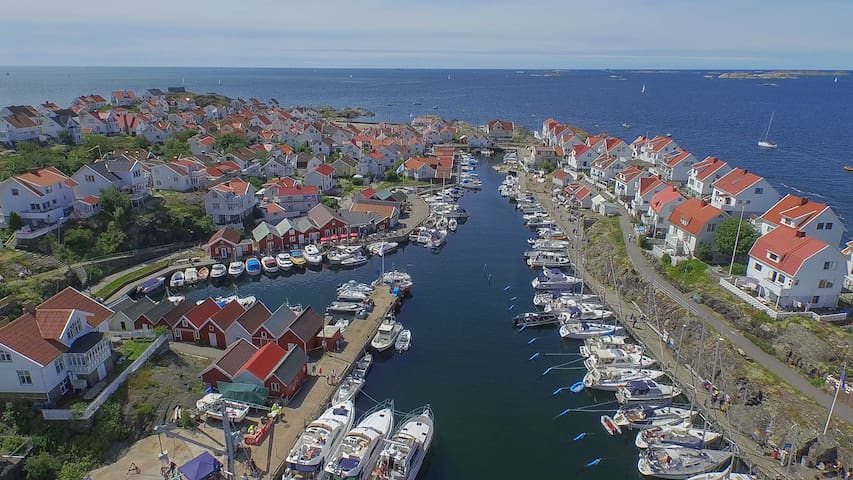 Jeffrey
2016-12-30T00:00:00Z
Kamran's apartment was large and spacious. Location was convenient. Found an Indian shop nearby selling some halal food which was a bonus. Supermarket was couple of mins away. Kitchen had many things which was very convenient. Few basic things like bins in the kitchen and bathroom were missing. Over all it was a comfortable stay.
Naznin
2016-08-25T00:00:00Z
Kamran's place was great! We enjoyed our stay there, easy to get to with tram stop not too far away. There are convenient/supermarkets nearby. The place itself was huge. More than enough for 4 people to live in. There were fresh towels and the kitchen well equipped.
Ian
2016-07-31T00:00:00Z
The flat was clean and spacy. No luxury, but still it got whatever we need. The host (Kamran) was very nice and serviceoriented
Tor Erik
2016-07-13T00:00:00Z
Bra läge och mycket tillmötesgående och hjälpsam värd. Vi hade en jättebra vistelse.
Sarah
2016-06-06T00:00:00Z
We stayed at Kamran's apartment as a group of four people for 4 nights to explore Gothenburg. The communication went really well and we got access to the apartment directly when we arrived. The apartment itself is large and has, to be mentioned, reeeaally comfortable beds and a super-cozy living room. The bathroom is not totally modern, but meets all requirements very well. The apartment is located in a quiet neighbourhood, but the train station is accessible within a five minutes walk and the metro and busses to the city center are coming very frequently. It was a nice stay for this weekend and I would recommend this apartment to everyone who wants to explore Gothenburg!
Jeanine
2016-12-05T00:00:00Z
Kamran's place was great for our family of 6. Clean & well equipped with lots of restaurants and groceries within a 5 min walk. Kamran was waiting for us upon our arrival and made us feel welcome. We would recommend his apartment to anyone visiting Gothenburg.
Eric & Brenda
2016-11-06T00:00:00Z
Kamran was a very pleasant host. His communication was quick and he was very flexible for the check-in times. The flat is big and spacious. It's absolutely big enough for four people.
Aurelia
2016-06-21T00:00:00Z
Jenis Bilik
Keseluruhan rumah/apt
---
Jenis Penginapan
Apartmen
---
Memuatkan
6
---
Bilik tidur
Göteborg, Västra Götalands län, Sweden
Enjoy our apartment with two double bedrooms, spacious living room with dining area, modern kitchen with dining area for 6 people. Bathroom with washing / drying. Wonderful view over the river, balcony with barbecue. 2 min to the quay, 15 min to downtown. Ferry and bus just outside. Very fresh and delightful accommodation unique environment
Very nice apartment in Eriksberg. There is nothing more beautiful than to sit on the balcony in the evening and watch the sun go down. The boats chugging past. A few minutes from the apartment is the wonderful kilometer Kajpromenaden. There are lovely little restaurants and cafes. There is also the stop for the ferry Älvsnabben that takes you across Gota River to the inner city in 15- 20 minutes. In addition to the ferry bus stop a few minutes walk from the apartment. Parking available on the street opposite and it costs 50 SEK for 24 hours. The apartment is very fresh, modern and airy. There is a television in each bedroom and in the living room. Do you live in our apartment towels and bed linen. Everything is ready for you when you arrive. A host (usually me) will also meet you up and show you the neighborhood and practical things in the apartment. The bathroom has a washing machine and dryer at your disposal. In the apartment get it staying a maximum of 6 adults. For each extra adult over 4 people there is a charge for 300: - per person. Cleans do you do before checking out. We welcome you!
The proximity to the kilometer long quay promenade. Eriksberg is beautiful and quiet. There is a pharmacy, grocery store, restaurants and cafes on the waterfront. Opportunities to quickly get around by public transportation and boat to various places in the inner city. The cozy little restaurants and cafes along Kajpromenaden. The beautiful old boats and the East Indiaman located at the quay. Superb seafood restaurant on the promenade and famous Sjömagasinet straight across the river, as well as the Red Sten's promenade
Our stay in Marielle appartment was fantastic, all as expected, we'll repeat, thanks!
Sergio
2016-11-04T00:00:00Z
Väldig fin lägenhet! Lätt att ta sig in till city med kollektivtrafik. Vi tog båten över älven till barnens förtjusning. Kommunikationen med Marielle gick väldigt bra, fick snabba svar :-). En trevlig värd och en mycket fin lägenhet!
Petra
2017-03-12T00:00:00Z
Marielle met us at her apartment when we arrived, the apartment impressed us at the first sight! It was clean and lovely. And Marielle is a kind and easy-communicating person, always quickly respond to our questions. It is also easy to get to the downtown by bus or ferry from the apartment.I recommand this apartment!
Zoe
2016-09-25T00:00:00Z
Das Appartment liegt in einer top Lage, ist super ausgestattet und hell und freundlich. Marielle gab uns tolle Tipps und gestaltete uns somit den Aufenthalt sehr angenehm. Wenn wir wieder nach Göteborg fahren, werden wir uns gerne wieder bei Marielle einquatieren.
Maria
2016-08-12T00:00:00Z
Very spacy and cosy appartment! Ideal for a small group of 4-5 person. City center is easy to reach. Marielle was very helpful and easy-going!
Andrea
2017-02-26T00:00:00Z
The house was very big and nice! I can highly recommend!
Hyungki
2017-03-25T00:00:00Z
Marielle was a great host. We had absolutely no issues and she was always easily contactable. The apartment was very tidy and is perfect for a weekend break.
Tom
2016-11-20T00:00:00Z
Marielle was a lovely host, she was very welcoming. Marielle also messaged us midway through our stay to ensure everything was okay. The apartment itself was fantastic, can't fault it. Modern, spacious and clean. The balcony has a nice view and a sofa which was really nice. The apartment is just a few minutes walk from the river which has a ferry into the city which takes about 15-20 minutes. There's a bus stop outside the front of the apartment but we didn't use that so can't comment. There are Ubers available into the city centre, usually around 170-200kr, however when there is a surge this can rise to 400-450kr or so. A little mini supermarket is only a few minutes away too which we used for all of our food indoors. The nightlife in Gothenburg is pretty good, just a little bit expensive but not too far off London prices if not the same. Overall, a great apartment and great host, we highly recommend this place and would return here if we were to visit Gothenburg again.
Lewis
2016-09-11T00:00:00Z
Jenis Bilik
Keseluruhan rumah/apt
---
Jenis Penginapan
Apartmen
---
Memuatkan
6
---
Bilik tidur
Göteborg, Västra Götalands län, Sweden
Jag och mina vänner är mycket nöjda med lägenheten och Shahin som värd. Läget var bra med närhet till allt man behöver och enkel förbindelse till stan. Shahin var väldigt vänlig och hjälpsam.
Siri
2015-08-17T00:00:00Z
Great apartment for 1 or 2 people. Amazing view and nice location near the Chapman's Torg tram stop. Take the 9 train to the city center. 3 train will also go there but through a much longer route! Train passes available at the 7-11 down the hill to the west of the apartment (though I never saw anyone check for passes on the train!).
Michael
2015-09-11T00:00:00Z
Everything was great about the apartment. Position , comfort, cleanliness :) And Shahin was the ultimate host. Thank you for everything ! Recommended !
Iuri
2014-10-16T00:00:00Z
Nice and helpful host and his sister. Easy with keys and finding the place. Good location-10 min from the centre with many bus connections. Nice simple sunny flat.it has all you need.
Pavel
2014-07-22T00:00:00Z
Es war ein toller Aufenthalt in Shahins Wohnung. Wir waren für 2 Tage in Göteborg. Shahin Vater hat uns die Schlüssel gegeben, alles gezeigt, sogar wo wir parken können und Tickets für die Tram bekommen. Die Wohnung ist wie beschrieben mit einer tollen Aussicht. Die Lage ist super, eine Tram-Station sowie unterschiedliche Einkaufsmöglichkeiten direkt vor der Tür. Uns hat es sehr gut gefallen.
Stefanie
2015-07-03T00:00:00Z
Väldigt trevlig liten lägenhet och ett varmt välkomnande även om vi inte sågs. Tack!
zaza
2016-06-20T00:00:00Z
Vi är supernöjda. Det var nära till stan och bra förbindelser. Lägenheten såg precis ut som på bilderna, och med en fantastisk utsikt. Shahin var jättetrevlig och hjälpsam. jag skulle helt klart boka igen.
Julia
2016-04-26T00:00:00Z
Best place to stay in Göteborg. Flat was fatsatic: clean and great location, and you do not want to miss that view at the night. Shahin was a great host, met us with bunch of information about things that we could do. For sure I would go for this place again at Göteborg .
Kaveh
2015-10-13T00:00:00Z
Jenis Bilik
Keseluruhan rumah/apt
---
Jenis Penginapan
Apartmen
---
Memuatkan
6
---
Bilik tidur
Göteborg, Västra Götalands län, Sweden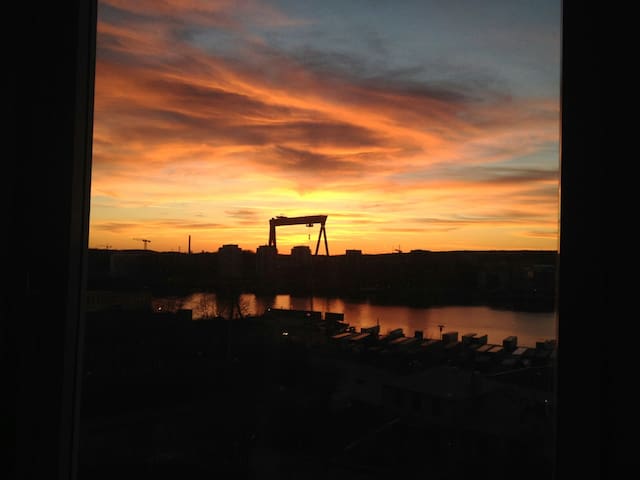 60 m2 apartment with private entrance and a beautiful garden where you have your own patio.
The apartment is located at the lower floor in a detached house. 250 meter to tram-stop from where you go downtown in 10 minutes. Across the street you'll find a pizzeria and 200 meter down the street you have Circle K were you can rent cars or by milk etc. The living-room has a extra bed settee for two and a 47" TV with Netflix and Playstation. Towels, bedding and shampoo for all the guests.
Quiet residential district
A very nice and well located appartement.
Julien
2017-03-31T00:00:00Z
Everything was perfect. The apartment was absolutely lovely. We would go back in a minute! Espen was great -- loved visiting with him. The refrigerator was well stocked with breakfast items and even a bottle of nicely chilled wine. Nice laundry room -- great shower and kitchen. We love seafood, so cooking was a charm.
Suzanne
2016-10-18T00:00:00Z
Excellent. Clean, modern, comfortable, well equipped, 5 minutes walk to the tram - short journey to the centre. Upon arrival there were beers, pastries, fruit, sweets etc which was a very nice extra. Communication was quick and simple. If staying in goteborg again I won't look anywhere else.
Daniel
2016-12-04T00:00:00Z
I spent two wonderful weeks at Espen's place. It was perfect! I was working at Volvo and it was so nice to return home to such a comfortable apartment every evening. Super convenient for the trams, too. The kitchen was fully stocked upon my arrival - such a lovely gesture. I would recommend this place to all my friends and fellow travelers. It made my stay in Gothenburg extra special. Thank you.
Christian
2016-11-13T00:00:00Z
Very nice apartment, great location, generous food
Matthew
2016-08-20T00:00:00Z
Siamo stati i primi ospiti di Espen quindi per lui la prima esperienza. Abbiamo avuto qualche problema iniziale con luci e wi.fi ma il nostro host è stato disponibilissimo e si è prodigato in mille modi per aiutarci. Casa in zona tranquillissima e silenziosa, in periferia di Goteborg ma vicinissima ai mezzi pubblici. Consigliamo vivamente questo appartamento.
Paola
2016-08-17T00:00:00Z
Espen's apartment is well located in a very nice residential area. The place is modern and very clean and week appointed. We received a very warm welcome and we really appreciated the finer details. Fresh fruit, bread and food as well as a cold beer!! Our host was very accomodating and helped us any way he could. We were very comfortable and pleased with our choice
Andrew
2016-08-21T00:00:00Z
It was really a great accomodation. Infact I would say that it is much better than i expected it to be. Everything was so organised and tidy.
Muhammad Usman
2016-10-27T00:00:00Z
Jenis Bilik
Keseluruhan rumah/apt
---
Jenis Penginapan
Apartmen
---
Memuatkan
4
---
Bilik tidur
Göteborg, Västra Götalands län, Sweden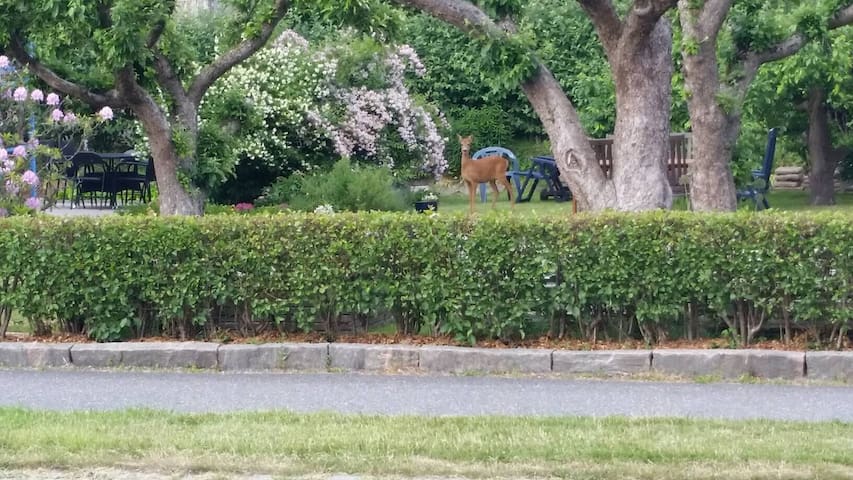 Lotta was very helpful and kind. She showed the apartment her self and showed how everything worked. The apartment was lovely.
Eva
2015-12-08T00:00:00Z
Our stay at Lotta's apartment couldn't have been better. We were welcomed to a spacious, beautiful living space and a refrigerator filled with swedish breakfast goodies. The apartment is well positioned along the number 16 bus line that connects regularly to the city center. The apartment comfortably sleeps 4 people and the view from the balcony is as memorable as the profile picture promises. A definite recommend!
Rakshith
2015-09-27T00:00:00Z
Lotta's house is spacious, clean and very cozy at the same time. We were on a business trip so we weren't in the apartment a lot but the time we spent there was very pleasant.
Youstina
2015-10-25T00:00:00Z
Lotta's place was simply amazing and really exceeded our expectations even after seeing the photos and reading all the reviews. The apartment was beautifully decorated and equipped with everything you could possibly need. We spent every night chilling on the sofa watching Netflix with candles lit and a hot drink in hand. The location was great with lots of cafes on the river bank within 5 minutes walk. We had lunch at a fish monger along the river which was an amazing experience and at very good prices. 5 minutes walk to the bus stop with regular busses to central which is also only a 10 minute Uber ride. The hosts were really warm and welcoming. Lotta was always responsive from the very beginning when we made the booking and throughout our stay. We arrived very late at night (around 11pm) but Lotta's fiancee was there to greet us and showed us all the ins and outs of the place. Overall we had an amazing time and wished we could have stayed for longer.
Helen
2015-11-28T00:00:00Z
Excellent host, responded fast, got everything sorted and all went smoothly. Beautiful apartment in a nice new building, everything functioned well, exactly as listed. The location is good if you mostly need to be on that side of the river. It's about a 10 € Uber ride to the city centre, didn't try the bus this time. Well-stocked mall with a Systembolaget (the state alcohol store) within walking distance, nice riverside promenade with cafes etc just a few steps from the door.
Enn
2015-11-09T00:00:00Z
Vi bodde några nätter i Lottas lägenhet och hade det toppen! Lotta var supertrevlig och enkel att ha att göra med, skulle lätt rekommendera henne och lägenheten :)
Sonja
2015-12-18T00:00:00Z
We had a short, but pleasant stay at the apartment. It is decorated very nicely and has gorgeous views. Would definitely recommend a stay if you're in Gothenburg.
Sarah
2015-11-03T00:00:00Z
Wonderful! Appartamento spettacolare, luminosissimo e arredato con gusto. La vista sul fiume è molto bella e l'appartamento ha una disposizione insieme pratica e accogliente. Lotta ci ha riservato un benvenuto a cinque stelle con la massima cordialità. complessivamente, una esperienza top class.
Umberto
2015-10-01T00:00:00Z
Jenis Bilik
Keseluruhan rumah/apt
---
Jenis Penginapan
Apartmen
---
Memuatkan
4
---
Bilik tidur
Göteborg, Västra Götalands län, Sweden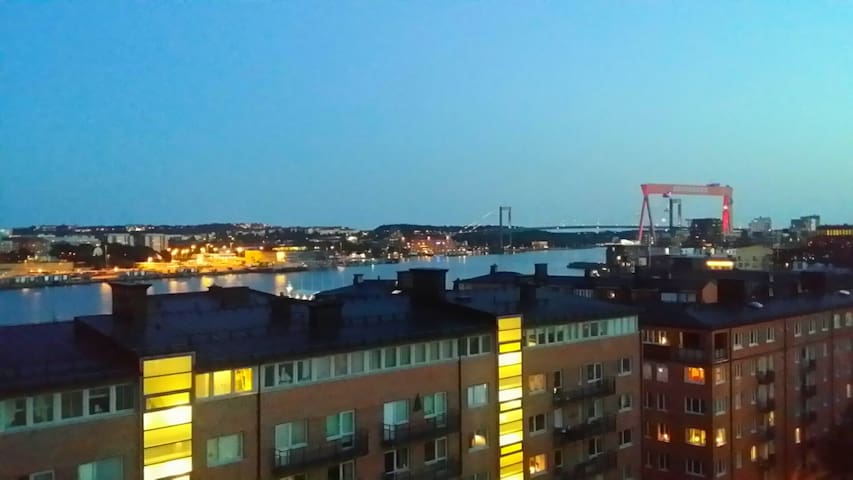 This apartment was even better than the pictures on AirBnB! The beds were comfortable and the being was high quality. The area is very pleasant with walking/jogging paths etc. The ferry to Gothenburg is super convenient, punctual, etc. We would stay here again.
Jake
2016-07-24T00:00:00Z
Jenis Bilik
Keseluruhan rumah/apt
---
Jenis Penginapan
Apartmen
---
Memuatkan
4
---
Bilik tidur
Göteborg, Västra Götalands län, Sweden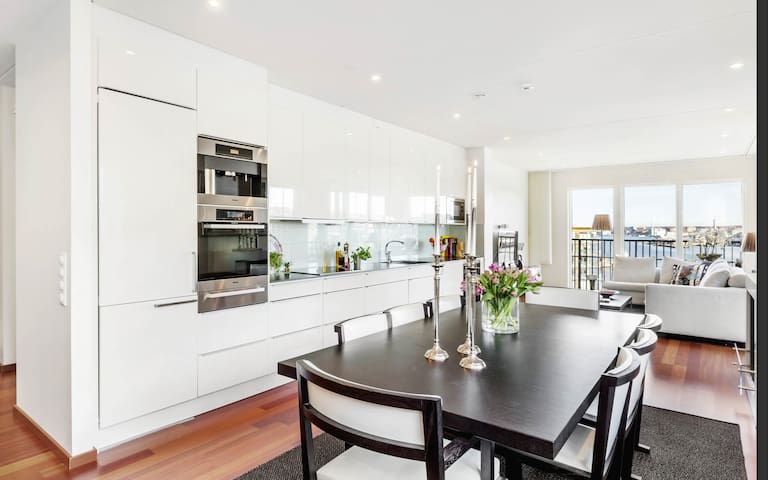 Notre 6ème étage, 2 appartement de chambre a été récemment construit et 8min (tram), 25 min (à pied) du centre-ville de Göteborg. Un quartier agréable situé à proximité de Varius magasins locaux mignons et restaurants ainsi que 3 supermarchés. Le centre commercial se trouve à 5 minutes à pied et est également où vous trouverez des bus et des tramways qui peuvent vous emmener partout dans la région métropolitaine. Une famille de quartier convivial. 2 km à la fois de la rivière, la forêt locale et 1 km à une colline surplombant la ville.
It is new and fresh, with the perfect balance between a cosy neighbourhood and close proximity to the city center, the river and a forest park. The big bus station close by gives you a close proximity to a large part af the metropolitan area.
Cosy coffeeshops, restaurants, little shops. The location is perfect being close to the city center, nature, the riverbank and a big bus station.
Jenis Bilik
Keseluruhan rumah/apt
---
Jenis Penginapan
Apartmen
---
Memuatkan
5
---
Bilik tidur
Göteborg, Västra Götalands län, Sweden

We stayed in gothenborg for 3 nights in Hans's house and had a great time. The house is easy to reach from the highway, and came conveniently with an indoor parking space to store our car for a couple days. We were surprised by how easily gothenborg centre was reached by ferry (free on workdays), and from there, everything was accessible by foot. The house itself is as in the pictures. A single bedroom and a double bedroom, where we had an extra airobed. Hans had towels for all of us ready. The kitchen was fully equipped, including these ikea kids security things for the lower cupboards. Hans was easy to reach and a good host with a booklet full of tips on the area.
Anna
2015-07-14T00:00:00Z
Loved the place. Really clean and spacious. We all agreed the best air bnb we've stayed in so far. Hans was also really organised and great to deal with.
Sylvia
2015-09-21T00:00:00Z
We very much enjoyed staying in Hans' apartment. It was very clean and comfortable, and in an interesting part of town.
Annegret
2015-09-06T00:00:00Z
It was my pleasure to have Hans to be my host in Gothenburg. Although I did not meet him in person, he was very nice and helpful on message. His flat was clean and tidy with super great location. Bus stop just right in front of the building and ten mins walk to the supermarket. It was a awesome apartment and I highly recommend to everyone who are willing to travel in Gothenburg.
Crystal
2015-06-29T00:00:00Z
This was presumably my best experience of Airbnb so far. Hans was hospitable and flexible, both over internet and in person. Very easy to communicate with. The apartment had higher standards than expected and it was also located only a short bus og boat trip from Haga-area and Central station . I would highly recommend other travellers to check out this place!
Thov
2016-05-02T00:00:00Z
The house very well located in the new area of Göteborg. Spacious enough that we -four people- were so comfortable. There is a special place for bicycles in the parking area and it was so important four us as we were cycling tourists. We didn't use but there is a tram stop in front of the building. Beside we reached Hans whenever we wanted, he was so helpful. Explained everything with every detail. Thanks again :)
İlker
2015-09-14T00:00:00Z
Merci Hans, Notre séjour à Göteborg s'est parfaitement déroulé. Anna et Hans nous attendaient à l'heure convenue. L'appartement est très lumineux, grand, pratique, très bien équipé. Il est situé à proximité immédiate du centre. Un ferry (gratuit en semaine) permet un accès direct à la vieille ville, pendant que notre voiture était à l'abri au sous-sol. Appartement à louer sans hésiter.
Vincent
2015-05-30T00:00:00Z
Fin rymlig lägenhet med utsikt, högst upp i huset. Bra basutbud ingick så vi t.ex kunde laga mat. WiFi. Bra kommunikation och bussar in till stan som gick precis utanför. Hans var hjälpsam och lätt att få tag i. Snäll och enkel. Inga bekymmer.
Per
2015-07-09T00:00:00Z
Jenis Bilik
Keseluruhan rumah/apt
---
Jenis Penginapan
Apartmen
---
Memuatkan
4
---
Bilik tidur
Göteborg, Västra Götalands län, Sweden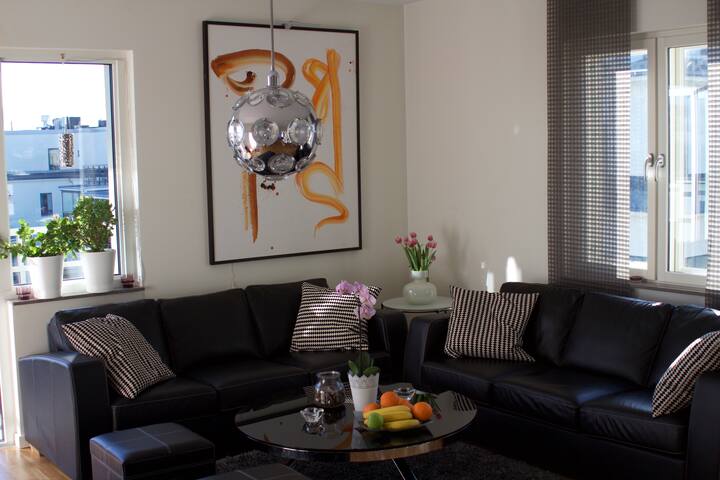 Dejlig 1BR (25 kvm) med brede stengærder. Bright med flot colors.Situated på helt område i midten af øen, 200 m fra havnen og færgen. Separat køkken indeholder alt hvad du har brug for og separat badeværelse har brusebad / vaskefaciliteter
Lejligheden er på nederste etage i vores hus med separat indgang. Vi har et lille soveværelse med to rigtige senge 200 cm x 80cm. Et køkken med alt hvad du behøver for at lave mad og et badeværelse med bruser og en vask Machin. Vi har varme i gulvet, så det er rart og varmt hele året rundt.
This is a great private apartment. It was clean and had everything we needed. Tina went out of her way to help us enjoy Marstrand. We were there in off season so some things were closed. We enjoyed the church and the fortress due to her efforts. Thank you, Tina for making the stay so great. We would recommend a stay with Tina.
Mitch & Sue
2015-09-09T00:00:00Z
My aunt and I had a fun time staying at Tina's place on Marstrand. She made us feel welcome by showing us around the place and everything was clean and organized and set up for hospitality and every detail in place for a comfortable stay, including brochures about the island and the area and recommendations for places to eat. She had water available in the fridge and ice cubes in the freezer (which made my aunt very happy). There was coffee and tea in the cupboard and a coffee maker and an electric teapot. There is basically a small kitchen with dishes and everything you need. The bathroom was nice, too, with a nice warm shower. All around the place are images and artwork of Marstrand. There are a lot of books and some magazines, too. The place is definitely cosy as the description says. I think it woud be fun to visit Tina and Marstrand again.
Jessica
2016-05-18T00:00:00Z
We had a very pleasant stay in this cozy and very clean apartment. Tina our host was very helpful before and during our stay. We can definitely recommend this place.
Chris
2016-04-03T00:00:00Z
Although we never met Tina, she was a responsive and helpful hostess. The flat was very cute and she had left instructions on what there was to do on the island (restaurants, sights, etc.) The one thing I would say is that visiting on a Sunday in the off season is not the best way to enjoy the island as there is very little open, but a couple of days during the week should do the trick.
Giovanna
2015-09-15T00:00:00Z
Hello The first tina so nice person and She has a wonderful treatment... About the home : Very cool home you can spend the most beautiful moments there in addition to hygiene and good arrangement and location of the house is nice so I would recommend it for those who would like to stay at Mastrand heading to this house without hesitation... And thank you tina for everything...
Dudy
2016-11-10T00:00:00Z
Great, nice and very well located in Marstrand if you want to stay for a couple of days in the island! We thank Tina for her hospitality.
Anne-Solène
2015-08-20T00:00:00Z
Jättefint läge på lägenheten, rent och prydligt vid ankomst. Tina var kontaktbar under vår vistelse och gav hjälpsamma tips kring utflykter osv. Definitivt ett boende, och en plats, vi gärna kommer tillbaka till.
Karin
2016-10-21T00:00:00Z
Mastrandson is a beautiful historical island, very peaceful and wonderful for nature works surrounded by family, sailing and sea. The little cottage was very clean, a spacious kitchen, information on sights was very helpful and Tina was a very kind, warm host. Only thing for me is that I didn't expect the bedroom to be also the living room and the bed a sleeping couch, still it was comfortable but very small would suit a solo visitor.
Pamela Anne
2015-07-14T00:00:00Z
Jenis Bilik
Keseluruhan rumah/apt
---
Jenis Penginapan
Apartmen
---
Memuatkan
2
---
Bilik tidur
Marstrand, Västra Götaland, Sweden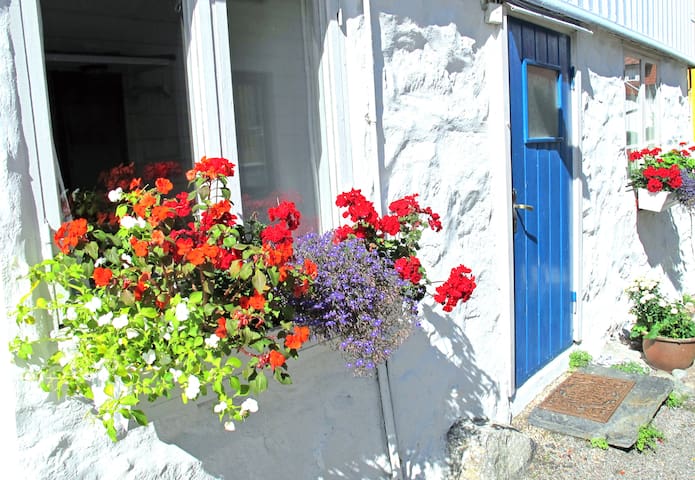 Renoveret to-værelses lejlighed i en villa på Klädesholmen. En levende kystsamfund med butik og restaurant, smukke promenader og badning. Cannery produktion af Klädesholmens sild i nærområdet og busforbindelse med Gøteborg
Dejlig lejlighed med køkken og soveværelse.
Umiddelbare nabolag til havet, gåture, solnedgang og badning
schön eingerichtete Ferienwohnung mit kleinem Cafe im Garten. Der Möhrenkuchen ist sehr zu empfehlen. Parkplätze sind ausreichend in der Nähe verfügbar.
Tim
2016-07-02T00:00:00Z
Kerstin' s apartment is nice and cosy , clean and well equipped Location is perfect : right at the entrance of kladesholmen , easy to find and easy parking facilities right in front of the house We met kerstin and she was kind and helpful We had a great experience and loved the island at the house Thanks kerstin for your contribution to making our Swedish holiday remarkable Paola
Paola
2016-08-16T00:00:00Z
The house is perfect for a couple. It is modern and realy nice. We used the kitchen one time to cook a seafood dinner. At the supermarket there is fresh seafood availabel. It was a short but unforgetable stay in Kerstins house.
Hannes
2016-09-18T00:00:00Z
We had a wonderful stay for 2 nights. Really cozy place with everything you need. Lovely big bed :) Great communication with Kerstin before and during our stay and super friendly in person. Located perfectly on the island of Tjörn with lots to see and do in the area. We had a great time and would love to come back :) Thanks for having us!
lisa
2016-10-09T00:00:00Z
Die Wohnung ist sehr schön und wie beschrieben. Klädesholmen und die Umgebung haben uns sehr gut gefallen und sind auf jeden Fall eine Reise wert. Leider haben wir Kerstin nicht getroffen, sie war aber jederzeit für uns erreichbar und hat uns Tipps für die Reise gegeben.
Marie
2016-08-25T00:00:00Z
Kerstin has a lovely, elegant and new furnished place next to the harbour. We really enjoyed staying there and would come back for sure. Klädesholm and the surrounding is really gorgeous. We can highly recommend Kerstin's place. She is a lovely host.
Annegret
2016-06-07T00:00:00Z
Very nice apartment, well furnished, equipped and spacious, located in a small house at the entry of the village. Kerstin has been very helpful with us in the booking and check-in process and gave us nice recommendation for restaurant. A very nice place to stay unless it's a bit close to the road. I recommend this place for a stay in the region, which is lovely.
Arnaud
2016-08-20T00:00:00Z
Jenis Bilik
Keseluruhan rumah/apt
---
Jenis Penginapan
Apartmen
---
Memuatkan
4
---
Bilik tidur
Klädesholmen, Västra Götalands län, Sweden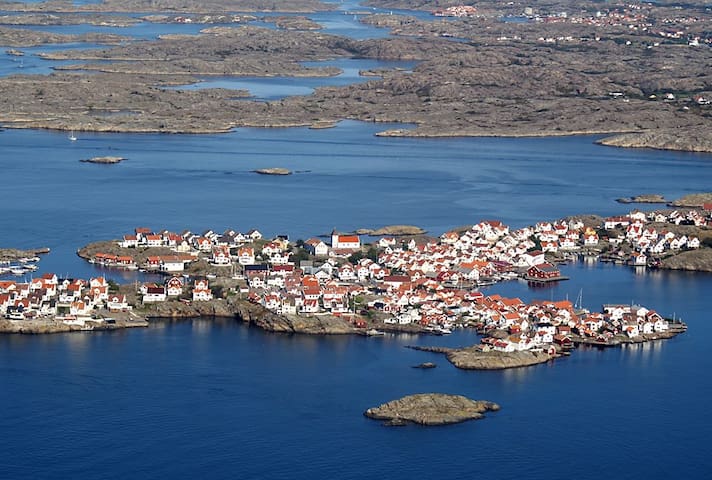 Here you live in the midst of greenery just a short distance from town. The bus outside goes all the way into town in just 15 minutes. Apt is cozy and just right for small families or couples, soft bed and go couch! Welcome to experience Gothenburg in the best way!
Jenis Bilik
Keseluruhan rumah/apt
---
Jenis Penginapan
Apartmen
---
Memuatkan
3
---
Bilik tidur
Göteborg , Västra Götalands län, Sweden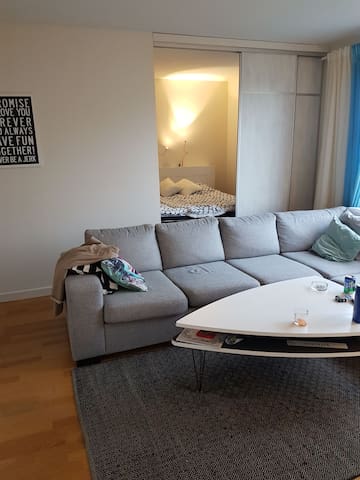 Appartement privé avec 1 lit (140 cm) et un canapé convertible (140 cm) avec un rideau entre eux. Beaucoup de cintres en tissu. Cuisine entièrement équipée avec table pour 4 personnes. Balcon du salon. Salle de bains avec douche, WC et sèche-cheveux. Draps et serviettes fournis et une connexion Wi-Fi.
A côté se trouve une épicerie (avec les heures d'ouverture entre 8-21) et beaucoup de bons restaurants et bars dans le quartier. Il est à 10 minutes à pied de backaplan qui est comme une grande zone de centre commercial. Sur la place se trouve en dehors d'une aire de jeux et il est proche de la nature à la fois à Ramberget et maximum 10 minutes de la ville. 1,5 km du ferry vers le bas à Lindholmen si vous comme moi aime la mer. Kville est vraiment un quartier agréable à vivre! Cuisine avec lave-vaisselle, four avec 4 plaques, micro-ondes, un réfrigérateur et un congélateur entièrement équipé avec tout ce dont vous avez besoin pour cuisiner. Salle de bains avec douche, WC et sèche-cheveux. Les draps et serviettes fournis. Une connexion Wi-Fi gratuite également. Un lit et un canapé, une télévision et un balcon. S'il vous plaît nous contacter si vous avez des questions! . Les deux arrêts de tram et très proche et vous emmener où vous voulez aller.
.
Trevligt bemötande med bra lägenhet, precis som utlovat! Rekommenderas!
Linda & Daniel
2016-06-27T00:00:00Z
Truly a great experience. Emilia made both me and my girlfriend feel very welcome. Apartment was clean and more than we expected. 10/10 would recommend to anyone.
Toni
2015-11-29T00:00:00Z
Emilia was a wonderful host! The apartment was easy to find and is exactly as presented. Superb location with public transportation, several restaurants and a grocery store in the vicinity of the apartment.
Jacob
2016-05-23T00:00:00Z
L'appartement d'Emilia est situé dans le nord de Göteborg, à proximité immédiate du métro ( 5 min), la station étant à 10 du centre ville. Le quartier en lui-même, plutôt sympa, n'a pas de grand intérêt touristique. Il y a un jardin d'enfants en face, bien équipé et un parking de grande taille à 50 m de l'appartement, où il est très facile de trouver une place. L'appartement se situe au troisième étage d'un immeuble situé autour d'une cour. Un ascenseur permet d'aller au premier étage mais ensuite il faut marcher. L'appartement, très propre, est élégamment décoré. Il se compose d'une cuisine avec tout le nécessaire, d'un salon avec canapé et un grand lit, et d'une salle de bain (douche agréable).
Denis
2016-08-08T00:00:00Z
Vi havde et rigtig godt ophold. Lejligheden levede op til forventningerne og det lå centralt med nem adgang til både indkøbsmuligheder og offentlig transport. Hvis man selv kører, skal man dog lige være opmærksom på, at der ikke er gratis parkering nogen steder. Emilia var let at få fat på via sms og hun stod klar, da vi ankom til lejligheden.
Tina
2016-08-01T00:00:00Z
My Brother and I had a great stay at Emilia's Apartment. She was very friendly and picked us up at the nearest tram station. The apartment was just like in the pictures. Very clean and cozy. The apartment is easy to reach by bus or tram. I would definitely recommend staying there.
Jessica
2015-09-26T00:00:00Z
Emilia was very easy to communicate with and arranged to meet us at the tram stop close to the apartment. The apartment was really clean, pleasant and had all the amenities we needed. The apartment is very close to public transport which takes you to the city centre in 10 mins. We had a great holiday. Thank you.
Hilary
2016-08-31T00:00:00Z
Bra läge, 7 minuter till centrala Göteborg, bra kommunikationer några minuter bort. Emilia var väldigt serviceminded, lägenheten mysig, trevligt område med närbutiker runt hörnet.
Jaana
2016-07-25T00:00:00Z
Jenis Bilik
Keseluruhan rumah/apt
---
Jenis Penginapan
Apartmen
---
Memuatkan
4
---
Bilik tidur
Göteborg, Västra Götalands län, Sweden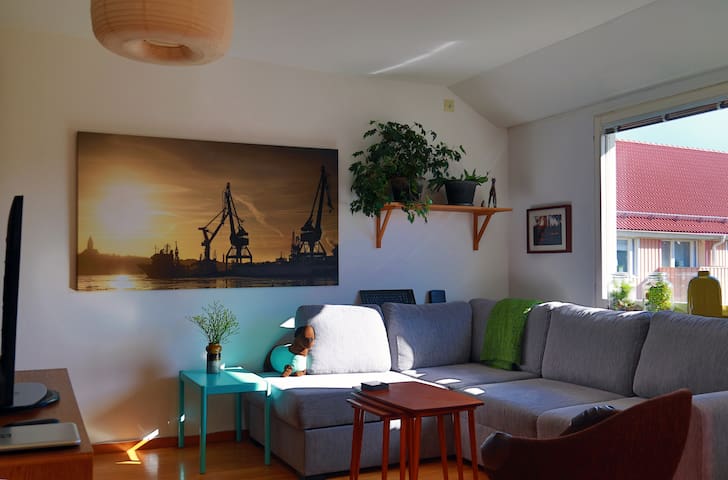 1

–

18

daripada

244 Apartmen Sewaan
Masukkan tarikh untuk melihat harga penuh. Yuran tambahan dikenakan. Cukai mungkin akan ditambah.