Approx 35 Sq Meter Luxury Suite Condotel at Entrata Alabang Fully furnished (self-contained) and equipped with grand amenities for effortless and stress free living.
Salient Features 100% LED lighting Biometric - Keyless Entry at Main Door Yale Digital Safe Built-in Home Cinema with Surround Sound Speakers Converts into an Office space and Residence Kitchen: Fisher & Paykel single drawer automatic dishwasher Fully Automatic combo washing machine (100% dry) 17 cu ft, 2-door no-frost refrigerator 2 hp Inverter Air-condition with remote control and automatic settings Convection Microwave Hot & Cold Water Induction Stove Slim type - Elba Range hood Nespresso Coffee Maker Set Porcelain Plate, cups and saucers Set designer Utensils Set designer Glassware Living Area: 100" Home Cinema Elite Projector Screen HD Epson 8200 Projector Polk Audio 7-channel Surround Sound Speakers Dolby Surround Sound Denon Receiver L-type Sofa-Bed with storage Center Table converts to 8 person dining table. Entertainment Console Cabinet 65" Samsung Smart Tv Bed Area: Clei Ulyssis Bed and Office Table Queen Size Memory Foam Mattress T&B: Kohler Square type water closet with Bidget Kohler Cast Iron jacuzzi Set Grohe Allure Thermostat Shower and faucet Rain Shower Side Shower Hand Shower Hot & Cold Water/Shower 7-rang Towel Warmer
Located in the heart of Alabang, Muntinlupa City. Room has great view of Laguna de bay. Space can comfortably fit four persons and is conveniently walking distance from Festival mall, Landmark mall, ASIAN Hospital Medical Center, Police and Fire Station. On weekends, sections of roads around filinvest are closed for traffic and make available for runners and bicycles, there is also a bike trail behind Petron gas station for mt biking. A 24/7 convenience store (7-eleven) is available at the ground floor. If you want room service, I have prepare a list of food delivery contacts in the unit for your reference. This also includes contact for in-room Spa massage.
We had a wonderful stay! Sheila is accommodating and very responsive to inquiries. The unit was modern, clean and cozy. We enjoyed every features of the room (especially the home cinema). Highly recommended!
Sheryl
2017-04-09T00:00:00Z
Jenis Bilik
Keseluruhan rumah/apt
---
Jenis Penginapan
Apartmen
---
Memuatkan
4
---
Bilik tidur
Muntinlupa, Metro Manila, Filipina
Our cool, cozy comfortable unit is Perfect! It's got all you need for a truly pleasant stay. Strategically located within walking distance to commercial establishments and major transportation terminals.
Our space is unique that it has all you will to stay comfortably yet have access to commercial spaces within walking distance and an efficient transport system.
I love the neighborhood because it's secured and is a stones-throw away from many restaurants and commercial establishments.
Josemari is a superb host! Very responsive and easy to talk to. He replies even late at night. Also, thanks for the free stuff in the fridge. Will definitely come back and will recommend to friends
Alexis
2016-08-27T00:00:00Z
It was great! Would definitely book this place again!!!
Maine
2016-08-20T00:00:00Z
Good apartment the location is in a nice and secured area. The apartment was clean and good place to stay except for a few cockroaches but I dont think the cleaning is to blame here. Josemari wasn't there but he helped to arrive.
Rouzbeh
2016-07-03T00:00:00Z
Everything was great! The room was extremely clean and the pillow and linen smells terrific! Josemari and Raine was very accomodating, even with our last minute booking changes. My friend loved it and doesn't want to leave. We still have few days to stay on the upcoming days. Can't wait! 100% recommended!
Sigrid
2016-10-28T00:00:00Z
The place is just fine. It has almost all you need, except of few toiletries (toothbrush, toothpase, etc) The place is very near to commercial establishments and is safe, which is great!
Jess
2016-07-24T00:00:00Z
the place was a bit smaller than expected but everything else was great. clean a comfy bed good wifi
Deepak
2016-10-07T00:00:00Z
Thank you, Josemari! We had a great time at your place. We'll be back next time
RA
2017-03-05T00:00:00Z
Josemari aka "tooth fairy" gave me the best experience in booking with AirBNB. I had an emergency and had to change my booking the last minute which he gladly accomodated. I even made a funny booboo and Josemari helped me with that. The place is really good and as described in the listing. Basic things like shampoo, soap, toilet paper, dishwashing, liquid, handsoap and new towels are provided. Room is so cold and I love the bed so much. The area is really really good too. It is near the BPO hub so there are fastfood chains, restaurants, convenient stores and coffee shops around. There is also a parking lot near the building should you'll have a vehicle with you. Plus, the neighborhood is quiet so I was able to really rest and relax. Overall, I really had a great experience having Josemari as the host. Everything is done smoothly, from booking to check out. I will definitely come back should I will have a business again on this area. :)
Ericka
2016-09-02T00:00:00Z
Jenis Bilik
Keseluruhan rumah/apt
---
Jenis Penginapan
Apartmen
---
Memuatkan
2
---
Bilik tidur
Muntinlupa, Metro Manila, Filipina
The Pacific Coast Residence condo features a 29 sqm beautiful home, located in quiet neighborhood of BF International Village. The brand new 1BR apartment is fully furnished and has everything you will need to have a pleasant stay. The amenities are centered in the fully-equipped clubhouse where you can relax on the poolside veranda, workout in the fitness gym or enjoy a friendly game on the basketball court. Pretty much everything is provided just don't forget to bring your swim suit!
Jenis Bilik
Keseluruhan rumah/apt
---
Jenis Penginapan
Apartmen
---
Memuatkan
3
---
Bilik tidur
Las Pinas City, Metro-Manila, Filipina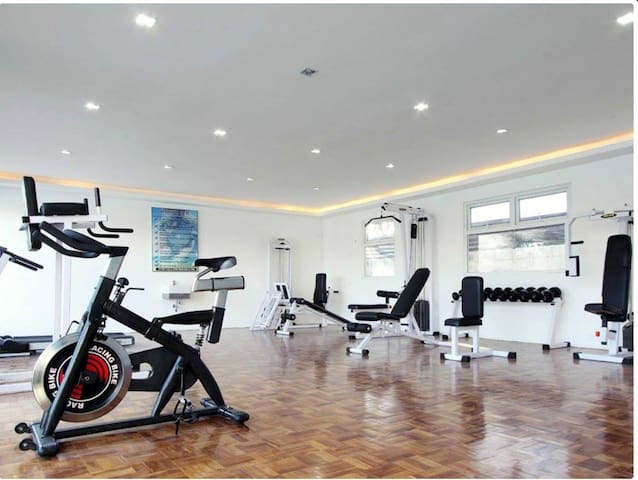 Come and relax at the best value suites in the brand new Hudson Tower at East Bay Residences by Rockwell. Brand new, modern furnishings and very spacious. DSL Wifi, Hot water heater, full kitchen setup. Amazing value. Fully Managed by ETO.PH
This unit is suitable for individuals or young couples looking for some privacy and western style living at a super value price. Very cozy and very spacious compared to a hotel room. (Cable TV is not yet available at this time). The unit has the following: 1) Full-sized Bed 2) Dining table and seating for 3 3) Kitchen with microwave and basic cookware 4) Modern bathroom with instant hot water heaters. 5) a 32" LCD TV with HDMI connections 6) Air conditioning 7) 2 towels 8) DSL Wifi connection
Comfortable place to relax. with little improvements.
Lester
2017-03-27T00:00:00Z
Safe and clean studio. Great view towards East (sunrise), since on 17th floor. SM Mall in walking distance, no shops otherwise in immeduate neighborhood. Unfortunately wifi did not work (or should i say it was a blessing to have wifi free days?)
Ryan R
2017-03-17T00:00:00Z
Place is nice and clean just like the pictures.
Hanezz
2017-02-03T00:00:00Z
The place dont have wifi or cable or local channels
Bernadette
2017-03-02T00:00:00Z
Great unit....
Siege
2017-02-13T00:00:00Z
Jah
2017-03-12T00:00:00Z
Everything is nice and clean, security is good and friendly. A good value for money. would definitely stay again.
Chris
2017-02-09T00:00:00Z
Best travel experience - Awesome place. The photos in the listing are accurate, Jesamine & the team was so hospitable and thoughtful. Will definetly be back here! Well played guys!
Amadz
2017-02-18T00:00:00Z
Jenis Bilik
Keseluruhan rumah/apt
---
Jenis Penginapan
Apartmen
---
Memuatkan
2
---
Bilik tidur
Muntinlupa, Metro Manila, Filipina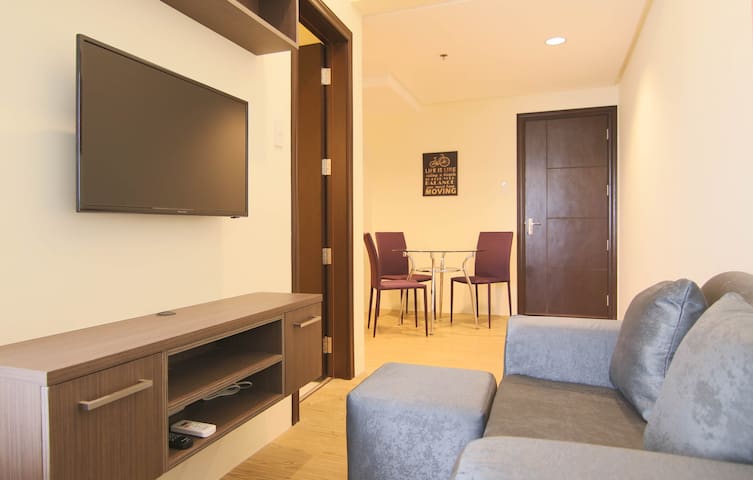 The unit is at Fountain Breeze Condo. It is beside PATTS College. The place is 10-15 mins away from the airport. Use of swimming. Food establishments, Dentist, Salon, Laundry Service within the vicinity. 5-10 mins away from SM Sucat and Waltermart
If you are looking for a place to stay but with a minimal budget: 20sqm Condo Unit with one bedroom One (1) Queen size Bed With Veranda Guests can use the following Swimming pool Refrigerator Iron Electric Stove Microwave Safety deposit box TV Rice cooker Pots and pans Kitchen utensils
Place is nice. good location in paranaque. near a lot of food shops, internet cafe, laundry and water shop. safe neighborhood as a lot of guards in the area. SM malls nearby as well and several grocery shops. Host was very accommodating. she agreed to early check in and late check out coz of our flight schedules. place is clean. comfortable. affordable. highly recommended.
Loren
2016-07-27T00:00:00Z
Had a great time in Ms. Thea Anne's unit! Thea Anne was also very understanding even though we were only able to check in past 11:30. She even accommodated a late check out for us. The room was spacious, complete with all the basic amenities. I would definitely book it again. :)
Dash
2016-02-26T00:00:00Z
Overall, it was a great stay :)
Richard
2016-11-12T00:00:00Z
It was perfect very good place nice place for new energy :)
Martin
2016-05-02T00:00:00Z
A very cozy and comfy place. Thea and her husband, Bonn, is very warm, friendly and accomodating. Location is very ideal since it's more or less 20 minutes from the airport. And their place is near convenience stores and near the national road. Don't hesistate to book their place, too many perks for a very reasonable price. Will book often here. Thanks Thea and Bonn!
AJ
2016-03-11T00:00:00Z
Theas was very kind and the place was small and cozy for 2 people. Very affordable as well and there are security throughout so its a good protected neighborhood
Giovanni
2016-09-07T00:00:00Z
As usual, Thea's place is awesome. Very comfy and host is very hospitable. HIGHLY RECOMMENDED.
AJ
2017-01-10T00:00:00Z
It was a delightful experience staying at Thea's place (accessible to major landmarks in Metro Manila).
Jerry
2017-01-31T00:00:00Z
Jenis Bilik
Keseluruhan rumah/apt
---
Jenis Penginapan
Apartmen
---
Memuatkan
2
---
Bilik tidur
Parañaque, Metro Manila, Filipina
BRAND NEW: - Perfect hub for business travelers - Carefully designed to maximize space - Executive furnished to guarantee comfort STRESS FREE: - Washing machine - International sockets - Work station with WIFI - Nespresso coffee welcome set - Free housekeeping service every 7 nights ACCESSIBLE: - SLEX: 2 Km - Airport: 7 Km - Makati: 15 Km - Medical Centre: 1 Km - SM BF and Santana Grove: 1 Km - Direct access to new commercial area --- Contact us to get your FREE MANILA GUIDE! ---
Definitely not your ordinary airport accommodation! A fusion of modern style and unmatched comfort. An intricately designed unit created for travelers visiting the Philippines for business and leisure. Enjoy the convenience of condo living with a touch of luxury.
Thank you so much for being a perfect host.I enjoyed my stay at your place. Very clean and very safe.. I recommend his place to everyone who wants to relax And just listen to a nice music because he has A very nice sound system which I enjoyed.. Thank you so much and I would love to come back..
Kamille
2017-04-04T00:00:00Z
Everything was perfect from the first message. The studio was clean and everything was new, but the highlight of my stay would have to be the espresso machine and free capsules provided by the host. I am Italian and I really appreciated a nice coffee just after check in and in the morning. There is also a coffee guide which was interesting to read, I am sure any coffee lover would do too!
Nicola
2017-03-06T00:00:00Z
Marco is a great host! Everything we could possibly need during our stay is there. The sheets are clean and very comfy! In the bathroom , there's even a washing machine provided for guest's use. And as a coffee lover , I especially loved the espresso machine in the unit! Italian inspired, indeed! I will definitely book this place again when I'm back in Manila
Anoka
2017-03-01T00:00:00Z
Such an amazing place to be in! Everything I needed for a good overnight stay was there. There's even a restaurant downstairs that serves local food which I found very convenient. Marco's unit is well thought of, not only for the design and furniture but also up to the smallest details like the sockets and lights in the house. I truly appreciate the hassle free experience I had with Marco and his team!
Nadee
2017-03-09T00:00:00Z
Absolutely fantastic short stay we had at this private and professional apartment. Elegant yet so chic! 10 out of 10. This place has its own 24hr security concierge. everything is brand new and modern and gave you an at home feeling. It's extremely clean and the view is of the city which makes it ever so special. I would recommend this place for anyone looking for the best apartment for location, security and up class amenities.
Miriam
2017-02-23T00:00:00Z
Jenis Bilik
Keseluruhan rumah/apt
---
Jenis Penginapan
Apartmen
---
Memuatkan
2
---
Bilik tidur
Parañaque, Metro Manila, Filipina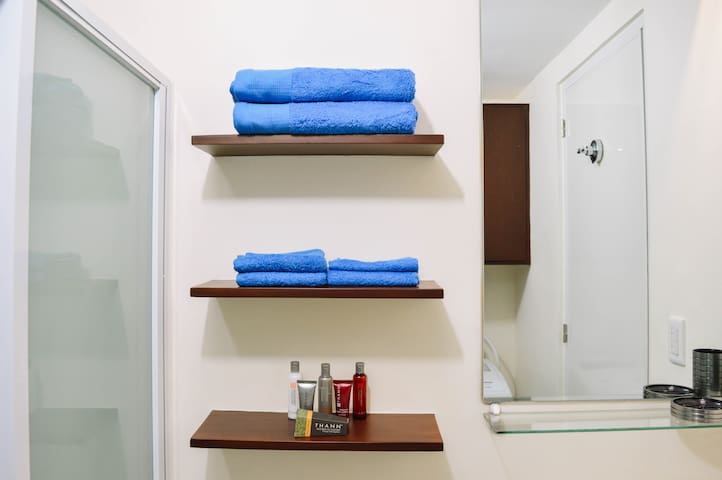 Luxurious and Contemporary one bedroom condo with fantastic panoramic view of the city and breathtaking sunset. The area is enviable as it is minutes to airport and major highway. It's next to a mall, banks and restaurants. Hotel living in a home.
Adorn yourself in this humble abode. Elegant and contemporary condo that's fully furnished. Tranquil, with an awe-inspiring sunset and a cool breeze of air. Well maintained items and is always clean and fresh once you're in. Its next to a mall (SM Center Las Pinas) and stone throw away to restaurants, cafes, banks, schools and hospitals. Open for residential, weddings, photography or professional film making/commercial adverts. It's just 10kms away from the airport as well.
Tranquil, friendly, cooperative and Security Staff are extremely polite and very accommodating and trustworthy. You'll be at peace staying here as assistance are everywhere.
Wow what can I say, Weng's place is amazing and she is such a lovely person to deal with, from our first correspondence she was amazingly helpful and really cared about her guest. She has a friends Jen and Juan who If you do not meet you will miss something special, so very helpful and concerned that everything was perfect. They collected me from the mall of Asian and took me to the apartment after a long flight and checked on me often, helped me find my way around and it seemed nothing was too much. Weng and her crew make you feel like royalty from constant communication to the smallest of details taken care of. Words do not do the service or level of caring any justice. I am working in Tacloban on a relief mission and I look forward to staying at Weng's place on my return to Manila and spending time with Jean and Juan. Thank you all for making my one week layover so special.
Gary
2014-01-30T00:00:00Z
Though there was a miscommunication, the owner and the property manager were very quick in fixing issues. The host is actually hospitable and caring make sure everything is ok.
Cheryl
2016-08-10T00:00:00Z
The place is great. Very cozy and comfortable. Me and my wife enjoyed our stay here. Very much recommended.
Adenar
2015-10-07T00:00:00Z
Weng was very accommodating and very easy to talk to. Her place was convenient being near malls and restaurants. We enjoyed our stay in her unit and will definitely consider booking again if we come back to the Philippines.
Arianne
2016-02-09T00:00:00Z
The host was very helpful and so was her friend. My flight was delayed and I had trouble communicating with them, but they still made it work very easily. It was a little further from the airport than I was expecting, so not ideal for a quick overnight type thing. Cost 150 pesos the first time and 300 pesos the second time to get to and from the airport. The place had all the amenities. Wireless wasn't very good because of so many holiday people. Security was present at the building.
Ali
2015-04-05T00:00:00Z
The host was very attentive and was vey accommodating. The place was very clean and comfortable. Even though we booked in such a short notice the host still managed to make our stay a very pleasant one.
Anthony Francis
2015-04-13T00:00:00Z
We had a great time and really enjoyed the condo! Everything was perfect for us. The security and staff were extremely kind and helpful in every way.
Michael
2014-06-03T00:00:00Z
Jenis Bilik
Keseluruhan rumah/apt
---
Jenis Penginapan
Apartmen
---
Memuatkan
2
---
Bilik tidur
Las Piñas, Metro Manila, Filipina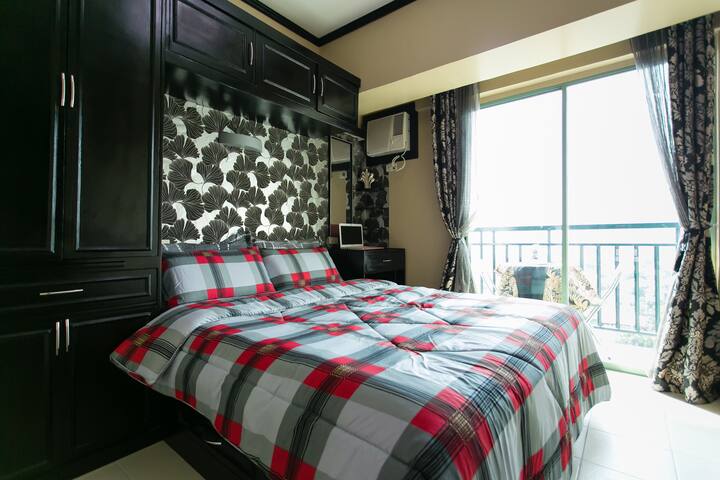 Our cozy studio apartment is located at the center of Alabang and at the center of the Alabang's business district. Everything you need like grocery, mall and restaurants are just 5 minutes walk. It is a home away from home. Everything you need is just within reach. The place is quiet and fully secured. It's like you never left home.
Avida Towers Alabang is located within Madrigal Business Park. It is situated right across Molito Alabang and Alabang Town Center. 5-10 minutes away from Filinvest City. It's nearby major thoroughfares, transport stations, offices, hospitals, malls, schools, churches, and the most exciting developments in the area.
The host canceled this reservation 4 days before arrival. This is an automated posting.
Claudine
2017-03-28T00:00:00Z
It was very clean and cosy. You won't regret.
Junho
2017-03-03T00:00:00Z
Location of unit is very convenient and accesible, host was very accommodating and quick to respond. Entire home gives a very chill vibe with all the interiors and decoration. Perfect place for a quick staycation. Host even gave me time for checking out late.
Francis
2017-02-12T00:00:00Z
The place is nice, clean and in a good location. It's walking distance from Molito and ATC. It's also accessible thru public transportation. It's perfect for couples and maybe if you're traveling with your kid. The place is complete with basic home necessities. Plus fast wifi connection! Ryan was very accommodating and flexible with our requests. We had issues with our check-in and check-out time, good thing Ryan was very understanding. I would recommend this place to my friends.
Brigitte
2017-03-05T00:00:00Z
Great unit and great host!!!
Emman
2017-02-05T00:00:00Z
We had a great stay. The owner was so kind and very accommodating. She answers all our questions and respond immediately to our requests. I definitely refer them to others.
Neive
2017-02-15T00:00:00Z
if you're looking for a great place to stay in ALABANG or in the surrounding area.. you'll be missing out if you don't rent this unit.. NO MORE THAN 3 ADULTS though.. but nevertheless a great place.. comfortable.. quiet.. clean.. easy access.. great communication.. I will never rent anywhere else if I'm in the alabang area..
John-Anthony
2017-03-28T00:00:00Z
Check in and check out time was very flexible. Ryan was very accommodating.
Alex
2017-02-19T00:00:00Z
Jenis Bilik
Keseluruhan rumah/apt
---
Jenis Penginapan
Apartmen
---
Memuatkan
3
---
Bilik tidur
Muntinlupa, Metro Manila, Filipina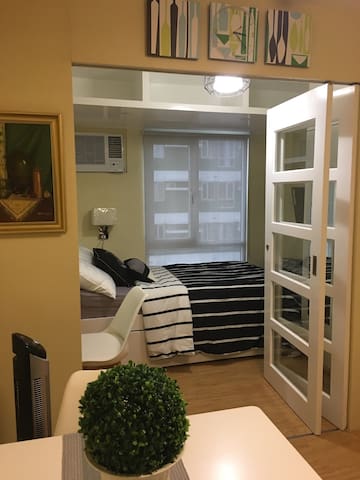 My place is close to restaurants and dining. You'll love my place because of the neighborhood. My place is good for couples, solo adventurers, business travelers, and families (with kids). 1 bedroom with balcony fully furnished 24 hours security lift swimming pool Sm Sucat city Mall of Asia n Airport ... Long term good price pls ask ty beddings towels provided hot shower TV channels Abs-cbn(5-6 channels)
UPDATED!! Water Heater(hot shower) Abs-Cbn Tv Plus(5-6 local channels) and Pocket Wifi(wifi wherever you go!!) Fully furnished one bedroom standard units comes with 1pc sofa, 1pc side table, 1 pc LCD TV, and 1 pc DVD player in the Living Room. The Dining room comes with a set of Dining table with 3 chairs. The Kitchen comes with 1pc set 2-burner electric cooktop, 1 rangehood, 1 refrigerator, 1 microwave, and 1 set overhead and under counter kitchen cabinet. The bedroom comes with 1 bed with frame, mattress with bedsheet, 2 pillows with pillowcase, 1 wardrobe closet and Aircon. The Bathroom comes with a water closet, 1 lavatory, 1 shower set, a soap holder, tissue holder, towel bar, shower glass enclosure, facial mirror and a laundry clothesline
Jenis Bilik
Keseluruhan rumah/apt
---
Jenis Penginapan
Apartmen
---
Memuatkan
3
---
Bilik tidur
Manila, Metro Manila, Filipina
Maricielo has a very good location, where you don't have the Manila hazzle. Easy to get in and out when going south, east or north to Manila centre. Easy to get to NAIA, the main airport and to Mall of Asia. Walking distance to local markets, buses and taxis stops right outside. SM Southmall not far away with all kinds of shops. You will love this place because it is new, clean, safe, easy to access. This condo is good for couples or if you travel alone.
Great host. Great balcony view. Very clean. Had everything we needed. Would recommend.
James
2017-01-14T00:00:00Z
I love staying at Sabrina's place. The view from the bedroom balcony looks good specially at night. Everything is provided on the kitchen and bathroom. We felt at home right after we checked in. She also sent a cleaner which is real nice. The area has a swimming pool where we stayed during daytime. This place has an easy access to public transportation or you can ask one of the security guards to get a cab for you. We will definitely book this place again on our next vacation to the Philippines!
Katrina
2017-03-08T00:00:00Z
Sabrina met us upon check in and was available on the phone when we're trying to find the address. Very helpful. Everything as described, very clean, comfortable bed. The compound is beautiful & the guards are very helpful. Enjoyed our stay at Sabrina's.
Gina
2017-01-23T00:00:00Z
Jenis Bilik
Keseluruhan rumah/apt
---
Jenis Penginapan
Apartmen
---
Memuatkan
2
---
Bilik tidur
Las Pinas, Metro Manila, Filipina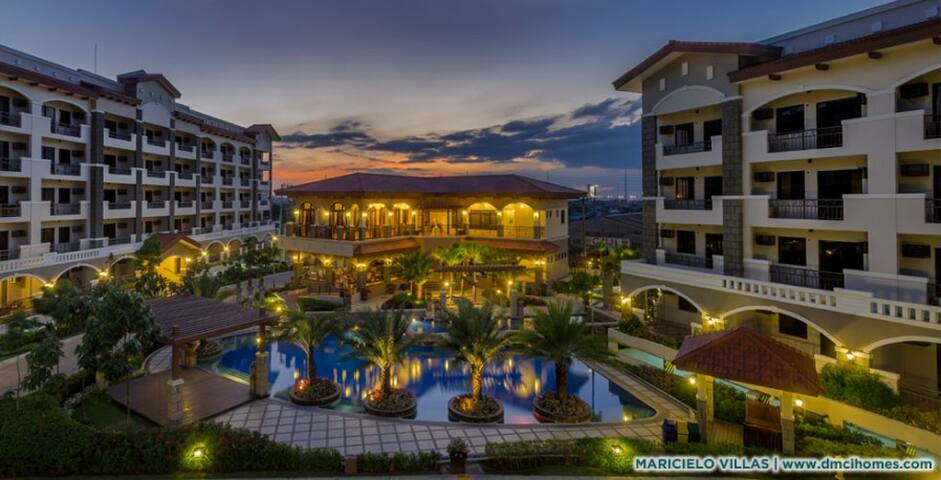 This one bedroom unit is around 29sqm, situated in the 8th floor of a condo complex that is quiet and complete with amenities. It has a sofa bed so it can fit up to 3 persons. It's 15-minute drive from NAIA; SM Sucat is 10-minute walk.
Dan and his wife were excellent hosts. Dan was very personable and prompt in answering all my questions. Nice and clean living space. His listing is very close to city conveniences. The only negative is the Php150.00/night parking charge, but thats a relatively miniscule negative. Definitely going back here again. I cant think of any better place to stay.
Jonas
2015-05-03T00:00:00Z
Dan has a personal assistant, who goes out of his way to make sure that the guest is accommodated. The place is clean and comfortable.
Enee
2016-06-30T00:00:00Z
Jenis Bilik
Keseluruhan rumah/apt
---
Jenis Penginapan
Apartmen
---
Memuatkan
3
---
Bilik tidur
Parañaque, Metro Manila, Filipina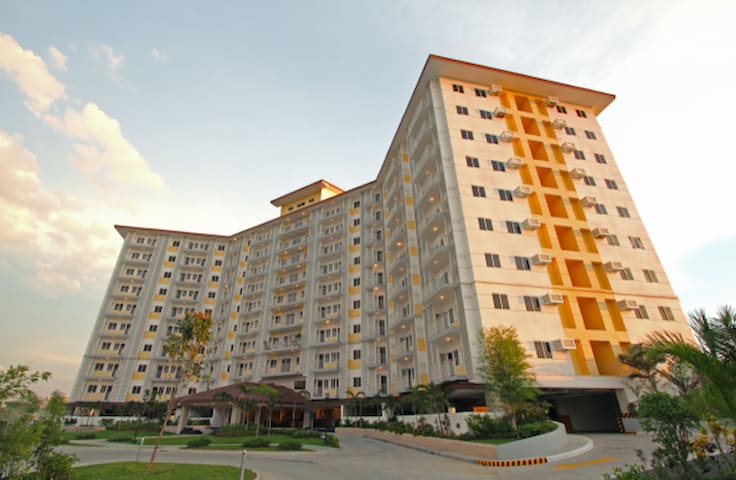 Located right at the heart of Alabang, this is the prime location to explore the South! The unit is cozy with a modern flair, perfect even for a chill night in.
Newly decorated unit with access to a swimming pool and a gym, and an exquisite view from 5 stories up. Additionally, Alabang Town Center, Westgate, Commerce Center, and Festival Supermall are all within a stone throw away.
There is a 7-11 convenience store by the condominium, and a South Supermarket 3 minutes away. Festival Supermall, Palms Country Club, Molito, and Alabang Town Center are all within a 10 minute drive. For a full list of restaurant/night life recommendations, please don't hesitate to ask.
Vivian and Valerie have been great hosts. The communication for the check in/out process was easy. The place is great, clean and has all the basic necessities that a traveller would need. The internet connection was excellent too. The place is a few mins drive to the mall and other establishments. Would definitely recommend for travellers who need to book in the Alabang area.
Lee
2017-01-14T00:00:00Z
We had a great stay at Vivian/Valerie's place! The room is really nice and clean and cozy, there's malls and restaurants around, and the area is really safe to even walk around late at night. Would definitely recommend to anyone who needs to stay in Alabang!
Alfonz
2017-03-06T00:00:00Z
The condo was great. Everything was neat and clean including the premises. The place was located in a beautiful city with almost every food outlet and shopping mall nearby on a walking distance. The room was spacious enough for two people to have a comfort stay. Overall ambience was excellent and would recommend everyone to atleast visit this place once in a while.
Melba
2017-01-28T00:00:00Z
For the quality of the unit, it's five stars! :) The whole unit is spacious and the interior is envious. :) Bathroom and kitchen essentials are provided. We had a wifi issue on the night of Day1, but was resolved by the owner.
Alexandra Isabel
2017-02-20T00:00:00Z
The place is spacious and neat, Vivian was very accommodating as a host and we had a pleasant stay. The place must be everyone's first choice! :)
Abigail
2017-03-24T00:00:00Z
Vivian was easy to talk too. We had some technical issues on day 1 and day 4 but it was fixed right away and handled professionally. I loved their Netflix subscription and loved how the restroom had the complete toiletries. Will definitely be booking this place again.
Jojho
2017-01-11T00:00:00Z
The host canceled this reservation 54 days before arrival. This is an automated posting.
Melissa Ana
2017-04-01T00:00:00Z
Jenis Bilik
Keseluruhan rumah/apt
---
Jenis Penginapan
Apartmen
---
Memuatkan
3
---
Bilik tidur
Muntinlupa, Metro Manila, Filipina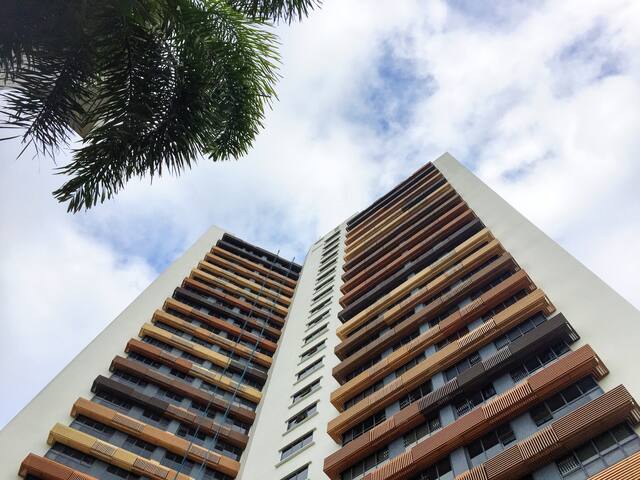 Located in Madrigal Business Park. Cool and comfortable place with aircon bed, refrigerator and bathroom fixtures. It is also near several banks, bars, restaurants and supermarmarkets. Has a pool, outdoor gym and park. 3 minutes by foot to Alabang Town Center 2 minutes by foot to Molito Alabang
It is just across Alabang Town Center and Molito. Near banks, schools, church and supermarket.
The neighborhood is secured, clean and quiet.
Great for travelers on a budget for business or leisure. No problems with the room, nice view, lots of security guards, 5 mins walk to Alabang Town Center. Thanks, Duterte.
Christopher
2016-08-13T00:00:00Z
No problem.
Takeshi
2016-08-16T00:00:00Z
The host canceled this reservation 41 days before arrival. This is an automated posting.
Kenton
2016-10-02T00:00:00Z
The place is nice and quite. Very near to commercial areas. Good value.
Tristan
2016-08-31T00:00:00Z
Jenis Bilik
Keseluruhan rumah/apt
---
Jenis Penginapan
Apartmen
---
Memuatkan
2
---
Bilik tidur
Muntinlupa, Metro Manila, Filipina
You can stay in this 1 bedroom fully-furnished apartment in Las Pinas with a stunning view of the sunset. There's one queen-sized bed and one sofa bed. It is a three-minute walk to SM Southmall. You also have access to a gym and swimming pool.
This condominium is very near SM Southmall, with many dining and shopping options. Convenience stores and laundromats abound in the ground floor of the condominium. All this while still being in a quiet suburban area.
The place is as described, you get what you see in the pics and description. If you're the type that likes to have sunshine right in your place, you get that in galore. This is a place that I can recommend
Sale
2016-05-21T00:00:00Z
Ideal for a short stay. Water pressure is good and there is cable tv. It's across the street from SM Southmall so it's easy to get your last minute shopping done and get food. Checking in and checking out are also very flexible. Philip's dad was able to check me in at like 5:30am, and check out was also just as easy.
Christina
2016-12-23T00:00:00Z
Overall experience was good. Would like to come back again to this condo when I visit Philippines.
Avinash
2016-12-17T00:00:00Z
I highly recommend this place for those people looking for a place to stay in Las Piñas. Philip was very accomodating and easy to make business with.
Renz
2015-05-12T00:00:00Z
Overall experience was great. The condo had everything we needed. We love how close it was to the mall and convenience stores in the building. The unit is clean and has no foul smell like rodents etc. the bathroom is clean and spacious with amenities. However, the couch is a little dirty with crumbs/food left underneath the cushions but the bed is clean and cozy. Philip is a nice host granting/accommodating all our concerns but it was an elderly who met us who is not very warm. During check out, he knocked and stayed inside not leaving us any privacy nor the time we needed to finish packing as we leave.
Jairus
2015-06-10T00:00:00Z
The condo is amazing. A gym, pool, grocery store, small restaurant and laundry in the building. As for the unit itself it is great. Hot water, AC, Cable TV and lot of plugs in the unit to plug in your gadgets. The building is across the street from SM South Mall. A major mall in the south Metro Manila area that has everything. As for the host Philip and his dad they are both plus 5 stars. They let me check in very late 2AM and check out very early 5AM. This is the place to choose if you want to stay in Metro Manila especially if you like Las Pinas, Alabang or even Bacoor Cavite.
Eugene
2016-09-28T00:00:00Z
Jenis Bilik
Keseluruhan rumah/apt
---
Jenis Penginapan
Apartmen
---
Memuatkan
3
---
Bilik tidur
Las Piñas, Metro Manila, Filipina
4 BR + 2 T&B 1 Masters Bedroom with King-size Bed 1 Room with Bunk bed 1 Room with Singled Bed (optional pull-out) 1 Small room for Driver/Service Personnel • Resort-like community • very nice pool • convenience store • 2-5mins drive to malls
4BR + 2T&B 1 Masters Bedroom with king-size bed 1 Room with bunk bed 1 Room with single bed with pull out bed 1 Small room for driver/service personnel (by request set up) • Resort-like community • very nice large pool • convenience store • gym (with min fee) • Basketball court • 2-5mins drive to malls We'll make sure one of our representatives is available to take care of your needs. • Peaceful and relaxed community • Ideal for Expats, Balikbayans and Business travelers • 2 minutes drive to SM Southmall • 5 minute drive to Alabang Town Center • 10 min drive to EVIA Lifestyle Mall Public transportation is available 24/7. Electricity: To keep our rental rates low, we've implemented a consumable usage allowance of 15kw/night – which is usually more than enough for casual usage. Excess of the allowance will only be billed a minimal fee of P15/kwh.
• Peaceful and relaxed community • Ideal for Expats, Balikbayans and Business travelers • 2 minutes drive to SM Southmall • 5 minute drive to Alabang Town Center
Amazing place to stay! Secured, Cozy and affordable! i will definitely stay here again!
Christian
2017-02-02T00:00:00Z
The place was perfect except for the bad smell in d masters bedroom
Vondalyn
2016-12-04T00:00:00Z
The host was very welcoming and accomodating. The Ohana unit is clean , comfortable , a secured place, and has a resort atmosphere, with a gymn. A clubhouse, swimming pool , and a convenient (URL HIDDEN) also sleeps up to 8 (URL HIDDEN) is accessible to the Ayala Town Centre, SM Southmall various restaurants,and to NAIA (URL HIDDEN)'s assistant Roly is so prompt and helpful when needed. Bonus is the parking stall included with the unit. Inspite of only a 15 kilowatt/ day allowed in electricity use , with which we ended up paying extra, we enjoyed our stay at the Ohana residence. We are definitely booking this place again .
Lelita
2016-11-29T00:00:00Z
Jenis Bilik
Keseluruhan rumah/apt
---
Jenis Penginapan
Apartmen
---
Memuatkan
8
---
Bilik tidur
Las Pinas, Metro Manila, Filipina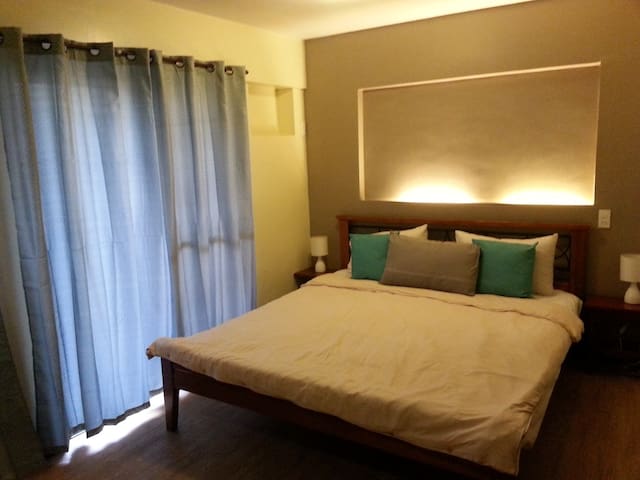 *NEWLY RENOVATED - NOV 2016* 24/7 CHECK IN BROADBAND WIFI CABLE TV AIRCONDITIONED ROOMS *BEST VALUE FOR MONEY* Want a relaxing, quiet, and breezy environment or a busy, eventful, shopping district? Close to the center of Alabang is our cozy 2 bedroom apartment inside a resort like space that allows you to unwind and relax without leaving the city center! We provide you with white and comfy beds, towels, and amenities. Enjoy the pool, gym, and the nice and secure neighborhood!
Welcome to our home! Our apartment has 2 Bedrooms and 1 Toilet & Bath. Very spacious and clutter free. We are in the 1st floor with our balcony facing the pool/clubhouse/center of the resort. You can enjoy the scenery without buildings blocking your view! It is considered a premium spot by many. Your stay will include the use of: - 1 Queen size bed (soft comforter, pillows, and white linens just like the hotels!) - 2 Twin size beds (also has its own set of comforter, pillows and white linens) - Dining Set (seats up to 4 people) - Sala/Living Room (equipped with a flat screen TV and DVD player) - 1 Toilet & Bath (equipped with a water heater and bidet, and provided with amenities like bath towels, shampoo, bath soap, hand soap, toothbrushes and toothpaste!) - Kitchen (equipped with a refrigerator, microwave, water boiler, electric stove, plates, glasses, mugs, cooking knives, cooking pan, and utensils) - FREE CLEANING once a week - FREE change of sheets and towels once a week - 24/7 Security - 24/7 Check - In upon arrival - Flexible check out time (depending on availability) -CABLE TV and BROADBAND WIFI now available for guests starting June 2016! Other Services you may avail: 1. Pick up service from the airport - P1000 2. Service to the airport upon check out - P1000 3. Home-cooked meals priced around P30 - P70 inside Ohana (VC Express Diner) with delivery straight to your unit 4. Business Center Services inside Ohana (VC Express Diner: Business Services) *upon availability of store a. Photocopy b. Internet/(SENSITIVE CONTENTS HIDDEN) c. Printing and Scanning d. Load/Cellphone credits 5. Home massage - P250/hour You can stroll around the resort and use the swimming pool, basketball court, gym, clubhouse, etc. There is also a 24/7 convenience store inside the resort! Now you'll never have to go through the hassle of getting those midnight snacks you suddenly craved for! The convenience store is just a minute away. This neighborhood is very secure and there are security guards roving all day and all night so you should not be worried about safety even at night. The 24/7 security feature is well-appreciated by all my guests!
Ohana Place is a resort-like neighborhood with 24/7 security and well-maintained amenities. Outside the neighborhood, you can easily catch a jeepney as they always stop right in front of the gate of Ohana. You can try to experience a jeepney ride -- one of the most famous and unique modes of transportation in the Philippines. Tick that off your bucketlist! Riding a jeep: - 3 mins away from the biggest mall in Las Pinas City, SM Southmall - 10 to 15 mins away from Alabang Town Center (a high class mall) - 10 to 15 mins away from Molito (lots of restaurants you can dine in for lunch and dinner. If you love Japanese food, try Ramen Yushoken which is famous in this place! People line up for this restaurant.) - 15 to 20 mins away from Festival mall (another huge mall with a roller coaster inside!) - 30 to 40 mins away from Greenbelt/Glorietta malls You can also easily get a taxi if you do not want to ride a jeep. You can ask the guards to help you hail a taxi and the taxi will pick you up right at your basement. Lots ands lots of malls and restaurants to choose from. You would not get bored! Enjoy Manila!
房东是个20出头的小姑娘,待人友善。入住当晚是房东和她父亲亲自开车到机场接我们的,也帮我们把几个入住酒店的朋友送达住处,很是感谢。房子内饰挺温馨的,但是没有照片上看起来那么大,非常紧凑的小两房,地处1楼,通信信号不好。小区的门卫很友好,经常会帮忙叫的士,而且他们都随身着真枪,住在小区内有他们守护着,感觉超有安全感的。这个地方离SM南部超市很近,附近也有alabang购物商场,买日常用品还算方便。不过,这里相对厦门很落后,打的都不打表,街道环境很差,像中国的60/70年代吧。总之,不是很糟糕,还可以接受。
danna
2015-11-05T00:00:00Z
Ina was a great host and easy to talk to. The place is close to shops, transport and the clubhouse and swimming pool is just an arm's reach! The condo itself is clean and the bed is firm and good, just like the way I like my bed. All in all, a good place to stay.
eleanor
2017-04-06T00:00:00Z
Thank you very much, everything is fine! Very nice bedroom community, responsive security personnel, close to City Mall, plenty of places for food, at the entrance there are always taxis. Be sure to recommend this place to all!
Ivan
2017-02-20T00:00:00Z
Carina is a very helpful host. I really enjoyed my stay. I will be returning next year.
Roy
2016-08-01T00:00:00Z
Carina was a superb host and very understanding when anything came up, she replaced sheets and towels regularly which made our experience more comfortable. The condominium had its own security, pool and convenience store and is very central for access to shopping centres would definitely recommend! Next time we return to Manila we will be looking to stay at the condo again. Thanks a lot Ina for letting us stay at your condo and for the great hospitality.
Timmy
2016-02-04T00:00:00Z
Ina is a great host, she made me feel home at the minute that I met her. She will start by giving you the taxi rates from wherever you are coming from, then she will welcome you, guide you and explain you everything you have to know. The condo is very nice, quiet, clean, the amenities are awesome (swimming pool is perfect, you can BBQ by the pool even invite friends, do not hesitate to go play basketball people are happy to invite you in the game), you can ask anything to the security guards they are always happy to help. People who live in Ohana (and in the Philippines) are extremely nice, everyone is very friendly but also respect your privacy. You can ask anything to Ina from places to go, taxi rates and even what to say when taking the jeep, Ina is always glad to help and she will for sure find a way to make you happy . Ohana and also Alabang are extremely safe, you should not worry about anything. Do not hesitate to visit Manila and stay at Ina s condo. If you need any informations or have any questions, do not hesitate to contact me.
Rudy
2016-05-24T00:00:00Z
The host canceled this reservation 9 days before arrival. This is an automated posting.
Alice
2016-05-31T00:00:00Z
We had a great time at Ina's place! It's in the center of everything plus home is really cozy and secured. We love the pool and the nice view. Ina also made sure we are comfortable and replies on all our inquiry promptly. We definitely recommend this place and we'll make sure to book again when we need place to stay in Alabang/Las Pinas area! :)
Michelle
2016-03-19T00:00:00Z
Jenis Bilik
Keseluruhan rumah/apt
---
Jenis Penginapan
Apartmen
---
Memuatkan
5
---
Bilik tidur
Las Piñas, Metro Manila, Filipina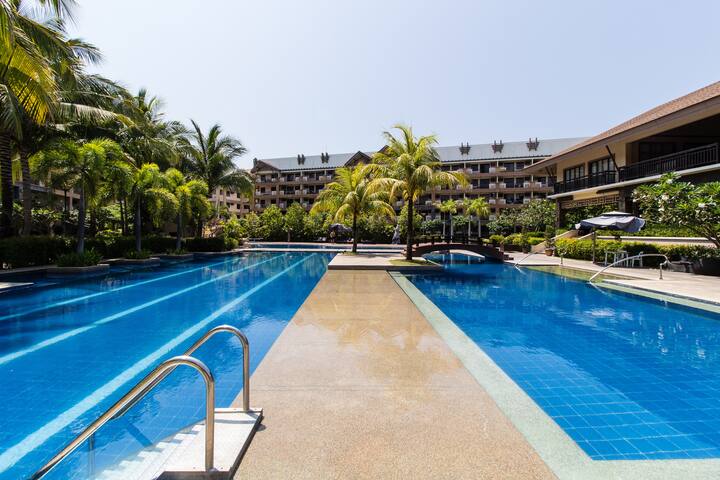 1 bedroom at VIVERE HOTEL with living room,office desk, Small kitchen,dining table and bathroom. Luxury & charming : swimming pool,rooftop bar & restaurant,spa, GYM and cleaning services. High-rise building with a great 360° rooftop view ! 2xTV, DVD
50 SQM Luxury & charming, good location for travelling in south of Philippines or north for Makati, close to the skyway, very safe and secure, and I can help those who want to rent a car or a van as well...Nice restaurant, Pool,SPA massage, lounge...
There is a NICE mall around and nice restaurants in west gate, close to SKYWAY and Laguna, TAGAYTAY or BATANGAS, MAKATI easy access from the hotel only 500 pesos by taxi, possibility to rent a car if needed
John is a very nice guy. He is very helpful when we can't open the safe and he recommended his driver to bring us around. He is also very efficient to answer all our questions. He's also very attentive to our requests so I really appreciate it. When we came the place is clean although the bath tub takes time to drain the water. Something to just take note. The location is also very accessible to Festival mall so it's easy to buy food as the mall closed by 10pm. If anyone is hungry at night the North gate is also right at your door steps. I would highly recommend John place and he's a very good host. Thanks for having us.
Helena
2015-12-08T00:00:00Z
Jean Michel's apartment was nice, very clean and well equipped. He was accommodating and replied to all our queries. He was also very helpful and offered to help us find other accommodations for our family. We also requested to use his apartment as a base for my husband to prepare for our wedding and he allowed us to do that. I would gladly recommend his place to anyone who wants a comfortable place with easy access to malls around alabang. Thanks Jean Michel
Maricar
2016-07-03T00:00:00Z
The place was spacious and wonderful. It is a few steps away from Festival Mall (which makes it accessible) and is designed beautifully. We didn't have any problems contacting John. All in all, it is a worthwhile visit to Paranaque and a great temporary home in the city.
Ma. Paola Rica
2016-06-20T00:00:00Z
The condo was very nice. My girlfriend and I had a lovely time there. The bed is very comfortable. The water pressure in the bathroom is good. The place is spacious and cozy. I'd recommend it to everyone! JM, the host is very responsive and friendly. He has been very helpful throughout the stay. We couldn't have asked for a better host to be honest.
Emir Dino
2016-05-03T00:00:00Z
Although Jean Michel wasn't around to meet us personally, the hotel staff was warm and accommodating. The hotel is just a couple of minutes' walk from Festival mall. The swimming pool has a lovely view of the surrounding areas. It's a great place to stay. Lovely hotel, lovely room with 5-star service and facilities!
Ruth
2014-08-19T00:00:00Z
Great place and location. Love the room and the view! Thumbs up to Jean-Michel as he was very informative and detailed.
Grace
2016-11-18T00:00:00Z
This apartment is very clean and tidy, it's in a great location a short walk from most areas of interest. I would definitely stay here again.
JAMES
2017-03-19T00:00:00Z
Again, thank you very much Jean for your hospitality. Wonderful to have met you and your lovely wife. As that stay was my second time at your unit at Vivere - was even more delightful than the first, and surely won't be the last.
Michael
2015-03-08T00:00:00Z
Jenis Bilik
Keseluruhan rumah/apt
---
Jenis Penginapan
Apartmen
---
Memuatkan
3
---
Bilik tidur
MUNTINLUPA, METRO MANILA, Filipina
2-br condo located at the 2nd flr, with great beach view. Can occupy up to 6 persons. Near airport and SM Bicutan
Near airport and SM Bicutan
We had a great stay at Maricel's unit. She is very promp when there's an inquiry. Excellent communication, very respectful. Clean place. Thank you so much, Maricel. Highly recommended place/unit. Until next time..
Gem
2017-03-30T00:00:00Z
Clean. Nice place. :)
Ronica Joy
2017-03-16T00:00:00Z
Perfect place stay for a family or two/ barkada. Great view and clean unit. Mam Maricel is also a nice host, always reply to my inquiries.
Kaine
2017-01-01T00:00:00Z
A really nice apartment in a bigger complex with a great swimming / playing pool for kids as well as a nice pool for adult. Everything is very clean. SM mall at walking distance. Security was quite strict at first entrance but quickly got easier as they knew us. Maricel and husband are absolutely great and very accommodating hosts. They are really friendly easy going people understanding the needs of their guests. Looking forward to meeting them again.
Martijn
2017-01-20T00:00:00Z
Best place to stay when your are in the city. The owner is very friendly and accomodating. She made sure that everything go well!! I booked the unit all the way here from Canada for my husband and our family who's on vacation in the Philippines. The owner respond right away (less than 24 hrs.) and got the place hassle free. Thank you very much Maricel. Will definitely consider your place on our next vacation(URL HIDDEN)
Karen Keith
2017-01-27T00:00:00Z
One word. SUPERHOST! It was my first time to book via AirBnb and I choose Maricel's unit in Azure. I didn't have a hard time eventhough I'm a newbie. She was very accomodating. She's answering all my questions regarding our stay there. She's prompt too in our meet up time ( I saw lot of people lining up in the entrance. waiting for their host i guess) When we got there, the unit was clean and she toured and explain things regarding the unit. Great things in the unit are: - BIDET (For me, it's the game changer) - The View from the balcony - Super Cold Aircon - FAST Internet connection (45Mbps) - Cignal Cable TV - Spacious Living and 2 bed room - Complete set of kitchen and Dining utensils (REF and Microwave) - Hot and Cold water (shower/faucets) It was a great experience. Thanks to Maricel. Will definitely book here again.
Charles Homer
2017-04-07T00:00:00Z
Maricel was very prompt in her responses and very accommodating. She is a great host, and the space is very nice, so I would highly recommend anyone staying here.
wally
2017-03-11T00:00:00Z
Ms. Maricel was very accomodating in all of my questions and very easy to transact with. My friends enjoyed their stay at her place.
Patrick
2017-01-03T00:00:00Z
Jenis Bilik
Keseluruhan rumah/apt
---
Jenis Penginapan
Apartmen
---
Memuatkan
6
---
Bilik tidur
Parañaque, NCR, Filipina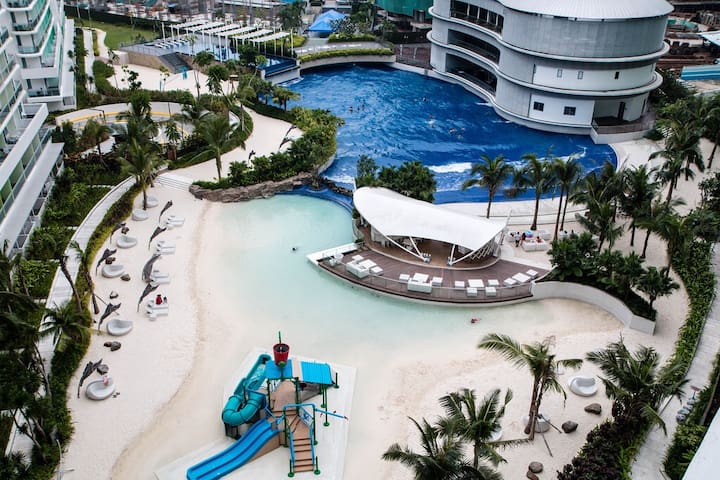 1

–

18

daripada

300+ Apartmen Sewa
Masukkan tarikh untuk melihat harga penuh. Yuran tambahan dikenakan. Cukai mungkin akan ditambah.