Overlooking the bay is "Driftwood", a stylish, open plan Scandanavian style beach house. It is not only spacious and luxurious, it is perfectly designed to take full advantage of the view, whether you are on the verandah or anywhere in the house.
Driftwood Bay of Fires is located on the beach at the Northern end of Taylors Beach, 10 minutes drive from Binalong Bay. The house is two storey with off street parking down the driveway including an open door garage for guest use. The downstairs living area contains a dining area, large kitchen, a spacious lounge and toilet. Upstairs is a mezzanine floor to take in the light and views of the ocean vista. It contains three open plan bedrooms and a laundry room. The master bedroom has it's own ensuite bathroom including a bath and separate bathroom. The other two bedrooms share a separate bathroom and toilet. The downstairs living area opens on to an extensive deck via sliding window doors and bi-folds. A weber bbq and tables and chairs furnish the deck. Enjoy private access on to the beach that is only a stones throw from the house.
Amazing Beach House in The Gardens at Binalong Bay (Bay of Fires). The property was even more spectacular in person than the photos. Will definitely return. Matt was a wonderful host, nothing for us to do except relax.
Dion
2015-09-21T00:00:00Z
We had a fabulous stay at Driftwood over Easter. Spectacular spot and well appointed and equipped open plan house. Loved the photo books by the owners. Great communication and instructions from Matt- thank you.
Noni
2016-03-30T00:00:00Z
Great information from Matt prior to out arrival made sure everything went smoothly. The property is in an amazing location and ideal for a relaxing escape. Thanks for a great few days.
Damian
2015-10-03T00:00:00Z
Our time at Driftwood was just amazing! The house, the view, the beach... Everything was just perfect. We enjoyed our stay and would come back at any time!
Jen
2016-02-07T00:00:00Z
Very clean accommodation with spectacular views! Matt communicated well and check-in/check-out was very easy. Area is beautiful and you have access to the beach right from the backyard. We cooked a fair bit and had everything we needed. It was quite warm while we were there and the AC worked well. Sheets and towels were plentiful and of high quality. House is as described in the listing, but I think people should be very clear that the open plan is VERY open. We were a family travelling together, so this was fine, but if you are a bigger group, you should be aware that there are not only no doors to the bedrooms, but also no door to one of the bathrooms and one of the walls of each bedroom is quite open as the upstairs looks over the ground floor. Back deck is a nice addition and we spent both our evenings there - on the second right we were treated to a spectacular sunset with two rainbows. I would definitely stay here again!
Jessica
2017-02-17T00:00:00Z
The house is awesome location is prefect well layed out everything is there fantastic stay
Chris
2016-10-15T00:00:00Z
I received an email from Matt that had all the information we needed. The house was welcoming, well appointed and comfortable.
Crosby
2015-03-03T00:00:00Z
Amazing and interesting house, incredible location! Very open plan - but spacious enough for it to be fun for a few days with a close family! Beach spot is just breathtaking, kitchen, bathroom and all facilities were top notch, beds so comfy. We had a beautiful sunrise one morning, quick access to the stunning beach on a sunny day and warm cosy wood burner and plenty of interesting books and things to keep us occupied on a rainy day! Everyone loved their stay!
Helen
2016-11-30T00:00:00Z
Jenis Bilik
Keseluruhan rumah/apt
---
Jenis Penginapan
Rumah
---
Memuatkan
6
---
Bilik tidur
Binalong Bay, Tasmania 7216, Australia
Eden is one of Tasmania's most spectacular and luxurious beach houses. It boasts a chef's kitchen and is filled with art and furniture crafted by some of Tasmania's best artists. Eden enjoys an absolute beachfront position with expansive views.
Eden at The Bay of Fires is one of Tasmania's most spectacular and luxurious beach houses and would sit comfortably within the premium homes at some of the world's most sought-after locations. Designed by award-winning architect Shane Denman, the oversight and attention to detail is reflected in all aspects of this high quality beach getaway. Eden enjoys an absolute beachfront position on Taylors Beach, a 4 km ellipse of pure white sand and clear turquoise water. This beach and surrounding area were recently voted one of the world's Top Ten destinations by Conde Nast Traveller and The Lonely Planet Guide. The house is spacious and comfortable and filled with contemporary art and furniture crafted by some of Tasmania's best artists and artisans. There are two living areas, four bedrooms and three large bathrooms. Four glass walls slide away to allow the indoors and outdoors to merge. The fully equipped chef's kitchen features Gaggenau and Viking appliances. The generously stocked pantry contains tea, coffee and cooking staples for your use. It is easy to fill your day here. Walk the beach (you will often have it all to yourself), swim, surf or snorkel. Beautiful Grant's Lagoon provides opportunities for bird watching and warm water paddling. Or just relax with a cuppa, a good book and take in the view. At the end of the day, sip a glass of Tasmanian sparkling in the outdoor jacuzzi and watch the sun set over the beach. (Our outdoor jacuzzi is available November through April.) Eden is managed for short term stays, all year round.
This is a totally gorgeous part of the world. The bay of fires is fascinating, the natural beauty breathtaking and Eden at bay of fires does it justice. Super well organized, and amazing view, and amazing kitchen, great advice about what to do, tons of books and a pleasure to stay. The oysters from Lease 65 are ridiculously good. The open fire place is a gem and created a lovely ambience. The TV and music system was fun. Highly recommend a stay.
David
2016-11-03T00:00:00Z
Wow. Lynne's house is breathtaking. The pics don't go near to doing it justice. One night after a few beers we sat around the table, milling about selling our assets, pooling our resources and making Lynne an offer to buy it. Everything in the house is clean and amazing quality. Everything works. Everything is luxurious. I'm going home to throw out all my pots and pans and replace them with Lynne's brand. This is truly an experience that you need to enjoy. Having the beach right at your back door, being able to enjoy a beer whilst watching the kids, meeting the neighbours, all these things added up to being the best air BnB experience I've had. And I've had A LOT of experience. Go there.
Narelle
2017-01-27T00:00:00Z
Jenis Bilik
Keseluruhan rumah/apt
---
Jenis Penginapan
Rumah
---
Memuatkan
8
---
Bilik tidur
The Gardens, Tasmania 7216, Australia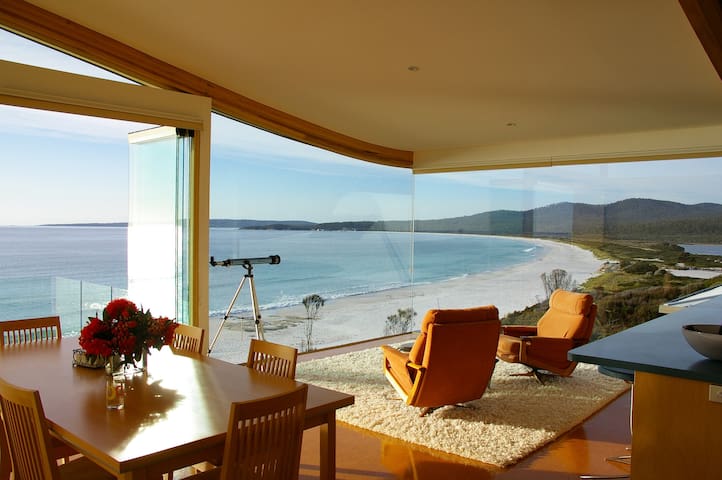 Masukkan tarikh untuk melihat harga penuh. Yuran tambahan dikenakan. Cukai mungkin akan ditambah.