Masukkan tarikh daftar masuk anda dalam format hh-bb-tttt
Masukkan tarikh daftar keluar anda dalam format hh-bb-tttt
Penyenaraian yang boleh anda tempah tanpa menunggu kelulusan hos.
Masukkan tarikh untuk melihat harga penuh. Yuran tambahan dikenakan. Cukai mungkin akan ditambah.
Bulan Julai dan Ogos ini, anda boleh mencuba salah satu daripada 100 rumah dengan penilaian tinggi, pada sebarang harga, dan alami pandangan Sonoma dari perspektif tempatan. Daftar masuk 24 jam, Tempahan Segera, serta wain dan snek tempatan membolehkan anda berehat dan menikmati percutian anda.
My place is close to Compass Lake and McCormick Lake, Panama City Beach, Gulf of Mexico, Beautiful Florida State Parks. You'll love my place because of The WONDERFUL seclusion. Peaceful, calm, quiet, nature. My home has high ceilings and the view from the loft is pretty in the morning. My place is good for couples, solo adventurers, families (with kids), big groups, and furry friends (pets). NO WIFI
If you think of it as camping or "glamping" you won't be disappointed. It's more like a cabin in the woods. A favorite thing to do that is really close by is swimming at Compass Lake. McCormick Lake has volleyball, picnic areas and a really nice sandy beach. There are some swampy areas nearby that come alive at night with the frogs croaking and talking with one another. My property is 1.2 acres and all areas of the house are accessible. As a guest you have access to lodge amenities at Compass Lake in the Hills Clubhouse. There is a vacuum cleaner for cleaning up after yourself. I have family that lives nearby. If there are any major problems they can help. There's so much I'd like to show my guests, but sadly I have to live somewhere far away. But at ANY time call me and let me know of any concerns or questions. It's very important to me that you enjoy your stay.
Compass Lake in the Hills is a private 30,000 acre community with lots of wooded areas and lots. A clubhouse, RV camping, a frisbee golf course, a golf driving range area, tennis, handball, and basketball. Check with Compass Lake in the Hills main office for pricing info. Olle's Restaurant is EXCELLENT food and is located near the main office. The Ski Inn has good food too, and is located on the southwest part of Compass Lake. McCormick Lake is exclusive to Compass Lake in the Hills residents and guests. To learn more go to the Compass Lake website. My home is accessed by dirt roads not far from the main US Highway 231 and it is the same highway you use to get to Panama City Beach and Dothan. Its easy to find if you use Maps to navigate to it. AT&T and Verizon cell service works. Previous guests with Sprint and T Mobile said that they had no service. Print out a map because it is secluded and you might say that it's out in the boonies. It's one of the coolest features of the place as there are almost no other homes nearby and zero traffic. The nearest Walmart is in nearby Marianna. The Piggly Wiggly grocery store down the road in Fountain is where we get our groceries when we visit. Be sure to stop for groceries before arriving. Once you get here you'll want to relax. I'm not providing any food yet because I'm not sure how popular my home will be and I'm trying to manage it from far away. I'd have to charge a lot more if I paid someone to manage it. There's no WiFi, cable, internet, or telephone either so be prepared to disconnect a little from the modern world. I can't afford all these services for as little as I'm charging. The 65 dollar cleaning fee goes directly to the person that cleans, so you can imagine, I'm not making any money on the place, just enough to afford some expenses such as pest control, some grounds keeping, power, and taxes.
This was the perfect place for our family gathering. The house is very secluded and in the woods. Lots of stars and quiet time. It was one of the most well appointed Airbnb's we've stayed in. Everything was provided. Furniture, bedding, and towels were all new. We walked in the woods, played board games Gary provided and watched the stars at night. Gary was so easy to communicate with and quickly answered all of our questions. We plan to go back in the future!
Wendy & Mike
December 2016
The house is very cozy and clean. We absolutely loved the place from the moment we went through the front door! We were greeted with a well-decorated Christmas tree with lights and a fully stocked kitchen. The house is large enough for 6 people to stay comfortably in. Gary is a very generous host and he gave us the freedom to use the food in the kitchen since we came on Christmas Day when there weren't any places open. We really loved our stay here. Thank you so much! Blessed Christmas!
Yi Zu
December 2016
Comfy home in the middle of the woods. This was such a treat!
Aj
October 2016
Very nice place for seclusion. Comfy bed. Surrounding area offers lots to do (30-50 miles). Great place to really get away.
James
November 2016
Gary's place is amazing! So spacious and peaceful. There was more than enough room for my family of five. My kids loved that we saw deer up close on the property and they had their own beds to sleep in. The house is also stocked with board games to keep everyone occupied in the evening. Being so secluded definitely gives you the feeling of camping while you're there. Thank you Gary!!
Brandy
October 2016
Beautiful home and area.. I would love to go back and find other things for my family to enjoy. We went horseback riding and visited the Florida caverns state Park and the house your house was right in the middle. It was a perfect place to stay and the lake was a pleasure to swim in after our long horseback ride. You were so welcoming and the home was beautiful! Thank you for allowing us to salty in your dream home.
Jennifer
September 2016
Jenis bilik
Keseluruhan rumah/apt
---
Jenis penginapan
---
Memuatkan
7
---
Bilik tidur
3
Alford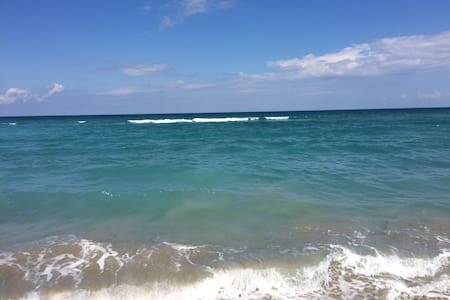 Stay on one of the prettiest lakes in north Florida. enjoy stunning sunsets and a beautiful sand beach with crystal clear water. you can enjoy wonderful cannoning kayaking and fishing. Pier Park and Panama city is only a short drive away.
Jenis bilik
Keseluruhan rumah/apt
---
Jenis penginapan
---
Memuatkan
4
---
Bilik tidur
1
Chipley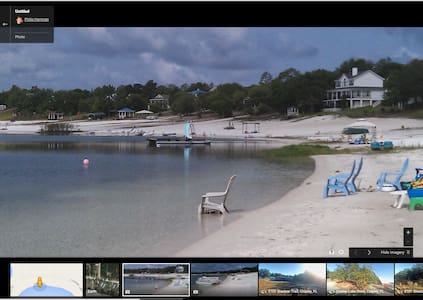 To learn more about our B&B and to book instantly please visit our website.
Lovely family hosts this gracious Southern BnB. We stayed in Sadie's suite which occupies about 1/3 of the downstairs. The suite is quite lovely and offers a private bath with vintage fixtures, a separate sitting area and absolutely romantic bed chamber. Tall ceilings, polished wooden fluids and lace curtains further enhance the wonderful Southern experience. The lovely four poster bed with soft cotton eyelet sheets and lace coverlet completes the romance of the room. The bed chamber offers an exquisite chiffarobe to store clothing and extra pillows if needed. There is also a delightful dressing table that harkens back to days gone by. The bath separates the bed chamber and intimate lounge area. Make sure you don't leave before breakfast as you will miss the delicious offerings of homemade fresh breakfast with biscuits, hashbrown casserole, seasonal fresh fruits, milk and juice. Rachel is a most cheerful and delightful host. We look forward to our return trip.
Carole
October 2016
I guess call and make someone will be there to let you in and make sure you will be served breakfast. That's part of the whole B&B experience. Without that it was just a room that I was charged a B&B rate for. I wasn't happy since it was not the gift that I had intended to give to my daughter.
Jeanne
December 2016
We had a code to get in, we arrived late and had an easy time finding our room since it the owner described it to us beforehand! The suite was perfect, the bed was comfy, and was very cozy. We met lots of nice people and everyone loved our dog and we loved how welcomed she was there. Would definitely recommend this place!
Kristin
December 2016
Jenis bilik
Bilik persendirian
---
Jenis penginapan
---
Memuatkan
2
---
Bilik tidur
1
Marianna
A simple cabin on the lake. Wake up overlooking the Lake, fish from the dock. Poles and hooks provided just bring some "red worms"'(available at Wal-mart). Relax on the screened in back porch or nap on the hammock under the shade of great pines.
This is peace. Property surrounded by trees and is on a double lot. Guests well have access to the entire property including the dock. Access to wifi, canoe, fireplace, fishing poles and equipment. We will have you all set up but direct interaction will be limited to texts and calls.
Peaceful and simple You will need a vehicle there is no public transportation available.
Jenis bilik
Bilik persendirian
---
Jenis penginapan
---
Memuatkan
2
---
Bilik tidur
1
DeFuniak Springs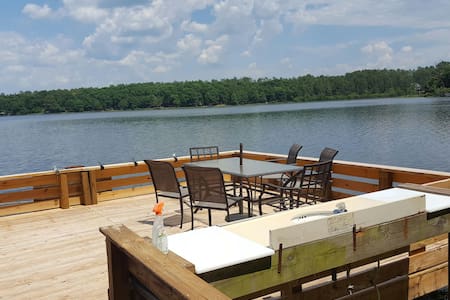 Close to the airport with an open concept kitchen, the higher ceilings, quiet cul de sac, natural wooded surroundings. Good for couples, business travelers, families (with kids), and larger groups. Just outside the city, in a quieter, secluded area.
Comfortably sleeps 10 adults/children. Fire pit in the back yard. Secluded, quiet neighborhood. Whole home access. Fire pit out back with wood available to burn. Always available by phone or text! Our parents live in the area also & are available is assistance is needed.
Very quiet, secluded neighborhood, surrounded by wooded areas. Great for long walks! No Uber or Lyft in the area yet. Taxi's available but renting a car is recommended.
Jenis bilik
Keseluruhan rumah/apt
---
Jenis penginapan
---
Memuatkan
10
---
Bilik tidur
4
Panama City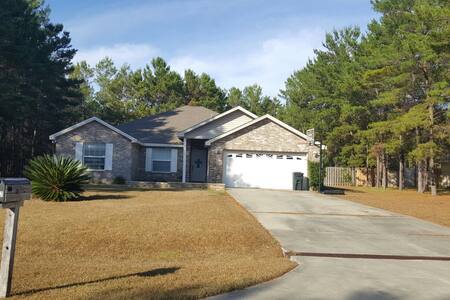 To learn more about our B&B and book instantly please visit our website.
Best AirB&B experience I've had yet!
Robert
November 2016
Great bed and breakfast that's been operated by the same family for 2 generations now. Stayed here on a business trip and and would definitely stay again the next time through Marianna. Thanks.
Jonathan
November 2016
Jenis bilik
Bilik persendirian
---
Jenis penginapan
---
Memuatkan
2
---
Bilik tidur
1
Marianna
This is the largest suite at the Hinson House. As you enter through the French doors you enter a roomy sleeping area featuring two matching queen size beds. Antique furnishings throughout, a bright hummingbird room border and a cooling overhead fan provide a memorable sleeping environment for up to four adults.
From booking to checking out our stay was wonderful. Rachel answered my questions quickly so u could make a last minute booking less stressful, she's also a great cook. Breakfast was wonderful. I loved having access to the house & kitchen with lots of complimentary goodies. The house felt nostalgic and like my grandma's house in a good way. Quiet, clean & private rooms were a great escape from our busy work weekend. I would love to come back and stay in this charming house.
Chelsea
October 2016
Jenis bilik
Bilik persendirian
---
Jenis penginapan
---
Memuatkan
5
---
Bilik tidur
1
Marianna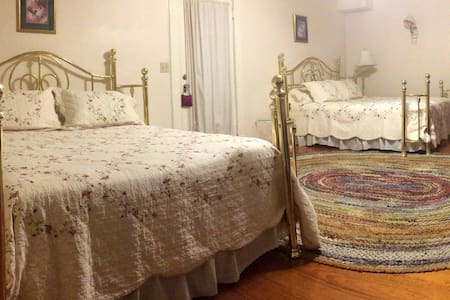 My place is close to the city center, parks, and art and culture. You'll love my place because of the people, the ambiance, and the neighborhood. My place is good for couples, solo adventurers, business travelers, families (with kids), big groups, and furry friends (pets).
Jenis bilik
Bilik persendirian
---
Jenis penginapan
---
Memuatkan
2
---
Bilik tidur
1
Marianna
A unique cottage style bed and breakfast house offering privacy, complete kitchen and river front view of the historical Choctawhatchee River. Two bedroom, two baths, fire pit, canoeing and kayaking also available at no extra cost
Choctaw Lodge Retreat is located on the historic Choctawhatchee River conveniently located only 25 minutes from Panama City Beach and 35 minutes from Seaside, Destin and Grayton Beach area. Enjoy nature in a quiet and peaceful venue and yet easy access to the beaches for daytime or evening excursions. www.choctawlodgeretreat.com Canoes, kayaks, fire pits, jacuzzi and morning breakfast We are almost always on property, offering maps and suggestions as to where to canoe and kayak. Breakfast is served on the porch of the main lodge at our guests convenience and we are always available to assist in any way.
Our neighborhood is pristine, private and over looks a beautiful view of the historic Choctawhatchee River. Nature abounds with endless viewings of wildlife and unique plant life. Choctaw Lodge is a popular venue for weddings and private parties, catering up to 150 people. Honeymooners love the privacy of this property.
Kathryn is the epitome of a gracious hostess. Everything exceeded my expectations. The location,charm, accommodations were superb. I've recommended my friends stay here. I hope to come back again.
meg
January 2015
Jenis bilik
Keseluruhan rumah/apt
---
Jenis penginapan
---
Memuatkan
4
---
Bilik tidur
2
Ponce de Leon