Das Zimmer befindet sich im Dachgeschoss eines gemütlichen Reihenhauses. Mit Bus und S-Bahn kommt man gut nach München-genießt aber gleichzeitig die Vorzüge eines Zimmers im Grünen.
Angekommen in der Fremde. Bei uns ist Familienanschluss inklusive. Das Zimmer im ruhigen Dachgeschoss bietet aber auch die Möglichkeit, sich zurückzuziehen.
Die kleine Familie ist sehr liebenswert und herzlich. Das Frühstück ist vorzüglich und man fühlt sich nicht als Gast, sondern als ganz natürlich als Familienmitglied. Die drei sind suepr unkompliziert und offen! Danke für den schönen Aufenthalt!
Karo
2016-04-06T00:00:00Z
Carolin was a wonderful host during our short stay travelling through. Her boys are a perfect reflection of how great a mother she is, and it was nice to stay in such a lovely home. Next time we travel through, we will stay a few more days!
Bart
2016-09-05T00:00:00Z
It was really nice to meet Carolin and the kids. The house was near the highway but in a quit area. Room was fine and in the morning we had a nice breakfast. I will definitely book this room again when passing by München!
Sara
2016-08-02T00:00:00Z
Wir haben Carolins Unterkunft besucht. Carolin ist wirklich sehr sehr Nett. Die Unterkunft ist schön eingerichtet und sehr gemütlich. Wir könne die Übernachtung mit sehr gutem Gewissen weiterempfehlen. Danke Carolin
Johannes
2016-08-12T00:00:00Z
Carolin ist eine sehr herzliche und fürsorgliche Gastgeberin, wir haben uns sofort heimisch gefühlt. Auch unser Hund wurde herzlich von ihr und ihren Jungen empfangen. Bezüglich der An-und Abreise war sie sehr flexibel und immer erreichbar. Das Zimmer war sauber und das Bett sehr bequem, sodass wir super geschlafen haben :) Vielen Dank!
Lena
2016-07-26T00:00:00Z
Carolin ist eine tolle Gastgeberin. Sie hat uns sehr lieb empfangen und war flexibel in bezug auf Anreise Zeit. Es lief alles super. Die wohnung ist schön und sauber. Wir alle - auch unsere Hund - waren zufrieden. Frühstück war sehr gut. Danke :)
Marina
2016-05-15T00:00:00Z
Carolin ist wirklich super nett, sehr flexibel und antwortet auch ganz schnell. Aufgrund einer Autopanne mussten wir unsere Reise leider verschieben/abbrechen, aber ich bin mir sicher wir hätten uns sehr wohlgefühlt bei ihr und ihrer Familie. Wir werden es nochmal versuchen und erneut die Unterkunft bei Carolin buchen :)
Berit
2016-07-18T00:00:00Z
Carolin ist eine herzliche, liebevolle und fröhliche Gastgeberin, die nicht nur ein gemütliches Zimmer im Dach zur Verfügung stellt, sondern darüber hinaus mit einer freundschafltichen und fürsorglichen Persönlichkeit überzeugt. Carolin ist ein absoluter Gewinn für jeden Besucher. Von der ersten Sekunde an fühlt man sich regelrecht als Mitglied in der Familie aufgenommen. Die kleine Familie ist lebendig, herzlich und lebensfroh. Das Zimmer ist schön, sauber und gemütlich und auch das Haus befindet sich mitten in der Natur. Das wird nicht mein letzter Besuch bei Carolin gewesen sein und neben einem wunderschönem Zimmer habe ich auch noch eine faszinierende Persönlichkeit gefunden. Vielen lieben Dank für die schöne Zeit, Carolin!
Sabine
2016-04-17T00:00:00Z
Jenis Bilik
Bilik persendirian
---
Jenis Penginapan
Rumah
---
Memuatkan
2
---
Bilik tidur
Brunnthal, Bayern, Jerman
Tolles Ferienhaus für 2 Familien (max. 10 Personen) im idyllischen Mangfalltal mit großem Wohn-/Essbereich und großem Garten. Idealer Startpunkt für Urlaub in Oberbayern zwischen München und Salzburg. 2 Familienzimmer mit 4 bzw. 6 Betten
Das Ferienhaus liegt am Ortsrand direkt neben einer Wiese. Die Straße "Zur Wuhr" (bayr. "Das Wehr") wird nur durch die Anwohner befahren, unser Haus ist das letzte Haus in der Straße - danach kommt die Kuhweide. Hinterm Haus plätschert der (mit einem Zaun gut gesicherte) Mühlbach, in 500m Entfernung rauscht die Mangfall. Das Haus wird normalerweise durch uns bewohnt und ist daher mit allem ausgestattet, was man sich von einer Ferienwohnung mit Kindern wünschen kann (inkl. Kinderspielzeug wie LEGO, Playmobil, Kaufladen, Holzeisenbahn; Babybett und Kinderhochstuhl). Für romantische Abende könnt Ihr gerne den Kamin benutzen. Die erste Fuhre Holz liegt neben dem Kamin bereit und geht auf's Haus, genauso wie die erste Packung Nespresso-Kaffee.
Feldkirchen Westerham liegt im idyllischen Mangfalltal. Hier gibt es zu jeder Jahreszeit was zu tun: - Chiemsee / Wilder Kaiser / Königsee im Osten - Wendelstein / Schliersee / Spitzingsee im Süden - Tegernsee / Walchensee / Wetterstein / Karwendel (z.B. Mittenwald) im (Süd)Westen Ein Sammlung unserer schönsten Tourenvorschläge findet Ihr im Haus, und wenn Ihr im Vorfeld noch Fragen zu Ausflügen habt, dann meldet Euch einfach bei uns! Für kleine Ausflüge in der unmittelbaren Umgebung sind z.B. folgende Ziele geeignet: - BergTier Park Blindham - keine 5 Minuten entfernt ein entzückender kleiner Tierpark, mit Streichelzoo, Wildlgehege und einem tollen großen Spielplatz sowie einem Café - Bruckmühl Salus Auwaldbiotop und Tierkundemuseum - Schloss Vagen - die Kulisse für "Sturm der Liebe" - Badestellen an der Mangfall und Leitzach - Tennisanlage Feldkirchen-Westerham und Feldolling - Golfanlage Maxlrain und Feldkirchen - zahlreiche Wander- und Radwege - Skihang/Schlittenberg mit Flutlicht am Ort (Ortsteil Vagen) und Nachbarort Glonn - Langlaufloipen - jede Menge Badeseen: -- Seehamer See -- Kastenseeoner See (unter Locals nut´r "Kastensee) - Moorsee mit immer relativ warmem Wasser und Steinsee sowie Lauser Weiher REIZVOLLE STÄDTE - München - Rosenheim - Wasserburg am Inn - Miesbach / Bad Tölz - Salzburg - Innsbruck BERGE - Wilder Kaiser - Wetterstein / Karwendel (z.B. Mittenwald) - Wendelstein - eine Zahnradbahn - Zugspitze, mit 2.962 m der höchste Berg Deutschlands also: jede Menge kleinere und größere Berge für alle Arten von Wanderungen, Spaziergängen bis hin zu Kraxeleien SEEN - Chiemsee mit Herreninsel- und Fraueninsel unser persönlicher Favorit unter den Seen: Dampferfahrt auf die Inseln oder mit einem kleinen Elektroboot auf dem Wasser mit Blick in die Alpen - Schliersee - kleiner gemütlicher See ums Eck - geeignet für Spaziergänge und Picknicks - Tegernsee - der größere und mondäne Bruder vom Schliersee mit Brauhaus und Spielbank - Spitzingsee - unter der Bergseen unser Favorit: schön, mitten in den Bergen gelegen (im Winter prüfen, ob Kettenpflicht besteht) - Ausgangspunkt für gemütliche Spaziergänge bis zu ordentlichen alpinen Touren. Sehr empfehlenswert: der Kaiserschmarrn auf der Altert-Link-Hütte - Starnberger See mit Roseninsel - Ammersee mit dem Kloster Andechs in der Nähe - Königsee bei Berchtesgaden - Walchensee BADEN, SCHWIMMEN, THERME - Therme Bad Aibling - Therme Schliersee - Therme Erding - Erlebnisbad Prien und zusätzliche zu den Thermen noch "ganz normale" Schwimm-/Spassbäder z.B. in Ottobrunn, Holzkirchen und Glonn und als Freibad in Miesbach LOKALKOLORIT - die Städtchen Miesbach, Bad Aibling und Rosenheim sowie Wasserburg (alle im Landkreis Rosenheim gelegen) - Heimatmuseum Bad Aibling - Innmuseum Rosenheim - Freilichtmuseum Glentleiten - Bauernhofmuseum - Bauerhofmuseum Wasmeier in Schliersee SCHLÖSSER - Schloss Neuschwanstein - Schloß Linderhof - Schloss Herrenchiemsee Schloss Nymphenburg, München - Schloss Hellbrunn bei Salzburg kleinere Schlösser in der näheren Umgebung: - Schloss Amerang mit Oldtimermuseum im gleichen ort - Schloss Hohenaschau KLETTERN zahlreiche Kletterparks /Hochseilgärten in der Umgebung: Oberaudorf, Prien, Lenggries, Reit im Winkel, Blomberg - Indoor: Kletterhalle Rosenheim SPEZIELL FÜR KINDER - Indoor Spielplätze: Bad Aibling diverse in München (Lollihop, Coco Loco, Jogoli's Funtastic Kinderworld) - Schliersbergalm mit Sommerrodelbahn und großem Kinderspielplatz - Tierpark Hellabrunn in München - Deutsches Museum im München - Wildpark Poing bei München - Alpenzoo in Innsbruck - Schloß Tratzberg in Jenbach, Tirol - Märchenpark in Wolfratshausen oder Marquartstein mit Sommerrodelbahn und Wasserspielpark - Freizeitpark Ruhpolding - Salzbergwerk in Bad Reichenhall und Hallein - Silberbergwerk in Schwaz, Tirol - Sommerrodeln am Oedberg in Gmund oder am Blomberg bei Bad Tölz oder in Oberaudorf - Bavaria Filmstadt, Geiselgasteig in der Nähe von München mit Bullyversum - Swarovski Kristallwelten in Wattens, Tirol WINTERSPORT - nette, kleine Familienskigebiete: Oberaudorf, Lenggries, Ostin - größere Skigebiete in der nächsten Umgebung z.B. Sudelfeld und Spitzingsee sind in 30 Minuten mit dem Auto erreichbar. - etwas weiter: Wilder Kaiser (z.B. Söll) (50 min) - Stubai-Tal (ca. 2h) Je nach Witterung sind umliegende Seen zum Schlittschuhlaufen geöffnet, z.B. Lauser Weiher, Spitzingsee
Wir haben ein gemütliches Wochenende zu sechst in dem Haus verbracht. Monika war superfreundlich und hat uns alles gezeigt, was wir wissen mussten. Das Haus war der Hammer und die Ruhe absolut zum Genießen! Sehr empfehlenswert!!!
Stephan
2014-02-10T00:00:00Z
Great clean and spacious house. Especially suited for families with children. Good highway connection to Munich. 5 stars
Herman
2015-06-29T00:00:00Z
It was a pity that we had to leave again, after a very nice stay of one week in Feldkirchen-Westerham. First of all the house, better to say a villa. Situated as the last at a dead-end road, with only grassland and wood in front of you, you really feel like being in the countryside. The house still looks very new, is fully equipped so it has everything you need. And if there is a small problem, like we had with the coffee machine, the neighbor who is assisting Monika, is literary in one minute at your door step. In our case with a new coffee machine. Our young kids also loved the place, also because there are so many toy's available. The house lays in a beautiful rural area. Not far from the first Alps. But shops and several restaurants are just five minutes away. And in less than an hour you are in the center of Munich. We also visited Salzburg, stood on a mountain and sunbathed at the shore of a mountain lake. So lots to do for tourists like us who like a combination of city trips and enjoying nature. Also the contact with Monika was very nice. Although she was not in the neighborhood she always stood by with good advice about the house and always had nice suggestions for journeys in the vicinity. Highly recommended to anybody!
Degi
2016-08-06T00:00:00Z
Super Haus, sehr netter Kontakt. Hat alles wunderbar geklappt. Kann ich nur weiterempfehlen.
Jan
2014-07-14T00:00:00Z
Overall it was a really comfortable experience. The house was able to accommodate two families with kids. The neighborhood was quiet and very friendly. If you love the outdoors, this is the place to be!!
diego
2015-07-06T00:00:00Z
L'accoglienza è stata bene organizzata con Gisela che è stata disponibile ad informarci dettagliatamente di come funziona la casa ; tutto era come da descrizione. la casa era pulita ben organizzata ottimamente arredata con spazi molto ampi e con una dotazione completa di quanto serve in cucina!
Angelo
2016-04-18T00:00:00Z
La casa es perfecta y estaba limpísima. No le faltaba nada y está todo muy nuevo. Muy recomendable, especialmente para gente que viaje con niños. Nos recibió la vecina, Angela,que habla español y es muy agradable. Todo muy bien
Cristina
2016-08-30T00:00:00Z
Die Unterkunft hat uns allen sehr gut gefallen, Sie war sauber und in einer sehr ruhigen familienfreundlichen Gegend. Es war sehr heimisch und man hatte alles da was man brauchte, wie zuhause halt! :) Wenn wir oder ich wieder in einer größeren Gruppe verreisen würde ich es wieder buchen. Ich kann die Unterkunft wärmstens weiter empfehlen.
Kenny
2016-10-05T00:00:00Z
Jenis Bilik
Keseluruhan rumah/apt
---
Jenis Penginapan
Rumah
---
Memuatkan
10
---
Bilik tidur
Feldkirchen-Westerham, Bavaria, Jerman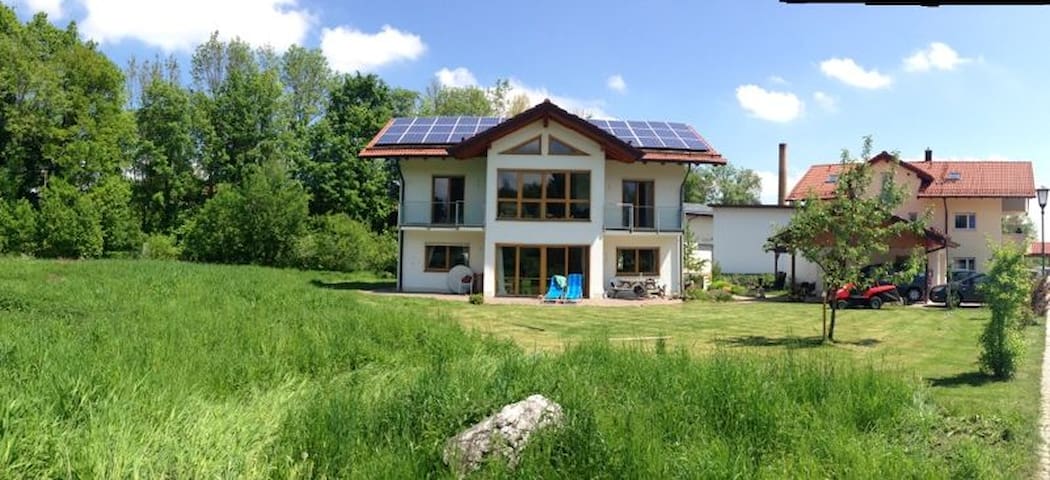 Unser historisches Anwesen liegt zwischen München und Salzburg. Feldolling ist ein typisch bayerisches kleines Dorf. Das liebevoll eingerichtete Ferienhaus mit direktem Zugang zum Garten liegt in einer Sackgasse.
Unsere Unterkunft steht unter Denkmalschutz und ist mit modernen Komfort ausgestattet. "Beim Valentin" hat sein ursprünglichen bayerischen Charakter erhalten und wurde mit viel Liebe eingerichtet.
Feldolling ist ein kleines, ruhiges und bayerisches Dorf im Voralpenland. Es liegt 40 km Südlich von München.
Jenis Bilik
Keseluruhan rumah/apt
---
Jenis Penginapan
Rumah
---
Memuatkan
2
---
Bilik tidur
Feldkirchen-Westerham, Bavaria, Jerman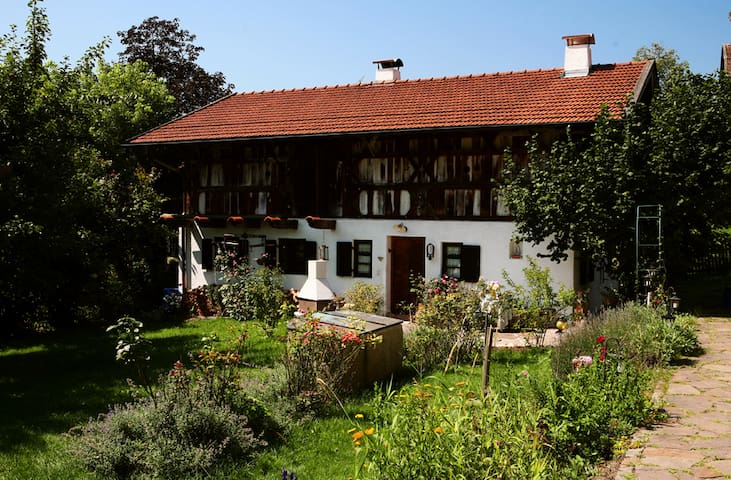 Our guestroom is located 400m away from the train station and the centre of the small town Sauerlach. With the train you are able to be in Munich within 20 minutes. You will feel comfettable at our place because of our calm neighborhood, our garden and the big entertainment program. Our romm is suited for young people, couples and explorer. We're excited for meeting new people and looking forward to guests from all around the world.
The third guest can choose the kind of the bed.
We live in a very friendly and calm area with lots of children and young people.
Eine super freundliche und aufgeschlossene Gastgeberfamilie, bei der man sich, danke liebevoller und gemütlicher Einrichtung, gleich wie Zuhause fühlt.
Julia
2017-01-09T00:00:00Z
Jenis Bilik
Bilik persendirian
---
Jenis Penginapan
Rumah
---
Memuatkan
3
---
Bilik tidur
Sauerlach, Bayern, Jerman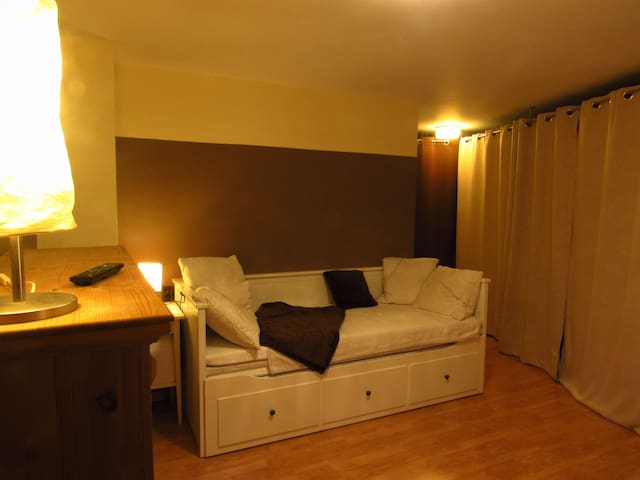 Freundliche, helle Zimmer im 1. OG, Zimmer 1 mit Doppelbett u. Waschgelegenheit, Zimmer 2 mit 2-4 Einzelbetten und Balkon, Kühlschrank/Minibar am Zimmer. Dusch- und Wannenbad zur Benutzung direkt beim Zimmer. Als Zusatzleistung Frühstück, Getränke und kleine Snacks. Haustiere nach Absprache. Andere Leistungen auf Anfrage.
Ideal zwischen der Stadt München und dem bayerischem Voralpenland. Ca. 20 Minuten in die Stadtmitte und zum Oktoberfest, ca. 30 Minuten zum Tegernsee, Nur ca. 5 Minuten von der A8 (Ausfahrt 96 Hofoldinger Forst), der A99 (Ausfahrt 21, Kreuz München-Süd) und der A995 (Ausfahrt 5, Sauerlach). Deshalb auch besonders gut erreichbar für alle Besucher die mit dem Auto anreisen. Ideal für Besucher aus Österreich, Italien und der Schweiz oder Besucher die auch dahin Ausflüge unternehmen wollen. Perfekt für Sommer- und Wintersport in Kombination mit der Stadt München. Sehr gute Anbindung an öffentliche Verkehrsmittel, S-Bahn Bereich München. 1 Doppelbett in Zimmer 1, ca. 15 QM 1-4 Einzelbetten in Zimmer 2, großes Südzimmer (25 QM) mit Balkon Kaution für Schlüssel 30€ (24h Zugang) Check-in / Check-out nach Absprache auch früher oder später möglich. Bitte vor Buchung abklären.
Die Unterkunft liegt in einer sehr ruhigen Wohngegend.
Place was just as described. Jo was very friendly and helpful. Room was clean and bed was comfy. Would definitely stay here again
Sian
2016-08-14T00:00:00Z
Jo war sehr aufmerksam. Angefangen von der Kontaktaufnahme, hinzu der ganzen Zeit meines Aufenthaltes. Obwohl ich mich nur für das kleine Zimmer angemeldet hatte, durfte ich dann (ohne Preisaufschlag) in das größere Zimmer mit Balkon wechseln, da dieses im Moment nicht belegt war. Besonders schön waren auch die vielen Landstraßen außen rum, die sich bestens zum Joggen oder Spazierengehen eignen. Insgesamt sehr empfehlenswert!
Kathrin
2016-08-28T00:00:00Z
Bereits vor Ankunft der Gäste erfolgte die sehr freundliche und professionelle Kontaktaufnahme durch Jo, um die Details wie Ankunftszeit, gewünschte Bewirtung, Frühstück etc. zu klären. Das Zimmer war genau wie im Internet beschrieben und ein kurzfristig gewünschter Wechsel der Räume wurde problemlos erledigt.
Jana
2016-06-22T00:00:00Z
Jo was a more than gracious host with great accommodations. wifi was great room was comfortable and there was a wonderful little reading area also in the room. He provides breakfast, coffee and beer, although I opted out of the breakfast option. He also was willing to drop me off at a resraurant that he recommended since the weather was poor. Overall great stay.
Matthew
2016-07-13T00:00:00Z
Jo was very helpful and welcoming from the time we made the reservation till the left his house on the train. He was eager to help with maps and directions even before we arrived. He picked us up at the Sbahn station when we first arrived, welcomed us with a cold drink and then helped us to figure out our activities for the next few days (including navigating Oktoberfest like a local!). The rooms are large, well situated, clean, well stocked with storage options for long stays, and even included a mini bar! The neighborhood is quiet but convenient to transportation and multiple dining options. Jo also helped us get our luggage to the Sbahn at the end of our stay. I highly recommend staying with Jo, you won't regret it! Thanks for a great stay Jo!
Mari
2016-09-20T00:00:00Z
Welcome to Hotel Jo!! I would say, never look for a hostel anymore, stay with Jo. His place is a bit far from city center, but only 10 min by foot from S-bahn station Sauerlach. It's a perfect place to sleep. Super calm, safe and silent. The trains come here until 2 am, so you can also party in the city and go back, without too much problem. Just be aware that the train leaves every 20 min. ;) Jo is a wonderful host. Very attentive from the very beginning, patient and sometimes knows what you need before you even ask. He also always answers messages super fast. His place is so clean and comfortable! Huge bathroom, warm room, good towels.. I highly recommend it. Specially if you are coming for a meeting/work/job in southeast münchen, go to his place without hesitation.
Beatriz
2016-11-16T00:00:00Z
Our host was really wonderful and welcoming. We had a great stay, even though it was short. The place was very comfortable.
Marc
2016-07-26T00:00:00Z
Jo is very nice person. Actually it is not a home stay, it is small good guest house. Very quiet area, railway station is close - 10 min walk.
Sergey
2016-10-22T00:00:00Z
Jenis Bilik
Bilik persendirian
---
Jenis Penginapan
Rumah
---
Memuatkan
6
---
Bilik tidur
Sauerlach, Bayern, Jerman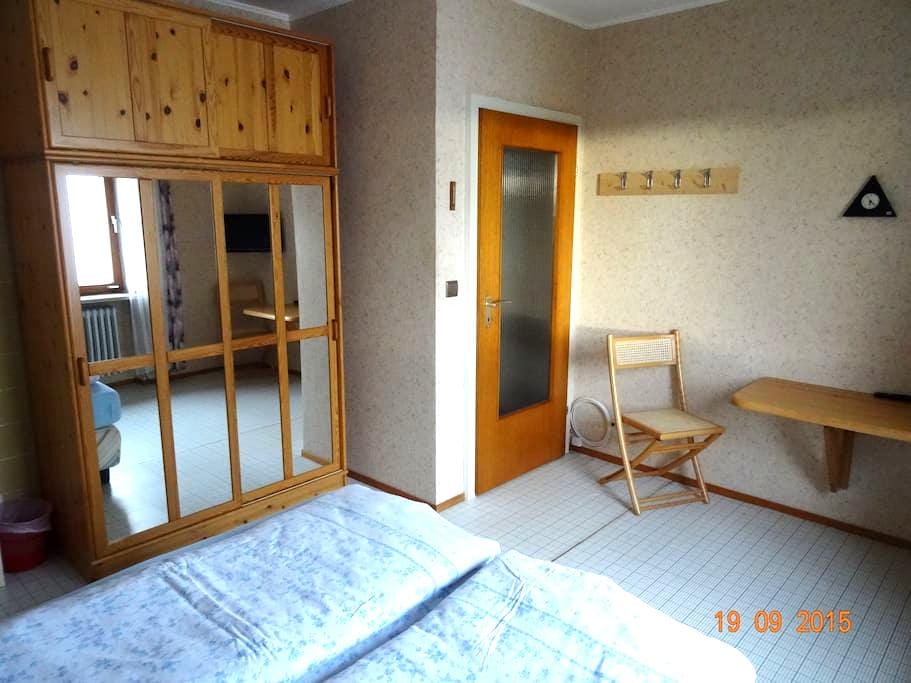 Dream house with a large backyard, fully renovated, updated bathrooms, updated kitchen, an indoor fireplace guarantee relaxing holidays. Within less than 60 minutes you reach Chiemsee, Tegernsee, Starnberger See and Ammersee and can just jump into the lakes. Also it's a short trip to the city of Munich which offers Art, Culture, Shopping and good food. Biking, Hiking and Climbing is near by. In the winter time within 45-60 minutes you reach great ski ressorts in Bavaria or Austria.
The Space Your stay in this dreamhouse begins with vestibule from there you directly go into our home. From here you will enjoy an unforgettable holiday in this elegant and well-located house. The living and dinning room is open concept. Enjoy a good book on the comfortable sofas or one of the great amenities on offer, including an indoor fireplace, flat-screen TV and 3D-Blue ray. The spacious kitchen is well-appointed for cooking up a feast. Enjoy your meals in the cozy dining room which seats 4 or outside on the furnished terrace. You are guaranteed a relaxing night's sleep in one of the two bedrooms. The first bedrooms has a double bed and ic connected to an additional room which features a couch. The second bedroom is a kids room which offers one loft bed. Moreover, two stunning bathrooms allow for freshening up in. One sports a bathtub, shower and WC, while the second has a shower and WC. In addition to these great amenities, the house offers huge backyard and a terrace . This house offers you a perfect holiday of relaxation. Central heating will keep you comfortable year-round.
The Neighborhood Located in suburban Sauerlach, this dream house offers quick access to Munich and a wide range of activities in Bavaria, including cycling, shopping and fishing. Winter visitors will be happy to note that Brauneck Ski Resort is only 50 kilometres away. And golfers can tee off at München Brunnthal at 5 kilometres. You'll also have superb restaurants and supermarkets within 1 kilometre of your door. While leaving the luxury of this one family house is challenging, there is much to explore. Popular day trips around the area include taking in the three nearby lakes, Tegernsee, Chiemsee, and Starnberger See; shopping in Munich; visiting the historical Freilichtmuseum Glentleiten; and viewing the Schloss Herrenchiemsee. Here's a secret tip: try night skiing at "Söll am wilden Kaiser."
Superschöne Unterkunft - zum Wohlfühlen. Absolut Empfehlenswert !!
Frank
2016-11-17T00:00:00Z
Przytulny dom w sam raz dla trzech osób, które cenią sobie spokój i bezpieczeństwo. Dużym plusem są dwie łazienki, świetnie wyposażona kuchnia i wyjście na słoneczny taras z widokiem na urokliwy stary sad. Znakomity punkt wypadowy na wycieczki po Bawarii, dojazd do Monachium w ciągu pół godziny koleją podmiejską. W miasteczku znajduje się kilka dużych sklepów, są piekarnie i pizzerie. Gospodarz uprzejmy i pomocny, po przyjeździe czuliśmy się jak prawdziwi goście. W domu było wszystko co potrzebne. Z pełnym przekonaniem polecam.
Elżbieta
2016-08-18T00:00:00Z
The house was great. It's close to the S-Bahn so getting to Munich is easy. It's also close to Salzburg. It's spacious and the bed is very comfortable.
Elizabeth
2016-09-25T00:00:00Z
Jenis Bilik
Keseluruhan rumah/apt
---
Jenis Penginapan
Rumah
---
Memuatkan
3
---
Bilik tidur
Sauerlach, Bayern, Jerman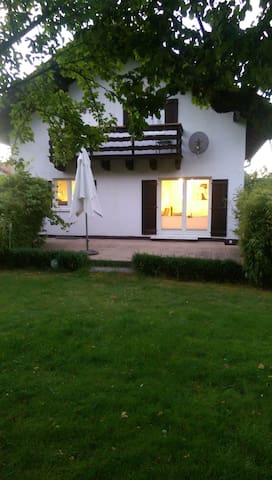 Eignet sich perfekt für Aufenthalte für Leute, die die ganze Zeit unterwegs sind, die lediglich eine günstige Schlafmöglichkeit suchen. Es kann komplett verdunkelt werden ansonsten hell und freundlich mit Giebelfenster nach Westen u. 2 Dachfenstern
Ruhiges Zimmer 5 km vom Zentrum oder 5 km zur Messe Öffentliche Erreichbarkeit super
Die Nachbarschaft schätzt Ruhe.
Monika was really good, helpfull, she showed me everything, communication very good, the house was clean and quiet, close to train and bus, very good experience
Azzeddine
2016-11-10T00:00:00Z
Nette Familie, super Lage, um mit Bus und Bahn in die Stadt zu fahren. Jederzeit wieder.
Andreas
2016-10-23T00:00:00Z
Awesome place, nice and tidy
Danyun
2016-11-22T00:00:00Z
Prima verblijf voor low budget overnachting. Ideaal gelegen vlakbij supermarkt en bus halte. Eenvoudig (elke 10 min.) per bus naar metro verbinding in de buurt.
Kees
2017-02-08T00:00:00Z
Gute Unterkunft für kurzen Aufenthalt
Sorawbir
2016-11-05T00:00:00Z
Sehr zufrieden, keinerlei Anlass zur Kritik. Sehr, sehr zuvorkommende Familie, alles bestens. Achtung: das (extrem schnelle) Internet wird von 1h bis 5h Nachts abgeschaltet...
tam
2016-11-09T00:00:00Z
Die Aufenthalt war sehr angenehm, war sie telefonisch erreichbar, auch wenn nicht ruf sie dann zurück an, die Lage sehr ruhig, das Zimmer sehr sauber und gut ausgestattet, v.a Monika war so nett und verucht alles aufzuklären mit dem Verkehr und wie fahrt man in die Stadt und was von Ticket kaufen am besten.
Ali
2016-10-02T00:00:00Z
Its a good place to stay overnight! Special
Slava
2016-11-14T00:00:00Z
Jenis Bilik
Bilik persendirian
---
Jenis Penginapan
Rumah
---
Memuatkan
1
---
Bilik tidur
Munich, Bayern, Jerman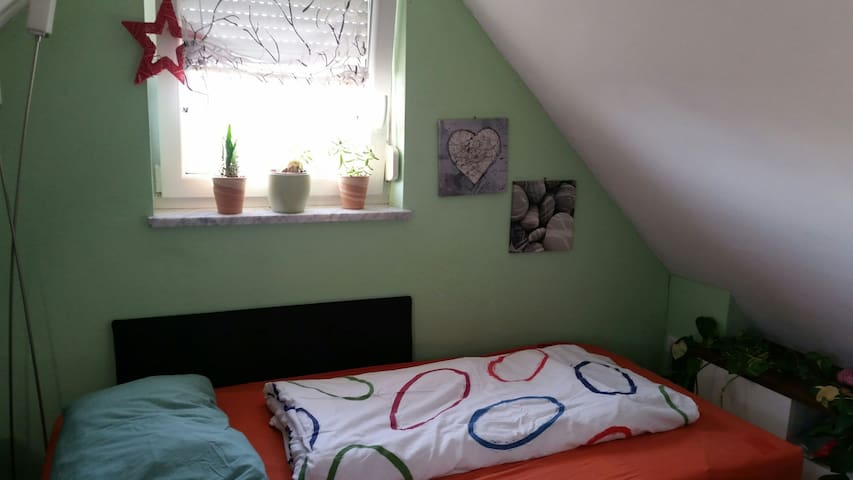 Very beautiful room with private WC right next to the bedroom! Our guest enjoy their great privacy, we and our guests live in different floors, so it is almost like a separate apartment! 5 minutes walk to public transport centre, with S7 you can arrive in city centre, Mariaplatz, English garden, Octoberfest within half an hour! There are restaurants, grocery stores,, and supermarkets in the neighbourhood. Parking is free! welcome to live in my house and i will be your best hostess!
Our room has a big well-equipped shower room right next to the bedroom, and right across the bedroom, there is a storage room for our guests to put their luggage, and their shopping stuff, so they can have more room in their private bedroom. We and our guests live in different floors, so don´t worry about your privacy!
we have a really quiet and lovely upper middle-class neighborhood! everything is well-maintained and it is really clean!
Helen and her husband are fantastic and very lovable people. They are great hosts. Helen is really open-minded person. You have to know that if you are in Helen's home, you can feel like a special guest. The room is extremely clean, and really nice equipped. If you need to work you have very very fast WiFi. I'm sure that If I have to return to Munich once again I try to rent Helen's room. Thank you Helen:)
Hubert
2016-10-06T00:00:00Z
This was my first experience with airbnb and it was unforgettable. The lady of the house is a super host! If I come back to Munich I will definitely stay here again! Thanks for this experience!
Cave
2017-02-06T00:00:00Z
Helen and her husband are amazing people. The house and the room are very beautiful, organised and clean. Everything was great. I strongly recommend. Thank You
Gustavo
2017-03-18T00:00:00Z
Very clean house and friendly host, room is spatious and you have plenty of separate space for luggage. Bathroom is clean and modern. There is a Lidl at about 15 minutes walking or 3-4 minutes with the car.
Negru
2017-03-28T00:00:00Z
Perfect experience. Helen's house is not so near to the sightseeing in München, but still approachable. The room is amazingly decorated, the warm light and all the furnitures in the room are super beautiful. And Helen is the most outgoing host that I've ever met. We've chatted for hours and had a really good time. Everything is perfect!
Nevila
2017-02-08T00:00:00Z
房间独立隐私度高,干净整洁,与描述一致。房东姐姐和她的家人十分热情,好客,善良。姐姐的厨艺甚好,我们预定了付费的晚餐,十分可口。她还免费帮助我们洗衣服,十分感谢! 强烈推荐!Highly recommend!!
Ying
2017-02-16T00:00:00Z
Great experience :) The communication with Helen (before my stay) was perfect. I arrived quiet late but get a very warm welcome including a nice german beer and an hour of talking about "everything". The room really is great. I loved it and slept very well. I only can recommend the great host as well as the stay there!
Martin
2017-01-19T00:00:00Z
Nice place, nice town and friendly mistress.
Jaro
2017-02-27T00:00:00Z
Jenis Bilik
Bilik persendirian
---
Jenis Penginapan
Rumah
---
Memuatkan
3
---
Bilik tidur
Ottobrunn, Bayern, Jerman
Meine Unterkunft liegt 300 m entfernt von der S-Bahn-Station. Du fährst 16 Min. zum Marienplatz und 20 Min. zum Flughafen oder zur Messe. Es gibt Läden und Lokale sowie einen Biergarten in der Umgebung. Du wirst meine Unterkunft lieben wegen des Blicks in den Garten. Meine Unterkunft ist gut für alleinreisende Abenteurer und Geschäftsreisende.
In der Umgebung gibt es viele Möglichkeiten zum Joggen. In wenigen Busstationen Entfernung liegt der Englische Garten. Die Nähe zur Bahn hat zur Folge, dass man die vorbeifahrenden Züge hört.
Ich durfte 2 wunderschöne Wochen bei einer sehr musikalischen, aufgeschlossenen & herzlichen Familie verbringen. Es hat nichts gefehlt, sehr zuvorkommend, hilfsbereit, sowie lustig. Wenn ich wieder nach München fahre & dort übernachte wird meine erste Anlaufstelle Matthias & seine tolle Familie sein. Mir hat auch besonders gefallen das es etwas außerhalb lag, man aber trotzdem in 15min direkt in der Innenstadt ist. Es fahren alle paar Minuten Bahn oder Bus. Es sind nur 2-3 min Fußweg bis zur Bahn. In der Beschreibung wurde ja bereits darauf hingewiesen das man die S-Bahn hört. Mich persönlich hat es nicht gestört. Es gibt Einkaufsmöglichkeiten. Es ist alles da... Ich kann Matthias & seine herzliche Familie nur empfehlen, wer in München eine Unterkunft sucht, mit gelegentlich Abendlichen Musikstücken. Das Preisleistungsverhältnis ist sehr gut & die Herzlichkeit unbezahlbar. Immer wieder gerne... LG René
René
2017-02-10T00:00:00Z
Ich wurde sehr herzlich aufgenommen und hab mich dort sehr wohl gefühlt. Immer wieder gerne ; )
Veronica
2016-12-13T00:00:00Z
Eine wunderschönes Zimmer in top Lage, und mit top Ausstattung, man ist mit Bus und Bahn wirklich schnell überall. Sehr herzlicher Empfang durch die Gastgeber, die mir während des gesamten Aufenthalts gerne mit Rat und Tat zur Seite standen, und mir stets das Gefühl gaben, zur Familie zu gehören. Ich kann diese Unterkunft nur wärmstens weiter empfehlen und würde jederzeit wieder hier übernachten. Nochmals herzlichen Dank für alles!
Nadine
2017-01-29T00:00:00Z
Extrem (!) nette Familie! Ich hab mich selten so willkommen gefühlt. Alles bestens. Tolle Lage, tolle Umgebung, super Anbindung, sehr flexibel. Ich komme sehr gerne wieder!
Imme
2017-02-19T00:00:00Z
Matthias und seine Familie waren sehr freundliche Gastgeber. Die Unterkunft bietet alles was man benötigt. Die Lage ist ideal und auch die Anbindung an den ÖPNV ist sehr gut. Einkaufsmöglichkeiten (Rewe/Lidl) sind fußläufig erreichbar. Insgesamt habe ich sehr angenehme Tage in München verbracht.
Manuel
2016-12-17T00:00:00Z
Ich habe mich bei Matthias und seiner Familie sehr willkommen gefühlt. Alle waren freundlich, hilfsbereit und interessiert. Die Unterkunft liegt sehr nahe am S-Bahnanschluss und ist daher sehr gut geeignet, um die Stadt zu erkunden.
Andy
2017-01-08T00:00:00Z
Great stay! 2 min walk from the train station which is good to access central Munich.
Emily
2017-01-12T00:00:00Z
Upon my arrival I was kindly welcomed with a tea and Matthias and his family have remained great hosts throughout my stay. The room is just as described and I've been able to sleep very well on the bed. The room can be reached easily by public transport and is located a bit outside of the city centre, making you forget you're in such a large city. It has been nice to meet Matthias and his family, who have all been really nice to talk to. The room offers great value for money and I would surely book it again!
Wouter
2016-12-15T00:00:00Z
Jenis Bilik
Bilik persendirian
---
Jenis Penginapan
Rumah
---
Memuatkan
1
---
Bilik tidur
Munich, Bayern, Jerman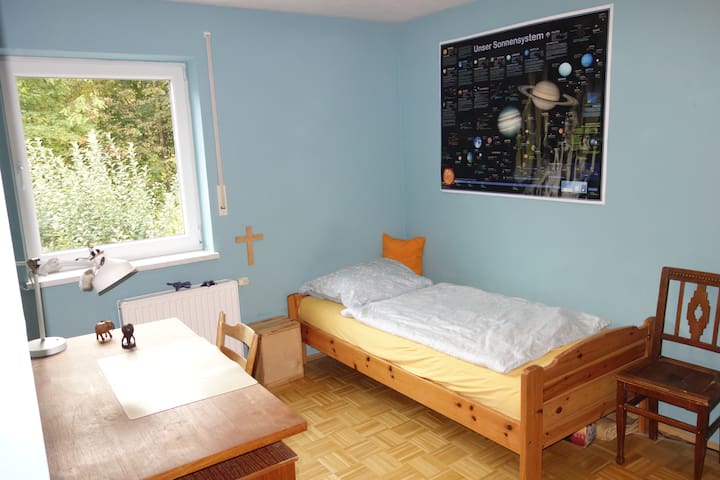 Feel comfortable in my quiet workshop-room in best residential area. Enjoy like in a separate appartement with private nice bathroom. Use cafebar, desk, wlan, washing machine and dryer. Busstop only one minute away. Close to Messe Munich.
Live in a flat of a german author and songwriter. New: Enjoy a bed 100 cm x 200 cm with a good new matress and high priced slatted frame. Also you will find a nice desk for working or studying and speakers for your laptop.
"Waldtrudering" is an exclusive, safe and quiet residential area of Munich. In three minutes you can have a walk over hours in the nice forest or enjoy jogging. Though you arrive within 35 minutes downtown - here it is very quiet and you can listen birds only – no traffic!
Petra war eine tolle Gastgeberin und wir haben uns bei ihr gleich vom ersten Moment an wohl gefühlt.
Sascha
2015-08-31T00:00:00Z
Clean, cosy and spacious room. Indeed it gives a feeling as if you had a whole apartament on your own. Buses are frequent, 15 mins from metro. Petra was hospitable and nice.
Evgeniya
2017-04-04T00:00:00Z
Alles war sehr unkompliziert; das Zimmer ist sehr gross; es hat alles, was es braucht. Ich wurde freundlich empfangen. Netter Smalltalk. Ich kann die Unterkunft weiterempfehlen. Petra, herzlichen Dank!
Nicole
2016-11-06T00:00:00Z
Alles war wunderbar! Ich habe mich sehr wohl gefühlt. Das Zimmer ist wie auf den Bildern mit einem eigenen Bad. Alles ist gemütlich eingerichtet und sehr sauber. Petra war sehr freundlich und unkompliziert. Ich empfehle diese Unterkunft gern weiter!
Sandra
2016-04-10T00:00:00Z
Very nice spacious room and a nice hostess. Close to bus stop and commute to city center easily. Everything is perfect!
Yandong(Frank)
2016-01-05T00:00:00Z
Petra war eine sehr nette Gastgeberin. Es hat alles gepasst auch das kurzfristige umbuchen der Reisedaten.... Es ist verkehrsgünstig gelegen und man ist schnell in der Innenstadt.
Antje
2016-06-17T00:00:00Z
Ich habe mich sehr wohlgefühlt bei Petra! :) Sie ist eine wirklich nette und zuvorkommende Gastgeberin. Zimmer und Bad sind schön und sauber. Die Wohnung liegt in einer ruhigen Gegend, ist aber gut mit S-/U-Bahn und Bus zu erreichen. Immer wieder gerne, sehr empfehlenswert! ;)
Ute
2016-01-28T00:00:00Z
I spent 3 nights at Petra's and although being a bit far from my work place in the centre on Petersplatz (40 minutes from door to door with the Sbahn nr 4 and bus nr 146), it was very pleasant as I could sleep deeply in the room provided by Petra in the basement of her house. The coach on which the bed is setup revealed to be very comfortable and the house and neighbourhood very quiet. The surroundings are also quite pleasant as it is a very leafy quiet residential area and the bus stop is just a few steps from the house. Really a few steps! Less than a minute! So despite the journey to Marienplatz, it is worth it. 10 min bus to Trudering Sbahn station and another 15 minutes to the centre with always enough time inbetween to get your connection. Petra also seels to be a very pleasant and accommodating person whom I unfortunately couldn't get to know better as I left the house everyday at 08:15 a.m and rarely made it home before 22:00 because of work. I would recommand Petra's room to everyone who likes it quiet and doesn't need to be very close to the centre. Also to be mentionned the cleanness of the house and the very good bathroom with floor heating and a perfect shower that helped close out the day comfortably.
Stephanie
2015-10-30T00:00:00Z
Jenis Bilik
Keseluruhan rumah/apt
---
Jenis Penginapan
Rumah
---
Memuatkan
1
---
Bilik tidur
Munich, Bayern, Jerman
Wir wohnen hier in einem Reihenmittelhaus normal zu sechst. Gerade sind einige unterwegs und so ist das Zimmer von Sandro frei. Das Zimmer hat ein Doppelbett und man könnte auch noch eine Matratze dazu auf den Boden legen falls erwünscht. Öffentlich sind wir über Busse und S-Bahn gut angebunden. Parkplatz auf der Strasse kein Problem und kostenfrei. Gemeinsames Bad, Küche kann mitgenutzt werden. Auch im kleinen Garten ist es wunderschön zu sitzen. Wir sind ein reines Nichtraucherhaus.
Es ist ein kreatives lebendiges Haus also erwartet kein Hotel. Alle, die bisher hier waren, haben sich sehr wohl gefühlt.
Man ist von hier schnell in Haidhausen, wo es viele kleine nette Kneipen und Läden gibt. Auch die Stadtmitte ist in ca 20min mit Bus u S-Bahn gut zu erreichen. Hinter dem Ostbahnhof gibt es viele Clubs und Disco.
Tine is such a nice host. She is so nice, greeted us very warmly. She told us about nice places around. The place is clean and comfortable, also the neighborhood is peaceful. Definitely would stay there again for next time.
Calvin
2016-05-08T00:00:00Z
Very nice house and hospitality!
Francesco
2015-12-07T00:00:00Z
Прекрасная хозяйка и прекрасное жилье. В квартире царит атмосфера творческого беспорядка =) Мой английский не очень хорош, но это не было проблемой в общении с Christine. На удивление, мы много смеялись. Christine весёлая и дружелюбная :)
Roman
2016-04-06T00:00:00Z
Christine was very welcoming to us, and was very helpful. One of our friends fell sick and she provided us with medicine and even hot tea! Room was clean and spacious, and atmosphere was authentic and local. Great place to stay!
Eugene
2016-12-17T00:00:00Z
Christine hat uns sehr freundlich und offen empfangen. Unser gesamter Aufenthalt war unkompliziert und angenehm. Die ruhige Lage und das gemütliche Bett haben für erholsame Nächte gesorgt. Christine hat das durch nette Gespräche und eine tolle Atmosphäre noch abgerundet. Vielen Dank!
Jan
2016-12-10T00:00:00Z
Tine was a great host, we liked the house, very clean and cozy, but mostly the fact that we were treated like family and we felt like home. Hope we'll come back soon!
Silvia-Teodora
2016-12-06T00:00:00Z
La anfitriona tuvo un recibimiento extraordinario, nos recibió como si fuéramos de su familia, ofreciéndonos de cenar y todo lo que necesitáramos. Fue muy agradable, tanto ella como su compañero y sus hijos. Una maravilla de persona.
María
2016-08-26T00:00:00Z
el lugar esta muy bien para 3 personas es una habitacion compartida con la dueña de la casa pero cristine es una bella dama que te hace sentir como si ya la conocieras de hace mucho tiempo !! muy recomendado si quieres platicar con alguien bien de aqui de munich ya que la mayoria son muy serios por lo que creo que fue muy buena eleccion quedarnos con cristine.
Mike
2017-03-23T00:00:00Z
Jenis Bilik
Bilik persendirian
---
Jenis Penginapan
Rumah
---
Memuatkan
3
---
Bilik tidur
Munich, Bayern, Jerman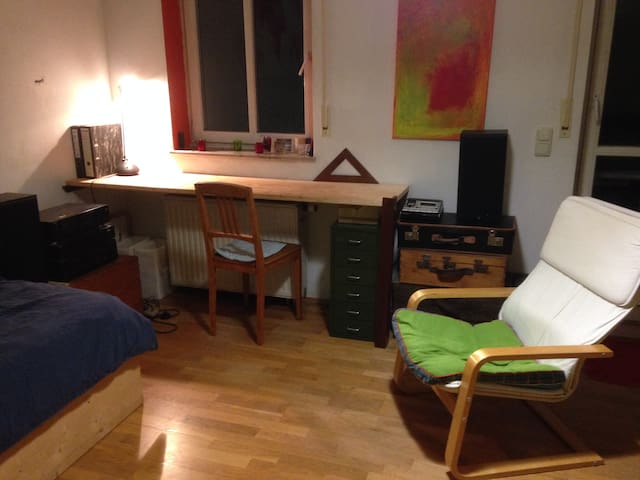 Alles, was man auf einer Städtetour braucht: Ein ruhiges Zimmer mit Gartenblick, ein bequemes Bett, ein tolles Frühstück und eine schnell erreichbare U-Bahn - dann ist man wieder fit, München weiter zu entdecken!
Small room on the first floor, view to the garden, with comfortable single bed. Desk with comfy chair, under the bed shelves with lots of storage space. Offcourse there are fresh towels and bedclothes. Guests have use of the bathroom on the first floor (bath, shower, toilet). You are also welcome to use our washing machine. Free internet. The subway line U3 is a 3-minute walk from our house. Travel time is 15 minutes to Munich's center, to Goetheplatz (Oktoberfest!) even less. Shops and restaurants are within walking distance of our house, also some bakeries for breakfast. Our house is on a cul de sac, so it's very quiet. When you are in Munic with your car, you are in 5 min on Garmischer Autobahn (Alpes!) and in 15 min on Lake Starnberg. Our family welcomes you! Who we are: a journalist, a teacher of German as a foreign language, a high school student and a very friendly cat. We also rent out another room in the house, so there might be another guest while you live here. You can have a look at the photos in "Small but cosy room under the roof" - here you see better photos from our house! You are also welcome to use the piano in our entry hall!
A very calm an friendly neighborhood, nevertheless only 15 min to the center.
Schön war es bei den Billinas! Insbesondere der persönliche Kontakt und die persönliche Betreuung durch alle(!) Familienmitglieder incl. Kater haben meinen Aufenthalt so angenehm gemacht! Da hätte ich gern ein bißchen mehr Zeit gehabt!
Julia
2016-02-21T00:00:00Z
Anneli and her family are very nice. Her cat is so cute! I stayed there just two days, but it is a fantastic experience! The house is near the metro station, very easy to go to the city center.
Monica
2015-02-23T00:00:00Z
Ich kann Anneli und ihr Familie nur empfehlen! Super netter Kontakt im Vorfeld und während meines Aufenthaltes, ein schönes, gemütliches Zimmer und ein leckeres Frühstück. Besser geht's nicht, ich komme bestimmt wieder. Nicolas
Nicolas
2015-08-02T00:00:00Z
It is an awesome experience to live here. Anneli and her husband are very nice and helpful! I strongly recommend this place! The room is cozy and clean. It's quite close to the underground station and easy to find. The breakfast is good and sufficient. The neighborhood is quiet and safe that I really had a sound sleep. Living here makes my journey more pleasant.
孙鑫琪
2015-12-23T00:00:00Z
x
Katrin
2017-03-09T00:00:00Z
This was the perfect place to stay for my trip to Munich! So close to the U3 and a short ride from Marienplatz. The room is very cozy- my only tip would be to bring an eye mask if you are a light sleeper because the room can be quite bright in the morning! The breakfast in the morning rivals some hotel buffets I've seen. Healthy and delicious with a variety of options. Anneli was the ultimate host who even lent me her raincoat and umbrella when I was surprised by the rain! I would definitely recommend this place and would come again.
Tessa
2016-06-22T00:00:00Z
Wie schon bei den vergangenen Aufenthalten habe ich mich bei Anneli und Jörg sehr wohl gefühlt. Bis zum nächsten Mal!
Bettina
2016-03-12T00:00:00Z
Anneli and her family are very relaxed and welcoming. If you're after a budget place to stay in Munich, this is a good option. Less than 5 minutes walk from the U Bahn too.
Heather
2017-02-08T00:00:00Z
Jenis Bilik
Bilik persendirian
---
Jenis Penginapan
Rumah
---
Memuatkan
1
---
Bilik tidur
Munich, Bavaria, Jerman
Good equipped house with 3 bed rooms, 2 bath rooms and luxerous living room. Nearby are supermarketss, bio stores, banks, pharmaphies and restaurents. The bus station is at a distance of 1 min and the S-Bahn in 5 min. You will love my house because it offers much space and is comfortable.
You will get the keys and you are undisturbed in the whole house which is to your disposition.
The house well locted but is not directly on the steet. Therefore it is quiet
Spacious house with 3 big rooms upstairs and a comfortable and quiet living and dining room with kitchen downstairs. It is just 3-4 min walking distance from many restaurants (Greek, Italian, Indian, German...), supermarket and other services. Being only 15 minutes driving from Messe Munich, it is the ideal place to stay if you are travelling to Munich to attend an exhibition.
Enric
2017-01-22T00:00:00Z
Thomas is very kind and helpful person. He allowed us for early checking and late check out. Grocery items were arranged in the house while check-in which was very big help as we were travelling with kids. House was well maintained and very spacious. Public transport was at walkable distance. Supermarket is next to house. If someone is travelling with family or in group then I would recommend to stay at this place.
Darshan
2016-12-19T00:00:00Z
sehr schöne und saubere Unterkunft, nette Gastgeber, schnelle Antwortzeit, sehr gastfreundlich. Haben uns rundum wohl gefühlt. Wir würden gerne Thomas wieder besuchen! Danke!
George
2017-01-27T00:00:00Z
Thank you for your hospitality, Thomas. Kind regards, Inês
Ines
2017-03-30T00:00:00Z
Goed appartement. Alles netjes schoon en zeer goed ontvangen door Thomas. Er stond zelfs wat fruit en koek voor ons klaar. Verder werkt alles goed. Wij zijn er weinig geweest omdat we vooral aan het werk waren op de beur s (welke echt vlakbij is). Maar je kan hier prima vertoeven. Het enige minpunt is dat het bed in 1 van de slaapkamers kapot was.
Chris
2017-01-30T00:00:00Z
In Thoma's Wohnung findet man alles was man braucht und sie hat eine gute Lage. Das besondere ist jedoch der sehr nette und offene Kontakt mit der Familie Korselt. Da kann man sich nur wohl fühlen. Vielen Dank für alles und vielleicht bis bald. Lieben Gruß das Flashy Stars Team
Mirko
2017-02-08T00:00:00Z
Grazie a Thomas per averci ospitato nella sua bella e spaziosa casa. Solo una nota negativa :le stoviglie della cucina erano sporche e usurate.
enzo
2017-01-05T00:00:00Z
Wir hatten ein tolles Wochenende in der Unterkunft. Viel Platz für alle und gute Verkehrsanbindung in die Stadt.
Lena
2017-04-02T00:00:00Z
Jenis Bilik
Keseluruhan rumah/apt
---
Jenis Penginapan
Rumah
---
Memuatkan
7
---
Bilik tidur
Munich, Bayern, Jerman
Eastern part of Munich called Waldtrudering is known for lot of trees and great jogging, Munich Messe (fair) is 10 min away by bike, like the Bugasee (lake) to swin in summer
Jenis Bilik
Keseluruhan rumah/apt
---
Jenis Penginapan
Rumah
---
Memuatkan
2
---
Bilik tidur
Munich, Bayern, Jerman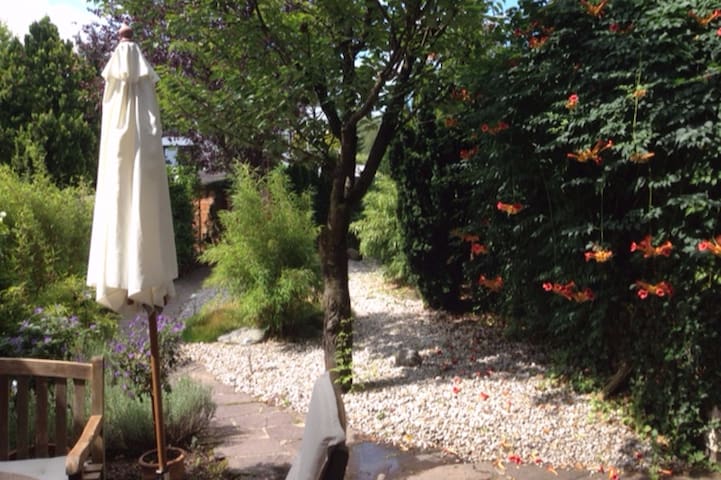 Hello, during oktoberfest season we offer this nice room to rent. It is a perfect two persons room including its own bathroom with toilett, shower and washing table. As arriving at night could bit tricky, we offer to pick up you at the next metrostation. Hoping to hear from you Silke
Auch eine spätere Anreise war kein Problem. Ich wurde freundlich empfangen und nach einer entspannenden heißen Dusche hatte ich eine erholsame Nacht. Alles in Allem sehr unkompliziert.
Stefan
2015-10-25T00:00:00Z
Silke habe ich zwar nur ganz kurz gesehen , jedoch hat ihr Mann Kai sie würdig vertreten:-). Ferner hat sie mir hinterher noch ganz lieb geschrieben und mir erklärt, warum sie wenig Zeit hatte. Top!! Ich habe mich sehr wohl gefühlt, alles war sauber und gepflegt, das Bad der absolute Traum und die Lage im Grünen war super, um erholt in den nächsten Tag zu starten. Würde immer wieder bei Silke übernachten.
Anja
2015-05-14T00:00:00Z
A férjemmel egy éjszakát töltöttünk a házigazdánál.Nagyon szívélyesen fogadtak bennünket.A szállás minden szempontból megegyezett a leírásban szereplővel.Tiszta,modern,kellemes,kényelmes.Csak ajánlani tudom!
Katalin
2016-03-01T00:00:00Z
Very helpful with information on getting there and they were there waiting for me. I stayed in my room and worked, so, I didn't interact much. In for a conference, slept in a nice bed, left for home. Quick and easy.
Thomas
2016-10-23T00:00:00Z
Silke and her family were fantastic, going out of their way to make us feel welcome!
Alistair
2012-09-28T00:00:00Z
Freundlicher Empfang ,nette Familie unkomplizierte Anreise und sauberes Zimmer. Meine Tochter und ihr Freund waren zufrieden, nur das Osterwetter spielte nicht mit
Peter
2015-04-06T00:00:00Z
Silke's family are welcome and helpful. Their house is beautiful. The room is very clean. The area is quiet and nice. Everything is perfect as described. Thank you.
Qi
2015-05-01T00:00:00Z
Very recent house, very clean, nice but busy hosts, calm, not close from centrum but easy to park car, good place to go, thanks. !
Jean-Philippe
2015-04-09T00:00:00Z
Jenis Bilik
Bilik persendirian
---
Jenis Penginapan
Rumah
---
Memuatkan
2
---
Bilik tidur
Haar, Bayern, Jerman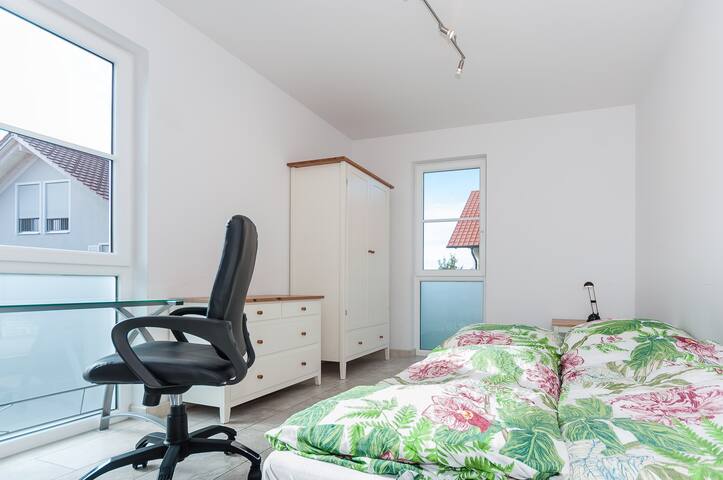 Wir haben Platz und freuen uns auf dich! Dein Zimmer hat sogar einen Fernseher und einen Balkon, aber wenn du mit uns auf der Terrasse sitzen willst, auch gut. Die S 3 fährt in 20 Minuten zum Marienplatz, mit dem Fahrrad bist du in 20 Minuten an der Isar.
Unproblematische Nachbarschaft
Vom ersten Moment habe ich mich bei Christa wie zuhause gefühlt. Ich wurde sehr herzlich begrüßt und sofort fast wie ein Teil der Familie behandelt. Das Zimmer ist super, die Lage ebenfalls. Alles sehr ordentlich und zum wohlfühlen. Das Organisatorische lief alles reibungslos. Sicherlich werde ich wieder einmal bei Christa wohnen. Sehr zu empfehlen!
Julia
2016-04-07T00:00:00Z
Had a great stay by Christa. She gave a warm welcome and her and her family were very nice. I would definitely recommend them for your next stay in Munich.
Jay
2016-10-13T00:00:00Z
Wie immer waren Christa und Ludger sehr freundliche Gastgeber, alles war so wie beschrieben. Ich komme immer wieder gerne zu Ihnen.
Bernd
2015-12-17T00:00:00Z
Alles Top: Empfang, Gastfreundschaft, Ausstattung... da kommt man gerne wieder :-)
Reza
2016-10-06T00:00:00Z
Ich wurde sehr herzlich empfangen von Christa. Das Zimmer ist sehr schön und es fehlt einem an nichts. Die nächste S-Bahn Station ist nur ein paar Gehminuten entfernt
Harry
2016-09-17T00:00:00Z
Christa und Ihr Mann haben mich supernett empfangen, genauso ihr Besuch aus der Schweiz, der uns dann gleich noch ein kleines Pianokonzert geliefert hat :) Total offen und freundlich, als wenn ich schon immer dazugehört hätte :) Es war alles da: gemütliches Bett mit extra neuer kuscheliger Bettwäsche, Bad, Küchenbenutzung, WLAN. Daumen hoch, kann Christas Haus nur weiterempfehlen...
Stefanie
2015-10-25T00:00:00Z
Eine ganz tolle Schlafgelegenheit! Es war in etwa so wie wenn ich meine Eltern besuche und mein altes Zimmer wieder beziehe. Leider hatte ich nur eine Übernachtung und war ziemlich kaputt am Abend. Es war trotzdem sehr nett Christa und ihre Familie kennen zu lernen. Immer wieder gern wenn es mich mal wieder nach Unterhaching verschlägt. LG Matthias
Matthias
2016-03-22T00:00:00Z
Es war wirklich toll bei Christa & Ludgar! Ich wurde sehr herzlich empfangen und ich habe mich wie zu Hause gefühlt. Es war alles wie beschrieben. Christa & Ludgar sind sehr nette Gastgeber!
Vanessa
2016-06-27T00:00:00Z
Jenis Bilik
Bilik persendirian
---
Jenis Penginapan
Rumah
---
Memuatkan
1
---
Bilik tidur
Taufkirchen, BY, Jerman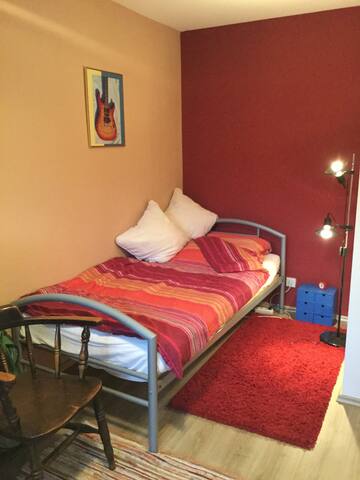 This house is located in the south of munich maybe 20 mins by bus and tube from the city centre and about 45 mins to Messe Riem. Just nearby is the Isar the river that is floating through munich with its beautiful riversides where people go jogging, grilling or just hangout. The enviroment has a very rural touch although it is in the city. I'm living here with to friends, we're pretty relaxed guys. If you need help or information there should always be at least one of us in the house.
Great place, great host, quiet area just a minute away from the tram that takes youat the city center. Recommended if you're looking for a nice rest in Munich
Mattia
2017-03-28T00:00:00Z
Excelente habitación, muy limpia y cómoda, queda cerca de supermercados y el transporte público, la casa es muy grande y acogedora.
jorge
2017-03-17T00:00:00Z
The room was really quiet cozy. Frank is very flexible and communicative guy, he recommend us some places to go. It isn't problem to arrive to his house on underground and tram, it takes about 25 minutes to the city center, what is really comfortable. I recommend you this host.
Pavel
2017-03-05T00:00:00Z
Unterkunft war sehr ok. Einfach eingerichetes Zimmer, so wie beschrieben. Schön ruhig gelegen, aber gute Anbindung, auch mit dem Auto von er Autobahn schnell erreichbar. Angenehme und unkomplizierte WG - Frank ist super nett. Würde wieder buchen.
Maike
2017-02-26T00:00:00Z
Schöne ruhige Lage und doch City-Nähe. Nette Gastgeber/Mitbewohner, auch sehr hilfsbereit. Auch unser kleiner Hund war willkommen, sehr schön! Danke auch noch für das Getränk . Sauber, nettes Bad. Die Größe und Ausstattung des Zimmers kann der Gastgeber ja nicht ändern, nur allein zum Schlafen für 2 reicht es, aber ein zweiter Stuhl nebst Tisch plus etwas mehr Platz für das Gepäck wäre schön für den Zimmerpreis p.N. Für uns jedoch war es Rettung in letzter Sekunde, daher hat es uns sehr geholfen. Vielen Dank an Frank und seine Mitbewohner sagen Axel, Johann und Murphy
Axel
2017-02-20T00:00:00Z
Good place
Mohd
2017-02-25T00:00:00Z
Jenis Bilik
Bilik persendirian
---
Jenis Penginapan
Rumah
---
Memuatkan
2
---
Bilik tidur
Munich, Bayern, Jerman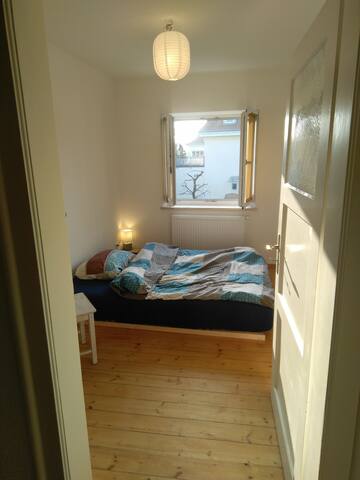 Only minutes from the ICM Messe/Expo Center, the city center, Oktoberfest and Christmas markets by nearby bus and metro lines. Great neighborhood next to a huge park. The location is central yet very peaceful. Good for business travelers, couples, adventurers and families with kids. Do-it-yourself-breakfast included;-)
A very private space with high cielings and southern exposure. 2 comfortable double beds (queen size) and a full size convertable sofa. Plenty of storage space, door with lock, and a private bathroom all in this quiet, warm and sunny room. The modern and spacious gourmet kitchen, fire place and TV are all shared with your host. Laundry facilities are also available with washer and drier included! A beautiful quiet and green location with nearby public transportation so you are only 18 minutes from the city center, the ICM convention center or the Oktoberfest!
Quiet Bavarian neighborhood with enormous park across the street! 18 minutes from Munich City Center or Oktoberfest, 15 minutes from ICM Convention Center. Munich Airport only 30 minutes away. Salzburger Autobahn is about 1 km from here. Located near public transportations (bus and metro stops) which are clean and reliable.
Very economic and like family
Laura
2016-12-14T00:00:00Z
Alexis was an outstanding host- the best I have had in my travels thus far. Upon arrival she invited us to shower with fresh towels and provided us with both iPhone and Samsung chargers because ours were not working. We were offered food and drinks. I have never felt more at home.
Lynda
2016-09-26T00:00:00Z
It was the perfect stay during Oktoberfest and the whole arrangement was wonderful! The room was very spacious, the bathroom new and clean and the completely refurbished kitchen with the great breakfast offering topped it all off. Would rent again anytime!
Kilian
2016-09-19T00:00:00Z
Alexis is the best Airbnb host! Alexis was very easy to communicate and very helpful to provided detailed instructions as well as suggestions during our stay. Since all of the stores were closed in Christmas, we spent a lot of time stay at her place. We cook for each other and had great conversation. Her hospitality, cozy home, and two adorable dogs made us feel like home:)) this is definitely the highlight of our trip!
Weiya
2016-12-26T00:00:00Z
Modern home and a feel good place to lay your head down. We had nothing really planned out except for the Christmas markets but Alexis helped us plan our days and made us feel like experts on the S-Bahn and trams to maneuver around the city. I would definitely stay again or longer if my vacation allowed.
Raphael
2016-11-25T00:00:00Z
Alexis is warm and friendly; she is a great communicator, answering all of our questions quickly both before and during our stay. She was a great source of information regarding a wide range of topics and was also overall just fun to talk to. The beds were extremely comfortable and the room had plenty of light and was tastefully decorated. There was plenty of room for all of our belongings in the room (though not so much the case in the shared bathroom which was quite small). The rest of the house was also tastefully decorated. Loved all the beautiful art. The kitchen was great! It was well appointed with everything we needed and coffee, tea and light breakfast was easy to prepare. WiFi was reliable. While Alexis was diligent to provide us with an accurate accounting of what to expect, there are two things that we would have liked to have known ahead of time: 1) That we would be sharing a bathroom not only with other guests, but also with a teenager living in the residence. 2) That the washer and dryer was not available for personal use. While Alexis was gracious to offer to wash clothes for us, this was not preferable to us being able to use them ourselves at our own leisure. Overall, Alexis is a very accommodating host who is eager to provide for the needs of her guests. We appreciate her efforts to make our trip to Munich an enjoyable one(URL HIDDEN)
Sally
2016-09-29T00:00:00Z
Wir (2) haben das große Zimmer im Dachgeschoss bewohnt mit eigenem Bad. Das Zimmer ist groß genug für mehr Leute, aber wir blieben länger. Das ganze Haus kann im Prinzip mit genutzt werden. Treffpunkt ist natürlich die Küche. Es ist nicht nur alles da, was man braucht, alles ist auch top modern und hochwertig. Wir wurden sehr gut aufgenommen in das Familienleben. Die beiden Hunde sind auch sehr knuffig :) Die gute Lage ist unschlagbar. Direkt am Ostpark, nur ein paar Minuten bis zum Schwimmbad, Einkaufsmöglichkeiten um die Ecke und mit dem Rad ist man in 10-15 Minuten an der Isar. Wir haben uns hier sehr wohl gefühlt und bedauern etwas, dass wir nun weiterziehen. Wir können Alexis' Unterkunft uneingeschränkt weiterempfehlen!
Christian
2017-02-28T00:00:00Z
Everything exceeded my expectations
Alex
2016-09-23T00:00:00Z
Jenis Bilik
Bilik persendirian
---
Jenis Penginapan
Rumah
---
Memuatkan
6
---
Bilik tidur
Munich, Bayern, Jerman