Masukkan tarikh daftar masuk anda dalam format hh-bb-tttt
Masukkan tarikh daftar keluar anda dalam format hh-bb-tttt
Penyenaraian yang boleh anda tempah tanpa menunggu kelulusan hos.
Masukkan tarikh untuk melihat harga penuh. Yuran tambahan dikenakan. Cukai mungkin akan ditambah.
Cool Aframe on 100 acres between Sunset Crater Volcano and Wupatki National Monuments. 75 miles to Grand Canyon. Borders National Forest land. Amazing views of Roden Crater, San Francisco Peaks, Hopi Mesas, and Navajo Reservation. Peaceful.
Remote, off grid/solar powered, self sufficient Aframe cabin on 100 acres. An escape from city life. No cell phone service, Wifi, or television. Reconnect with yourself, family, and friends. 20 minutes to Sunset Crater Volcano National Monument 30 minutes to Wupatki National Monument 40 minutes to Grand Falls on Navajo land. 45 minutes to downtown Flagstaff. 55 minutes to Cameron Trading Post. 75 minutes to Grand Canyon south rim. Two hours to Grand Canyon north rim. Four wheel drive only necessary two-three times a year for snowfall. Two miles on dirt road from pavement, most cars ok. Access to entire cabin, acreage, and adjacent Forest service land. First floor has kitchen, full bathroom, and living area. Second floor has master bedroom with queen size bed, small couch, half bath, and back deck. Also on second floor is loft which overlooks living room and has a full size bed and a single bed. Third floor, accessed by ladder, has bunk beds, games and puzzles. I will try and be here to greet you. An estimated time of arrival is greatly appreciated. I will point to various things and answer any questions you may have about house and area. I won't stay, the entire cabin is yours for duration of visit. Thanks for coming!
Remote and secluded "house camping." Few neighbors. Property lies between two amazing and interesting National Monuments. One hour drive to Cameron Trading Post and east entrance of Grand Canyon National Park south rim. 30 minutes, 20 miles to gas and grocery. Hiking out the back door. Sunrise and sunset are the major events. Full moons are out of this world. See stars fall often. Milky Way at arms length.
With a family of 6 we stayed at Jasons house for 3 nights and had an unforgetable stay. With a lot of space to relax and sleep everything was as described. Especially the living are with the fire place was fantastic to spend the evenings and to just forget the stress in your everyday life. Moreover, Jason was a pleasant host and showed us the place personally. Even if itwas not the cleanest place we really had a great time and like to recommend it to everybody who likes to get some distance. PS: Caretaker Lance, who lives just around was there the whole time, which is useful when anything does not work. It might be a problem if you want to just be on your own because he really!!!!likes to talk. One should keep that in mind. Overall for us it was not a big problem at all.
Ben
October 2015
Jason was a great and accommodating host. The map he provided us before arriving, along with detailed instructions for everything in the house was extremely helpful. The house was just as described; rustic, remote, but also very peaceful and in a beautiful location. I would recommend this place, especially if you don't mind being off the grid.
Brad & Lizabeth
December 2014
My boyfriend and I really enjoyed our time at Roadrunner Ranch- it's remote and rustic, and it was a great opportunity to spend some quality time together without digital distractions. The dirt road leading in to the property was a little hairy the first time we rode in (we have a Mazda 3), but once we got used to it, maneuvering on and off the property was a breeze. It's about 45 minutes to downtown Flag, about an hour to Sedona, and maybe an hour and a half to the Grand Canyon- a great place to call home base for your Arizona adventures. If you have the chance to do some sightseeing with Jason while you're there, definitely take advantage of it. We drove out to Merriam Crater to watch the sunset one evening, and did a day hike with him and Lance another day. The property surrounding the house is incredible, and it we were grateful for having had the opportunity to see it through the eyes of someone who clearly loves it there (Jason also knows some great spots if you fancy yourself a photography buff).
Leah
November 2015
Jason was a great host and really accomodating even though we arrived 5 hours later than expected. The place was nothing short of idyllic, and we had it to ourselves for two nights. I recommend driving there during the daytime as it is a little hard to navigate there in the dark with a car. I would definitely stay here again
Alexander
November 2014
Unique setting, great hospitality. It was fun to feel like a 'local' at the two nearby National Monuments, which are each very special sites. The presence of the neighbors and of the sometime residents enhanced our stay. Last day bonus: we spotted a herd of antelope on the drive out. Thank you Jason and everyone.
Cheryl
October 2014
Just an awesome place to stay! It was so cool to get away from everything, while still having all the amenities you could want. There are endless places to hike just by stepping out of the front door. Everyone here was so friendly and accommodating. Jason was there when we arrived to show us around and how everything worked. He was great about keeping in touch leading up to our arrival and during our stay. Make sure to meet his neighbor, Lance, too! Incredibly interesting guy with enough stories to keep you busy for days. We would not hesitate to come back. In fact, we can't wait to come back again! This was our first Airbnb experience, and it could not have been any better! Thanks Jason!
Ian
October 2014
The great and romantic place right in the national park - can climb several volcanoes right from the backyard! We really enjoyed the people and the hospitality!
Anya
April 2016
We really loved our experience. This is a remote location but worth the drive. The stars at night are amazing. Plenty of room for a family or a nice spot for a romantic off-the-grid experience. The host was accommodating and welcoming. We look forward to going back in the future.
Sarah
September 2016
Jenis bilik
Keseluruhan rumah/apt
---
Jenis penginapan
---
Memuatkan
6
---
Bilik tidur
3
Flagstaff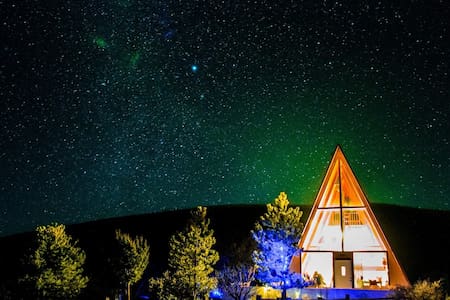 Geniessen Sie den einmaligen Ausblick von einem gemütlichen, unabhängigen Gästehaus mit eigener überdachter Frühstücksterasse aus. Blicken sie in die unendlichen Weiten der Landschaft in Nordarizona.
There are 5 miles "adventure-dirtroad" to our house. We are a German owned Off Grid RETREAT, offering guests a unique utilizing quality cabin close to the Navajo Nation in the outstanding natural beauty of northern Arizona. Please be prepared for a bumpy, washboard dirtroad to our house.! Please give me a call or text on your way in our area, so I can start driving to our meeting point. I'll meet you at the Leupp Road/N.f.R. 244A corner to guide you up on the crater. Easy access with GPS-navigation and a 4WD! High clearance vehicles recommended! "A special place needs a special road!":-) Simple equipment in "Western-Style", Cabin, bathhouse (modern Porta Potty!, hot shower) and private House are separate, but connected with the deck! Check in: 4.00pm - 7.00pm *Arriving after sunset is not possible!* (From Oct. to March check in: 3.00pm to 5.00pm only!) High clearance vehicles recommended! From our meeting point to the Grand Canyon you'll have a 1,5 hour drive. We HAVE phone signals at our house! Your Guesthouse with your private deck incl. kitchen corner/fridge. I'll share just the shower in the bathhouse with you. Ihr Gästehaus mit eigener privater Terrasse inkl. Küchenecke/Kühlschrank. Ich werde nur die Dusche im Badehaus mit Ihnen teilen. You will be mostly in private atmosphere. Most of my time I spend, I'm working at home or in town, cause I'm by myself. It needs a lot of time, maintaining the house and working in town for one person here out in the desert. I'll do the best I can, to support your journey-plans, and I'll take care for your relaxed staying at my house. :-) Thank you very much ! Nicole
Great people! We're all connected and a great community out here. Neighbor's with hiking business, so you can hire them for a special hiking Tour?!?! "Navajo Nation" is also our "neighbourhood". Border is in view distance. Great community!!! Hopi - Bus to kykotsmovie/Hopireservation 2 times a weekday from Star school / Leupp Rd. and back. 12.-$ 2 times a weekday from LEUPP and back 6.-$ p.person Arriving for "check in" is only possible before sunset! (Oct.-March 3.00pm-5.00pm) We've a Solar-Power-System, and we have to deliver the water by ourself, so please no power- or water wasting..... We appreciate, when you take your trash back! Access to the house in wintertime ONLY WITH A 4 WD !!! Wir haben ein unabhängiges Solarstrom-System, und das Brauchwasser wird von uns selbst angeliefert. Wir bitten diesbezüglich um achtsamen Umgang! Wir schätzen es sehr, wenn sie "Stadtmüll", wie Verpackungsmaterial und Plastik selbst entsorgen! Die Zufahrt zum Haus ist im Winter nur mit 4WD möglich!!!
We thoroughly enjoyed our time on "the moon". It was restful, peaceful and beautiful. If you want to get away from it all this is the place to go!
Diane and Jeff
August 2016
This place is incredible!!! I've traveled to many places and I've never seen anything like this. First, the small cabin is private and perfect; equipped with a small private balcony, a comfortable bed, a small armmoire and romantic lighting :) Do not worry about the "no air conditioning"... the weather at that altitude is perfection :) Also, get ready for the most overwhelming view of the stars and milky way with absolutely NO LIGHT POLUTION .... breathtaking! One pleasant warning, this is located out in the countryside and on a road not taken lightly, do not attempt without an suv. This location is a bit of off roading; which we absolutely loved :) Thank you to Nicole for this incredible "glamping" experience :) absolutely wonderful host. I hope we can visit again
Amanda
October 2015
My experience at the Moon Crater Cabin was great. My girlfriend and I stayed here for a few nights while exploring Flagstaff and hiking nearby, and it was beautiful and peaceful. There wasn't any cell service on the roads leading up to the cabin, but we did get decent service at the cabin itself, if that's a concern of yours. I strongly recommend, however, that you don't try to arrive back at night time. We tried this the second night, and ended up slightly lost. Nicole gave some nice printed directions to follow, but it looks quite different at night, and there's very little light around. We eventually found it, though! Nicole was a great host and the cabin was comfy and secluded. The views were great, both day and night.
Colin
September 2015
Moon Crater Cabin is Magical! Nicole was the perfect host- welcoming, friendly, accommodating, respectful, and sincere! :) It was the perfect get-away to experience some calm and peace from the big city. The landscape is only to be understood by experiencing it! The volcanic setting, beautiful sunrises and sunsets, and the myriad of stars at night present a surreal experience not to be forgotten. I highly recommend a trip to Moon Crater Cabin! Thank you, Nicole!
Rachel
May 2016
Nicole is an incredible host and I'm so grateful to have experienced where she lives...beyond how wonderfully clean and beautiful Nicole's home is, it is located in one of the quietest places I have ever been. An incredible experience for anyone who needs a break from the city or wanting to experience a unique home with incredible views of the Painted Desert and amazing sunrises and sunsets.
Rose
July 2015
For those looking for a truly unique experience - look no further. Nicole is a caring and attentive host - and her hard work is evident in all aspects of this off the grid cabin. Take the time to read Nicole's listing and your only surprise will be the fact that the views and overall experience is better than you imagined. Don't come here if you're looking for a spa holiday - come here if you want to experience and spend some days in touch with mother nature.
Madison
November 2016
Nicole made us feel very welcome. She went above and beyond to try to make sure we had the best trip possible. We had to leave early our last day to make our flight and she woke up when we did to have coffee and breakfast ready for us and I thought that was very sweet. The only thing that was tough for us was how far away it was from everything but that was to be expected based on the listing. Nicole is a very kind person and we enjoyed our stay at the moon.
Jamie
July 2016
Super schöne Unterkunft liebevoll eingerichtet in einer wundervollen Landschaft Nicole ist eine wunderbare Gastgeberin hat immer Zeit für ihre Gäste und versucht den Aufenthalt so angenehm wie möglich zu machen wir würden immer wieder ihren "Moon Crater"besuchen die Zeit dort war er einfach zu kurz .
Sven
October 2016
Jenis bilik
Keseluruhan rumah/apt
---
Jenis penginapan
---
Memuatkan
2
---
Bilik tidur
1
Flagstaff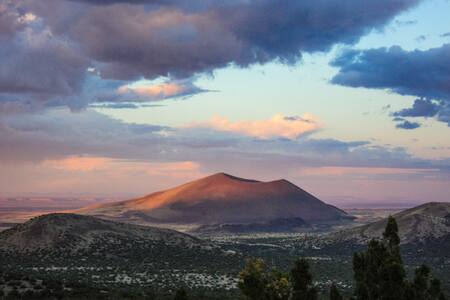 The Mountain Star is a beautiful 3 bedroom, 2.5 bathroom mountain getaway with spectacular views. It is ideally located for visiting the Arizona Snowbowl ski resort, the Arizona Nordic Village and nearby snow play areas. You will be driving the opposite direction from all the ski traffic going to and from town. It is also ideally located for visting the Grand Canyon, Sedona and the Coconino National Forest. I am new on AirBnb and have very high ratings on other sites (that I can share).
This beautiful home boasts wide open, panoramic views, two master bedrooms, a fully-enclosed loft bedroom containing 2 double beds, a fully-equipped kitchen, a large second story deck and many amenities and supplies. I have been in operation for 4 years, but I am a new listing on AirBnb. Please feel free to contact me to see some of my outstanding review history, including guest journal entries. The Mountain Star, located at an elevation of 8,000 feet (2,438 meters) on 5 beautiful acres and backed by National Forest land, offers breath-taking natural beauty, expansive views, direct and easy access to nature, boundless outdoor activities (nature walks and hikes, biking, climbing, etc.) and a spectacular night sky. It is a sanctuary for inspiration, relaxation, reflection and rejuvenation, as well as being perfectly situated for outdoor fun and adventure. Its spacious, 2nd-story wrap-around deck with picnic table, chairs and chiminea (outdoor fireplace) provides for unparalleled enjoyment of the mountain air and scenery. In winter, this location is ideal for area snow play and winter skiing at the Arizona Snowbowl. The ski resort is located equal distant between the town of Flagstaff and the Mountain Star, only you are always going the opposite direction from all the town traffic. This is a significant advantage in the morning and especially at the end of a ski day. I meet all guests at the property for an introduction and orientation to the home, unless, on infrequent occasion, I am not available. I provide a check in guide, home information guide, a local hiking guide, an area activities guide, a Oak Creek/Sedona excursion guide, a local forest excursion guide and a local restaurant guide to all guests upon their booking. I am happy to help my guests with their trip planning.
The Mountain Star is located in the heart of the Coconino National Forest along the San Francisco Peaks scenic corridor between the mountain town of Flagstaff and the Grand Canyon. This spectacular and convenient location sets The Mountain Star apart from Williams and other rural locations. The home is situated on 5 acres and is backed by the Coconino National Forest. The Mountain Star is located near the beautifully maintained, undivided Hwy 180 providing direct access to Snowbowl and area snow play areas as well as to the Grand Canyon and the town of Flagstaff. This is a new listing on Airbnb, but I have listed elsewhere for 4 years and will happily share my outstanding review history upon request. You may also see personal references about me on this site. I have a personal web site with lots more and handy information about this property that I will share upon request (this site will block any embedded URLs).
We were made to feel very welcome, flowers , a card etc.. The amenities were good.for visitors, make sure that you can cope with the number of stairs in this house at this altitude.
Diana
September 2016
Jenis bilik
Keseluruhan rumah/apt
---
Jenis penginapan
---
Memuatkan
6
---
Bilik tidur
3
Flagstaff