4 ložnice dům s 3 koupelny se nachází pouhých 10 minut od l'Escala a Sant Martí d'Empuries. Soukromý plavecký bazén a opravdu klidná lokalita.
Ideální venkovský dům (pro 8 osob), aby se těšil jedním nebo dvěma rodinami. Nemovitost se nachází v Canet de La Tallada, klidné čtvrti se nachází pouze 10 minut jízdy autem do l'Escala a 15 minut jízdy od Sant Martí d'Empuries. Je to také 15 minut jízdy od bests golfových hřišť. Pokud byste chtěli užít si svou dovolenou v klidném a venkovském místě, hrát golf, aniž by se denní lázně na plážích pobřeží Costa Brava To je určitě ideální dům. Tato nemovitost je celý oplocený a plavecký bazén má bezpečnostní vztahuje systém. V přízemí, má 1 ložnici s manželskou postelí (oddělená lůžka), plně vybavenou kuchyň, 1 koupelna (se sprchou), obývací pokoj a jídelna s francouzskými dveřmi, které se otevírají ven na krytou terasu s dostatkem prostoru pro venkovní stolování. V prvním patře, má 1 ložnici s vlastní koupelnou s vlastním balkonem, 2 ložnice (oddělená lůžka) a 1 koupelnou (se sprchou).
Tato vlastnost není výjimečný jen kvůli tomu, že opravdu pěkné pláže nebo golfových hřišť pouhých 15 minut jízdy. To má další klíčové ingredience, jako je například klidném místě a běhání kolem. Je to ideální místo pro odpočinek a uniknout shonu každodenního života.
Nous avons été très bien accueilli par Jordi et sa famille, ils ont su nous mettre à l'aise . Jordi est très disponible . La villa est très bien agencée , correspond exactement aux photos, tout est pensé pour que l'on puisse passer un agréable séjour . La piscine est chauffée (28 degrès tout au long de notre séjour). Le quartier est très calme , à proximité de chemins permettant d'agréables promenades . Je vous recommande cet endroit pour des vacances en famille ou entre amis au soleil et au calme .
Anthony
2016-06-12T00:00:00Z
Encantadísima!!tanto que repetimos!la casa es preciosa, muy bien situada y Jordi y su padre un encanto. La recomiendo 100%
Nuria
2015-11-02T00:00:00Z
Vi havde en skøn efterårsferie i Jordis hus i Cathalonien. Huset fremstod præcis ligeså smukt og charmerende, som det så ud til på billederne. Poolen var ren og pæn og nem at betjene. Huset ligger i en lille landsby blandt æbleplantager og marker 30 minutters kørsel øst fra Girona og ca. 1½ times kørsel nord fra Barcelona. Der er ca. 15 min. kørsel ud til kystens flotte hvide byer med skønne sandstrande - både store og brede samt små og hyggelige med klipper og turkist vand. I området inde i landet kan der ses flere typer borgbyer med smalle hyggelige stræder. Jordi har været en ekstraordinær god vært. Han har hjulpet os med at udpege de bedste og mest interessante museer, parker, naturområder, strande, vandreture samt restauranter og supermarkeder i området. Vi fik ikke benyttet poolen helt så meget, som vi havde håbet på, da temperaturen lå omkring de 20 grader. Vi må komme tilbage en anden gang tidligere på året.
Susanne Stenbo
2015-10-18T00:00:00Z
The house is exactly as described and shown in the pictures. We stayed in the house with 4 adults and 2 children and had plenty room with 4 bedrooms and 3 bathrooms. The kitchen is well equipped. The house is luxurrious and has a big garden with lots of places to sit in the sun or shadow. The villa is close to a lot of exciting places to visit. Girona and Barcelona are within driving reach. But also a lot of nice places as Toerella de Montgri, Pals, Begur and Palafrugell are worth a visit! Jordi and his family are working hard to make your stay the best ever. Jordi, thank you for sharing this nice place with us. Hope to meet again in the future!
Ruud
2015-07-18T00:00:00Z
Great place very helpful owner!
Tom
2016-08-07T00:00:00Z
Our family of 4 adults and 4 children had a fantastic stay at Jordi's beautiful home. It's is the perfect holiday home with an amazing pool and garden area
Dealga
2016-06-19T00:00:00Z
Unser Urlaub an der Costa Brava war einfach fantastisch! Sowohl die Unterkunft, als auch die Umgebung waren super schön und wir kommen gerne wieder!
Lisa
2016-09-14T00:00:00Z
Splendide maison, très bien agencée et très agréable. Zone au calme au milieu des champs. Grand jardin très agréable, le coin barbecue est au top! Petite air de jeu sécurisée à côté de l'église à 50m de la maison avec balançoires pour petit et grand, toboggan et fontaine. Les plages sont effectivement à 15 minutes de voiture. Un excellent séjour, encore merci à jordi très disponible! On reviendra!
Aurélien
2016-06-26T00:00:00Z
Jenis Bilik
Keseluruhan rumah/apt
---
Jenis Penginapan
Rumah
---
Memuatkan
8
---
Bilik tidur
Girona, Catalonia, Sepanyol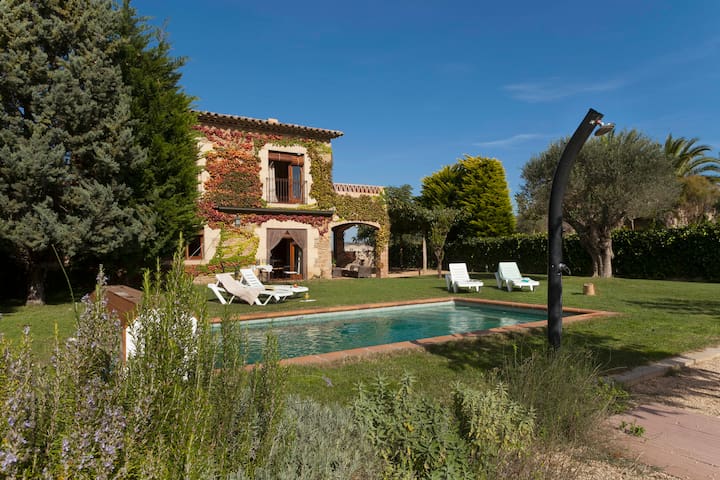 The nostrils were the space where formerly was dry wheat that have been completely renovated and turned into a house of 128m2 with a 650m2 garden. It is a spacious and bright, consisting of two floors; the ground floor living room, kitchen, bathroom and laundry. On the top floor there is a bathroom, one single room, a double bedroom and a bedroom with integrated bathroom.
MĚSTO A AREA Serra de Daro je malé městečko, velmi tichý, asi 200 obyvatel, obklopen poli, které označují barvy ročních období. Dobré spojení Torroella, La Bisbal, Girona, Figueres. Nachází se v blízkosti měst, jako je Virgin, Peratallada, Pals, Begur, Púbol, L'Estartit, Palafrugell, Palamos, L'Escala Torroella, La Bisbal a asi 35 minut od Girona a Figueres. Tato oblast je klidná na dovolenou jiného. UDÁLOSTI pláž, potápění, šnorchlování, vodní sporty, seagway procházky, jízdu na kole, návštěva středověkých vesnic, půvabných měst, P. průvodu, sporty, navštívit hrad Gala-Dali, atd.
Una casa perfecte per a gaudir en família d'uns dies tranquils a l'Empordà. És una casa nova, molt ben equipada i decorada amb molt de gust i amb un bon espai de joc per a la canalla. A més l'Anna i l'Abel són uns amfitrions fantàstic pendents de tots els detalls. Si ens volem perdre alguns dies per desconnectar per l'Empordà , ja sabem on anar!
pep
2017-04-12T00:00:00Z
Jenis Bilik
Keseluruhan rumah/apt
---
Jenis Penginapan
Rumah
---
Memuatkan
5
---
Bilik tidur
Serra de Daró, Catalunya, Sepanyol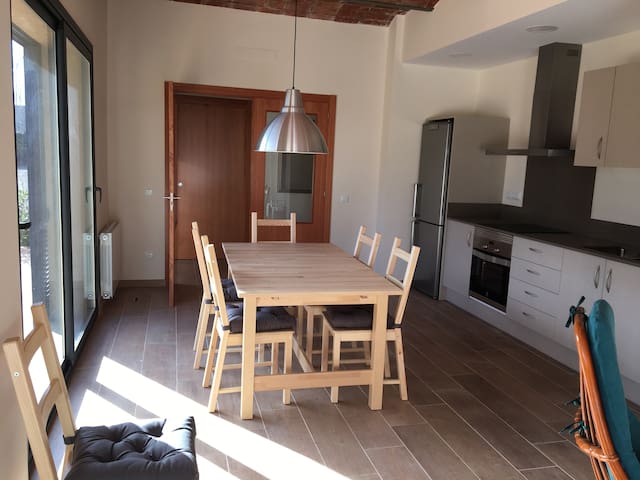 Registration tourism: HUTG-021231
MAKE A HOLIDAY HOUSE IN THE EMPORDÀ, YOUR HOME AWAY FROM HOME. The house is located in the center of the village of Serra de Daro, 30 km east of Girona and 9 km from the beaches of the Costa Brava. The house has, on the first floor, two bedrooms, one with double bed and the other with two single beds. There is also a bed equipped with a loveseat and two auxiliary folding beds room. The kitchen is also on the first floor and is fully equipped, also having a fireplace. The ground floor has a bathroom with shower and a small bathroom with sink, toilet, washing machine and dryer. On the ground floor is also a room with sofas and TV. The garden is equipped with table and chairs to hold lunches or dinners "al fresco". Serra is a small rural village (100 inhabitants) ideal for children to play happily in the garden of the house and in the village streets without worrying about traffic. At a distance of 4 km is the town of Torroella de Montgri, famous for its International Festival of Classical Music and where there are supermarkets, bars and restaurants, medical center, banks, museums and a very active commercial fabric. Other nearby towns are very Ullastret, Peratallada, Pals, L'Escala and La Bisbal d'Emporda. YOUR HOLIDAY IN SERRA Daro HAVE A DIFFERENT ATTRACTIVE TO MANY OTHER DESTINATIONS OF THE COSTA BRAVA. Serra de Daró is an excellent destination to enjoy the beach, especially diving and snorkeling in the Medes Islands (Estartit), kite-surfing, biking, horseback ride or just go for a walk in the surrounding hills and Massís Montgrí and enjoy the spectacular scenery. It is also a good destination for a golfing holiday, with several courses are within 15 km of the population, or parachuting and enjoy the unique wind tunnel of this Spanish, located in Empuriabrava 20 km. PLACES TO VISIT SERRA during your holiday in Daro. Depending on your interests there are many other cities and towns that are worth visiting during your stay in Serra de Daro. Girona and Figueres (the birthplace of Salvador Dalí), both 30 km away are the nearest larger cities. There is also a 45-minute drive from the Garrotxa and its volcanoes and 100 km from Barcelona. There are many coastal spots in this part of Catalonia, where you will find some of the best beaches in the region, such as Begur, 15 km. WEATHER IN SERRA Daro. Tourists who go to Serra de Daro in July and August can expect temperatures of around 30C, which are ideal if you are planning to spend most of their time on the beaches of the Costa Brava. If you plan a more active holiday, consider going in early June or late September, when temperatures drop slightly but sunny days are almost assured.
Mi familia y yo hemos estado más que bien en esta casa. La casa es confortable, bonita y estaba impecable en cuanto a limpieza y equipamiento. El jardin es fantastico y el entorno tambien. La familia que nos recibió no solo han sido atentos, amables, discretos..., nos han tratado con afecto y simpatia, con mucha naturalidad. Hemos estado muchos días y sin duda repetiriamos la experiencia.
Rosario
2013-09-09T00:00:00Z
Hemos estado muy agusto, el pueblo es muy tranquilo y el entorno precioso. El trato muy agradable
Mari Carmen / Juan
2015-04-07T00:00:00Z
La casa es preciosa y tiene todo lo necesario. Además esta decorada con mucho gusto y el jardín es muy agradable. Gracias por todo! Nuestra hija ya tiene ganas de volver...
Leticia
2017-03-27T00:00:00Z
We had an excellent stay at Gerusa's house. It is located in a nice village, which is close to very beautiful beaches and still preserves you from the pressure of overcrowded touristic areas. The house is spacious, there is a charming little garden, and having space for parking the car in front of the entrance made everything very easy. While the weather was very hot during our stay, the inside temperature remained surprisingly moderate, which was a relief after hours spent in sunlight everyday. We also enjoyed the house furniture : towels for shower and beach, bed sheets, laundry detergent, fresh drinks.... everything we needed was there waiting for us. The beds were very comfortable, and the wifi worked just fine ! On a final touch, communication with Gerusa was good, and Gerusa's parents (who live nearby) gave us a perfect welcome when we arrived. In the end, we can say the stay was excellent. This is a place to discover.
Morgane
2016-08-21T00:00:00Z
A l'arribada ens van rebre els pares de la Gerusa, encantadors! Ens van ensenyar la casa i ens van explicar el que teniem a la vora. Ens van dir que estaven a la nostra disposició per qualsevol cosa i així va ser. Ens van deixar begudes fresques a la nevera i la cuina estava molt ben equipada. Ens hem allotjat 6 adults i un bebe (portavem llit de viatge i no va ser necessari ja que li havien preparat també el seu llitet). La casa és molt acollidora, ideal també per nens. Hem passat un molt bon cap de setmana en familia. Genial, ho recomanem molt!!
Marina
2016-06-27T00:00:00Z
Gerusa was perfect host and we had a lovely stay in her cosy home ! Thank you
julie
2015-04-10T00:00:00Z
La casa es preciosa, decorada con mucho gusto. El jardin es privado, y ideal después de un dia en la playa. Los anfitriones fueron amables, y incluso dejaron detalles en la cocina. Volveríamos sin duda.
Chiara
2016-07-11T00:00:00Z
we have been well receiving by gerusa's sister the first day when we arrived. The house is exactly like in pictures showed, more better, very quiet and confortable. The gerusa's parents live just near this house, they are very nice and respectables. we recommande this house to spend any quiets days in the country.... sorry for my english!!!
Gerald
2015-08-18T00:00:00Z
Jenis Bilik
Keseluruhan rumah/apt
---
Jenis Penginapan
Rumah
---
Memuatkan
6
---
Bilik tidur
Serra de Daró, Catalonia, Sepanyol
My space is incredible views near the beach, Family Activities. You'll love my space and light district. My accommodation is perfect for couples and families (with children).
Casa muy bien equipada en una zona tranquila bonita. Ideal para una estancia en familia. Jordi nos recibio perfectamente y nos dio consejos que visitar en Emporda. Muy recomendable!
Frank
2017-04-04T00:00:00Z
Bonita casa, espaciosa, bien equipada, confortable, zona tranquila... fantastico para familia con niños o parejas.
Fiona
2017-03-21T00:00:00Z
Jenis Bilik
Keseluruhan rumah/apt
---
Jenis Penginapan
Rumah
---
Memuatkan
7
---
Bilik tidur
Sant Iscle d'Empordà, Catalunya, Sepanyol
Antic molí d'aigua del segle XVIII al cor del Baix Empordà. La casa, disposa d'un espaiós menjador-cuina amb llar de foc i de dues habitacions dobles, amb un bany complet. Terrassa exterior. Casa inscrita al Registre de Turisme Cat.HUTG-012
Darrere de la casa hi ha un gran bosc per perdre tranquil·lament. Es tracta d'una zona molt tranquil·la envoltada de natura i perfecta per als amants del senderisme. A la mateixa casa es pot aparcar.
El molí és una casa aïllada. Així que gaudeix de la tranquil·litat i relaxa't!
Die Unterkunft ist tatsächlich ein guter Ausgangspunkt, um die Region zu erkunden, ansonsten leider enttäuschend. Alles ist ziemlich abgewohnt (verschlissene Handtücher, kaputte Installationen, unangenehmer Geruch im Obergeschoss, altes Geschirr, ...) und chaotisch (vollgeräumte, daher nicht nutzbare Kästen, unzählige angebrauchte Shampooflaschen und Tiegel im Bad etc.). Der Außenbereich ist ungemütlich, da direkt neben der Straße, ohne Sichtschutz, Pflanzen, Terrassenmöbel, Schirm o.Ä. Die Straße ist relativ stark befahren, vor allem morgens störten uns die LKWs und Transporter (eine Baufirma liegt gegenüber), wochentags wurden wir um 6 Uhr früh geweckt. Der Kontakt mit Mireia war sehr freundlich.
Melanie
2015-08-01T00:00:00Z
Nice little house, perfect for a great family week end. We enjoyed the small villages and Girona. Great restaurant in Verges: Mas Pi Very good communication with Mireia Thank you!
Francois
2016-03-06T00:00:00Z
Hemos pasado un fin de semana en el Molí de la Vall y nuestra experiencia ha sido muy positiva. A pesar del mal tiempo que nos impidió explorar mejor el entorno (detrás de la casa hay una zona boscosa muy bonita y tranquila para caminar) y disfrutar de la zona exterior de la casa, el alojamiento tiene todas las comodidades necesarias para disfrutar en pareja o en familia. La chimenea, la distribución de la casa y los pequeños detalles, hacen que te sientas como en casa. El pueblo es pequeñito pero acogedor y en 15 minutos estás en L'Escala, por lo que es una buena localización también para disfrutar del mar. En la casa dispones de información turística. Mireia, la propietaria, muy amable y disponible en todo momento. Su respuesta a la hora de reservar el alojamiento fue muy rápida y la llegada/salida muy cómodas. Además, nos dió total libertad de horarios lo cual es de agradecer cuando dispones de poco tiempo.
Patricia
2014-11-30T00:00:00Z
Mireia fue súper amable organizando la llegada y también ha pensado en todos los detalles en la casa, incluyendo un montón de información turística sobre los alrededores. La casa es muy cómoda y muy simpática, ideal para descansar en el campo por la noche y hacer base para recorrer toda la zona durante el día. La cocina y el baño muy equipados, las habitaciones muy confortables. Esta a menos de 20min de la playa y muy cerca de los pueblos más lindos de la zona. Um sitio ideal para hasta 4 personas. Muy recomendable!
Lucía
2014-09-16T00:00:00Z
Nos encantó la ubicación, la casa está en una zona muy tranquila, donde prácticamente estás a solas pero al mismo tiempo cerca de lugares para visitar. El bosque de al lado y los campos que le rodean, ideal para pasear, sobre todo con los perros. La casa muy acogedora y equipada con todo lo necesario. Y Mireia encantadora y muy atenta. Altamente recomendable!
Laura
2015-06-28T00:00:00Z
El Molí está en un lugar privilegiado a pocos minutos de Verges, rodeado de campos y bosque. Pasa una carretera secundaria con muy pocos coches. La casa está limpia, en perfectas condiciones y dispone de todo lo necesario para pasar una estancia perfecta. La chimenea, la tranquilidad, las vistas y el entorno son impagables, tuvimos unos días perfectos. Mireia es encantadora y atenta, ¡muchas gracias!
Marta
2014-04-22T00:00:00Z
The reservation was canceled 2 days before arrival. This is an automated posting.
Eduard
2014-08-14T00:00:00Z
Un bonito y tranquilo lugar, todo tal y como se describe y aparece en el anuncio. La casa tiene historia y encanto. Llevábamos un bebé de 11 meses, Mireia nos dejó lista una cuna para él. En general, la experiencia fue muy buena, tiene un pequeño bosque al lado por donde se puede caminar y es una zona muy tranquila. El piso limpio y ordenado, repetiríamos.
Luis
2016-09-25T00:00:00Z
Jenis Bilik
Keseluruhan rumah/apt
---
Jenis Penginapan
Rumah
---
Memuatkan
4
---
Bilik tidur
Verges, Catalonia, Sepanyol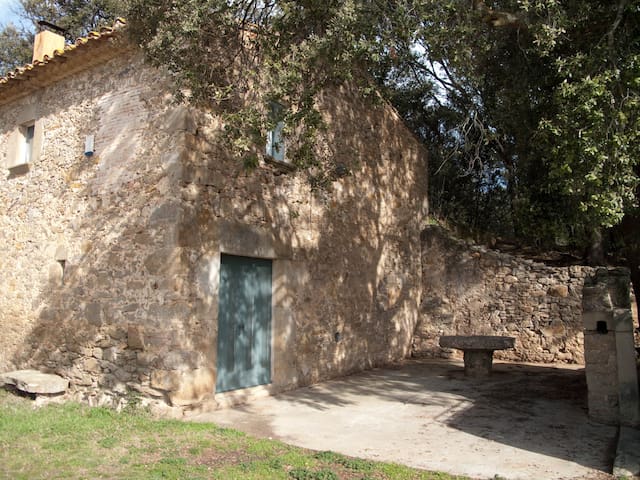 Jenis Bilik
Keseluruhan rumah/apt
---
Jenis Penginapan
Rumah
---
Memuatkan
2
---
Bilik tidur
La Tallada d'Empordà, Catalunya, Sepanyol
Einfamilienhaus, 250 m, zwei Etagen. Drei Doppelzimmer (eines davon ist, wo ich bin). Drei Bäder. Zwei Terrassen. Sehr hell. Voll ausgestattet und komfortabel. Eine 10-minütige Fahrt vom Strand entfernt. ruhig, weg von der touristischen Stadt.
Komfortabel und gut ausgestattet, in einem Dorf in der Empordà ruhigen Einfamilienhaus. Ich lebe im Haus, und mieten, um die beiden anderen Schlafzimmer, Anspruch auf das ganze Haus, Küche, Wohnzimmer, Terrasse ... Grill auf dem Oberdeck.
Es ist eine kleine Stadt, so dass die ganze Nachbarschaft bekannt ist. freundlich und Stimmung Menschen bei Bedarf zu helfen.
L'estada ha estat excel.lent, l'allotjament és de gran qualitat, la zona on està situat és molt tranquila, i té tots els serveis necessaris per passar les vacances a la zona.
Valentí
2016-08-14T00:00:00Z
This was a great place to overnight enroute to Barcelona. The house has been thoughtfully restored with a number of different places to escape including a fantastic roof terrace. Tallada is a really quiet compact village with a lot of history away from the normal tourist routes yet within an easy car trip to the beaches. Our only regrets were that we didn't stay a little longer and we missed meeting our host. We would definitely go back and take a little more time to enjoy the location and the house.
John
2014-07-14T00:00:00Z
Rencontre très sympa avec Alvaro qui laisse bien volontiers sa maison à disposition à qui veut en prendre soin car elle est très belle et très équipée. Lui est très occupé en pleine saison donc terrasses, canapés et cuisine toute équipée sont pour ses hôte...
claire
2016-08-22T00:00:00Z
Estuvimos buscando una casa durante un tiempo y por medio de la publicidad nos pusimos en contacto con él.He de decir que las fotos de la casa se ajustan totalmente a la realidad . También que fuimos en verano y al ser de piedra y estar en un pueblo se estaba bastante fresquito sin necesidad de aire acondicionado , lo cual se agradece.El único "inconveniente" es que esta ubicada en un pueblo sin ningún tipo de servicios ,con lo cual es imprescindible el coche para poder desplazarte.
Raquel
2016-08-06T00:00:00Z
Jenis Bilik
Keseluruhan rumah/apt
---
Jenis Penginapan
Rumah
---
Memuatkan
5
---
Bilik tidur
La Tallada d'Empordà, Catalonia, Sepanyol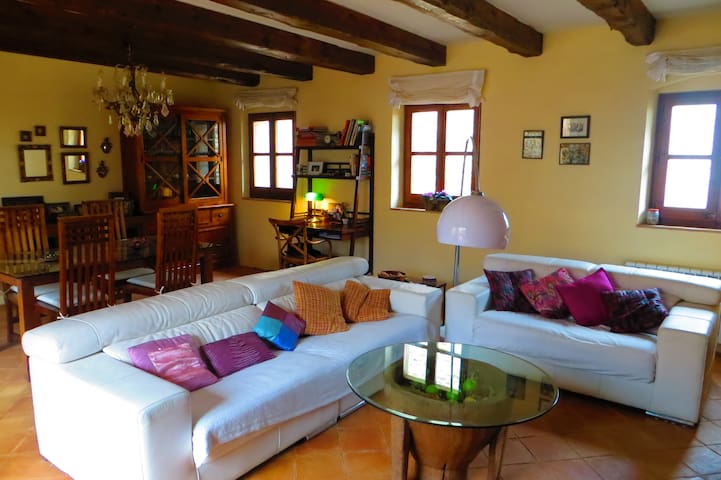 Lugares de interés: Estamos ubicados en el centro del Bajo Ampurdán, cerca de las playas más bonitas y de la montaña del Montgrí.. Te va a encantar mi lugar debido a que es un apartamento práctico y cómodo con cocina totalmente equipada y aire acondicionado. Disponemos de una fabulosa piscina que hace las delicias de pequeños y adultos. Ideal para gozar de unos dias de tranquilidad y aire sano. Mi alojamiento es bueno para parejas y familias (con hijos).
Terrain propre et chaleureux. Personnes accueillante, a l'écoute et avenante. Piscine toujours propre. Paysages magnifiques. Je recommande et j'y retournerais bien entendu.
Samantha
2016-09-25T00:00:00Z
Jenis Bilik
Keseluruhan rumah/apt
---
Jenis Penginapan
Rumah
---
Memuatkan
3
---
Bilik tidur
Ullà, Catalunya, Sepanyol
Nous sommes un tourisme rural situé dans une ferme catalane avec deux logements indépendants avec une capacité de jusqu'à huit personnes chacune et possibilité de réserver toute la ferme. Propriété Les Voltes est situé au premier étage de la ferme avec une terrasse avec vue immemorables. Les deux propriétés partagent uniquement des espaces de plein air et salle de gym. Il est situé sur la Costa Brava, à proximité des plus belles plages et les plus charmantes villes de la région du Baix Empordà.
Il dispose de 4 chambres, 2 salles de bains, cuisine, salle à manger, salon décoré en respectant la beauté rustique de la ferme et toutes les commodités pour rendre votre séjour inoubliable et relaxant.
Nous sommes au cœur du Baix Empordà, l'un des quartiers les plus charmants de notre pays; nous sommes à proximité des plus belles plages, terrains de golf et des villages médiévaux avec une saveur très particulière. Nous avons sur les meilleures offres culinaires et culturelles de la région ainsi que de nombreuses activités pour profiter en famille.
Très belle maison excellent accueil grand jardin belle piscine prestations de qualité. Merci à libertad pour sa gentillesse sa disponibilité et ses petits brownies maison à notre arrivée. Nous recommandons fortement cette location .
Sylvain
2016-08-21T00:00:00Z
What a wonderful place to stay! Our hosts were friendly, approachable and very quick to respond. They were thoughtful of our young family's needs. I was really impressed with the property and our stay was full of fantastic memories - thank you!
Suzanne
2016-08-14T00:00:00Z
Jenis Bilik
Keseluruhan rumah/apt
---
Jenis Penginapan
Rumah
---
Memuatkan
8
---
Bilik tidur
Verges, Catalunya, Sepanyol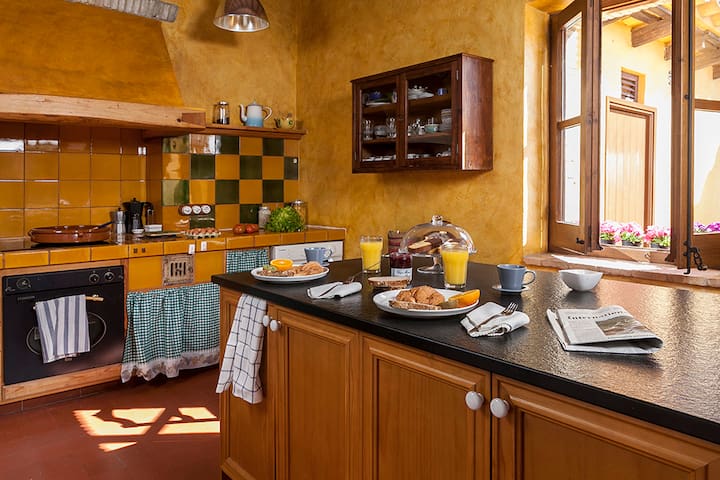 Dies ist die ideale Haus, wenn Sie für eine ruhige und wunderschöne Landschaft von Empordà suchen ohne es zu wollen, die ein einfachen Zugang zu den Stränden der Costa Brava überspringen. St Martí d'Empúries ist 15 min. entfernt und die Medes-Inseln nicht mehr als 20 min.
Es ist ein ideales Haus, um es mit der Familie zu genießen. Es ermöglicht Ihnen, sehr bequem bis zu 7 Personen zu bewirten. Persönlich halte ich es für wichtig, dass eines der Schlafzimmer zu beachten und ein Badezimmer mit Dusche, befinden sich im Erdgeschoss des Hauses (siehe die Pläne!) Auf der anderen Seite, aus dem Garten und der Lounge haben Sie einen direkten Zugang zur Terrasse zum Garten. Im Zusammenhang mit seiner geographischen Lage, ist es der perfekte Ort, wenn Sie ohne auf Ihre tägliche Schwimmen an den Stränden der Costa Brava einen Urlaub in ruhiger, ländlicher Umgebung genießen wollen. Außerdem! Wenn Sie den Golf, Golf oder Pitch & Putt Golf Empordà und Pitch & Putt Gualta Praxis ist nur 15 Minuten entfernt. Das Landhaus ist vollständig und komplett ausgestattet und die Pool hat Schutzklappe für die Sicherheit der Kinder während ihres Aufenthalts.
Die Nachbarschaft ist sehr ruhig und perfekt gelegen Ort in der Nähe der Strände von St. Martí d'Empúries, L'Escala und Estartit. Es ist auch ein Ort mit einfachen und bequemen Zugang.
Jenis Bilik
Keseluruhan rumah/apt
---
Jenis Penginapan
Rumah
---
Memuatkan
7
---
Bilik tidur
Canet de la Tallada, Catalonia, Sepanyol
La Casa de l'Empordà' es una espaciosa villa con jardín con capacidad para 10 personas. Ideal para familias que desean pasar sus vacaciones en plena Costa Brava, cerca del mar pero sin renunciar a la tranquilidad de las zonas rurales.
La casa dispone de un gran salón comedor con chimenea, sala de estar y juegos con sofá-cama, 1 suite principal, 2 dormitorios dobles y 1 dormitorio cuádruple, cocina equipada, sala de máquinas, dos baños completos, ambos con bañera y ducha, y un aseo de cortesía. Cuenta con un gran jardín frondoso con piscina privada, muebles de exterior y juegos infantiles. Es una casa luminosa, alegre, acogedora y dotada de todas las comodidades. '
Se encuentra a pocos minutos en coche de las hermosas calas de l'Escala y las infinitas playas de l'Estartit y Pals, frente al impresionante parque natural de las Islas Medas. Rodeada de tranquilidad y a pocos minutos de todos los servicios,
Agusti est une personne exceptionnel, La villa est situé dans un village très calme mais on est à 10 minutes e voiture de toutes les facilités (supermarché etc..), l'accueil a été exceptionnel et le séjour magnifique, je recommande vivement cette endroit pour le repos.
Ibrahim
2014-08-17T00:00:00Z
La villa correspondait exactement à la description, pas de mauvaise surprise. Le quartier est très calme, village parfait pour se reposer, à 20 minutes de l'agitation et du monde de l'Estartit. Enfants et adultes ont profité des beaux espaces, de la piscine et du jardin. Agusti et Bettina sont des hôtes sérieux et très agréables, attentionnés au bien être de leurs locataires. Je recommande ce lieu!
KRISTINA
2015-08-16T00:00:00Z
Nous avons été très gentillement accueilli dans la maison d'Augusti. Elle nous a tout de suite plue : spacieuse, bien aménagée, confortable, c'est un lieu de vacances idéales avec les enfants. La piscine offre un centre d'attraction important de la maison. On est seulement à 10 mn de la plage de San Marti de Empuries. Une très bonne adresse donc !
Caroline
2015-08-01T00:00:00Z
The host canceled this reservation 38 days before arrival. This is an automated posting.
LAURA
2015-11-22T00:00:00Z
La estancia en casa de Agustí ha sido perfecta, una casa muy agradable, en la que te sientes enseguida súper cómodo. Es incluso mejor que lo que muestran las fotos, con todo lo que puedas necesitar, se nota que es una casa vivida con todos los detalles para disfrutar.
Carmen
2016-08-07T00:00:00Z
It was an amazing week in an amazing villa. Everything was very well prepared and cleaned. Pool was clean, backjard clean, kitchen clean. Perfect trip and pefect hosts, they were very discreet and very helpfull if needed.
Nicolas
2016-08-14T00:00:00Z
Jenis Bilik
Keseluruhan rumah/apt
---
Jenis Penginapan
Rumah
---
Memuatkan
10
---
Bilik tidur
Bellcaire d'Empordà, Catalonia, Sepanyol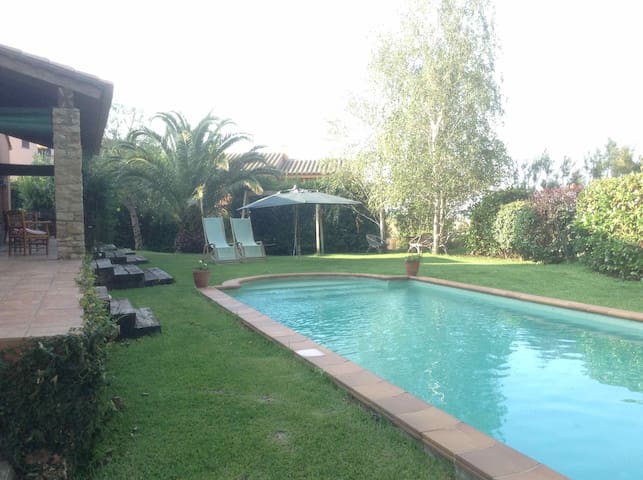 Tenen 2 plantes. A la planta baixa cuina molt ben equipada, amb vitroceràmica, forn, microones, rentavaixelles, rentadora; Living / menjador amb TV, equip de música i estufa de llenya. Calefacció, aire condicionat i Wi-Fi. Amb vistes al camp hi ha una terrassa privada, preparar una barbacoa. Bany de dalt amb dutxa, tovalloles i assecador de cabell, dues habitacions, una doble i una amb dos llits individuals. Bressol gratuït, llit supletori amb suplement. sortida directa al jardí i piscina comunitària.
Mas Pou Apartament és un lloc únic en el qual estarà envoltat de natura i en contacte amb la nostra d'animals de granja, és un gran lloc per swith fora i gaudir del seu Familly o amics.
Jenis Bilik
Keseluruhan rumah/apt
---
Jenis Penginapan
Rumah
---
Memuatkan
4
---
Bilik tidur
Llabià, Catalunya, Sepanyol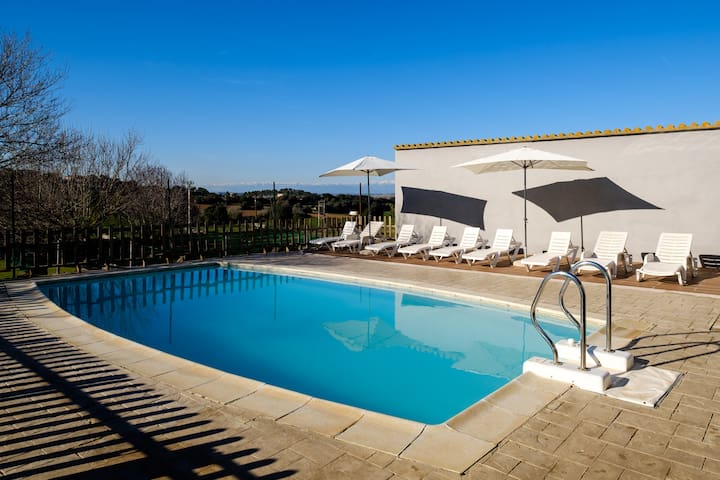 Bonito apartamento para 2 personas, práctico y cómodo. Dispone de aire acondicionado y totalmente equipado para gozar de unos dias de tranquilidad y aire sano. Disponemos de una fabulosa piscina que hace la delicia de pequeños y adultos.
El apartamiento tiene todo lo que se necesita. El jardín y el pool son un sueño! La familia está muy simpatica:) Para hacer excursiones en la Costa Brava es el lugar perfecto. Menos que 15 minutos al mar y todos los Spots famosos. Gracias por todo!
Patricia
2016-06-20T00:00:00Z
Wir hatten eine wunderbare Zeit bei Francesc und Veronika. Die Anlage mitten in einem alten Olivenhain ist liebevoll gestaltet und sehr gepflegt. Wir haben gerne am Pool gesessen und auf die Berge geschaut. Die Fotos werden der Realität absolut gerecht. Francesc und Veronika waren sehr hilfsbereit und sehr freundliche Gastgeber, sodass wir uns sehr wohl gefühlt haben. Wenn man die Möglichkeit hat im eigenen Restaurant zu essen, sollte man sich unbedingt in den schönen Innenhof setzen und den Nachtisch überbackene Äpfel mit Creme Catalan probieren! Das Apartment war groß und mit allem was man sich wünschen kann ausgestattet. Insgesamt ein toller Aufenthalt und wir können es jedem empfehlen, der ein bisschen Zeit zum Ausspannen sucht. Im Ort Ulla selber ist es eher ruhig, jedoch sind tolle Strände in 15 bis 30 Minuten mit dem Auto zu erreichen. Danke noch mal für die tolle Zeit!
Yasmin
2016-09-02T00:00:00Z
Très bon séjour à Ulla. Calme et proche de lieux touristiques. La piscine est agréable et immense!
Antonin
2016-09-29T00:00:00Z
Una casa muy tranquila, con la piscina que es un lujo cuando vienes cansado o con calor. Los dueños muy amables, nos indicaron muchos sitios para visitar y estuvieron pendientes de nuestras necesidades.
Juan Carlos
2015-09-05T00:00:00Z
Un séjour très agréable dans un cadre splendide calme et reposant! À recommander!
Mélanie
2016-06-23T00:00:00Z
Todo era correcto. Apartamento limpio y en buena ubicación para ir a l'Estartit i a l 'Escala. Atención correcta y amable.
Anna
2016-09-11T00:00:00Z
Très bon séjour séjour à Ulla, Francesc et Veronica ont été des hôtes disponibles et discret à la fois, le rêve :) L'appartement est propre, conforme aux photos, et la piscine immense. Ne parlant pas espagnol, c'est ma soeur qui était en contact avec Veronica qui a vraiment était adorable. Je recommande vivement ! Petite parenthèse, la taxe de séjour est a payer sur place.
alexandra
2015-10-10T00:00:00Z
Nos hemos sentido muy a gusto en casa de Francesc y Verónica. Han sido muy buenos anfitriones dispuestos a ayudar, informar y su trato ha sido muy agradable. El apartamento es fiel a la descripción, cómodo y luminoso, en el bonito entorno de la finca y alrededores. Es muy funcional y tiene lo básico para sentirse como en casa. A destacar las puestas de sol desde la ventana y la piscina, así como el patio interior de la casa. La ubicación es ideal, un lugar muy tranquilo al que apetece llegar después de un día de trajín turístico. Esta muy cerca de todo lo más destacado para ver de la Costa Brava. Lo recomendamos sin dudar.
ANTONIO
2016-08-28T00:00:00Z
Jenis Bilik
Keseluruhan rumah/apt
---
Jenis Penginapan
Rumah
---
Memuatkan
2
---
Bilik tidur
Ullà, Catalonia, Sepanyol
Jenis Bilik
Keseluruhan rumah/apt
---
Jenis Penginapan
Rumah
---
Memuatkan
2
---
Bilik tidur
La Tallada d'Empordà, Catalunya, Sepanyol
Town house with stunning views of Emporda countryside in a very quite town. Ideal for family with children, our place it's comfortable and very clean. We have 1 queen size bed, 2 double bunk beds, nice linen, equipped kitchen, living room with fire place & cute terrace.
Jenis Bilik
Keseluruhan rumah/apt
---
Jenis Penginapan
Rumah
---
Memuatkan
6
---
Bilik tidur
Ullà, Catalunya, Sepanyol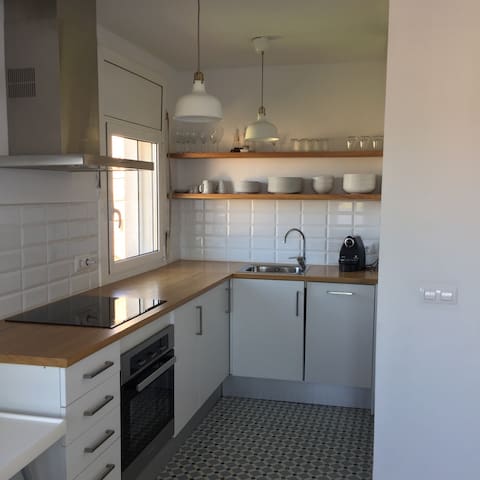 30m2 estudi totalment equipades amb tots els electrodomèstics, TV i WiFi. L'allotjament és part de la casa té 2 allotjaments, tots manera independent.
Estudi per a 2 persones de 28m2 que disposa d'habitació i cuina en un únic espai i bany a part. Està equipat amb tots els estris i electrodomèstics. Dóna directament al jardí. Molt acollidor i confortable.
Très bon WE à Bellcaire, on n'a pas vu Anna mais tout était parfait, comme sur les photos, appartement très confortable, cadre agréable et tranquile très bien situé. On serait bien resté plus longtemps!
Cristina
2016-05-31T00:00:00Z
Anna was a great host and the place was as described. Clean and Cosy accomodation + amazing garden for spending some lay-back-hour. Area is well linked to many beaches and villages. Definitely suggested. Adeu :)
Francesco
2013-09-06T00:00:00Z
We had a perfect stay! We recommand Anna's studio to other couples. Comfortable bed, clean bathroom, well-equiped kitchen, nice atmosphere. Anna is a good host!! We enjoyed staying at Anna's place, especially the garden is lovely. :-)
Kristel
2016-05-17T00:00:00Z
Idyllic place for those who love nature! Spacious room with kitchen and bathroom, very kind host.
M
2014-09-02T00:00:00Z
Anna a pris le temps de nous indiquer sur une carte différents sites
SYLVIE
2016-07-22T00:00:00Z
What a lovely and quiet place! We would have loved to stay longer!
Anneke
2015-07-14T00:00:00Z
Très bon contact par téléphone, nous n'avons pas rencontré Anna. Logement excentré. Les jolis fauteuils on été remplacés par un canapé.
Isabelle
2015-10-06T00:00:00Z
Le logement était tel que nous l'attendions, correspondant au décriptif et aux photos. Nous avons pu communiquer via sms et mail et c'était très simple malgré le fait que je ne parlais pas espagnol ou catalan. Ce très court séjour était agréable.
Sabine
2016-08-28T00:00:00Z
Jenis Bilik
Bilik persendirian
---
Jenis Penginapan
Rumah
---
Memuatkan
2
---
Bilik tidur
Torroella de Montgrí, Catalonia, Sepanyol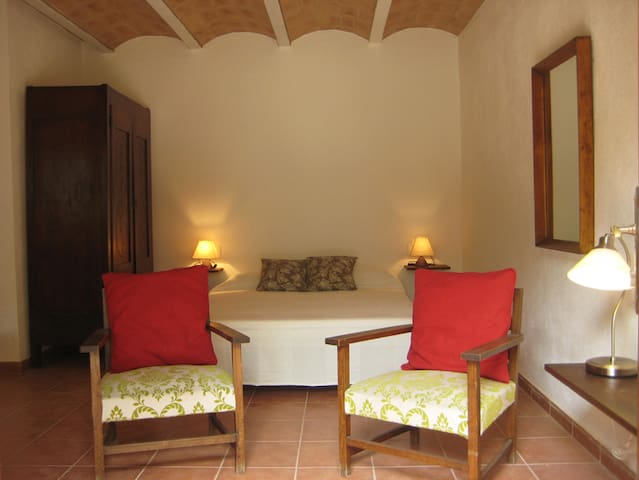 La casa es troba en Llabia en un 30.000 m2. A Costa Brava a 10 km. De les més belles platges. És una acollidora casa amb 7 dormitoris, 4 banys, sala menjador i una sala d'estar còmoda també. Hi ha una bonica terme el refredament i barbacoa. La piscina té unes fantàstiques vistes des de l'Empordà.
VACANCES DE SOMNI EN UN ENTORN INOBLIDABLE
Jenis Bilik
Keseluruhan rumah/apt
---
Jenis Penginapan
Rumah
---
Memuatkan
14
---
Bilik tidur
Llabià, Catalunya, Sepanyol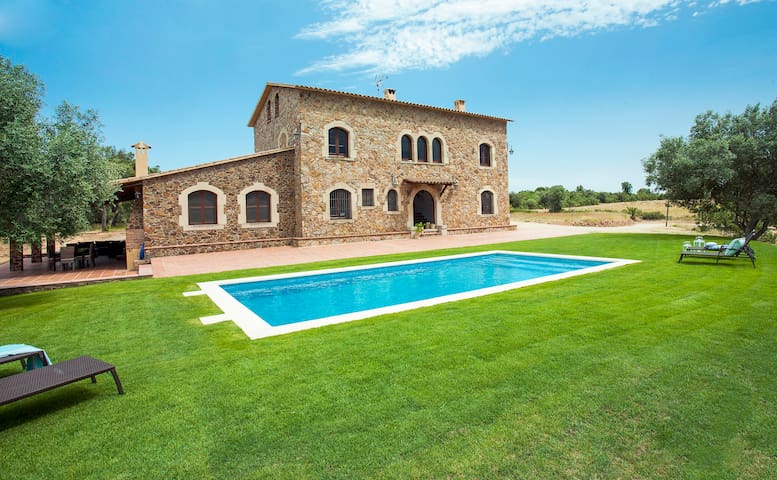 Preciosa casa original de 1838, completamente rehabilitada y con increíbles vistas a los campos del Empordà. Tiene 3 habitaciones en cada planta por lo que resulta ideal para familias numerosas o para 2 familias con 5 ó 6 miembros cada una. El pueblo es muy tranquilo y seguro. Se encuentra a 5 minutos de las mejores playas como las de Sant Martí d´Empuries, L´Escala y Montgó
Lugar perfecto para descansar en familia. Pueblo tranquilo rodeado de campos. Ideal para paseos en bicicleta. A sólo 4 Km de las mejores playas como las de Sant Martí d´Empuries.
No existe un lugar mejor para desconectar de todo. Rodeado de campos y a pocos kilómetros de pueblos más turísticos con excelentes playas.
Beautiful, cosy and modern house in a very old building. Combination between Catalonia's tradition and modern interior. Just perfectly organized space! The host was very nice and supportive. The village is calm, safe and beautiful, located near by the most beautiful sand beaches! We strongly recommend the house and would like to visit it again. Havier and his mom are great hosts!
Tihomir
2016-08-01T00:00:00Z
Jenis Bilik
Keseluruhan rumah/apt
---
Jenis Penginapan
Rumah
---
Memuatkan
12
---
Bilik tidur
Bellcaire d'Empordà, Catalunya, Sepanyol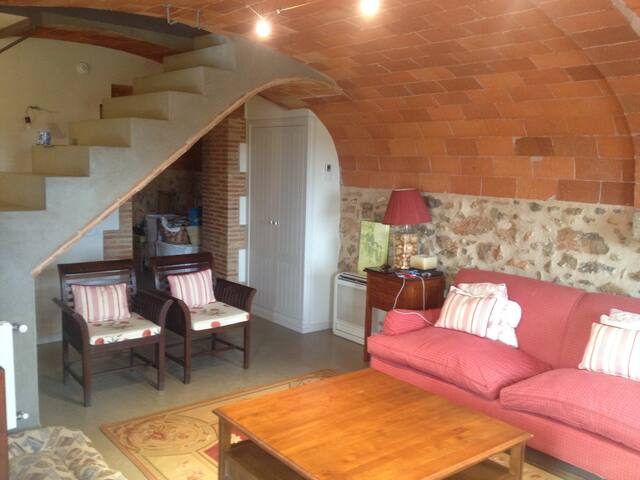 Canet de la Tallada - Airbnb
:
Purata

4.5

daripada

5

daripada

158

ulasan tetamu
1

–

18

daripada

127 Rumah Sewa
Masukkan tarikh untuk melihat harga penuh. Yuran tambahan dikenakan. Cukai mungkin akan ditambah.