Traumhafte Unterkunft am schönen Walensee mitten in der Natur. Wellness für die Seele! Geniesse die himmlische Ruhe, eine wunderschöne Unterkunft mit vielen Möglichkeiten für einen unvergesslichen Tag. Frühstück inclusive, Lunch und Diner möglich, ebenso 2 weitere Personen in einem 2. Zimmer. Preis nach Absprache. A peace of heaven. Beautyful place in the middle of nature. Luxury rooms, outdoor sitting places, rich breakfast and view,view,view..... Possibility for add lunch and diner. D/E/I/F
Luisa ve değerli eşinin evinde çok güzel bir gün geçirdik. Gerçekten cennet gibi bir mekan. Gölün hemen kıyısında ve doğayla baş başa olan bu hoş mekan, dinlenmek ve güzel bir zaman geçirmek isteyenler için harika bir seçenek. Ev modern ve egzotik. Luisa ve eşi, çok yardımsever ve sıcak insanlar. Umarım bir gün yeniden orada bulunabilirim. Her şey için teşekkürler...
mustafa
2016-10-16T00:00:00Z
Es war sehr schön bei Luisa und Sepp. Ihr Haus und die Umgebung darum ist einfach traumhaft. Die beiden sind so herzlich da haben wir uns gleich wie zu Hause gefühlt. Wenn schönes Wetter ist, ist das Frühstück auf der Terrasse ein Traum. Aber auch bei nicht so gutem Wetter hat der Tag mit einem sehr guten Frühstück und der netten Gesellschaft von den beiden sehr gut begonnen. Wer da eher für sich sein möchte ist natürlich auch kein Problem, man hat einen eigenen Bereich für sich. Aber wir haben es genossen mit den beiden zu plaudern oder auch am Abend schön zu grillen. Mit der Aussicht ist es einfach nur herrlich. Vielen lieben Dank nochmal an beide für alles. Wir kommen sehr gerne wieder.
Madlen
2016-10-02T00:00:00Z
Exactly as described, a paradise. Louis and Joseph's house is so much close to the Walensee, and they made us feel at home. It was my husband's birthday, and Louisa was so kind to prepare us a very traditional Swiss dinner that we would always remember. She also prepared a picnic when she knew we would do a hike next day. Thank you so much Louisa and Joseph. We missed you so much.
Y
2016-09-16T00:00:00Z
Jenis Bilik
Keseluruhan rumah/apt
---
Jenis Penginapan
Inap sarapan
---
Memuatkan
2
---
Bilik tidur
Obstalden, Glarus, Switzerland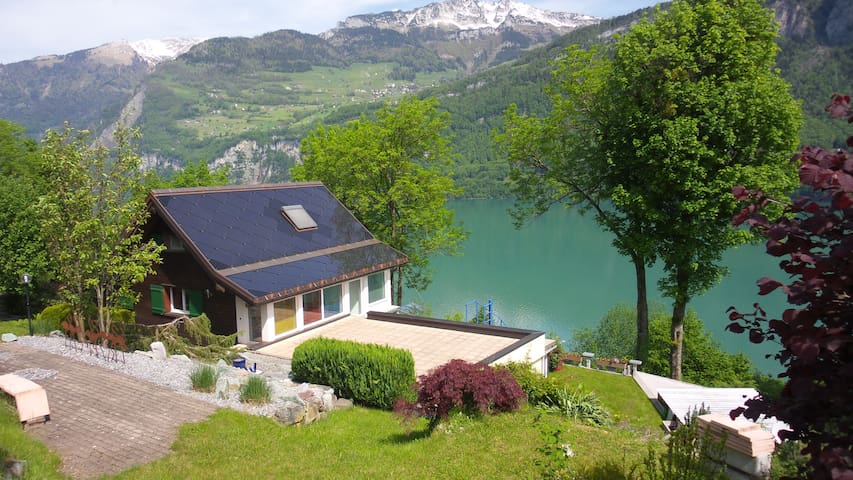 The apartment is located away from the road in a village 5 minutes away lies the valley station in the ski / hiking region Braunwald. The apartment has a balcony with a cozy Launsch and a small garden area with sun loungers. the bed is a box spring and very comfortably. Shower and bathtub.
The near and even without a car no problem to reach the mountain area Braunwald skiing and hiking holidays.
The host canceled this reservation 121 days before arrival. This is an automated posting.
Marlen
2017-02-16T00:00:00Z
Jenis Bilik
Keseluruhan rumah/apt
---
Jenis Penginapan
Apartmen
---
Memuatkan
2
---
Bilik tidur
Rüti, Glarus, Switzerland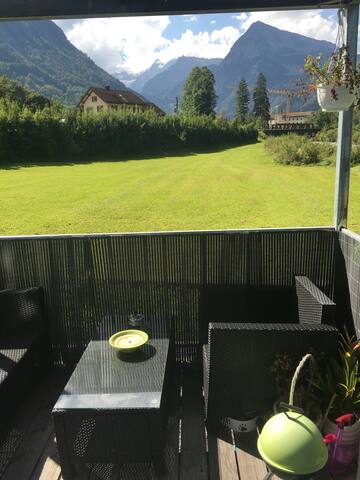 Bei uns mitten im Dorfzentrum hast du dein eigenes Zimmer. Täglich geniesst du ein ausgewogenes Frühstück. Einkaufsmöglichkeiten für den täglichen Bedarf befinden sich direkt vor der Haustüre.
Sehr gerne verwöhnen wir dich mit einem reichhaltigen Frühstück. Deine diesbezüglichen Wünsche berücksichtigen wir nach Möglichkeit. In deinem Zimmer hast du eine Nespressokaffeemaschine mit Kapseln und einen Wasserkocher mit versch. Tee's. Also Kaffee und Tee wann immer du Lust hast! Ebenso hat es eine Minibar mit feinen Getränken und Snacks zu günstigen Preisen in deinem Zimmer.
Interessant im Winter: In unmittelbarer Nähe schönster Skigebiete wie z.B. die Flumserberge, Elm, Braunwald oder Amden. Alle Gebiete sind gut mit den öffentlichen Verkehrsmitteln erreichbar. Interessant im Sommer / Herbst: Schönste Wandergebiete direkt vor der Haustüre. Auch wunderschöne Seen wie z.B. der Walensee oder Klöntalersee sind auch gut mit den öffentlichen Verkehrsmitteln erreichbar.
Sehr herzlich und freundlich sind die beiden. Ich war nur 1 Nacht dort, aber kann eine Übernachtung bei den Leuzingers nur weiterempfehlen! Vielen Dank Ihr beiden!
Nicole
2016-02-22T00:00:00Z
Marianne hat mich herzlich empfangen. Der Aufenthalt war tiptop.
Roger
2016-11-15T00:00:00Z
Nice clean apartment with little goodies everywhere. Friendly hostess, terrific breakfast.
Fran
2016-06-03T00:00:00Z
sehr freundlicher empfang unf bewirtung. absolut tolles frühstück mit viel liebe zubereitet. unterkunft o. k. als alleinreisender jederzeit empfehlenswert.
Stefan
2015-08-12T00:00:00Z
Marianne is a brilliant host. She responded on time and accepted a same day booking and a late night check in. She is a truly kind and polite lady who welcomes guests very well. Breakfast was very good too. I strongly recommend staying in Marianne's place.
Hassene
2015-05-27T00:00:00Z
The room is spacious, clean, beautiful and with many amenities (it actually has a minibar which we found convenient). We liked all the small touches. The breakfast was amazing and would stay here again only for it! Marianne is a great person and made our stay lovely. We really felt like we were welcomed into the family. Our only regret is not staying longer.
Vlad
2016-12-31T00:00:00Z
Wie bei unserem letzten Aufenthalt im August 2015 bei Marianne und Köbi war alles sehr angenehm und wie gehabt.
Torsten
2015-09-20T00:00:00Z
Marianne hat dafür gesorgt, dass wir uns sehr wohl und willkommen gefühlt haben. Das geräumige Zimmer ist seperat mit eigenem Eingang gelegen und gemütlich eingerichtet. Wir wurden mit kleinen Aufmerksamkeiten empfangen (Kaffee und Tee auf dem Zimmer, Obstkorb & Schokolade lagen aus). Auch das Frühstück ließ keine Wünsche offen. Es gab eine große Auswahl an Brötchen, Käse, divese Aufstriche, frisch gemachtes Bircher Müsli, sogar ein Erdbeerkuchen in Herzchenform (es war Valentinstag)!
Marco
2015-02-15T00:00:00Z
Jenis Bilik
Bilik persendirian
---
Jenis Penginapan
Inap sarapan
---
Memuatkan
2
---
Bilik tidur
Oberurnen, Canton of Glarus, Switzerland
The Berghaus Nagens located, directly at the ski at over 2000 meters altitude. M. From your room is only a few steps until you are in the ski resort and enjoy the mountain winter days to the fullest. In the evening you can indulge in the restaurant, served at the hotel bar a drink or relax in one of the saunas (for a fee). The Berghaus Nagens is only via gondola reached (ticket not included). The gondola is 08:30 to 15:30 in operation.
Price incl. Breakfast and dinner (excl. Drinks).
Jenis Bilik
Bilik berkongsi
---
Jenis Penginapan
Asrama
---
Memuatkan
1
---
Bilik tidur
Grisons, Grisons, Switzerland
Amazing penthouse apartment located next to the swiss alps. Just around the corner you'll find a perfect place for skiing, hiking, 2 beautiful lakes and much more. 40 'to Zurich. Beautiful penthouse near numerous recreational activities such as. Ski resorts, pristine mountains, crags, stunning lakes. The apartment is perfect for couples looking for a break from the busy world of professional life. But even single travelers are welcome. 40'bis Zurich.
Unser Gästezimmer ist ausgestattet mit einem Doppelbett mit sehr bequemer Matratze sowie einer kleinen Couch. Kleiner Schrank für Wäsche im Zimmer verfügbar. Gegenüber des Gästezimmers befindet sich das kleine private Badezimmer inkl. WC. Direkt vom Gästezimmer aus gelangt man auf die ca. 100m² grosse Dachterasse, wo man in der wärmeren Jahreszeit gemütlich auf der Sitzecke relaxen und die Bergwelt beobachten kann. Der Wohn/Küchen und Essbereich wird mit uns geteilt, die Infrastruktur darf mitbenützt werden. Our guest room is equipped with a double bed with a very comfortable mattress 160cm and a small couch. Small closet available for laundry in the room. Opposite the guest room is the small private bathroom including WC. Directly from the guest room, you can reach the roof terrace, which is about 100m² in size, where you can relax in the warmer season on the seating corner and watch the mountain world. The livingroom / kitchen and dining area is shared with us, the infrastructure can be shared.
A few minutes drive or bike ride apartment located by Lake Walen and the Klöntalersee two of the most beautiful lakes in Switzerland. Even the breathtaking mountain scenery invites you to mountaineering, mountain biking and so on.
Der Aufenthalt wird zu einem unvergesslichen, positiven Erlebnis!
Andreas
2017-03-31T00:00:00Z
They are a very kind and generous couple. They made us feel as at home and even helped with the doubts of our itinerary. They worried that we could find the house without problems. Recommended 100%.
Txema
2017-03-27T00:00:00Z
He and his wife were a great host. I felt so familiar when staying with them and they were so nice and always helpful! Everything was neat and clean with a decent scent throughout the flat. They also put a little welcome present in my room... The flat itself is very calm and cozy. Besides that, the flat includes a beautiful balcony with view to the Glarus Alps! Furthermore answer times were very short, and Stefan was very uncomplicated when I first made a booking mistake regarding trip time. =) Last but not least when they invited some friends and I came home late, Stefan invited me to join their dinner on the fly! Hope my next Airbnb trip will be as good as this :) .
Jonas
2017-03-11T00:00:00Z
Jenis Bilik
Bilik persendirian
---
Jenis Penginapan
Kondominium
---
Memuatkan
2
---
Bilik tidur
Mollis, GL, Switzerland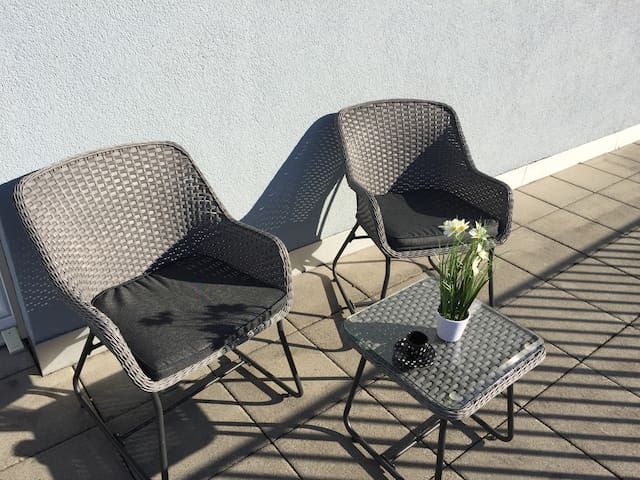 We rent our cozy house in Ennetbühls with beautiful views of the Glarus Mountains. The part of the house is very beautiful and quiet area. The town center, shops and the Station Glarus can be reached in about 8 minutes.
The small, cozy house were renovated in 2012 Design. Although you have to take into the city center within walking distance to to the house is in wonderful, quiet location surrounded by meadows, only a few meters from the edge of the forest. The ski (Braunwald / Elm) are easily accessible by train / car.
Ennetbühls is part of Ennenda and has about 300 residents. The neighborhood is very friendly and quiet.
Es waren unsere perfekten Skiferien. Im Tal gab es zwar keinen Schnee,dafür war der Blick auf den schneebedeckten Glärnisch umso imposanter.Die Eltern der Gastgeber waren sehr sympathisch und wir haben uns sehr wohl gefühlt. Vielen Dank an die ganze Familie! Herzliche Grüsse aus dem eher wieder graueren Alltag in Zürich!
Simone
2016-02-28T00:00:00Z
Appartement magnifique, confortable avec une vue époustouflante et pas trop loin du centre de ski Laax. Très bien équipé avec tout ce qu'il faut et magnifique cinéma maison. Très facile pour le check in / check out avec les parents juste à côté qui étaient très sympathiques. Bref belle expérience.
Philippe
2016-02-06T00:00:00Z
Die beste Aussicht in Glarus in einem ebenso grossartigen und gemütlichen Haus - sehr zu empfehlen!
Judith
2016-02-15T00:00:00Z
House is in a gorgeous location with great hiking nearby. Very clean and tidy accommodation. We didn't want to leave!
Chloe
2016-04-11T00:00:00Z
Jenis Bilik
Keseluruhan rumah/apt
---
Jenis Penginapan
Rumah bandar
---
Memuatkan
4
---
Bilik tidur
Ennenda, Glarus, Switzerland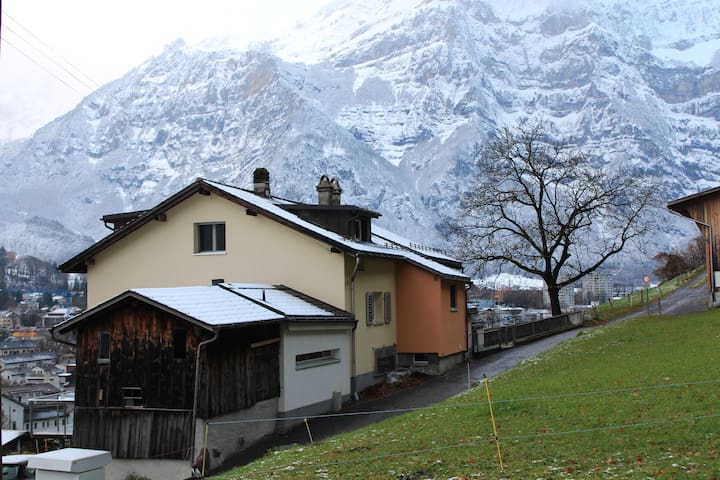 Small cozy apartment for 2-4 persons (incl. Kitchen, bathroom, alcove, room, immersed in nature and yet in the center of the capital, in 1 hr. To Zurich / Chur, in 20 min. To the lake, walking in the mountains, Naturpur, biking, skiing, etc.
Apartment built in Barn small, cozy ambience, convenient, central, everything therefore almost like home, in the middle of the mountains.
Glarus is small, pretty and very close to Allem- the perfect retreat for athletes, gourmets, hikers, skiers, etc.
The reservation was canceled 8 days before arrival. This is an automated posting.
Violetta
2014-07-24T00:00:00Z
Martin & Caroline sind tolle Gastgeber! Wir haben uns vom ersten Moment an bei Ihnen wohl gefühlt. Das Apartment ist liebevoll eingerichtet, sauber und in einer super Lage mitten in Glarus. Würde es jedem weiterempfehlen!
Georgios A.
2015-06-07T00:00:00Z
Eine sehr schön ausgebaute und liebevoll eingerichtete Wohnung in welcher man sich nur wohl fühlen kann. Mitten in Glarus und trotzdem ein ruhiger, malerischer Ort.... Wir kommen das nächste mal gerne wieder! Mirko & Family
Mirko
2014-02-16T00:00:00Z
Die Unterkunft sieht exakt aus wie auf den Photos. Sie liegt mitten in Glarus in einer ruhigen Nebenstrasse. Die Wohnung ist klein - aber fein! Es gibt einen zentralen Raum mit Küchenzeile und schönem Esstisch, eine Couch zum Lesen oder fernsehen. Darüber hinaus ein grosses, schickes Bad. Ein Doppelzimmer hat eine Tür, das andere Doppelbett liegt in einer Art Koje, ist aber ebenfalls ausreichend gross. Darüber hinaus gibt es noch einen kleinen Abstellraum. Ausserdem gäbe es noch Sitzgelegenheiten im Hof, allerdings hat es während unseres Aufenthaltes meistens geregnet, so dass wir diese nicht genutzt haben. Zu erwähnen ist ausserdem, dass die Wohnung perfekt sauber und die Küche gut ausgestattet war. Die Übergabe hat perfekt funktioniert. Sehr hübsche Unterkunft, sehr nette Gastgeber!
Andrea
2016-05-17T00:00:00Z
Supertolle, kleine voll funktionsfähige, sehr gemütliche Wohnung, die mit sehr viel Liebe eingerichtet ist. Wir haben uns die Tage sehr wohl gefühlt, auch dank den beiden Gastgebern, Caroline und Martin. Sehr gerne wieder...
Doris und Patrick
2015-05-17T00:00:00Z
Die kleine aber feine Wohnung von Martin und Caroline ist top! Ein charmanter, spezieller Ort mit allem was es braucht bei unkomplizierten, sehr netten Gastgebern.
Judith
2016-05-23T00:00:00Z
Martin and Caroline are lovely people and really provided us with a great experience in Glarus. The apartment is spacious, spotlessly clean and right next to the centre of the town. I would definitely recommend that anyone looking to have a real Swiss experience should stay here!
Bud
2014-06-19T00:00:00Z
Martin and Caroline were very accommodating (URL HIDDEN) the point that they accepted our last minute reservation enroute from us an hour before we arrived at their apartment! They were extremely friendly and welcoming, even inviting us to join them for drinks with their friends (their apartment is right in front of the one to rent)! The apartment is newly renovated and we were only the second people to stay in the first week. They had thought of everything, including all the little "extras" like a bottle stopper for the prosecco to keep the bubbles in!! Which came in very useful :) The bed was comfortable and cosy and kids would love the other loft cubby hole up the stairs I'm sure. I would recommend this home to a couple or family with one or two children who want to explore the surrounding area but still be within walking distance to the shops of one of the bigger towns of the immediate area. Thanks again Martin & Caroline!
Rebecca
2014-01-07T00:00:00Z
Jenis Bilik
Keseluruhan rumah/apt
---
Jenis Penginapan
Apartmen
---
Memuatkan
4
---
Bilik tidur
Glarus, Canton of Glarus, Switzerland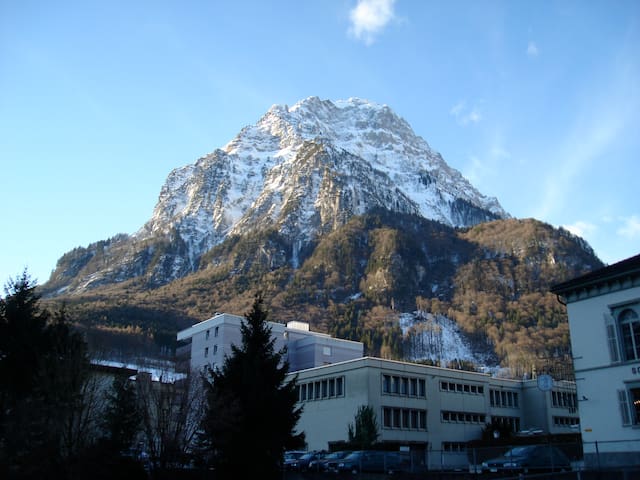 An idyllischer Lage in einem kleinen Bergdorf, nahe des Skigebietes, liegt unser Einfamilienhaus. Das Zimmer ist mit einem Ausziehbett und einem Hochbett ausgestattet. Ein Balkon mit Panorama und eine Dusche mit WC steht ihnen alleine zur Verfügung.
Das Einfamilienhaus liegt in bester Lage und hat eine herausragenden Panoramablick. Zum Grundstück gehören 100 qm Garten, die man gerne Mitbenutzen darf. Ebenfalls ist ein grosser Balkon zur Benutzung anschiessend zum Zimmer. Das Zimmer an sich besitzt ein Ausziehbett, welches fix tagsüber eingeklappt werden kann und ein Hochbett für Kinder oder die sportlichen unter Euch. • Das Skigebiet Brigels/ Waltensburg/ Andiast ist in 5 Autominuten erreichbar. • Zum Dorfladen (VOLG) sind es 5 Autominuten oder 10 Gehminuten. • Ein Restaurant liegt mit 2 Gehminuten gerade um die Ecke.
Andi和Heidi的房子真是太棒了!位置在瑞士的山上,清净优雅,稍微有点不太好找,但是他们很贴心的在路口做了一个牌子,写着"Airbnb this way ==> " 非常棒的房东!很热情,很友善,尽管他们英语不太好,还是非常乐于同我们聊天。分享一些人生经历和见闻,这对我来说觉得弥足珍贵。他们有一条可爱的大狗和美丽的花园,我们聊天时,狗就趴在桌子下面,Heidi煮的很棒的绿茶,比Lipton好喝,还有非常美味的早餐。临别时他们邀我们在客厅的世界地图上pin出自己来自哪里,我看到前面有一组印度和巴基斯坦人的标记,很有意思。早晨在阳台上端一杯咖啡眺望远山,我对Nina说:这个躺椅我能坐一整天。期望下次有机会还能再来。Andi的女儿去过中国,对中国印象很好,她说要周末回来见我们,可惜我们订好了行程,只有一天的时间在这里。如果你看到这条评论后也想去他们家住,可以给他们带些来自中国的礼物比如零食,他们会很喜欢的! Love it here, best place ever stayed, way better than a hotel. even the drive uphill, scary as it might seem in the night, yet lot of fun ! a great story to tell future kids.
James
2016-07-01T00:00:00Z
Our stay at Andi's was very very good. Andi and Heidi is a warm-hearted and friendly couple who received us very late at night. We arrived later than promised due to traffic, but was welcomed with coffee and hospitality, and a breakfast the next morning. Andi's house is up in the hills with the most beautiful view.
Dennis
2016-07-10T00:00:00Z
Andi and Heidi are very nice and generous hosts. Their house and the landscape are quaint. The room is cosy and has an enjoyable balcony. To be recommended!
Jan
2016-08-21T00:00:00Z
Wij zijn 2 nachten bij dit superlieve gezin geweest. Ik had me vergist in de datum en we mochten een nacht eerder komen. Helaas was onze dochter wel een beetje klaar met de vakantie,waardoor we uiteindelijk toch een dag eerder dan gepland naar huis gingen...ik had graag nog een nacht genoten van deze gastvrijheid! De zelfgemaakte yoghurt was heerlijk,de bedden lagen goed,onze dochter had een eigen hoogslaper! Al met al een geweldige afsluiting in Zwitserland voor ons!! Dankjewel Andi en Heidi
Ilse
2016-08-27T00:00:00Z
Andi and the family welcomed us warmly!! Their daughter picked us up from the train station (10/10 for the safe driving :) ) the whole family made us feel at home. They have a beautiful friendly dog.   Their house is lovely and overlooks some breathtaking views.  Having arrived in the evening, waking up to theses sights was something we won't forget in a hurry, the three of us sat on the balcony before the family made us a devine continental breakfast :) Our only regret is that we couldn't stay longer!! When we are next in Switzerland, there will be no other place we would rather stay. A truly lovely family. Also, I accidently left my travel pillow at the house, so we will have to come back ;) Thanks again.
Gareth
2016-09-21T00:00:00Z
Vriendelijke gastvrouw die je alle ruimte geeft om je verblijf aangenaam te maken.
Marien
2016-08-13T00:00:00Z
Andi and his wife are the sweetest couple. They are very friendly and genuinely interested in meeting and helping new people. They prepared a nice breakfast and made us feel very comfortable. The location is quiet and views to the mountains are great! They also have a very nice dog.
Marcos
2016-11-13T00:00:00Z
Andi and Heidi are the beautiful, young and lovely couple we have ever met. Both welcomed us with a great smile and Heidi herself prepared a tea to welcome us. Within few minutes, we were bonding like some decade-old friends. We had a very engaging conversation , topics ranging from Switzerland culture to US presidential candidate Donald trump . Time flew by like seconds with them. They also prepared a greaaaaaat breakfast and kept everything ready on the table, next morning. We are lucky to meet such a lovely people. Thanks Andi and Heidi... We will definitely come to swizz again just to meet you :)
Anand
2016-06-21T00:00:00Z
Jenis Bilik
Bilik persendirian
---
Jenis Penginapan
Rumah
---
Memuatkan
3
---
Bilik tidur
Waltensburg/Vuorz, Graubünden, Switzerland
The apartment is a room with a kitchenette line in a beautiful typical Falera house (low ceilings). This includes a separate bathroom with a shower for your convenience. Falera is in the middle of the ski area with the snowboarding/ski and bike parks Flims-Laax-Falera. It also has within walking distance an observatory, restaurants and a Volg (supermarket) with good regional specialties. My accommodation is good for couples, solo travelers adventurers, families (with a child).
The apartment is a room with a kitchenette in a beautiful typical old Falera house. This includes a separate bathroom with a shower for your convenience. The room (about 20m2) has a small dining table for two people and the ceiling is low in the room, the house is renovated and lovingly decorated style. The house is often very quite, because we are not always at home.
Its a quiet area :-)! In winter, you can rent ice skates and skates for free in front of the house. In the summer you can play next door ping-pong and also in front of the house, you can make barbecue with fantastic views. It has provided of the community wooden benches and wooden tables, as well as wood for barbecue -fire.
Für 1-2 Personen , eine wunderbare Unterkunft, zentral für Postauto und Bahnen, Falera ist schön gelegen und die Vermieter sehr freundlich, wir würden sofort wieder buchen.... Sonja+Stella
Sonja
2017-02-22T00:00:00Z
Tatjana's studio is a picturesque mountain getaway in beautiful Swiss mountains. Tatjana herself was lovely and well organized, providing me with lots of information.
Erika
2017-01-22T00:00:00Z
Was a wonderful week at Tajana's place. Thank you very much for having us. P.s. Do no park in the village even not for 30 minutes you will get a fine for sure ; ) Unloading is no problem.
Maeru
2017-02-18T00:00:00Z
Great private room with a private bathroom in a quiet Swiss village with magnificent views of the Alps. Perfect base to go skiing and snow boarding in the Flims-Laax range. Lift from falera so you can practically ski back and forth from your Tatjiana's home. The room itself is cozy and clean. Great for after ski relaxing.
Silvia
2017-03-15T00:00:00Z
Great place !!! Really amazing aventure very near to laax... Tatjana was very nice and kindly , expending many time to feel us confortable & Good knowlodge of the place !! 100% recomended
Surtidora Medica De Occidente S.A.
2016-11-13T00:00:00Z
Tatjana hat sich sofort nach meiner Kontaktaufnahme bei mir gemeldet. Sie hat sich auch bereit erklärt, das Zimmer für nur eine Nacht zu vermieten und ist auf unsere Bedürfnisse eingegangen. Es gab sogar frisches Brot, Butter, Milch, Konfitüre und Honig für das Frühstück. Das Zimmer ist zweckmässig und sehr hübsch eingerichtet und Tatjana ist sehr nett, unkompliziert und zuvorkommend.
Michaela
2016-12-05T00:00:00Z
Wir hatten ein herrliches Wochenende in dem kleinen gemütlichen Appartement bei Tatjana in Falera! Sehr sauber und alles da was man braucht!
Elisa
2017-03-26T00:00:00Z
Klein aber fein. Super Zimmer für max 2Personen. Gemütliche Einrichtung. Ruhige Lage.
Graziella
2017-02-07T00:00:00Z
Jenis Bilik
Bilik persendirian
---
Jenis Penginapan
Rumah
---
Memuatkan
2
---
Bilik tidur
Falera, Graubünden, Switzerland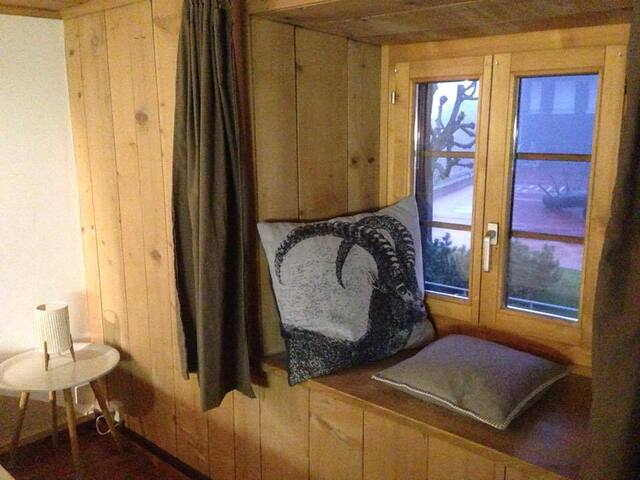 2-bed room "Glarus" Heimeligs and well maintained, with creatively redesigned furniture decorated B & B, in the village of Engi. Break for individuals in the dramatically beautiful natural scenery of Sernftals in Glarus. Smokefree. Vegetarian / Vegan.
2-bed room "Glarus" Heimeligs and well maintained, with creatively redesigned furniture decorated B & B, in the village of Engi. Break for individuals in the dramatically beautiful natural scenery of Sernftals in Glarus. Smokefree. Vegetarian / Vegan. 2-bed room "Glarus": 2 single beds, bedside table, LED reading lamp, Digital Radio DAB + Rattan, floor lamp. Chest "St. Moritz" drawer furniture and mirror in our studio. The B & B is decorated with creative redesigned furniture from our studio, which can be bought in favor also. There is a massage practice in the house, appointments are at discounted prices.
Chamois and wild in the vicinity, the national park and Freiberg Kärpf, the waterfalls in the mountain slopes, the lapping of the stream on our property, ripening in late summer pears on the facade, the millions of different greens in Sernftal ...
Meine Kontaktaufnahme mit Daniel fand sehr kurzfristig während meiner Alpenüberquerung beim Abstieg ins Sernfter Tal statt. Ich bekam von Daniel nach wenigen Minuten eine positive Antwort und war durch die Nachricht, der Biergarten sei eröffnet, für die letzten Kilometer bei großer Hitze wieder hoch motiviert! Die Begegnung mit Daniel war von Anfang an völlig unkompliziert, ich habe mich von Beginn an zuhause gefühlt und die Entscheidung, Daniels wunderschön hergerichtetes Domizil für einen Ruhetag zu nutzen erwies sich als ein Volltreffer. Es war für alles gesorgt (das Frühstück war - obwohl vegan - abwechslungsreich, wohlschmeckend und reichlich) und ich muss sagen, dass ich von Daniel über alle Erwartung verwöhnt wurde! Wir führten auch für mich sehr bereichernde Gespräche in denen zwischen uns in vielen Dingen Übereinstimmung herrschte. Über ein Wiedersehen mit Daniel würde ich mich sehr freuen! Als airbnb-Unterkunft möchte ich Daniels Adresse als absolute Top-Empfehlung einstufen!
Matthias
2015-07-08T00:00:00Z
We had a marvelous stay at Daniels B&B. The scenery is breathtaking and the house is a real home you want to come back to soon. Daniels hospitality is more then ️️️️️ and the top was the massage we could book with him. So the legs were not that sore from hiking. Also breakfast with his home made bread was delicious! We certainly come back!
Claudia
2016-10-09T00:00:00Z
Wenn es einen Engel gibt, dann lebt er wohl in diesem gemütlichen Häuschen in Engi, Glarus, kümmert sich liebevoll um seine Gäste, welche er auf Wunsch massiert, vegan-kulinarisch verwöhnt oder mit ihnen tiefgründig über verschiedenste Themen diskutiert - und dies inmitten einer wunderbaren Bergwelt, die Erholung garantiert. Ein kostbares, kleines Refugium mit vielen Ausflugs-, Wander- und Schneesportmöglichkeiten. Vielen Herzlichen Dank für deine Gastfreundschaft, lieber Dani! Ich freue mich bereits aufs nächste Rückzugs-Wochenende!
Michèle
2017-01-07T00:00:00Z
Diese Welt braucht definitiv mehr von Dani's Sorte! Es ist nicht nur sein wunderschönes Haus, die idyllische Lage und das ausgezeichnete Essen, sondern auch seine verantwortungsvolle Haltung und seine reflektierten Gedanken, die mich dazu bewegen werden wieder zu kommen. Danke für alles, Dani.
Andrea
2017-01-22T00:00:00Z
Super schneller und freundlicher Kontakt. Es war sehr sauber, stil- und liebevoll eingerichtet. Gerne wieder ...
Tom
2015-07-28T00:00:00Z
Jenis Bilik
Bilik persendirian
---
Jenis Penginapan
Inap sarapan
---
Memuatkan
2
---
Bilik tidur
Glarus Süd, Glarus, Switzerland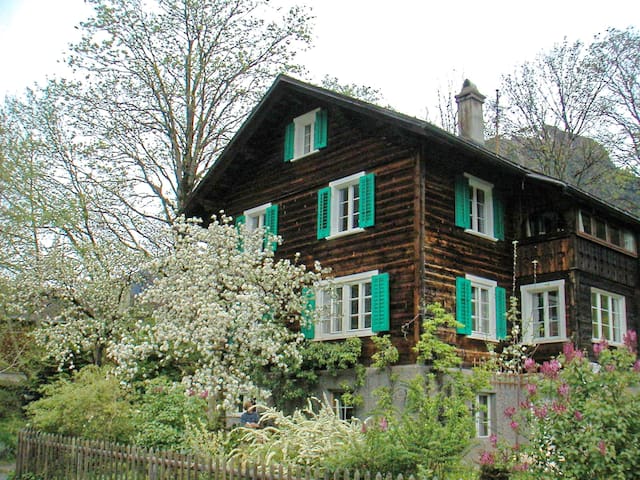 Die Wohnung befindet sich im zauberhaften, autofreien Bergdorf Braunwald, mitten in den Schweizer Bergen. Im Winter ist Braunwald ein schönes Wintersport Paradies. Man kann direkt vom Haus mit den Skiern losfahren. Im Sommer lädt es zum Wandern ein. The appartement is in a carfree village!
Die Wohnung verfügt über alle nötigen Grundeinrichtungen. Die Küche ist vollständig ausgestattet.
Wir verbrachten ein super Wochenende in der Ferienwohnung in Braunwald. Die Wohnung ist sehr grosszügig und zweckmässig eingerichtet. Alles war perfekt sauber und in perfektem Zustand. Äusserst empfehlenswert mit Kindern: es gab viele Büchlein, CD's und Spielsachen drin und draussen für die Kinder. Die Aussicht auf die Bergkulisse ist traumhaft! Die Kommunikation mit Karin war äusserst angenehm, schnell, zuvorkommend. Sehr empfehlenswert!
Anna
2016-10-17T00:00:00Z
The host canceled this reservation 350 days before arrival. This is an automated posting.
Claudia
2017-02-18T00:00:00Z
Karin was a great host! She met us when we arrived and check in was quick. The apartment was huge and the views were spectacular! We had everything we needed and even got to use the wood burning stove, which was nice on the rainy, cold days. The hike up to the apartment was about 25 minutes, most of it uphill, so it may be difficult for some. We would definitely stay here again!
Nathan
2016-07-15T00:00:00Z
Jenis Bilik
Keseluruhan rumah/apt
---
Jenis Penginapan
Apartmen
---
Memuatkan
4
---
Bilik tidur
Glarus Süd, Canton of Glarus, Switzerland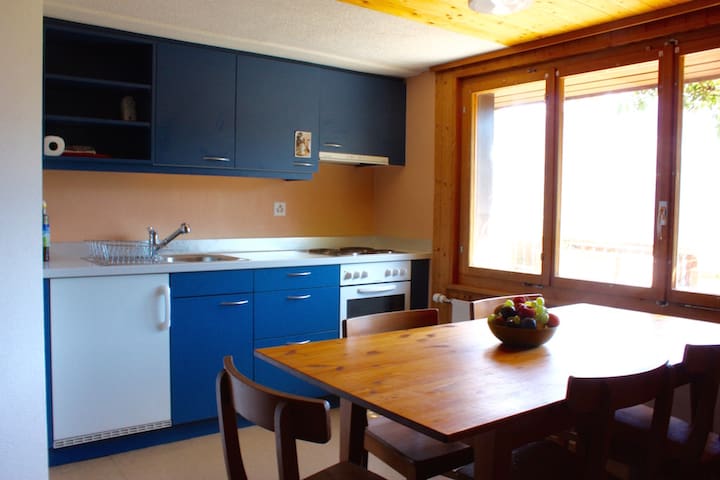 the place is special, cute, old and very simple. important to know is that there are different people living in the house, like students and artists, long-term or short-term. my roommates and i, we come an go as we need, depending on projects and jobs:) we might not be around when you arrive
its an old house, very simple, no spectacular look from outside. but inside there is always changes...we will create every room into a different artspace a few months before they break down the house, and until then we do creative projects mainly in sommer. the house is always in motion so the guests are always welcome to be creative aswell and use some space to creative paint or anything else, just let us know.
they are friendly and helpful, they have their own charakter, as people like to say about Canton Glarus.
Das Haus war sehr gemütlich und einladend eingerichtet. Es hat uns auf anhieb sehr gefallen. Angela und ihre Mitbewohner/innen sind sehr freundlich und wir hatten uns gleich wohl gefühlt. Schade waren wir von der Wanderung so erschöpft, dass wir nicht mehr in der Lage waren mit den Gastgebern noch etwas zu trinken und so den Abend ausklingen zu lassen. Wenn wir wieder im Glarnerland sind und das Haus zur Verfügung steht, dann gibt es sicher ein Wiedersehen :-)
Salome
2016-08-29T00:00:00Z
Tolles Haus, freundliche Leute! Angela hat viel Ideen für die Renovation des Gästezimmers. Im Moment hat es alles was es braucht, doch es wird sicher ein szenografischer Blickfang werden. All ihre künstlerischen Projekte haben Potential.
Denis
2014-07-07T00:00:00Z
The place is very charming in a simple way. We had the place to ourselves for most of the time, and also when someone was there it was still calm. There are also many good hiking and biking routes from this house! Angela made a nice and practical impression on us. She also made our stay uncomplicated and pleasant, so thanks!
Miriam
2016-05-08T00:00:00Z
The first contact with the room mate has been nice but a lot of informations have been missed. the room was icy cold (I think that could have been a good idea to switch on the heater few minutes before our arrival...), and we discovered that we had to displace furniture in order to prepare the beds...but we discovered that we only have one duvet for two...a little mess for a first night :) The evening before we met Angela, a really nice ans smiling girl, who arranged that for us. I think meeting her at the arrival would have been better!
Manuele
2016-11-13T00:00:00Z
Ein ungewöhnlicher und entspannter Ort, der für Individualisten perfekt ist.
Susanna
2016-08-04T00:00:00Z
Angela war nicht da, aber ihr roommate hat uns herzlich empfangen und uns alles gezeigt. Das Zimmer und die Küche waren zwar wegen Renovierung nicht zugänglich, aber das Ersatzzimmer war für uns spitze und wir haben uns sehr wohlgefühlt. Schön einfach und unkompliziert. Wir haben das draußen frühstücken genossen, sind mit dem Rauschen des Flusses eingeschlafen und aufgewacht, die Berge im Blick. Wir waren im nahegelegenen See baden und haben vom Haus aus eine sehr schöne Wanderung gemacht. Sehr basic, sehr unkonventionell, wir mochten es sehr.
Bodo
2016-08-01T00:00:00Z
The area is magnificent and calm. It was exactly what I was searching for after a long tiring week. The house is recently painted and cleaner and more pragmatic than I have seen in last comments. Angela is a busy nice artist. Although at the beginning there was a misunderstanding because of the lack of communication, very soon we could find some little time to talk and get briefly to know each other. On the whole I think it worth the price I paid. And I will definitely come back, if I have a chance to pass more discussion time with Angella. Thanks! Best wishes!
M
2015-08-24T00:00:00Z
Die Unterkunft war gut und so wie beschrieben.
Dirk
2016-04-18T00:00:00Z
Jenis Bilik
Bilik persendirian
---
Jenis Penginapan
Rumah
---
Memuatkan
3
---
Bilik tidur
Näfels, Glarus, Switzerland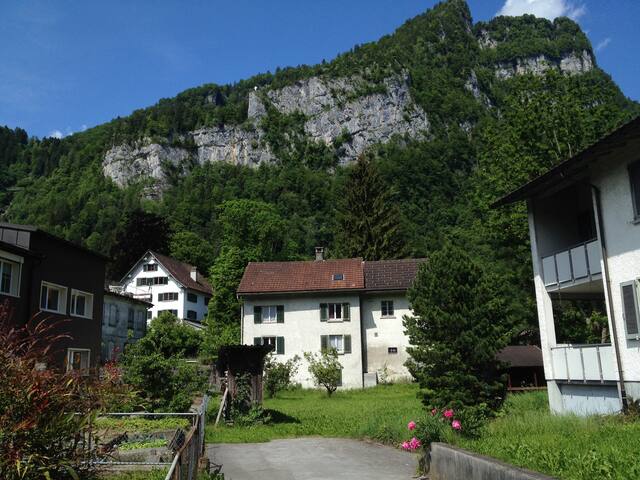 Cozy house with a large fireplace surrounded by the Glarner Alps.
The Glarner hinterland offers many possibilities for various sports. paragliding, ski cross-country skiing, and hiking are our passion. We are happy to meet here nature and like-minded people. The house has a separate entrance and therefore offers a quiet retreat for those who want to be there for yourself.
The proximity to mountains
Jenis Bilik
Keseluruhan rumah/apt
---
Jenis Penginapan
Rumah
---
Memuatkan
4
---
Bilik tidur
Glarus Süd, Glarus, Switzerland
In altem historischen Haus
Vielen Dank und bis nächstes Jahr!
Ives
2016-12-16T00:00:00Z
Die Kommunikation mit Andreas war super und wir haben uns in seiner Wohnung sehr wohl gefühlt! Alles hat bestens und unkompliziert geklappt - wir kommen gerne wieder!
Marc
2016-07-30T00:00:00Z
Der Gastgeber ist sehr gastfreundlich und die Kommunikation sehr schnell und unkompliziert. Vielen Dank.
Ives
2016-08-29T00:00:00Z
alles perfekt geklappt - wie immer bei Andreas!
Ives
2016-09-18T00:00:00Z
Andreas und seine Unterkunft sind einfach super! Sind schon sehr lange in diesem Jahr seine Gäste. Vielen Dank!
Ives
2016-11-27T00:00:00Z
Alles wie immer super!
Ives
2016-12-04T00:00:00Z
Wir durften erneue bei Andreas wohnen. Es war wieder alles wunderbar - Zimmer sehr sauber und gut ausgestattet und die Kommunikation läuft perfekt! 100% zu empfehlen!
Marc
2016-08-14T00:00:00Z
Jenis Bilik
Keseluruhan rumah/apt
---
Jenis Penginapan
Apartmen
---
Memuatkan
6
---
Bilik tidur
Glarus Süd, Glarus, Switzerland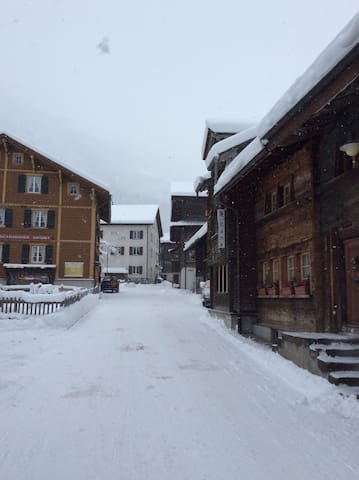 In the middle of the Glarus mountains with top access to public transport you will find this room as an ideal resort for interesting experiences in the Swiss Alps (Todi, Glärnisch, Schilt, Glarus thrust is Unesco World Heritage Site)
View of the Glarus Alps. outdoor whirlpool
Wir wurden sehr freundlich begrüsst und uns wurde alles gut gezeigt. Wir haben uns sehr wohl gefühlt und würden nochmals weitere Ferientage hier verbringen.
Sabrina
2016-08-28T00:00:00Z
Die 2 Nächte bei Lars waren super! Wir haben uns gleich wohlgefühlt. Alles war sehr sauber und komfortabel. Die zwei sind auch sehr nett gewesen und haben uns sogar noch den Klöntalersee gezeigt. Die Unterkunft kann man nur empfehlen! :)
Sarah
2016-03-29T00:00:00Z
Jenis Bilik
Bilik persendirian
---
Jenis Penginapan
Rumah
---
Memuatkan
2
---
Bilik tidur
Ennenda, Glarus, Switzerland

double rooms in a beautiful half-timbered house Use of kitchen, living room, sun terrace, shared bathroom. Internet, TV, Close Klöntalersee, hiking area, bike paths Fr.60 per room 2Rooms available 1 extra bed Individuals for price
The property is a 300-year-old half-timbered house, very authentic and specially equipped
The tranquility and the view to the mountains, behind the house is only pure nature and a Vitaparkur in good condition
Really nice house! I would say it is the most beautiful house I have ever seen. and Peter is a really nice host. fantastic experience!
Hao
2014-05-22T00:00:00Z
Although the photos of this place show off how beautiful and unique it is, photographs just cannot do it justice. I can't picture myself staying anywhere near Switzerland without going to this place. The mountains around are unbelievable (sometimes 15 waterfalls in sight from the yard), but also the house itself is like nothing I've ever seen. Peter was also an amazing host. He not only had great suggestions and facts about the area, but was just incredible hospitable and fun to talk to. I consider him my friend now after just a couple of nights there. I will go back to this place for sure. I would go just for the mountains, but too see this house and talk to Peter again would be enough as well.
Carlos
2014-08-28T00:00:00Z
This place was beautiful and really cozy. Peter was super friendly and easygoing and made us a perfect breakfast in the morning! It was very cheap compared to the rest of Switzerland and we therefore recommend anyone to rent this lovely house.
Björn
2015-08-17T00:00:00Z
Unique house, good location. Peter 's collection of deco items decked the house creatively. Amusing to view his furnishings which he collected over the years. Peter had been such a amazing host.
Grace
2015-09-04T00:00:00Z
Beautiful historic home in the mountains. Peter was very entertaining. We enjoyed his stories and his yodeling! We had a great time.
Lynn
2014-06-08T00:00:00Z
Listing was accurate.. Peter was a flexible and a good host too.. it was a typical swiss home and the neighbourhood was serene..
Praveen
2015-08-05T00:00:00Z
A wonderful apartment and host in a beautiful location. We chose Peter's apartment as it was not located in the city centre and offers a different experience. Train from Zurich to Netstal Station took an hour and Peter graciously picked us up. Peter's house is eclectic and funky to say the least thanks to his artwork decorative objects placed everywhere. Best thing about staying here is that Peter stayed at a caravan beside our house with his friendly and obedient dog, Sammy. He was always around to offer us help and also prepared us breakfast in the morning. He also took the trouble to send us to Lake Klontal with his car the second morning. That is a definition of a host and Peter has definitely accomplished that. A truly recommended house for people who want a totally different experience.
Fahmi
2015-08-20T00:00:00Z
Die Unterkunft bei Peter ist traumhaft, man kann sich kaum satt sehen. Er ist sehr zuvorkommend und hilfsbereit. Ein netter mensch eben.
Benji
2015-06-01T00:00:00Z
Jenis Bilik
Keseluruhan rumah/apt
---
Jenis Penginapan
Inap sarapan
---
Memuatkan
4
---
Bilik tidur
Netstal, Canton of Glarus, Switzerland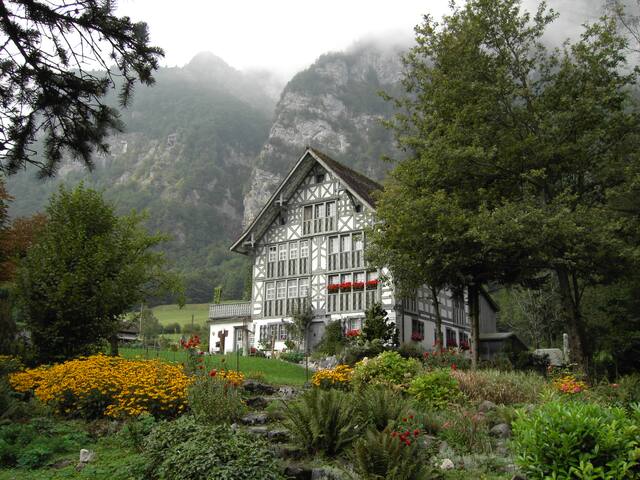 Sehr gemütliches, 250 Jahre altes, kleines Bauernhaus. Mit eigenem Wald und Wasserfall direkt am Grundstück. "Spartanisches" Bad (Dusche und WC). Das Haus wird mit Kachel- und Holzofen geheizt. Im Sommer aber keine Heizung notwendig.
Wer sich mal wieder alleine oder in der Familie spüren möchte ist hier genau richtig. Gemeinsam in der gemütlichen Küche am Holzofen essen, spielen oder einfach nur quatschen.
Es gibt zwar Nachbarn, die sind aber relativ weit weg, so dass Ihr sie kaum sehen werdet.
Der Aufenthalt hat uns sehr gefallen und es hat alles reibungslos geklappt. Das Haus ist wirklich schön gelegen und sehr urig eingerichtet. Die Küche ist top ausgestattet. Die Kuhglocken im Flur eignen sich hervorragend um morgens den Rest zu wecken und an den Frühstückstisch zu holen ;-)
Niklas
2016-08-21T00:00:00Z
Alle offenen Fragen konnten vorher am Telefon geklärt werden. Die Schlüsselübergabe mit dem Schlüsselsafe war problemlos. Das Haus ist wunderschön gelegen und wir haben den Aufenthalt wirklich genossen. Wir kommen gerne wieder!
Reiner
2016-06-06T00:00:00Z
wir (7 erwachsene und 3 kids) waren über auffahrt im wunderbaren haus in schwändi! wir sind grösstenteils mit den öv angefahren,was überhaupt kein problem war. im haus fühlt man sich gleich wohl und es hat uns an nichts gefehlt! der garten ist riesig, gepflegt und die "brätlistelle" ein highlight. in 10min zu fuss erreicht man den dorfladen sowie das dorfrestaurant. es hat alles wunderbar geklappt, der kontakt verlief problemlos und wir kommen auf alle fälle wieder!
Gloria
2016-05-09T00:00:00Z
Heinz war ein sehr freundlicher und hilfsbereiter Gastgeber - alles war so, wie beschrieben. Ein wunderbarer Ort, eine intakte Immobilie - und dann sogar noch schönes Wetter! Wir (7 Personen) können es nur empfehlen. Vielen herzlichen Dank, wir freuen uns schon auf das nächste Mal.
Michael
2016-11-24T00:00:00Z
Danke vielmals für die Möglichkeit diese tolle Unterkunft zu nutzen. Die unkomplizierte Übergabe hat super funktioniert. Auch wenn es nicht ganz einfach war mit den Autos dort runter & bei Regen wieder rauf zu kommen :) Wir haben es sehr genossen in der gemütlichen Stube und draussen im Freien. Wirklich ein sehr lauschiger Ort.
Ema
2016-04-17T00:00:00Z
This is a lovely, romantic, old house with wood paneling throughout, and a wonderful ambience. Once you have mastered the traditional kachelofen, the whole place will be warm as toast however cold it is outside (and it's also great for cooking). Tall people will need to mind their heads on the low beams! The main dining area is super-cosy, but the kitchen is also perfect for long meals. There is a footpath by the side of the house which is used by local people, but the place nevertheless feels very secluded and private. The last part of the track down to the house is indeed steep, and narrow between two stone walls - OK for most cars but nothing bigger. There are lovely unspoiled views from the front through beech trees to the wooded hills and mountains beyond, and nice paths below the house down towards Mitlodi and Schwanden, both of which are about 30 minutes' walk away. Would definitely stay again - it must be especially lovely there in the spring and summer.
Simon
2016-11-08T00:00:00Z
A group of friends and I spent one night at this location and it was absolutely amazing. The instructions on how to get into the house were easy to follow and straight forward. We showed up to a clean house that fit the pictures to a tee. The scenery was amazing, perfect for exploring and hiking. The kitchen was fully stocked and had enough supplies and room for all 10 of us to eat and sit and sleep extremely comfortably. Heinz was very attentive, answered all my questions, and extremely responsive. I would highly recommend this location for a perfect mountain escape weekend.
Mackenzie
2016-06-20T00:00:00Z
Die Hütte war der Traum! Alles ist super gelaufen..Wir würden auf jeden Fall wieder kommen! Der Gastgeber war immer erreichbar und super nett.
Nicole
2017-01-02T00:00:00Z
Jenis Bilik
Keseluruhan rumah/apt
---
Jenis Penginapan
Rumah
---
Memuatkan
10
---
Bilik tidur
Glarus Süd, Glarus, Switzerland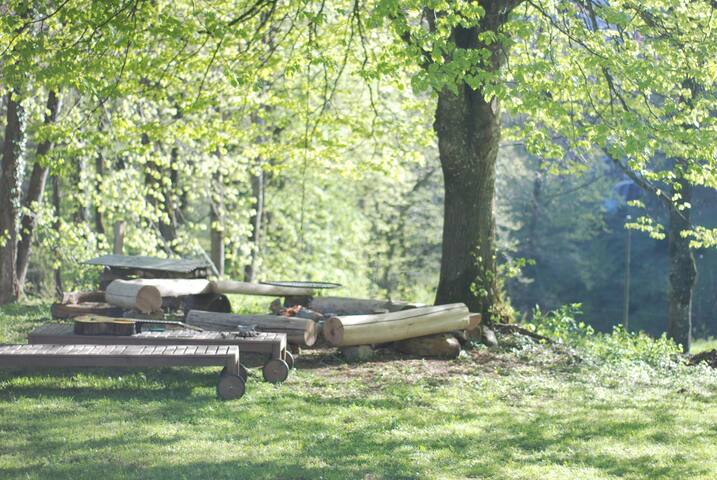 Geschlossen, auf der Suche nach neues Zuhause. Im Herzen von Weesen, eine Minute zu Fuss von der Promenade Walensee und Bushaltestelle finden Sie das helles Privatzimmer für 2 Personen mit WC, Dusche, Küche, Garten. Idealer Ausgangspunkt für Wanderungen, Velofahren, Wassersport, Schifffahrt.
Nette Nachbarschaft
Alles tip top gelaufen. Super Kontakt und stets sehr schnell per App bei Fragen zu erreichen. Empfehlung :)
Alexander
2016-08-31T00:00:00Z
Super...studio agréable, proche du centre avec un petit jardin pour manger dehors.
Céline
2015-08-04T00:00:00Z
Satu was a great host. We arrived here a bit later than planned and she was very accommodating to that. The flat is situated in a quaint town just steps away from an incredible view. We loved it so much we decided to book a second day and explore the city further. Pictures were just as described and everything was nice and clean. I would definitely recommend this place to others! Thanks again Satu!!
Kunal
2016-05-11T00:00:00Z
Satu was fantastic and the place was wonderful! we were able to find quick, free parking with the help of Satu and she supplied us with ideas of where to eat, where to visit and some nice walking paths. The area is absolutely gorgeous, walensee has a lot to offer any time of year
Anthony
2016-06-23T00:00:00Z
This was a very welcome break after a days cycling in the rain. Satu even provided an airer for us to dry off wet things. Kitchen was well equipped. Would recommend.
M
2016-09-06T00:00:00Z
Nice acommodation in the small village by the lake. Beds are simple but you have everything you need in the appartment very coveniently located. Satu was very nice welcoming us in her appartment.
Rodrigo
2016-09-11T00:00:00Z
Excellent accommodation in one of the most beautiful places. All we needed was there. Thank you Satu.
Tom
2015-10-06T00:00:00Z
Place is very well situated, nice and cosy. Satu is caring and very nice. We should come back at the summertime.
Rasa
2015-10-18T00:00:00Z
Jenis Bilik
Keseluruhan rumah/apt
---
Jenis Penginapan
Apartmen
---
Memuatkan
2
---
Bilik tidur
Weesen, St. Gallen, Switzerland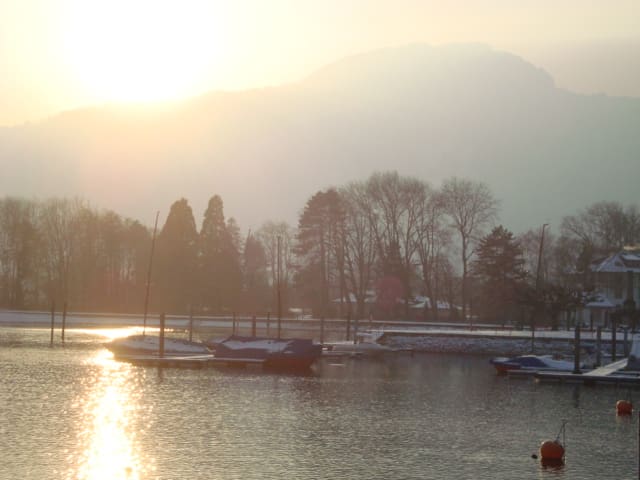 1

–

18

daripada

107 Sewaan
Masukkan tarikh untuk melihat harga penuh. Yuran tambahan dikenakan. Cukai mungkin akan ditambah.