Masukkan tarikh daftar masuk anda dalam format hh-bb-tttt
Masukkan tarikh daftar keluar anda dalam format hh-bb-tttt
Penyenaraian yang boleh anda tempah tanpa menunggu kelulusan hos.
13 Sewaan
· Capriata d'Orba
13 Sewaan
· Capriata d'Orba
Masukkan tarikh untuk melihat harga penuh. Yuran tambahan dikenakan. Cukai mungkin akan ditambah.
Très bon accueil de Mary et merci à son voisin pour la traduction en français. Endroit calme et tranquille.
Nolwenn
August 2016
The host canceled this reservation 3 days before arrival. This is an automated posting.
Gaby
We arrived one hour earlier than expected which was no problem. Mary showed us the apartment and provided us with all the information we needed. Nice apartment in a beautiful area.
Lukas
September 2016
Appartement idéal pour une petite halte en Italie. Accueil très agréable, figues fraiches offertes à notre arrivée, petits déjeuners bien agréables. Nous y avons passé une nuit reposante avant de reprendre la route. A recommander.
Valerie
August 2016
Mary's place is really enchanting. It's a 150-year-old house I understand and if you want to experience realy Italian country living, then Maria's house is what you're looking for. I'd say the place is both quaint and enchanting. Located in the countyside and not far from Genoa, Alessandria, Torino and Milano. Highly recommended for a real Italian experience.
Ghasoub
June 2016
Nous avons passé un très bon séjour dans cette maison situé dans une joli coin de campagne. Mary est disponible pour ses hôtes et nous a accueillis avec le sourire et Georgio était là pour nous faire visiter les lieux en français! les chambres sont spacieuses. Nous recommandons!
Isabelle
June 2015
La maison de Mary est situé dans un cadre très agréable, la vue est magnifique et Mary nous a donné un super conseil de restaurant où l'on s'est régalé ! Merci à Mary pour son très gentil accueil
Patrizia
May 2015
We stayed in Mary's lovely home for one night whilst driving through Italy. Mary was very friendly and welcoming and with translation provided by equally friendly neighbours Mary showed us round the house. The accommodation was spacious and beautiful, with lovely artworks decorating the walls. The location is very scenic with beautiful views. It is certainly a place I would like to return to to spend more time exploring. Thanks Mary for your hospitality!
stuart
August 2016
Jenis bilik
Keseluruhan rumah/apt
---
Jenis penginapan
---
Memuatkan
5
---
Bilik tidur
2
Alessandria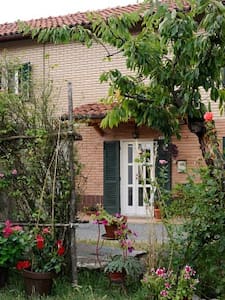 Accueil parfait de Debora qui a su être à l'écoute pour que la nuitée passée soit très agréable
claudine
August 2016
L'accueil de Debora est parfait. Déjà sur la route avant d'arriver à notre destination Debora nous a téléphoné. À l'arrivée, elle était tout sourire, nous a aidés à stationner et nous a fait visiter l'appartement. Et c'est, il faut le dire, un très bel appartement qui nous attendait et pas seulement une chambre. Le logement est rénové à neuf, aménagé avec goût, en plus de la chambre et de la salle de bains nous avons la cuisine, une salle à manger, un salon avec la télévision et une terrasse donnant sur la campagne. Vraiment, nous recommandons l'adresse de Debora. Et j'allais oublier, le lit est d'un confort remarquable.
Annick@Rémy
May 2016
Debora's mother was there to welcome us and was very sweet and told us a bit about the history of the building. She offered us coffee and showed us round. The room was big and warm and the bed was really comfortable. Even though the house is by a main road there was hardly any traffic noise and we slept very well. We stayed on Monday 28 December and before we arrived Debora found out there was a restaurant open so we were able to have dinner at a nice eaterie about 4km away. I'm afraid we've no idea what the house looks like because we arrived on a dark and foggy night and left on a dark and foggy morning!
Maggie
December 2015
Jenis bilik
Bilik persendirian
---
Jenis penginapan
---
Memuatkan
2
---
Bilik tidur
1
Capriata d'Orba
Il B & B Pervinca si trova tra lecolline dell'Alto Monferrato vicino a cantine, vigneti, campi da golf, castelli, maneggi e ... l'Outlet di Serravalle; a 50 km da Genova, 100 km da Milano, 110 km da Torino. Ampio giardino recintato dove i bambini possono giocare liberamente e gli adulti rilassarsi magari sorseggiando un buon vino locale. L'auto può essere parcheggiata all'interno della proprietà. Sistemazione adatta per coppie, famiglie, gruppi di amici ma anche per viaggiatori singoli.
Jenis bilik
Bilik persendirian
---
Jenis penginapan
---
Memuatkan
5
---
Bilik tidur
1
Schierano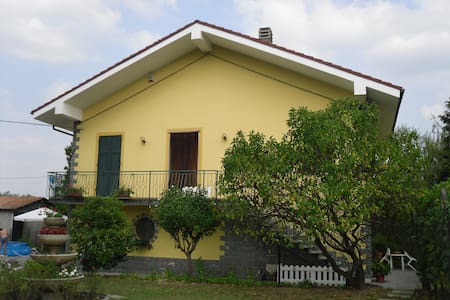 Have you ever woken in the middle of a golf course? Have you ever lived at the same time the silence of nature and the social life of an exclusive club? Welcome to Corte moglia: The Court renewed within the Golf Club Villa Carolina, where once lived
Angenehme und gepflegte Unterkunft. Komfortabel eingerichtet, ruhig und für Golfspieler ideal gelegen. Sehr nette und zuvorkommende Vermieter. Wir würden gerne wieder kommen.
Rita
June 2016
Globalmente posso dire che l'esperienza è stata positiva. L'appartamentino a mio giudizio è carino, gli spazi interni ben sfruttabili, gradevolmente arredato, e si trova in un contesto piacevole e con tanto verde attorno. E' senz'altro ideale soprattutto per chi è appassionato di golf (non è il mio caso), dal momento che si trova all'interno di un golf club. Forse necessiterebbe di un pò di manutenzione in più, ma tutto sommato, per le mie esigenze specifiche e particolari, io mi ci sono trovata abbastanza bene. Uniche vere pecche secondo me sono l'assenza di una vera e propria porta d'ingresso tradizionale (quella che c'è attualmente è solo una porta da interni), ad esempio una porta blindata, che peraltro è presente nell'appartamento immediatamente adiacente , e l'insufficiente isolamento dei muri, per cui purtroppo si sentono molto i vicini, sia accanto che al piano sottostante, come pure qualunque rumore esterno.
Eva
June 2016
Jenis bilik
Keseluruhan rumah/apt
---
Jenis penginapan
---
Memuatkan
4
---
Bilik tidur
1
Capriata d'Orba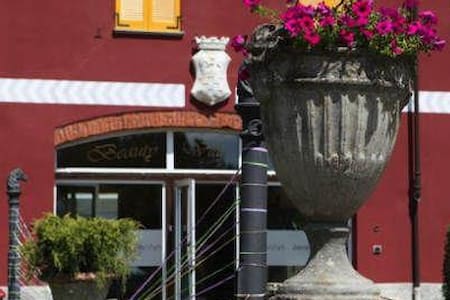 Irina's place was colorful, clean and warm. I think it is the only AirBnB in this tiny town, and is located on a very small ancient street, in an ancient building. Very cool. Irina was prompt with communication. She arranged for her parents to pick me up at the train station in Ovada and take me to her apartment in Castelleto D'Orba. They left me with milk, cookies, wine and some pasta so I would have dinner if needed. In spite of not being able to speak in Italian, I felt very welcomed, safe and comfortable. When deciding to leave earlier than planned, the local coffee shop barista put me in touch with his girlfriend Marina, who spoke English. Amazingly, she offered me a ride back to Ovada train station on a Sunday. My phone was dead and otherwise I would have been stranded. Amazing good fortune and kindness. Because of such kindness I was able to safely visit this small out of the way town my Nonna grew up in, in spite of not knowing Italian, in spite of not having a car or a bicycle, or of any relatives I could look up. Mille Grazie to Irina and Marina.
Sandra
November 2015
Jenis bilik
Bilik persendirian
---
Jenis penginapan
---
Memuatkan
2
---
Bilik tidur
1
Castelletto d' orba AL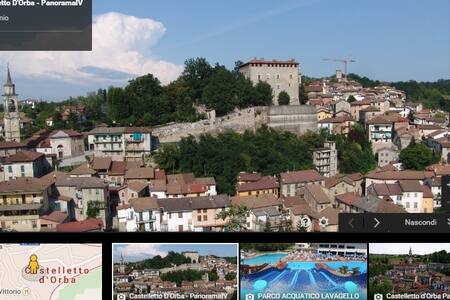 Cascina Coccione is set in a rural area on top of a hill situated in agricultural fields and vineyards on the edge of a small farming village on the municipality of Capriata d' Orba at 15 minutes from agricultural town of Gavi,Novi and Ovada. The house has a large garden with an orchard and vegetable garden available to guest. The garden has plenty of space with several secluded areas and all with a wonderful view. At the center of the garden is a large swimming pool
ground floor: two large living room one reading room with TV and DVD player two indipendent kitchens full of most moder appliance two bath room with shower box 1 st floor four bed room one bath room with shower box 2 nd floor four bed room outside two large covered areas one children area a game area with pin pong, table football, darts etc a barbeque area a tipical cantina shower and changing room The woole house,the garden and the swimming pool is exclusive use of the guest including , the barbeque area and the two covered space, the children areas and the game area During your stay there is a person available for any need. Also is included the maintenance of the green and the swimming pool. Further more under request is available a ecleaning service should be paid.
For sports the hilly area offer over 200 km of amateur cycling routes with low traffic density and splendid mountain bike trial. In the surrounding area there are various golf course such as Villa Carolina, Pineta di Arenzano, Golf club Rapallo, colline del Gavi. Near there are also riding stables and a lake with an adjoinning boarding center just 40 km aways is the beatiful Riviera Ligure ( Genova, Portofino and Marina di Varazze) With 30 minutes also important tourist and artistic town like Alba and Asti The propery is located in the high Monferrato UNESCO sponsored area full of vieyards which produce the best piemontese wines including Gavi, Dolcetto and Barbera which can be tasted in maninly surrounding wineries. The area also offer a wide selection of Taverne and Osterie where you can taste the good piemontese cousine.
Ottima accoglienza e la cascina è ancor più bella rispetto alle foto. La casa , se pur rustica offre tutti i comfort , è ideale sia per avere un angolo di pace che per divertirsi in compagnia. Stupenda la piscina completamente a disposizione degli ospiti , ottima soluzione per bambini e adulti. Il paesaggio che circonda la cascina è bellissimo e i pochi vicini di casa sono molto cordiali . Il paesino offre poco ma se si ha l'opportunità di girare con la macchina si possono visitare molti luoghi interessanti . La nostra esperienza , comunque , è stata molto positiva superando le nostre aspettative.
BARBARA
August 2015
We really loved to stay at this house! They kids adored the pool and it's the perfect place to relax and have fun, especially for big families - as they have an extra room for playing table tennis and foosball. The house (which consists of two entities which can be separately used) offers the typic Italien charm, including dishwasher and lots of beds to sleep. And Laura is a very friendly host; we enjoyed every minute and would love to come back next year!
Ulrike
August 2016
La maison est ravissante, a la hauteur des photos. Le séjour pour nous fut fort agréable 15 adultes et 5 enfants. La place et les chambres agréables. La maison est à 1h de Genova, 1h30 de Torino et Milano. Plus proche on peut aller savourer les truffes blanches d'Alba. Un très bon souvenir.
ELEONORE
August 2016
We stayed at Cascina's house for one great week. The location (close to Genova, Milano...) and point of view are amazing as well as the swimming pool and all the commodities he left for us: ping pong table, baby-soccer, barbecue, airbeds for the swimming pool as well as towels and all other practical stuff. We really enjoyed staying there for our holidays and will definilty try to come back another time. Thank you Cascina for letting us feel like home in your beatiful house.
marc
August 2015
Jenis bilik
Keseluruhan rumah/apt
---
Jenis penginapan
---
Memuatkan
16
---
Bilik tidur
8
Capriata d'Orba
La Casa Vacanza fa parte dell'Azienda Agricola Cascina Roma, un'azienda di famiglia che nel 2008 ha convertito i terreni da seminativi a vigneto Cortese di Gavi Doc e ha iniziato un importante recupero dei fabbricati esistenti concluso nel 2011 al fine di creare strutture ricettive.
La Casa Vacanza è dislocata su due piani: a piano terra si compone di ampio ingresso con divano letto matrimoniale, sala da pranzo, bagno con doccia e cucina dotata di frigo con congelatore, 4 fuochi, forno elettrico, a microonde e lavatrice; al piano superiore spaziosa camera con letto matrimoniale, un letto a castello e armadio a due ante. Il tutto arredato recuperando mobili di famiglia al fine di offrire un ambiente caldo e piacevole dove i nostri ospiti possano sentirsi come a casa loro, per un totale massimo di 2 posti letto per adulti e 2 per bambini/ragazzi. Sono ammessi fino a 2 ospiti aggiuntivi. Possibilità di usufruire dello spazio esterno antistante la cucina per pranzare o cenare all'aperto, della piscina ( non ad uso esclusivo) attrezzata con sdraio e ombrellone, del prato dove i bambini possono divertirsi giocando a calcio o a pallavolo e del portico attrezzato con tavolo da pingpong e calcetto.
In paese a circa 1 km sono presenti negozio alimentari, bar, panetteria e parrucchiera. A 3km da due importanti campi da golf, Colline del Gavi a Tassarolo e Villa Carolina a Capriata d'Orba. A 10 km dall'Outlet di Serravalle Scrivia. Percorsi nel verde in bici o a piedi. A 6 km la citta di Novi Ligure dove è possibile noleggiare bici ed è presente stazione ferroviaria. In giornata si può visitare Genova e l'Acquario, Torino, Milano, Cantine nel Monferrato, Parco Cinque terre in Ligure.
Jenis bilik
Keseluruhan rumah/apt
---
Jenis penginapan
---
Memuatkan
4
---
Bilik tidur
1
Francavilla Bisio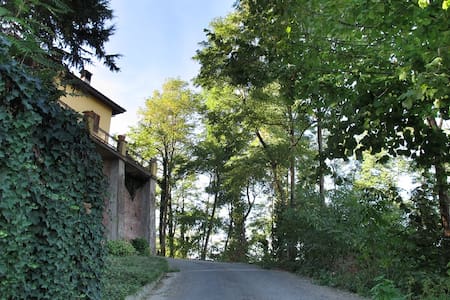 1

–

13

daripada

13 Sewaan