Situated in the Colline Moreniche del Garda. "Casa Nostra" is best suited for couples who enjoy beautiful walks, cycling or just need a relaxing break from work and the city. You'll love "Casa Nostra" - Comfort, tranquility with honest country hospitality. An area rich in nature, views, art, culture, parks, restaurants, wine and dining. POI's - Castellaro Lagusello (UNESCO) 5km, Borghetto sul Mincio 7km, Verona 44km, Mantova 28km, Pescheira del Garda 15km, Sirmione & Desenzano del Garda 23km.
1. A beautiful bedroom complete with private bathroom. 2. A small country kitchen table, coffee machine, bar fridge. 3. A small living room with TV/DVD and sofa bed to relax. 4. Casa Nostra is surrounded by the bush, enjoy the garden vistas, on clear days you can see Lake Garda.
Cavriana is a quiet, friendly Italian country village, proud of its history and cultural traditions.
Jenis Bilik
Bilik persendirian
---
Jenis Penginapan
Rumah
---
Memuatkan
2
---
Bilik tidur
Campagnolo, Lombardia, Itali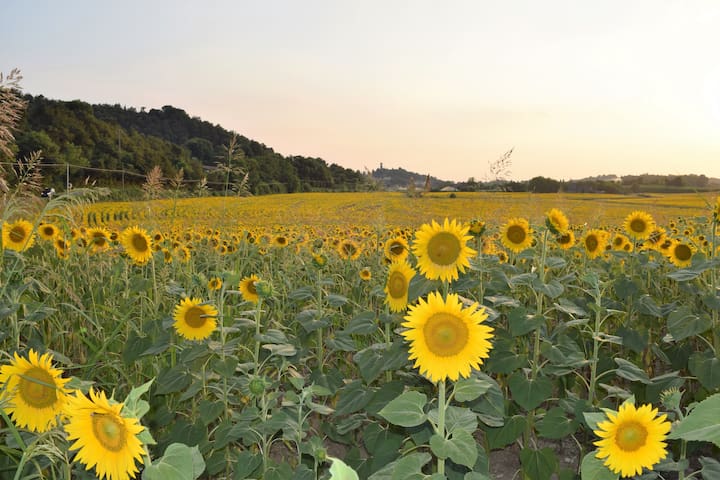 In the medieval village of Castellaro Lagusello located in the middle of the Garda Lake's hills you can find Casa Emanuela, an antique romantic country house with 2 bedrooms for 4-5 guests looking for absolute quiet but near the Garda Lake, Gardaland and the famous historic towns Verona and Mantova
CASA EMANUELA è una antica abitazione rurale che si sviluppa su 3 piani: al pianterreno ci sono 2 portoncini di ingresso, uno per la taverna abitabile con il soffitto a volta e una colonna in tufo centrale (in origine era la piccola stalla) e l'altro per l'ingresso principale con un imponente camino (in origine era la cucina) per l'accesso alle scale. Al primo piano ci sono un accogliente e luminoso soggiorno con angolo cottura, un bagno e una camera da letto matrimoniale con cabina armadio. Salendo una seconda rampa di scale si accede alla mansarda in cui sono presenti un ripostiglio privato e una seconda camera da letto matrimoniale con bagno esclusivo abbastanza grande da poter ospitare anche un letto singolo aggiuntivo. All'esterno della casa l'area del cortile-giardino puo' essere utilizzata come posteggio auto o come fantastica location per una cenetta all'aperto al chiaro di luna.
Castellaro Lagusello è uno dei 100 Borghi piu' belli d'Italia, situato nel cuore delle colline moreniche del lago di Garda a pochi Km dal lago e da moltissime attrazioni turistiche di ogni genere: Gardaland, Arena di Verona, Mantova tanto per citarne alcune. Nel borgo e nei dintorni sono presenti molti ristoranti e agriturismo per gli amanti della buona cucina e molte cantine in cui è possibile acquistare direttamente dal produttore i vini dei colli morenici. Le colline sono ricche di bellissimi itinerari per gli appassionati di mountain-bike e nordic-walking.
Sehr schönes Haus aus dem Ende des 17. (!) Jahrhunderts, liebevoll eingerichtet mit zum Teil antiken Möbeln so dass man sich eher in einem Heimatmuseum wähnt. Castellaro Lagusello ist ein schöner und typischer Ort für diese Region, es gibt ausreichend Trattorias und Retaurants (3) sowie eine Bar. Das Dorf ist sehr klein und ruhig, dennoch nicht weit vom Massentourismus des Gardasees. In etwa 15 Minuten erreicht man Peschiera und damit den See. Francesco war sehr um das Wohl unserer Familie mit drei kleinen Kindern bemüht, er stellt übrigens hochwertige Handtücher und Bettwäsche (aus eigener Produktion) in mehr als ausreichender Anzahl zur Verfügung. Das macht sich im Kofferraum bemerkbar! Ich kann diese Unterkunft nur empfehlen, bei Problemen steht Laura, die Nachbarin mit guten Deutschkenntnissen, helfend zur Seite.
Lothar
2016-07-30T00:00:00Z
Castellaro Lagusello is a beautiful tiny village in a reasonable distance form Garda lake. The place is quiet and peaceful what gives a relief, especially in summer when Garda lake is extremely crowded. Although the place is small you can find there several nice places to eat and vineyards in the surroundings. We can recommend this place.
Aleksandra
2016-08-20T00:00:00Z
Jenis Bilik
Keseluruhan rumah/apt
---
Jenis Penginapan
Rumah
---
Memuatkan
5
---
Bilik tidur
Castellaro Lagusello, Lombardia, Itali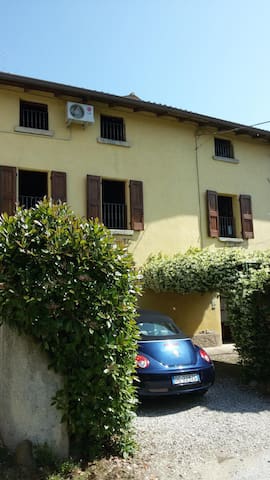 We are not too far from Verona Catullo Airport and from the railway station of Peschiera del Garda. Some amusement parks nearby (Gardaland, Movieland), little villages, Lake Garda, art and culture and beautiful panoramic views. You will enjoy the intimacy, the comfortables beds, the sky at night, sunlight, food and wine. My accommodation is suitable for couples, lone adventurers, business travelers and families with children (1 SINGLE, 1 DOUBLE BED) Info: see our blog "bb61p" on blogspot.
A well made of stone and tuff, from ancient times up to the 60s' people have continued to draw water from that. A slice of land with fruit trees, some poultries. An old country house, built in an ancient medieval court. The passion for nature, arts, travels. An empty attic, like a blank page on which we can finally write a small piece of our future. After 1 year, a simple unusable open space, has been transformed into a great example of restructuring in architectural terms and energy efficiency. Obviously, we have always worked only in the spare time, concentrating all efforts in a few available hours, every evening after our daily business hours, on all Saturdays and Sundays. Except the electrical and the hydraulic systems, every wall has been hoisted, isolated, putted and painted by us. Every finishes, cabinets, headboards, the doors, the chest, have been made with reclaimed wood; the few plasters in Biocalce (bio-matter). Nothing has been thrown, everything reused in the best way, in order to incorporate an ethical discourse, to that of pure aesthetics. The space, an entire floor inside of our house consisting of two bedrooms and a large bathroom, is now ready to host those who wish to spend some days in our beautiful borderlands, living and exploring the heart of the Morenic hills and the Lake Garda through our instructions and informative materials that will be available @ our B&B. Do you want to relax on the grass? You are in the country, many fruit plants, vines, olive trees, a vegetable garden where you will see the vegetables grow. Even barnyard animals to observe. Which animal represents you the most? Among the proposals accommodation, choose the high lair of the hare: it allows you to spy the sky at night comfortably lying on the bed, as well as the sunrise in the morning. So enjoy, you are welcome.
Pille is a little charming village frozen in time, located in the municipality of Monzambano. Walking through the streets of the village, few scattered houses and small isolated courts, you can get lost among vineyards and forests of oak and beech trees, or climb on the height of the Mount of the Cross, to admire the suspended atmosphere of the valley below. The legend says that the name of this village derives from the word "fowl" or "gushing": this place, in the past, was choosen from the shepherds for the transhumance of their livestock. Isolated from adjacent roads by the morphology of the hills sloping down to the river, the traffic noises are soon replaced by the singing of the birds and the foxes calls on summer nights. Every farm has a vegetable garden and a chicken coop, here the self is not a fad of recent years but a tireless tradition handed down from father to son. Observing from the lower lake glacial, the hills that sprout to create the High Mantua Area, on the first one you can find the castle of Ponti sul Mincio, on the second the manor of Monzambano. Both Scala family made - the territory came under the Lombarda administration only at the end of the 18th century - well explain the character of the countries in the area, arise on the fortified heights of the hills. At the beginning of time, the melting of huge glaciers that gave rise to the Benaco (the Lake Garda, today), made the moraines (glacial erratics rocks) rolling down in the valley, forming the moraine hills. Some boulders are still visible next to Castellaro Lagusello. The recent history of Monzambano, it's quite old and dates back to Roman times. Several archaeological finds, now collected in the Mantua Archaeology Museum of Cavriana ((URL HIDDEN) are evidences of this. Already in 1187 Monzambano belonged to the territory of Verona, then in 1495 came under the Serenissima Republic of Venice, as evidenced by the winged lion on the castle tower. At the end of 18th century, the Napoleon period, Monzambano came under the control of Mantua and many battles were fought here during the Risorgimento. In fact, this landscape was inside the famous "quadrilateral" defensive structure, whose vertices were the fortresses of Peschiera del Garda, Mantua, Legnago and Verona. One of the taverns in the center, "Il caminetto" (the "Fireplace"), hosted King Vittorio Emanuele II, who in 1859 met here the Count of Cavour, Camillo Benso. During the Third War of Independence, a decisive battle against the Austrians was fought right here. Even the famous heart-shaped lake of Castellaro Lagusello, is born in the post -glacial era. The fortified village that born on its banks, is a little jewel: from the legendary bell tower, to the walkway inside Villa Arrighi garden ( (URL HIDDEN) ) from which you can admire the splendor of the surrounding area. Recently, because of its importance, the "monzambanese" archeology has been declared World Heritage by UNESCO.
Il locale ben appartato sulle collinette a pochi chilometri da tutte le comodità,in casa ristrutturata con valide e belle accortezze, cortesia e genuinità sono di casa lì e la colazione di qualità. Bravi
Alessandro
2017-01-02T00:00:00Z
Sonia è un'ottima hostess, precisa e veloce nelle comunicazioni e molto disponibile. La casa è in una piccola località dove la calma e la natura fanno da regina. La camera molto accogliente e particolare, per fortuna essendo gli unici ospiti avevamo il bagno ad uso esclusivo. Ottima e genuina la colazione, che abbiamo molto apprezzato. Posto consigliato!
Paola
2017-03-19T00:00:00Z
Jenis Bilik
Bilik persendirian
---
Jenis Penginapan
Rumah
---
Memuatkan
3
---
Bilik tidur
Pille, Lombardia, Itali
Ci troviamo su una collina in mezzo al verde adatto x chi ama camminare e biciclette
Jenis Bilik
Bilik persendirian
---
Jenis Penginapan
Rumah
---
Memuatkan
2
---
Bilik tidur
Monzambano, Lombardia, Itali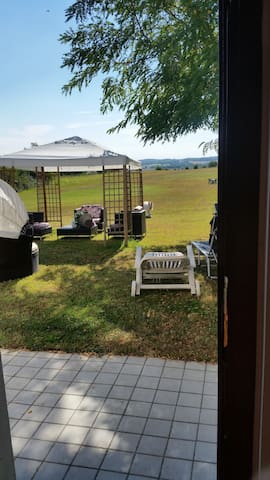 Bellissima casa singola, arredata con gusto e dotata di ampi spazi per famiglie o gruppi di amici, nel cuore di Cavriana.
Potrete ammirare il Santuario Madonna della Pieve (Santa Maria della Pieve). Chiamata semplicemente Pieve di Cavriana, la chiesa si erge isolata su un colle ed è una delle chiese romaniche più importanti e meglio conservate del mantovano.Castello. Struttura militare fondata probabilmente nell'XI secolo, fu una delle fortificazioni più importanti del mantovano, con quattro torri angolari e si ergeva sul colle dominante l'abitato. Villa Mirra, Piazza Castello 5, Di origini cinquecentesche, fu riedificata nel 1770 sotto la dominazione austriaca, utilizzando i materiali dovuti all'abbattimento della cinta muraria e del castello. La villa appartenne alla famiglia Gonzaga di Mantova e Carlo Gonzaga l'assegnò in dote alla figlia nel 1479 quando sposò il conte Odorico d'Arco.
Jenis Bilik
Keseluruhan rumah/apt
---
Jenis Penginapan
Rumah
---
Memuatkan
6
---
Bilik tidur
Cavriana, Lombardia, Itali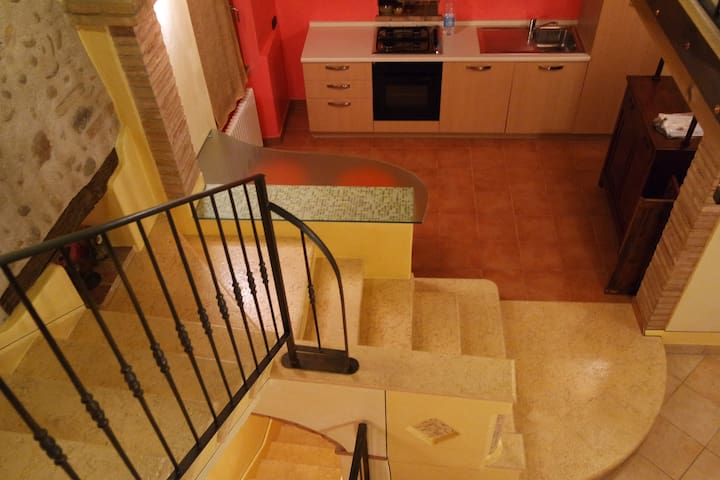 Il nostro accogliente appartamento triilocale in una casa quadrifamigliare, è immerso nel verde delle colline Moreniche del Garda. Può ospitare comodamente due persone ed è posizionato in una zona residenziale ai piedi della Rocca storica d Solferino
Jenis Bilik
Bilik persendirian
---
Jenis Penginapan
Rumah
---
Memuatkan
2
---
Bilik tidur
Cavriana, Lombardy, Itali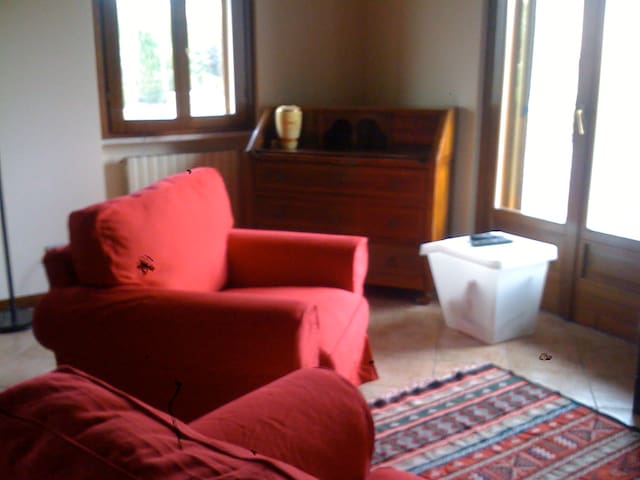 Camera con terrazzo e bagno privato immersa nel verde vicina alle maggiori attrazioni turistiche e alle piste ciclabili. Ottima per cicloturisti con posto auto all'interno del residence. La seconda camera con letto singolo a disposizione della stessa famiglia.
La camera ha un ingresso indipendente che permette grande riservatezza all'interno di una splendida residenza privata con piscina e un grande parco condominiale dove poter fare delle bellissime passeggiate. Ideale per soggiorni e visite in tutte le stagioni, posizione perfetta per esplorare il Nord Italia e il Lago di Garda. Nel giardino c'è una piscina aperta da giugno al 20 settembre e incantevoli giardini che circondano gli appartamenti, il posto auto è scoperto ma all'interno del centro residenziale vicinissimo alla casa. L'accesso è dalla strada principale che porta al Lago di Garda attraverso un cancello di sicurezza con codice.
Peschiera Del Garda è a soli 10 minuti da dove si raggiungono facilmente i Parchi del Garda: Gardaland, Sealife, Movieland e Parco Natura Viva. E' facile raggiungere tutte le strutture termali e i parchi acquatici: Sirmione, Aquardens, Gardacqua e Villa dei Cedri di Colà. Sono inoltre a disposizione dei turisti escursioni di ogni genere adatte sia a famiglie che a sportivi esperti.
I enjoyed our brief stay. Very kind host and very good breakfast. I suggest you this place for your vacation to the lake or the amusements parks nearby
Andrea
2017-03-21T00:00:00Z
My husband and me stayed at Marina's place for 6 days and had a wonderful time. The room is quite spacious with terrace and big private bathroom. We had breakfast with tasty Italian coffee each morning. Also, the swimming pool is much bigger than on the pictures :) Marina was most helpful with her suggestions and advice. The place is just 5 minutes by car to Peschiera del Garda (check out "La Plume" restaurant) and around 15 minutes from Gardaland. Highly recommended!
Una and Senad
2016-07-07T00:00:00Z
La camera e l'accoglienza sono ancora meglio della descrizione dell'annuncio. Locazione immersa nel verde con un incredibile paesaggio e ubicato vicino alle località più conosciute. Marina è' stata molto disponibile e ci ha consigliato in tutto molto bene! La zona è' piena di piccoli borghi medioevali bellissimi che lei stessa ci ha suggerito di visitare. Consigliato!
Andrea
2016-05-27T00:00:00Z
Per questioni di lavoro ho dovuto passare 3 notti a Mantova e ho trovato alloggio in questo posto delizioso,dove ho trovato la signora Marina che mi ha accolto con tanta gentilezza e cordialita. Mi sono trovato davvero bene la mattina con colazione e la sera tornato dal lavoro con deliziose cenette. Ringrazio per il riguardo datomi.
Mamadou aliou
2016-01-22T00:00:00Z
Marina est très disponible et serviable. Elle adore parler français et communiquer avec ses hôtes. Elle n'est pas avare de conseils pour les visites culturelles, découvertes gastronomiques... Son domicile est spacieux et très agréable pour un stop à proximité du lac de Garde.
Sylvie
2016-07-29T00:00:00Z
Un grand merci à Marina pour son accueil, sa gentillesse et sa grande disponibilité. Tout était conforme au descriptif. Chambre bien située pour visiter le lac de Garde et la petite ville de Sirmione. Endroit calme et reposant et possibilité de garer sa voiture sans problème.
madame
2016-06-17T00:00:00Z
Abbiamo incontrato una persona molto gioviale con cui intrattenersi. Marina ci ha messo subito a nostro agio, dandoci consigli utili su cosa vedere. Stanza confortevole e pulita, ubicata a pochi minuti dai siti turistici della zona. Ci ritorneremo presto....
lia
2016-07-23T00:00:00Z
Ho soggiornato una sola notte da Marina, accogliente e disponibile. La stanza corrisponde alla descrizione ed è in un contesto extraurbano molto affascinante.
Alessandra
2016-01-31T00:00:00Z
Jenis Bilik
Bilik persendirian
---
Jenis Penginapan
Rumah
---
Memuatkan
4
---
Bilik tidur
Monzambano, Lombardia, Itali
La casa di Novelle é adatta alla famiglia, si trova nel mezzo di una campagna tranquilla, poco distante dal Lago di Garda, ma lontana da traffico e confusione. Disponibile l'accesso alla piscina adiacente, parte di una bella struttura agrituristica.
The house is a restored country house located in the quiet village called "Novelle" of the Municipality of Volta Mantovana. The house, which is just 12,5 kilometers from Lake Garda, 20 from Therme Sirmione and about thirty from the cities of Verona, Mantua and Brescia, consists of a large kitchen, a spacious living room and two bedrooms connected, located on the first floor, both equipped with a large double bed, a single bed and a private bathroom. A third bathroom is located in a compartment outside, built at the right edge of the green garden that surrounds it. A large basement can admit your equipment. The house has a central heating system with radiant elements and two wood-burning fireplaces that make particularly comfortable stay home in the cold months.
la casa è inserita in un borgo rurale circondato da frutteti e colture intensive. raggiungibile a piedi (circa 1.5 KM) il parco acquatico Cavour. a 50 m servizio bar - ristorante con possibilità di accesso alla piscina ed alla zona benessere.
Nous avons été très bien accueillis par Vivian et Stefano, hôtes très prévenants. La maison est superbe et confortable et le jardin très agréable. Un délice pour les enfants! Nous avons passé une semaine de rêve. Une destination à recommander!
Jacques
2015-08-01T00:00:00Z
Un excellent accueil de Stephano sous la canicule italienne! Merci pour cette jolie maison dans laquelle on se sent tout de suite bien (et au frais !) et merci également à Maurizio (restaurateur voisin) pour sa piscine bienvenue et sa cuisine italienne ! Plein de petits détails sympathiques et accueillants: un téléphone pour joindre Stephano en cas de besoin, maison bien équipée (nous avons particulièrement apprécié la climatisation dans les chambres), très joli jardin fleuri et Christina la poule est une voisine discrète,pondeuse et gourmette... La situation géographique est parfaite pour découvrir Véronne, le lac de Garde (à 20mn), Mantova,Venise à 1h30 en voiture .
Valérie
2015-07-24T00:00:00Z
We enjoyed a lovely week in this house, which is really remarkable and well equipped. Due to some bad weather we made good use of the two fireplaces, it makes the house really cozy. All is there in the house including bikes to see something of the surroundings. Stefano and Vivian gave us a personal welcome and already had a nice Italian wine ready for us for after the long trip. Also during the week they were easily reachable and always willing to help. Thank you both!
Olivier
2014-05-04T00:00:00Z
Accueil sympathique d'Alessandro et de ses parents. Maison agréable située au calme et proche de lieux touristiques (30 mn) Vérone, Sirmione, Mantoue. La piscine de l'agrotourismo voisin est accessible moyennant une consommation est très utile quand il fait chaud.
delphine
2016-07-25T00:00:00Z
Stiamo stati una settimana nella accogliente e tranquilla casa di Stefano e Vivian, ospiti gentilissimi e premurosi. Abbiamo goduto della bellissima campagna e dintorni del lago e fatto grandi dormite nei comodi letti al suono delle tortore. Grazie Stefano e Vivian! e' stato un piacere conoscervi.
Lucia & Robert
2014-08-28T00:00:00Z
Stefano was great, responsive and welcoming, the house amazing in great location, fully equipped. best deal for families
koby
2014-08-13T00:00:00Z
We, two couples, spent a few days in Stefano's charming country house. A house with character, as has Christina, the chicken that shared the garden with us. You can notice that the house is lived in cared for. We liked the atmosphere. The house has two bathrooms, but one of them is semi-open. For those who care for privacy, this may be a problem. Stefano made us a personally a warm welcome and was at hand when you needed him. The surroundings were surprisingly beautiful, with several nice old villages, cheap and good restaurants and lots of green hills. Great place!
Daan
2015-09-08T00:00:00Z
We enjoyed our stay at the country house of Vivian and Stefano! We loved the place because it was in the middle of the countryside near lake Garda and near Verona. It was out of the touristic zone of Garda lake but only 15 minutes by car if you want to go there. The house is very good equiped and personal decorated, very cosy and air conditioned which was needed at the time we were there. The garden is beautiful and there are lots of birds and ripe BlackBerries ready to eat (fruity breakfast!). We loved the two hens: Christina and Bianca who both offered us an egg every day : ) The beds and sofa's are very comfortable. You can walk around in the surrounding where you can have beautiful vieuws! The communication with Stefano was very good and Vivian showed us the house and suprised us with a bottle of region wine and fresh fruit. We would recommend the house to anyone who loves the countrysite, peaceful surrounding, nice and comfortable athmosphere in a house. Thank you Stefano and Vivian for having the opportunity to stay in your house. All the best, Pauline & Family
Pauline
2013-08-04T00:00:00Z
Jenis Bilik
Keseluruhan rumah/apt
---
Jenis Penginapan
Rumah
---
Memuatkan
6
---
Bilik tidur
Volta Mantovana, Lombardy, Itali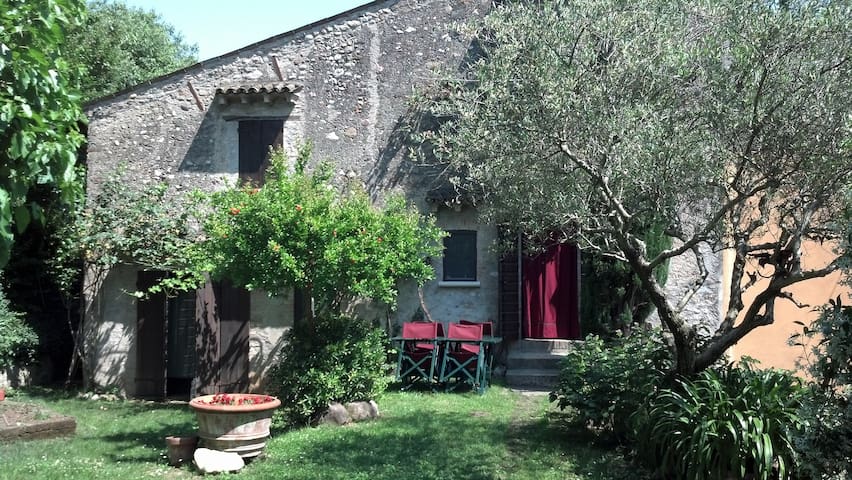 Casa Vacanza in un contesto rustico, con ampio giardino, formata da soggiorno, cucina e 2 camere da letto con bagno privato.
Beautiful, quite and full of charme. Superb home made breakfast. Confortable and in the middle of nature! Strongly suggested.
Luigi
2017-04-02T00:00:00Z
Accueil très chaleureux et familial de Valeria et Enrico. Cadre de vie très agréable, très bien placé pour visiter le nord de l'Italie . Valeria a tout fait pour rendre notre séjour agréable. Super petit déjeuner (très bon gâteau home made!!) . Bonjour à Cake :-))
georges
2016-07-26T00:00:00Z
Jenis Bilik
Keseluruhan rumah/apt
---
Jenis Penginapan
Rumah
---
Memuatkan
4
---
Bilik tidur
Monzambano, Lombardy, Itali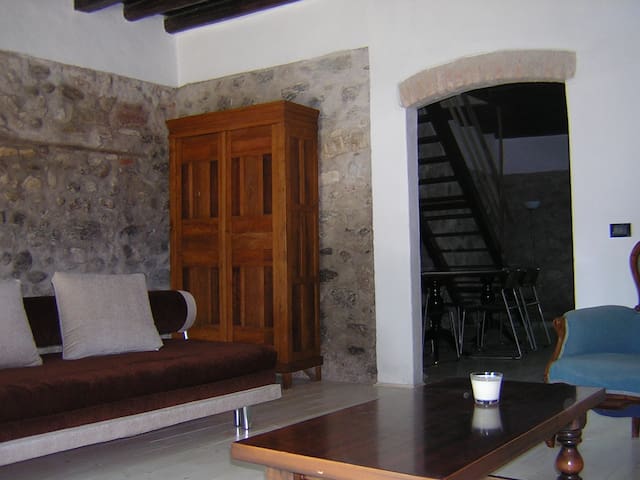 Unser Haus liegt inmitten von Weinbergen und Sonnenblumenfeldern. Es erwartet Sie absolute Ruhe und stressfreie Erholung und trotzdem sind Sie in nur fünf Minuten am See. Insgesamt gruppieren sich 6 Häuser um einen Swimmingpool, es ist somit auch für Abkühlung gesorgt. Unser Haus wird von uns auch privat genutzt und so haben wir es sehr individuell eingerichtet. Zeitgenössische Kunst im Haus und Garten gehört dazu. Es gibt zwei abgeschlossene Schlafzimmer, eines mit Doppelbett und eines mit zwei einzelnen Betten. Das Badezimmer wurde im Jahr 2013 teilrenoviert und mit einer schönen neuen ebenderdigen Dusch ausgestattet. Da das Haus nicht direkt am See liegt, ist ein Auto unbedingt notwendig. Einkaufsmöglichkeiten und Restaurants sind nicht in unmittelbarer Nähe. Es gibt auch keine öffentlichen Verkehrsmittel. Mailand und Venedig sind ca. 120 km entfernt, beide sind mit dem Zug mehrmals täglich erreichbar. Verona ist in 30 Min. zu erreichen und das beliebte Gardaland in 20 Min. WICHTIG: Unser Haus kann nur wochenweise von Samstag oder Sonntag zum nächsten Samstag oder Sonntag gebucht werden. Mindestmietzeit ist eine Woche.
Jenis Bilik
Keseluruhan rumah/apt
---
Jenis Penginapan
Rumah
---
Memuatkan
4
---
Bilik tidur
Peschiera del Garda, Veneto, Itali
La Casa delle Essenze è una casa su due piani, ristrutturata con gusto e con tutti i confort. Situata nel cuore di Solferino con una splendida vista sulla campagna, è vicina al Lago di Garda, Desenzano, Peschiera, Mantova e Verona. Siamo inoltre a soli 10 minuti in auto dal Chervò Golf San Vigilio , Confortevole, rilassante, intima la nostra casa vi immergerà nella natura. Dotata di climatizzatori e impianto di acqua calda solare. Per soggiorni con 5 persone contattatemi per il prezzo.
L'alloggio comprende due camere matrimoniali: La camera azzurra composta è da un letto matrimoniale e bagno privato con vasca , mentre la camera rosa è composta da un letto matrimoniale e un lettino singolo con bagno privato provvisto di doccia. Inoltre al piano terreno nella saletta TV c'è un divano letto. Bollitore per scaldare l'acqua, macchinetta del caffè e frigorifero. Climatizzatore in tutte le stanze, pale ai soffitti nelle camere. Star kit da Bagno ( bagnoschiuma/shampoo )
Hem passat una setmana molt agradable a Solferino. A banda de la història del poble, és un poble ben situat, i molt tranquil, que ens ha servit de base per explorar la zona del Llac Garda, Mantova i Verona. Pel petit que és, el poble té un munt de restaurants on hem menjat de meravella. La casa disposa de suficient espai per 5 persones, i l'aire condicionat s'agraeix molt. Per nosaltres, que som 5, un petit inconvenient ha sigut que no hi ha rentaplats.
Marc
2016-08-24T00:00:00Z
La maison est très bien située dans Solférino, à côté des commerces, dans une jolie rue. Village très sympa le soir pour l'apéro, la glace après la pasta... Les restos, bars et glaciers fermaient tard en août! Très jolie vue du balcon sur la campagne. A 10-15 km du lac de garde, lac que l'on peut voir du haut de la tour de Solferino. Incompréhension concernant le 2ème lit de la chambre., disponible seulement si vous êtes 5, et non 4. Maurizio, qui aide Rosa, est charmant et très arrangeant, un plaisir.
Caroline
2016-08-13T00:00:00Z
Un séjour formidable dans une maison ancienne de charme décorée avec soin, confortable, 2 sdb, 2 chambres un balcon, au coeur d'un petit village sympathique. Rosa et Mauricio ont été accueillant et bienveillant, des hôtes remarquables. La maison est située à 20 minutes du lac de garde. La région vaut vraiment le détour!
Victor
2016-08-06T00:00:00Z
Soggiorno molto piacevole in una casa molto bella, particolare e pulita, ben fornita di tutto il necessario. Ottima accoglienza da parte di Maurizio e Rosa. Ci ritornerei volentieri.
Chiara
2016-08-29T00:00:00Z
Jenis Bilik
Keseluruhan rumah/apt
---
Jenis Penginapan
Rumah
---
Memuatkan
5
---
Bilik tidur
Solferino, Lombardia, Itali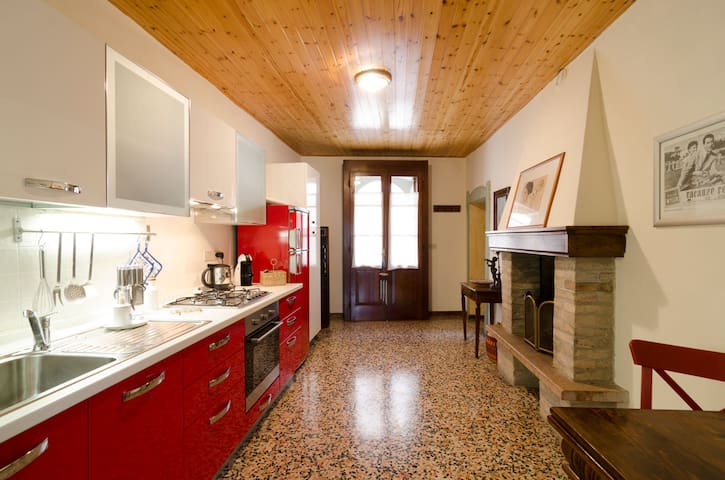 Una ampia casa indipendente nelle colline moreniche del Lago di Garda
La casa, di circa 120 m2, libera su 4 lati, è composta da due camere un bagno, sala, cucina. parcheggio privato. Ogni camera da letto è dotata di condizionatore, tv. E' situato nel paese di Solferino della Battaglia. Ideale per momenti salutari e rilassanti all'insegna del benessere e delle buona cucina.Immerso nel verde delle colline moreniche. La vicinanza al lago di Garda, al Parco del Mincio e alle falesie di Marciaga, Virle, Maddalena lo fanno meta per gli sport : la vela, il windsurf, kitesurf, trekking, nordic walking, bicicletta, arrampicata. Non distante da città d'arte come Mantova, Verona offrono la possibilità di una vacanza culturale il tutto condito dagli ottimi piaceri enogastronomici che le terre del Garda e le pianure Mantovane sapranno offrire. Parcheggio privato per auto, moto e camper. Situato a Solferino della Battaglia: 15 Km Lago di Garda 15 km Desenzano 15 Km Sirmione 20 Km Gardaland 15 Km Terme di Sirmione 15 Km Terme di Cola 30 Km Mantova 35 Km Brescia 35 Km Verona
Highly recommendable quiet spot with plenty of space in an ideal rural location close to Lago di Garda. We checked in after midnight without any problems after a visit to the opera in Verona, as the keys were waiting for us in a coded box. Bring all your food and drinks, as supplies in the village are very limited.
Karin
2016-08-12T00:00:00Z
The appt is like described, everything ou need is in place, Marco always answered promptly, so everything's fine...
Ingo
2016-09-04T00:00:00Z
Ottima soluzione sia per gamiglie che per gruppi di amici. Grande appartamento con ogni comfort. Great host! Raccomandatissimo!
Casa
2016-10-31T00:00:00Z
Lo consiglio! Appartamento ampio con una bella terrazza e io ed il mio compagno con la bambina ci siamo stati divinamente. Tutto ben accessoriato e pulito. Inoltre ha un cortile interno, dove si puo' parcheggiare la macchina, e un giardino nel retro. Marco, seppur non abbiamo avuto modo di conoscerlo di persona, é stato molto disponibile a darci le informazioni necessarie. Situato a Solferino in zona comodissima e tranquilla, per visitare le zone limitrofe di interesse storico ma anche per raggiungere i parchi di divertimento sul Lago di Garda.
Eleonora
2015-05-19T00:00:00Z
La casa è molto bella e spaziosa, la cucina è ben attrezzata e la zona tranquilla e silenziosa. La posizione è ottima, a quaranta minuti di auto da Mantova e Verona, e molto vicina al lago di Garda. Non abbiamo incontrato Marco di persona ma è stato sempre super disponibile via sms/(SENSITIVE CONTENTS HIDDEN). Abbiamo anche molto apprezzato i posti che ci ha consigliato nelle vicinanze, senza di lui non avremmo mai scoperto Borghetto. In caso dovessimo tornare in quella zona, terremo sicuramente in considerazione la sua casa.
Niccolò
2016-04-11T00:00:00Z
Siamo stati ospiti nell'appartamento di Marco io e altre due persone per un bel giro sul bellissimo Lago di (URL HIDDEN) descrizione dell'appartamento è molto fedele....ampio,comodo e molto organizzato...le stanze sono grandi e la cucina ben attrezzata...da Solferino si raggiungono in poco le bellissime Sirmione e Lazise e in una 20ina di minuti si è dentro Gardaland....Marco è stato molto disponibile,ben organizzato e sempre rintracciabile...siamo stati proprio (URL HIDDEN) lo consiglio!!!!
GIORGIA
2015-08-21T00:00:00Z
Marco was a very nice and friendly host. He explained everything that we were going to find in the house and let us settle down. The house was as expected.
Laurent
2014-08-23T00:00:00Z
Marco was a very friendly and accommodating host. His upstairs apartment was very spacious, clean and comfortable. He was very helpful in giving us directions and advice for local amenities and attractions. We tasted the best gelato in the small market square only a short walk away. We highly recommend a short drive to the town / tourist attraction of Sirmione on the southern shore of Lake Garda. It was a beautiful backdrop for sunset and was alive with people out strolling and enjoying an evening meal. We would highly recommend Marco's apartment and this location for those exploring the north of Italy en route to Verona and Venice.
Tom and Anne
2013-09-23T00:00:00Z
Jenis Bilik
Keseluruhan rumah/apt
---
Jenis Penginapan
Rumah
---
Memuatkan
6
---
Bilik tidur
Solferino, Lombardy, Itali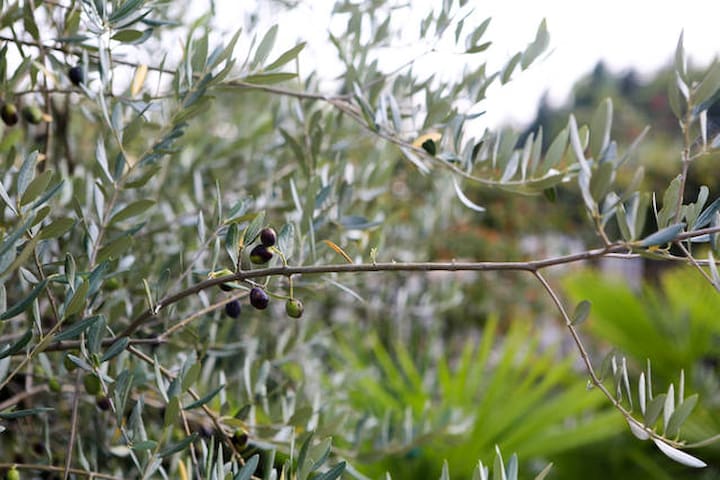 "The Residence Sweets Bridges" is presented as a head terraced house with garden and private solarium. The 150 square meter house on three levels and 'so' divided: entrance on the ground floor of large living room, kitchen and large bathroom with shower; On the first floor, two bedrooms, air-conditioned and bathroom with (URL HIDDEN) basement A fitness area. For families with small children there is the possibility of adding a bed with rails and boxes. In front of the house you will also find a large car park, a playground for children, a basketball court and a bar with bowling alley.
Een heel fijn appartement, lekker ruim. Alles was aanwezig. Een hele aardige eigenaresse. Wij voelde ons thuis in het appartement. Heel goed.
Anil
2015-08-07T00:00:00Z
L'accueil de Nadia et de sa Maman a été très agréable et cordial. La maison est belle, commode, avec une cuisine (URL HIDDEN) de tous les éléments que l'on peut souhaiter pour un stage de vacances. UN PLUS: l'aire conditionné dans les deux chambres et des très bon ventilateurs dans d'autres endroits de la maison. Le quartier es très joli et calme, à quelques minutes de l'autoroute, ce qui nous a permit d'arriver à l'ARENA de VERONA dans maximum 20 minutes. Le Lac de Garde (Garda et Sirmione) est littéralement à côté. Je recommande très sincèrement cet endroit. Jorge Schifferli
Jorge
2016-07-16T00:00:00Z
Accoglienza molto cordiale. Si tratta di un quartiere residenziale molto tranquillo. Davanti alla casa è presente un piccolo parco giochi.
Daniela
2016-09-12T00:00:00Z
Maison spacieuse et bien équipée dans un quartier calme et agréable. Les hôtes étaient charmants. La maison se trouve à 10 min du lac et des grands axes pour se rendre à Vérone. La climatisation est un avantage apprécié pendant les grandes chaleurs. A recommander.
philippe
2016-08-21T00:00:00Z
We stayed 6 nights in Nadia's wonderful house. We have 4 daughters, and this house was just the right size for us. The house was very clean and tidy, the location is excellent for reaching the southern Garda attractions (Gardaland, Canevaworld, Sermion). The neighborhood was nice and quiet, aside from a visiting amusement park that coincided with our visit and was placed right in front of the house (but they stopped the activities 2300 sharp every night). The kitchen had all the utensils for cooking any type of meal. A very large and convenient Simply supermarket is 8 minutes away, and had everything, including a good selection of gluten free products. We enjoyed our stay very much. We also want to thank Nadia and her father for waiting for us to arrive so late at night, to show us around the house. Molte grazie!!!
Eshed
2016-08-03T00:00:00Z
The huge house which Nadia has is much suitable for a big family whom prefers a home feel stay. The house is at a nice and quiet neigbourhood in the quiet town. Usefull if you have a car and just a short distance to Lake Garda and the attractions around the area.
Ishmayel
2016-08-16T00:00:00Z
We had a great week at Nadia's place! Didn't want to leave... The house was huge: entrance floor with living room, kitchen and bathroom, second floor with two sleeping rooms and bathroom, and basemant with gym facilities. The house was equipped with every little detail you can think of, so it was super convinient. The area is beautiful, and very close to the main attractions in Garda Lake. Nadia was so kind, warm and helpful. We and our kids are very grateful and so happy we found this gem.
ronit
2016-07-08T00:00:00Z
Grazie a Nadia io e la mia famiglia abbiamo soggiornato in modo a dir poco perfetto! Ci siamo sentiti a casa nostra, in un ambiente elegante, spazioso, pulito e ricco di comodità! La casa dista pochi kilometri dalle attrazioni principali. La zona residenziale è molto silenziosa ed ideale per trascorrere in tranquillità le giornate. Padroni di casa molto ospitali, accoglienti e discreti. Se dovessimo tornare sapremmo sicuramente dove andare! Ancora grazie a Nadia per tutto!
Umberto
2016-07-24T00:00:00Z
Jenis Bilik
Keseluruhan rumah/apt
---
Jenis Penginapan
Rumah
---
Memuatkan
7
---
Bilik tidur
Ponti Sul Mincio, Lombardia, Itali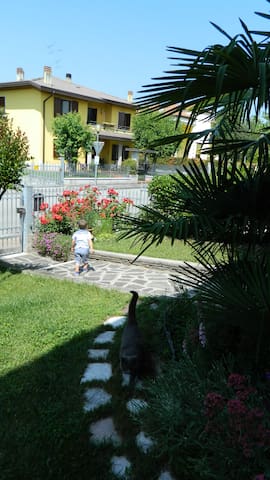 Per chi vuole trascorrere le vacanze a contatto con la natura ma a due passi dalle mete turistiche e dai principali servizi. Immersa nel verde con piscina, campo da calcetto, green volley. Ideale per famiglie ma anche per coppie di amici.
Una dependance appena ristrutturata di ca 140 mq disposta su due livelli con grande soggiorno/cucina a doppia altezza. Le grandi vetrate dilatano lo spazio interno verso l'esterno, a diretto contatto con il verde e la piscina in un'atmosfera di grande relax.
La casa è in campagna ma a 500 metri si trovano il supermarket ed i principali servizi di uso quotidiano. A soli 3 km, seguendo il corso del fiume Mincio, si arriva a Borghetto classificato fra i più belli borghi d'Italia.
Very nice place to stay. Nice hosts. Clean pool and they were a so nice family!
Alexander
2016-08-04T00:00:00Z
Hôte très sympathique habitant à côté donc très disponible tout en étant très discrète. Maison tout confort avec air conditionné et piscine privée très agréable devant la baie vitrée du salon. Énorme et superbe jardin boisé. Isolé dans la nature mais commerces très proches. Adresse d'une rare qualité.
Antoine
2016-08-14T00:00:00Z
The host canceled this reservation 164 days before arrival. This is an automated posting.
Alex
2017-02-19T00:00:00Z
Jenis Bilik
Keseluruhan rumah/apt
---
Jenis Penginapan
Rumah
---
Memuatkan
7
---
Bilik tidur
Forneletti, Veneto, Itali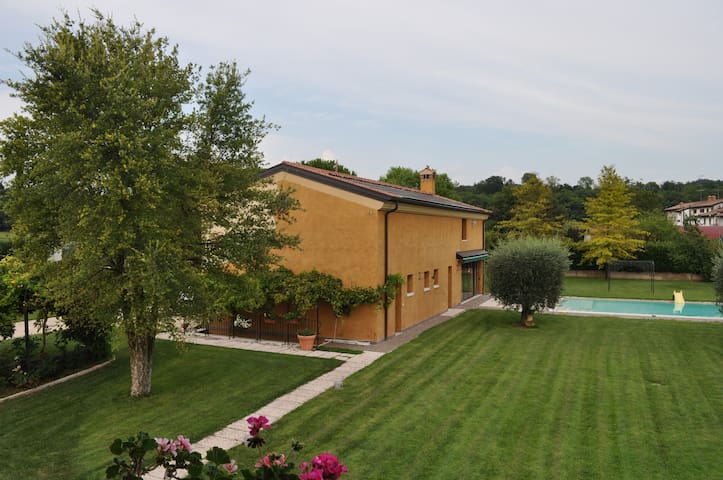 attic with private entrance spectacular private garden overlooking the lake, wi-fi, pin pong, trampoline, hilly area, surrounded by greenery and a five minute drive from the lake and center of the country, air conditioning and fireplace
Air conditioning, large double bedroom with third bed availability and access to the terrace. Living room with fireplace and sofa bed, large terrace equipped with table, chairs, umbrella and chairs and sitting area. Kitchenette to view with electric oven and refrigerator with freezer, dishes etc with pots. Bathroom with shower toilet bidet sink and washing machine. On the ground floor entrance hall with access to the apartment staircase and access to private garden with pin pong, trampoline for children and other games. Private shaded parking.
residential area surrounded by greenery and tranquility with outstanding views
Abbiamo passato dei giorni meravigliosi. La vista sul lago è bellissima. È un luogo molto tranquillo e la casa ha tutte le cose necessarie. La proprietaria ti fa sentire proprio a casa. È molto disponibile e raccomanda ristoranti, luoghi per visitare... Ritornerei senza dubbio!
Marta
2016-05-01T00:00:00Z
Accoglienza estremamente calorosa, al di là di ogni aspettativa. Gentilezza ed ospitalità della proprietaria che ci ha accolto con i nostri 3 cani e ci ha riservato tante piccole attenzioni molto molto gradite.
Simone
2015-10-25T00:00:00Z
È stata una esperienza molto positiva! Ci siamo sentiti come a casa. La zona molto bella e tranquilla con una vista spettacolare sul lago e Monte Baldo. Appartamento molto pulito, molto carino e molto particolare con quadri emozionanti. Dentro c'è tutto e non manca niente. Parcheggio privato, giardino con la tavola da ping-pong, bellissimo nuovo camino, la terrazza dove potete rilassarvi e godere tramonto con un bicchiere di vino della zona. La Signora molto gentile e sempre disponibile. È stato molto dispiaciuto andare via e sicuramente torneremo di nuovo!
Anton
2015-05-02T00:00:00Z
Jenis Bilik
Keseluruhan rumah/apt
---
Jenis Penginapan
Rumah
---
Memuatkan
5
---
Bilik tidur
Peschiera del Garda, Verona, Itali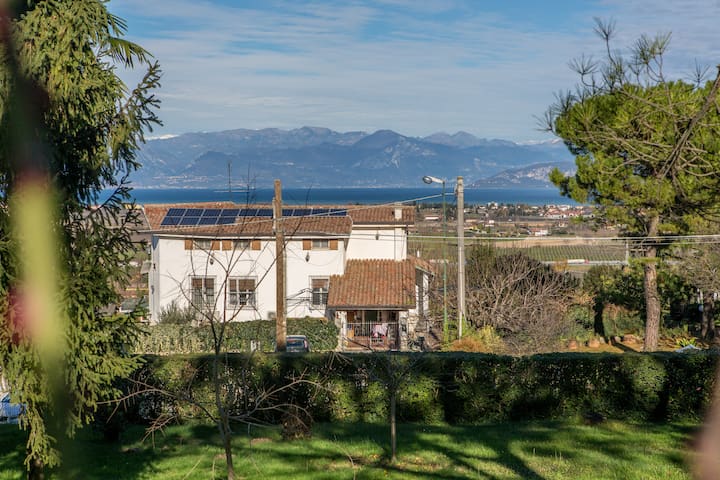 spacious and cozy house with sunny terrace, located in the historic center of Ponti sul Mincio, a small town just 3.5 km from Peschiera del Garda, 10km from Borghetto (Valeggio s / M), 25km from Verona and 35km from Mantova. There are numerous activities in the surrounding area; beautiful path that leave the country along the river Mincio coming to Mantua. Nearby are golf courses, park Sigurtà, Gardaland, Caneva, equipped dog beach, spa and much of sirmione
Two very spacious closets in the bedrooms A bathroom with shower and another with bathtub and shower. In the kitchen you will find a coffee machine with pods of OFFERS from us A spacious and sunny terrace with a table
Jenis Bilik
Keseluruhan rumah/apt
---
Jenis Penginapan
Rumah
---
Memuatkan
6
---
Bilik tidur
Ponti Sul Mincio, Lombardia, Itali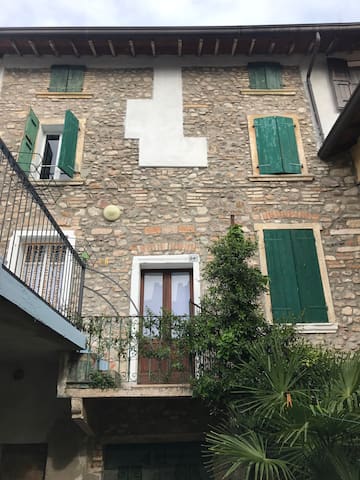 The house is in the historical center of Volta Mantovana It can comfortably accommodate up to 6 people ( in 2 double beds and a sofa bed ) and is located 20 minutes from Lake Garda . The kitchen is equipped with every comfort and all the accessories needed for cooking .
Nice apartment next to Lake Garda. My apartment is a 4centuries old building in the heart of the historical centre of Volta Mantovana, 20 minutes from the Lake Garda. The apartment has 2 floors, it is thus very bright and well lit. A heating system is available in case it gets cold. The bedroom is on the 2nd floor and it has 3 large windows and a private bathroom. The apartment is equipped with a kitchen and a living room. On the ground floor there is also a room to store your bikes . I will provide clean sheets and clean towels, and I can also add an extra double bed upon request. If necessary I can also provide a cot for children up to 3 years. WI-FI Internet is available with a modem WI-FI Mobile you can take with you anywhere, with 1 GB of traffic data available for each day of use . - CHECK IN: after 14:00 p.m. - CHECK OUT: before 10.00 p.m. Please note that you can leave your luggages here and pick them up at your convenience. I confirm check-in in advance, so please be punctual and reliable. Thank you. I will make sure your stay is as comfortable as possible and provide the information you require to make the most of your stay in this wonderful city.
My apartment is very central so I recommend walking everywhere. The apartment is 5 minutes by foot from the Historical Gardens of Palazzo Gonzaga, the church and the castle and a 15 minutes drive to the lake.
Fantastic apartment in the heart of the old town. Nicola's brother, Alberto, welcomed us and talked us through the many points of interest in and around the area. Would go back tomorrow!!
rich
2016-05-08T00:00:00Z
Todo muy bien y agradable Volta Montovana es un sitio muy agradable para disfrutar unas vacaciones tranquilas y en familia. La zona tiene muchos atractivos para visitar. La casa es muy practica y funcional, el sitio es tranquilo. Alberto nos ha indicado con mucha precision y dedicación todos los sitios que podíamos visitar tanto el el pueblo como en la zona, Muchas gracias y felicitaciones
Martín
2016-08-14T00:00:00Z
My family and I had a lovely stay at Nicola's place! It is a perfect house for 4 people. Clean, comfortable, located in a very nice small town. Supermarket, reataurants, ice cream place, bigger cities and Lake Garda are all very close. Nicola and Alberto went out of their way to help with everything. They are very easy to communicate with and super helpful. We came through bad traffic and had to text them we were running late but they had no problem with it. They also recommended a few places to visit. We did and were not disappointed! (Go to the gelateria they recommend!! You'll thank them later!) I would absolutely give a big thumbs up for them and their place!
Janka
2016-07-23T00:00:00Z
We had a great time in Volta and in Nicolas apartment. Apartment was realy great, and even better than on pictures. It had everything, and his brother greeted us when we came, and spent nerly and half an hour to describe everything about house and near it, for us to visit and try. Realy a great experience.
Nikola
2016-09-26T00:00:00Z
Nicola e' stato veloce nelle comunicazioni prima e dopo la prenotazione , molto cortese e puntuale e ci ha consigliato sia ristoranti che zone da visitare. L'ambiente era confortevole, pulito e accessoriato. Le foto sono certificate e rispecchiano la realta', inoltre la casa e' piu' grande di quello che sembra. La zona e'molto bella peccato essersi fermati cosi poco;molto vicino al Parco Sigurta'di Valeggio sul Mincio , Mantova e Lago di Garda.
Luca
2015-05-12T00:00:00Z
+ Very friendly Lots of space Good location Friendly neighborhood - Some Insects and bugs in the house Overall: 8.5/10
Janek
2016-08-05T00:00:00Z
Wir haben uns sehr wohl gefühlt, genügend Platz, sauber und zentral, Parkplatz vorhanden, Nicola sehr hilfsbereit und nett.
Frank
2015-09-06T00:00:00Z
L'accoglienza di Nicola è stata molto puntuale e professionale. Siamo stati anche accompagnati presso il Palazzo Gonzaga per poterlo poi visitare. Casa grande e funzionale. Il sito è particolarmente strategico per chi volesse affrontare percorsi cicloturistici di notevole interesse. Grazie e...a risentirci. Ciao Ancilla e Fabrizio
Fabrizio
2015-04-04T00:00:00Z
Jenis Bilik
Keseluruhan rumah/apt
---
Jenis Penginapan
Rumah
---
Memuatkan
6
---
Bilik tidur
Volta Mantovana, Lombardia, Itali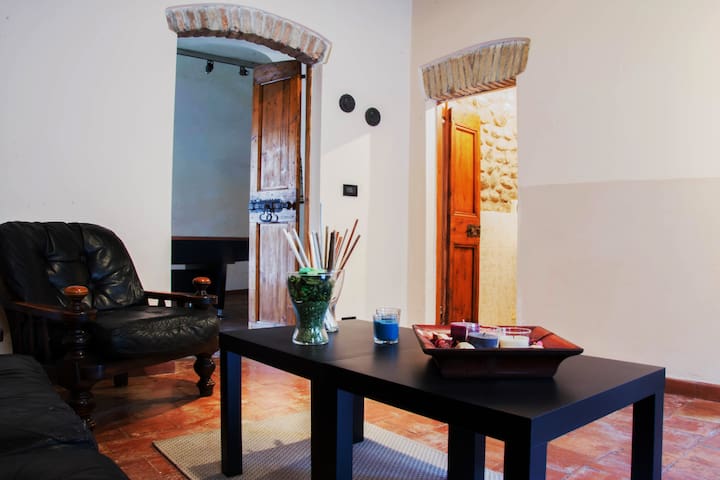 La nostra caratteristica casa, un pezzo di storia locale, è immersa nella natura e vicino a parchi, arte e cultura e splendide viste panoramiche. Il mio alloggio è perfetto per amanti della natura, del relax, a chi ama esplorare in bicicletta o motocicletta i dintorni e scoprire le eccellenze gastronomiche ed enologiche locali, visitare i siti storici o semplicemente prendere il sole al lago. Adatto a coppie, gruppi di amici, avventurieri solitari e famiglie con bambini, ma non solo.
Völlig aus Stein, unser Haus ist groß, auch wenn es nur 4 Personen beherbergt. Wir haben einen eigenen Eingang, ein Wohnzimmer eingerichtet mit antiken Möbeln und alten Schmuck und Bücher in den Regalen. Die Küche, die in ursprünglichen Landhausstil, ist riesig und ermöglicht es Ihnen, zu den schönen privaten Garten, wo Sie Ihre Mahlzeiten genießen oder einfach zwischen einem interestig Besuch der hystoric Plätze in der Nähe oder eine Weinprobe in einem der Mai Keller präsentiert in Pozzolengo und sorroundings entspannen . Auf der ersten Etage haben wir ein gemütliches Schlafzimmer mit Doppelbett und ein weiteres größeres Zimmer, das aus einem Schlafsofa zur Verfügung gestellt wird, das ist eigentlich ein sehr bequemes Doppelbett, das ohne es jeden Tag Falten immer bereit gelassen werden kann. Das Bad ist zwischen den Zimmern, mit Dusche und Waschmaschine.
Das Haus liegt zwischen Weinbergen, in einem magischen und einsamen Platz gestellt. Offensichtlich Geschäfte sind nicht in der Nähe, aber Sie können alles, was Sie brauchen in ca. 5 Minuten mit dem Auto zu finden. See ist auch leicht erreichbar mit dem Auto in die Stadt Peschiera. Für Ihre Kinder ness, sind die Freizeitparks wie Gardaland oder Filmstudios 10 Minuten mit dem Auto zu.
I didn t meet Veronica at our stay in Pozzolengo but Renato and Maria Rosa, the owners and our hosts. We had a great time at this beautiful house. Renato & Maria Rosa live next door and are very welcoming, warm and helpful. They know a lot about the region and can give many tips. The house is very well equipped and set in a very beautiful and quiet region pretty close to the lake. From there we did many nice tours round the lake and to Verona. We enjoyed our time and can highly recommend this place.
Johanna
2016-08-07T00:00:00Z
Die Gastgeber waren sehr Zuvorkommenden und Freundlich. Wir haben uns sehr willkommen und wohl gefühlte. Ein schönes Haus in mitten von Weinbergen und weg vom trubel. Für die Kinder war es ein tolles Erlebnis und sie wurden von den Gastgebern sehr geschätzt.Wir würden diese Unterkunft jederzeit wieder auswählen. Danke für alles. Es waren tolle 12 Tage.
Yunus
2016-08-20T00:00:00Z
Jenis Bilik
Keseluruhan rumah/apt
---
Jenis Penginapan
Rumah
---
Memuatkan
4
---
Bilik tidur
Pozzolengo, Lombardia, Itali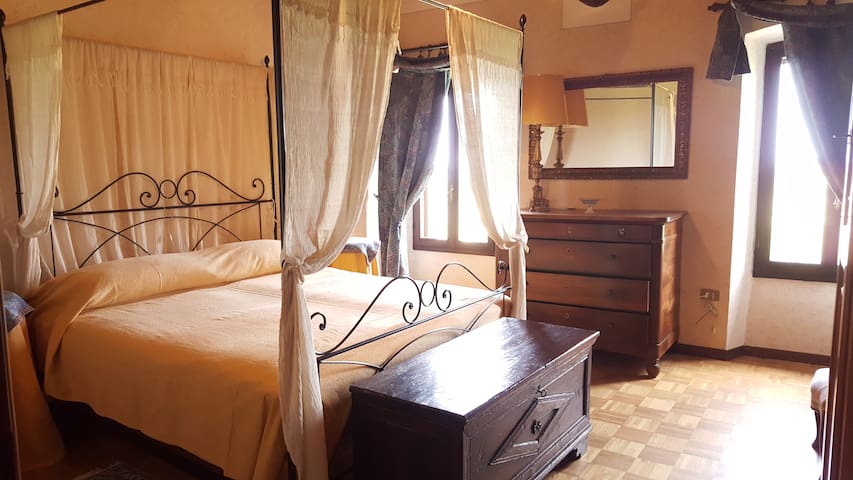 Castellaro Lagusello - Airbnb
:
Purata

4.6

daripada

5

daripada

191

ulasan tetamu
1

–

18

daripada

37 Rumah Sewa
Masukkan tarikh untuk melihat harga penuh. Yuran tambahan dikenakan. Cukai mungkin akan ditambah.