Denali retreat cabin is located outside Denali National Park across 49th State Brewery. The cabin has hot and cold shower, stainless steel appliances, granite counter top, heated, hot tub, bicycles, and sleeping bags. Hot tub waiver must be signed prior to completing your reservations.
Our cabin has excellent location for someone whats to relax and rejuvenate.
Jenis Bilik
Keseluruhan rumah/apt
---
Jenis Penginapan
Kabin
---
Memuatkan
6
---
Bilik tidur
Denali National Park and Preserve, Alaska, Amerika Syarikat
This is a guided remote Alaska wilderness experience in wilds of Alaska. This requires a five mile hike through the Alaska wilderness. Only for the physically fit and those that want a real Alaska experience. It is fully guided trip but guests have a private cabin. A lake offers fishing.
This is the real wilderness Alaska experience and only those that don't mind this type of experience should attempt it. No running water or electricity. A wood stove provides the heat.
The place is wild as it gets so be ready to see animals and still have the protection of a cabin. The cabin sits next to Denali National Park and is for those wanting extreme Alaska adventure. Not for those that want the five star hotel experience. You can see Alaska by looking out a window of a car, bus, train or plane or you can walk through it and experience it.
The Bush cabins are an absolutely amazing experience and I highly recommend it to anyone looking for a challenge. Mike is an amazing host/guide. He will push you and challenge you, but he knows the land out there inside and out and if you accept the challenge you will see some of the most beautiful scenery you have ever experienced. We spent 4 nights out there and enjoyed every minute of it. It did not take us long to realize that Jesus wants us to be happy, and so does Mike (you are sure to hear this line multiple times if you spend time with Mike). If you are planning on taking a trip to the Bush cabins, be sure to listen to all of Mike's directives before coming up. Rubber muck boots are absolutely necessary, and, as Mike will say, rain gear is survival gear, so do not skimp on this either. Again, this is the experience of a lifetime, you will not find a more true Alaska experience.
Kyle
2016-06-19T00:00:00Z
It is difficult to judge which was more spectacular: the hike to / from the cabin, the view from the cabin or the great pancakes with freshly picked blueberry's Mike made us in the morning. Mike is a great host who will guide you through the wilderness. Note that the hike is a bit more strenuous than an ordinary hike as you need to walk on rubber boots (rather than regular hiking shoes) as you will be passing some meadows/swamps with ankle deep water. You will also need to cross a river on a suspension bridge, so you need to be a bit adventurous. Once you get to the cabin, you will be right in front of a small lake with beavers coming out during the evening. The cabin is really basic with a couple of bunk beds and no running water. However, the scenery is so beautifull that you don't want to spend time inside, but stay out on the deck. Mike cooked us a simple dinner in the evening and delicious pancakes in the morning. We would highly recommend Mike to anyone and if you have the time, try to stay an extra night which would allow for a nice hike in the area.
Sander
2015-08-13T00:00:00Z
Hiking out to the cabin with Mike was an amazing experience, definitely the highlight of our trip to the Denali area and one of our favorite experiences of our entire two week trip. It was wonderful to get out away from the crowds and see the Alaskan wilderness at its best while getting to know Mike and learning about the area. The day hike to the high country provided additional time to connect as a family and appreciate the grandeur of The Alaskan range.
Karin
2016-07-01T00:00:00Z
The wilderness cabin was truly a wilderness cabin - a 5 mile hike out including crossing glacial river on a makeshift bridge, a midnight hike through the swamps and finally a magnificent view of the cabin. Mike was an excellent guide, getting us to a private location on trails he himself blazed. The cabin itself was well built and warm, with excellent views.
Roman
2016-07-13T00:00:00Z
The trip to the bush cabin was ABSOLUTELY wonderful, and we wish we could have stayed even longer taking in the view and surroundings. The hike there and back was definitely challenging, but we felt such a sense of accomplishment after making it through. We would recommend this experience for anyone who wants to truly see Alaska with some incredible company. You will learn more in these couple of days than your whole time in the state . . . guaranteed.
Jesse
2015-09-10T00:00:00Z
We really enjoyed our 2 night stay at this cabin. Mike was a great host. However, it is not for everyone. The description is accurate. No running water (you get your water from a stream near the cabin). No electricity. No cell service. Outhouse. There are mattresses to sleep on. Pillows and sleeping bags provided. It took us 3 hours to hike to the cabin. Mike can do it in 2 hours by himself:) My husband and I are both 59 years old and in moderate shape. It's very doable but not easy. The scariest part is crossing the roaring river on the little wobbly foot bridge. That being said, if you want to get away from it all and see a beautiful part of Alaska, get some exercise and totally relax, you must stay here!! For those with a sense of adventure this is a can't miss opportunity.
Mindy
2016-08-20T00:00:00Z
Staying at Mike's cabin has been a highlight of our Alskan trip. The cabin is remote and the descriptions are very accurate. Although the cabin was nicer than we wouod have anticipated being so remote, very comfortable! We went in late July / early August and rain gear was a must. It is important to take Mike's recommendations for gear as it could definitely make or break your trip. The weather was rainy and a bit overcast but was great for hiking, enjoying the cabin, each others company, and exploring. Mike is a great guide and knows the country very well! We felt comfortable and safe the entire time while we explored the true Alaskan bush. Highly recommend!!!
Kristin
2016-08-03T00:00:00Z
First, understand this is far beyond "a place to stay". This is the most awesome, realest Alaskan experience you'll find. It will require you are more or less in shape, and have a sound mind, but the reward is beyond measure. In other words, I absolutely loved the experience. I'd recommend messaging Mike before to discuss logistics. Plan to block at least a couple of days if you can. I won't ruin the surprise, but the sights are breathtaking, and the wildlife is fantastic!
Mickey
2015-07-04T00:00:00Z
Jenis Bilik
Keseluruhan rumah/apt
---
Jenis Penginapan
Kabin
---
Memuatkan
4
---
Bilik tidur
Talkeetna, Alaska, Amerika Syarikat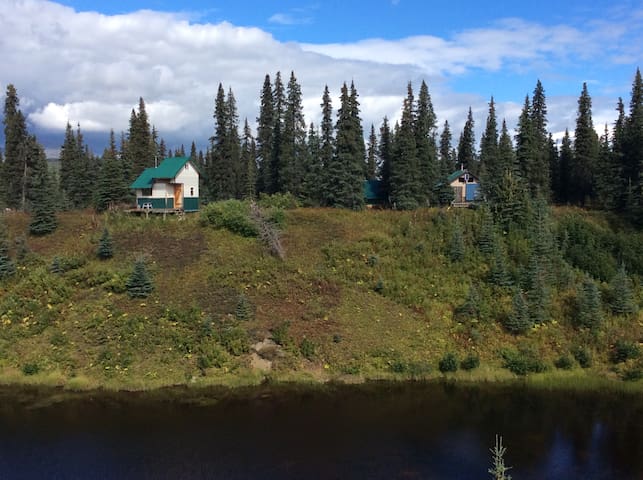 Masukkan tarikh untuk melihat harga penuh. Yuran tambahan dikenakan. Cukai mungkin akan ditambah.