Our 3 bedrooms 2 baths home is on the Rainbow River, Spacious, 2400 under air! Go swimming / kayaking from our dock, even at night! 2 kayaks are ready for you, FREE of charge! You 'll be wanting to go in the water right away! Clean, private, accessible property for lounging riverfront. Ample parking for multiple cars. High speed internet and cable television. Walking distance to bars & restaurants Florida riverside/waterfront living at it's BEST, Accepting business travelers also!
Our spacious home is situated in a cul-de-sac in a quiet neighborhood. Our dock is right on the Rainbow River and a mere 200 yards from where it meets the Withlacoochee River. Kayak right from our dock!. You may bring your boat if you wish. We are located about 5 miles from the Rainbow Springs State Park. The Rainbow Springs State Park is Florida's fourth largest spring, it is where the Rainbow River is born! The Rainbow River is popular for swimming, snorkeling, scuba and kayaking. The Withlacoochee river is unique and beautiful and offers some of the best fishing in the area. Near horse country, enjoy the natural beauty of the surroundings. We are pet friendly (Pet fee of $75 per pet per stay applies to all bookings.
Dunnellon is a small, quiet town founded in 1887, located midway between Ocala and the Gulf Coast. It is just a 25 minute drive to Ocala. It is away from the hustle and bustle of the big city, with large oaks dripping in spanish moss. The train still rumbles through town daily. Great small bars and restaurants, often with live local entertainment. Several wonderful little antique shops within walking distance of our house. Everything you need is here... stores and dive shop located close to the house. (Dive shop because the crystal clear Rainbow River is popular with divers and snorkelers.) Tubing on the Rainbow River is very popular, especially in the summer. The Rainbow River State Park in Dunnellon has a large roped off swimming hole right at the headsprings of the river, where millions of gallons daily of pure clean water naturally flows. (Healing springs? Who knows. We think so!) The State Park also has an amazing garden you can stroll through, with water falls. Our house is located on a dead end street in a quiet tree-lined residential neighborhood.
Very spacious, comfortable and clean - though (as others have noted) - the property could benefit from updating and minor maintenance. Salomon communicated thoroughly and provided much useful information about activities on the river and even a suggested packing list. We met the property manager Gayle twice and she was very friendly and helpful. Notes posted around the house prevented any questions about how to operate fixtures and equipment. Internet speed was higher than average for Airbnbs. While the location is not in the clearest part of the Rainbow River, it offers close access to both the Rainbow and Withlacoochee rivers, and a beautiful view. Its location within Donnellon also offered several restaurants and kayak rental within walking distance. The pool was large and well maintained, although we didn't have time to use it due to so many other activities to sample over our 2 night stay. In addition to a great kayak trip, we visited the Rainbow River State Park which has beautiful, paved, shaded walking paths and a nice swimming/snorkeling area.
Mark
2016-09-16T00:00:00Z
We stayed with my family at Salomon House, we had a lot of fun, the neighborhood is pretty same and quiet. the landscape is amazing the sunrise and sunset are breath taking. The house needs some updates but still very comfortable and spacious. Everything is pretty close but you need a car to move around anyways.
Nella
2016-08-21T00:00:00Z
The listing was just as described. The dock looks out over the convergence of the Rainbow River and the Withlacoochee River which is beautiful. We will definitely try to stay here again when we visit.
Eric
2016-12-31T00:00:00Z
The house was in a great location! Solomon responded quickly to all requests and questions. I would stay here again!
Danielle
2017-03-19T00:00:00Z
He was very accommodating to our needs
Kelsey
2017-01-28T00:00:00Z
This was an amazing Airbnb! The listing for this house was very accurate - private pool, dock, 2 kayaks - and we all had fun relaxing next to the river. Our host made us feel most welcome by leaving a clean, pristine house for us when we arrived after the long drive. The house exceeded our expectations and we had an overall GREAT time! I would highly recommend staying at this Airbnb!
Jennifer
2016-05-20T00:00:00Z
We had a great time. We were able to walk places and bike to a trail, 10 minutes from hiking and walkable to kayak rentals. The view was gorgeous. You could fish off the dock. The town was a little depressed and the house, while very clean, could use updating inside and out. And, when the nearby park/beach is crowded, it is a little loud, but as soon as the park is closed, there is serenity. But, overall we had a great time! The host promptly responded to any questions and the rental was a quick and easy process.
Courtney
2016-03-18T00:00:00Z
Listing is as described. We used the home to evacuate from Hurricane Matthew and it was exactly what we needed. Beautiful view of the water
Kyle
2016-10-08T00:00:00Z
Jenis Bilik
Keseluruhan rumah/apt
---
Jenis Penginapan
Rumah
---
Memuatkan
6
---
Bilik tidur
Dunnellon, Florida, Amerika Syarikat
Rainbow cottage is a cozy, pet friendly, 2/1 in a quiet residential neighborhood just 3 miles from the famous Rainbow Springs State park, minutes from historic Dunnellon. Centrally located between Crystal River, Gainesville, and Ocala, there are countless activities for families. Fresh and saltwater fishing nearby. Day trips to Orlando, Tampa, and Daytona, all under two hours. Scalloping and kayaking season coming up soon ! Come meet the Manatees ! Fenced yard with shade for furry friends!
Rainbow Cottage is fully furnished, newly painted with very comfy beds and a great shower. The kitchen has everything needed for preparing meals, but there are several restaurants within a few miles. The last guests loved the ROKU tv service !
Rainbow cottage is located in a quiet residential neighborhood about ten minutes from historic Dunnellon, where all services are available. Gas station and convenience store within one mile. Good waterfront restaurants in Dunnellon, the " Blue Gator " and Crystal River has " Crackers " nice Tiki bar , the "Plantation Inn " has a very pleasant outdoor bar on the water. A little further afield , Homossasa Springs and Cedar Key are fun day trips .Nearby Ocala has malls ,museums, weekly farm market and many restaurants.
We came into Ocala to ride horses and this is the perfect space for about 3 or 4 people. PERFECT for if you have dogs too. Has a little fenced in yard. Private lot, felt very safe I. This area. Located about 10-30 minutes from every place we needed to go to while visiting. Very clean and comfortable, comfy beds, shower has good water pressure and heat, washer and dryer, had everything we needed in the kitchen to cook, awesome wifi and a smart tv!
Lauren
2017-01-15T00:00:00Z
Jenis Bilik
Keseluruhan rumah/apt
---
Jenis Penginapan
Rumah
---
Memuatkan
4
---
Bilik tidur
Dunnellon, Florida, Amerika Syarikat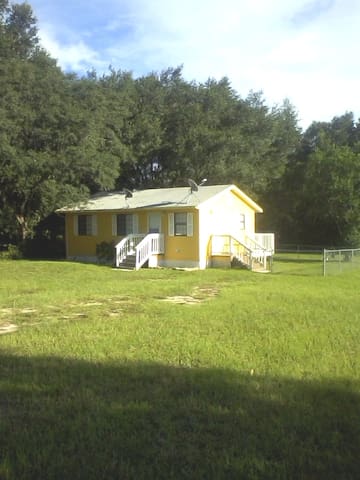 Newer home on the Rainbow River. Private 1st floor guest quarters. Enjoy relaxing on the dock fishing,swimming, or launch your kayak or ours. Large screen TV. microwave, toaster, refrigerator and coffee pot. Self serve breakfast for your 1st morning. A complimentary bottle of wine upon arrival.
A new home on the 2nd largest producing spring fed river in the state.
This area is country waterfront homes The area abounds with water activities Bring your paddle board and snorkel equipment Lots of biking and hiking trails. Rainbow River State Park at headwaters a short kayak trip up river. Pull over and stroll through this beautiful park. Lots of info provided to learn more about the springs of Florida.
JoAyne & John were the best hosts! The place was clean and ready. They were communicative and helpful. The little things were what sold my wife. Flashlights and water bottles for kayaking. We loved the shower and the bed was to die for. Get this place for your next trip, if we haven't already taken it!
Jeffrey
2016-05-09T00:00:00Z
JoAyne & John were great hosts. They were informative and accommodating upon our arrival, giving us suggestions of local places to eat. JoAyne was easy to contact via Text whenever we had questions. Outside of that, JoAyne and John gave us a lot of space to enjoy the area. They also were very flexible & accommodated our schedule. The apt was connected to their home with a private entrance, as advertised. It was clean, beautiful and very comfortable. JoAyne and John's dock was our favorite place to spend our time when we weren't kayaking along Rainbow River. There is a lot to do and see in this area. I hope to be back again.
Tran
2016-03-23T00:00:00Z
The listing was more than accurate - so hard to put such a lovely atmosphere and serene setting into words! This is perfect place to relax and unwind from the busyness of life. JoAyne and John defintiely were experienced in making the little details go a long way from the robes to light breakfast...they made it easy to enjoy the river life and not worry about too many details. Thank you for a fabulous getaway...we will be back :-)
Gerardo
2016-03-26T00:00:00Z
Really enjoyed our stay. JoAyne and John provided more than you'd expect. We really enjoyed taking advantage of the river access and provided kayak. The space was very comfortable and spacious, and very well equipped with everything you might need. Would definitely stay again.
Bryan
2017-02-28T00:00:00Z
This Rainbow River property is a little piece of heaven and everything the description and pictures promised. The home and grounds are lovingly and meticulously maintained. The room itself is large, beautifully and peacefully decorated, and extremely well appointed. Fruit and various other breakfast materials were waiting in the refrigerator and JoAyne and John had even chilled a complimentary bottle of wine for us. JoAyne and John allowed us plenty of privacy, but they were only a text or phone call away. It truly felt like a home away from home. Had it not been for the amazing "backyard" of the Rainbow River, we might never have left the house! We spent leisurely mornings having breakfast and coffee on the dock and watching the river flow by. We brought our own kayaks but there is a tandem kayak that comes with the property that is available for use. The headsprings are only about a 15 minute leisurely paddle up the river. The Rainbow Springs swimming area is usually crowded and loud in the summer, but it is still worth it to hang out and enjoy the crystal clear water. There are a pair of otters that call the headsprings home and we enjoyed watching their antics. Be sure to let the current carry you slowly back downriver and look for the beautiful spotted gar in a cove to the right. We spent the better part of three days on the river and never got bored with it. If you are looking for a peaceful and out of the way retreat, this is definitely the place to be. JoAyne and John were excellent hosts and we certainly hope we are able to enjoy all the beauty this property has to offer again sometime.
Sheila
2016-07-10T00:00:00Z
Wonderful place to stay in the river
Kara
2017-02-19T00:00:00Z
We had an amazing experience at JoAyne and John's place. They were very friendly and made us feel comfortable and at home. Everything was very clean, the bed was super comfortable, and the view overlooking the beautiful rainbow river is breathtaking! It is obvious that they have experience with this, they have already thought of every little detail so it makes it easier to relax and actually enjoy your vacation; suggestions of where to eat, what to do, letting us use their kayak and dock, and even fresh sliced fruit. JoAyne was always just a text away if we had any questions. This is a rare find I believe and my first AirBnB experience, it will be very hard to top!
Nina
2016-07-13T00:00:00Z
John and JoAyne met us on our arrival and gave us a tour of the suite and the backyard, which slopes down to a deck with grill and outdoor dining, and further down to the Rainbow River, a spring fed, crystal clear river. We took the provided kayak up to the headwaters, and I had a leisurely swim back, admiring the fish and terrapin and even a water turkey diving for fish, while my husband paddled back. Our hosts have created a spacious, elegant and luxurious first floor private suite, complete with a refrigerator stocked with an extraordinary array of breakfast foods and a bottle of white wine! While we experienced complete privacy it was reassuring to know that JoAyne was just a text away with answers to any questions. It was a blissful several days and we are looking forward to our next stay.stay
Allen
2016-10-17T00:00:00Z
Jenis Bilik
Keseluruhan rumah/apt
---
Jenis Penginapan
Rumah
---
Memuatkan
2
---
Bilik tidur
Dunnellon, Florida, Amerika Syarikat
West Central Florida - A quiet country suburb, 4.5 miles from the head springs of Rainbow River State Park. Swim, kayak, bike or hike the beautiful trails, and have lunch riverside. Step back into Retro-80's-Cool-Florida, at Retro prices.
Private Room, as well as, use of the shared kitchen, main bathroom with tub and shower, washer/dryer laundry in the garage. Private entrance to the back yard. Quiet neighborhood outside of the city. (See Pictures) Also we have accommodations available to host guests who are traveling by RV. Park in the driveway, and 24 hour access to water/electric, a shared bathroom (tub/shower), laundry and wifi. I will also consider a dog, depending upon various factors (msg. me). There is a fenced in back yard you have access to. It's only 3' high in some areas, so not good for fence jumpers. (As Shown in Photos) It's a clean, neat, by no means luxurious, but very homey and comfortable atmosphere. The front yard is shady and perfect to swing on the porch swing under the large shade trees. In the back, there's a snug place with open sky perfect for sunning during the day, and star gazing at night. Under the huge shade tree and cedars in the back, you can sit and read a book or have lunch at the picnic table, and enjoy sitting around a small campfire pit at night. The neighborhood is quiet and peaceful, a rural community, great for a walking, jogging, or biking around and with many unexpected amenities. see What is there to Do Nearby? (Rainbow Lakes Estates)
So What is there to do Nearby? Rainbow Lakes Estates (0-3mi.) Parks: Picnic and Grilling Pavilions, Playground, Basketball, Tennis, Racquetball, Baseball, Shuffleboard Fitness Gym, Zumba & Exercise Classes Library Massage (3mi.) Bombonato Healing Group Roberta Bombonato, Licensed Massage Therapist Close by at Neighborhood Entrance (2mi.) Small local groceries, pub, diner, convenience store & gas station. Rainbow Lakes Greater Area (3mi.) Dollar General Italian Restaurant Hairdressers Hardware Store Rainbow River Area (5-11mi.) State Park, Hiking-walks Swimming, Snorkeling, Kayaking, Picnic, (Dogs allowed on Leash) (5mi.) KP Hole: Tubing K.P. Hole Float 4.5 Miles (2-3 hrs), Canoe/Kayak Boating (7mi.) Juliette Falls Golf Course (7mi.) Dunnellon City Beach: Swimming, Picnic (10 mi.) Rainbow River Canoe and Kayak: Tubing Shuttle Transport, Kayak/Canoe/Paddleboard and Fishing Boat Rental (Also available for Withlacoochee River / State Forest 9mi. runs. Capt. Bob's Airboat Tours (9-10 mi) State Campground on River (11mi.) Dunnellon (8-10mi) Riverside Dinning Historical District: (Antique Shops, and Dinning) Goethe State Park (8-9mi.) North Star Trails, Horseback Trail Riding, Hiking, Primitive Camping Williston (15mi.) Sky Diving Ocala (20-25mi.) Mall, Restaurants, Cinema and Drive-In Movie Theaters Bungee Fun Appleton Art Museum Zip Lines OBS Thoroughbred Horse Racing and Race Track Silver Springs Attraction and Concerts Wild Waters Water Park Ocala Speedway Crystal River (24mi.) Crystal River Manatee Tour and Dive: Snorkeling/Scuba Diving, Scalloping, Manatee Tours Gainesville (35-40mi.) Cultural: theater, fine dinning, museums Gainesville, Florida Museums __________________________________________ Harn Museum of Art (URL HIDDEN) Physical Address: 3259 Hull Road Gainesville, Florida (PHONE NUMBER HIDDEN) Hours: Tuesday – Friday, 11 a.m. – 5 p.m. Saturday, 10 a.m. – 5 p.m. Sunday, 1 – 5 p.m. - Florida Museum of Natural History Hours: Mon-Sat 10 a.m.-5 p.m. | Sun 12-5 p.m. Tel: (PHONE NUMBER HIDDEN) | Plan a Visit Admission: Free, except for special exhibits. Parking: Parking is free on Saturdays and Sundays. Monday through Friday, parking is available $4 at the kiosk in front of the museum. Free handicap parking is available near the entrance to the museum. ____________________________________________________________ Florida Museum of Natural History (URL HIDDEN) Physical Address: University of Florida Cultural Plaza 3215 Hull Road Gainesville, FL (PHONE NUMBER HIDDEN) Hours: Hours: Mon-Sat 10 a.m.-5 p.m. | Sun 12-5 p.m. Tel: (PHONE NUMBER HIDDEN) Admission: Free, although donations are gladly accepted. There is a cover charge for featured exhibits and the Butterfly Rainforest. Parking: Reserved parking for Museum visitors - excluding University of Florida holidays - is $4 per day (cash only), 8:30 a.m. - 3:30 p.m., Monday through Friday. Please see attendant in gated booth. Parking is free on weekends and state and university holidays. To avoid receiving a ticket, visitors should park only in designated areas on weekdays excluding holidays, even if there are open spaces in the large adjacent parking lot. UF Traffic and Parking enforces parking restrictions weekdays year-round. ______________________________________________________________ Matheson History Museum (Local and Florida History) (URL HIDDEN) Physical Address: 513 E University Avenue Gainesville FL 32601 Phone: ((PHONE NUMBER HIDDEN) Hours: 9:30 a.m. - 4:30 p.m., Monday - Friday Admission: Free, donations encouraged. __________________________________ Central Located / West Central Florida only a day drive away from Orlando (98mi) Daytona Beach (102mi) Tampa (116mi) Local Grocery/Shopping: Dollar General (3mi.) Winn Dixie (7mi.) Walmart (8mi.) Seasonal Events and Activities: April: Dunnellon, Boomtown Days (Historical) May: Local, Blueberry Farm (U-Pick) October 17th: Fall Arts and Crafts and Jazz Up Dunnellon Music Festival December: Ocala, Light up Ocala
Richann and family were warm and welcoming. Private room was perfect in a quaint home in a nice quiet neighborhood. Richann checked in on me to make sure everything was ok. Thanks so much!
Kenneth
2016-04-12T00:00:00Z
Richann and her son were very welcoming, warm and friendly I could not have had better hosts. The room was very comfortable. Richann goes out her way to ensure her guests are comfortable. I will definitely stay here again if in the area and highly recommend staying if you are in the area.
Donald
2016-02-25T00:00:00Z
Very clean and nice room and a very safe and sweet area. Had everything I need and felt very comfortable. Would stay there again!
Alexander
2016-04-06T00:00:00Z
Richann is a lovely person and excellent hostess! She and her pup, Bella, are so friendly and sociable. Beowulf, Ursula, and I had a wonderful stay at their home, and the Rainbow River State Park is only 10 minutes down the road! If you enjoy Nature, peace and quiet, and hospitality, this is the place for you!
ashley
2016-10-21T00:00:00Z
This was a super and super affordable stopover quite near the amazing attractions around Dunnellon. Richann was a friendly and accommodating host.
Ben
2016-06-24T00:00:00Z
I needed a place on my way back to Orlando from the Panhandle. I wanted to be near Rainbow Springs for the next day and this was perfect. I arrived tired and it was great to have a room to myself. I was made to feel welcome but they allowed me to relax in my room.
GAIL
2016-10-30T00:00:00Z
Richann and her son were super welcoming and warm. They handed me a handful of pamphlets for getting around which were helpful, but I was really only there to sleep along my road trip. I'm so grateful for their hospitality. Wish I would have known it was a smoking home. The people were wonderful. The smell was unpleasant.
caitlin
2016-03-26T00:00:00Z
Thanks for everything! I had a great stay and an awesome morning with the manatees!!
Sina
2016-11-25T00:00:00Z
Jenis Bilik
Bilik persendirian
---
Jenis Penginapan
Rumah
---
Memuatkan
1
---
Bilik tidur
Dunnellon, Florida, Amerika Syarikat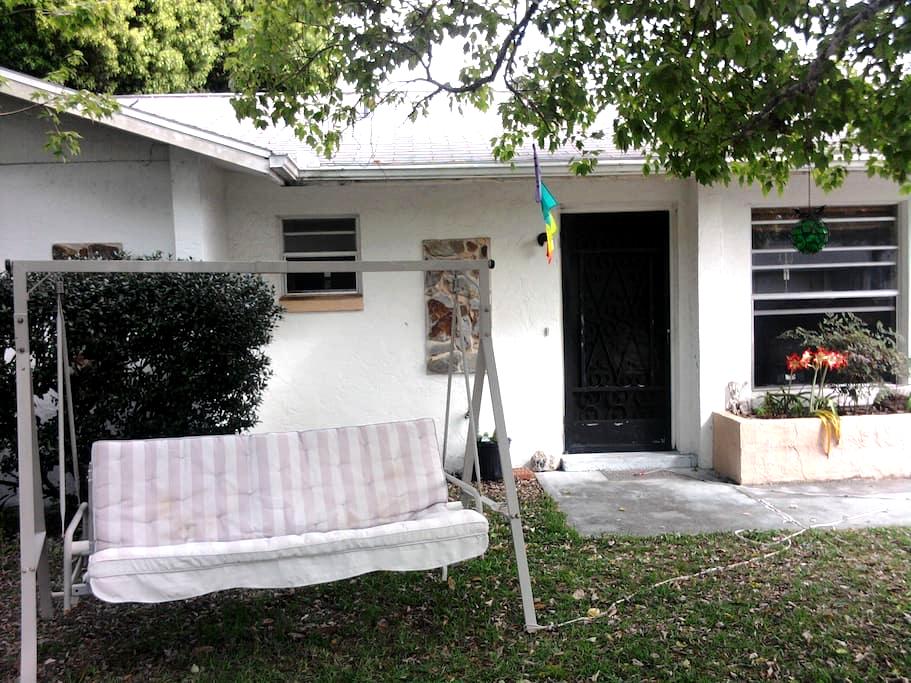 River Sunset is close to great nature views and experiences, restaurants and dining, and away from the big city. Close to small town with conveniences. You'll love your River Sunset because of the high ceilings and large living area looking toward the river and quite nature settings with plenty of activity close. River Sunset is good for couples, solo adventurers, business travelers, and families (with kids).
The property has a gate at the front of the property for privacy. Located on the Withlachoochee River you will have the please of seeing all kinds of nature. The sunsets over the river and seen from the Florida room or enjoy on the large rear deck facing the water. There is plenty of parking available and it will be marked. Do not drive on the little birds beside the driveway, that is the septic tank area.
Owners on both side of the property know we have quest, please respect their peace. They also have my information if any concerns. The neighborhood is residential area and very quiet. A list of the restaurants and other favorites will be available.
Incredible water view with cypress trees from house, deck chairs and garden. Total serenity. We were four adults and a small dog, visiting the area for the first time, and loved staying in this well furnished attractive home. Thank you to Dennis and MJ for being gracious hosts.
Elle
2017-03-02T00:00:00Z
This home is very convenient to downtown Dunnellon, Crystal River, Beverly Hills and Inverness. A quiet spot on the river with beautiful windows that look out. Check out the Blue Gator and Swampy's restaurants in Dunnellon.
Sherylyn
2017-03-22T00:00:00Z
Great place with easy river access close by. We could use the backyard river access for our kayaks but choose to go to the boat ramp 1/2 mile away. Bring bug spray as bugs are bad in evening... but that is to be expected . Dennis is very responsive and helpful. We had a wonderful stay.
Rachel
2017-03-26T00:00:00Z
Jenis Bilik
Keseluruhan rumah/apt
---
Jenis Penginapan
Rumah
---
Memuatkan
6
---
Bilik tidur
Dunnellon, Florida, Amerika Syarikat
2007 concrete, 3 bedroom, 2 baths, laundry, share TV & living space. 7 miles to town amenities - shops, gas, gym, pool, golf, hospital. Quiet non-smoking, no pets. Wildlife & birds in natural habitat. Vehicle a must. Ample parking even for RV
Private double occupancy room with one queen-sized bed
Solid 2007 newer concrete block and stucco home in the rolling hills SW of Ocala. Horse country. In Rainbow Springs protected watershed. Minutes drive to Rainbow Springs State Park and Withalacoochee and Rainbow River.
A fabulous experience. Jane was welcoming and warm, and has a ton of wisdom to offer for the journey called life. The place was very clean and comfortable. She has us breakfast prepared for the morning. Fruit. Cookies. Granola. Whatever we wanted. The property is beautiful and it was great to get away to a place with such good energy. Took a late night stroll on the other into the woods. It was like having an adventure at our fingertips. If we end up back in Dunellon for anything we will definitely be back. Double thumbs up!!!!
Crystal
2015-08-16T00:00:00Z
Jane was an excellent host, a great conversationalist, and extremely accommodating. Thank you Jane for being awesome! We will definitely stay there again when we visit the Rainbow River again.
Marina
2016-07-04T00:00:00Z
It was a great time and was very comfortable. If you are a nature enthusiast, the host is a walking encyclopedia of nature.
Arun
2016-12-03T00:00:00Z
I don't have words enough to share about the honor of simply sharing space with Lady Jane. Though my husband and I enjoyed experiencing her simple, heartwarming home, we were beyond thrilled and amazed to hear stories that were a cross between a female version of Indiana Jones and what could possibly be an upgrade to "The most interesting woman in the world..." We will definitely be regulars at what we call Lady Jane's Narnia Garden Forest Lodge. A great, great stay!
carlette
2016-12-09T00:00:00Z
Jane welcomed us in her home and made us feel at home. She'd pulled out the marshmallows and hot chocolate to enjoy by the bonfire. She told us about her travels, was very helpful and gave us some great suggestions for our trip.
Max
2016-12-18T00:00:00Z
I spent a month at Jane's place while visiting the area and enjoying the horse scene near Ocala. It was a welcoming, interesting and educational experience. I'm grateful for all of Jane's suggestions of places to visit and explore. I feel that I have a much greater appreciation for the Dunnellon area and all the beautiful natural areas it has to offer! It was also nice to meet people from all over the world and share stories. Thanks for everything Jane!
kathie
2016-03-13T00:00:00Z
Jane ist der Wahnsinn! Sie tut alles für einen wir waren zusammen Kanu fahren, sie hat mich zu einem thanksgiving Dinner bei Freunden eingeladen und dann wären wir noch auf einer pferderanch! Sie zeigt einem das wahre Leben nicht nur das überlaufene Touristengebiet. Ich kann es euch nur empfehlen!!!
Claudia
2015-11-28T00:00:00Z
Jane nous à permis d'avoir rapidement une idée de toutes les activités dans la région, et malgré le cyclone tropical Mathews qui a perturbé l'ouverture des Parks (Rainbow printers Park...), Jane nous à permis de passer un agréable séjour. Nous conseillons la visite du jardin.
Michel
2016-10-07T00:00:00Z
Jenis Bilik
Bilik persendirian
---
Jenis Penginapan
Rumah
---
Memuatkan
3
---
Bilik tidur
Dunnellon, Florida, Amerika Syarikat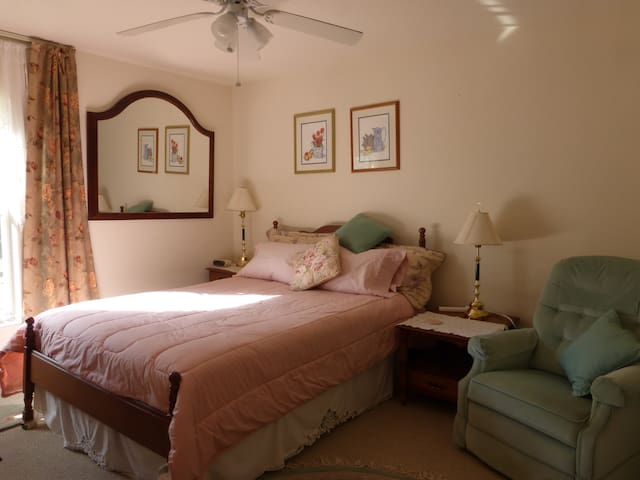 Comfortable home on the Withlacoochee River. Great fishing, kayaking, hiking, and just enjoying the outdoors. Shopping and restaurants within a few miles of the home.
Enjoy the best of both worlds. A getaway fishing cabin/home on the Withlacoochee River and located within minutes of Dunnellon restaurants and shopping. On property is a small private boat dock and a public boat ramp is available within minutes from the home. Bring your own small boat and dock at the property or rent one from Blue Gator just a few miles from the house. The home provides a relaxing atmosphere for a weekend getaway, weekly, or monthly winter vacation. The master bedroom enjoys a king size bed with full bath. The second bedroom has a comfortable queen-sized bed with an adjoining room with daybed/trundle. There is a double futon for added sleeping in the Florida room. Covered decks provide opportunity for outside enjoyment of the Florida sunshine. There is an outside gas grill for cooking. This is rustic "Old Florida". We have oak trees so we provide a covered carport for your use. There is abundant wildlife in the area so bring your camera and binoculars.
Very small quiet neighborhood. The road dead ends into our driveway so you will not have any cars driving by the house.
Jenis Bilik
Keseluruhan rumah/apt
---
Jenis Penginapan
Rumah
---
Memuatkan
8
---
Bilik tidur
Dunnellon, Florida, Amerika Syarikat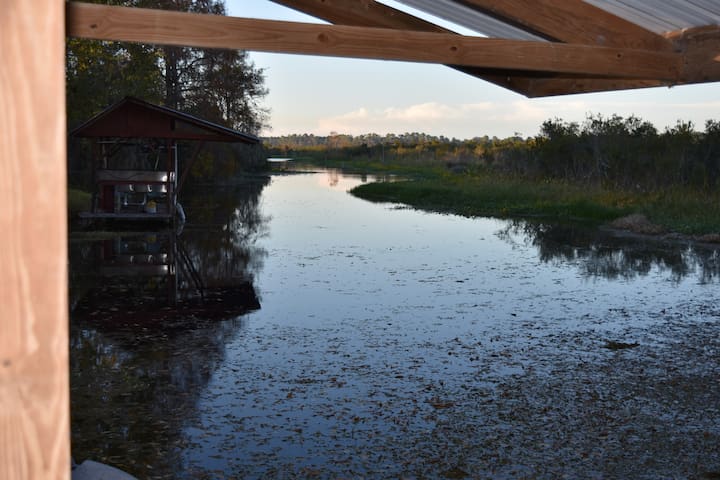 Escape to the country to an Enchanted guesthouse. The house is capable of sleeping four with full kitchen/bath & outdoor deck. There's a wood burning fireplace for the winter. The bed is dreamy with a settie area containing a large TV&DVD player.Bring movies if this is how you like to relax! WIFI We offer guided Kayak/Paddle board trips to see manatees $50 per person. Interested in Engagement photo shoots? We do fantasy shoots with Unicorns or natural settings cash/pay pal accepted .
Welcome to Epona Place where magical thing happens! Epona is the fairy that looks after the horses and this room is the Faerydae Home. Bring some dvd' s if you care to watch tv. There is WIFI in the common area. The house is rather large and has a full kitchen complete with dishwasher stove and fridge. There is a second room ensuite that sleeps 2 guests with a king size bed. Outside its door is a Loo and a rain forest shower! There is a propane BBQ off the back deck for your pleasure. We have an art station in the common area to be creative! We are also gay friendly.
WE are deep in the country occasionally you will hear a train.
Rene's ranch is beautiful and her accommodations are very clean, comfortable and offer an experience to sooth and delight souls who are weary and in need of playtime. She is honest, thoughtful and creative in giving her patrons a positive experience. We enjoyed a ride on her gentle horses & a day on the river. We hope to return there in the future. It's a true sanctuary.
Marilyn
2016-05-17T00:00:00Z
We had the most amazing stay. It was a fairytale land for our 7year old daughter, who got to meet, brush and ride the most incredible horses, hang out with dog and cats and have a pet tortoise for a week. Rene' is absolutely wonderful, and made our stay truly magical. Highly recommend!!!
Natasha
2015-12-25T00:00:00Z
Rene is awesome, such a great host! Her house and property are beautiful, the horses are beautiful. Super secluded so you won't be bothered by neighbors or anything. Had a great stay and will definitely come back if in the area again!
Finn
2016-06-14T00:00:00Z
Rene's place was perfect for staying during a three day windstorm. She was fun to meet and has a wonderful energy about her. The space was clean and an amazing value for the living space! Thank you, Rene'
Jim
2017-01-24T00:00:00Z
Rene and Brent made our visit feel very welcome. It was very nice to have some locals around to talk to to see where to eat, drink, hike and look at sites. They were even kind enough to let us borrow their kayaks to go to Crystal River where we saw a few manatees! The house was out about 10 minutes but quiet and homey as we like. We enjoyed the room, living space, full fridge and kitchen along with the back yard for a small nightly campfire. I really enjoyed my time there and Rene was awesome! I definitely recommend to my friends and family for a nice get away in Florida,
Kristen
2016-01-05T00:00:00Z
Rene is a wonderful host, very pleasant and accommodating. Her property is beautiful and it is lovely to be around the horses and other animals! Her home is pretty removed down some dirt roads, but we loved the charm of that seclusion! The part of the house we stayed in was spacious and had a nice kitchen, and a hot tub! It was a bit dusty in some areas, could have been cleaned more thoroughly, but we enjoyed our time there anyway! I recommend it!
Lydia
2015-08-17T00:00:00Z
Rene's place is quite, secluded, and peaceful. In the evening I especially enjoyed standing outside and not hearing a single highway. At the same time it really isn't that far of a drive into town. Rene' is a wonderful host, who made my family and I feel very welcome. We are planning on staying here in the future when we visit the area again.
Adam
2017-04-02T00:00:00Z
We had a great stay with Rene for a couple of nights while swimming with the manatees during the day. We just loved it and our kids were thrilled to see horses !
Arnaud
2017-04-06T00:00:00Z
Jenis Bilik
Keseluruhan rumah/apt
---
Jenis Penginapan
Rumah
---
Memuatkan
4
---
Bilik tidur
Dunnellon, Florida, Amerika Syarikat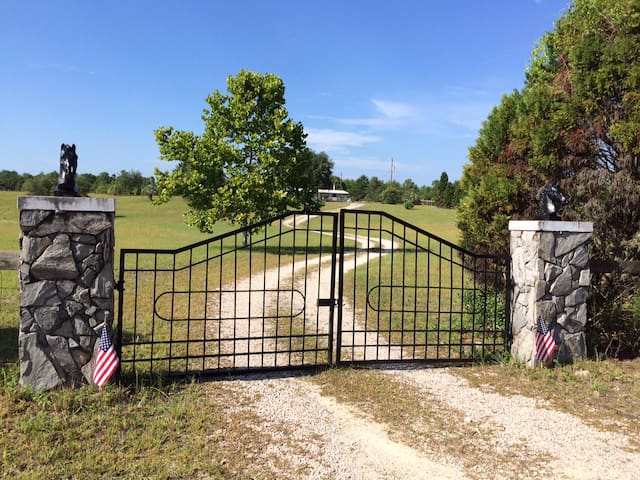 Come enjoy our Rainbow Springs getaway, our favorite place to go unwind. Our cozy 3 bed/2 bath retreat rests on over 1 acre in a quiet neighborhood, less than 2 miles from Rainbow Springs State Park and river and close to KP Hole, kayak and paddleboard rentals. You'll find plenty of space inside and out as well as a fireplace, wet bar, outdoor fire pit, a hammock, screened porch and a gas grill. Golf, fishing and great restaurants are all close by. Get in touch with nature and leave refreshed.
This comfortable 3 bedroom 2 bath retreat rests on over an acre of land less than 2 miles from Rainbow Springs State Park. The home has over 1,600 feet of living space as well as a screened in back porch, rear deck, 2 car garage and wet bar. The outside features large front and back yards with tall pine and oak trees in a quiet neighborhood. The back yard has a stone fire pit, perfect for spending an evening under the stars, as well as a hammock and a gas grill on the porch. Aside from being a very short distance from the head spring at Rainbow Springs State Park, the home is also only 3.5 miles from K.P. Hole County Park, where you can tube down the Rainbow River. Swimming, as well as Canoe and Kayak rentals are also available here. $5 will get you in the park, and $20 will cover the entrance fee, tube ride down the Rainbow River, and shuttle ride back. The quiet nature trails and kayak ramp at Blue Run park are within 5 miles as well. This is a quieter access to the river and has a beautiful path and scenery, as well serene nature trails, both paved and unpaved. Within 5 miles or less of the home there are several other places to rent kayaks, canoes or paddleboards. If you love fishing, Dunnellon is a top notch destination for bass fishing, especially along the Withlacochee River, which intersects the Rainbow River. For all of you horse fans, Ocala, the horse riding capital of the world is just around the corner, and HITS is only about 25 minutes away. Back at the house there are all the comforts of home. We have worked hard to make sure that our guests find everything they need, so they can enjoy a relaxing, care-free stay. The living room has a large, comfortable couch with 2 reclining seats and a 47" flat screen TV. You'll find several games and books to keep you entertained, as well as a DVD player. All of the TVs include SlingTV, which has 40 premium cable channels as well as Roku with smart apps, so you can watch with your Netflix, Hulu or Amazon subscriptions and the wifi works perfectly with streaming. The living room connects to both the kitchen and another small seating area that also leads into the dining room. The dining room features a table for 6 and leads to another cozy spot in front of the indoor fireplace where you can stay toasty on cool nights. Walk past the fireplace into the bar area with a small refrigerator which you can stock with all of your favorite beverages. The kitchen resides in the center of the home and is fully equipped with a side-by-side refrigerator, microwave, glass-top stove, dishwasher, coffee maker, toaster, plates, glassware and cookware. It also has a counter with dining space for 3. Between the dining room and the fireplace is a door leading out to the back screened in porch, where you can get in touch with nature while you sit and gaze out at a spacious back yard and large trees while you enjoy your morning coffee. This connects to an outer deck where you will find a gas grill and benches that wrap around the deck area. The bedrooms are comfortable and quiet, making it easy to get a good night's rest. All of the bedrooms are fully decorated and all towels, sheets and linens are included. The master bedroom has a king bed, walk-in closet, and newly remodeled stand-up shower. The other 2 bedrooms are on the opposite side of the home along with a second bathroom with a combination shower/tub. Each guest bedroom contains a queen bed and it's own closet. In addition to the other amenities, there is also a washer and a dryer in the garage.
The nearby Rainbow Springs State Park is a beautiful nature park where the head spring resides. There is a large crystal clear swimming hole, canoe and kayak rentals, and a walking trail around the park with calming waterfalls. You can come spend the day, even picnic and grill, or get ice cream at the shop. Entry is only $2 per person, per day, and parking is free. Aside from being a very short distance from the head spring at Rainbow Springs State Park, the home is also only 3.5 miles from K.P. Hole County Park, where you can tube down the Rainbow River. Swimming, as well as Canoe and Kayak rentals are also available here. $5 will get you in the park, and $20 will cover the entrance fee, tube ride down the Rainbow River, and shuttle ride back. The quiet nature trails and kayak ramp at Blue Run park are within 5 miles as well. This is a quieter access to the river and has a beautiful path and scenery, as well serene nature trails, both paved and unpaved. Within 5 miles or less of the home there are several other places to rent kayaks, canoes or paddleboards. If you love fishing, Dunnellon is a top notch destination for bass fishing, especially along the Withlacochee River, which intersects the Rainbow River. Numerous activities are within a short distance of this north central Florida home. Rainbow's End Golf Club is a 9 hole golf course less than 2 miles away, and Juliette Falls is an 18 hole course less than 5 miles away. The historical center of Dunnellon is 4 miles away, and there are several restaurants and convenient shops along the way. Some good ones include Penn Station Deli and Grill, which offers Cuban style cuisine and sandwiches, the Front Porch, which has good old fashion country cooking and a great pie selection as well as the best fried chicken around, and the Blue Gator, which is a waterfront, outdoor sports bar, with good food and live music. Ocala, known as the horse capital of the world, is only a 25 minute scenic drive away, and is also the home of the Ocala National Forest, and Silver Springs, as well as several other fresh water springs. Inverness, another charming small town is also about 25 minutes away in Citrus County. There you can find airboat rides, more great fishing and plenty of biking trails. The popular coastal town of Crystal River is also approximately 30 minutes away and a great place to see, or even swim with manatees in the winter. It is also home of the Crystal River National Wildlife Refuge and 3 Sisters Springs. Gainesville is only about 45 minutes away, Cedar Key is about an hour away and if you care to venture further out, Tampa and Orlando are each less than 2 hours away.
This house was incredibly clean, in a great location to get to Rainbow Springs and Crystal River, and had everything we needed! Our host was extremely helpful and quick to respond to questions, and the price was extremely reasonable!
Hazel
2017-03-10T00:00:00Z
The host canceled this reservation 111 days before arrival. This is an automated posting.
Thomas
2017-03-14T00:00:00Z
Jenis Bilik
Keseluruhan rumah/apt
---
Jenis Penginapan
Rumah
---
Memuatkan
6
---
Bilik tidur
Dunnellon, Florida, Amerika Syarikat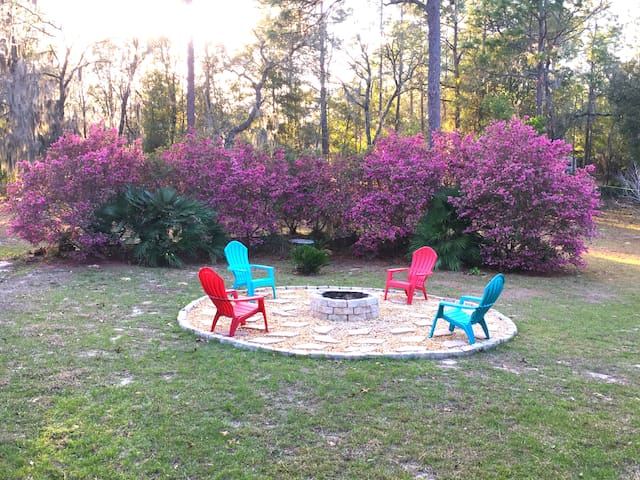 Our cozy 2 bedroom, I bath home is on 3/4 of acre all fenced in, our home has deeded waterfront access through a popular County Park called the KP Hole. Less than 50 yards away from the Rainbow River, a popular destination spot for your favorite outdoor activities.
This is a cozy comfortable house located next to the Rainbow River, located on 3/4 of an acre all fenced in. Very popular destination spot for many outdoor activities and enjoying nature.
Beautiful nature, private and quiet.next to one of the most beautiful Sprig fed rivers I have ever seen. Please look at the beautiful pictures have taken of Rainbow River on line. Thousands swim and play here every year, word of mouth is how most hear of it.
The perfect place to chill, relax, unwind and get away from the world! Close enough to reality to check out the local sites and enjoy the river and golf courses! Nice kitchen for cooking, great internet for staying in touch and outstanding bed and linens! Felt like we were home!! Will definitely be back!!
Jolen
2016-12-04T00:00:00Z
Great value right down road from a beautiful river.
Al
2017-03-04T00:00:00Z
We enjoyed our stay very much. The home was very quant and cozy. The home provided everything that we needed. It's located only about a 5 minute walk to kp hole. We did the 4 hour float from kp hole one day. We braught two vehicles so we were able to drop one vehicle (a pickup truck) down at the end and we were Able to pile in and drive back to the house after. we tried to use the canoe on the second day to go up river and float back down to kp hole seeing as we wanted a shorter float back that day. But seeing as we were four adults the guys in the canoe were unable to tow us up river, against current, in our tubes. so we gave up and just hung out and swam at the kp park that day. The final day after checking out we drove about 5 minutes to Rainbow Springs State park (mainspring). It costs $2 a person to get in. It was nice to see that park too. They have a crystal blue swim hole, waterfalls, trails, etc. I would recommend checking that out as well. But you cannot walk or float there from the house. It's a seperate entitity. Overall we had a very enjoyable and affordable vacation. We got a lot of sun and swimming, we cooked out and played board games at night. (There are some outdated board games at the house but we braught our own) A lot of cool nature sightings as well. If you want to eat out I would recommend Swampy's and/or The Blue Gator. Both are local, fun tiki type places. Thank you. Diana was a great host.
Sarah
2016-07-19T00:00:00Z
We had a great time in Diana's rustic home. Although it is not located directly off of the water, we loved being right next door to the dock and drop off location. The house had plenty of floats to use as well as a kayak and a canoe. The yard was huge, with a grill and a firepit. The weather was amazing and the 4-hour tube ride we went on was gorgeous. We also drove to Devil's Den which was about a 30-40 min car ride. Overall we loved our stay and would definitely recommend others to come stay also.
Kelsey
2016-06-25T00:00:00Z
We had a great time at Diana's cozy river house. It was just what we needed and I'm sure we will be back again, next time with friends. The cottage was a little more rustic than we had anticipated, but considering she caters to outdoorsy people, it was completely understandable. Right away we were forced to change our plans due to allotted river time constraints. Diana was available when we contacted her and more than accommodating, allowing us a later check-out which solved all our problems. All via text! We also made use of her tandem kayak which was a wonderful added bonus to the trip. (One missing handle makes it a little difficult to carry). We were able to experience more of the river due to her provided equipment. (Only one provided life-vest, park staff didn't notice/care.) We also made use of her charcoal grill, it was in really good shape, clean and easy to use. Fortunately, there was so much leftover charcoal and lighter fluid we didn't have to worry that we had forgotten to pick up charcoal. Lastly, bravo on linens. The linens in the bathroom as well as the master bedroom all were newer and quite nice, I was pleasantly surprised.
Jason
2016-04-05T00:00:00Z
Jenis Bilik
Keseluruhan rumah/apt
---
Jenis Penginapan
Rumah
---
Memuatkan
4
---
Bilik tidur
Dunnellon, Florida, Amerika Syarikat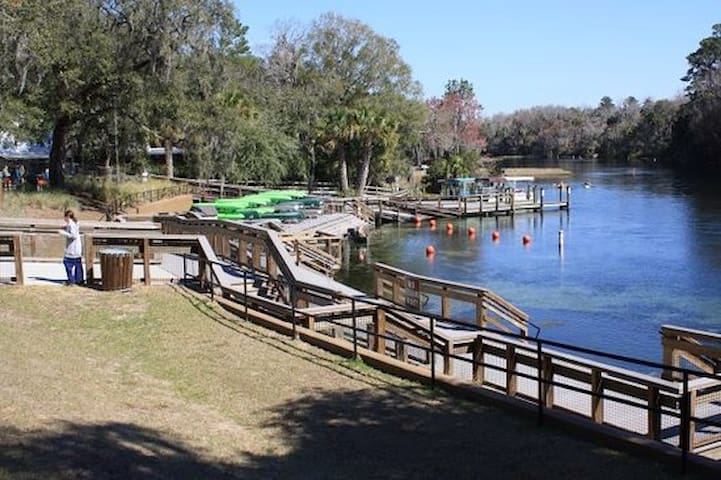 Beautiful three bedroom, two bath, pool home. Home is well maintained and located in Rainbow Springs Country Club, with access to the Rainbow River (private resident's beach). Fully furnished and equipped. Beautifully landscaped.
Master bedroom: Four-poster King, 2 walk-in closets, walk-in tiled shower, large garden tub, and separate vanities. Guest bedrooms: queen beds, large closets, and bureaus. There is also a full pull-out couch and a pack-n-play portable crib. Sleeps 8. Ceiling fans in all rooms and lanai. 50" HD TV in living room with surround sound and BR/DVD player with the ability to stream movies and music. Master bedroom has a 32" HD TV with DVD player. Cable TV and Wi-Fi. Screen enclosed, 28' X 14', in-ground swimming pool with many large plantings around the pool, as well as, 3 seating areas, 2 with table and chairs and one with a fire pit. The pool area also has a covered lanai with ceiling fan.
Away from daily congestion, Dunnellon is easy access to either the Gulf for boating and water-front dining or Gainesville for Gator sporting events, theater, shopping and more dining. Although you will enjoy the natural beauty of the area and the "get-away-from-it-all" ambiance, you'll be only 15 miles west of Ocala and only 35 minutes away from the sparkling waters of the Gulf. Orlando is a short hour and a half away; Gainesville is only 45 minutes away; Tampa is an hour and a half away; and Daytona Beach is only one hour away.
Jenis Bilik
Keseluruhan rumah/apt
---
Jenis Penginapan
Rumah
---
Memuatkan
8
---
Bilik tidur
Dunnellon, Florida, Amerika Syarikat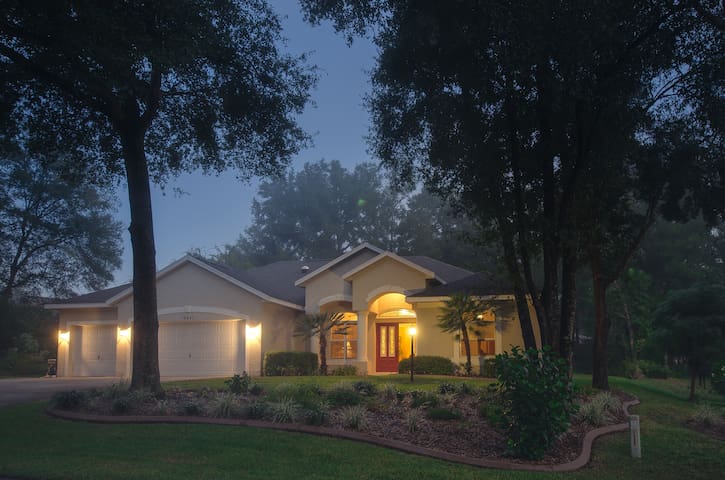 Discover your own slice of Florida heaven with this marvelous waterfront 2-bedroom, 2.5-bath Dunnellon vacation rental house, which sleeps 10. Offering high-end amenities, a private dock and unbeatable location along the shores of Lake Rousseau, this home guarantees the idyllic Sunshine State retreat.
Your vacation begins the moment you arrive at the spectacular property, nestled beneath cascading spanish moss on the peaceful banks of Lake Rousseau. Inside, the cheerful yellow home boasts high ceilings, top-notch amenities and 2,400 square feet of stylishly appointed living space for your entire family to spread out and relax. The bright, open layout of this property is ideal for a large family or groups of friends seeking a relaxing Sunshine State retreat. The fully equipped kitchen is stocked with all the necessary cooking gadgets, making for the perfect spot to whip up your favorite recipes. Kick back in the sunny living room, which features a flat screen TV, sleek dining table, and several plush couches which can pull out into additional sleeping spots if necessary! You'll also discover all the necessary comforts of home are provided here, from wireless internet access and cable television to in-unit laundry machines and air conditioning. Look forward to every morning at this tranquil abode, strolling about the yard picking fresh citrus from the surrounding fruit trees for a refreshing breakfast! When you've had your fill, head out to the sparkling waters of Lake Rousseau directly behind the property to canoe or take in excellent views. Famous for it's bass fishing, you'll love to unwind under the beaming Florida rays while casting a line into the tranquil water. End your afternoons in the rocking chairs on the screened-in porch, sipping a glass of iced tea as your furry friends romp around the vibrant backyard grass. On chilly evenings, gather your travel companions to lounge around the cozy wood-burning fireplace in the office before calling it a day.
It's hard to beat this Dunnellon home's incredible location! With direct waterfront access, you'll be close to delicious restaurants, and a short 20 minute boat ride from the famous Withlacoochee and Rainbow Rivers. For more water-based adventures, head to the Crystal River 15 minutes from the property to swim with the manatees and dive for scallops. While you're in the area, be sure to spend some time in Homosassa Springs WIldlife State Park to observe the native species, ranging from black bears and bobcats to alligators and river otters. Soak up some Old Florida charm with a short trip east to Orlando and Disney World, or head south to Tampa and Busch Gardens for a day filled with thrilling rollercoaster rides. For a fun day trip, drive 2.5 hours to tour the famous Kennedy Space Center, or have some fun in the sand and surf on Florida's east coast beaches - including the ever popular St. Augustine! Regardless of how you choose to spend your time here, this lovely Dunnellon vacation rental home is sure to provide and unforgettable escape in the Sunshine State.
Very close to both rainbow and crystal rivers great family stay. Not far from stores.
Edward
2017-04-03T00:00:00Z
Jenis Bilik
Keseluruhan rumah/apt
---
Jenis Penginapan
Rumah
---
Memuatkan
12
---
Bilik tidur
Dunnellon, Florida, Amerika Syarikat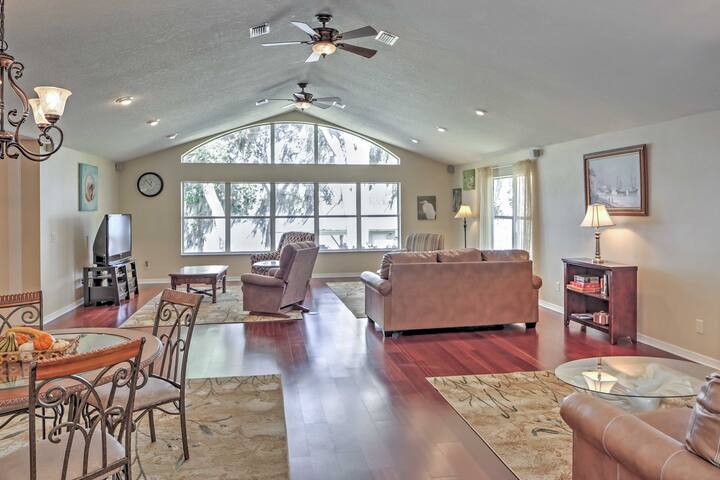 My place is close to family-friendly activities, restaurants and dining, and great views. We are located on the Withlacoochee River. Pictures and a video are available on our website; Withlacoo(URL HIDDEN)
This custom built river home is impressive with vaulted ceilings, quality furniture and all amenities that define luxury living. Situated on the banks on the Withlacoochee river, in the Hapalta Tastanaki Preserve, in Dunnellon, Florida. Deer, turkey, alligators and over 150 species of birds can be frequently spotted along the river's edge. This rental property includes a boathouse, a floating dock with kayak launch and two kayaks.The main dock has an outdoor table and chairs with umbrella where you can enjoy your favorite drink and an outdoor meal. A few miles down river it converges with Lake Rousseau and the Rainbow River, which is one of the most famous spring fed rivers in Florida. People flock from all over the country to kayak/canoe, swim, tube, snorkel, and fish in its crystal clear waters. You can always launch your boat right from the boathouse and meander the banks of the Withlacoochee River.
Jenis Bilik
Keseluruhan rumah/apt
---
Jenis Penginapan
Rumah
---
Memuatkan
6
---
Bilik tidur
Dunnellon, Florida, Amerika Syarikat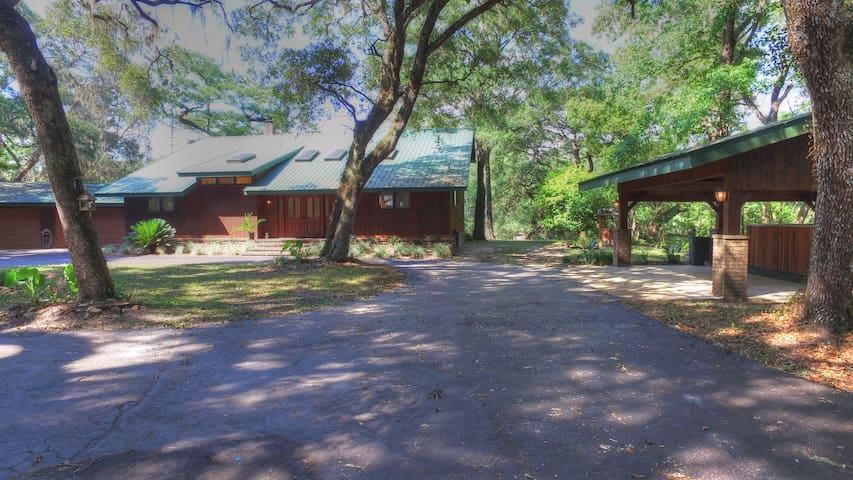 Let this pristine 3-bedroom, 2.5-bathroom Dunnellon house, which sleeps 8, jumpstart your Florida getaway! This wonderfully located property carries a multitude of amenities to make your bayou vacation undeniably amazing!
Nestled within an abundance of swaying trees and near the peaceful Rainbow River, this enticing Dunnellon vacation rental home can comfortably accommodate 8 guests throughout 3,884 square feet of stunning living space, granting you and your travel companions endless space to enjoy everything this wonderful abode has to offer! The property comes fully furnished with engaging tile floors and a tantalizing kitchen, allowing you and family to arrange delectable home-cooked meals. All of the necessary amenities of your own home are provided here, including air conditioning, an in-unit washer and dryer and 2 cable TVs. A diverse range of relaxing activities await you after your fun-filled bayou adventures! Enjoy utilizing the property's complimentary wireless internet access, communicate with loved ones on the excellent cell phone service, get comfortable on the large sofa in the inviting living room while you kick back with some TV. There are very few locations within the home where you are unable to look out at the water and watch the wildlife. The covered lanai is wonderful rain or shine and allows you to gaze out at the gorgeous scenery. From this property's splendid location, you'll enjoy gorgeous views of the bayou in all parts of the home. In the quiet mornings, you can watch the turtles congregate near the grass. Throughout the day, fisherman will occasionally drift by, quietly casting their lines and hoping for a big end-of-day catch. You may be even able to spot gators silently gliding along if you're patient! As the sun sets, the frogs and birds erupt into song, creating an incredible symphony as another day comes to an end.
During your stay, you'll enjoy easy access to many of the area's numerous attractions, including an easy drive to Aquatic Wilderness Adventures, where you can kayak along the scenic Rainbow River. Downtown Dunnellon is just a stone's throw away from the property, where you can explore many interesting craft and antique shops and enjoy fine dining in the local restaurants. If you're feeling adventurous, take your family on the easy 30 minute drive to the Crystal River Region, where you can snorkel and swim with manatees in the Gulf of Mexico! The magical Universal Studios in Orlando is also only a two hour drive away. Your wonderful Bayou vacation awaits, and this Dunnellon vacation rental home will provide you with the warm stay you're looking for!
Jenis Bilik
Keseluruhan rumah/apt
---
Jenis Penginapan
Rumah
---
Memuatkan
8
---
Bilik tidur
Dunnellon, Florida, Amerika Syarikat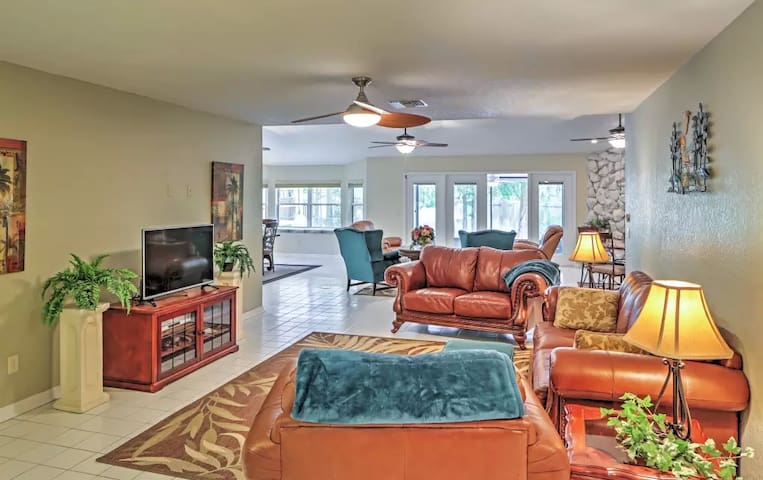 Once you read our reviews you will see that Rainbow River lodging is one of the largest homes on the Rainbow River. There are 12 rooms and 8 Bathrooms, the home is 5 stories with decks overlooking the crystal clear river. we can host up to 60 guest for large families but our norm if 10 to 40 guest
We have a free large Pontoon boat, Kayaks, Paddle Boards, Tubes, Bon Fire pit, Rope Swing and a great dock to jump from.
Jenis Bilik
Keseluruhan rumah/apt
---
Jenis Penginapan
Rumah
---
Memuatkan
16
---
Bilik tidur
Dunnellon, Florida, Amerika Syarikat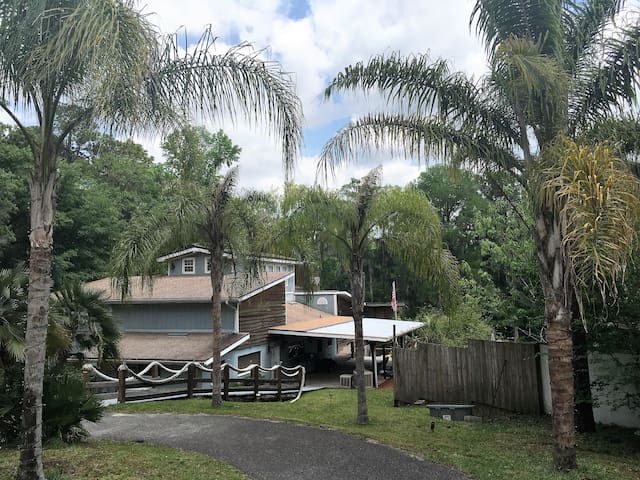 Welcome to Epona Place where the fairies look after the horses! This room has a queen size bed large tv with DVDs player so bring your favorite movies! The full kitchen is galley size with a full bathroom on the side. A door leads to an outside deck with plenty of shade! Beautiful sunsets can be seen along with the use of a fire pit nearby. There's an antique wood burning stove to take the chill out of the air! Of course the use of the commons area with dining area and artist station set up!
We are off the beaten trail where it's quiet and peaceful.
Quiet, peaceful ranch. Hostess was very accommodating and has a big heart for rescue horses and other animals.
Debra
2017-02-27T00:00:00Z
Rene' is awesome! She is very kind and helpful with directions to her place.
Alan
2017-04-08T00:00:00Z
Jenis Bilik
Keseluruhan rumah/apt
---
Jenis Penginapan
Rumah
---
Memuatkan
2
---
Bilik tidur
Dunnellon, Florida, Amerika Syarikat
Clean, quiet 4 bed dorm room in country home. $43 per couple, per night. Use of kitchen, guest fridge, propane barbecue, patio and library specializing in nature, birding and global travel. Laundry at $2 per wash including HE detergent + $2 per dry.
Large paved patio, ample parking, Level grassed parking space for RV. Sandy nature trail through back gardens. Campfire pit. Close to Rainbow and Silver Springs, Rainbow & Withalacoochee Rivers and Gulf coast. 250 listed bird species locally. Close to a dozen golf courses, shopping Hospitals ect in Ocala
Rolling hills in sandhill ecosystem. Ocala Horse country. Only 0.6 miles, or 1 kilometer of limerock road off main paved road. 7 miles to restaurants, Walmart etc. Excellent private well into Florida aquafer pumps top quality drinking water to refill water bottles.
Jane is a great host. She is kind, considerate, and very kind. Thank you for having me at your house.
Hanan
2015-09-07T00:00:00Z
This was my first adventure using Airbnb and it was a great one thanks to Jane! Jane greeted us at the door and welcomed my fiance and I into her home with warm hospitality and kindness. Her enthusiasm and appreciation for life and the beauty in nature is contagious. She was very insightful and has a great sense of humor. We felt comfortable in her cozy home and left with the notion that we gained a new friend. She's very wise and has energy that could put younger people to shame. I could listen to her bright and colorful stories for hours. Jane's roommate was also pleasant to be around. Thank you Jane for such a wonderful experience. Matt would like to add that he would love to come back to visit for a vacation.
Dawana (D)
2015-11-30T00:00:00Z
We never met Jane, she was on a trip in Europe during our stay. We exchanged emails before and she was very kind. When we arrived at the house everything was very messy and dirty. Tools, socks, shoes all over the floor and on the table. The refrigerator was pack with rotten food and stunk very bad. The beds had old sheets with dirty covers full of human hair. We decided to look for another place but everything around was booked. So, my husband and I started cleaning the place, especially the bathroom (which was very dirty too with touthbrush paste splited on the mirror). Not to mention the bathtub for which I had to use gloves and clean with bleach. We had been told that there was a snake in the porche and that that is why we couldn't go outside throught it. Also, we killed 2 scorpions in the kitchen. This house is a rip-off. I do not recomend it to anybody and if it weren't for the housesitter our weekend would have been ruined. I have been using airb&b many times and never had such a bad experience.
maria
2015-10-18T00:00:00Z
Jane is the friendliest and cutest host one could think of. She was so helpful with things we can do in the surrounding areas and in general she was very hospitable. The house was clean, we had a room with three beds for us two and a shared bathroom.
Isabel
2017-01-06T00:00:00Z
Jane is a great host. Will visit again
Yuri
2016-12-28T00:00:00Z
Jenis Bilik
Bilik berkongsi
---
Jenis Penginapan
Rumah
---
Memuatkan
2
---
Bilik tidur
Dunnellon, Florida, Amerika Syarikat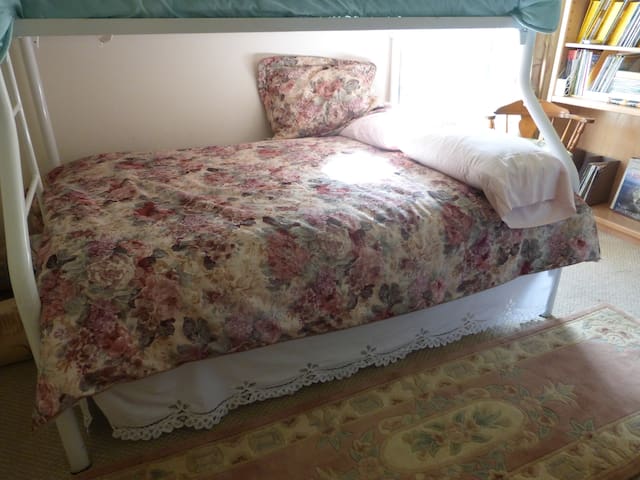 Cozy beach style resort, private room and bath, 46 mile bike trail (bike rental available), Rainbow River. Great place to relax, swim with the manatees in Crystal River, enjoy nature, (bird sanctuary near), kayak or canoe the springfed Rainbow River, walk or ride Withlacoochee bike trail--Enjoy Life!
The warm 'resort' feel
Beautiful trees, tranquility, sounds of nature, bike trail (two Margaritaville bicycles -- seven speed cruiser's -- available for rental), kayak or tube the Rainbow River, swim with the manatees in Crystal River, visit Homosassa Wildlife Park, clean and comfy private room & bath.
Sue I'd a gracious hostess - the perfect balance between attentive and respectful of privacy. The layout of the house lends itself to that as well.
Keith
2016-10-25T00:00:00Z
Sue was a kind and gracious host! Great places to eat around and explore the beautiful Rainbow Springs!
Elizabeth
2017-03-05T00:00:00Z
We had a great time staying at Sue's. She was very welcoming and made us feel at home. The breakfast was fantastic!
Marijke
2016-10-07T00:00:00Z
Sue is an incredibly gracious and giving host. The day before I arrived she took time to point out the best places for me to visit in the area and even offered to be my guide if needed. When you arrive at her door Sue greets you with a big smile and instantly makes you feel at ease and welcome. Her home is very cozy and comfortable and well decorated. Sue was a great listener and conversationalist and I left feeling as if I had made a friend.
Richard
2016-12-27T00:00:00Z
Sue is a great host, very friendly and gracious. Would recommend her place to anyone. Wonderful atmosphere.
Shawn
2017-03-11T00:00:00Z
Sue was a delightful host! She was very flexible about our uncertain arrival time and made us feel very welcome. We had enjoyable chats, but also were given privacy. She helped us find our way to places we needed to go. She really made us feel at home!
Susan
2016-12-05T00:00:00Z
Had a great time staying with Sue. She is very thoughtful and respectful of privacy. Had a couple of last minute changes in my plans including the addition of a guest and she was so accommodating. Definitely 5 stars.
Matthew
2017-02-19T00:00:00Z
Sue is a very kind host and let us feel that her home was also ours. The room is big, cosy and quiet. The location is very convenient between Ocala and Crystal River. In short : we sure recommand !
Arnaud et Marie
2017-02-20T00:00:00Z
Jenis Bilik
Bilik persendirian
---
Jenis Penginapan
Rumah
---
Memuatkan
2
---
Bilik tidur
Citrus Springs, Florida, Amerika Syarikat
Dunnellon - Airbnb
:
Purata

4.84

daripada

5

daripada

216

ulasan tetamu
1

–

18

daripada

40 Rumah Sewa
Masukkan tarikh untuk melihat harga penuh. Yuran tambahan dikenakan. Cukai mungkin akan ditambah.