This is a two-bedroom flat where both of the rooms are very spacious with double beds and wardrobes. It also has a light and clean kitchen with cozy leaving room and a dining table. The apartment is located in a market town in the suburbs of London.
The apartment is located in a welcoming purpose build block of flats with only 12 flats in the building. We have allocated parking space in a gated car park which guests are welcome to use. The apartment consists of two double bedrooms with an open plan kitchen and leaving room. Both bedrooms have double beds with wardrobes and chest of drawers so you can fully unpack and not leave out of your suitcase for the duration of your stay. Leaving room has a comfy sofa bed with a large flat screen TV and a dining table which sits 6-8 people. We also have WiFi in the apartment. It is perfect for a night in with a family. We have a modern kitchen with a newly installed induction hob and large fridge freezer and a microwave.
Epping is situated on the outskirts of London however it is conveniently served by London Underground. It has lots of green spaces and is right next to a famous Epping Forest which provides scenic walks trails, cycling routes and beautiful nature. It is ideal for families or couples who would like to combine city break and countryside experience. The area is mostly composed of young families and young professionals who travel to London for work so it's very safe and beautiful. Epping is a very traditional market town with a church, market on Sundays, traditional pubs and fish and chip shops. Epping has everything you could need and is convenient for going into London. It is a perfect place for a lazy day around Epping and Epping Forest to explore countryside. It's a safe neighborhood as you almost never hear sirens or heavy traffic. Instead, you'll wake up to birds singing, but getting into London is quick and easy! Really it's the best of both worlds, which is why we love living here.
Would highly recommend Alex and Yuliya's place to explore London and surrounding countryside (essex, colchester, Chelmsford, and of course the famous Epping forest) convenient to high street and the train. The unit is newly remodeled, clean, airy and stocked with everything we needed. I especially liked the French Press so we could have coffee (that was not instant). Secure off street parking was a real plus
Andrew
2016-08-25T00:00:00Z
Fantastic homely feel apartment, everything you need! Great location, close to all shops you need and quick walk to the train station. Thank you for my stay.
Nicola
2016-02-19T00:00:00Z
Excellent two day stay in Epping. The booking process was easy and the hosts were available to answer my questions. The flat was spacious, clean and tidy with modern features. It is close to the High Street so easy to get out on Christmas Eve. Ideal for my Christmas with my family.
Wayne
2015-12-26T00:00:00Z
Perfect, perfect, perfect!!! We rented the flat for 3 nights while staying in Epping. The location is perfect just off the high street and Yuliya is so helpful and customer service oriented. An e-mail gets answered within minutes. Amazing!! She inquired several times about how things were going before, during and at the end of our trip. If we would have had an issue, we knew we could have turned to her with an immediate reply. The flat is very cozy and modern. Nicely furnished with all the basics. Floor heating working perfectly just like everything else. Thank you very much Juliya and Alex! We will definitely come back, next time we visit London.
Sergio
2015-09-14T00:00:00Z
Flat was beautiful and very well presented. My parents, brothers and sister-in-law really enjoyed their stay in Epping. The flat had everything that is needed,only one suggestion would be a cafetière as I had to bring one over for them, other guests may not have that option. Internet wifi was excellent as was the TV. Very large bedrooms, spacious and very clean. Thank you.
Ciara
2016-01-03T00:00:00Z
We thoroughly enjoyed the stay. Everything available to use with everything thought of from kitchen to bathroom. Light and airy with plenty of room. Would highly recommend and will definitely use again. Thank you for making us welcome.
Lynne
2016-08-21T00:00:00Z
I can't give enough praise to Yuliya and her husband; there was a mix up with the dates (entirely my fault) and they went far out of their way to accommodate us despite the inconvenience. We are truly grateful for their kindness and for honestly keeping us from a really bad situation. The apartment itself is comfortable and lovely and we really enjoyed our stay here. There is plenty of room for 6 people as the couch in the living room turns into a good sized double bed and is very comfortable. If you want to be away from the craziness of the London city center, not to mention the prices, stay in Epping. The train into the center of the city is only about 30 minutes and you don't have to change lines. We didn't make it to the beautiful forest nearby, but will have to do so next time. Highly recommended.
Olivia
2015-07-24T00:00:00Z
Yuliya and Alex offer a really spacious two bed flat which they prepared and decorated with all their love. Everything was provided, even things like washing powder, oil, vinegar, etc. They were eager to do everything to make us happy as guests. The flat was very clean and is in a quiet street parallel to the High Street. In only 8 min you reach Epping Station which is the last station of Central Line - so you have access to the center of London without changing the transportation. Very much recommended!
Darta
2015-11-27T00:00:00Z
Jenis Bilik
Keseluruhan rumah/apt
---
Jenis Penginapan
Apartmen
---
Memuatkan
6
---
Bilik tidur
Epping, Essex, United Kingdom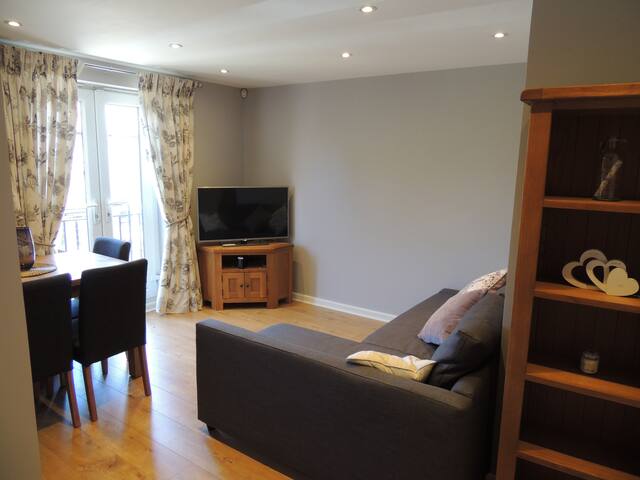 Hello, This nice one bed flat in Epping has become available for short let. Convienently located right near Epping station with great and fast access into Central London via Central Line in 45 mms to Liverpool Street.
Jenis Bilik
Keseluruhan rumah/apt
---
Jenis Penginapan
Apartmen
---
Memuatkan
2
---
Bilik tidur
Epping, United Kingdom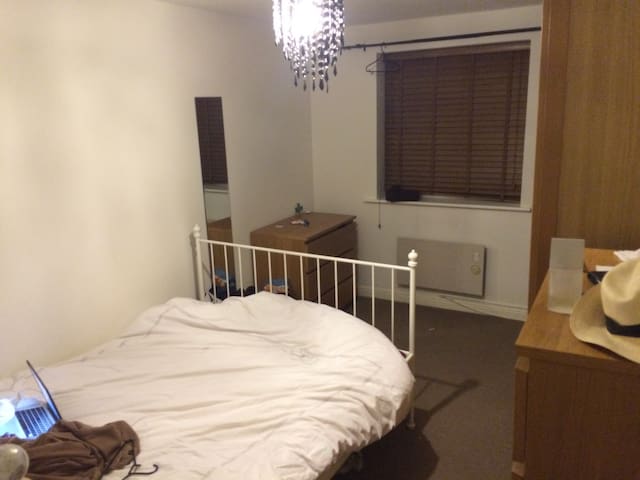 Bright,light,clean one bed studio annex apartment,with double bed,sofa bed,private entrance,bathroom,kitchen area,TV,wifi,off-street parking,& full use of the garden. Good transport links,15 mins from M11,M25. Just 30mins from Stansted Airport,5min drive (15min bus) to Epping tube station for London.Our village is beautiful & picturesque, set in the middle of Epping forest (5min walk), perfect for hiking/cycling.Close to shops & village pub.Ideal for couples,solo adventurers, & professionals.
The apartment is a spacious modern studio with separated living and bedroom area. There is a double bed and sofa bed which sleeps up to 4, although the studio would be best suited to a couple or solo adventurer. There is contemporary bathroom with a large shower and also a dressing area. You are more than welcome to make full use of the garden .
North Weald is a quiet, rural village, close to the Epping Forest. The Essex way passes near the village and there are many opportunities for walking, cycling and exploring. I would be happy to recommend good routes. The village pub, shops, and restaurants are within 3 mins walk. Epping (5 min drive) also has many restaurants, pubs and shops. The village boasts a large market every Saturday, 9 and 18 hole golf courses, a historical museum at the ww2 airfield and a heritage train line.
Very convenient for the shops.
Claire
2017-02-19T00:00:00Z
The studio has everything you need for a comfortable stay. It is also very quiet. Food shop literally next door, close to motorway and to stansted airport, so perfect if you want to explore London and also take some trip around it. The host was super helpful and nice: we definitely recommend you to stay here.
Laura
2017-03-14T00:00:00Z
Nicola's place was great, right near shops(walking distance), I would recommend staying here, it's worth it, only stayed for a night, but next time definitely for more than a night.
pirratheesh
2017-02-16T00:00:00Z
This studio annex was perfect for 5 weeks of stay. The host was very easy to contact and made sure everything was in order. The space was comfortable and well equipped. The local shops were just around the corner and this made shopping for essentials very easy. Overall, it was a very pleasant stay and would definitely stay again.
Liam
2017-02-10T00:00:00Z
We were so lucky to have discovered this little hidden jem! We were traveling by car and looking for a last minute place to stay outside of London during the Holidays and this place could not have been more perfect! Lovely town in the country side, but London still easy accessible by car or public transportation and restaurants plus grocery store right next door, so very convenient! Nicola and Valerie were more then helpful and their warm welcome and great tips made our experience perfect! Highly recommend this cozy apartment to anyone!
Mayra
2017-01-01T00:00:00Z
Super miejsce dla osób (max 4), które chcą zobaczyć podmiejskie życie w UK. Wioska jest dosyć mała, ale wszystko jest typu sklep, pub, restauracje (Indian, Chinese, fish and chips). Świetne miejsce na złapanie oddechu a też blisko stamtąd do Londynu. Niezapomniany pub jak z bajki o Babie Jadze! Pokój z aneksem i łazienką całkiem niezależny, parking, ogród. Cicho i super ciepło, co w lutym w UK nie jest zwyczajem. Pobyt spełnił nasze oczekiwania w 100%. Absolutnie polecam to miejsce.
Beata
2017-02-15T00:00:00Z
Jenis Bilik
Keseluruhan rumah/apt
---
Jenis Penginapan
Apartmen
---
Memuatkan
4
---
Bilik tidur
North Weald Bassett, England, United Kingdom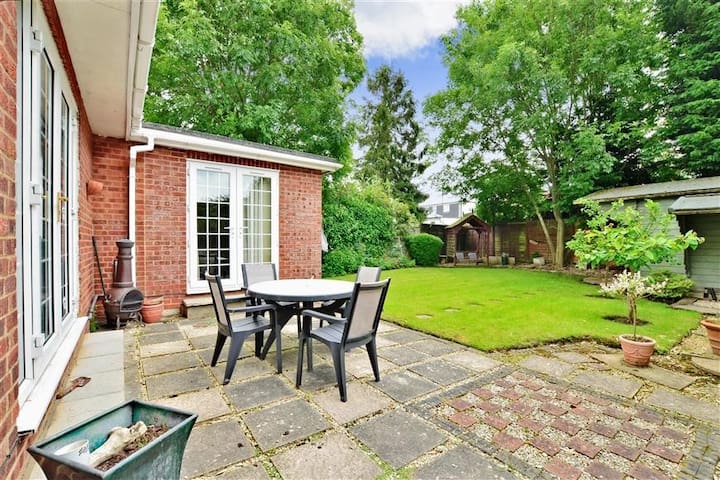 My modern, cosy one bedroom flat comes with a charming garden, new kitchen and a memory foam sofa bed, allowing up to 4 people to stay near the historic town of Waltham Abbey. Good transport links to London and to Stanstead airport. Pubs and local shops all walkable!
This is a lovely little flat in a residential area, with great transport links to Waltham Abbey, Waltham Cross station, to London and to Stanstead airport. The flat can comfortably fit 4 people, if two don't mind being on the (memory foam) sofa bed.
This is a quiet, residential area and the neighbours are lovely. There are shops and pubs within walking distance - I recommend the Horseshoes- good local beer and reasonable food. There are lovely walks in the countryside really close to the flat, through Warlies wood- watch out for the deer and the bulls! They're easy to spot! Epping Forest is very close, as is the Lea Valley for cycle trails in to Central London.
The location was perfect for us after picking up our adult children from Stanstead Airport. It had great parking and was close enough to London to allow us to catch the metro at Loughton the next day. We appreciated the milk left and the well stocked kitchen. The beds were comfy, the place well heated and everything else was great.
Jenny
2016-12-11T00:00:00Z
Katie was a fantastic host, very flexible with checking in and out. Great communication and even provided tea, coffee ect and lovely fresh bread. Katie's apartment was perfect for us, a nice warm and cosy place to relax with a well equipped kitchen and comfy bed. Only a short drive from London and many supermarkets close by. Parking was also a bonus! Would definitely recommend to anyone and would love to stay again in the future.
Amy
2016-11-06T00:00:00Z
Katie's home is warm, comfortable, close to shops & pub for what you need locally, plenty of parking, close to buses to get to trains, great location & very quiet residential area - highly recommend
Kara
2017-03-18T00:00:00Z
Katie was a wonderful host who offered us her home encouraging us to make it ours. I stayed for 5 nights with my 77 year Italian aunt who spoke no English and had only left Italy twice before. The flat was perfectly equipped for two very different people and allowed us to relax which was needed as the purpose of our stay wasn't much fun. Having a lovely place to return to on a quiet street really helped our stress levels and the memory foam mattress on the sofa bed meant I had 5 delicious nights sleep. Katie was a really kind and understand host and I loved leafing through the books on her bookshelf! They reminded me of home. Thanks Katie. I really appreciated the stay.
Kate
2017-01-23T00:00:00Z
What a great little flat! I know where I'll be staying when I'm in the area from now on! Thanks Katie.
Charlotte
2016-12-30T00:00:00Z
Katie's home was perfect for what we needed for a little get away. Very easy to speak with and very accommodating. Was a pleasure!
Sarah
2016-12-04T00:00:00Z
Excellent suite of rooms, with ample nearby roadside parking
Julie and Alan
2017-01-15T00:00:00Z
Jenis Bilik
Keseluruhan rumah/apt
---
Jenis Penginapan
Apartmen
---
Memuatkan
4
---
Bilik tidur
Waltham Abbey, England, United Kingdom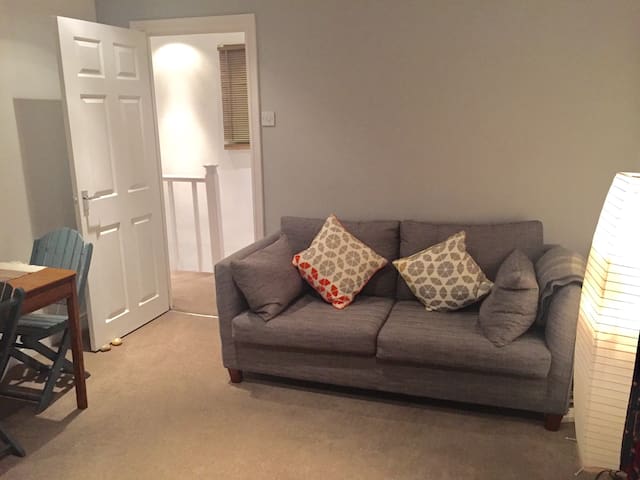 A simple single bedroom with cupboard space and wifi facilities. There is a kitchen in which you can cook simple meals. There is a small parking space out front. The bathroom is shared but has a shower and bath. Nearby there are British pubs, takeaways and restaurants, river walks and easy access to London. The flat is on the top floor of a town house.
Single travellers.
Just outside London, half way between Stansted Airport and London. Good for walking and bird life. You can catch the train into London.
Jenis Bilik
Bilik persendirian
---
Jenis Penginapan
Apartmen
---
Memuatkan
1
---
Bilik tidur
Broxbourne, England, United Kingdom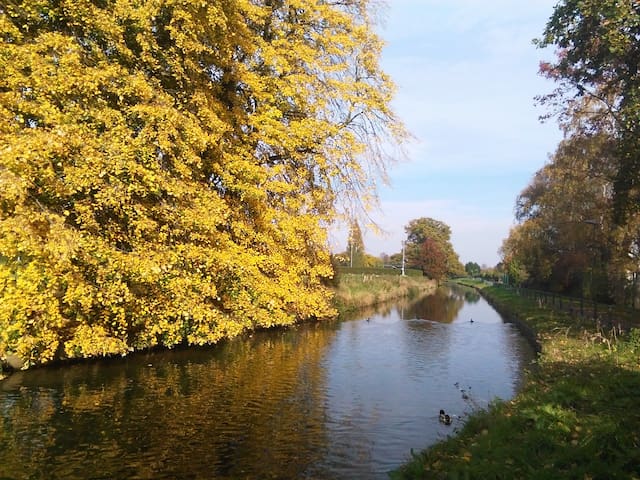 A tidy, single room in centrally located top floor apartment. The room is very light with garden views. You will have access to the lounge/diner with TV and large comfy sofa, and kitchen. Excellent location. Easy access to Central London, Stansted Airport and Cambridge.
Located in Hoddesdon, which is a lovely, vibrant town with plenty of different shops and supermarkets. It is also great for river walks as the flat is adjacent to the Lee Valley river - great for walks, cycling and outdoor activities. Also close to Broxbourne canoeing centre and Broxbourne Paradise Wildlife Park.
Jenis Bilik
Bilik persendirian
---
Jenis Penginapan
Apartmen
---
Memuatkan
1
---
Bilik tidur
Hoddesdon, England, United Kingdom
Epping Upland - Airbnb
:
Purata

4.92

daripada

5

daripada

58

ulasan tetamu
1

–

6

daripada

6 Apartmen Sewaan
Masukkan tarikh untuk melihat harga penuh. Yuran tambahan dikenakan. Cukai mungkin akan ditambah.