In quiet area of town with 5000 inhabitants exist neat apartment of 45 square meters. Private entrance, kitchen with all equipment including coffee and tea. Private bathroom and access to a washer and dryer. Parking just outside the door. Only 500 meters to shopping and bus station.
Our small apartment is located in the basement of our house. You have your own kitchen with fridge, oven and hob. Basin found in the utility room, where you have entrance to the apartment. There is also a washing machine, dryer and there is popularized space in the freezer if you have frost product. It is possible to hang coats and put shoes in the utility room. You have your own bathroom.
We live in a quiet neighborhood.
Nice appartment, very clean and enough space. Very friendly host. Due to traffic problems we arrived very late but that was not a problem for Troels. They even prepared the beds so that we could sleep immediately. We stayed one night on our way to Norway. I can recommend this appartment.
Koen
2016-08-08T00:00:00Z
Strøkent og fint, gullende rent og rene linjer i funksjonell innretting. Imøtekommende vertspar + oversiktlig infohefte om lokaliteter i Hadsund + godt muntlig tips om reisemål
Christian C.
2016-08-05T00:00:00Z
Troel's place was cozy and clean, recommended to anyone cruising Denmark. He was also very helpful and open.
Daniel
2016-08-28T00:00:00Z
Perfekt ophold og en god modtagelse.
Niels
2016-07-19T00:00:00Z
Rart og behageligt
Susan
2017-03-15T00:00:00Z
Vi fick ett vänligt bemötande och information om det viktigaste i området
Anders
2016-07-29T00:00:00Z
Kind family. Our daughter could play in the garden with the daughters of Troels. Apartment is beneath the house of the family. Everything we needed for 1 night. We could use the washing machine; so kind! Including bedsheets, top! Nearby the Mariager fjord and great Italian restaurant Da Vinci!
Denise
2016-07-25T00:00:00Z
El piso es muy bonito y tal y como aparece en las fotos. Aunque sea un semi-sótano, es muy luminoso y los anfitriones han cuidado mucho la estética, tanto que la atmósfera es cálida y acogedora. Lo único un poco incomodo es el hecho que la cocina no dispone de un lavabo propio, sino que hay que utilizar el que está justo fuera del apartamento, en la entrada al sótano. Los anfitriones son muy disponibles y dejan en el piso una carpeta útil y completa con informaciones turísticas de los alrededores.
Michele
2016-09-01T00:00:00Z
Jenis Bilik
Keseluruhan rumah/apt
---
Jenis Penginapan
Apartmen
---
Memuatkan
4
---
Bilik tidur
Hadsund, Nordjylland, Denmark
Lägenhet med egen trädgård 5 minuters promenad till en fantastisk sandstrand uthyres. En trerumslägenhet med två dubbelsängar och möjlighet till två extrasängar, kök, badrum, trädgård med utemöbler och grill. Själsäng och barnstol finns också.minst 3 nätter. Ytterligare en mindre lägenhet finns också För mer info ring (PHONE NUMBER HIDDEN)
Nära havet
Lisa er sød og venlig og hurtig til at svare. Desværre var beskrivelsen af boligen forkert, og vi troede at vi lejede en 3-værelses, men fik i stedet en 2-værelses (1 soveværelse og to stuer én-suite, uden dør i mellem). Det var til stor gene for vores to familier, som troede at vi skulle have et værelse hver. Og så var der ikke oplyst, at der ikke var mulighed for tv, hvilket vi også savnede.
Karen
2016-10-20T00:00:00Z
A nice Summer house, just too crowed for us five. But the rooms are clean, cozy and comfortable. Happy with the room. And the host lady is very sweet.
Shuai
2016-08-19T00:00:00Z
Jenis Bilik
Keseluruhan rumah/apt
---
Jenis Penginapan
Apartmen
---
Memuatkan
4
---
Bilik tidur
Hadsund, Hadsund, Denmark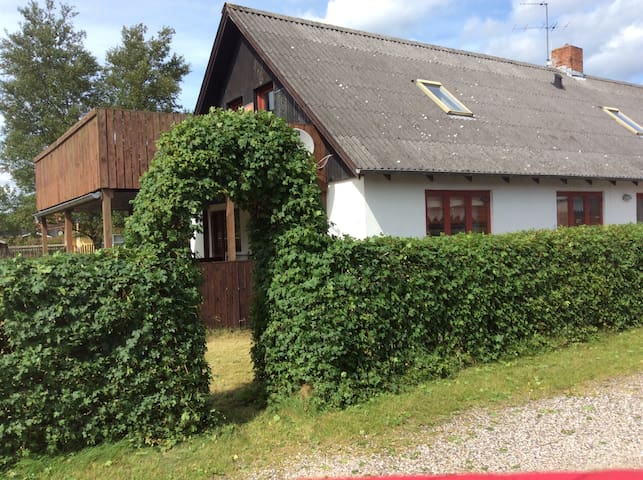 Min bolig lægger tæt på stranden og fantastiske udsigter. Du vil elske min bolig på grund af hyggen og lyset. Min bolig er god til par.
Jenis Bilik
Keseluruhan rumah/apt
---
Jenis Penginapan
Apartmen
---
Memuatkan
4
---
Bilik tidur
Hadsund, Denmark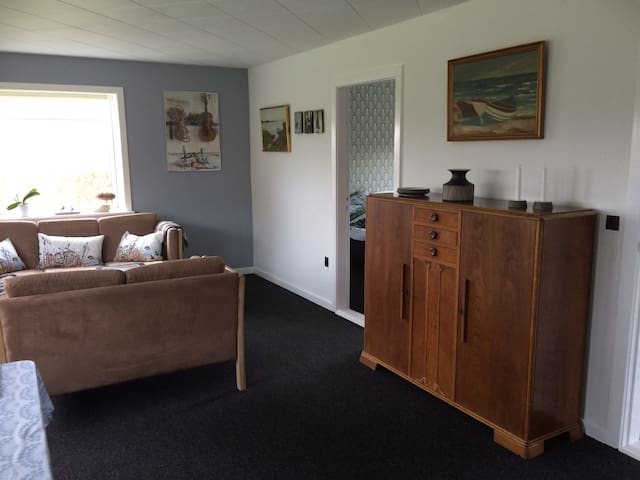 Hyggelig lejlighed - 5 minutters gang fra næsten alt. Lejligheden har et soveværelse med queensize-seng, fold-ud sofa, der bliver til dronning seng. Køkken med alle former for forsyninger, og toilet med bad og toilet-forsyninger. Inkluderer fantastisk udsigt!
Meget hyggeligt 2 værelses lejlighed i flot og afslut lejlighed-bygning. Stor wiew fra 3. sal - lugter i centrum af Aalborg, tæt på shopping, spise og hvad du ønsker at se i Aalborg.
God og centralt beliggende lejlighed, og super modtagelse. Kan varmt anbefales
Troels
2015-08-29T00:00:00Z
A nice flat, very close to the centre of Aalborg. Anders could not have been more helpful in accommodating my lack of a phone when making arrangements. The bathroom is compact and I am almost 6 and half feet tall. It was not a problem but I had to be careful.
Ken
2016-05-08T00:00:00Z
Vi havde en dejlig weekend i Aalborg. Lejligheden ligger centralt, og vi kunne gå til alt, vi havde behov for. Selvom Anders var ude at rejse, var han meget tilgængelig opholdet igennem, så vi var ikke i tvivl om noget.
Hannibal
2015-07-28T00:00:00Z
This experience was really good. I gave Anders an estimation of the time we will arrive, and kept him informed during the day. The flat was cozy, very clean, the bed and sofa were comfortable. It was a Saturday night and it was quiet. The center city, with all bars and activity are very close to the flat. We contact Anders to inform him the time we were leaving and it was easy to give him back the keys. Thanks to Anders, we spend a nice time in Aalborg!
Julie
2016-05-16T00:00:00Z
I stayed with three friends at Anders' apartment. Although we didn't meet him, he made everything to ensure a good stay for us. Check-in is smart and uncomplicated. The apartment is spacious with one bedroom for two persons and the living room with a couch to sleep on for two persons (expandable for sleeping). The location is great, in walking distance to the center and famous Jomfru Ane Gade. The kitchen is well equipped and the bathroom is decent-sized. Only drawback is the advertised free parking space that doesn't exist. Parking is actual not free only for limited time (1-2 hours) so we had to change the car clock every time.
Ray
2016-11-13T00:00:00Z
Anders blev nødt til at gå før vi ankom, da det blev ret sent, men alt var i det fineste orden og klar til os og han ringede til mig og forklarede om alting. Han var rigtig tilgængelig og hjælpsom igennem hele forløbet, og næste gang jeg er i Aalborg ville jeg helt sikkert prøve denne lejlighed igen.
Nikolai
2015-08-10T00:00:00Z
Anders dejlig lejlighed er centralt beliggende og har alt hvad man har behov for. God kommunikation med Anders og sin mor. Tak for en god oplevelse, kan varmt anbefales.
Sandra
2016-03-28T00:00:00Z
We've had a fantastic experience with Anders's apartment. It was his dad, Soren, who welcomed us in the place. He was super nice and flexible with our arriving time, and showed us everything in the apartment when we arrived. He gave us recommendations for the city, and with his great humor and friendly personality, we've had a very warm welcome. The apartment itself was spacious, beautiful and very close to everything in the city. Our overall experience could not have been better! Thanks again for everything Soren and Anders!
Kata
2016-05-28T00:00:00Z
Jenis Bilik
Keseluruhan rumah/apt
---
Jenis Penginapan
Apartmen
---
Memuatkan
4
---
Bilik tidur
Aalborg, Denmark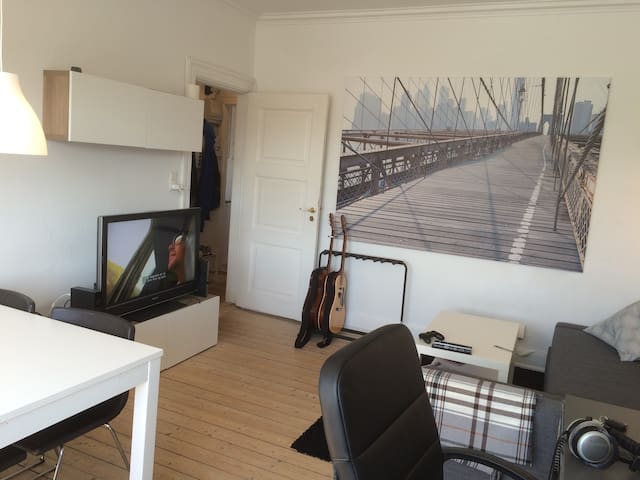 The flat is situated 15 min walk from Aalborg City Centre, the harbour site, Musikkens Hus and Nordkraft. Right in front of the building goes a direct bus to university and city centre every 15 min. Every half an hour the same bus goes directly to the airport. Plenty of free parking. The flat is perfect for couples or singles. Ideal if you have business at AAU, but don't want to stay too far from city centre. There is an inflatable bed and extra bedding, if needed.
If you have business at Aalborg University, but at the same time don't want to stay too far from the city centre, this flat is ideal for you. AAU is reached in under 15 minutes by bus and the city centre is only a 15 min walk away.
Right next to the flat you'll find the park Østre Anlæg, which is quite popular on a sunny day. There are pubs and a cafe close by, as well as supermarkets and take-aways. So you won't starve or die of thirst.
Björn is a very friendly, down-to-earth host who keeps all the given promises. Cosy and clean appartment, close to the city, definitly recommendable! thank you very much!
Clemens
2016-07-16T00:00:00Z
Björn was super helpful, spotted us outside waiting because we forgot the house number. The apartment is nice and cozy , definitely recommend it.
Adam
2016-08-11T00:00:00Z
Bjorn встретил нас очень позитивно, общение и улыбки, нам очень приятно! Квартира со всеми удобствами: бытовая техника, Wi-Fi, Hi-Fi техника, просторная кухня со всевозможными приборами! Все огонь, круто! Спасибо за теплый прием, надеемся встретиться вновь! Однозначно, РЕКОМЕНДУЕМ!
Александр
2016-09-24T00:00:00Z
Hyggelig og rar lejlighed med en supergod beliggenhed. Bjørn var et rart bekendtskab - og jeg kommer forhåbentlig snart igen
Lone
2016-10-23T00:00:00Z
Björn was a great host with a very cozy and well-equiped apartment that can suits to any needs. He was very communicative and gave us plenty information about the place. I would definitely recommend his apartment. Thanks!
Andrei
2016-11-15T00:00:00Z
Vi blev modtaget af Bjørn som vi havde aftalt. Fik en god information til lejligheden. Pæn/ren og opryddelig lejlighed. Kan klart anbefale lejligheden.
Lone
2016-09-11T00:00:00Z
Wir hatten einen schönen Aufenthalt in Aalborg. Die Kommunikation mit Björn verlief einwandfrei. Die Wohnung war sauber und hat alles da, was man so braucht. Das Zentrum ist fußläufig erreichbar. Insgesamt war Björn ein super Gastgeber und wir waren sehr zufrieden. :)
Kristina
2016-09-17T00:00:00Z
Björn is a very nice host who kept his promises and put his guests in the first place. The apartment itself is very cozy, clean and close to the city - a great walk with some nice places to stop by. We definitely recommend Björn as a host and his apartment!
Sven
2016-08-03T00:00:00Z
Jenis Bilik
Keseluruhan rumah/apt
---
Jenis Penginapan
Apartmen
---
Memuatkan
2
---
Bilik tidur
Aalborg, Denmark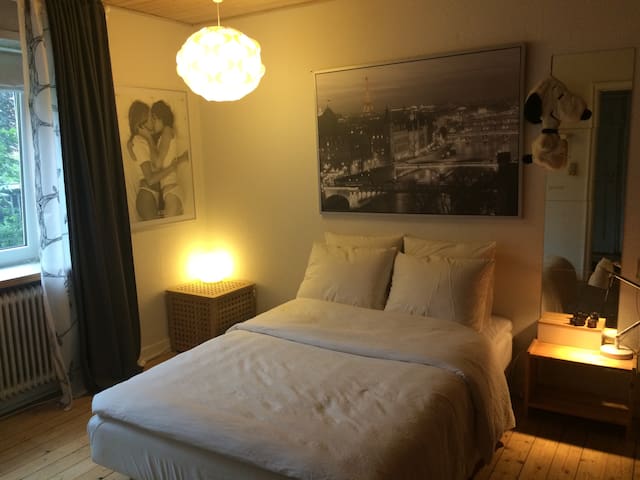 Our apartment is located directly by the fjord with spectacular views of the city. The apartment is located in a quiet area close to the city center. The bright apartment has two bedrooms, an office, two bathrooms, kitchen and living room.
Wherever you are in our 4 bedroom apartment of 100 sqm., You have a nice view over the fjord and the city. There is possibility of extra bed in the office if you come 5 people. There is a newer apartment from 2007 which is bright and friendly. The apartment has everything you need. There is access to wireless internet, washer, dryer, dishwasher and refrigerator. There are fresh towels and linens etc. At your disposal. Since we do not charge for cleaning, we expect that you leave the apartment neat and tidy - as when you received it :-)
The apartment is located in a very quiet neighborhood. There is a small playground for the children. But be aware that children should be supervised, as it is close to the water. If you arrive by car, there is ample parking right outside the door.
Vi fik en god velkomst, der var både kage og kaffe. Men da vi ikke drak kaffe, tilbud Conny noget andet. Der var både vand, øl, noget vin som vi kunne tage på køleskabet. Men da vi ikke drikker spiritus, tog vi kun imod vand. Lejligheden ligger tit på vandet, og det er noget vi kan lide, så det var et super plus for os. Alt er fint og ok.
Nina
2015-07-19T00:00:00Z
Conny welcomed us when we drove in, excellent timing! There is a nice and relaxing view on the river. We spent a few hours here on the balkony in the sun just doing nothing :) It's a silent envorment and you'll be in the city center with 15 min walk. We had a good time here and would recommend this place to anyone!!
Jaap
2015-05-17T00:00:00Z
Csodálatos napokat töltöttünk Aalborgban, ebben a nagyszerű apartmanban. Fantasztikusan szép kilátás nyílik a balkonról a fjordra és a városra. Az apartman kényelmes, tiszta és mindennel fel volt szerelve, amire szükségünk volt. Otthon éreztük magunkat egy új, gyönyörű környezetben. Henrik és Cony nagyszerű házigazdák. A lakásról megadott információk pontosak voltak, minden levélre, üzenetre azonnal választ kaptam. Conny kávéval és finom süteménnyel várt minket a megbeszélt időpontban, ellátott minket minden szükséges információval. Köszönjük. Mindenkinek ajánlom ezt a gyönyörű apartmant, a nagyszerű házigazdákat és Aalborgot. János
Janos
2015-06-29T00:00:00Z
We enjoyed the stay at your place for sure! You gave your best that we feel comfortable at your place. We just love your perfect few over the fjord! We would definately book your place again! :)
Ella
2015-04-04T00:00:00Z
Vi havde 2 dejlige dage i Henrik og Connys fine lejlighed. Conny tog imod os med kaffe på kanden og hjemmelavede negerboller, sikke en hjertelig velkomst og generøsitet. Og udsigten er virkelig byens bedste, næsten hele opholdet værd, lys og venlig atmosfære, ubeskriveligt skal opleves. Vi blev mødt af stor hjælpsomhed. Lejligheden er rummelig og der var fint plads til, at vi 3 midaldrende kvinder kunne få hvert vort værelse. Relativt kort gåafstand til byen og dejligt roligt om natten.
Ulla
2015-06-26T00:00:00Z
호스트는 집에서 우리를 기다리고 있었고 아주 많이 친절하게 집 내부를 설명해 주었다. 웰컴과일과 각종 먹을거리를 마련해 주었고 마음껏 먹을 수 있도록 배려해 주었다. 집 앞 sea view가 일품이었고 주변이 조용하고 위치 또한 만족스러웠다. 만족스럽지 않은 것이 없었지만 Conny의 친절은 특히 100%만족스러웠다. 이곳에서 하루만 머물수 밖에 없어서 아쉬움이 많다. 누구라도 이곳을 좋아하고 만족할 것이다. 호스트가 살고 있는 집이라서 지내기에 전혀 불편함이 없었다
Jaejin
2015-07-20T00:00:00Z
Conny and Henrik were really nice and the flat was lovely! Specially the view to the fiord.
Helena
2015-04-07T00:00:00Z
Vi boede 2 voksne og 2 teenagere i Henriks og Connies dejlige bolig. Vi blev modtaget af Connie, der vidste os rundt og forklarede lidt om boligen. Connie er meget imødekommende og hjælpsom. Vi følte os straks hjemme. Vi tilbragte 2 dejlige dage i Aalborg med denne virkelig lækre lejlighed som base. Alt var perfekt for os. Boligen er godt indrettet, med alt, hvad man har behov for. Det bedste var dog beliggenheden helt ned til fjorden. Der var virkelig byens bedste udsigt, og det var hyggeligt at se der blev fanget fisk lige uden for vinduet. Det er oplagt at gå en tur på kajen og se på Aalborgs "skyline" og fritidsfiskernes fangster. Tak for denne gang til Connie og Henrik.
alex
2016-04-11T00:00:00Z
Jenis Bilik
Keseluruhan rumah/apt
---
Jenis Penginapan
Apartmen
---
Memuatkan
5
---
Bilik tidur
Aalborg, Denmark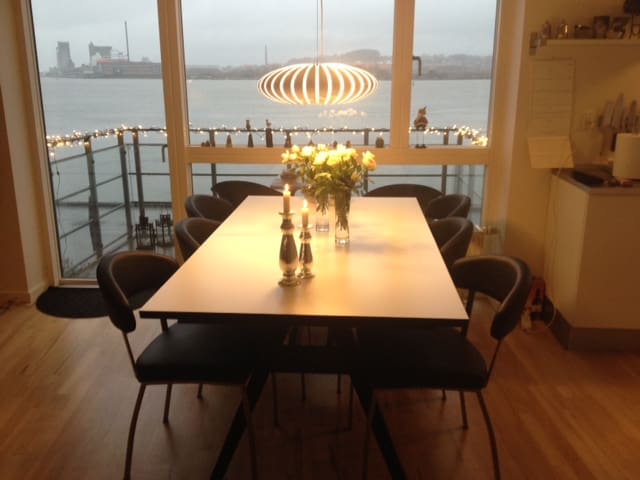 Cosy two-bedroom in Island-street neighborhood 15 minutes' walk from the city center, close to the port, shopping and recreational parks. Cozy two-room apartment in quiet neighborhood, 15 minutes walk from the city center, close to the harbor, grocery shops and green parks.
Our cozy apartment contains a distribution-hall, where you can hang your coats and put your shoes. From the hallway there is access to all the apartment space. In the bedroom is a large bed of 1,8m x 2 m. Cabinets and drawers, we use even for various storage, but there is plenty of floor space to store suitcases. The living room has a dining table with chairs, a sofa, TV (which can be used with Chrome Cast of smartphone), and a cozy interior. The sofa can be folded out into a double bed of 2m x 1.4 m. The kitchen is small but contains everything necessary. I must naturally been using our pots, crockery, etc., and it is possible to store your own food in the fridge. There is also WIFI throughout the apartment. We hope you will enjoy our little home! // English version: Our nice apartment contains a small entrance hall where you can put your shoes and jackets. From here all other rooms of the apartment kan nått. The bedroom har 2m x 1.8m bed. We use the closet and drawers for our personal belongings, but there is plenty of available room on the floor for your suitcases. In the living room you will find a dinner table with chairs, a TV (kan anvendes with chrome cast app on your smartphone), a couch and a nice atmosphere. The couch can be turned into a bed of the size 2m x 1.4 m. The kitchen is small but contains all you will need. You are free to use our pots, pans and so on, and there is available room in the fridge for your food. WIFI is availble in the entire apartment. We hope you will enjoy our apartment!
Jenis Bilik
Keseluruhan rumah/apt
---
Jenis Penginapan
Apartmen
---
Memuatkan
4
---
Bilik tidur
Aalborg, Denmark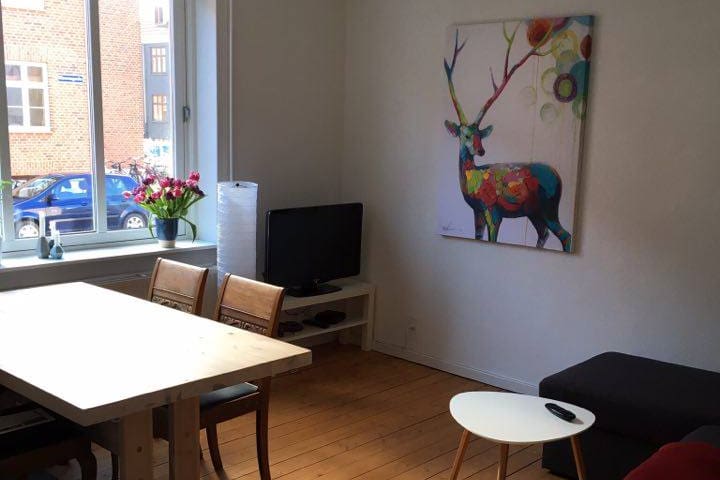 It's a 78m2 apartment right in the middle of Aalborg. There is a bedroom, Livingroom, toilet and Kitchen. The apartment will not have much furniture, and the reason is, that I just got it. But I'll ensure you that there will be a bed, table and couch. Just 5 min walk away from our citys shopping and food places. The apartment is just about 7 minutes from the train station, and easy to find!
Jenis Bilik
Keseluruhan rumah/apt
---
Jenis Penginapan
Apartmen
---
Memuatkan
2
---
Bilik tidur
Aalborg, Denmark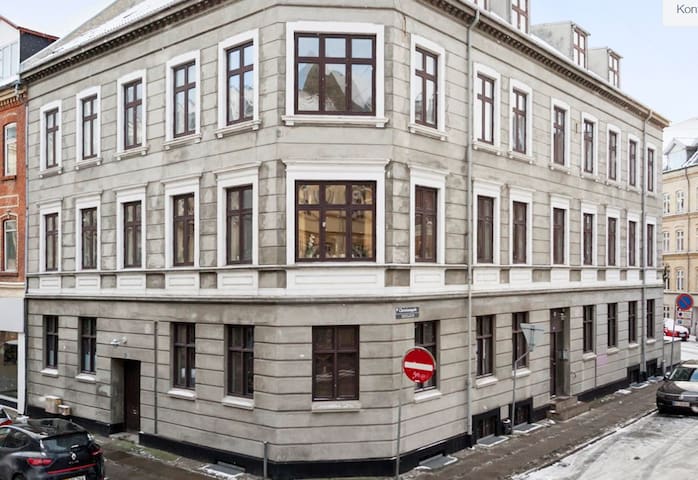 Hei and welcome I am renting out my spare room in my 65m2 apartment. You will have the room for yourself, and then sharing the livingroom, bathroom and kitchen with me. Østre Havnegade is a 8-10 minuts walk from the city center. The appartment is placed near parks, activities like fitness, concert hall, CablePark, harbourfront with some of the university etc. I'm looking forward to bid you welcome :)
The apartment is a 3 room apartment consisting of 2 bed rooms, living room, hall, kitchen and bathroom.
Henrik is an A-star host! I arrived at his house with a nasty cold and he made extra sure I was comfortable and able to attend the conference I had come for (Thanks again!). Henrik's place is great and he is a joyful and smiling person. Highly recommended!
Doerte
2016-11-30T00:00:00Z
What a great guy! everything was working, easy and pleasant.
Jarl
2016-09-25T00:00:00Z
God mail-kommunikation inden ankomst med efterfølgende tlf.opkald fra vært, der ville sikre at alt var OK
Ellinor
2017-01-11T00:00:00Z
The host canceled this reservation 15 days before arrival. This is an automated posting.
Susanne
2016-10-13T00:00:00Z
Henrik var en super venlig og rar vært. Det er helt sikkert et sted jeg kan anbefale, og selv komme tilbage til.
Anne
2016-11-23T00:00:00Z
Super appartement très proche du centre ville et surtout un super hôte qui n'hésite pas a partager et avec qui j'ai eu beaucoup de fun.
Aurelien
2016-10-13T00:00:00Z
Henrik er en super og meget opmærksom vært. Jeg vil sikkert vælge at bo hos ham, hvis jeg skal til Aalborg igen. Tak for alt, Henrik!:)
Eliza
2016-11-18T00:00:00Z
I really enjoyed staying over at Henrik's place. It's a cozy, warm place to stay at, very close to the centre (10 mins max.) and the river. Henrik made sure the communication was perfect and that I had everything I'd need for my stay. Absolutely would recommend the apartment and Henrik as a host.
Marc
2016-11-27T00:00:00Z
Jenis Bilik
Bilik persendirian
---
Jenis Penginapan
Apartmen
---
Memuatkan
1
---
Bilik tidur
Aalborg, Denmark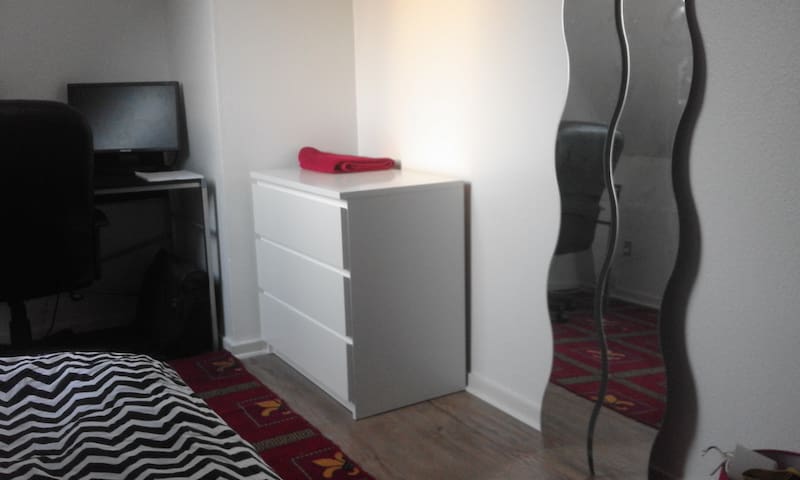 Lejlighed tæt på banegård, centrum og park. Altan med udsigt udover Gudenå. Elevator og Gratis parkering. Lejligheden er m spisekøkken og badekar. Der er WiFi og TV, ligeledes take-out i samme bygning. Beliggende i roligt og venligt kvarter, (formanden bor i stueetagen). Der er fri adgang til kaffe og te samt serviceså der må godt laves mad. En køleskabshylde gøres fri til gæsten. Lille garderobe og natbord Spisebord i stuen. Min bolig er god til par og forretningsrejsende.
Smuk udsigt over Gudenå og tæt på park. Centralt beliggende tæt på banegård og centrum. Rolig opgang. Stadion og Randers-hallen få minutters gang fra hjemmet. Indkøb (Kiosk, Seven/Eleven, pølsevogn, Livretten (dansk mad, ligger i samme blok) , pizzeria, Lidl og Rema 1000) i gåafstand. Stor hjørnesofa til at slænge sig i i stuen og fri WI-FI og TV. God størrelse soveværelse med dobbeltseng. Lille hyggeligt spisekøkken, også med dejlig udsigt. Lille hyggelig altan med cafebord og stole, mulighed for at ryge. Bad med brus og karbad. Dørtlf.: Der er låst fra 08:00-18:00 Fri parkering (husk gæste p-billet!!) Livretten som har klassiske danske retter og grillmad på menuen ligger i samme bygning (bestil inden kl. 19! Åbent til 20:00). Legeplads til den side, hvor altanen er.
Roligt kvarter med god stemning og en blanding af ældre, midtimellem, unge og børnefamilier. Der er legeplads på den side hvor altanen er. God mulighed for gåture i Vestparken, Doktorparken og ved Gudenå. 15 min. gang og du er i bymidten.
.
Søren
2016-12-25T00:00:00Z
En perle, som kan anbefales.
Torben
2017-03-19T00:00:00Z
Dittes hjem er rigtig hyggeligt og har alt hvad man skal bruge
Charlotte
2017-02-15T00:00:00Z
Dejlig stemning og hyggeligt indrettet.
Alex
2017-03-16T00:00:00Z
Jean Ditte er en perfekt vært, sød, smilende og meget imødekommende. Hjemmet er rart og hyggeligt med alt hvad der skal være samt en god seng. Bestemt ikke sidste gang vi har været her.
Heidi
2017-01-21T00:00:00Z
Hyggelig vært. God kommunikation. Rummelig bolig uden mangler. Roligt kvarter. Centralt og alligevel tæt på grønne omgivelser.
Torben
2017-01-08T00:00:00Z
Ditte var rigtig sød, og lejligheden var helt perfekt! Kan varmt anbefale Dittes lejlighed.
Simon
2016-12-18T00:00:00Z
Det er meget nemt at føle sig hjemme i Jean Dittes hyggelige og velindrettede lejlighed, og hun er en sød og venlig og meget gæstfri vært.
Charlotte
2017-02-04T00:00:00Z
Jenis Bilik
Keseluruhan rumah/apt
---
Jenis Penginapan
Apartmen
---
Memuatkan
2
---
Bilik tidur
Randers, Denmark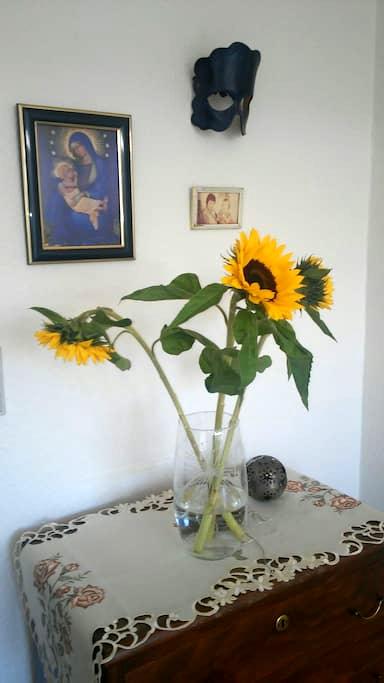 Min bolig ligger tæt på Aalborg, 20 min med tog, bus eller bil, 15 min gang til togstation 20 min i bil til Rebild Nationalpark, 35 min i bil til lufthavnen Natteliv i Aalborg 25 min til Aalborg storcenter i bil Masser af flot natur tæt på. Du vil elske min bolig på grund af de høje lofter, menneskerne og omgivelserne. Min bolig er god til par, soleeventyrere, forretningsrejsende, familier, Håndværkere
Karsten var meget flink og imødekommende. Alt var i den skønneste orden og kan varmt anbefales.
Anne
2016-12-20T00:00:00Z
Karsten var meget sød og hjælpsom. Spurgte om der manglede noget i lejligheden mm. Kørte mig til toget, da jeg skulle hjem.
Evy
2016-12-16T00:00:00Z
Rigtigt dejlig sted! Og meget flink vært :)
Marie Louise
2017-02-10T00:00:00Z
roligt sted, og svarer til beskrivelsen. God kommunikation, venlig og åben vært.
Qaiz
2017-01-29T00:00:00Z
Jeg fik en rigtig god modtagelse. Karsten er meget hjælpsom og venlig. Lejligheden er rigtig hyggelig.
Lene
2017-04-06T00:00:00Z
A lovely little apartment, very clean and comfortable. Karsten is very friendly welcoming and willing to help with anything. Highly recommend.
Fleming
2017-01-23T00:00:00Z
Karsten var venlig og meget hjælpsom, da jeg ankom til lejligheden. Stedet var meget behageligt, med god plads og alt hvad man skal bruge. Kan varmt anbefales og vil helt sikkert benytte stedet igen.
Simon
2016-11-28T00:00:00Z
Har kun fået positiv tilbagemelding fra min kollega Davey der boede hos dig.
Line
2017-03-24T00:00:00Z
Jenis Bilik
Keseluruhan rumah/apt
---
Jenis Penginapan
Apartmen
---
Memuatkan
3
---
Bilik tidur
Støvring, Denmark
Living room apartment, very central. Within walking distance to everything Aalborg has to offer. The property consists of two rooms, a bedroom with cupboards, bathroom with bath and kitchen. All appliances, blah. gas stove. Here you will feel at home in a quiet neighborhood ... Cleaning fee is paid also upon arrival
Super delicious apartment, with everything your heart desires. Free Wifi and music. 55 "TV with slot. Here you can relax when you have been out in Aalborg and North ..
Nice houses, old pleasant gardens and a nice neighborhood. Take a walk in Aalborg Tower and get the best view ..
Le logement correspond à la description attention les frais d'entretien sont à ajouter à la location!
sophie
2016-08-03T00:00:00Z
Fin lejlighed til prisen, god beliggenhed, flink og fleksibel vært.
Søren
2016-08-01T00:00:00Z
The apartment was really nice and clean and well equipped. Its position is not in the city center of Aalborg, but it is about 15 minutes by walk to the center or you can go by bus directly from the Busterminal. The location is quiet, two supermarkets are very close. Hosts, who live on the first floor of the house, were also very nice and friendly.
Petr
2015-09-03T00:00:00Z
Fin beliggenhed, men lidt mangelfuldt inventar
Rasmus
2017-01-21T00:00:00Z
Peace and quiet place, appropriate for families and the house was nice and cozy! Thank you Kaj!!!
Γιώτα
2017-01-02T00:00:00Z
Dit appartement is ruim met fijne keuken net duur goed parkeren en een bus om de hoek prima voor 3 of 4 personen
Arie
2017-01-28T00:00:00Z
alles hat gepasst, wir haben uns wohl gefühlt und für unseren Aufenthalt war es die ideale Unterkunft.
Gabi
2017-02-19T00:00:00Z
Egen lejlighed i rolige omgivelser.
Michael
2017-02-12T00:00:00Z
Jenis Bilik
Keseluruhan rumah/apt
---
Jenis Penginapan
Apartmen
---
Memuatkan
4
---
Bilik tidur
Aalborg, Denmark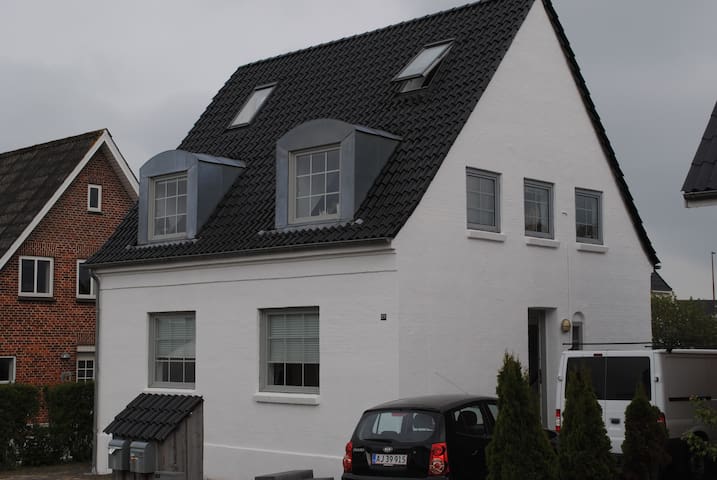 Renovated apartment on the entire 119 sq m in the middle of Aalborg center, close to shopping, parks, arts and culture, café and restaurants. You will love this apartment because of ambient light and the neighborhood. There is also a private car park.
In the heart of Aalborg City will find this gem of an apartment on the whole 119kvm. You will be amazed at the lovely tranquility and harmony that is in the apartment despite the central location. And because of the high altitude and the large windows, you get a lovely natural light in every room. The apartment is located in a nice well-maintained property with private parking. P license is located in the apartment. The apartment consists of entrance hall, large dining room where you can easily have 10 people to spsning, large family kitchen and living room. Additional p is a large romantic bedroom on the entire 23 sqm and large bathroom. The whole apartment is renovated in 2016 from AZ. There really is circled to detail throughout the apartment, and everything is modernized with attention to detail and super nice touch! A unique opportunity you are looking for an exceptional apartment with a central location in Aalborg.
As a tenant of the apartment you can also look forward to have the entire downtown Aalborg for your feet. You can buy fresh fish, eco-green and a lot of other delicious on the vegetable market, located about 50 steps from your front door. Nearest supermarket is also quite miss, and whatever in going to the theater, to the movies, out to eat or just down and sit on a terrace with a cup of coffee, you can do it on foot. And be in out in the country, there are only a few hundred meters to the railway station.
Super lækker lejlighed midt i Aalborg. Alt er i orden, og det er let at kommunikere med værten.
Helle
2017-01-24T00:00:00Z
Stilfuld luksus helt centralt! Virkelig lækker lejlighed midt i centrum af Aalborg - masser af spisesteder i gå-afstand. Fantastisk lejlighed, med alle moderne foranstaltninger, men også masser af charme. Der er sørget for alt til gæsterne - parkering, sengetøj, håndklæder, m.m. Rigtig venlig vært og fin "guide" liggende i lejligheden, som fortæller lidt om området og lejligheden selv. Alt i alt et virkelig dejligt ophold!
Diana
2016-11-20T00:00:00Z
Perfect location! Walking distance to restaurants, pubs, and nightlife, but a couple of blocks removed to that it was quiet in the apartment.
Andrew
2016-12-21T00:00:00Z
Super hurtig til at svare, og var meget fleksibel med ankomsttidspunkt. Dejlig lejlighed, ren og pæn, alt var som det skulle være.
Mette
2016-10-12T00:00:00Z
Very modern and stylish interior.
Peter
2017-03-10T00:00:00Z
We really enjoyed our short stay at this impressive, art-filled apartment in the city center. Check in was quick& easy. Comfy bed, beautiful bathroom, overall great value for money!
Jeanette
2016-11-01T00:00:00Z
Dejligt ophold i Ålborg! Virkelig god service fra Nicholais' side, både kommunikationen før vi ankom til lejligheden og da vi ankom var der en mappe med anbefalinger til spisesteder osv og desuden indholdsfortegnelse af alle skuffer og skabe, meget lækkert. Det var en del som at være på hotel, med håndklæder og shampoo stillet frem :-)
Emma
2016-10-08T00:00:00Z
The place is very very nice, perfect central location and an amazing bathroom and living room. It looks like a 5 star hotel. Definitely recommended to everyone.
Manuel
2016-11-09T00:00:00Z
Jenis Bilik
Keseluruhan rumah/apt
---
Jenis Penginapan
Apartmen
---
Memuatkan
4
---
Bilik tidur
Aalborg, Denmark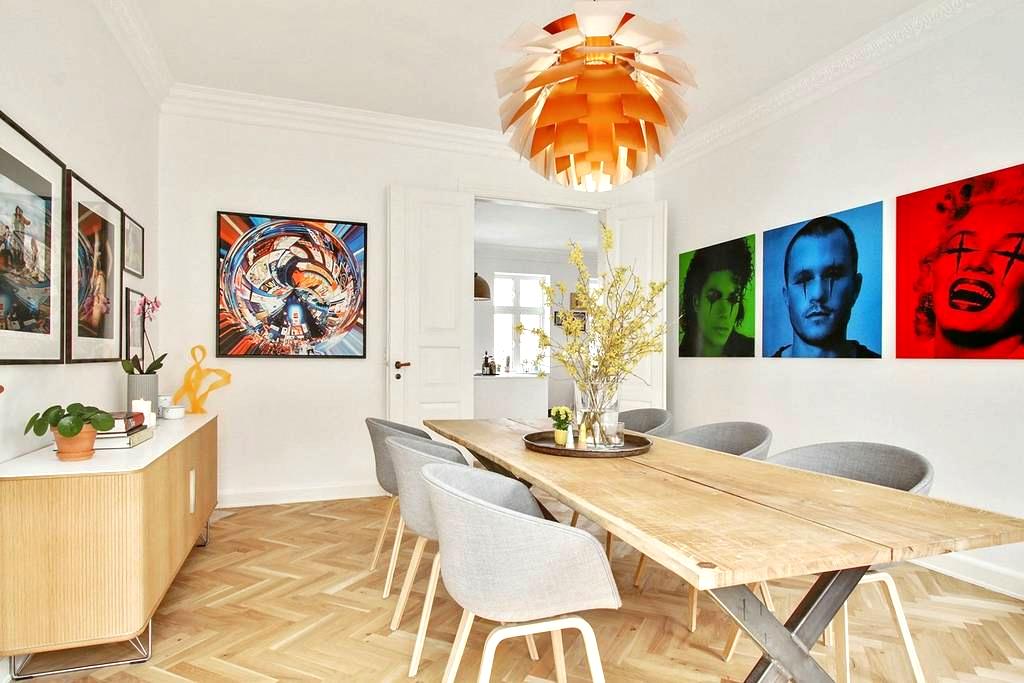 Eget værelse/soverum på ca 10 m2 i nyrenoveret lys lejlighed helt centralt i Aalborg C. Ligger helt centralt midt i Aalborg med handlegader, sentralstation mm i gangafstand fra lejligheden. Værelset er udstyret med alt det basale (skrivebord, reol, garderobe og seng) + stor fællesstue med Kabel-TV, Netflix og WiFi inkludert. Mulighed for et hyggeligt fællesskab, men hvor det også respekteres at have lukket dør.
Værelset er helt nyrenoveret med nye møbler. Der er alt det basale, (enkeltseng som kan slås ud til dobbeltseng, skrivebord med ordentlig kontorstol og stort garderobeskab) men ikke axminstergulvtæppe, kunstværker på vægge eller skulpturer i hjørnet. Tænk kollegieværelse for studerende, så tror jeg du har forventningerne på rette niveau :-). OBS: Hvis sengen slås ud til dobbeltseng bliver det VELDIG trangt på værelset, men det kan lade sig gøre. :-)
Lejligheden ligger midt i centrum av Aalborg, ca 2-300 meter fra gågaden, lidt væk fra hovedgaden gennem Aalborg, men alligevel så centralt at det er 2 pubs/barer, 2 døgnåbne supermarkeder, 3-4 pizzariaer/take-away butikker, byens største (og bedste!) kinesiske restaurant innenfor 100 meter med meget mere, så selv om lejligheden ligger på 2. etage må du påregne at du kan høre at du er i byen og ikke på landet, specielt hvis du typen som gerne sover med vinduet åben :-)
Stort dejligt lyst værelse. Rar og flink vært. Nemt og omgængeligt
Anne
2017-03-08T00:00:00Z
Nice big room in a great and central area. Communication with the was nice. Unfortunately, the bedsheets were not clean, and there were only blanket and pillow for one person (we were two). Moreover, there were no curtains in the room (e.i very light in the morning)
Maria
2017-02-19T00:00:00Z
Rent og hyggelig værelse med hyggelige samboere. Absolutt å annbefale
Lene
2017-03-19T00:00:00Z
Et lys lejlighed i centrum
Jakob
2017-02-25T00:00:00Z
Muy buen host
Fernando
2017-02-05T00:00:00Z
Billigt sted at sove meget centralt i Aalborg. Michael og Dan var meget hurtige til at besvare eventuelle henvendelser
René
2017-02-23T00:00:00Z
Perfect position, nice and and very large room, together with a desk for every need. Advised!
Ervin
2017-03-13T00:00:00Z
Jenis Bilik
Bilik persendirian
---
Jenis Penginapan
Apartmen
---
Memuatkan
1
---
Bilik tidur
Aalborg, Denmark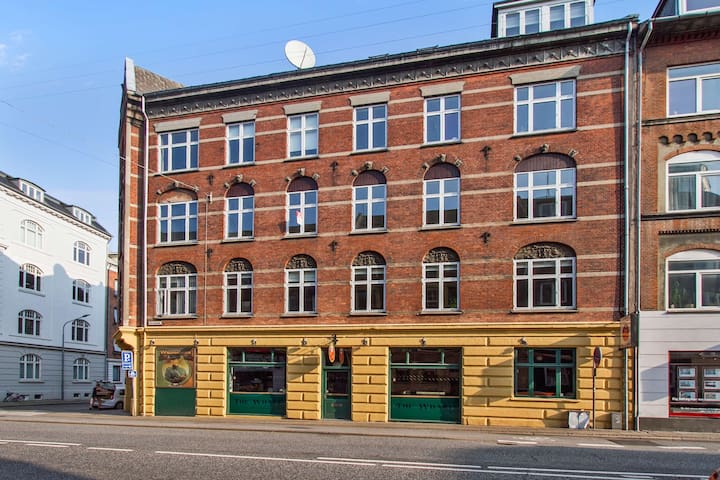 The residence is located in Aalborg center (with restaurants, cinemas, urban life, etc.) And close to the train station, the Kennedy Arcade and the kingdom Source Park. The residence is a 5-minute walk from Aalborg Culture and Congress Centre. You will love my home because of the central location in Aalborg, the clean, cozy room, the surroundings, the light, and the outdoor area with forest and park. My accommodation is good for couples, solo adventurers and business travelers.
We enjoyed our time in Ronja's apartment a lot - I can only recommend her apartment!
Lisa
2017-01-30T00:00:00Z
Perfekt for dem som har behov for et hyggeligt sted at sove.
Lars
2017-01-27T00:00:00Z
We had a wonderful stay at Ronja's place! Her flat is perfectly located, really cozy and has everything you need. Ronja was a great host, we didn't miss anything and would always stay there again.
Svenja
2017-01-06T00:00:00Z
The host canceled this reservation 8 days before arrival. This is an automated posting.
Aldo
2017-01-25T00:00:00Z
Hos Ronja er der bare styr på tingene, der er rent, hyggeligt og man føler sig straks velkommen. Jeg kan varmt anbefale Ronjas lejlighed!
Kristian
2017-03-18T00:00:00Z
I used Ronja's apartment for a night during a conference in Aalborg. It was very nearby Comwell. Ronja was very easy to communicate with, flexible check-in times and her place was very comfortable. Nice and easy.
Peter
2017-02-09T00:00:00Z
Definitely, I recommend Ronja's place - very clean, comfortable and great location.
Cristina
2017-01-17T00:00:00Z
Ronja was a really great host, she gave us all the information which needed and she was waiting for us even though we arrived kinda late on the first day. The apartment was really clean and the location of it is just perfect. It is in the centre of Aalborg close to shops, bus/train station,to the party street, restaurants.. etc. We had a great time there! Thank you for everything again! :)
Eva
2017-02-05T00:00:00Z
Jenis Bilik
Bilik persendirian
---
Jenis Penginapan
Apartmen
---
Memuatkan
2
---
Bilik tidur
Aalborg, Denmark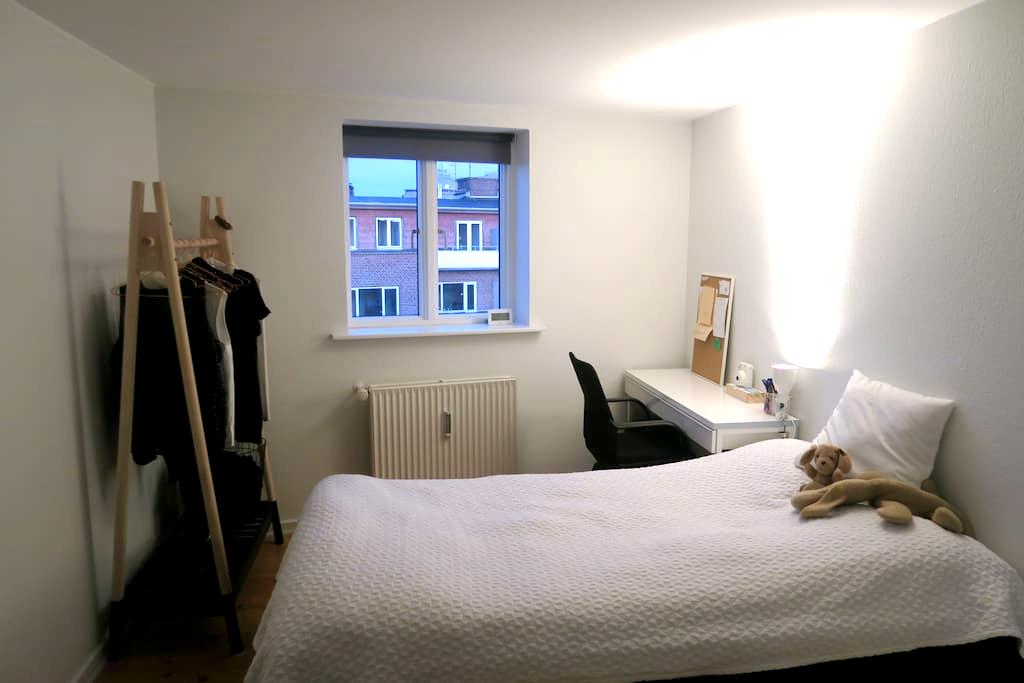 Bedroom with double bed. Bedroom with single bed. Large living-room with balcony. Well equipped kitchen and bathroom. Nice view to a green yard from the living-room.
Walking distance to city center 15 min. To the harbour 10 min. To a nice park (Øster Anlæg) 5 min. You can use a bicycle for free. Very close to bus stop, supermarket and take away shops.
Ann stayed up until 0200 to let me into the apartment due to a delayed flight. She was very polite and kind despite this and prepared a breakfast for the morning. The room and apartment were lovely, spacious and nicely decorated. Would definitely return if staying in Aalborg again. Thanks Ann!
William
2016-07-13T00:00:00Z
Ann was a lovely host who allowed us to stay at her lovely apartment for out 2 days stay in Aalborg. The bed was very comfortable and the area was very quiet. She gave us some very nice tips to go and see in the city (Aalborgtårnet f. ex.) and made our trip much much nicer. Thanks Ann Zsófi and Antal
Antal János
2016-07-05T00:00:00Z
Very nice and cozy place! Highly recommended!Ann is so helpful!thank u so much!
Jiaying
2017-02-01T00:00:00Z
Es war eine sehr schöne Zeit bei Ann. Die Wohnung ist hell und freundlich. Ann ist eine sehr freundliche und hilfsbereite Vermieterin. Von der Wohnung aus läuft man gut 20 Minuten in die Stadt oder zum Bahnhof.
Iris
2017-03-25T00:00:00Z
Jeg havde en enkelt overnatning hos Ann. Det var hyggeligt og bekvemt og kan bestemt anbefales.
Mette
2017-03-16T00:00:00Z
Ann er en dejlig vært. Hun er hyggeligt selskab, giver gerne tips om byen over en kop kaffe og man fornemmer samtidig, at der er plads til at "være sig selv", hvis man helst vil det. Det kan klart anbefales.
Esben
2017-02-05T00:00:00Z
Vi bookede værelse hos Ann på vejen til Ålborg. Efter 30 min var aftalen i hus, og kontakten med Ann i fuld gang. Rigtig dejlig værelse i rolige omgivelser, meget tæt på selve byen. Gode parkerings forhold lige ude foran lejligheden. Meget fin velkomst af Anns søn, og absolut ingenting at sætte noget på. Vi vender gerne tilbage igen.
Allan Bundgaard
2016-05-02T00:00:00Z
Ann ist eine warmherzige und hilfsbereite Gastgeberin, die mir den Aufenthalt mit leider nur einer Übernachtung so angenehm wie möglich gemacht hat. Vor allem ihre selbstgemachte Hagebuttenmarmelade wird mir in Erinnerung bleiben...Sollte ich das Glück haben noch einmal in diese Gegend zu kommen, würde ich versuchen wieder bei ihr übernachten zu können.
Traude
2016-08-18T00:00:00Z
Jenis Bilik
Bilik persendirian
---
Jenis Penginapan
Apartmen
---
Memuatkan
2
---
Bilik tidur
Aalborg, Denmark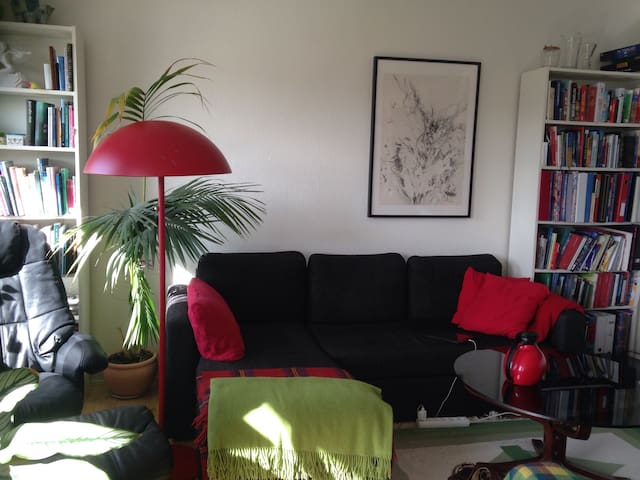 My place is close to restaurants and dining, family-friendly activities, and public transport. You'll love my place because of the location, the people, the outdoors space, the neighborhood, and the ambiance. My place is good for couples, solo adventurers, and business travelers.
Soren is a very nice man, and is felt very welcome. The appartment is very cosy, clean and very central. I will definately come back and give my best recommendations.
ida
2016-09-03T00:00:00Z
Had a great stay at Sørens' apt. He's super friendly, very welcoming and all in all a great person! The apt is greatly located, in the city center of Aalborg. Bus stations are just as nearby, as is the train station. Kitchen has everything you need, bathroom is spacious. and it's all clean. The wifi worked great throughout. Would stay there again for sure.
Maren
2017-01-25T00:00:00Z
Ótima localização.
Eduardo
2016-12-16T00:00:00Z
The host canceled this reservation 14 days before arrival. This is an automated posting.
Anja
2017-01-02T00:00:00Z
As mentioned in other reviews, Soeren is a very helpful and kind person. He goes out of his way to make sure you are comfortable during your stay. The apartment has plenty of space, and two desks for working, although the kitchen is quite small, and my head brushed against the ceiling in the bedroom. All in all, a great place to stay, and I would stay here again.
Kat
2016-11-11T00:00:00Z
Really nice place near the center of aalborg. Regarding the landlord, he is one of the best person I've ever met, very friendly and willing. Highly recommended place
Alessio
2016-10-22T00:00:00Z
Nice place, well located. Søren was very flexible and welcoming. Thanks!
anthony
2017-01-07T00:00:00Z
Hej Søren. Jeg har været glad for at ha været i aalborg fra tors-søn. Jeg ser frem til at tag afsted igen. Men det er desværre misvisende når man finder ud af at man skal bo på et kontor og ikke i en lejlighed som der står, dog ingen kritik af stedet da vi har hygget os gevaldigt. Mvh Peter Christensen
Peter
2017-01-15T00:00:00Z
Jenis Bilik
Keseluruhan rumah/apt
---
Jenis Penginapan
Apartmen
---
Memuatkan
3
---
Bilik tidur
Aalborg, Denmark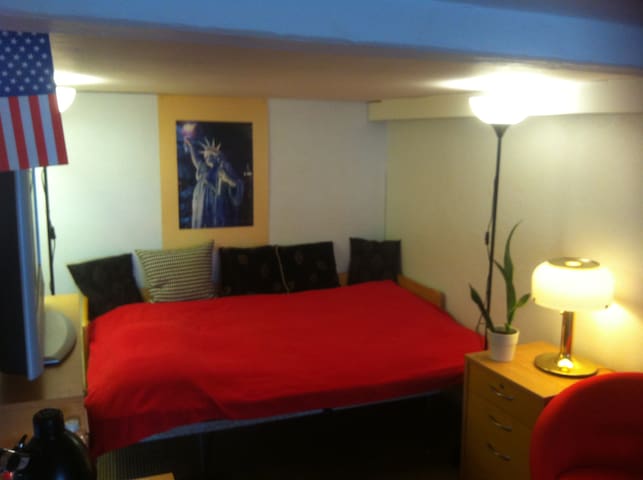 This listing is ideal for someone (or couple) in need of a quick, easy and cheap rental. You will get your own room but there are no doors to it. The two rooms are split by the bathroom so there is some privacy The apartment is located next to the river - great breeze and perfect for an evening walk! :) A Rema grocery store is 5 min walk away with a pizza/kebab and a sushi restaurant near it. Otherwise it only takes 10 min to walk to town center which offers a greater variety of shops!
Danishan is a great guy, hospitable (served me tea and snacks - cooked a dish called salt flower!), a joy to talk with (we connected with a few topics really well) and very positive and always smiling. I was having a bad time in Denmark after my friend bailed out on me, but he made me feel right at home. I may have lost a friend that day, but I gained a new one too. Bed was comfy as well and I got a discount on pizza thanks to him! I look forward to seeing you either in my present or home country, Danishan!
Marlo
2017-04-03T00:00:00Z
Maybe the nicest guy in town ! Danishan told me that his father taught him to take care of his guests, and i must say that he did a pretty damn good job !
Hugo
2016-06-12T00:00:00Z
Dan is a really easy speaking guy, flexible and available to help/support. Absolutely recommend! :-D
Anna
2016-06-06T00:00:00Z
Danishan is really friendly, he helped me to visit the town. His apartment is so nice, I had my private room. I recommend this place and I hope to see Danishan again, maybe during another trip ! Thanks again !
Kimberley
2017-03-26T00:00:00Z
Danishan was really welcoming and great to chat with, he even had a brochure about Aalborg to help with things to do!!! Apartment was clean and he let me use his kitchen as well. Highly recommended especially since it is close to the main city centre.
Shareen
2016-10-09T00:00:00Z
Danishan is a nice host. The accommodation is located close to the centre which is very useful and it's clean and tidy which is very important
Shravan
2016-10-13T00:00:00Z
Danishan ist ein sehr smarter, freundlicher und interessierter Gastgeber. Alles läuft unkompliziert. Wir führten interessante Gespräche, bin in die Nacht. Im Einzimmerappartement hat jeder seinen Bereich, durch das Bad abgetrennt, daher ich fühlte mich nie bedrängt oder beobachtet. Vielen Dank für den angenehmen Aufenthalt, ich komme auf jeden Fall wieder!
Sascha
2017-01-22T00:00:00Z
It was great, exactly maching the description. Dan is very friendly and open minded. He's very uncomplicated, I felt at Home. The location is great, close to the center and close to musikkens hus which was great for me. Thx Dan!
Jonas
2017-01-17T00:00:00Z
Jenis Bilik
Bilik berkongsi
---
Jenis Penginapan
Apartmen
---
Memuatkan
2
---
Bilik tidur
Aalborg, North Denmark Region, Denmark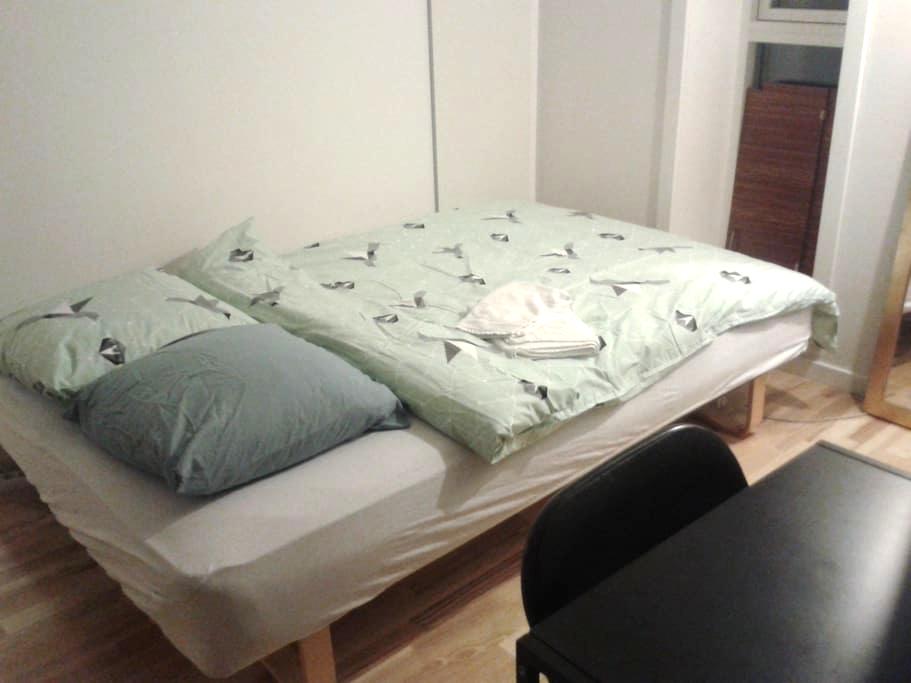 Hadsund - Airbnb
:
Purata

4.77

daripada

5

daripada

429

ulasan tetamu
1

–

18

daripada

300+ Apartmen Sewa
Masukkan tarikh untuk melihat harga penuh. Yuran tambahan dikenakan. Cukai mungkin akan ditambah.