Beautiful 4 bed bungalow situated in stunning countryside. Guests love to relax by the pool or talk walks in the surrounding area. There are two great village pubs that offer evening meals. If your looking for a quite space, then look no further! We are home most of the time but tend to keep ourselves out of the way when we have guests.
Beautiful 4 bed house in Studham, Bedfordshire, only 15 mins from a mainline train station which links directly to London in only 35 mins. House benefits from large open plan living, indoor heated swimming pool, 4 large double bedrooms, home theatre system and a very large garden which is home to a bunch of chickens and roosters, 2 cats, a pond full of fish and 2 Alpacas! The property is located in a traditional English village, located near Whipsnade Zoo and about 10 mins by car to Luton Airport. What to see and do : Gliding club Whipsnade park Golf Club Plenty of walk(URL HIDDEN) Ivinghoe Beacon Dunstable Downs - great for kite flying and pic-nics! Village pubs Cycle rides Indoor Ski Slope Breakfast consisting of cereals, toast, tea and coffee will be provided. Full office facilities are available including free wifi! Rooms for rent have own digital TV, direct access to the swimming pool, spa and gym. The rooms are very large. Also able to provide portable beds if you wanted additional beds in any of the rooms for the children. You will also have access to shared kitchen, living space and very large garden. Please note, all the bedrooms have two doors - one normal door leading into the bedroom from the main hall way in the house and a set of patio doors leading out onto the pool. These patio doors can be locked and the key removed if you are worried about the children wondering into the pool area without supervision! You will have your own private bathroom although this is not en -suite. However I will only let out to one party at a time so you will never be sharing a bathroom with strangers! If you are a large party don't worry we have 3 bathrooms plus 2 additional WC rooms so you will never be short of a shower or loo! PLEASE NOTE: THE POOL IS ONLY HEATED BETWEEN MAY AND SEPTEMBER, outside these months I will make sure that the spa pool is nice and hot for you if you request it! When the pool is heated the hot tub is not available for use. Smoking is allowed Pets are NOT allowed I have a travel cot available for babies. Please note - I do have two cats so if you are allergic then I don't think this will be the best place for you. Although the cats are generally not allowed into the bedrooms.
Lovely traditional English village with 2 great pubs, surrounded by beautiful countryside with easy access to London.
This was one of our best ever B&B experiences. The house was absolutely wonderful and Liesa went out of her way to make us feel at home from the moment we arrived. We had the most fantastic breakfasts and Liesa was such a joy to talk with -- what an interesting, accomplished and remarkable woman. She's a dynamo and just never slows down! But despite being incredibly busy -- including running her own event management business -- Liesa was always available to answer questions and provide anything we wanted ... top quality service. The alpacas, chickens and cats were just a bonus! We will definitely be back and unreservedly recommend this place to others.
Frank and Maria
2013-04-22T00:00:00Z
We made a last minute booking with Liesa for our anniversary and thanks to her it was everything we could have wished for! She was away on the first night so very kindly left instructions with a key for us to make ourselves at home - even left the log fire burning!. When I booked, the hot tub was empty for cleaning, but she still ensured that it was filled and nice and hot for our arrival. Liesa has put her heart and soul into building the house and it really shows. So cosy, laid back, with an amazing breakfast as well (with freshly laid eggs!). All this coupled with her hospitality makes it a no brainer! Looking forward to returning in the summer months when we can make the most of the pool and amazing garden! Thanks Liesa!
rajiv
2015-01-05T00:00:00Z
Terrific 'Bolt Hole' and we felt instantly at home upon arrival. Liesa's generosity and exuberance made us feel so very welcome and there was plenty of fun things to keep us all occupied. With all the little 'extras' Liesa had thought of everything to make our stay comfy! Really would like to keep the place 'our little secret'! Thanks so much Liesa - 'til next time ... X
Juliet
2013-07-29T00:00:00Z
Just back from a girls weekend at Liesa's place - what a great trip we all had. Liesa is a wonderful host and very relaxed (as well as an excellent chef at breakfast time!!). Nothing was too much trouble. The house is brilliantly furnished with lots of practical and artistic touches. We loved the hot tub, the alpacas and the chickens, as well as the lovely fire to snuggle up next to for a good gossip!
Sarah
2015-11-16T00:00:00Z
Liesa was a most gracious hostess! She was helpful, thoughtful, and sooo generous with her time and the cute house. The room itself was bright, clean, and cheery and we had everything we needed. Liesa offered us breakfast, coffee, and great advice. She even booked our taxi back to the airport. The house is wonderful, the spa pool is amazing and it was nice to get out of the hustle and bustle of London. We would definitely stay again!
andy
2012-09-18T00:00:00Z
Ursprünglich als Zwischenunterkunft geplant, stellte sich heraus, dass eine Unterbringung bei Liesa für weit mehr tolle Urlaubstage gereicht hätte. Zum einem der Tausendsassa Liesa und zum anderen die Tiere, das Haus, der Pool. Vielen Dank liebe Liesa für Deine super Gastfreundlichkeit, ein tolles Frühstück, die gemütliche Unterkunft und das nächste Mal kommen wir gerne länger. Danke, dass wir in Deinem Haus Gäste sein durften. Wir haben, auch wenn es nur ein Tag/Nacht war, uns sehr wohl gefühlt. Herzliche Grüße von Arno und Familie
Arno
2014-08-21T00:00:00Z
Six of us stayed at Liesa's for three nights (three adults, two nine-year-olds and a baby). Her place is great, even better than we expected. It's easy to get to from London, and there's plenty to do nearby, especially for kids. The indoor swimming pool was bigger than we'd expected from the photos, is really warm, and kept our kids occupied for hours every day. Liesa's breakfast was delicious! The animals and huge garden were also great, and Liesa went out of her way to make the kids feel welcome, including taking the kids with her to feed the animals. Although Liesa was generally around, she spent her time working from the annex. It felt like we had the place to ourselves. We'd definitely stay there again, and we'd highly recommend it.
Abbey
2015-08-07T00:00:00Z
Great Welcome from Liesa. we arrived early and were able to settle in straight away, house is fabulous, large and very comfortable. Liesa will cook breakfast or you can help yourself as we did. Den is great with home Cinema and the gardens are interesting with the Alpacas and Hens, Swimming pool was great and our kids loved it. Short walk to the Village with a few pubs and nice places to eat. Very different experience from staying in a hotel. worked out better for us and we hope to "visit " Liesa again,
Maurice
2015-08-02T00:00:00Z
Jenis Bilik
Bilik persendirian
---
Jenis Penginapan
Banglo
---
Memuatkan
10
---
Bilik tidur
Studham, United Kingdom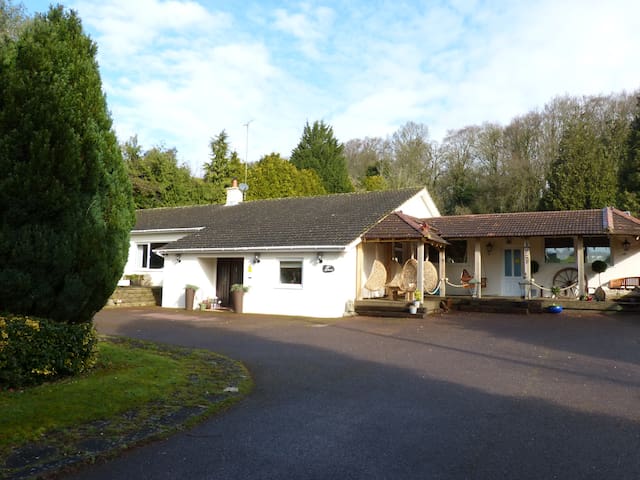 Cosy luxurious self contained oak frame cabin in private and peaceful environment, backing onto the woods. Ideal for couples. Comfortable, spacious living area with double bed. Beautiful countryside - Ashridge woods - popular Berkhamsted town centre.
This self contained handcrafted green oak framed cabin is the perfect get away and peaceful retreat which allows you to switch off to the sounds of nature. It is clearly separated from the main house to offer complete privacy to our guests. It directly backs on to the woods and you can literally walk out of the back gate into the beautiful Ashridge woods to explore its wildlife. The cabin is only 1.8 miles away from the popular and trendy town centre of Berkhamsted, featuring a range of lively pubs and restaurants. This cabin features all you need for a comfortable stay- a small bathroom with shower facility, a spacious open plan living room, open plan kitchen with hob and a comfortable double bed on the Mezzanine level, accessed by a ladder. It is furnished with cosy lighting, two comfortable sofas and a dining table.
Our cosy little wood cabin is backing straight onto the woods, located in a quiet setting of the sleepy village Potten End, just minutes away from popular old market town Berkhamsted. You can literally walk out of the back gate into the woods and explore the nature. Here a view tips and activities in the area: Ashridge Estate - a 5,000 acres area of the Chiltern Hills with beech and oak woodlands, commons and chalk downlands. These very different landscapes each support a rich variety of wildlife, including carpets of bluebells in spring, rare butterflies in summer and the fallow deer that rut in autumn. You can walk out of the back gate of the property into the woods and explore Miles of footpaths and bridleways. Frithsden Vineyard – Literally a 30 minute walk through the woods, and you will get to this beautiful boutique English vineyard and winery set in the foothills of the Chilterns. Besides a range of regular seasonal events you can also pass by and enjoy some of their home produced wines. Berkhamsted Town centre and Castle – have a stroll through Berkhamsted highstreet and explore Berkhamsted Castle's remains. The town has a special place in our history: following the Saxon defeat at the Battle of Hastings, it was at Berkhamsted that the bishops and noblemen formally offered William the Conqueror the crown. The Rex – "possibly Britain's most beautiful cinema" (BBC), the Rex has one huge screen set in a glorious 1938 art-deco proscenium arch, with "the sharpest film projection and clearest non-booming sound anywhere in the world". The whole experience is delightfully civilized: sink into large, comfortable seats then sit back with cheese and wine to enjoy the film. Berkhamsted Waterways Walk – Go for a walk along the River Bulbourne andGrand Union Canal which run through the town and enjoy a cold drink in the popular Boat pub. Tring Natural History Museum – 5 miles from Berkhamsted. The wonderful galleries of this beautiful Victorian museum present a fascinating range of animals, from tiny dressed fleas to a smiling polar bear and domestic dogs. The Snow Centre – 5 miles from Berkhamsted. Britain's newest snow centre at Hemel Hempstead is currently the coolest place to go to enjoy skiing, snowboarding and other snow sports on indoor slopes of real snow. The main slope is 160m long and 30m wide, serviced by two POMA button lifts. The trainer slope is 100m long, with two rope tows. There are lessons for everyone new to snow, and clothing and equipment is on hand to hire. Whipsnade Zoo – 9 miles from Berkhamsted. Set on the slopes of the Chiltern Hills, the UK's biggest zoo is home to more than 2,500 animals, many of which are endangered in the wild. Whipsnade is noted for creating interactive and inspiring exhibits and popular daily events including keeper talks, animal feeds and demonstrations. You can drive through the 'Passage through Asia' area or take the free Safari bus which stops at all the main exhibits in the 600 acre site. Harry Potter, Warner Bros. Studio Tour – the Making of Harry Potter – 9.7 miles from Berkhamsted. A visit to the Harry Potter World offers you an insight behind the scenes to showcases a huge array of beautiful sets, costumes and props and to reveal the secrets of the special effects and animatronics that made these films hugely popular all over the world.
Amazing place. So relaxing and quiet. Perfect getaway weekend. Beautifully done up, warm and cosy. A total escape from the wider world! Thanks for a terrific stay.
Tim
2015-12-06T00:00:00Z
We had an amazing time in the breathtaking cabin. Dan has lovingly built this place and it was a pleasure staying here! We were both lost for words when we arrived, I don't think I actually spoke for a good ten minutes (I'm not even exaggerating). A lot of effort has obviously been put into this place! Absolute gem! Lilli and Dan are great hosts with lots of info on things to do in the area. We knew they were around if we needed anything but far away enough that we felt we were away from the world! Which is exactly what we wanted. Dan suggested we check out the Rex cinema in Berkhamstead, which was a pretty cool experience! Thank you again for letting us stay at your magical oak cabin! Omar and Zarrin
Omar
2015-09-22T00:00:00Z
Dan and Lilli were lovely hosts and made us feel very welcome. The cabin was really nice, very well looked after and was set up to look beautiful when we arrived.
Nick
2016-03-20T00:00:00Z
Myself and my girlfriend stayed here for our anniversary and loved it . The cabin is very cosy and romantic with the bed on an upper level which you access via a ladder gives it the feel of a kids den which makes it a fun experience too . Would happily stay again
Akito
2016-08-06T00:00:00Z
The Oak Cabin is much bigger in real life than in the photos, and is the perfect place for a romantic break. This place is extremely relaxing, comfortable and peaceful. I would highly recommend it over any other places you have in mind as it is different from you usual 'cottage' or 'lodge'. Even though it rained the whole time we were (URL HIDDEN) was still perfect. Sad to leave and have already recommended it to all of our friends. Thanks for having us :-(URL HIDDEN)There are lots of local country pubs nearby so be sure to book ahead.
David
2015-07-25T00:00:00Z
Our second stay and just as wonderful as the first! Such a great spot to recharge, rest and relax. Such a cosy bungalow and tremendous pub nearby!
Tim
2016-12-04T00:00:00Z
A great stay! Everything we wanted and can't wait to come back!
Tom Ray
2016-09-13T00:00:00Z
We had an incredible time in this beautiful cabin. We couldn't have asked for anything more; Lilli and Dan were excellent hosts, the surrounding country side was perfect and we would definitely recommend staying here. Thanks for such a delightful stay!
Luke
2015-10-29T00:00:00Z
Jenis Bilik
Keseluruhan rumah/apt
---
Jenis Penginapan
Kabin
---
Memuatkan
2
---
Bilik tidur
Potten End, United Kingdom
Special offer - From 1st May - £500 per month for a 6 month let. Please contact us for more details. Perfect for Pilots, Air hostesses, airport staff, University, Town Centre or Capability Green. We are the closest house to the Airport shuttle bus & Train station 8 min walk. Nice double room for 1 or 2 people.
Nice double room with a comfy bed, fridge, wardrobe, computer desk with chair - WIFI included. Complimentary tea and coffee facilities in each room with Potato Crisps / Snacks and bottled water in the fridge. Check in before 9.00 pm please. Unless late check in arranged. This room is suitable for one or two people. Easy to get to the Airport. We get a lot of pilots and air hostesses stay as we are so close the the Airport Shuttle bus and Airport staff get free travel on the shuttle bus. Easy to walk to the Airport Shuttle bus, town center or Capability Green. We are located a 5 - 10 min walk from Luton Parkway Train station. ( Parkway to Airport is via the Shuttle bus). Town Center is 10 - 15 min walk. Free WIFI. We also do AIRPORT PARKING if you need to leave you car.. please ask for daily rate as we are usually full.
Close to shops for groceries, newspapers, fast food takeaways, town centre, M1 motorway, we are only a 5 - 10 min walk to Parkway train station which is the main train line to London (25 mins) or up north. The airport shuttle bus also runs from Parkway train station to the airport every 10 mins between 6 am and midnight. (cost £2) Between midnight and 5 am the shuttle runs hourly.
离luton机场很近 设施也还不错
peng
2015-09-16T00:00:00Z
Carlo was very welcoming and friendly. I have stayed with them before and they think of everything and are keen to help orientate those unfamiliar with the area. It is a handy location if you have an early morning flight from Luton and both the airport and downtown Luton are easily walkable.
ross
2016-10-01T00:00:00Z
great as always
Rucky
2016-04-27T00:00:00Z
The place is very convenient for anyone that wants to stay near the airport. Carlo received us and was super helpful in finding stores and food. This was an emergency booking and they accepted our request minutes after, very helpful!
Erick
2016-10-03T00:00:00Z
My daughter said Carlo and Jiya were absolutly lovely and they were extremely accommodating as she arrived much later than arranged due to a delay in transport. The room was clean and perfect for her overnight stay
Millie
2016-06-27T00:00:00Z
It is a nice apartment and very convenient to the Luton airport.
Wantao
2015-09-14T00:00:00Z
I stayed with Carlo and Jiya the night before an early flight to Luton. Both were very helpful and even gave me directions to get from work to their house on the train. They were very welcoming and gave me space to relax in my room whilst knowing I could ask if I needed anything. The room was really convenient for getting to Luton in the morning and all was as expected. Tea and coffee in the room was a nice touch! Would definitely stay again.
Charlotte
2015-08-20T00:00:00Z
Host allowed me to check in late as I was coming from the airport. Quiet room with lots of extras. Very lovely host and they offered to take me to the bus station the next morning. Would definitely stay there again!
Callum
2016-09-13T00:00:00Z
Jenis Bilik
Bilik persendirian
---
Jenis Penginapan
Rumah
---
Memuatkan
2
---
Bilik tidur
Luton, Bedfordshire, United Kingdom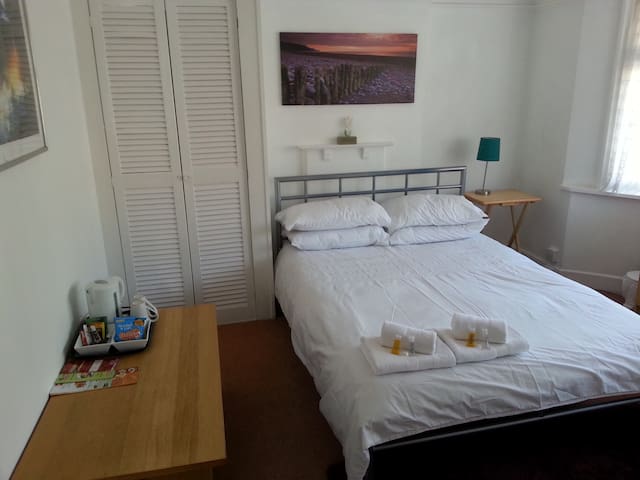 Riverside retreat in rural position nestling adjacent to a ford close to Brocket Hall, St Albans and nearby London. Elegant self-contained garden room accommodation ideal for short breaks, business trips or a romantic weekend in a peaceful location
- Detached annexe with rural views and private bbq/patio - Exclusive use of secluded riverside seating area - Access to stunning hot tub with views along the river. Please note: The hot tub is used by the owner, her friends and family. It is located in her garden, albeit in a private setting within the substantial grounds. It is available to use at a nominal additional cost of £10 per session (timings to be arranged with the owner). - Fully fitted kitchenette, including washing machine and dishwasher - Continental breakfast included. Full cooked breakfast can be arranged, for additional cost - Local chef offering in-annexe or main house dining. Food can be prepared for guests to finish themselves, or fully prepared and served. - Dog friendly, with prior arrangement. (Please note: any damage to soft furnishings, or the like, will require compensation) - Loft bedroom with 'Hypnos' kingsize bed and single pull out bed, if required - Sitting room with pull out sofa bed, if required - Private off-street parking - Excellent country walks on the doorstep - Great local pubs and restaurants nearby
Waterend Lane is close to the village of Ayot St. Lawrence with its two unique churches, one a romantic ruin and the other built in neo-classical Greek style, and the National Trust run home of Mr. George Bernard Shaw. It is also home to The Brocket Arms Public House a firm favourite of guests from all over the world! There are many other country pubs to visit and delightful walks to take whilst staying at The White Cottage. The lovely Hertfordshire towns of St.Albans, Harpenden and Welwyn Garden City are all within 15 minutes drive and have excellent shopping facilities and cinemas/theatres etc. Being in the commuter belt for London there are several options of transport into town which would normally take less than an hour.
Fabulous location, Fabulous house so homely and vintage, the garden is too beautiful with a river running through it, perfect for a peaceful romantic get away. Sally is a brilliant host, her hospitality is next to none. She allowed me and my family to have the afters of my daughter's christening there, she helped in every way she could and was very kind, generous and welcoming to us all. Sally thank you so much for everything. You made our day so special. I wish we got to enjoy the peace and beauty more. Thanks again. Geena, AJ & Ailia xxx
Geena
2016-10-10T00:00:00Z
A really lovely little place for a quiet break. When we arrived we were shown round the annex which is completely separate from the cottage - just a shared driveway. The kitchen was well stocked with tea, coffee, pastries, bread, butter, preserves, eggs, yoghurt... everything you could want for breakfast! Amazingly equipped kitchen as well if you want to cook. Interior was clean and cosy with the best bed I've ever slept on! Comfy sofa to watch the telly too. There's a village about 40 minutes walk away which has some lovely pubs. We were able to get a taxi (10mins, £8) back as well which was brilliant. Lovely area with gentle walks and beautiful countryside.
Ruth
2016-10-25T00:00:00Z
Would definitely recommend Sally's place, it was amazing! The hot tub is magical, Sally is an excellent host and the cottage is beautiful :) we will be coming back to stay again soon!
Alis
2016-09-23T00:00:00Z
Sally was the perfect host with amazing hospitality and support. We truly loved the small cottage and the amazing garden which we were allowed to share and which is a paradise for dogs as well. We have never seen a place so lovingly equipped with collectors' gems and everything useful in household and cottage, be it towels, wine glasses, blankets, picknick basket or coffee machine. We had a super starter's pack with milk, orange juice, toast and a lot more. The hot tub was appreciated as well! Sally provided so much more than a home away from home! It's also the perfect place to go into London from if you enjoy rural life but want the most of the city as well. We' d love to come back. Thank you Sally!
Angelika
2016-05-28T00:00:00Z
We absolutely loved everything about our stay here, the amazing surroundings, the comfortable and cozy house and the walks around the area. What made this so special is how much Sally has put into making the place a dream hideaway including the hot tub looking out over the river!
Nicole
2016-03-27T00:00:00Z
We had the most lovely weekend break in this amazing cottage, which started with a lovely welcome from Sally who showed us around, made sure we had everything we needed and then left us to our privacy which was just perfect with her dogs :) All in all a great stay which we would totally recommend and we will definitely be back! Many thanks
Anna
2016-07-05T00:00:00Z
Gorgeous little cottage on amazing grounds, had a beautiful few days and definitely will book again. Sally is a great host and made us feel very welcome
Jimi
2017-02-21T00:00:00Z
As soon as we arrived our host welcomed us and showed us all the amenities available to us during our stay. She is a really warm and lovely lady who made us feel comfortable in our surroundings straight away. The lounge area is absolutely stunning and cosy, everything you desire for a romantic getaway. Location is perfect , far enough to be in a quiet countryside surrounding but only a 7 minute drive to the shops.
Elena
2016-12-22T00:00:00Z
Jenis Bilik
Keseluruhan rumah/apt
---
Jenis Penginapan
Rumah
---
Memuatkan
4
---
Bilik tidur
The Ayots, St Albans, United Kingdom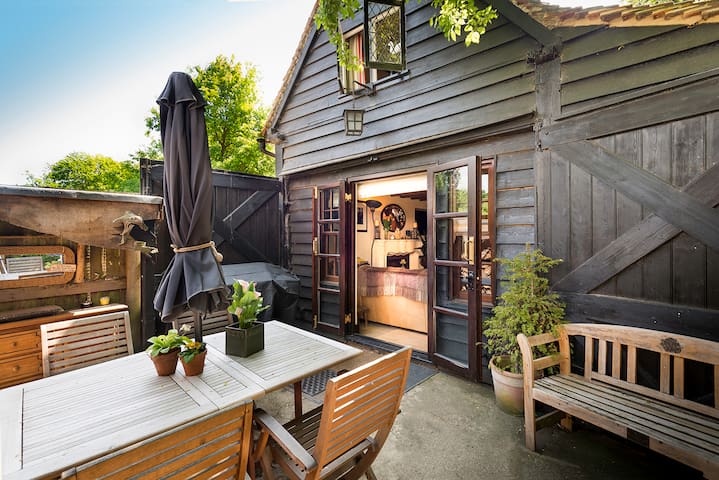 Special offer - From 2nd May 2017 - £500 per month for a 6 month let Conditions apply so please message us. Perfect for Pilots, Air hostesses, airport staff, University, Town Centre or Capability Green. We are the closest house to the Airport shuttle bus & Train station 8 min walk. Nice double room for 1 person.
Lovely double room overlooking the gardens with a double bed, fridge freezer, wardrobe, computer desk with chair - WIFI included. Complimentary tea and coffee facilities in each room with Potato Crisps / Snacks and bottled water in the fridge. Check in before 9.00 pm please. Unless by prior arrangement This room is suitable for one or two people for short term lets. Easy to get to the Airport via Airport Shuttle or taxi Close to Train station, Town center and Capability Green. We get a lot of pilots and air hostesses stay as we are so close the the Airport Shuttle bus. Located a 5 - 10 min walk from Luton Parkway Train station and the Airport Shuttle bus). Town Center is 15 min walk. Free WIFI. We also do AIRPORT PARKING
Close to shops for groceries, newspapers, fast food takeaways, town center, M1 motorway, we are only a 10 min walk to Parkway train station which is the main train line to London (25 mins) or up north. The airport shuttle bus also runs from the train station to the airport every 10 mins between 5 am and midnight. (Cost £2.00) Runs every hour between midnight and 5 am
Carlo & Jiya were so kind to us. He show us the main restaurants in Luton on his own car. The room was big and clean and they offer some snacks and drinks! Perfect location and perfect hosts!
Xavi
2015-10-15T00:00:00Z
Great, friendly, hospitable. Clean, quiet accommodation
Michael
2016-12-15T00:00:00Z
Lovely room and welcoming host. Would recommend.
Henry
2015-08-28T00:00:00Z
Good location having a flight at Luton. Nice host. Totally recommend.
David
2015-10-07T00:00:00Z
Another great visit hope to see you again soon
Lee
2016-05-04T00:00:00Z
Stay was very smooth , room nice and clean with little goodies , Carlos very efficient .
Rucky
2015-09-30T00:00:00Z
This Place is very close to the Luton carpark station which makes a journey to Luton airport very comfortable. The room was was clean and nice. The host was very carrying. I can recommend a short stay as we did.
Thomas
2015-10-22T00:00:00Z
Exellent host. Been there for a day. You have everything in the room. Water, snacks.
Gregor
2016-01-26T00:00:00Z
Jenis Bilik
Bilik persendirian
---
Jenis Penginapan
Rumah
---
Memuatkan
2
---
Bilik tidur
Luton, United Kingdom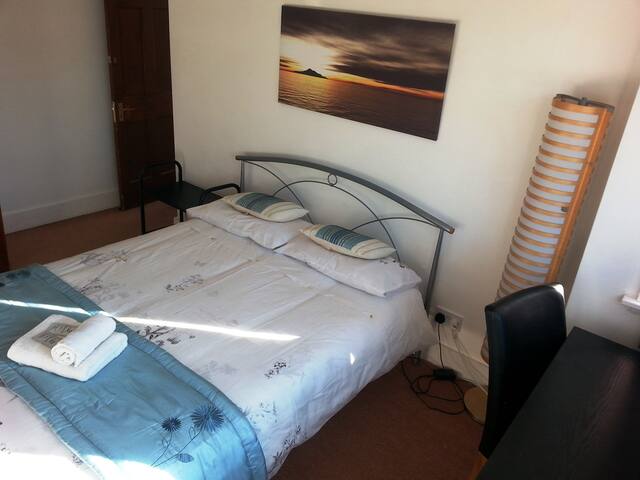 Fabulous double bed, memory foam mattress + Egyptian cotton sheets. HD TV, Freeview + built in DVD. Tea/coffee making facilities, biscuits + fresh milk. Soft cotton bath sheets + hand towels. Dressing table, drawers & hanging space. Shared use of large, modern bathroom - shower & bath. Access to large kitchen, separate fridge/freezer for guests. Free use of HOT TUB in garden!!! Lovely, Victorian house in Bushey - 5 minutes walk to Station, 17 minutes fast train direct to London Euston.
We are located on the edge of London with a fast, direct train straight into London Euston - Northern, Victoria, Hammersmith and City, Circle and District lines. More convenient than staying in London itself where prices are higher and journey times to the centre can be much longer. Fast trains depart every half hour with a five minute walk to the station - Oyster cards available for use and train timetables supplied. Walking distance to shops, restaurants, a giant Tesco Extra and large shopping centre. The Harlequin Shopping Centre is a ten minute drive/ fifteen minute walk, with the traditional mix of large department stores including John Lewis, M&S, Zara, BHS, River Island and Primark to name but a few. Within 10 minutes of Warner Harry Potter Studios. Bushey is a lovely village in Watford with trains into London, more convenient and nicer than staying near Watford Junction. We are 25 minutes from Luton Airport and 35 minutes to Heathrow Airport.
A quiet, leafy street with large Edwardian houses and plenty of free parking within a five minute walk to the station.
Helen made me feel really welcome in her lovely home. It was very relaxed and comfortable and I wouldn't hesitate to recommend. The bed was very comfortable and the room very clean and homely. Lovely area too.
Chris
2015-11-22T00:00:00Z
We had a flying visit to but it's definitely luxury. A beautiful home, great breakfast and we were made to feel very welcome. Thank you!
Katie and Vicki
2015-12-12T00:00:00Z
Philippa was extra attentive to everything from giving me directions to get to her place and making sure I had everything I need once I got there (and more). I could not recommend this place more for someone who is looking to be within half an hour distance from the city center by local transit as well as a comfortable place to rest at. The room is even cosier than shown in the pictures and I really want to thank Philippa and her family for making my stay in London so enjoyable and pleasant!
Doreen
2015-12-02T00:00:00Z
Gorgeous room and extremely friendly host make us have an unforgettable and enjoyable experience in London!!
Meng-Han
2016-11-09T00:00:00Z
Philippa is a wonderful host and the place is brilliant. We recommend to stay there. It is only 17 minutes far away from London and close to Warner Bros Studio. Don't hesitate!
Clément
2016-09-04T00:00:00Z
Philippa was great, after having troubles with traffic and arriving (very) late, we had no trouble getting in and getting some well needed sleep! Room has everything you need. And the dogs are a great added extra. Thanks for having us!!
Ben
2016-11-22T00:00:00Z
Great and friendly option for anyone visiting London
Peter
2016-11-25T00:00:00Z
Philippa and Helen were great hosts - friendly, experienced and considerate. Their home's beautiful and the room exactly what I was looking for. Breakfast was laid out ready in the morning and there were lots of lovely touches everywhere, they've thought of everything! The bathroom's shared so there are some time slots where it's not free in the morning, but this wasn't a problem. I chose Watford as it was close to the M1 to drive to and from the Midlands. Bushey train station's just at the end of the road, and they gave me directions, platform number and suggested the best time to leave to get to my training course on time. The neighbourhood was a perfect location for me to leave my car and catch the train into central London. I'd definitely recommend the room and will be staying again myself if I need to go back to London.
Liz
2016-10-19T00:00:00Z
Jenis Bilik
Bilik persendirian
---
Jenis Penginapan
Rumah
---
Memuatkan
2
---
Bilik tidur
Watford, Hertfordshire, United Kingdom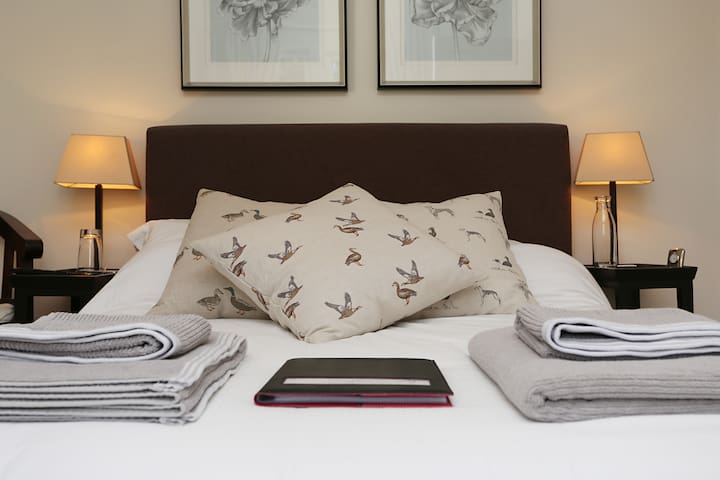 Everybody is welcome. Looking after my guests as I would like to be looked after.
Roswitha is a wonderful host! I could not have been happier. She rescued me from the station when I unexpectedly had to take the train, then gave me a quick tour of the city centre so I knew where I was going the next morning. She offered me home made soup on arrival and tea and a roll in the morning to set me up for the day. So kind! The bed was very cosy and I slept well. Thank you!
Gloriana
2017-03-22T00:00:00Z
A lovely and kind lady. Very welcoming home. The house was only a short walk to the hospital which was perfect for my stay.
Rose
2017-03-26T00:00:00Z
Jenis Bilik
Bilik persendirian
---
Jenis Penginapan
Rumah
---
Memuatkan
1
---
Bilik tidur
Hemel Hempstead, England, United Kingdom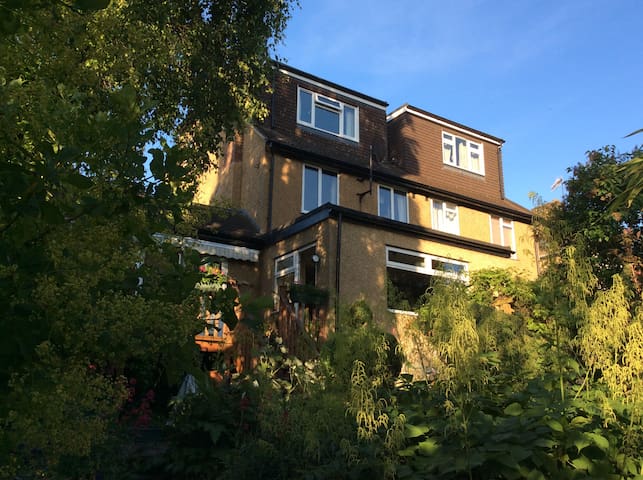 Great 2 bed GF flat. Parking, clean and warm, patio, quiet, space enough for a small family. All mod cons, fast wifi, TV, DVD etc. 20 mins from Harry Potter world, 20 mins Luton airport, 30 min drive to London. Short walk to Maylands business park. Friendly host!
A two bedroom ground floor flat 5 mins drive from Hemel Hempstead town centre suitable for family or friends. A home away from home with all you need for a comfortable stay. The flat is approximately 1.5 miles from Hemel Hempstead station, 5 miles to St Albans and a 3 minute drive to the M1.
The flat is located in a quiet and friendly little estate. Hemel Hempstead is a growing town with lots going on but a little further afield you have beautiful St Albans, attractions including Harry Potter, the outstanding Chiltern Hills and of course London which is a short drive away.
We had a lovely stay at Tom's flat. He was very quick to communicate, and made it very easy for us to collect the keys. The flat itself is in a lovely block with parking. Everything we needed was available and Tom was very welcoming. We look forward to staying here again!
Farah
2016-01-01T00:00:00Z
The host canceled this reservation 2 days before arrival. This is an automated posting.
Ali
2015-12-26T00:00:00Z
Tom was in the Apt waiting for us to arrive to do the honours with the keys etc. 2nd bedroom is bunk beds .... cannot remember if this was described on the site. Didn't bother us at all as we only used the double bed. He told us to help ourselves to any of his food in the cupboards ... we only used a little of the milk .... absolutely incredible .... milk, tea, coffee, cereals, sugar, condiments and so on even a fresh loaf of bread. Made us think he and his family live in the Apt and make other arrangements when it's let. We got lost one evening returning from Town but we didn't have any sat nav facilities so it really was our fault but either use a sat nav or print out maps! Tom was in no hurry to get rid of us on the Monday and said we could stay on till around 4pm if we wanted too! Many many thanks Tom for making the weekend so memorable Tony
Tony
2016-08-23T00:00:00Z
A big thanks to Tom.. I had a great stay at his apartment! The apartment is light and airy and I had everything I needed. Tom was an excellent host, responding very promptly to any of my emails prior to arriving, and he kept in touch throughout my stay to make sure everything was ok. The apartment block is in a small street off the main road which is eally good and the neighbourhood atmosphere is really pleasant. During the week it's very quiet. Special thanks for the use of the bike!
Bev
2016-05-13T00:00:00Z
We really enjoyed our stay in the apartment. We came up for the night to visit the Harry Potter studios and it was a perfect location for that. The apartment was clean and tidy and Tom was incredibly helpful and made us feel at home. Would definitely recommend to others. Thanks for having us!
Hannah
2016-06-13T00:00:00Z
Great stay with a great host. Good location for what we wanted. Tom was friendly and provided everything we asked for and more. Would not hesitate to book again
Andy
2016-07-11T00:00:00Z
Tom was very friendly and left us lots of food and drink.
Lester
2016-01-24T00:00:00Z
Tom was great at responding quickly to any queries. The flat was clean and the provision of breakfast was a bonus. The second bedroom is bunk beds which we weren't expecting but it wasn't a problem. Overall, good value for money and definitely recommended.
lauren
2016-09-12T00:00:00Z
Jenis Bilik
Keseluruhan rumah/apt
---
Jenis Penginapan
Apartmen
---
Memuatkan
4
---
Bilik tidur
Hemel Hempstead, Hertfordshire, United Kingdom
The room can accommodate 2 people. The house is situated at a 10 min walk to the town centre, 5 mins to locals shops, pubs and restaurants, 1 min to a park, 10 min to the Hemel Hospital, close to M1 and M25, 5 min by car to Hemel Hempstead and Apsley Train Stations, 15-20 min to Luton Airport, 30-40 min to Central London / Euston by train. There is also a National Express Coach from London Heathrow Airport to Hemel Hempstead.-
Jenis Bilik
Bilik persendirian
---
Jenis Penginapan
Rumah
---
Memuatkan
2
---
Bilik tidur
Hemel Hempstead, England, United Kingdom
Wonderful wooden chalet style penthouse apartment, ideal for families, friends and adventures.
Spacious Flat with high ceilings, Large front room with access to balcony large and bright, open plan with the kitchen. Modern bedrooms with double beds, master bedroom has ensuite. Large balcony and access to communal gardens and 1 off street gated parking spot downstairs.
Local supermarket in walking distance (10 min). Ski Centre 5 min away and local restaurants cinema, rock climbing bowling 10 min away all walking distance. Town centre is a 5 min bus ride. Canal walks 5 min walk away and a 10min walk to the overground station into london.
We had a great stay here and would recommend to all!
Nikita
2017-03-26T00:00:00Z
Excellent spacious penthouse, super host, would definitely recommend this property
Philip
2017-03-31T00:00:00Z
Really enjoyed our 2 week stay at Davids place. He was always at the end of the phone when we needed him for anything and the apartment was well maintained and perfect for what we needed. Highly recommend his place for anyone looking to stay in Hemel Hempstead.
David
2017-03-17T00:00:00Z
Jenis Bilik
Keseluruhan rumah/apt
---
Jenis Penginapan
Apartmen
---
Memuatkan
4
---
Bilik tidur
Hemel Hempstead, England, United Kingdom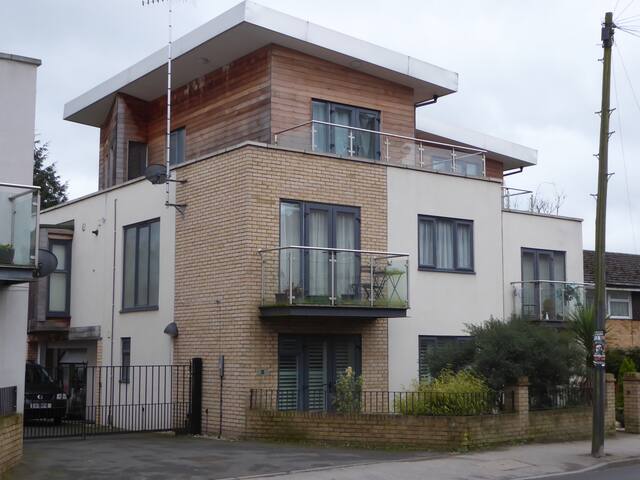 *NEW* Beautifully modern penthouse apartment in an exquisite old building. 5 minutes drive from a mainline train station 25 minutes train from central London (Euston). 5 minutes walk to the heritage old town with quaint coffee shops & antique stores.
Penthouse apartment on the 2nd floor with 2 double bedrooms, 1 en-suite, and 2 bathrooms. Lovely light open plan kitchen, lounge, diner. The apartment was newly built within the historic block in 2015. It has all the mod comms with a 55 inch TV, dishwasher, 100 mb fibre broadband and Virgin TV package. 1 parking space but additional paid parking close by (£2.50 per day). No lift access, not suitable for disabled people.
Hemel Hempstead has frequent, fast train access to Watford, Milton Keynes, Tring and Central London among many other destinations. It is hilly and green, with many parks and a beautiful, famous old town with an 11th century church in its centre and many antique stores, restaurants, pubs and quirky coffee shops. It also has a nice new town with a shopping centre and many famous high street stores including Debenhams, Monsoon, Next, Waterstones, Starbucks, TX Max, Primark and others.
Amber was the perfect host, friendly, very quick to respond, always happy to help a pleasure to deal with. Milk and bread were there on arrival, a nice touch! The apartment looks lovely in the picture but if anything it is even more impressive in the flesh, a beautiful home in a nice quiet part of town with plenty of local amenities. If ever in the area again I would stay here again without hesitation. Thanks Amber!
Nick
2016-10-18T00:00:00Z
Amber was a great host! Quick feedback, very polite and she also let me some welcome goodies the day I arrived. Her flat is located in a calm, residential area, though within 5 minutes walk from shops and restaurants. Hemel Hampstead is also a good link to M25 and M40. The flat is exactly as in the pictures, if not even more beautiful. It feels really like home - it has comfortable bed, cozy leaving room, pots and pans, big to. Because it takes the whole top floor, you can get good sun light through the day, which for me it was great! The flat was very clean and you can see that Amber put a lot of love into decorating her flat. :) I had a lovely stay and will be looking forward a new opportunity to stay there again.
Paula
2016-05-24T00:00:00Z
This is a great, stylish and clean apartment located centrally in hemal Hempstead. A short walk to the supermarket, pubs and shops and is a perfect stay for anybody visiting the area. The host was great and was easily contactable and I would defiantly recommend a stay at this apartment.
Steve
2016-10-07T00:00:00Z
The host did everything that they could to accommodate us during our stay. The flat was very clean and tidy and everything that you could need was there. Would recommend the old part of the town which is a 10-15 min walk from the flat, good places to browse around and some nice pubs doing good food. 25 mins from center of London on the train which makes for a great day out and only cost £40 for a family of 4 with off peak saver. Overall a good central location for north of London and south of the midlands with heaps to do. There is a sports complex called XC 10 mins away by car offering great things on a wet day with rock climbing, high ropes and caving (so long as you are not too big!).
Stephen
2016-08-18T00:00:00Z
Amber's apartment was an amazing place to stay with friends for the weekend! It was immaculately decorated, well equipped and so, so comfortable. The flat was well situated, close to shops, and Amber had helpfully included information on the local area, extra parking etc. Would love to stay another time if we find ourselves visiting Hemel Hempstead again.
Kirsty
2016-08-08T00:00:00Z
The house is beautiful and intricately designed. Appreciate the thought put into tiny details. For example - when the description of the house says there is a work desk, they have included workspace plus printer plus all basic stationary required. I was locked out of the house briefly due to leaving the key inside but the host was very kind and arranged for the spare key to be brought within 10 mins. Very good experience and will surely be back in the future! This is the best airbnb in Hemel Hempstead!
Adarsh
2016-09-25T00:00:00Z
Great host. Everything was thought to make us feel home from the hamper to welcome us to the situation of flat. Just an amazing place and would suggest anyone who wants to visit Hemel Hempstead and the surroundings to stay at Amber s place.
neha
2016-06-29T00:00:00Z
Jenis Bilik
Keseluruhan rumah/apt
---
Jenis Penginapan
Apartmen
---
Memuatkan
4
---
Bilik tidur
Hemel Hempstead, United Kingdom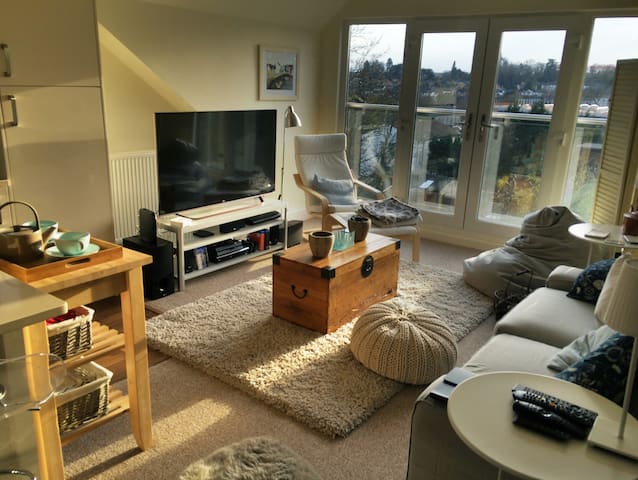 My place is close to 5 minutes drive from both M1 and M25. You'll love my place because of the location, the ambiance, the outdoors space, the neighbourhood. My place is good for couples, solo adventurers, and business travellers. There is free Super-fast WIFI and car parking.
Very friendly and welcoming host. Bed was comfortable and spacious. Perfect location, 15 minutes' walk from the snow centre
Edward
2016-09-11T00:00:00Z
Comfy bed and clean room (with lock and own key) in quiet house. Adam welcoming and always available on phone. Thanks!
Piers
2016-09-07T00:00:00Z
Adam was a great host and was very friendly. The room was clean and tidy and I didn't have any problems during my stay. Would recommend.
James
2016-09-16T00:00:00Z
Jenis Bilik
Bilik persendirian
---
Jenis Penginapan
Rumah
---
Memuatkan
1
---
Bilik tidur
Hemel Hempstead, England, United Kingdom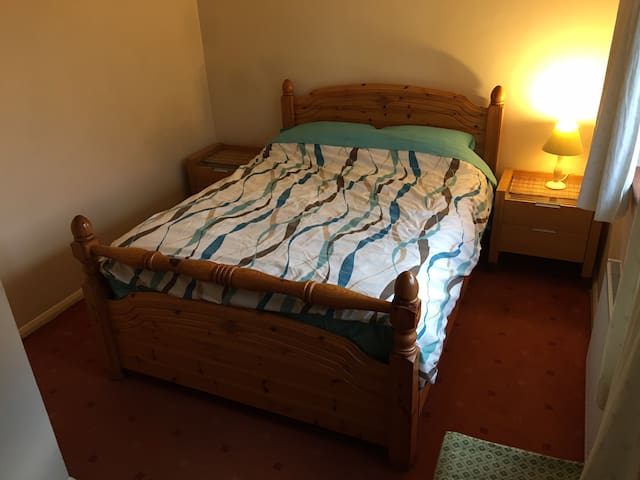 With free onsite parking The Olde Leather Bottle is located only 15 minutes drive from Luton Airport so we are an ideal place to stay for early morning flights.
The room is a cute and cosy twin room with a shared bathroom. The room has a private entrance from the courtyard. The room is above a historic Grade II listed inn which serves local Ales and home cooked food. The Olde Leather Bottle was built in 1790 and retains the same character and charm with low ceilings and an open fire creating a homely and comfy feeling. Staying with us will feel like stepping back in time!
Leverstock Green is a beautiful area in Hemel Hempstead. You will also have the convenience of some local shops, restaurants and a post office on the doorstep. The room is a 15 drive from the following Luton Airport Warner Brother Studios for Harry Potter Tours 15 minutes drive Hemel Hemsptead Snow Centre Woburn Safari Park Whipsnade Zoo For business guests we are less than 10 minutes walk from Breakspear Business Park and 10 minutes drive from Maryland's Business Park The Inn is close to the M1 and the M25 motorways. We are close to Watford and St Albans. Apsley train station provides direct links to London Euston Station
As stated its is loud until late however value for money wise it is unbeatable! Fantastic location, clean room & bathroom and friendly landlords! TV & WiFi included!
Matt
2017-03-04T00:00:00Z
It's like an old western saloon feeling with your upstairs accomodatins
Val
2017-01-27T00:00:00Z
Very friendly host, great location and I look forward to staying there again.
Carl
2016-12-16T00:00:00Z
Great pub, with good parking.
Richard
2017-02-21T00:00:00Z
As described great value in the area really cosy room in a cosy old English pub
John
2017-03-02T00:00:00Z
Quaint old building and friendly staff
Stephen
2017-03-05T00:00:00Z
Jenis Bilik
Bilik persendirian
---
Jenis Penginapan
Hotel butik
---
Memuatkan
2
---
Bilik tidur
Hemel Hempstead, England, United Kingdom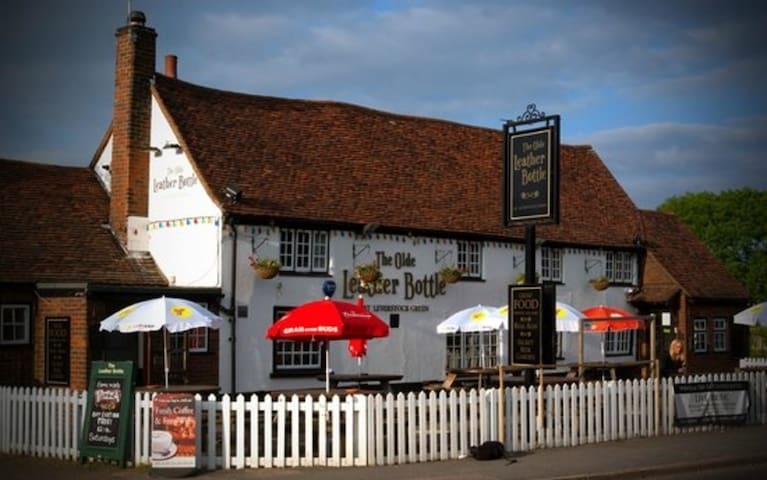 A large private comfortable studio room with independent entrance and small ensuite shower /wet room, comfy king size bed. Parking available on driveway, There are snack making facilities kettle ,toaster, microwave,fridge, crockery and cutlery. Guests are welcome to use garden, washing machine and dryer. Iron and ironing board available on request. Close to local shops, bus stops for St Albans and Hemel Hempstead. Close to Harry Potter World, Leavesden Studios,
Large comfortable room with sofa, TV, desk and small en suite shower/wet room. The studio is an annex to our family home with its own Independent entrance and access , guests can come and go without disturbance. Fridge, microwave, toaster, kettle and all you need for snack preparation.
A quiet area with trees and access to countryside and town, good range of local shops, cafes ,pubs, bakery within walking distance. Good transport links to Hemel Hempstead, London, nearby St Albans for shopping , beautiful park ,Roman History and Cathedral. Near to Harry Potter World at Leavesden Studios. Also convenient for anyone working on the Maylands Industrial Estate, and Breakspear Business Park Hemel Hempstead
This is a great base, clean, plenty of room and great separate entrance, allowing you to come and go as you please,with off road parking. will definitely use again when in Hemel Hempstead
Michelle
2016-10-15T00:00:00Z
Mary is een bijzondere sympathieke vrouw. Zij wachtte ons al op en heette ons hartelijk welkom. De kamer is groot, comfortabel en schoon, eigen douche, toilet en ingang. Derhalve hoef je niemand te storen als je thuis komt en/of weer weg gaat. Ontbijtspullen moet je zelf in de winkel kopen maken, maar daar zijn faciliteiten voor (koelkast, toaster, magnetron, enz.) Voor ons ideaal. De buurt is prima, rustig en beveiligd. Alles wat in de advertentie staat klopt.
Martinie
2016-03-29T00:00:00Z
Mary's place is really nice and cosy! Very private and with a personal fridge, toaster and kettle. Her daughter and her were very helpful. Would definitely recommend a stay!
Myra
2015-10-04T00:00:00Z
Mary is a lovely lady and host. The accommodation was a self contained annex off the main house. It offered total privacy with off road parking. The room has everything you need for your comfortable self contained stay! Its a quiet location/neighbourhood with amenities and nice pubs close by. Would recommend
Sarah
2016-12-04T00:00:00Z
Mary is very nice host. Always smile and we feel so happy staying here. Her property is amazing. Bed is comfortable, quiet zone in the night so very good sleep. All we need is there, like microwave, kettle, toaster, small fridge, some cutleries, shopping board, heater, private entrance and bathroom so everything is quite private. As well as we can enjoy the beautiful garden of the house. Definitely will come back here again. Thank you Mary for letting us stay with you.
Tony&Gig
2016-06-05T00:00:00Z
Nice, basic, clean and comfortable accommodation.
Kathryn
2017-01-25T00:00:00Z
Very good nice space, I stayed alone but would also suit two as main room is a good size. Nice large desk which allowed my to work in the evenings in a nice quite location. The cooking space suited me for the week I spent had all the basics I need.
Kirsten
2017-02-17T00:00:00Z
Mary made me very welcome and I would happily stay here again. A great space and very comfortable.
James
2015-10-07T00:00:00Z
Jenis Bilik
Bilik persendirian
---
Jenis Penginapan
Rumah
---
Memuatkan
2
---
Bilik tidur
Hemel Hempstead, United Kingdom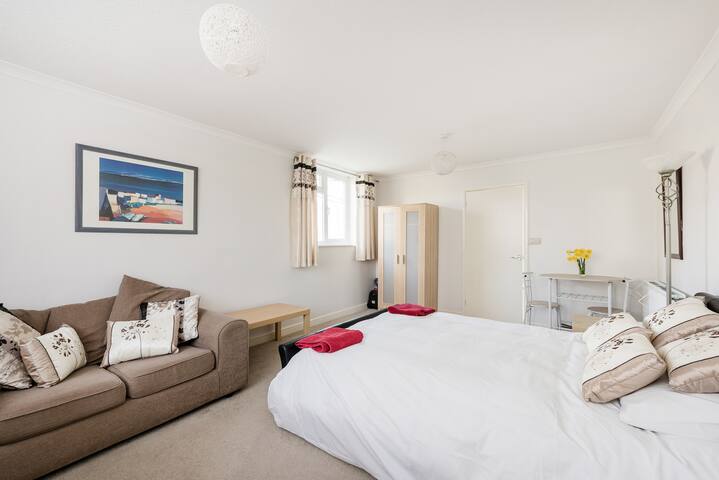 Newly decorated apartment, warm and welcoming with beautiful canal views. 5 min walk to Apsley Railway station, a direct route into central London within 30 mins. Also within a short distance to the M25/M1. Locally, within walking distance, there are restaurants, a beautiful pub/restaurant overlooking the canal, shopping centres, places of interest and wildlife, something for everyone. The apartment has many extra features, inc a new smart TV, internet, x-box, telephone, a home from home.
Our apartment is perfect for professionals, families, teenagers or young children. It is on the 2nd floor with stair access only, so please bear that in mind. Unfortunately not suitable for wheelchair users. The main bedroom has a kingsize bed with en-suite and a TV and 2 x double fitted wardrobe. The 2nd bedroom has a triple wardrobe and 2 single beds, or we can zip them together, to make a super kingsize bed. There is also the main family bathroom. We also have a fold away guestbed, suitable for a child/teenager. If you require a cot and highchair, please ask as I can supply both as they are not kept in the apartment. The kitchen/diner is fully functional and fitted with a new dishwasher/washing machine/hob and oven. Dining table and 5 chairs. All the kitchen essentials and much more are included including a welcome pack. The living room is tastefully decorated and has beautiful views of the canal. Also included is a new 49" smart tv along with wifi, and a telephone service. We have an x-box there although it is an older model and also a football table for children and adults (who says we are too old)!
Within walking distance, there are vibrant restaurants (including vegetarian, Italian and Indian) or perhaps you would prefer to try the Paper Mill pub/restaurant and sample some real ales with warm log fires and an outdoor terrace. For the more adventurous you have the Snow Centre at Hemel Hempstead, with the largest ski lesson slope in the UK and a 160m main slope. You can try your hand at skiing or snowboarding or how about hiring an electric bike and touring our beautiful countryside. Gadebridge park comes highly recommended, with beautiful gardens, crazy golf and a splash park coming soon. If you are interested in historical buildings, we are located close to Knebworth House/Hatfield House to name a few, which have events on during the summer seasons (check website) both approx 20 miles away. Something for all the family, based on 5 stars from 28074 reviews, located approx 5 miles, The Making of Harry Potter Warner Bros Studio, explore the magic of Harry Potter, (we do recommend booking in advance) which includes tours of behind-the-scenes costume and props located at the studios where it was filmed. Fancy seeing wildlife, try Whipsnade zoo approx 8 miles away, with over 3300 unique animals in one of the largest conservation parks in Europe. Something for all the family, we recommend Chiltern open air museum, with over 45 acres to run around and explore. With over 30 rescued historic buildings on display including an iron age house. There are lots of activities on weekly, so please check in advance. Or do you fancy a family activity night out, try Topgolf, something everyone can join in or perhaps you fancy a movie night, try the Rex cinema (approx 4 miles away), built in 1938, again booking in advance highly recommended. For a special night out we would recommend The Grove, with luxury dining and stunning grounds or perhaps the Crazy Bear in Beaconsfield. Also within 1.5 miles is Jarman Sqaure leisure complex complete with multi cinemas, ice rink, fitness centre and restaurants.
Jenis Bilik
Keseluruhan rumah/apt
---
Jenis Penginapan
Apartmen
---
Memuatkan
5
---
Bilik tidur
Hemel Hempstead, England, United Kingdom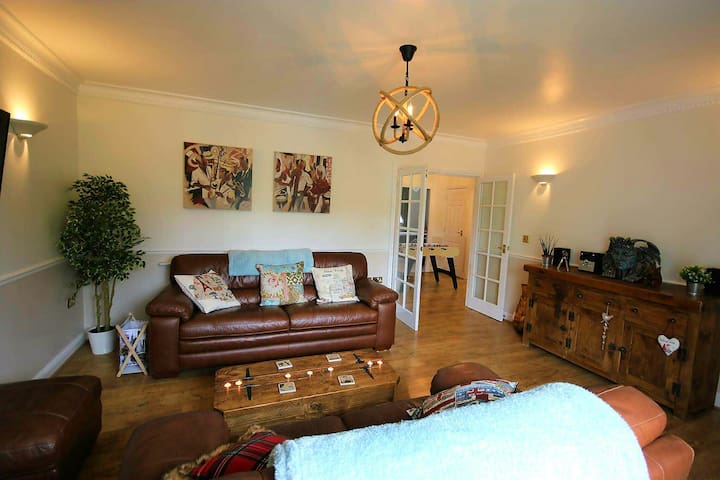 My place is close to Blackbirds Moor Boxmoor, Hemel Hempstead train station and the town centre are a 10mins walk. You'll love my place because of its a newly built high spec self contained annexe. My place is good for couples, solo adventurers, and business travellers.
It's a brand new annexe and built to a luxurious specification with underfloor heating downstairs, high speed wifi and a 50" Panasonic HD TV.
It's quiet but still close to the station and the town centre. There are two pubs within a 5min walk, The Steamcoach and The Three Blackbirds there is also an Indian Resturant called The Sitar 5mins walk away.
Roland's unit is perfect if you are wanting to stay in the northern suburbs. The photos don't do it justice.
Ben
2016-12-15T00:00:00Z
Me and my friend were very impressed with our stay here. The annexe had everything we needed, was spacious, clean and Roland communicated well with us. The property is walking distance to the town centre and has a couple of nice pubs/restaurants near by. Highly recommend anyone looking for a place to stay to try this out.
David
2016-10-21T00:00:00Z
房间很舒服,还有地暖!厨房用品非常齐全,房东非常热心,下次来还住这里!very good!
Sabrina
2016-12-04T00:00:00Z
Staying here was an absolute joy. The "Annexe" is really a two-bedroomed house, it is immaculate and furnished out to an extremely high standard. The pictures don't do it justice. Roland and his wife are extremely accommodating and fine hosts who take real pride in the service they are offering. We couldn't have asked for a better place and hope to return in the future.
Simon
2016-12-17T00:00:00Z
The host canceled this reservation 12 days before arrival. This is an automated posting.
Nicci
2016-10-07T00:00:00Z
My Dad and I stayed in Roland annexe. It was superb in every way possible. I would recommend the annexe very highly. It is private and exceptionally clean and comfortable. We where made to feel very welcome. Thank you so much Roland and family
Debbie
2016-10-13T00:00:00Z
beautiful accommodation lovely and clean and Roland and his family are the perfect host 10/10 for everything.
John
2016-10-16T00:00:00Z
This is an amazing property only a short hop on the train from central London. A private extension to their family home done out to a very high spec. Two rooms each with a double bed and a kitchen/living room with everything you could possibly think of for a long or short stay. The place was in immaculate clean, condition. The hosts were very good at organising key pick up and showed us around so we new where everything was. I would definitely consider staying here again if i was visiting London or the surrounding area.
Peter
2016-10-12T00:00:00Z
Jenis Bilik
Keseluruhan rumah/apt
---
Jenis Penginapan
Rumah
---
Memuatkan
4
---
Bilik tidur
Hemel Hempstead, England, United Kingdom
This is a spacious 2 bedroomed ground floor apartment that can accommodate 6 people, one bedroom with en suite with the other bedroom offering a family bathroom. A well decorated apartment, fully fitted out with all you need for a lovely stay.
This is a 2 bedroom ground floor apartment that can accommodate 6 people, one of the bedrooms has its own en suite with the other bedroom offering a family bathroom. A well decorated apartment that has all you need for a lovely stay. It also offers a spacious kitchen/diner and large light living room. The apartment does NOT have a marina view although you can access the marina in the development. You do not need a car as this is located near restaurants, shops and the Watford shopping centre (The Harlequin Centre) is just 2 stops away from Apsley Lock station (2 minutes walk from the flat). We will meet you at the door to welcome you into our home and show you where to find everything and any local advise should you require it. A peaceful retreat Very easy to get around
The location is extremely tranquil and peaceful with wonderful views around the marina and wonderful walks can be had either way along the Grand Union canal. Ideally located for both Luton and Heathrow airports and trips into the wonderful Hertfordshire countryside.
La casa resultó cómo aparece en la descripción. Todas las habitaciones (2 dormitorios, cocina, cuarto de estar y 2 baños) son amplias, luminosas y están bien equipadas. Quizá lo único que echamos de menos fue que hubiera lavaplatos en la cocina, dado que nosotros nos alojamos 15 días y fuimos con nuestros tres hijos. Cuando llegamos la casa estaba en perfecto estado de limpieza y tiene una reforma muy reciente. La situación es en una zona muy tranquila y agradable, con los servicios necesarios muy próximos. A poco más de 5 minutos a pie está la estación de tren que conecta con Londres cada media hora y también hay autobuses bastante frecuentes al centro Hemel Hempstead. Peter resultó ser un anfitrión perfecto. Es alguien en quién claramente se puede confiar y es serio. Nos ayudó a instalarnos y conocer la zona. Si en el futuro volvemos a Hemel Hempstead, seguro que la casa de Peter será nuestra primera opción
julio
2015-08-23T00:00:00Z
We had a wondeful time at Perter´s apartement and Peter was the perfect host. He welcomed us, helped us in every way and made us feel at home. Not only was the apartement comfartable and spacey, and the rural surroundings lovely, it was also easy and fast to take the train in to London town.
Hans
2015-08-01T00:00:00Z
Peter made us very welcome, and was very helpful and responsive both before and during our stay. The flat is extremely well laid out, with a lobby, reception hall, spacious lounge and kitchen-diner. Both bedrooms are generous in proportions, and the two bathrooms have a bath with mixer-tap shower overhead. The immediate vicinity has lots of parking: residents/visitors get a special permit, and our family visitors all managed to find spaces too. There are plenty of local amenities, including a pub, a corner shop and Sainsbury's. We didn't venture far because we were busy with family visits over Christmas, but the canal and train station are very close by. All in all, a comfortable and very happy stay.
Mary
2016-01-01T00:00:00Z
Peter was there to guide us in and welcome us to the apartment. The apartment is spacious and well appointed. It is in an incredibly convenient spot with shops and restaurants in the wharf itself. Hemel Hempstead 10 minutes away and a five minute walk to Apsley station and then London by train in only half an hour.
Chris
2016-04-24T00:00:00Z
Superbly hosted by Peter and within a stone's throw of superb eateries including the fab PaperMill Pub, this stay will thoroughly upset your expectations about what Hemel Hempstead is supposed to be like. We stayed as locals during the tail end of a house build and it felt like discovering another country. Thank you Peter!
David
2015-12-09T00:00:00Z
A fantastic place to stay. It was ideal for our family of five. Peter was a great host - we would definitely stay here again.
Dianne
2016-11-12T00:00:00Z
Peter is a gracious host, answered my e-mail questions promptly, made us feel at home, gave us a tour of Apsley Lock Marina upon arrival and drove us to the bus station upon departure. We really enjoyed this area, it is lovely and picturesque, pretty walk along the canal, interesting watching the boats going through the locks, minutes walk to Apsley train station, large grocery store 10 minutes walk with good gluten free section, a great local pub and restaurants. The flat is spacious and comfortable, everything we needed for our week stay. I would highly recommend this area, flat and our host Peter.
Alice
2015-09-26T00:00:00Z
The reservation was canceled 33 days before arrival. This is an automated posting.
Tim
2015-03-17T00:00:00Z
Jenis Bilik
Keseluruhan rumah/apt
---
Jenis Penginapan
Apartmen
---
Memuatkan
6
---
Bilik tidur
Hemel Hempstead, Hertfordshire, United Kingdom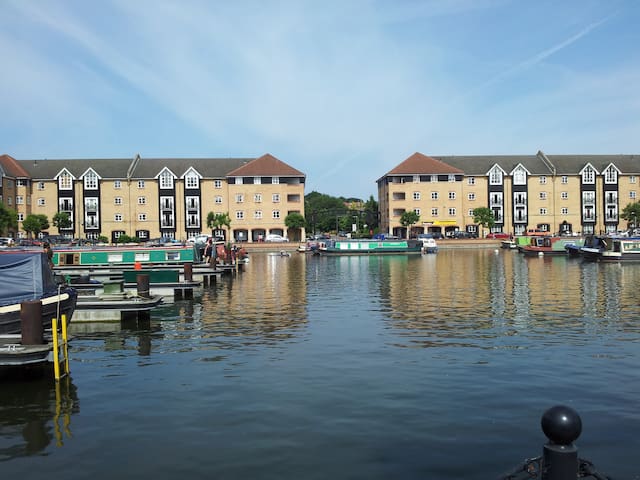 Lovely double room with great view from the window, very cosy with mirror , chest, closet .
Double room adjacent to a bathroom with tub, additional toilet , separate access,
The host canceled this reservation the day before arrival. This is an automated posting.
Lawrence
2017-02-26T00:00:00Z
Jenis Bilik
Bilik persendirian
---
Jenis Penginapan
Rumah
---
Memuatkan
1
---
Bilik tidur
Hemel Hempstead, England, United Kingdom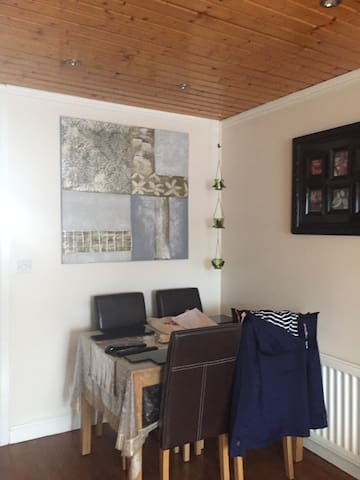 1

–

18

daripada

300+ Sewaan
Masukkan tarikh untuk melihat harga penuh. Yuran tambahan dikenakan. Cukai mungkin akan ditambah.