Masukkan tarikh untuk melihat harga penuh. Yuran tambahan dikenakan. Cukai mungkin akan ditambah.
9 Sewaan
· Jurassic Coast
9 Sewaan
· Jurassic Coast
Our cottage is nestled in the heart of the Bride Valley close to the Jurassic Coast. This recently converted barn has views over our orchard. The cottage is 20 minutes drive from Dorchester and Bridport. Upstairs well equipped kitchen with cooker, fridge, washing machine, comfortable lounge area with lots of books. Dining area and balcony with seating. Downstairs Large bedroom with Double bed or 2 singles if you prefer. Bathroom with shower. Outside walled garden with seating.
Great views around our little farm, can sit on the balcony and see cows, chickens, ducks. You may also see a range of wild birds, deer, foxes, rabbits and hares. The cottage is situated in a magical valley with lots of places to explore. Perfect spot for listening to the dawn chorus and star gazing. Self catering Cottage with open plan lounge, kitchen and balcony on first floor for best views. Bedroom and bathroom on ground floor. As much open space as you like! Private balcony and walled garden. There is off road parking and space to store bikes under balcony. We live in the farmhouse next door so are nearby if any issues. Happy to offer advice to guests on all the local sites. Farmhouse cheese can be bought direct from Ford Farm cheese dairy across the road. We also have a veg plot and orchard so some fresh produce and eggs may be available. Farm shops and pubs nearby.
Our farm is in a beautiful location, but has the benefit of market towns nearby. Is also close to beaches and so a perfect spot for seeing the sites that Dorset has to offer or for just sitting and watching life on the farm go by. We have two very friendly dogs called Ruby and Honey. You will need a car or bike or best way is to walk We have a local mobile therapist called Kate Kay who is happy to come to the cottage to offer a range of facials and massage treatments using aromatherapy oils and treatments adapted to suit your skin type. She has excellent reviews. So if you want to be pampered whilst you are on your holiday please look on Kate's website and call to pre book before you arrive. Let me know when you book and I can send you more details. There are very good hairdressers in Bridport or Dorchester if you are here and in need of a haircut.
Jenis bilik
Keseluruhan rumah/apt
---
Jenis Penginapan
Rumah
---
Memuatkan
2
---
Bilik tidur
1
Dorset
An historic house set in a lovely valley in West Dorset, just a mile from the sea. Endless walks across country. Near the beach, with a choice of restaurants and pubs nearby. The house sits in three acres of gardens, with trees, lawns, an orchard. Good for couples, families, and groups of friends.
This is a seventeenth century country house over three floors, which has been carefully restored. It has wide elm board floors upstairs, lime plaster walls, stone flags and stone mullion windows. Comfortable beds, loads of books, sofas, armchairs... The house is yours to enjoy, from top to bottom, with three acres of gardens. We will be close by. We will see you in, of course, and be around to answer any questions while you are staying in the house.
We're a couple of miles from the beach, completely private and self-contained, but 500 yards from a great farm shop at Modbury which sells its own fresh unpasteurized Jersey milk, seasonal local vegetables, local cheese, meat, butter and eggs, as well as useful things like Ecover washing-up liquid and tea and tinned tomatoes - from 7am to 7pm. You have a proper fishmonger at West Bay. Bridport is ten minutes, with a Saturday and Wednesday market with local organic produce. There's Lidl, Waitrose and lots of real shops, including bookshops and Malabar and bakeries. It's a handsome market town. For eating out we suggest Hive Cafe in Burton Bradstock, with the Seaside Boarding House on the cliff above, especially for a drink; the Riverside Restaurant at West Bay is always delicious, and there's art + good food at Slader's Yard, and Rachel's is one of the fish and chip shacks, for better f&c. The Anchor at Seatown, by Chideock, is really good. A bit further afield in Beaminster is Brassica. Walks are tremendous - hill forts, hidden chapels, the whole coast from the hills, the Chesil Beach, the hollow ways around Chideock... or plain old footpaths that lead you into the Bride Valley or over to the sea. You are in the greatest array of prehistoric barrows in England, too. If you have a bicycle, and enjoy riding one, bring it. Our Bride Valley is on the National Cycle Route.
We had a delightful time at Jason's wonderful old farm house on the Jurassic coast. The home is superb, with plenty of indoor space. The gardens are also wonderful and the location just a couple of miles from the picturesque jurassic coast and plenty of good restaurants is ideal. I couldn't recommend the home more highly. We were greeted on our arrival and the departure was seemless. Jason was available for any assistance during the stay and ensured we knew how everything operated. We will definitely be going back when we are next in the UK.
Nico
September 2016
This was a brilliant Air B and B stay. Huge Grant look alike host Jason, was pure English charm personified and no request was too great. He welcomed us to his beautiful 3 floored , spacious yet cosy house and has us all laughing in moments. The house was stunning- sun soaked and pretty, with well looked after gardens. We were two families staying and had plenty of room with all the children. We all loved staying here - our dogs and kids running around freely in the grounds, cosy fires in the evening and lots of home cooking. There are incredible beaches 10 mins from the house and a UNESCO world heritage beach half an hours drive away. It's a gorgeous part of England with lots to do and see. The only thing that is annoying is that there is no phone reception anywhere! Luckily the house has full internet. I would really recommend a stay at Berwick House. Pinky Laing- Stamm
Maximilian
August 2016
Such a great house, the location is excellent and very close to the sea and the hosts were very helpful and friendly! Very happy with our stay!
Fay
January 2017
The perfect location and venue for our extended family get together. The photos really don't do the property justice, it's a beautiful home and perfect for family gatherings. Kate and Jason were very welcoming, we had a fantastic break and made wonderful memories, thank you.
Harriet
November 2016
What an incredible house! Even better than it looks in the photos. An incredible location in the countryside but close enough to the beach/shop/pubs to not feel too remote. We absolutely loved it.
Kari
August 2016
This is a really charming house, utterly unique in every way. If you are looking for a home from home with all modern facilities this probably isn't the place for you but if you want to get away from it all in stunning surroundings then we heartily recommend this! It comfortably sleeps 10 but I am not sure it caters for it- if you are a big party check this out with Jason- we stayed over Christmas and did a lot of cooking, luckily we brought many bits from home otherwise we might have been left short. We didn't meet Jason, which was a shame as reviews state how fab he is. We loved staying in this unique and charming house, its cold in winter but we quite enjoyed multiple layers and cosy evenings by the fire. We would certainly recommend this house
Christina
January 2017
If anything the photos did not do the property justice. Both Kate and Jason clearly wanted us to have a great experience - and we did.
Sue
August 2016
A lovely house in a great setting and locale with open fires and spacious bedrooms however there are some HSE issues that have been privately stated to the hosts.
robert
September 2016
Jenis bilik
Keseluruhan rumah/apt
---
Jenis Penginapan
Rumah
---
Memuatkan
10
---
Bilik tidur
5
Dorset
>> EASTER 2017 - SOME DATES AVAILABLE '2 Rose Cottages' is a lovely cottage; comfortable, well equipped and plenty of charm. The little village of Litton Cheney is a lovely location on the West Dorset Jurassic Coast (A UNESCO World Heritage Status Coastline). The 'Broadchurch' cliffs of West Bay are just a few miles away. This is an excellent base for exploring the many delights of West Dorset.
Lovely character village cottage. Comfortable and well equipped for your stay. Central heating. Lots of pipping hot water. Open fire in sitting room (logs provided). Dishwasher, washing machine and tumble dryer. Cottage all freshly decorated for the 2017 season. Private enclosed cottage garden to rear, with patio dining furniture and Barbecue. The House keeper/Caretaker is available on call .. they live in the village and can respond quickly if needed at any time
Fabulous West Dorset. Unesco World Heritage status Jurassic coastline. Area of outstanding natural beauty (ANOB) and the village is a Conservation Area. There is a village pub and a nearby Farm Shop. Lots of footpaths stretch out from the village, offering some fabulous views over rolling countryside to the sea. This is a great base for exploring both coast and countryside. Lots to do and see for all ages.
Jenis bilik
Keseluruhan rumah/apt
---
Jenis Penginapan
Rumah
---
Memuatkan
5
---
Bilik tidur
3
Litton Cheney
SHORT HOUSE, CHESIL BEACH: A recently restored Seaside Cottage on Dorset's World Heritage Jurassic Coast. Spectacular ocean views, large living/dining/kitchen, 2 double beds, 2 stone bathrooms, lovely garden. Direct private access to Chesil Beach (400m across the field). Pets welcome. Check out the reviews - scroll down from here. NEXT AVAILABLE: 6 nights from Sat MAY 13th to Fri MAY 19th: £1,099. 3 nights from Fri JUNE 16th to Mon JUNE 19th: £656 on Airbnb. 3 weeks still available in July.
Short House Chesil Beach is a Purbeck stone and render cottage, part of the Long House small private country estate, with 200m of frontage onto Chesil Beach in the centre of Dorset's World Heritage Jurassic Coast and surrounded by National Trust farmland. The house has recently been completely re-fitted with a large open plan living/dining/kitchen, 2 double bedrooms, both with sea views, and 2 ensuite limestone tiled bathrooms with roll top baths, one with a drench shower. A new well equipped kitchen, oak plank floors, LED lighting, large flat screen TV, DVD player, Bose Sound Dock and very comfortable furniture make this the perfect place for an English seaside holiday or a weekend getaway in one of the most beautiful parts of England. Guests have direct access across the field leading 400m down to Chesil Beach and miles of beautiful coast and country walks. The tennis court is freely available to guests, and, if you want to bring your horse(s) on holiday and enjoy fantastic riding along the coast, stables and grazing can be made available. Horse riding lessons for all levels are available on request. From the kitchen garden in the summer and early autumn we often have surplus home grown veg which we are happy to make available to guests; just ask. Email/texts for booking and detailed requirements/arrangements after booking, meet Andrew and/or Julie Wadsworth for handover at the start and end of your stay and possibly more depending on guest's preference.
Short House is in an 'Area of Outstanding Natural Beauty' on the World Heritage Jurassic Coast, 3/4 of a mile east of the village of West Bexington. The peace and solitude of such a stunning location and the sound of the waves on Chesil Beach make it a very special place. There are spectacular views over Lyme Bay, the Dorset and Devon coastline. Lots of things to do in this excellent holiday location. Short House is in an area of very low ambient light; on clear nights it is a great location for stargazing. 6 miles from Bridport/West Bay, 12 miles from Dorchester. The nearest shops are in Abbotsbury and Burton Bradstock; both a 5-minute drive away. The nearest train stations are Dorchester South (about 25 minutes by car) and Yeovil Junction (about 35 minutes by car). The nearest bus stop (with services to Bridport and Dorchester) is about 1.5 miles away. You really need a car to stay here or take taxis; available from Bridport. There is a washing machine/tumble dryer. iron and ironing board. A carpeted attic space with limited headroom can be used as additional bedroom space for two, by arrangement. It should be noted that the attic space is not building control compliant as a bedroom, and therefore a liability waiver is required if it is to be used.
This place is an absolute hidden gem....perfect for a quiet getaway, with no neighbours and the beach just a 2 minute walk through a small flock of sheep :) Our host, Andrew, was very welcoming, and left us with a few essential supplies, including a much needed bottle of wine and some local produce from the farm shop. The Short House is well equipped in the kitchen, lovely and clean, and finished to a high standard. The view is stunning, and I look forward to enjoying it again for a longer visit. There is plenty to do around here, but the best part really was getting back from a day out and relaxing in a really beautiful surrounding with the sound of the sea. I highly recommend this place, and we will be definitely be back.... Many thanks to Andrew for having us!
Claire
October 2015
Everything from the hospitality to the place was absolutely perfect. Andrew and his wife Julie were very kind (and forgiving when I accidentally stole their lovely dog for an afternoon walk!). The place is exactly as advertised. A world class location. We had such a nice time, and hope to go back soon.
Ruth
June 2015
We had an amazing time at Chesil beach. Andrew was a fantastic host and the property as described with ample space for our family of 5 (2 adults and 3 young children). The location is fantastic, with direct access to the beach and the most impressive views. We will definitely come back again.
Virginie
November 2016
Our family really loved staying at the Short House. The setting could not have been more idyllic with its spectacular sea views and horses and sheep. In addition to enjoying a lovely walk through the fields down to the beach, we also enjoyed using the tennis court. Andrew could not have been a better host. He really made us feel at home and was both helpful and relaxed. To be honest, our only disappointment was the lack of spiders in the cottage - another review had led us to believe there would be plenty! :-) All jokes aside, we heartily recommend staying here. We were sad to leave after only 3 days. We would love to have spent longer.
Daniel
October 2015
At the end of our travel around Cornwall and Devon back to London we stood in Short House for three nights. The house looks like shown. The area is very wide with views to the sea. Just five minutes walk along Andrews field you arrive at Chesil Beach. Fantastic. The house has everything you need. The electonics are at high standard. Nonetheless we were not such as satisfied with our stay because of the cleanless. Dust and spider webs were not the things we expected. Also the big water mark on the ceiling in one of the bedrooms was not ok. We missed the information about that before. The contact with Andrew wasshort and friendly. In my mind the location is very good but the cost-benefit ratio is not ok.
Kathleen
July 2015
An absolute idyllic setting overlooking the sea. The most peaceful place steps from the beach and at night you can see every star constellation. The cottage is perfectly decorated and very modern. Our dogs had such a fantastic time as well. Andrew was the most accommodating host, responding to messages within minutes. I would highly recommend staying here for a lovely seaside break.
Portia
September 2014
We had a fantastic short break at Short House! It's a beautiful property in a breathtaking and secluded location, with its own private terrace (with BBQ and wonderful views) and the use of the tennis court. Chesil Beach was just a short walk across the field. We really appreciated the welcome pack of groceries too. Andrew and Julie were very welcoming hosts, and we spent an extremely comfortable and relaxing few days, exploring the local area, walking to the Manor House pub for a very nice meal and making the most of the sunshine. Ellie (10) and Charlie (8) particularly enjoyed the tennis court, which also doubled as a football and cricket pitch! Thank you once again.
Adrian
June 2015
Andrew welcomed us on arrival, we found a lovely starter supply of provisions in the fridge and he gave us a comprehensive guided tour of The Short House and its equipment. We appreciated his invitation to enjoy the garden and tennis courts. Halfway through our stay we encountered a minor problem with the water heater and Andrew attended to this immediately. The Short House provided us with everything we needed for a cosy and comfortable autumn break. The location is great and the views are magnificent!
fiona
September 2015
Jenis bilik
Keseluruhan rumah/apt
---
Jenis Penginapan
Rumah
---
Memuatkan
5
---
Bilik tidur
2
Nr. Bridport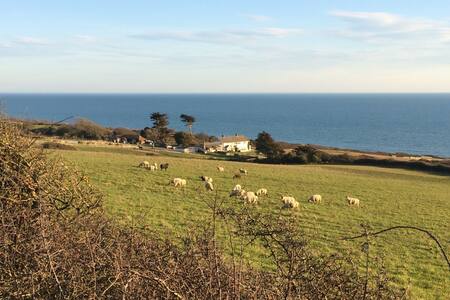 The Cow Byre is one of three cottages at Wears Farm and is set apart from the other cottages, with a very private garden and stunning views across the beautiful Dorset countryside. Guests can enjoy dinner or a drink on the furnished terrace with only sheep for company. The accommodation is mostly arranged on the ground floor, with one king size ensuite bedroom on a mezzanine level. Open plan kitchen/living room. Well-equipped kitchen with range cooker, American fridge-freezer with icemaker and filtered water dispenser, dishwasher, washer/dryer and microwave. Solid wood dining table and chairs. Comfortable sofas, TV with DVD player and selection of DVDs, WiFi, stereo with iPod dock. A wooden door leads out to the enclosed garden and terrace with wooden table and chairs. Charcoal BBQ provided during summer season. Family bathroom (shower over bath). Twin bedroom with fitted wardrobe. Double bedroom with wardrobe, TV and lovely hillside views. King size bedroom on mezzanine level with low level loft-style bed, TV and ensuite bathroom (no shower due to eaves). Chest of drawers and hanging pegs (no wardrobe due to eaves). All beds are dressed with luxurious, Egyptian cotton sheets and goose feather and down duvets and pillows.
Jenis bilik
Keseluruhan rumah/apt
---
Jenis Penginapan
Rumah
---
Memuatkan
6
---
Bilik tidur
3
Abbotsbury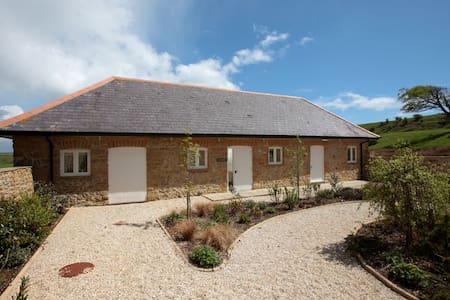 'Cross Trees Cottage' is on the Jurassic Coast and just 3 miles from the sea in the lovely quiet West Dorset village of Litton Cheney. The cottage is light, spacious and well equipped for your stay. The 4 bedrooms offer versatile accommodation for 7 (two of the double rooms can be made up as a 5ft double, or twin singles) There is a travel cot provided and a 'put-you-up' extra bed, if needed.
I will introduce myself on your day of arrival and be available if you have any questions. I live close by and remain available 'on-call' throughout your stay.
Jenis bilik
Keseluruhan rumah/apt
---
Jenis Penginapan
Rumah
---
Memuatkan
7
---
Bilik tidur
4
Litton Cheney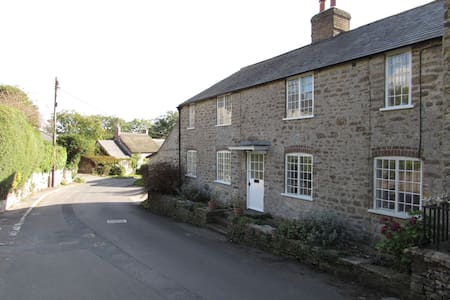 The Stables is one of three cottages located at Wears Farm just outside the delightful village of Abbotsbury. and is superb for extended families. The Stables has two separate living areas and a ground floor, ensuite king sized bedroom. Well-equipped kitchen with range cooker, American fridge-freezer with icemaker and filtered water, dishwasher, microwave and washer/dryer. Very light and spacious family living room with beautiful arched windows showing off the amazing countryside views. TV, DVD player, stereo with iPod dock. Second living room has 50" TV with surround sound and selection of DVDs. WiFi. French door leads out to the enclosed garden and terrace, with wooden table and chairs. Charcoal BBQ provided during summer season. Upstairs are three further bedrooms, one with a king sized sleigh bed, TV and ensuite shower, one pretty double room with fitted wardrobe and one twin room. Family bathroom. All beds are dressed with luxurious, Egyptian cotton sheets and goose feather and down duvets and pillows.
Jenis bilik
Keseluruhan rumah/apt
---
Jenis Penginapan
Rumah
---
Memuatkan
8
---
Bilik tidur
4
Abbotsbury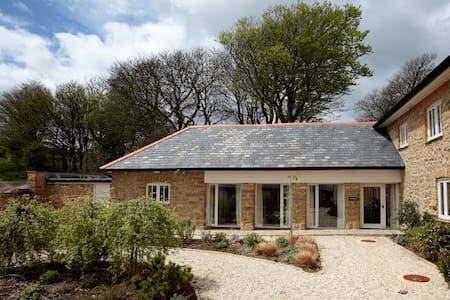 Charming recently converted non-conformist chapel accommodating 3 adults in comfort in the beautiful Bride valley near the sea in Dorset. Open plan ground floor with woodburner, kitchen, CH, double bedroom, single bedroom and bath upstairs
The Chapel is a charming building from 1873, recently and sensitively converted into accommodation for 3 adults, the visitors book is proof of many happy visitors, many of whom I welcome back over and again. Due to safety I am not able yo accommodate children under 12 years old. You can park one car in the driveway next to the Chapel, the garden in front of it is for your use, as is the patio, bbq, table and chairs and the evening bench to sip your wine in the last of the sunshine. The Chapel is for your exclusive use during your stay. I live in the adjoining house, together with my dogs, cats and an occasional daughter. I am available most evenings for help or advice.
The village us small and quiet with springs and streams flowing everywhere, the pub is 400 metres down the road, you will need a torch to walk back at night or risk falling in a stream. There is one bus a day from the village to Bridport, the valley is very steep so having a car is very important. Please note changeover day is Saturday, the minimum number of nights is 3 and short stays are not available at peak season. The ground floor has a restricted ceiling height. There is no mobile reception in the valley, however you are welcome to make use of the wifi in the Chapel, it is not fast though.
We had a lovely week staying at The Chapel. It is a beautiful place,tastefully converted and we were very comfortable. Lovely beds and a great shower were particularly appreciated. This very pretty village makes a great base for visiting the Jurassic Coast.
Sarah-Jane
November 2016
Jenis bilik
Keseluruhan rumah/apt
---
Jenis Penginapan
Rumah
---
Memuatkan
3
---
Bilik tidur
2
Litton Cheney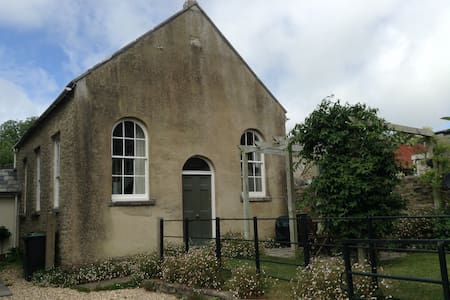 The Grain Store is one of three cottages located at Wears Farm just outside the delightful village of Abbotsbury. and has a spacious and airy, yet cosy feel with its open plan layout, wooden floors downstairs and feature windows. Well-equipped kitchen with range cooker, American fridge-freezer with icemaker and filtered water dispenser, dishwasher and microwave. Downstairs toilet. Utility room with washing machine and tumble dryer. Solid wood dining table and chairs and comfortable sofas, TV with DVD player and selection of DVDs, stereo with iPod dock. WiFi. A glass door leads out to the enclosed garden and terrace with wooden table and chairs. Charcoal BBQ provided during summer season. Upstairs is a galleried landing with a family bathroom and the three bedrooms leading off it. Two bedrooms with king sized beds, one with ensuite shower, one twin bedroom with pretty white painted sleigh beds. All bedrooms have fitted wardrobes and all beds are dressed with luxurious, Egyptian cotton sheets and goose feather and down duvets and pillows.
Jenis bilik
Keseluruhan rumah/apt
---
Jenis Penginapan
Rumah
---
Memuatkan
6
---
Bilik tidur
3
Abbotsbury