Small farm in the countryside about 5 km from the E22 south of Kristianstad. Proximity to the bus. Is the dog in the house and cats and horses on the farm. Guests rent the entire upper floor that includes two bedrooms and a TV room. Access to kitchen, bath, laundry, garden. There is also a bed in the TV room which can be used as a sleeping area. Hot tub can be fired up on request.
Old house with original details. Suitable for families with children and nature lovers. Quiet and peaceful. Small narrow staircase up to the second floor.
10 km to the lake. Possibility to borrow bikes.
Eva and Jan are very nice and helpful ! They lend us bikes to go to the lake :-) The house is in a veryyyy beautiful place near the forest. My friend and I had a really good time in this house :-)
Marie
2015-07-19T00:00:00Z
We had a great time at Eva's and Jon's place! Lovely garden and house! It has been a pleasure for us. We hope to come back one day!
Marie
2015-08-16T00:00:00Z
Vi blev väldigt väl mottagna av Eva . Ett underbart ställe , tyst och verkligen nära naturen . Vi kände oss hemma från första stund. Allt fanns för oss att göra vår egen frukost. Ett mycket intressant hus med många prydnader från världens alla hörn . Kan verkligen rekommendera detta boende.
Ingrid
2016-10-05T00:00:00Z
Vi tilbragte 3 dejlige dage hos Eva og Jan, som var meget gæstfrie og venlige. Både faciliteter og ophold var perfekt i et smukt og fredeligt område. Vi kan kun anbefale at bo hos Eva og Jan. Vi kommer gerne igen en anden gang. Hilsen Britta og Bjarne. We spent three wonderful days at Eva and Jan, who was very hospitable and friendly. Both facilities and stay was perfect in a beautiful and peaceful area. We can only recommend to stay with Eva and Jan. We will gladly come back another time. Greetings Britta and Bjarne.
Britta
2015-08-14T00:00:00Z
We had a great time at Eva and Jane's home. They are very openminded people and it was nice to talk to them in the Kitchen hearing a bit of their life experience. The house was comfortable, had a big garden at a very quiet place of South Sweden. We also fell in love with their little dog Svea (like all others before). She was a great entertainment. We would like to say thank you for the great time and would love to come back, when we visit Sweden next time!
Thomas
2015-08-29T00:00:00Z
The appartement of Jane and Eva was very clean, comfortable and very Nice decorated with little things from all around The World. The appartement is exactly how you Can see in The picture. We felt really good at their home. We enjoyed their delicious swedish breakfast and The conversations at The table. At our arrival Jane was very helpful, showed us The whole House. Eva and Jane gave us great tips for trips and made us a list for every Day. They were really great hosts! We Can definitely recommend to spend some days in their beautiful home. The House is situated very idyllic, you Can enjoy The Nature and The silence. We would be glad to stay there for a second time.
Dominik
2015-09-09T00:00:00Z
Jan and Eva are very friendly and openminded hosts. We had a bedroom and an own living room and are allowed to use their kitchen for cooking dinner. The badtunna is amazing and it was very nice to talk to Eva and Jan. Breakfast was very good and special. If you like to meet and talk to people that have to tell interesting stories you are right at Eva's and Jan's!
Maren
2015-09-04T00:00:00Z
Eva and Jane were very nice hosts. They were easy to talk to, and opened up their house and within that we could have a tiny glance into their life. The decoration of the house is astonishing - worth a stay. We felt very welcome and the atmosphere was very relaxed. We both fell in love with their dog. The room is nice and the bed comfortable. You can go swimming at a lake nearby which is great. Eva and Jane helped us finding great spots. Thanks for opening up your house for us.
Victoria
2015-08-24T00:00:00Z
Jenis Bilik
Bilik persendirian
---
Jenis Penginapan
Rumah
---
Memuatkan
4
---
Bilik tidur
Kristianstad, Skåne County, Sweden
Are you traveling alone, with your family, are you on a business trip, here for leisure or visiting friends? Looking for a place in Kristianstad where you can be on your own and at the same time get help and insight into Swedish family life? Looking for a quiet place with access to a garden, and with walking distance to Kristianstad city and close to train and busses with easy access to beaches, nature and cities like Lund and Malmö? If so, the flat in my house is the perfect place for you!
As my guest you will live in your own flat in the basement of our house. - You will get a set of keys - The flat has one double bed (140 cm) in the bedroom. The bedroom is equipped with a closet, a desk and a TV. - In room 2 is a couch that easily turns into a double bed (140 cm). This room has a fully equipped kitchen (if anything should be missing you just let me know) - You will have your own bathroom with shower - Laundry facility - You will have access to the garden. We love having guests over and we want people to enjoy their stay at our place. Since my children, cat and I live in the same house we will do our best to give you a good experience and to help you if there is anything you want to know about what to see and do in Kristianstad and Skåne. You can get information in Swedish, German, English and some French and you can get it from the perspective of an adult, a teenager or a child.
The house is located in a calm neighborhood close to the city. Just down the street is a small bakery that serves breakfast and Swedish fika. Very close to the house are two pizzerias, a Chinese Restaurant and a Turkish grill, all having takeaway. So if you want to eat in the flat you can either order takeaway or go grocery shopping in one of the two supermarkets 5 min walk from the house and with good opening hours (8-22).
Jenis Bilik
Keseluruhan rumah/apt
---
Jenis Penginapan
Rumah
---
Memuatkan
4
---
Bilik tidur
Kristianstad, Skåne län, Sweden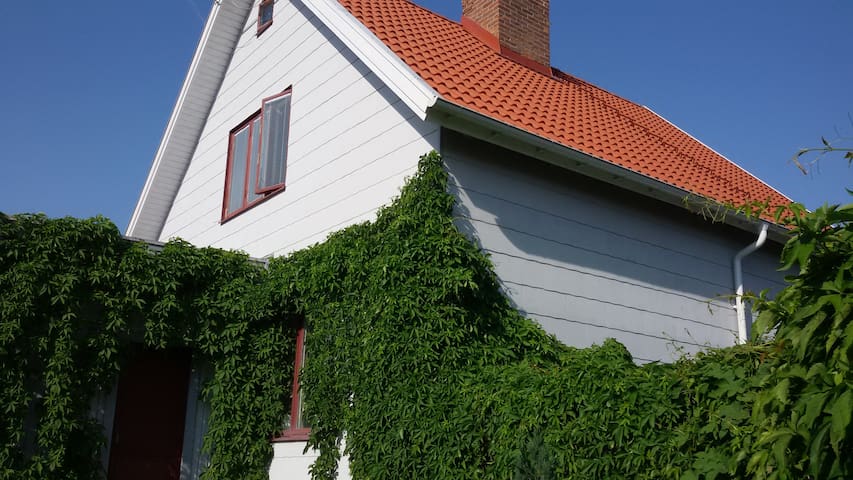 Under construction
The house is placed in the Swedish woods 25 km from the charming city of Kristianstad and 300 meters from lake Immeln. The house is from 1821 and is not like any house you have seen. You have to accept some old solutions in the house. (ex. the kitchen). One dobbelbed. 2 seperate beds. And sofa that could be 2 beds in big sittingroom. Not so convient.
Exellent nature. 300 meters to lake for swimming, sailing ore fishing. 25 km to ocean (yngsö) with sandy beaches. 25 km to very nice city. 7 km to supermarket. Free camping i alle nature and on islands.
House was as described and has a very large property, lake very near and boat available for paddeling. Communication with owner was very good, all information was provided and very friendly. House has a rustic charme, maybe a bit too dark & out of date infrastructure but very unique. For children limited entertainment. Neighbor house right next door with dog. Many thanks for the support. Regards M&N
Nathalie
2016-07-15T00:00:00Z
Das Haus hat Charme und es hat uns gut gefallen. Es liegt in sehr schöner Umgebung nahe am Immeln-See, der auch ein hervorragendes Revier zum Kanu fahren ist. Besonders praktisch ist, dass zum Haus auch ein großes Kanu und vier Kajaks gehören, die über einen eigenen Steg (ca. 150m vom Haus) frei genutzt werden können. Haus und Einrichtung sind sicher nicht neu. Aber die Unterkunft hält, was die Fotos versprechen. Henrik ist ein sehr netter Vermieter. Als wir einmal ein Problem mit dem Abfluss hatten, hat er sehr schnell reagiert und sofort Hilfe geschickt.
Ansgar
2015-07-25T00:00:00Z
The house of Henrik is a nice place to stay when you are looking for lots of nature, walking and also fishing (pike, perch). It is, indeed, a very old house as it says in the description and sometimes it really feels old. It was not 100% clean and someone should take a little bit more care of it, because it is really worth to keep this house "alive". The huge eating room is the great place in the house. Very nice for having lunch and dinner. The outdoor area was also not very clean unfortunately (BBQ area). On the other hand there are lots of things delivered with the house like table tennis, canoe, boat for fishing etc. which is a plus point. Also loads of music CDs are available. Please note that the house keeper (very nice person) is living on the property 50 meters away. No complains about the host - communcation was easy but we haven't met Henrik in person.
Thomas
2015-06-27T00:00:00Z
Ein wunderschönes Haus in einer ebensolchen Natur. Der Gastgeber hat stets gefragt, ob alles ok ist oder ob wir Hilfe brauchen. Perfekt.
Peer
2016-06-05T00:00:00Z
Our holiday in Henriks house was very nice. We relaxed at the beautiful big garden and on the big terrace, where you can eat in the sun or shadow. When it´s not so nice weather, the living room is a nice place to sit together and eat or play games together. It´s a very charming livingroom. You find enough space for two couples and one child or as a family. There are a lot of boats there to go on a trip over the lake and go fishing or swimming at lake Immeln. For fishing the lake is not so good but the landscape is wonderful. There are many games and playing stuff at the garage. My proposals to improve the location is to buy new matresses for the beds, better equipment to clean after stay and to repair some things for example the bathroom door. It´s also necessary to provide some more space to store the clothes of the guests and refurbish the bathroom, because it´s very oldfashioned. If you want to make a quiet, relaxing natureholiday you are right here. Henrik always asked us if everything is ok, but we didn´t meet him personal. We enjoyed it a lot there! Thank you! Best regards Denise and friends
Denise
2015-08-09T00:00:00Z
We had 6 super chill days in Henriks lovely house in Sweden. Everything was as expected and Henrik replied instantly if we had a question! We weren't too successfull fishing in lake immeln, but found a few good ones not too far :)
Johann
2016-06-12T00:00:00Z
Das Ferienhaus war sehr schön, genau richtig für 4 Personen. Und es gibt genügend Platz im Haus und einen großen Garten mit einer riesigen Wiese hinter dem Haus. In der Garage wartet eine ganze Ausrüstung an Spielemöglichkeiten, von Tischtennis, über Kubb bis Federball... wir haben die Spiele gerne genutzt, da es außer der Natur in der direkten Umgebung nicht allzu viel zu erleben gibt. Man benötigt unbedingt ein Auto um hier Urlaub zu machen, der nächste Supermarkt ist einige Kilometer entfernt. Besonders toll fanden wir die Möglichkeit das Ruderboot nutzen zu können und zum Angeln auf den See zu fahren. Das Ufer liegt etwa 5 Gehminuten entfernt. Leider haben nur ein paar kleine Hechte und Barsche angebissen. Den Grill auf der großen Terrasse haben wir auch genutzt, sowie die sehr gut ausgestattete Küche (Kühl- und Gefrierschrank, Herd, Backöfen etc.). Es gibt auch eine Waschmaschine und Wäschespinne, was bei längeren Aufenthalten praktisch ist. Außerdem deutsches Fernsehen, schnelles Internet... Generell war es ein wundervoller Urlaub! Ganz einsam ist man weit und breit nicht, da auf dem Grundstück nette und hilfsbereite Nachbarn wohnen. Der Kontakt zu Henrik war sehr gut, er hat uns alle Infos gegeben und war sofort zur Stelle wenn es Fragen gab. Persönlich haben wir ihn nicht getroffen.
sophia
2015-07-12T00:00:00Z
Beskrivelsen af boligen meget fin. Henrik var meget imødekommende og super tilgængelig mht at svare på alle vore spørgsmål og havde forslag til Vandreture og sejlads med kajakkerne. Et meget charmerende hus.
Ruben
2016-07-09T00:00:00Z
Jenis Bilik
Keseluruhan rumah/apt
---
Jenis Penginapan
Rumah
---
Memuatkan
6
---
Bilik tidur
Kristianstad, Skane County, Sweden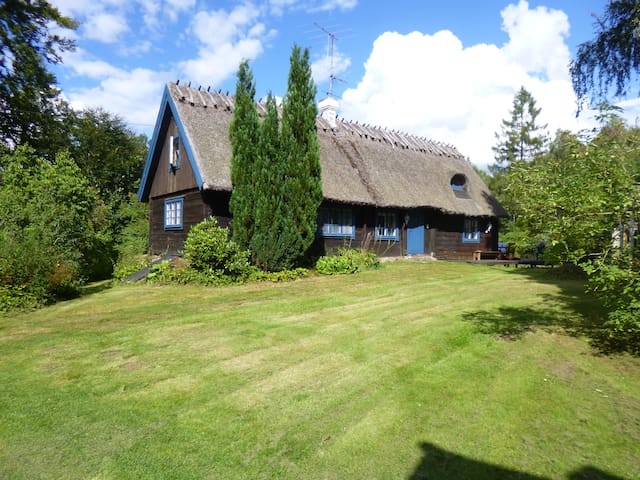 Free standing house next to the university
Big and cosy free standing house with a big garden right next to the university. It is a two story house with two sleeping rooms and a bathroom upstairs and a kitchen, living room, dining room and a toilet downstairs. There also lives a cat in the house. We are a couple with a small baby and will be travelling for some time during our parental leave. We are renting our house as we won't be here. Languages spoken: Spanish, Swedish, English and Dutch
Quiet residential neighbourhood right next to the university campus
Jenis Bilik
Keseluruhan rumah/apt
---
Jenis Penginapan
Rumah
---
Memuatkan
4
---
Bilik tidur
Kristianstad, Skåne län, Sweden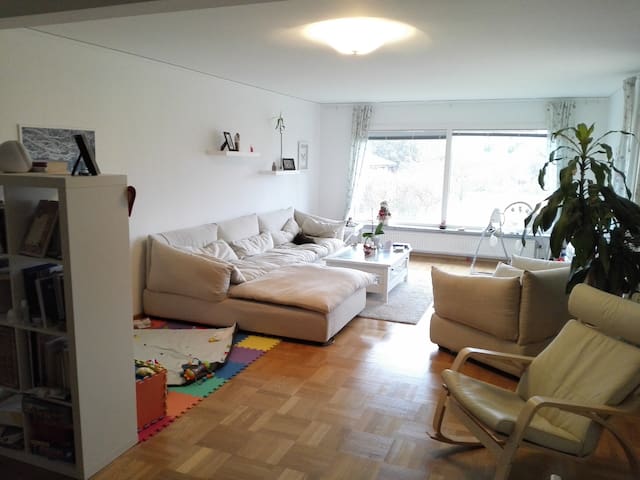 the villa is located in a quiet area 6 km south of Åhus, only 800 meter to 20km-long beautiful sandy beach, 10 minutes drive to a 36-hole golf course.
main building 90 square meters, with fully equipped kitchen, dining place, living room, bathroom (including laundry with washing machine and drying machine) and 2 bedrooms. guest house 30 square meters, with living room, bathroom and 2 bedrooms. total 8+ beds. *. summer house rentals don't include bed sheets, pillow covers and towels. they are considered as private stuff in Sweden so guests need to bring their own. we can provide the bed sheets and pillow covers if needed with an extra cost of 150:- SEK(or 15€) for each guest. *. The guests are responsible to clean the house before departure, that's also a standard agreement in Sweden. otherwise an extra cost of 800:-SEK(or 80€) will the applied.
Thank you Qinping and Quan for this beautiful last minute stay you made possible for us! We really appreciate your hospitality and the wonderful area and beach at your place in Skane. Have a great summer! Daniel & Family
Daniel
2016-07-02T00:00:00Z
We arrived in beautiful Southern Sweden on a sunny afternoon. King and his family welcomed us with a delicious homemade cake and lemonade. They showed us around in the houses and the cosy neighbourhood. The summer residence was absolutely perfect; it was cosy with an open floorplan and had spacious bedrooms with comfortable beds. We had a great week spending time at the sandy white beaches close by and in the charming cities, Åhus and Kristianstad. Thank you for a great holiday!
Trine
2014-08-17T00:00:00Z
We are a family of five (children age 12, 9 and 6) and we stayed two weeks in Kings house. Everything worked out really nicely and the house matches well the description. There are several nice excursions closeby that we can recommend to other visitors like Kristianstad, Kjugekull nature reserve, Wanas art and Stenshuvud nature reserve and the Kivik apples. Thanks for a great stay.
Britta
2016-07-24T00:00:00Z
We had a very good stay and the summerhouse was fantastic (house was even nicer than the pictures!). Had all we could need. Plenty of place and perfect for having friends over for a night or two. Beach is about 10min slow walk away. Water was a bit too cold for us but the beach itself looks amazing. King and Quan are very friendly and easy going hosts. Quan even had a really delicious apple pie made of home grown apples ready for us when we arrived. Ps. There's a fish smokery five minutes with car (follow main road towards Ahus) that have absolutely lovely smoked mackerel.
David
2016-08-07T00:00:00Z
I am originally from the area. Because of a family emergency, me and my extended family had to come and stay for a week-and-a-half. King's cottage provided a perfect solution for us to all fit during our stay. As it was an emergency, we provided very little notice, which made it more difficult for King to and Jane, but they were extremely nice and helpful. They did everything to enable us to stay and make best use of the house and its facilities. The house is lovely. Even better than what the images portray. Everything is in great condition with lots of space. Even though it is a summer house, it is fitted with electrical heating with thermostats in every room, which works very well, even if your stay is in the autumn, as our's was. We never felt too hot or too cold. I recommend this lovely house and I recommend our kind and generous hosts, King and Jane.
Pontus
2015-10-12T00:00:00Z
Jenis Bilik
Keseluruhan rumah/apt
---
Jenis Penginapan
Rumah
---
Memuatkan
8
---
Bilik tidur
Kristianstad, Skane County, Sweden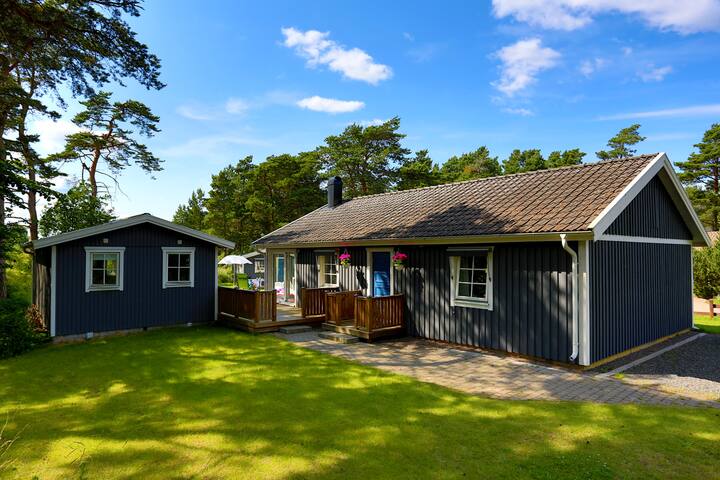 Newly renovated classic Swedish summer house just 5 minutes walk from the beach
This wooden holiday home is located in a quiet location surrounded by pine trees and wonderful greenery. With only 5 minutes' walk to the beach, swimming pool, crazy golf and restaurant it is an ideal holiday destination for both the family and couples alike! 10 minutes cycle ride away you will find town centre which offers shops and great eating places along the harbour front. There is also a golf course located nearby and the possibility of renting canoes and dingy boats. You can also hire cycles at Jocke in Stubbagatan. The house has two bedrooms, one with 2 bunk beds and one with a double bed. It also offers a fully equipped kitchen and a large main room with a dining area, shower/toilet and outdoor seating areas. During June to August the house can only be let for a minimum of one week. During Spring and Autumn we can also let it for a long weekend. The cottage is well serviced by local buses from Kristianstad, the regional capital, which in turn has fast trains to Lund, Malmo and Copenhagen (served by many airlines). Visit 'skanetrafiken' for more information about public transports. You can also fly to Malmo airport and hire a car or take the airbus to Lund and then train to Kristianstad. We are more than happy to help you out with advice on how to get to us. Guest will have sole and full access to our house during their stay. During your stay you will find contact details in our 'welcome' book should you require urgent help. Our cleaners/caretakers live locally. While you are in Ahus there are plenty of places to visit both by car and on bicycles. We can recommend Backaskogs castle for lunch and a visit to the old mine on Ivon. Or why not hire some bikes from Jocke in Ahus and go for ride along the beach or in the pine forests. There is a bus stop located less than 5 min walk away which takes you to Kristianstad and onwards connection to Malmo Copenhagen and Stockholm. In Kristianstad you can find both Hertz and Avis car rentals. Please not that you MUST not go inside with outdoor shoes. If you have been to the beach please ensure you shower by the beach or remove sand before entering into our cottage. The indoor shower should not be used for this as it will block pipework. NO SMOKING is allowed within the house and if you smoke in the garden please dispose of stubs safely as the grass can get very dry during the summer season.
While you are in Ahus there are plenty of places to visit both by car and on bicycles. We can recommend Backaskogs castle for lunch and a visit to the old mine on Ivon. Or why not hire some bikes from Jocke in Ahus and go for ride along the beach or in the pine forests.
Stan and Monica were exemplary hosts. All relevant information was provided in a timely manner and if we had any questions they would quickly respond. The house is surrounded by a charming garden with easy access to the small center of Aahus, and a very short walk to the beach. If you are looking for a comfortable long-weekend get away then this house might be just the thing you are looking for.
Ayna
2015-05-22T00:00:00Z
My family (two adults and two kids aged 10 and 13) spent a relaxing week in this lovely house just off the beach in Åhus. The house is located in a quiet neighbourhood of mostly holiday homes and has a large garden and patio. It's easy to get to via public transport (bus stop about 3 minutes away) and about a 20 minute walk to the old town centre and nearest supermarket if you don't have a car. Best of all, the beach is only 5 minutes away and we spent quite a lot of time there sitting and reading while the kids bathed. We also walked around the town a lot and did a tree-climbing session at a place right off the beach 10 minutes away. The house has all mod cons and the kitchen in particular was great as we had almost all of our meals at home (Åhus has a few restaurants but nothing terribly exciting). There are a lot of good DVDs and a few board games for a rainy day, and the beds were comfortable for a good night's sleep. We never met Stan and Monica but communication before and during our stay was quick and clear. We have nothing but good things to say about this place and would recommend it for anyone looking for a quiet, relaxing vacation.
Jóhanna Katrín
2016-07-16T00:00:00Z
Ahus is a nice and charming little village. The house is close to the beach and a public swimming pool which is nice, also with kids. The house has all facilities you would expect from a holiday home, with a wonderful kitchen. The communication with Stan and Monice was very smoothly.
Marcel
2016-08-06T00:00:00Z
We had a great stay at Stan and Monica's cabin in Åhus. The cabin is in a great, quiet location, very close to the beach. The backyard is big and beautiful. The interior of the cabin is nice and cozy, yet modern. Especially the newly renovated kitchen.
Jonas
2015-08-04T00:00:00Z
Hej Monica og Stan. Vi takker for en virkelig hyggelig uge i jeres cottage. Det er absolut ikke sidste gang vi kommer der. Alt var bare perfekt (dog ikke WiFi , som vi ikke kunne få gang i ). Vi vil meget gerne anbefale stedet. Vi ønsker jer et rigtig godt 2016.
inger dal
2015-12-29T00:00:00Z
nice house with a very nice garden. Its pretty close to an awesome beach. So everything was very good.
Philip
2015-07-05T00:00:00Z
It was very clean when we arrived. There was a brand new kitchen and bathroom. There where lots of things to do in de neighborhood. It was indeed very close to the beach.
Freek
2016-07-23T00:00:00Z
The house we rented from Stan and Monica was in tip top shape. Comfortable and homely. Five minutes walk to the beach and about 15 mins walk to the nearest supermarket. Great location also for day trips if the weather is not so good. Only thing we missed was a nice outdoor area to spend time outside and in private. It looked like Stan and Monica were planning improvements there, so probably better soon. Recommended!
Antonella
2015-07-12T00:00:00Z
Jenis Bilik
Keseluruhan rumah/apt
---
Jenis Penginapan
Rumah
---
Memuatkan
5
---
Bilik tidur
Kristianstad, Skåne County, Sweden
Charming renovated house of 150 m2 with eight beds located in Östra Sönnarslöv, a small peaceful village with beautiful surroundings in Southern Sweden (Skåne) 20 km from the Baltic Sea. Spacious garden ideal for families with children.
The house, in the traditional style of a so-called "Skånelänga", has three large bedrooms. There is a double bed (160 cm), four single beds (1 x 90 cm and 3 x 80 cm), a crib, and a sofa bed (140 cm). It is also possible to sleep comfortably on two large couches in the living room. The house has two bathrooms (one large with bath and a smaller with shower, both with toilets), a large well-equipped kitchen (electric and gas cooker, oven, fridge, freezer, microwave, and fire place), and a laundry room (with washing machine, sink, and clothes lines). The 2000 m2 property provides excellent opportunities for outdoor activities with a spacious garden, ideal for families with children. The garden has a large wooden terrace, garden furniture (long table with 11 chairs), a large BBQ, a hammock, a playhouse, a swing and a slide. There is ample parking space in the courtyard in front of the house.
Östra Sönnarslöv is a small village located in a beautiful part of Southern Sweden (Skåne region) with a luscious beech forest, a former open lime pit, and Maltesholm Castle with its lovely garden just in the immediate vicinity. Less than 20 km away, you will find the the Renaissance city Kristianstad located in the biosphere reserve "Vattenriket", wetlands known for the rich bird life. Besides the unique nature and its history, Kristianstad offers everything you can expect from a modern city with restaurants, shopping, cinemas, etc. Also 20 km away you can visit the medieval town Åhus at the Baltic Sea and enjoy the nice beaches or a round of golf. For people interested in golf, there is also a nice golf course in the neighbor village Degeberga, just 12 km away.
A beautiful, cosy house (and garden!) in which we felt at home immidiately. Very child friendly as well. We had a very warm welcome and we can recommend this house to everyone. Amazing beaches closeby (20 minutes by car) and so is the nice little town called Kristianstad.
Anne-Sophie
2016-07-24T00:00:00Z
Me and my extended family (6 adults and 2 babies) spent 4 nights at Muriel's. We had a great time: the house and garden is spacious and comfortable as shown by the pictures and Muriel has made great efforts to make her guests feel welcome by explaining in detail everything you need to know about the house and the surroundings and lending anything from baby and child equipment to books and board games. Location is perfect if you are looking for quite country side vacations, however you will need a car to get around to visit the seaside and surrounding cities. The house is located in a valley so internet connection, and even mobile networks where quite poor in the house and garden.
Veronica
2014-08-08T00:00:00Z
Dejlig gård, med god plads, og fedt legerum til de små børn. Stort køkken med plads til mange. Skøn have med fint legehus til de små. Rent og pænt.
Jacob
2015-08-03T00:00:00Z
Muriels house is beautiful. We had a wonderful time. The playroom for kids is very convenient. Also the big garden! Lovely to watch stars at night. Muriel is very friendly and proud of her family home. Also helpful during the stay with tips for walks and things to see. Everything you need is close by. Beautiful sea at 30 minutes drive. We would love to stay again.
Simone
2016-08-28T00:00:00Z
Muriels house is an extremely pleasant get-away, very cosy and a perfect location for a quiet weekend in Sweden. And Muriel is a top host, very helpful with all our questions in advance, and she left af very thorough manual with all sort of good information for us. The house is situated in a small and quiet village, but bigger cities are close nearby. There's some very beautiful nature sightings in the surrounding area - and don't miss out on the little apple shop with fresh homegrown apples just in front of the house, the smell inside is amazing! We spend a total of 3 night - including New Years Eve - at Muriels house (6 adults, 2 children (1,5 years old), and we had plenty of space. For us it was a big bonus that Muriel has small children herself, so we didn't have to bring lots of baby-stuff from home! All in all we had an extremely lovely time in Muriels house, and would very much like to come back again, perhaps during summer next time! Thank you very much, Muriel!!
Lasse
2016-01-03T00:00:00Z
Meget rolige omgivelser.....hvilket var fint i forhold til at vi skulle nyde familie tid, have og grill. Huset dækkede vores behov.....og værtinden havde virkelig gjort sig umage med at beskrive inventar. Vi følte os meget velkomne med nyplukkede blomster på bordet og hjemmelavede hyldeblomst i køleskabet. Undervejs svarede værtinden prompte via sms hvis vi havde spørgsmål. Vejret var med os det meste af tiden hvilket resulterede i at vi slet ikke brugte den ellers meget hyggelige stue men derimod tilbragte rigtig meget tid på terrasse og have. Grillen var stor nok til at vi kunne grille til alle 8 mennesker på en gang. Tak for en go' oplevelse med airbnb og vores værtinde.
Rikke
2015-07-27T00:00:00Z
It has been a lovely time at your cozy house! Thank you for your help and for your warm welcome..!
Anne
2015-01-04T00:00:00Z
Vi havde en fantastisk lang weekend i Muriels hus. Vi var 5 voksne, der nød at være i det dejlige hus, der er meget smagfuldt indrettet med masser af plads og alt, hvad man har brug for til et forkælelses ophold. Muriel tog imod os med hjemmelavet hyldesaft og friske frugter. Og hun kom og sagde farvel til os igen, da vi forlod huset. Huset ligger i et herligt område i Skåne, hvor der indenfor en radius af 20 km er både fantastisk natur og interessant kultur at opleve. Dejligt sted, hvor vi håber at kunne komme tilbage en anden gang.
Anne
2014-10-20T00:00:00Z
Jenis Bilik
Keseluruhan rumah/apt
---
Jenis Penginapan
Rumah
---
Memuatkan
8
---
Bilik tidur
Kristianstad, Skåne County, Sweden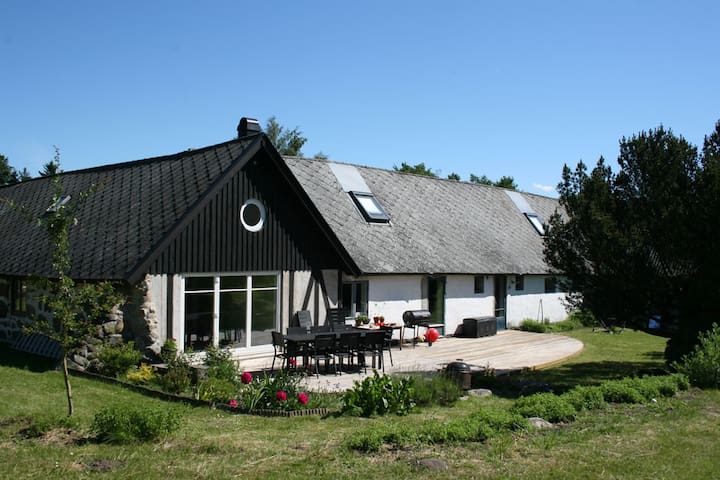 A house by the sea with large windows taken from an old glasveranda.Njut of seeing the sun rise over the ocean and to take a morning swim at a deserted beach. Wooden deck wraps around three sides of the house, which means that you can always find shelter.
No neighbors in front of the house means that you can freely see the moonlight over the ocean and with a few quick steps, you have access to the wide beach. The house has two rooms, one a little larger with living and sleeping areas with double bed and a slightly smaller with kitchen, dining area and a bunk bed. IN
It is the beachfront location as we love our house. The nearest shop for the essentials is located in the village of Yngsjö and there is 1 km away. There is also a hotel o a good restaurang.Till nearest town Ahus is 8 km away and there you will find restaurants o business for most needs. To the nearest little town Kristianstad is 30km
Jenis Bilik
Keseluruhan rumah/apt
---
Jenis Penginapan
Rumah
---
Memuatkan
4
---
Bilik tidur
Kristianstad, Skåne County, Sweden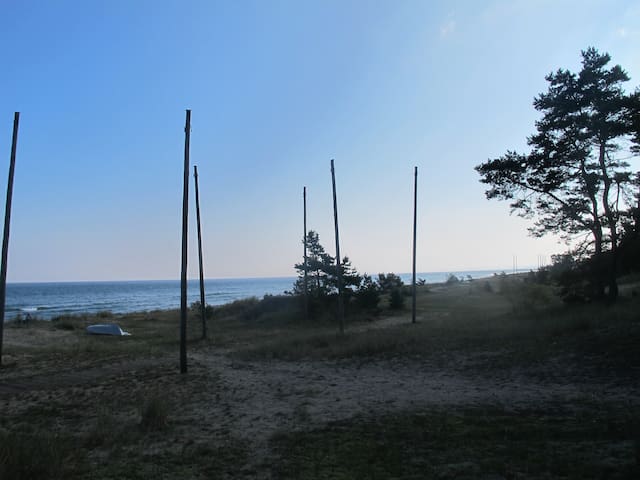 Charming cottage located right by the scenic and historical Oppmanna-lake with its own bridge, lawn, beach, boat and outdoor fireside.
It's a small but functional space of 25 m2 suitable for 2 people including a cooking space, table, couch and toilet. Please note that there is no shower in the cottage.
Beautiful setting by the Oppmanna lake with plenty of fish and rare species of birds. Perfect for seclusive relaxation and enjoyment of Swedish nature. + 5 min from Backaskog castle 15 min from Kristianstad 20 min fram Ahus (with plenty of nice beaches by the Baltic sea)
Sehr netter Kontakt zu Sven. Er hat uns vom Bahnhof abgeholt und zum Häuschen gebracht. Dieses liegt einsam und verlassen an einem wunderschönen See, wie man auch auf dem Bild erkennen kann. Das kleine cottage ist perfekt für 2 Personen und ist hübsch eingerichtet. Möchte man die Gegend erkunden, sollte man jedoch mit dem Auto anreisen bzw. Fahrräder mitnehmen, denn die Busse fahren doch relativ selten und Gehwege sind leider nicht vorhanden. Insgesamt hatten wir eine sehr erholsame Zeit vom hektischen Stadtleben, was nicht zuletzt dieser Abgeschiedenheit zu verdanken war:)
Carolin
2015-06-27T00:00:00Z
We had 2 weeks at Svens cottage. A place for beautiful nature experiences. Sunsets, bird life, butterflies and deer tracks on the beach in the morning. The cottage are small and simple but has everything you need for a summer vacation. Sven gifted us with some fresh mint fresh from his garden when we arrived. Lovely for making a herbal tea. Thanks for the opportunity to be so close with nature!
Maria Elisabeth
2015-07-30T00:00:00Z
The location is great! The cabine has everything you need and Sven is very nice and helpfull. He even gave us a nice tour of the town and its sorroundings which has much more to offer than we knew. The view of the lake is wonderful and we had a lot of fun rowing in the small boat. Overall it's a great peacefull place and great way to explore the swedish nature.
Frederik
2015-07-11T00:00:00Z
The location is just great, the cabine is pretty well fitted out and Sven is a very nice person. The view on the lake is wonderful and we could really enjoy the beautiful nature of Sweden. There are lots of opportunities to have nice walks / trekking in the surroundings and Christianstad is close as well (10/15 minutes by car).
Damien
2014-08-05T00:00:00Z
Sven's cottage by the lake is the perfect getaway from a busy life! We spent three amazing days reading, swimming and rowing.
Jasmijn
2014-08-16T00:00:00Z
We had a great week at Svens place. It was so quite there and the lake right in front of the cottage is really awesome. The cottage is fully equipped but has no shower (as described). But you have a lake! Sven was very nice and told us many funny stories. We loved it there.
Alex
2016-08-16T00:00:00Z
we had the best time at svens little cottage by the lake! sven and his wife mad us feel so at home, and we enyoid the secluded spot and private beach alot! will definently come back soon :')
Sigrid
2015-07-08T00:00:00Z
We had a very warm welcome when we arrived at this beautiful retreat at the lake. Sven and his wife even provided fresh fruits from their garden. The little cabin was very cozy and we really had a great time there. It was a pleasant stay right inside nature which reloaded our batteries and made us feel truly relaxed. The beaches around Åhus are very nice and not far away. Rowing the small boat to the middle of the lake is another delight that was offered.
Jessica
2016-07-29T00:00:00Z
Jenis Bilik
Keseluruhan rumah/apt
---
Jenis Penginapan
Rumah
---
Memuatkan
2
---
Bilik tidur
Kristianstad, Skåne County, Sweden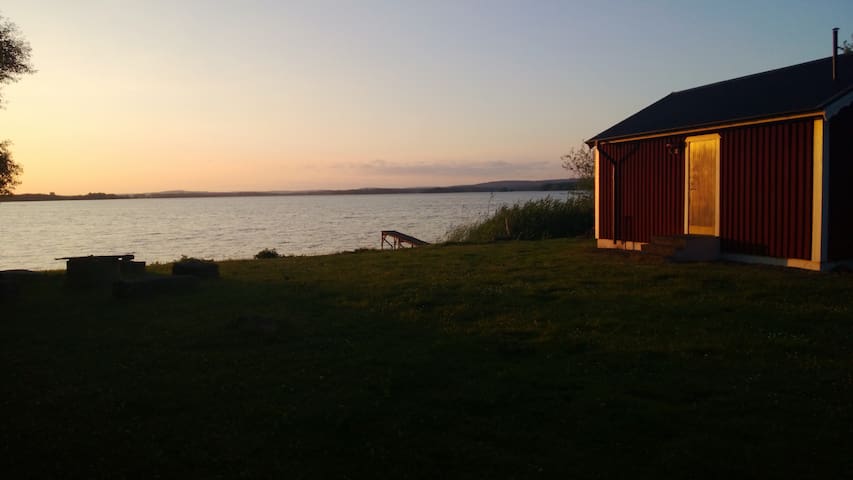 My place is close to the beach, good for couples, solo adventurers, families (with kids), and furry friends (pets).
We stayed in Mats cosy cabin a couple of days in December. The location was perfect (I can only imagine how beautiful it is in the summer) in the forest with about 100 meters to the beach. Beds were comfortable and the kitchen was small but it had everything we needed. All and all, we loved our stay and we would love to come back!
Robert
2016-12-18T00:00:00Z
Stugan är riktigt fresh och har allt man behöver! Mats är en underbar värd, vi kommer jättegärna tillbaka!
Micke
2016-07-07T00:00:00Z
Mats var en fantastiskt värd som redan från start kände oss välkomna. Mats var tillgänglig hela vistelsen och såg till att vi hade det bra. Huset är fantastiskt, super fin miljö och nära till härlig strand. Vi är verkligen jätte nöjda!
Dalia
2016-06-27T00:00:00Z
Das Häuschen, die Umgebung und der Strandabschnitt sind so wie beschrieben. Alles war sauber, sehr nett und mit Liebe zum Detail eingerichtet und Mats war ein großartiger Gastgeber. Wir sind am Abend angereist und Mats hatte uns für das Frühstück an nächsten Tag, sowie ein paar weitere Aufmerksamkeiten bereits besorgt. Auch während unseres Aufenthalts war Mats jederzeit erreichbar und hat uns gute Tipps für weitere Erkundungen in der Umgebung gegeben. Wir werden sicher wiederkommen! :-) And now in English: The house, surroundings and the beach are exactly as shown. Everything was very clean, and lovingly decorated, with attention to detail. Mats was a great host. We arrived in the evening and Mats had already left us things for breakfast in the fridge, also as well as a few other refreshments. Mats was easily reachable and also gave us good tips for interesting spots in the neighborhood. We will come back! :-)
Inge
2016-08-27T00:00:00Z
We had a wonderful weekend at Mats' place in Åhus. It's in a quiet and beautiful pine forest just a few minutes walk from the beach. The beach is sandy, clean and feels more remote than it is. The house is cute, spacious enough for 4 of us and has a cosy wood stove. It was incredibly clean (brand new dish sponge and little details like that) and Mats had got us a little food for the morning - he was very helpful and kind throughout. Being only 2 hours drive from Copenhagen, I would thoroughly recommend visiting Mats' place for a weekend or a holiday break. Thanks again Mats!
Federico
2016-07-10T00:00:00Z
Het verblijf in dit huisje was super! Alles is aanwezig, van toiletpapier tot hout voor de open haard. We hebben Mats zelf niet ontmoet maar de communicatie vooraf was vlekkeloos. Bij aankomst waren de bedden opgemaakt en de koelkast gevuld! De ligging is mooi. In een bosrijke omgeving en 3 min lopen van het prachtige strand.
Willemijn
2016-10-02T00:00:00Z
Da war einfach alles super. Wunderschöne Lage im Kiefernwald, 200 m zum Traumstrand, 1.5 km nach Ahus, geschmackvoll und modern eingerichtetes Haus, funktionierender Wifi und Mats ist ein toller Gastgeber
Wolfgang
2016-09-29T00:00:00Z
Værten modtog os, viste rundt og var behjælpelig.
Betty Riise
2016-08-22T00:00:00Z
Jenis Bilik
Keseluruhan rumah/apt
---
Jenis Penginapan
Rumah
---
Memuatkan
4
---
Bilik tidur
Åhus, Skåne län, Sweden

Very nice Country House at walking distance from the lake. Fully renovated inside. Perfect for a family to spend a great time in Sweden.
Fantastic place for a family with young kids. Two levels, with Livingroom, Kitchen, Masterbedroom and Bathroom downstairs and two more bedroooms upstairs.
We had a great holiday in this country house and the sourroundings. The house is placed in a nice forrest with some really nice tracks along the old stone (diabas) quarry and close to the immeln lake. The lake is perfect for canoe and bathing. The house was nice with good space for our family (4) and in a good quality. Outdoor facilities such as garden furnitures, grill, outdoor fireplace was not there, but according to the owners it is on its way. There are also good sites to visit in the nearby area, Kristiansstad, Karlskrona, caves etc. We can highly reccomend this house.
Mads
2016-07-24T00:00:00Z
This house is a precious little place to stay. In the middle of nature, very quite (no direct neighbors) and lovingly decorated. We had a great time with our little son who enjoyed the nature a lot. It's just beautiful to have a barbecue in the garden when the sun sets (even though we had to bring our own grill). There is plenty to do in this area. There are a lot of hiking possibilities which start in front of the house (red hiking track which leads through woods, lakes, beautiful houses and gardens ...). Söderasen Nationalpark is just a one hour drive away, as well as the Höör Djurpark. The really beautiful beach of Äspet/Ahus is just a 40 minutes drive away. Last but not least: Alejandro and his family are really nice. Even though they are not there, they prepared a lot of information and were really caring and helpful, when we had little problems and questions. We definetely would love to come back one day.
Ariane
2016-08-20T00:00:00Z
Wir hatten einen wunderbaren Urlaub in diesem Haus. Es ist groß und der Garten ist schön zum Entspannen. Bis zum See Immeln sind es nur 10 Minuten zu Fuß. Dort kann man Kanus/Kajaks mieten oder am Strand schwimmen gehen.
Manja
2016-08-07T00:00:00Z
The house was nice and cozy and the rooms looked like on the fotos. The garden round the house looked great and when there has been better weather we would have spent more time outside. Before we began the trip Alejandro told us which stuff we have to bring with us and all the essentials were already there. What we didn't know was that there were no doors in the first floor but that didn't matter us that much. We knew that the distance to the places we wanted to visit was quite long but we didn't expect that the ways to things like the next supermarket were so long. All in all we had a great stay,we liked the lake and the rural landscape very much and are happy with our first airbnb booking. Thanks to Alejandro for the fast responding on our problems and for beeing such a nice and friendly host. Greetings from Germany Manfred,Nils and Anna-Lena
Anna-Lena
2016-09-05T00:00:00Z
We stayed here for a week, 2 adults and 2 small children, we got a nice welcome and we had a fantastic week. The house is lovely and bright with lots of space both inside and out. Even though we had planned to do very little for the week except relax, they was so much to do in the area. There is a 5k hike through woods and lakes starting right outside the house, there is the wanas const art park and brio musuem nearby. Further a field there is the skane nature park and some lovely seaside towns. The lake is just a short walk from the house where there is a nice beach and cafe. Would highly recommend!
Donal
2015-08-07T00:00:00Z
Nice and confortable house in a very quiet place. House is conform as the comments. There is a big lake with canoe at 1 km, and there are forest and path all around. FIrst shop is at 8mn by car, sea 35mn. Go there if you want quiet holidays in nature.
Thibaut
2015-08-18T00:00:00Z
Jenis Bilik
Keseluruhan rumah/apt
---
Jenis Penginapan
Rumah
---
Memuatkan
5
---
Bilik tidur
Immeln, Skane County, Sweden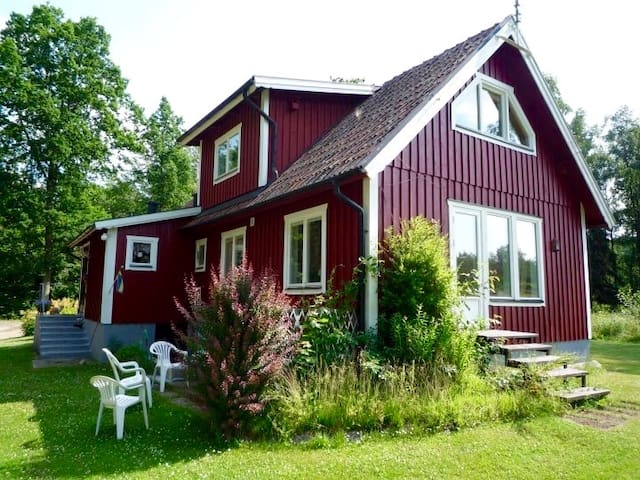 Super hyggeligt hus tæt ved sø, og skov lige ud for døren. Rolig beliggenhed i kuperet terræn med klipper og stier. Entre, Soveværelse, Badeværelse m/vaskemaskine. Køkken m/spise afd. til 8 med opvaskemaskine Stue, Pejs og loft til kip med synlige bjælker. 1. sal: Stor repos med sofa arr. 2 værelser m/ 2 enkeltsenge i hver, gæste toilet. Stor terrasse påå 2 sider af huset, Der er cykler, Gummibåde, Bob spil, Grill i garagen hvor det ekstra værelse er. Huset er ca. 100kvm og garage 60 kvm.
Die ruhigen surronding und der Badesee und Wald, machen dieses Haus ideal für Urlaubszeit
We had a beautiful weekend in the cozy cottage from Micheal. We did some daytrips through the area and discovered the swedish nature. We were 7people and we had enough space in the house. We recommend the house for everbody who want to enjoy the beautiful nature and will have nice holidays.
Johanna
2016-09-25T00:00:00Z
Skøn hytte i dejlige omgivelser. Klart endnu et besøg værd :)!
Morten
2016-11-27T00:00:00Z
Wir haben 5 sehr schöne Tage dort verbracht- das Haus ist gut ausgestattet, sehr stilvoll und kindertauglich- und Thomas, ein netter Nachbar, hatte gute Tipps für Ausflüge und Badestellen für uns. wir würden sofort wieder kommen.
Lydia
2016-08-18T00:00:00Z
Nice house at an small recreation lake with excellent swimming opportunities and beautiful surroundings for hikes. The vide in the house was used by our children as a "lounge place" so we could relax with a book at the fire place. Friendly and relaxed owner (online contact only). We had a great week.
Evert J
2016-08-14T00:00:00Z
Michaels hus er så skønt og rart. Selvom det ikke var helt så tæt på søen, som vi troede, havde vi den bedste ferie i huset. Michael er super nem at kommunikere med og lytter til en, hvis man har spørgsmål.
Caroline
2016-08-28T00:00:00Z
It was great experience to stay at Michael's place. Close to nature, sea, well equipped and spacious house, big enough for a family of 6. Heating was poor and not enough hot water to get bath.
Rajitha
2017-04-03T00:00:00Z
The host canceled this reservation 280 days before arrival. This is an automated posting.
Sandra
2016-10-22T00:00:00Z
Good spot in a small-scale holiday resort built around a small lake. Third row is really third row; almost no view on the lake. Immediate access to the forest as 'last' house in the park. Everything available in the house and loads of extra's in the garage. Very friendly and approachable owner.
Martin
2016-08-06T00:00:00Z
Jenis Bilik
Keseluruhan rumah/apt
---
Jenis Penginapan
Rumah
---
Memuatkan
7
---
Bilik tidur
Kristianstad N, Skåne län, Sweden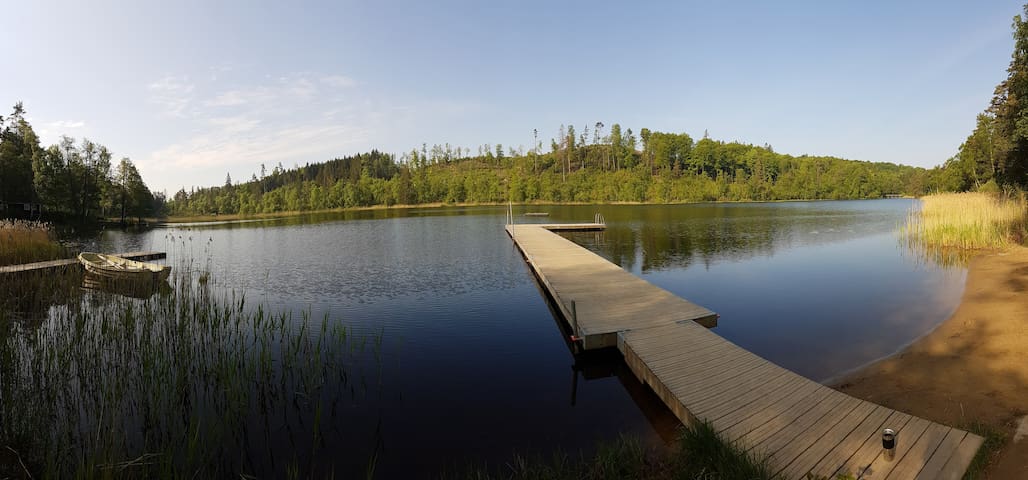 160 m2 beautiful renovated countryhouse with 3 big bedrooms, wooden floors and 3 fireplaces. The house is in the woods about 6 kilometers from the sandy beach and nice water in Olseröd, 5 kilometers to Degeberga and 7 kilometers to Maglehem.
Es war schon spät, als wir ankamen und das erste was die Kinder begeisterte waren die Zimtschnecken, die Ann Kristin für uns bereitgestellt hatte. Am nächsten Tag haben wir die wundervolle Umgebung mit dem Fahrrad erkundet. Auch im Garten ist es herrlich und wir konnten uns gut entspannen undTiere beobachten. Am besten hat uns gefallen, dass Ann Kristin so viel Liebe und Geschick bei der Restaurierung und Einrichtung des alten Bauernhofes aufgebracht hat. Einfach nur wunderschön und so richtig zum Wohlfühlen. Wir haben uns sehr willkommen gefühlt und Ann Kristin war für uns auch erreichbar, als Fragen auftraten. Vielen Dank dafür !!!
Linda
2015-08-18T00:00:00Z
Vores familie er netop kommet hjem fra forlænget weekend i Ann Kristins dejlige hus. Der er SÅ skønt – endnu bedre end billederne lover. Der er smagfuldt og autentisk svensk idyl, inde som ude. Vi følte os velkomne – blev mødt af friske blomster, svenske specialiteter og udførlig introduktion til huset og forslag til sightseeing i området. Der er masser, at foretage sig og endnu bedre blot hænge ud i de skønne rammer. Vi kommer til at anbefale stedet til alle dem vi kender. Og forhåbentlig får vi mulighed for, at besøge stedet igen. Stor tak til Ann Kristin.
Helle
2016-06-14T00:00:00Z
the listing and pictures were spot on! very beautiful and homely
Emilie
2015-08-15T00:00:00Z
We love this place, our second visit was as good as the first one. Everything is done to make you feel at home. In one word: perfect
Jurgen
2017-03-04T00:00:00Z
Vi fick ett trevligt start med kaffe och kardemummabullar framtagna åt oss. Ann Kristin var själv inte på plats men hennes information om huset och vad vi kunde hitta på i närheten var värdefullt. Det är ett härligt, luftigt och smakfullt inrett hus med de tre sovrummen åtskilda så var och en får tid för sig själv, vilket kan vara viktigt då man reser med tonåringar som vi gjorde. Vi tillbringade mycket tid i huset och spelade sällskapsspel och umgicks när vädret var lite sämre, annars besökte vi närliggande stränder och utflyktsmål, både Brösarp, Stenshuvuds nationalpark,flera cafeer och loppisar ligger nära. Mat inhandlas lättast i Degeberga i närheten och bil kan vara bra att ha om än det finns cyklar tillgängliga, vi gjorde en liten cykelutflykt till Vittskövle slott alldeles nära. Vi kommer gärna tillbaka och och umgås i det fina huset igen!
Marie
2016-06-21T00:00:00Z
We can highly recommend this beautiful house! We absolutely loved our stay there. The pictures shown on airbnb are not lying at all - this house is full of beauty and we would have loved to be able to spend more time inside (unfortunately we had good weather ;)) to fully soak all the details in! Is is very spacious and light, but still warm and friendly and very unique. We were welcomed by freshly picked fruits and flowers in every single room and Ann Kristin left us some really helpful notes, too. She was also very easily available and responded right away and in a very friendly way. The house is perfectly equipped, which makes cooking, campfires and trips very easy. We often used the bikes to get to the beach, which is like 25 minutes away. But we also enjoyed the beautiful forest around the house. We especially loved that there are no neighbors being able to look into your window or even into the garden! There is just a street in front of the house with a few cars driving during the day, but this didn't bother us at all. Plus the bedrooms are on the other side of the house. We have never been to such a nice and cozy cottage before and are already planning on coming back, since we did enjoy our stay so much!
Annika
2014-08-18T00:00:00Z
We had a lovely stay in this house! We (a couple, one Swede and one German) stayed here for a week, with parts of our family visiting for a couple of days. We intended to rent a cottage in the woods, but we came to a real house, and one that we'd be happy to live in permanently at that. The pictures are true to how the house looks in reality; in fact, if anything the house is even brighter and more beautiful. Every detail in the house seems thought through and no equipment was lacking - we even found everything we needed for bringing food with us to the beach (thermos, blankets, portable cups, etc). Two adult couples and two children sleep comfortably in the house, and there is ample space. The kitchen is large and open and allows for cooking with friends. We also enjoyed the large outdoors table for breakfasts in the sun, and the grass in front of the house for evening games (kubb, etc.). The only slight minus that comes to mind is that the house is close to a road; while there was very little of it (a few cars and tractors per day), the traffic was audible indoors. The host, Ann Kristin, was very easy to communicate with. She gave us advice about lots of nice things to do in the region, and we spent the afternoons checking out the beautiful beaches close by, the farmers who sold their own vegetables, and several cute small cities around Vittskövle. So, we can only give our warmest recommendations for this place. We are coming back for sure.
Samuel
2013-08-16T00:00:00Z
We had a great week staying in this lovely house. There was loads of room for all five of us. My son was so happy with all the toys and Ann provided us with a cot as well. The house is in great location to explore the surrounding area, Kristianstad is a lovely town to visit. The house has everything you could need and is very nicely decorated. We loved it.
simon
2014-11-15T00:00:00Z
Jenis Bilik
Keseluruhan rumah/apt
---
Jenis Penginapan
Rumah
---
Memuatkan
6
---
Bilik tidur
Vittskövle, Skåne County, Sweden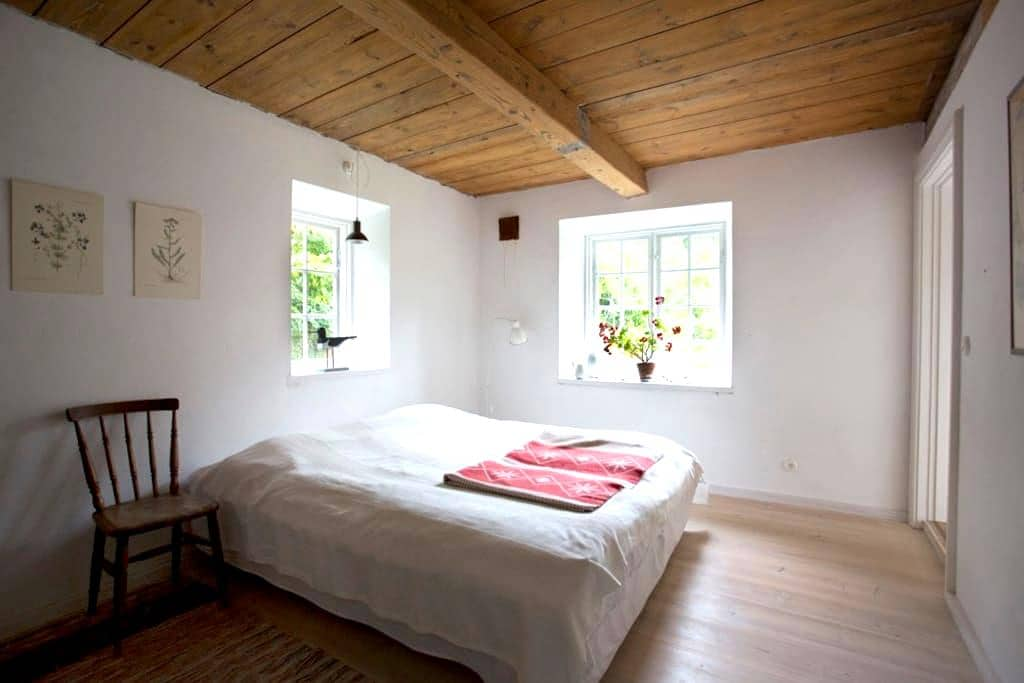 Rymligt semester boende. Öppen planlösning med två sovrum och kök/allrum i ett. Tvättmaskin,diskmaskin och dusch. 6-8 bäddar. 400 meter till superstrand med sand i oändlighet! Naturen är på hela tiden. Ål och Lax rökeri, runt knuten. Stor uteplats. Allt detta vid foten av Österlen.
Hade ett par toppendagar här! Superfräscht boende där man inte saknade någonting och Emils föräldrar i huset bredvid var så snälla och trevliga! Rekommenderas varmt!
Liza
2016-07-24T00:00:00Z
Bardzo ładna okolica (morze,plaża, las, wydmy). Cisza i spokój. Możliwość skorzystania z rowerów uatrakcyjniła nam pobyt. Dobra lokalizacja blisko przystanku autobusowego.
Jan
2016-08-20T00:00:00Z
We had a real nice stay in Emils lovely cottage. It is a nice, clean and well-equiped house with garden. It is situated in short distance to a wonderful beach. Emil helped us with everything. Thanks to him.
Katharina
2016-08-17T00:00:00Z
Emil hat uns sein liebevoll eingerichtetes Familienhaus vermietet und alle Fragen und Wünsche erfüllt. Wir haben uns sehr willkommen und wohl gefühlt. Seine Familie im Nachbarhaus war jederzeit bei Fragen ansprechbar.
Kerstin
2016-08-04T00:00:00Z
Mysig och välutrustad stuga med närhet till fantastisk strand. Området passar bra för cykelutflykter. Rekommenderas!
Tove
2016-08-10T00:00:00Z
Jenis Bilik
Keseluruhan rumah/apt
---
Jenis Penginapan
Rumah
---
Memuatkan
6
---
Bilik tidur
Yngsjö, Skåne län, Sweden
Room for 2-3 persons (bed + sofa),bed (120 cm) and bedsofa (2x80 cm). 10-15 minutes walk to the sea Separate room, with separate toilet and shower downstairs. Share kitchen with me. Access to big garden. Cat in the house, not ok if you´re allergic No smoking 8 km from trainstation in Bromölla, no public transport available The room is in the countryside, nearest supermarket/restaurant are in Bromölla. Bikes available to borrow
Room for 2-3 persons (bed + sofa),bed (120 cm) and bedsofa (2x80 cm). 10-15 minutes walk to the sea Separate room, with separate toilet and shower downstairs. Share kitchen with me. Access to big garden. Cat in the house, not ok if you´re allergic No smoking 8 km from trainstation in Bromölla, no public transport available The room is in the countryside, nearest supermarket/restaurant are in Bromölla. Bikes available to borrow
(URL HIDDEN)
Sara er meget imødekomne og gæstfri. Vi havde et hyggeligt ophold. Værelset var fint. Mvh lars og Malene
Lars Koch
2016-07-20T00:00:00Z
Beautiful and peaceful place. Sara was very friendly. Would recommend!
Mark
2016-06-12T00:00:00Z
Sara war sehr nett und hat es uns ermöglicht trotz ihrer kurzfristigen Abwesenheit in unser Zimmer zukommen. Das Zimmer war gemütlich und sauber. Die Aussicht im Hafen (ca. 15 Minuten zu Fuß) war sehr schön. Wir können einen Aufenthalt bei Sara empfehlen.
Jürgen
2016-08-17T00:00:00Z
Sara war total nett und zuvorkommend. Sie hat uns gute Reisetipps gegeben und wir haben uns bei ihr echt wohl gefühlt. Das Zimmer war sehr gemütlich und sauber. Die Gegend ist ruhig aber wunderschön, es gibt viel zu sehen und zu erleben. Ich kann einen Aufenthalt bei Sara nur empfehlen.
Martina
2016-07-14T00:00:00Z
Beautiful area, and an incredibly friendly host. The house was lovely and the room excellent and comfortable. Would strongly recommend others to stay here.
Simon
2016-06-17T00:00:00Z
We had a great stay at Sara's place! She was really nice and friendly. The house and the garden are also very beautiful! I would like to stay here again!
Baptiste
2016-10-18T00:00:00Z
I had a great time with Sara. Her house and my room were very relaxed and nice to stay in. Have had a very lovely evening with dinner together. A very nice place to stay! :)
Anne
2016-06-15T00:00:00Z
Sara is a great host, very helpful and easy-going. She lives with her cat in a beautifully restored house, has a lovely garden and offers a very cosy bed-room. I felt very much at home. In the evening you could watch flights of wild geese. Since there is no public transport to the village, Sara picked me up from the station and also took me to my next destination. Highly recommendable! Thank you so much, Sara!
Anja
2016-07-21T00:00:00Z
Jenis Bilik
Bilik persendirian
---
Jenis Penginapan
Rumah
---
Memuatkan
3
---
Bilik tidur
Kristianstad Ö, Skåne län, Sweden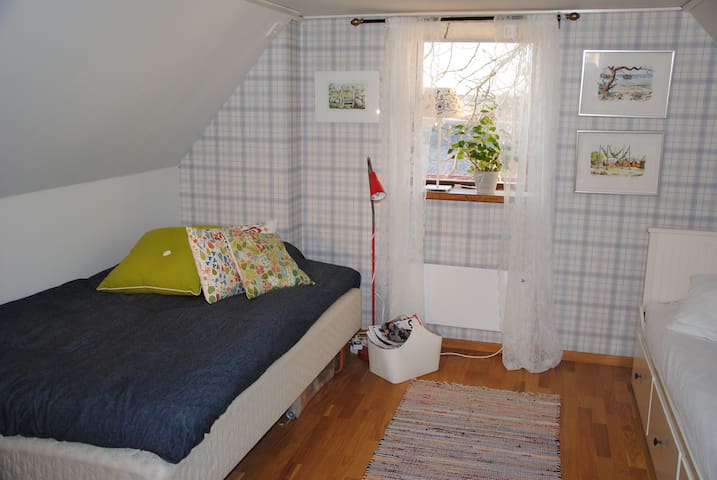 Lyngby is a small farm in Lyngby, on Fridhemsgatan The farm is located next to the living host family. This accommodation has a real kitchen with stove, oven, fridge, freezer and dishwasher. 1 double bedroom and a room with sofa, TV and a sofa bed for two people. At the other end of the house is an accommodation to. So you are a larger group you can rent both.
Jenis Bilik
Keseluruhan rumah/apt
---
Jenis Penginapan
Rumah
---
Memuatkan
4
---
Bilik tidur
Kristianstad Ö, Skåne län, Sweden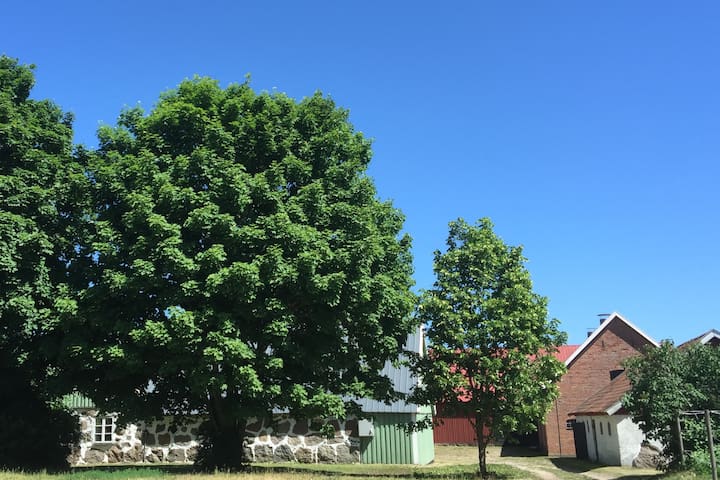 Sommarhus med lugnt läge på stor naturtomt, ca 500 m till stranden. Uterum med terrass och öppen spis inom och utomhus med plats för 10 personer samt bastu. Stort allrum med TV och fyra sovrum. Trädgårdsmöblemang. Tvättmaskin. Ny Diskmaskin.
Lea var jättebra! Mötte upp när vi kom och gjorde allt smidigt för oss. Vi är jätte nöjda med allt och kan rekommendera detta till alla som söker en lugn semester vid havet :)
Victor
2016-07-23T00:00:00Z
Everything was perfect, communication really easy with Lea and she was really kind and helpfull. We had a nice stay in this house.
Jeppe
2015-06-07T00:00:00Z
Everything was accurate and as described. Lia really deserve 5 stars.
Omar
2016-08-14T00:00:00Z
Supertrevligt! Enkel och tydlig kontakt inför och under vistelsen. Välutrustat hus som ligger nära havet i naturskönt område. Vi var 9 stycken som bodde där en natt och det gick utmärkt. Bra med plats, grill, bastu etc. Bara bra saker att säga om Lea och hennes fina hus och vi åker gärna dit igen!
Jonathan
2016-06-06T00:00:00Z
Snabb respons vid frågor och ansträngde sig för att tillmötesgå våra önskningar innan vistelsen. Fint välkomnande på plats. Huset var rent med mycket utrustning och det kändes verkligen hemtrevligt. Uterummet var riktigt bra.
Sara
2016-07-01T00:00:00Z
Our stay at Leas house was great, unfortunately it was only one night so we didn't have a lot of time to explore the surroundings but the place itself is really nice, clean and there is enough space for 10 people. The garden and the terrasse are lovely. 100% recommendation.
Teresa
2016-05-16T00:00:00Z
Kan rekommendera detta sommarhuset och uthyrande värden varmt. Mycket trevliga och välkomnande. Alla förnödenheter fanns att tillgå. +++++ Stor trådgård, 500m till havet, Bra service, 10 sängar.
Uffe
2015-06-21T00:00:00Z
Very nice place to stay. Beautiful location. Beautiful house. We could recommend to everyone!
Lief
2015-08-15T00:00:00Z
Jenis Bilik
Keseluruhan rumah/apt
---
Jenis Penginapan
Rumah
---
Memuatkan
10
---
Bilik tidur
Yngsjö, Skåne län, Sweden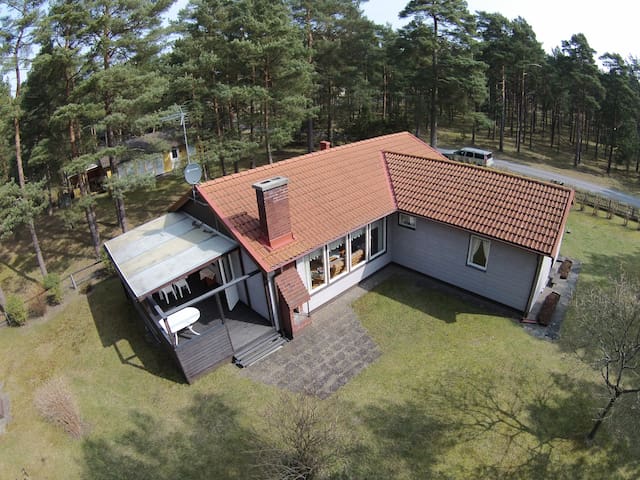 Small cozy house (73 kvm) with its own garden. 5 minutes walk from bus/trainstation and supermarket. Distance car 5 min Ivösjöns strand (lake) with sport stadium (place for grilling, jogging tracks, boule, windsurfing 10 min Edenryd Sea 10 min Sölvesborg (20 min to Sweden Rock) 10 min Ryssberget (A nature reserved mountain with Walking trails and for Mountain biking. 126 hectares between Skåne and Blekinge) 15 min Kristianstad 20 min Sandviken, Sea sandbeach 30 min Åhus, Sea sandbeach
Nice and quiet place. And Jessica was very friendly and ready to help with any problem.
Raivo
2016-08-22T00:00:00Z
Det är andra gången vi bor i Jessicas bostad. Och vi har varit super nöjda! Jessica är en toppen värd! Jag kan VARMT rekommendera detta boende!
ida
2016-10-28T00:00:00Z
Jessica är en fantastisk värd. Hon har varit så tillmötesgående och otroligt trevlig att ha att göra med. Hennes hus har också varit fantastiskt, har allt som man kan tänkas behöva. Kan varmt rekommendera detta boende!
ida
2016-10-21T00:00:00Z
We stayed one night in this lovely house on our trip through Sweden. The house is spacious, clean and perfect for our family of six. Jessica helped us with everything we needed and was available all the time. The kids enjoyed the garden and we had everything we needed. I can recommend this house both for a short stayover or a longer stay.
Edgar
2016-08-04T00:00:00Z
The place is not small as it written small house. It is perfectly good enough and peaceful. It's equipped with all the things you need. The good thing is very close to the central station and city center ..... we liked it a lot ...... Finally .... Jessica is so nice and helpful. I recommend this place .....
Naim
2016-11-01T00:00:00Z
Jenis Bilik
Keseluruhan rumah/apt
---
Jenis Penginapan
Rumah
---
Memuatkan
6
---
Bilik tidur
Bromölla, Skåne län, Sweden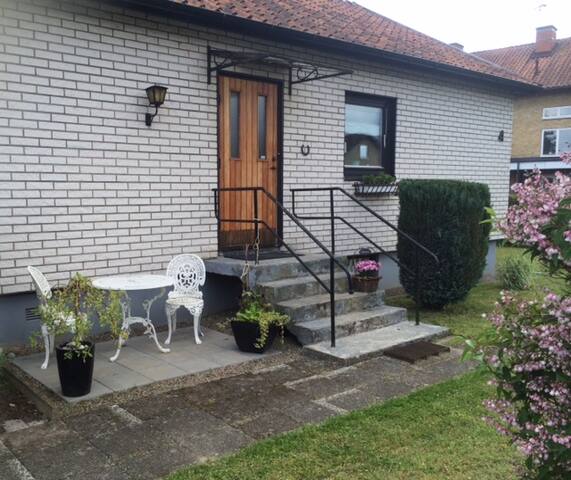 Kristianstad - Airbnb
:
Purata

4.86

daripada

5

daripada

216

ulasan tetamu
1

–

18

daripada

47 Rumah Sewa
Masukkan tarikh untuk melihat harga penuh. Yuran tambahan dikenakan. Cukai mungkin akan ditambah.