Masukkan tarikh daftar masuk anda dalam format hh-bb-tttt
Masukkan tarikh daftar keluar anda dalam format hh-bb-tttt
Penyenaraian yang boleh anda tempah tanpa menunggu kelulusan hos.
Masukkan tarikh untuk melihat harga penuh. Yuran tambahan dikenakan. Cukai mungkin akan ditambah.
Bulan Julai dan Ogos ini, anda boleh mencuba salah satu daripada 100 rumah dengan penilaian tinggi, pada sebarang harga, dan alami pandangan Sonoma dari perspektif tempatan. Daftar masuk 24 jam, Tempahan Segera, serta wain dan snek tempatan membolehkan anda berehat dan menikmati percutian anda.
South Park Hotel is a long run resort hotel that offers magnificant Sokehs Rock view. Guests will enjoy their time being at our central garden, where they can sit down watching the view. A loal dance show is available in weekend. The room picture for old building will be updated soon.
The $40.00/night room is available at old building. This room has only one queen size bed with a small shower room, and thus can accommodate 1 adult (with child) or a couple. So please choose additional person option ($20.00) for your lover only. This simple room is recommended for those who would like stay in a simple room. If you want a nicer, spacious room that offers bay view, a room at new builidng is available from $100.00 for sigle use (one guest/night) and twin use $120.00 (two guests/night).The listing for new builing is now under construction.
We are located on a hill in Kolonia town and 10 minutes drive from airport, and afree pick up service is available. Please notice that Wifi is available around the front desk only; you can not access internet from the room.
South Park Hotel was a delight to stay in. Pohnpei is a very down to earth and interesting island to visit, and the accommodation is all part of the experience. Don't expect shiny 4 star hotels when you visit Pohnpei, expect friendly, welcoming hosts, daily room cleaning, really great local food, and SPH hosts have sound advice on where to go fishing, swimming, places to eat, hiking etc to make your time there even more enjoyable. My favourite part about SPH was the STUNNING view of the bay. Eat breakfast on the outside balcony, you won't be disappointed. We would definitely stay here again.
Sarah
November 2016
Jenis bilik
Keseluruhan rumah/apt
---
Jenis penginapan
---
Memuatkan
1
---
Bilik tidur
3
コロニア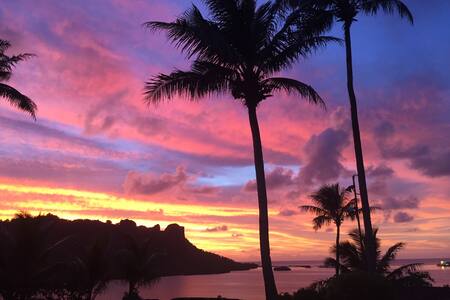 LYANN'S is a new private accommodation lets to visitors to Pohnpei. It is centrally located in Nanpohnmal, Sokehs within 10 to 15-minute drive to downtown Kolonia or to FSM Capital Complex. Current unit has a full-sized kitchen, big bedroom with queen-size bed, walk-in closet and bathroom.
Experience living among locals away from noise and congestion of Kolonia Town in comfort of modern-amenities equipped apartment. 15-minute ride from Pohnpei International Airport to LYANN'S by taxi or car rental. Pick-up can be arranged at a nominal fee. Guest's preference - daily, minimal or no interaction at all
Same neighborhood area to three foreign embassy's residence - USA, Japan and Australia Local taxi ride can be arranged quickly or by car hire
Linda is a very reliable host. Her house is spacious, very clean and comfortable. It has a big kitchen and fast wifi Internet access. Her niece and nephew live next door and were very kind to give me car rides and help with other practical things. Thanks to staying at this place I appreciated the life of local people of Ponhpei, however it requires patience & flexibility because transportation, laundry, etc. are obviously not as available as in a developed country. Highly recommended to open-minded guests!
Larisa
September 2016
Jenis bilik
Bilik persendirian
---
Jenis penginapan
---
Memuatkan
2
---
Bilik tidur
1
Pohnpei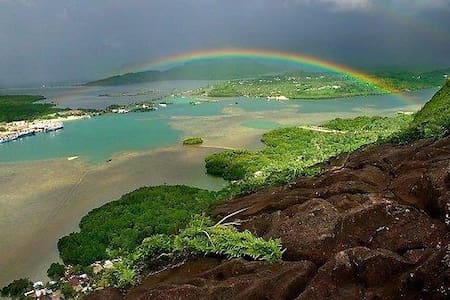 UAL is found in the heart of the stunning and wild Western Pacific. We have 10 rooms, fully furnished, each with a private bathroom. It's the only place to stay and eat on the entire atoll of Ulithi and simply spectacular. We serve 3 meals a day for$50perperson.
With 200 miles of reef and 40+ islands to explore, we consider ourselves incredibly lucky to be the only game in town. In order to offer such a unique and inspiring opportunity for visitors, we work with the local Ulithian Chiefs to ensure we operate in a low impact, conservation oriented, and culturally non-invasive way. Our guests are allowed experience the wild pacific and the fascinating culture that surrounds it without pretense of being "a tourist". Trust us; you will come away from your visit with a completely new perspective. The WILD life The upwelling of currents surrounding the atoll provide for an incredibly diverse marine environment. During the spring/summer months, the islands are home to the largest green turtle rookery in all of Micronesia and it is not uncommon to see 50 + of these giants crawling ashore and laying eggs at night. Green turtles are huge (upwards of 500 lbs) and a night expedition to tag and record them is something that you will never forget. Accommodations can be arranged for guests to spend a few nights on some of the most remote and pristine islands in the world. Manta rays, dolphins, turtles, sharks, barracuda are all common sights in around the atoll. If you are looking to be waited on hand and foot, the lodge is not for you. We offer a casual, quiet, and comfortable stay with great food in an incredible setting. Meals are served 3x day on our patio or we will pack a lunch for you if you are planning a day of adventure.
It's an incredible culture in an incredible setting Walk, boat, swim Bring snorkeling, fishing, and other sporting gear. SUP's are a good way to get around the atoll.
Jenis bilik
Bilik persendirian
---
Jenis penginapan
---
Memuatkan
16
---
Bilik tidur
1
Ulithi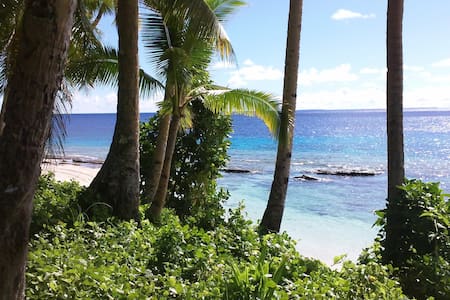 Hotel room at Kosrae Nautilus Resort facing east to the Pacific Ocean. 2 double beds, air-con, fridge, tea & coffee, wifi, swimming pool, restaurant, cable TV, free kayaks & snorkel equipment, free airport transfers.
Jenis bilik
Keseluruhan rumah/apt
---
Jenis penginapan
---
Memuatkan
2
---
Bilik tidur
0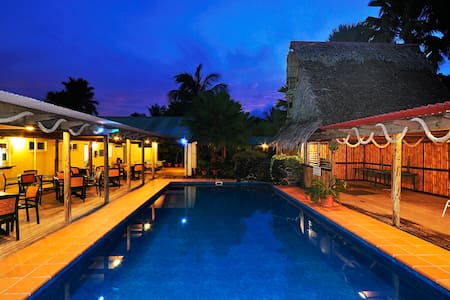 Constructed of natural local materials, the bungalow is located on a tropical hillside in Colonia overlooking a beautiful bay. The location offers convienence to diving, fishing, restaurants, and the airport but feels very private. Perfect for solo adventurers, couples, business travelers, and small families.
It was a great staying in the Oceania. Not a standard hotel, so for people who want to explore new experiences that the place to be. It's not only a hotel but also a place where you can meet a lot of local and foreign people in the restaurant/bar. Jennifer was so helpful for everything.
Vjola
September 2016
Jenis bilik
Keseluruhan rumah/apt
---
Jenis penginapan
---
Memuatkan
2
---
Bilik tidur
1
Colonia