Small house with a very central location. It is in a quiet neighbourhood in our garden, which is connected to the Kloster park. From the windows you will have a view towards two of the seven mountains that surrounds Bergen, apart from our neighbors gardens. The house is 40 square meters over two floors. In the ground floor you will find the bedroom with a 140cm bed, and bathroom. In the upper floor a living room with sofa converting to 140cm bed, and kitchen.
Bedroom with 140cm double bed and bathroom in ground floor. Combined kitchen and living room in upper floor, with sofa converting to 140 cm bed.
Nice and quiet neighborhood. The aquarium five minutes away, outside the Nordnes Park, where there is a swimming pool in summertime. The city center with the fish market is ten minutes walking away.
The house was absolutely beautiful and full of character and history. by far our favorite place we've stayed on this trip. Great location-close to the fishmarket and public transportation. Birger was a great host, helpful and friendly. He even helped us find a place to stay when our plans on a different night fell through. We definitely recommend this lovely home!
katelyn
2015-06-04T00:00:00Z
Very nice house. Had a lovely time in the city. Apartment very well equipped to feel like a home. Gentleman very nice, even offered us some sleighs to go down the mountain on. We declined for our own safety.
Angus
2016-01-21T00:00:00Z
Birger was most welcoming and helpful with places to eat and with getting to the Hurtigruten the next day. Beware of using (SENSITIVE CONTENTS HIDDEN) maps to locate Birger as maps seems to oversimplify its directions which made things more difficult than they should have been but that is a (SENSITIVE CONTENTS HIDDEN) problem and unrelated to the accommodation . When mo in around the accommodation please be aware that it was not made for tall Aussies but the door jams will quickly remind you to duck when going through door ways. All part of life's rich tapestry . All in all a good location and very agreeable host.
Robin
2015-06-17T00:00:00Z
Listing was accurate, all very well described, no surprises. Are was even better than I expected, all very close to the center but no tourists.
Vera
2016-07-09T00:00:00Z
The little yellow house was the perfect quiet oasis for our family after a very active backpacking trip. Birger showed us around the house upon our arrival. He went above and beyond to make your stay enjoyable and stocked the house with various essentials you may have forgotten from toothbrushes to coffee and even a laptop! It's also been easy to communicate with him from the time we made the reservation until our departure. He responds quickly and efficiently. I would highly recommend this place to anyone who wants to be close enough to activities Bergen has to offer but in a quiet residential street.
Marie-Pascale
2016-07-14T00:00:00Z
Me and my friend Charlie had a WONDERFUL time staying at Birger's place! The house is a little hidden gem in a beautiful cobbled street and perfectly located to enjoy all that Bergen has to offer! (You can walk into town in about 5-10 mins..) It was also so warm and cosy, we especially loved the heated floor in the bathroom, everything has been thought about... Birger was so friendly and a fabulous host too, even waking up early (6.45am!) to say goodbye as we caught an early morning flight to Tromso.... You should stay here in Bergen!
Kristina
2016-01-30T00:00:00Z
房子位置很好,步行到卑尔根鱼市场很近,房子不错,干净温馨。老板不在,儿子接待的,人非常好,还出来带我们开车去停车场,非常值得推荐的一个民居!谢谢!
YIJIN
2015-06-30T00:00:00Z
The experience was a very pleasant one. We found the address easy, it is very close to Bergen port. There is one catch though. The yellow house in the pictures is not visible from the street when you reach the address, but it is in the backyard. Our host was very kind and showed us a tour of the house explaining everything about the different appliances. In short, the house has one master bedroom at ground floor and two baths: one that has a shower and sinks and one that has a toilet. To get to the shower you need to go through this bedroom. At the first floor there is an open-space living room and kitchen. The couch turned into a bed and with the help of an extra mattress provides wonderful sleeping conditions. The host had juice, coffee and tee ready for us, and there was also a laptop available for any one not using their smartphone. The neighborhood is very nice and quiet - and you can also admire the local cats from the window. All in all it was a wonderful place to stay and we really recommend it.
Oana
2016-06-04T00:00:00Z
Jenis Bilik
Keseluruhan rumah/apt
---
Jenis Penginapan
Rumah
---
Memuatkan
4
---
Bilik tidur
Bergen, Hordaland, Norway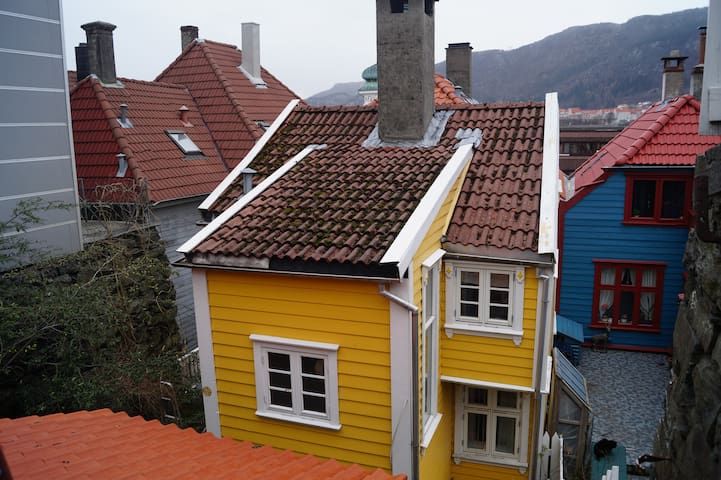 Our wonderful manor gives the feeling of happiness and lies in calm surroundings. Its location suits families as well as singles. Enjoy a barbeque in the garden as the sun sets or visit the beautiful dock in Engelsviken for your dining experience.
A lovely house for rent in special periods of the season. Everything that you need in a house and a spaceful garden.
Our neighborhood is great for lazy days and evenings where you can listen to the birds or take a short drive to the Beach.
Eileen and Rene were very helpful hosts. They organised for us everything we needed. It was very nice of them. The house was beautiful. It was great quick country side vacation. And little Leon - coolest Viking ever!!
Margit
2015-08-24T00:00:00Z
This was an oasis for us in our travels. The hosts were extremely gracious and more than accommodating. They helped us figure out the bus system and gave us a tour of the area where the house was located. There are plenty of places to bike and walk and the small town feel was so comforting. The house is stunning and homey and clean. They really make you feel at home - definitely stay more than one night, if possible! What a lovely stay!
Rebecca
2015-07-01T00:00:00Z
Although I contacted Eileen at the last minute, she was quick to respond and even offered to pick me up from Rygge Airport (20 mins drive) at a late hour. Rene and Eileen made me feel very welcomed (extra blankets!) and it helped that they have a beautiful and cozy home. I was fortunate to meet little Leon in the morning over a cup of coffee before I left. Thanks you guys and I hope everything goes splendidly with the new baby !
Miriam
2015-12-14T00:00:00Z
I stayed at Eileen and Renes for 5 days for the purpose of work in the area. I was really happy about everything, very friendly and helpful hosts and their house was really nice and beautifuk surroundings.
Ninni
2015-03-17T00:00:00Z
We had a very pleasant one-night stay at Eileen's place. Although we didn't have chance to meet Eileen personally, but her partner, Rene, greeted us warmly, took care of all our needs and provided a lot of information on the nearby places worth visiting. He also prepared a plentiful breakfast for us. It was a pleasant and comfortable stay and I would be glad to come back again one day. The house is located very close to the forest. The area around offers superb opportunities for hiking, birdwatching and enjoying nature. A tiny port of Engelsviken with its charming wharf and spectacular rocky seashore is some 5 km away.
miroslaw
2015-06-14T00:00:00Z
Vi övernattade hos Eileen och Rene under vår roadtrip. De fixade ett rum till oss i deras fantastiskt fina hem samma dag som vi frågade vilket var supersnällt. Trots vår korta vistelse kändes det som hemma bland familjen. Väldigt gästvänliga och skulle gärna återvända hit i framtiden!
Jimmy
2016-07-24T00:00:00Z
Very confortable place. Actually, per our discussion while the reservation, we 5 people were supposed to share one big room together. But Elieen's such a nice person, she has offered us 2 rooms with a nice price :) Thank you very much Eileen and sorry for having waken you up that late when we arrived.
le
2015-08-19T00:00:00Z
Nice and cosy house, great place, not far from airport. Very helpful host.
Gediminas
2016-02-13T00:00:00Z
Jenis Bilik
Keseluruhan rumah/apt
---
Jenis Penginapan
Rumah
---
Memuatkan
15
---
Bilik tidur
Fredrikstad, Østfold, Norway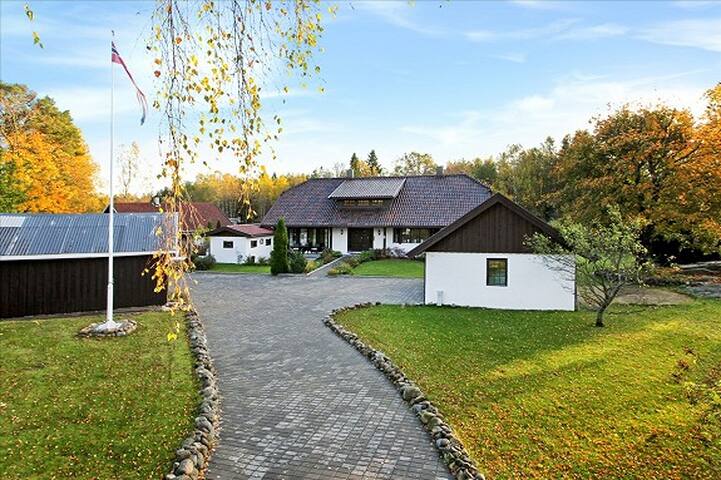 The bus to town it's almost outside of the door. A walk to city take 15-20 minutes. I live here with my six years old son, and a dog. Own room, and share rest of thehouse: if you are more then 2 persons please Ask for more room
Dette hus er på øen, omkring 15-20 minutters gang fra byen. Bus næsten uden for døren. Fra lufthavnen sine omkring 15 minutter med bil / taxi. Hvis du ønsker at gå udenfor Tromsø er det masser af steder at besøge. Den vinteren og sommeren kan være en fantastisk tid. Håbefulde du vil se nordlys til eller midnatssolen. Du har den mørke periode fra november til Januar. Solen kommer tilbage i Tromsø omkring den 21. Januar.
Dům je krátký výlet z letiště a pěšky do města. Autobus téměř před domem. Dobrá místa jít v blízkosti domu. Je dobré lyžování na ostrově. Chcete-li jít mimo město i doporučuje autobus, nebo lépe s autem.
A little bit far from the city center but it is a beautiful place to see northern lights. Quiet and clean accommodation. Good communication with the host. Recommended.
Dylan
2016-12-26T00:00:00Z
Disponibilità e cortesia! Ronny si è offerto di venire a prenderci in aeroporto, ci ha illustrato per filo e per segno tutti i servizi e tutti i locali di cui potevamo disporre: la casa è calda ed accogliente, con letti comodissimi in camere graziosissime. Non abbiamo condiviso per molto tempo la casa con lui perchè ha trascorso il week-end fuori, ma la sua compagnia è stata piacevolissima! Consigliato!
Alessandro
2016-12-12T00:00:00Z
Great house with cossy rooms! Ronny was very polite and accesible! I highly recommend staying more than 1 day in his house!
Daniel
2016-12-24T00:00:00Z
The house is located near the city centre (you can get there by bus or even walk). We had a big and clean room and Ronny gave us all the information we needed. He was a very nice and helpful host. We can really recommend staying here.
Tobias
2017-03-23T00:00:00Z
Warm and friendly welcome, comfortable beds and good amenities. Thanks Ronny!
Dafne
2016-12-23T00:00:00Z
La casa está en una zona residencial y tranquila. Se tardan unos 20 minutos andando al centro. La cada esta bien equipada. Ronny es muy agradable, te ayuda con la planificación de tu estancia en Tromsø.
Celia
2017-01-27T00:00:00Z
What a fabulous stay?! Wonderful home, comfortable bed & room! Very close to bus to get to town! It was easy to come & go as we pleased. Kitchen was easy to use. Lots of helpful instructions & tourist information. Nice neighborhood to walk around and look at other nice houses and views. Shared bathroom required a little bit of scheduling with a full house but I understand a 2nd bathroom is under construction. Ronny is a fabulous host. Sweet as can be! He was as involved as we wanted him to be or kept his distance if we wanted privacy. He reads people well! He has a sweet dog also which never made a peep, greeted us at the door, snuggled when we wanted but never went in the room...Even when we tried to kidnap her. Well behaved and clearly knew the rules not to go in Airbnb space. I highly recommend! Thank you for making everything so comfortable and welcoming!
Hilary
2016-12-18T00:00:00Z
Fully equipped kitchen! And love the cozy and warm feeling from Ronny's house! Thanks the host Ronny being helpful and patient. This made our trip awesome! Highly recommend if you would like a Norwegian living experience. Oh one more! We saw super amazing northern light from Ronny's balcony!!!
Chin Chi
2017-02-01T00:00:00Z
Jenis Bilik
Keseluruhan rumah/apt
---
Jenis Penginapan
Rumah
---
Memuatkan
8
---
Bilik tidur
Tromsø, Troms, Norway
Våre gjester er sjarmert av et opphold på vedlegget. En intim, lite hus som er perfekt for et par - med eller uten barn. Utsikten til fjorden vil roe og slappe av deg, selve huset har sine surprizes - små og tøffe - men komfortable.
Annekset i Hanevik tilbyr en perfekt base for utforskning av Bergen og fjordene. Et opphold i en av våre to hus vil legge til et hyggelig minne til ferien. På strandpromenaden i Askøy er vår "tun" - et tun omgitt av fem tradisjonelle norske vestkysten hus. Vi ligger en halv time med bil (27km) fra buzz i Bergen. Nyt en rolig atmosfære i hyggelige og rolige omgivelser. Skogen kan tilby flotte turer. Med vår robåt kan du nyte omgivelsene fra havet, eller du kan lage en BBQ i hagen. Bergen har en rekke attraksjoner, og det er også mulig å bruke vårt sted som base for å besøke de mer spektakulære fjordene nord og øst for Bergen på dagsturer. Askøy er også kalt "lille Norge" for å ha svært skiftende landskap, er det steinete og goldt i nord-vest og grønt og frodig i sør-øst. Den har sine egne attraksjoner, som for eksempel fine turer i skog, innsjøer og små fjell. Det er golfbane på en vakker naboøya kalt Herdla. Det er broer forbinder våre øyer til fastlandet. Vår plass er i et landlig område, så de nærmeste mat-butikker er 5 km unna. Annekset har to senger på loftet og en dobbel sovesofa i stuen. Det er 20 busser pr dag, med avreise fra hovedbussstasjonen i byen, ved siden av jernbanestasjonen - hvor bussen fra flyplassen stopper også. Bussen tar ca en time. I lavsesongen gir vi spesialpriser, avhengig av lengden på oppholdet. Vi har to hus til leie, er det andre som er oppført som "Fredelig ved sjøen ved siden av Bergen". Vennligst sørg for at du bestiller det du vil ha.
Annekset ligger i en rolig landsby ved sjøen. Nabolaget består av private hus og hytter. Virksomheten ved siden av er en skjermet workshop med arbeidstid 8-15.
Très bien accueillis par une amie de Ingrid et Per, Patricia, qui nous a bien montré l'annexe. Un endroit très jolie et au calme près de Bergen pour quelques jours de découvert de la région. Logement parfaitement équipé, super cosy et un lieu magnifique.
Jenny
2016-07-15T00:00:00Z
Absolutely stunning home in a stunning place. We hired a car and parking was really easy. Driving to Bergen was easy too and there are supermarkets nearby so you can cook or go out to eat. We took a walk in the forest that Ingrid wrote down in her little guide for us which was nice. Would 100% reccomend! Want to go back already :)
Hollie
2016-01-02T00:00:00Z
Hv thoroughly enjoyed staying here. The place (the Annex) is very quaint, peaceful and relaxing. It is about 25 mins drive from Bergen city centre so you'd need a car to get here. Would love to be back and try staying at the bigger house ( the ice house) Thanks Per and Ingrid!
Noreen
2016-05-09T00:00:00Z
My daughter and I could not have enjoyed our visit to Askoy more!!! The cottage that Ingrid and Per provided for us was delightful and charming! We felt relaxed and found friendly people wherever we went. The short drive to Bergen made it easy to get around and it was always nice to return to our home away from home on the lovely little community of Hedavik. Looking forward to returning soon! Thanks so much for everything, Ingrid, Per and Runa!
Janet
2013-09-01T00:00:00Z
We had such an amazing time staying at The Annex. It was perfect for what we had imagined our 4 days in Norway would be. The Annex is a really nice and relaxing home away from home, with our own wooden stove and the view over the fjord. Everything about the house was lovely (and very clean). The ceilings are low (except the livingroom) but that's what gives this well renovated shed its charm. Because of the full equipted kitchen we cooked our own dinner every night. We rented a car at the airport so drove to Hanevik ourselves. But there is also a busstop almost next to their property. It was a perfect location to explore Bergen, without staying in the busy and loud city itself. We even loved the rainy weather those 4 days because of our stay there ;). We hope to come and stay at The Annex again someday.
Lieve
2017-04-02T00:00:00Z
Staying at Ingrid's cottage was the highlight of our accommodations! Quiet, cozy, and well-appointed, this place is a 10 in our book. Ingrid was extremely communicative and helped with bus schedules to get us from Bergen to Askøy (about a 1-hour ride), as well as coffee shop and grocery market recommendations in the area. She even met us at midnight (after a delayed arrival) to welcome us and get us oriented. We hiked in the nearby forest on two occasions and spent the rest of the time reading and looking out the picture window to the beautiful fjord. If you're looking for a place to get away from the city, this is it.
Brian
2015-05-09T00:00:00Z
Fantastic!! the house is so nice and cosy like in a fairytail!! it was perfect for our familly of 5 (!!!) The house is very old but fully renovated, very stillish design and modern equipment, it even has heated floors. The kitchen is perfect too, it is equipped with everything you want even wafflemaker so we could enjoy waffle hearts every morning! there are magnificent view from the window. Neighbor forest is also wonderful, and it is full of blueberry and rasberry )) Ingrid and Per are very good hosts. I'd like to be back!
Kristina
2013-08-18T00:00:00Z
Ingrid was a great host and the place is really lovely and unique, totally recommend it!
Anton
2012-08-20T00:00:00Z
Jenis Bilik
Keseluruhan rumah/apt
---
Jenis Penginapan
Rumah
---
Memuatkan
4
---
Bilik tidur
Askøy, Hordaland, Norway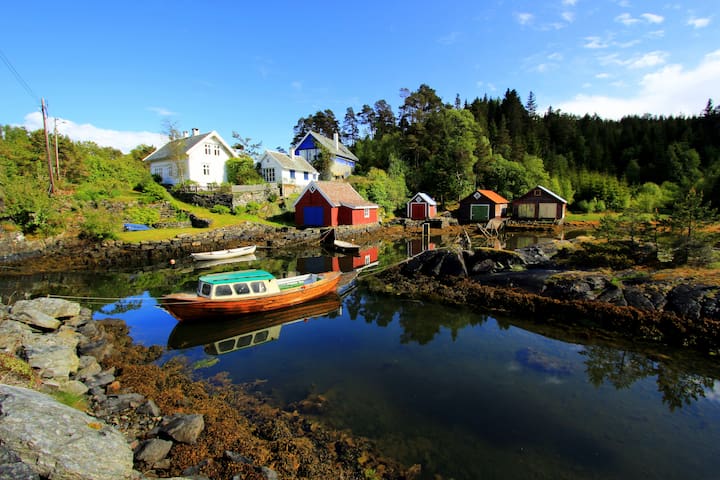 - Privat suite i tre, sjøhus i Oslo - Kun 12 min fra sentrum - 2 soverom + stue med sovesofa - Soveplass til opptil 6 personer - Ideell for 1 til 5 personer - Egen balkong - Fantastisk utsikt
Hva om en strandpromenaden suite som har utsikt over Oslofjorden, øyene rundt Oslo, byen i seg selv, og det berømte Holmenkollen? Der du kan gå ut på balkongen for å nyte en kveldsdrink? Eller våge seg inn i hagen og ta en dukkert i Oslofjorden i sommersesongen? Vi er heldige nok til å leve i dette flott sted, rett ved vannet, inne i byen i Oslo, bare 12 minutter med buss eller bil fra den nye Oslo Operahuset og resten av sentrum. Vi er glade for å dele denne plassen med andre, og leie ut en suite på husets første etasje. Hele gulvet er til din disposisjon, og inneholder, - En stue med en sovesofa, - to soverom, - Et bad og - et toalett. Din Stuen er 20 kvadratmeter og møblert med en sofa, en sofa, et bord og to stoler; TV og DVD-spiller; høyttalere; og et kjøleskap, mikrobølgeovn, vannkoker og kaffetrakter. Fra stuen er det direkte utgang til egen balkong. Det er to soverom (ett stort og ett mindre), hver med komfortable dobbeltsenger. Det er et separat toalett og bad, sistnevnte utstyrt med badekar. Ferske håndklær. Stedet er ideelt for en, to, tre eller fire personer. Hvis det er en femte person, en ekstra seng kan legges (stuen er utstyrt med en sovesofa). Gratis trådløst internett. Gode muligheter for turgåing, jogging, løping og fiske i nærheten av huset. En full norsk frokost kan serveres (NOK 100 pp). Hvis du ønsker, kan vi også ta vare på tøyet ditt for en liten avgift. Vi snakker de tre skandinaviske språkene + engelsk, tysk, spansk og swahili.
Huset ligger i et nabolag langs Oslofjorden. Det er flere strender i vicintiy av huset, og massevis av opportunites for turer og jogging langs sjøen.
I was absolutely enchanted with Truls and Kare and their beautiful home. Staying with them was like visiting old friends. They were delightful, hospitable, fun, funny and absolutely wonderful in every way. The accommodation includes a bedroom and bathroom plus a large Scandinavian style living room with fridge and teapot. The living room area has a patio that overlooks the water. It is perfectly appointed for the traveler. The rooms are beautiful, the bed is comfortable, the entire house was immaculately clean. It is very easy to get into the city because the bus stop is across the street. Truls and Kare are two terrific reasons to love airbnb.
Christine
2012-10-22T00:00:00Z
Kare & Truls are excellent hosts and staying at their place is a treat. It's the perfect base to discover Oslo. City life is only 12 minutes away. The view over the fjord and impressive sunsets are the perfect ingredients for relaxation at night.
fr
2013-07-04T00:00:00Z
It was such a pleasure staying at Kare and Truls ! The house is beautiful and its situation on the fjord + view amazing, the suite they offer is big, comfortable, clean and nicely decorated and most of all Kare and Truls are really friendly and warm hosts ! My boyfriend and I started our trip in Norway there and were more than satisfied by our choice. To sum up, this place has everything you can be expecting for a perfect stay in Oslo.
Carole
2013-07-14T00:00:00Z
I cannot say anything here that would even come close to explaining what a great time we had staying with Kare and Truls. They were amazing. Meeting them is like meeting an old friend. They made us feel comfortable instantly. We shared a drink on their deck while enjoying the stunning sunset. We enjoyed a Norwegian breakfast together and great conversation. Each day that we came home to the comfort of their home, we felt like the luckiest people in all of Oslo. The fjord is beautiful and you are literally right on the water. We enjoyed sitting on the fjord each night and taking a dip in the cool, clean water. The grounds are well taken care of with many spots for sitting and enjoying the unbelievable surroundings and the apartment itself is clean, well equiped, very comfortable, nicely decorated, and tasteful. The area is safe and quiet, but an easy bus ride into the city center. Kare and Truls are interesting, smart, caring, kind, honest, helpful, and exceptional hosts. Do not pass by this opportunity...its likely one of the best airbnb experiences you will ever have! I hope I get the chance to return! My family and I are still talking about them and their home (as well as their fun cat, Felix) every day.
Elizabeth
2013-07-21T00:00:00Z
Wir möchten uns von ganzem Herzen bei Truls (Kare war leider nicht in Oslo) für die wunderschönen Tage bei ihm bedanken. Wir haben uns noch nie in einem b&b so wohl gefühlt, wurden mit ausgezeichnetem Frühstück versorgt und haben sehr interessante und fröhliche Stunden verlebt. Truls' Interesse an unserem Leben hat uns sehr beeindruckt; ebenso schön war es für uns, sehr interessante Gespräche zu führen. Die Wohnung ist entzückend, der bezaubernde Blick auf den Fjord unvergesslich, die menschliche Wärme übertrifft aber alles- wir danken ganz herzlich. Doris und Harald
Doris
2014-06-22T00:00:00Z
Trul and Kare both are very helpful polite person. The house is very clean and near the city. Beside that the view of the house is very beautiful. Everyday both of them will asked my friends and I whether we need any information. We highly recomend this place to anyone who would like to visit Norway.
Jennifer
2012-12-23T00:00:00Z
Really delightful apartment with all the comforts of home plus more!! Lovely views plenty of space, close to transport, great hosts and was really tempted to have a swim:-) . Wish I had such a Wonderful backyard. Thank you Kåre & Truls Anne Maree and Angela
Anne
2014-08-15T00:00:00Z
My second stay at the home after I returned to Oslo from Bodo was good as usual. Everything was neat and tidy and there was no issues getting to the place or making my way into the property. Kare and Truls have a lovely home and you have access to the entire first floor. Makes you feel at home as soon as you reach. Will definitely recommend this for anyone looking for accomodation in Oslo.
Sandeep
2015-03-12T00:00:00Z
Jenis Bilik
Keseluruhan rumah/apt
---
Jenis Penginapan
Rumah
---
Memuatkan
5
---
Bilik tidur
Oslo, Oslo, Norway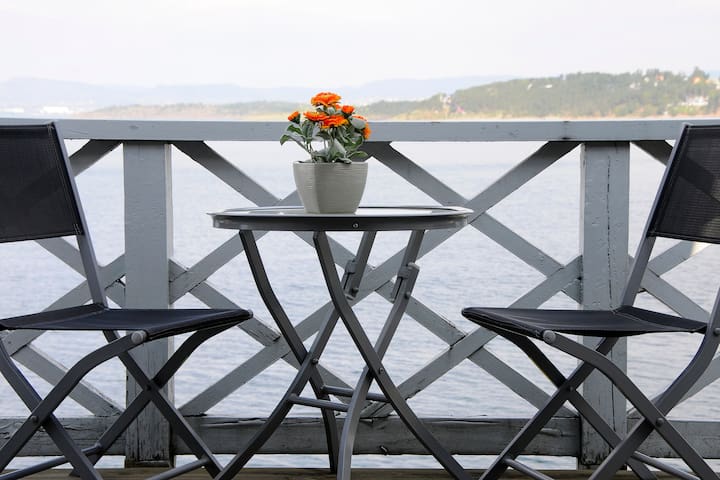 120 m3 house with fantastic ocean view. Calm and private surroundings. Compete with spa-bath, sauna, two bath, TV/media, kitchen, washroom, fireplace. Boat, kayaks and bicycles included.
Sense of the ocean - close to the elements
Calm
From the moment we arrived, to the moment we had to leave, we enjoyed every second in and around this wonderful, actually just perfect, house. we stayed there two weeks, 7 persons and a kid (1.5y) in the first week, 6 in the second. and we could have stayed even longer. there is everything you need - the kayaks, the bikes, the jacuzzi, the sauna, the boat, a huge veranda, a well equipped kitchen to cook and bake, binoculars to spy on the passing ships and wild animals, enough blankets for cosy evenings outside, every evening another beautiful sunset, a 180° ocean view, sofas to spent hours in….really, theres is nothing you could miss. also there is plenty to do in the region, nearby or further away with the car. it was great to explore while hiking, fishing, driving or swimming. and you have wonderful hosts, reidar and tone christin, who are so lovely and interesting people, so helpful and generous. thank you so much for creating and sharing this piece of gold!
Barbara
2016-08-06T00:00:00Z
The house and the view are both astonishing. We stayed here only for 3 nights but the memory will lasts forever. The house is very complete with a lot of extra's. It's worth every cent. Reidar is a really friendly and helpful host. He even drove by to supply us with some extra bandage for my ancle.
Menno
2016-06-11T00:00:00Z
Reidar is a fantastic and really helpful man, it was so easy to deal with him. The house is situated in the fantastic location, not far from all necessary facilities and - what is more - quite isolated from civilization. So, if you would like to spend a quite evening with the sea - you're welcome! if you need to buy smth for dinner - the shop is 10min by car from the house. The most frequent feeling we had in Reidar's house was feeling like home. Nice and stylish decorations, well-equiped kitchen, warm rooms, two toiletrooms - we had everything neede for a company of 8 people. there are two bedrooms for couples and other places are better for children or single people. The instructions that Reidar left for the house are very informative, so when you just come and look through it - you already have all answers for all questions. We tried everything that house is equiped with - and it was great! Thanx, reidar, hope to see you again soon!
Denis
2015-11-29T00:00:00Z
Thank you, Reidar! Your "Dreamplace" is amazingly beautiful. Everything was just perfect. And of course Reidar is a great guy! Strongly recommend to everyone!
Dzmitry
2016-05-02T00:00:00Z
Que dire... nous avons passé 2 jours dans la maison de Reidar et Tone Christin. 2 jours de calme, de beauté, pour notre voyage de noces en Norvège. La maison est magnifique, le paysage qui va avec. Nous avons pu observer les animaux, les loutres et les oiseaux qui se baladaient dans les rochers, depuis le canapé du salon ! Et nous avons pu également observer les aurores boréales depuis la terrasse, avec cette magnifique vue sur l'océan... Nous souhaitons retourner dans la maison de Reidar et Tone Christin. Ils sont accueillants et très disponibles en cas de besoin ! Nous recommandons vivement !!!
Tom
2017-03-28T00:00:00Z
Reidars Home is what I would describe as PERFECT! The house with amazing view, hottub, sauna a huge kitchen and all was very clean. Reidar is a superb host who takes care of everything if you need something. Everybody that has the chance to stay at his place won't regret it for a second!
Stefan
2016-07-24T00:00:00Z
Reidar is a really nice guy that help us everytime we need it. I cant thank him enough for his kindness and humor. We talk about many things, salmon, france, boating... The house is perfect in everyway, really. Dont miss kayaking in the sea, by far what we prefer during our norwegian trip. This guy and his house are gold.
Jb
2016-08-28T00:00:00Z
nous sommes allé dans la maison de Reidar pour les vacances de la Toussaint afin de nous reposer, connaitre la Norvège et profiter de l'air frais de l'automne. nous devions arriver vers 19h00 mais après une correspondance malheureuse à Amsterdam nous avons raté notre avion et nous sommes arrivée à 4h00 du matin.. du coup Raidar nous avait préparer de quoi déjeuner pour le lendemain. la maison a un emplacement EXCEPTIONNEL. d'ailleurs pour y arriver il faut emprunter un chemin de terre sur plusieurs centaines de mètre. concernant la maison et Raidar il n'y a rien à dire, si ce n'est que des compliments, à chaque fois que je lui ai envoyé un mail il m'a répondu dans l'heure et chose importante pour certain, il parle très bien le français , donc il n'y a pas de problème pour la langue pour ceux qui ne maîtrisent pas très bien l'anglais (et le norvégiens...).
Olivier
2016-11-02T00:00:00Z
Jenis Bilik
Keseluruhan rumah/apt
---
Jenis Penginapan
Rumah
---
Memuatkan
10
---
Bilik tidur
Averøy, Møre og Romsdal, Norway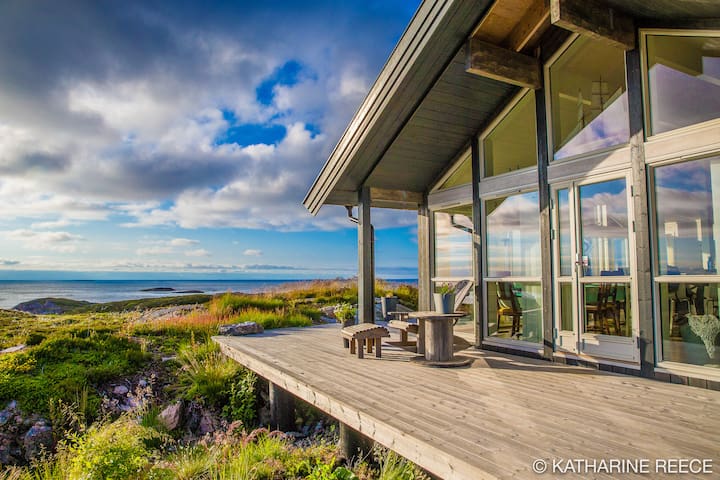 Lite hus nær stranden i "gamle" Åsgårdstrand, en sjarmerende småby i sørlandsstil! (Small house near the beach in charming Åsgårdstrand.)
Unikt, sjarmerende, lite hus i Edvard Munchs lille by Åsgårdstrand. Huset er bygget i 1898 og total restaurert i 2012. Bryggerhuset ligger i den gamle delen av byen rett i nærheten av Munchs cafe, restaurant, vinstue, pub, kunstgallerier, brukthandel og butikk. Det er ca. 100 meter å gå ned til stranden. Åsgårdstrand er en liten by med 3000 innbyggere. Området er flott med tanke på fotturer langs kyststien, sykkelturer, bading, golf, fisking og padling. Huset har to etasjer og inneholder oppholdsrom m enkelt utstyrt kjøkken, gang, bad og to soverom. Det ene soverommet har noe sjøutsikt. Det er tråløst nettverk i huset og vaskemaskin.Det er totalt fem senger i huset + en barneseng på det ene soverommet. Den ene sengen er i gangen ved siden av trapp til 2.etasje. Merk: Trappen opp til andre etasje er bratt og egner seg ikke for bevegelseshemmede. Huset ligger vis a vis hovedhuset, og har en egen del av hagen tilknyttet huset med utemøbler. Vertskapet disponerer en bod i huset med egen inngang.
"Gamle Åsgårdstrand" består for det meste av trehusbebyggelse. Om sommeren er det et yrende liv i gatene, med spisesteder, kunstgallerier og stranden rett i nærheten.
We had a extraclass stay in the beautifull house in Asgardstrand. Everything was better then we had expected. The house is decorated so lovely and with a great sense for details. The location is so pretty and closely located to the Oslofjord (just a short walk of 3 min.) that we could enjyo a swim every day. The house has everything you need for a day to day living and has plenty of space for a family with four people as we are. The hosts are great people. Open and friendly and super easy to deal with. They helped us with everything we asked for and even more offered us Kanus for taking a ride on the fjord etc. our children were happy because of the trampolin in the garden and loved to spend times climbing the old apple trees. To sum up: it was a perfect holiday in a perfect house. 1000 Thanks for making it an unforgetable stay in Norwegian. We will definitely recommend the house to everyone!
Christian
2015-08-21T00:00:00Z
Vi (et par i tredveårene) hadde noen deilige dager i Jørns lille hus i Åsgardstrand. Huset passer perfekt, dersom man ønsker å komme seg litt bort. Det er lite, akkurat som det står i annonsen, men det er mer enn nok plass for to (og antagelig for flere også, en liten familie for eksempel). Vi var velsignet med pent vær, og da passet der perfekt at man kunne sitte ute i den deilige, store hagen, og at det bare var å rusle ned en liten bakke, så var man på badestranda. Huset ligger meget sentralt til. Vi hadde ikke bil, men det var ikke noe problem å ta seg rundt til fots, og bussholdeplassen er rett ved huset, dersom man ønsker å ta en tur til Horten eller Tønsberg. Vi kan anbefale å besøke Borre og gravhaugene der. Munchs hus som ligger i Åsgårdstrand er et must. Den eneste skuffelsen var at den nærmeste kafeen serverte elendig mat, men vi koste oss godt i den nye, italienske restauranten. Vi håper den klarer å overleve. Selv om vi var der i juli var byen svært rolig og stille. Selv om huset ligger ganske nærme hovedhuset følte vi at vi var helt for oss selv. Vertene var hjelpsomme og lette å gjøre avtaler med. Dette stedet anbefales, og vi vil gjerne komme igjen.
Marianne
2015-07-09T00:00:00Z
Jorn and Lisa were both very friendly and helpful. The small house was exactly as we had expected and in a delightful part of Asgardstrand.
Paul
2015-06-15T00:00:00Z
Beautiful refurbished little house. Lots of eyes on small details and decor. Very clean and well equipped. Good WIFI. Walking distance to small shops, restaurants and the beach. Welcoming and friendly hosts. Will stay again.
Paal
2014-10-28T00:00:00Z
Nydelig lite hus. Opplevde oppholdet og vertene som hyggelig og tilretteleggende.
Tone
2016-08-05T00:00:00Z
We could not have been more happy with Lise and Jørn's bryggerhuset. We loved how it was furnished and decorated with so much love. Plus, even though the house is small, we had everything we needed and private space for each of us, if necessary. Jørn and Lise are fanstastic hosts, they would help us out with whatever we needed and the boat ride Jørn took us on the last night of our stay was truly the perfect ending to a wonderful holiday. We would definitely stay there again!
Katharina
2015-08-07T00:00:00Z
Both Jorn an Lise were very nice.
Camille
2014-07-24T00:00:00Z
It's a small, lovely house, newly renovated in a 'shabby chick' stile. House has great location, only 2 minutes walk from the 'town' center and beach. It still feels very landely and quite because thanks to the big garden in front of the house. The hosts live in a house right by, we didn't get to see them that much, but they were welcoming and there for us if we needed any assistance.
Malisa
2014-07-20T00:00:00Z
Jenis Bilik
Keseluruhan rumah/apt
---
Jenis Penginapan
Rumah
---
Memuatkan
5
---
Bilik tidur
Horten, Vestfold, Norway
Friområde uten nære naboer. Stor tomt som grenser til fjell og mot hav. Bålområde med frittstående sauna/stue, vedbod og redskapsbod. Vakker utsikt og godt beplantet tomt med busker, roser og diverse typer tre. God standard i 2.etager. Fullmøblert.
Solrikt, ofte nordlys, friområde direkte til natur, hav-utsikt, fugleliv, (URL HIDDEN)
Består av eldre boliger og hytter av nyere dato.
De gastvrijheid van de gastheer was uniek. We werden opgepikt door Jan Erik bij het vliegveld (45 minuten rijden afstand van het huisje) en we werden door Jan Erik geholpen bij het regelen van een huurauto. Bij het huis stond een pan zelfgemaakte soep met rendiervlees voor ons klaar met zelfgebakken brood. Jan Erik heeft ons fantastisch verwelkomd, een beter ontvangst kan je je niet wensen. Jan Erik heeft ons veel kunnen vertellen over de omgeving en hij heeft ons een fantastische avond bezorgd bij het kampvuur in de tuin zodat we warm bleven en het noorderlicht konden zien. Ook het huis is echt fantastisch. Het perfecte uitzicht, gelegen aan zee. Het huis ligt op een heuvel en er is in de omgeving weinig lichtvervuiling en ligt daarom op de perfecte plaats om het noorderlicht te zien. Het huis is zeer schoon en ruim en van alle gemakken voorzien (sauna, bubbelbad, gevulde koelkast, oven, koffiezetapparaat, vaatwasser etc., warme kleding aanwezig, heerlijke bedden, grote tv's en er is betrouwbare wifi beschikbaar). The host's hospitality was really unique. Jan Erik picked us up at the airport (45 minutes' drive from the cottage) and he helped us arranging a rental car. At the house we were welcomed with homemade reindeer soup and homemade bread. It was just perfect. Jan Erik told us a lot about the area and thanks to him we have had an fantastic night with a campfire in the garden so we stayed warm while enjoying the northern lights. The house is fantastic, it has a perfect seaside view. The house is located on a hill and there barely is light pollution in the area and therefore it is the perfect place to see the northern lights. The house is very clean and spacious and fully equipped (sauna, whirlpool, filled fridge, oven, coffee machine, dishwasher etc., warm clothing available, very comfortable beds, wood available for wood stove, large TVs and reliable wifi).
Eline
2016-03-04T00:00:00Z
We had an amazing stay in this house for 2 nights. The house was warm and cosy with beautiful decoration making it a perfect place to stay in during the wintertime. The view around the house is breathtaking and it is even more amazing under the northern lights! We paid a small fee to Jan Erik to drive and guide us around since we can't drive. He is a friendly and knowledgeable man who taught us a lot about the geography and biodiversity of Kirkenes and Norway in general. He made our stay a truly unforgettable one by always going an extra mile in everything he do. He also prepared a cosy campfire for us to stay outside while waiting for the northern lights. The house is in a perfect spot to catch the northern lights if the sky is clear! Our stay in this place is definitely one of the highlights of our Norway trip!
Huiyi
2016-12-19T00:00:00Z
We all enjoyed our stay so much! We stayed here for 4 nights with family to enjoy the snow and experiance the low temperatures, and, hopefully see the northern lights. And we did! The view was breathtaking, nature was incredible and the house was very cosy and warm. Jan erik was wonderful, picking us up at the airport, making a fire outside when we arrived, made tea and coffee and just made sure we all felt very much at home. We enjoyed our time here and would recommend anyone who likes snowy surroundings and some peace and quiet! Thankyou for everything guys!
Hiba
2017-02-22T00:00:00Z
Vi ble ønsket velkommen med herlig laksesuppe - fantastisk! Verten var svært vennlig og hjelpsom, og huset er ganske enkelt enestående: Det er både moderne og veldig koselig. Her er absolutt alt man trenger og mere til. Nærområdet består først og fremst av en vakker hage med blomster, dernest frisk finnmarksnatur med fjell og fjord. Nydelig utsikt! Videre er det gode muligheter til turer til fots og med bil.
Yngve
2016-07-08T00:00:00Z
Wonderful home with beautiful scenery. We went dog sledding, snowmobiling and relaxed at the campfire and sauna. Would absolutely do it again.
Lauren
2016-12-13T00:00:00Z
Monica and Jan Erik are wonderful hosts. Their home is cozy and perched in the perfect spot for amazing views! We showed up slightly unprepared (without a 4x4) and got stuck in the snow, but Jan Erik came to the rescue and got our car on the move again. Great spot for a quiet and relaxing retreat!
Tim
2017-02-12T00:00:00Z
Greatful Place and Graetful Persons.
Thomas
2017-01-09T00:00:00Z
Everything as promised and even better. Beautiful house with fully equipped kitchen and most breathtaking scenery. Would love to visit again!
Tuomas
2016-06-27T00:00:00Z
Jenis Bilik
Keseluruhan rumah/apt
---
Jenis Penginapan
Rumah
---
Memuatkan
8
---
Bilik tidur
Kirkenes, Finnmark, Norway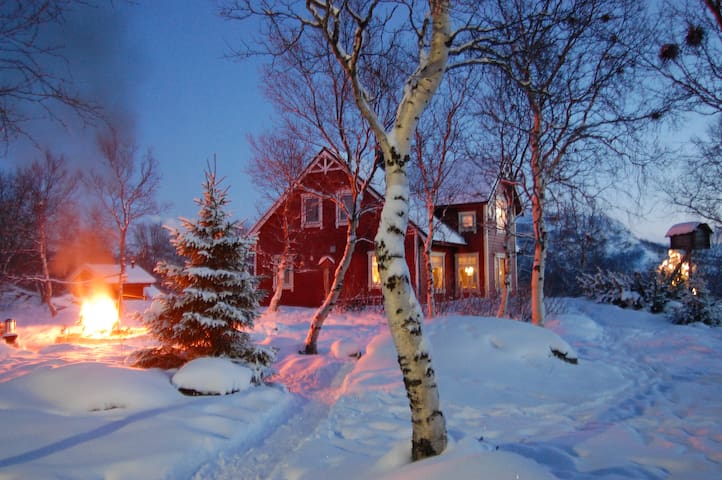 A new, unique seafront house with private deep-water dock situated in the middle of a beautiful recreation area - by boat just 15 minutes from Oslo city center / 30 minutes by car - is for rent (days, week(s) or weekend) during parts of the year.
See some film clips from the video bloggers FunForLouis (Steve´s pre wedding trip, Pier pressure , 2 guys 1 bathtub and Losing the hat!) and Mr Ben Brown (Boating in norway!) on YouTube. Facilities: - spectacular seafront house situated on a hill with panoramic views over the fjord and city center of Oslo - new and modern, constructed in 2015 - all Miele kitchen appliances including 3 ovens (normal, compact and steam boiler), dishwasher, induction cooktop, coffee machine, fridge, freezer - washing machine - tumble-dryer - fireplace - 55" 4K ultra HD TV with 40 channels + Viaplay, Netflix, Mubi etc - wireless internet inside / outside - Sonos smart wireless HiFi system with Spotify, Tidal, Apple Music streaming in 4 zones - terrace with roof and patio heaters - 2 weber barbecues (1 gas + 1 charcoal) - small fishing / rowing boat (14 foot, 5 persons), rental: see below. - a 26 feet speedboat with 225 hp, rental: see below - kayak - fishing gear - life jackets (children + adults) - heating lamps - reclining chairs - and much more... The house is designed by Drøbak Arkitektkontor. The kitchen is fully equipped with the latest appliances, like three Miele ovens, induction cooktop, micro­wave as well as a dish­washer, refrigerator, freezer, ice maker, coffee machine, citrus press, toaster, salad spinner, chef's knives, porcelain tableware and glasses for wine, cognac, cold drinks, etc. In the living room there is a big flatscreen and home cinema, a library of films and books and a variety of family games. The dining area has a panoramic 180-degree view across the Oslo fjord, including Oslo city center. There are two roomy sleeping lofts; both of them sleep two adults (queen size bed) + one child or adult (single bed) while the common space in the middle can serve as a 4th bedroom (but then only with a mattress and with transfer from the two other bedrooms (please see the house plans among the pictures. The row / fishing boat may be rented for an additional NOK 1,500 per week or NOK 300,- per day. The kayak is free. Windsurfing may be rented for an additional NOK 1,500 per week or NOK 300 per day. A car (Saab cabriolet) may be rented. Price upon request. A speed boat (26 foot, 225 hp) may be rented. NOK 10,000,- / week or NOK 2,000,- / day (+ petrol). Bedclothes & towels: NOK 200,- per person (or bring yourselves). Cleaning fee: NOK 1,000,- (or clean yourselves). Electricity: NOK 1,- / kWh (a bagatelle in summer) It is installed fire and burglar alarm with direct communication to the security center. The nearest bus stop is far away, so without a car you will need to rent the car or bicycles or the speedboat. The summer season may be best for most people, but the property is also charming in late autumn, winter and early spring. Some winters, the ice on the fjord is thick enough for skating, cross-country skiing, ski sailing and kite snowboarding. The combination of cable-heated floors, electric wall heaters and an effective fireplace ensures indoor comfort all winter long.
Please see photos and text attached to the photos.
This is a dreamhouse and we loved the fantastic view. Everything was wonderful and Bjorn is a sympatic and helpful host. We all enjoyed our stay.
Kathrin
2016-05-28T00:00:00Z
Bjorn was extremely welcoming and a helpful host, answering any questions we had during our stay, making our stay very enjoyable and relaxing. The House is fully kitted out with everything that's needed and more, set in beautiful surroundings making it an extremely pleasurable stay. Would love to come back!
Michael
2016-09-03T00:00:00Z
Bjorn was at the property when we arrived. He was very welcoming showed us how the appliances worked and made sure everything was set to English for us. The house is in a very private setting with spectacular views. I enjoyed my stay very much.
Tim
2015-12-01T00:00:00Z
Positives, Perfect location with the most stunning views across the Norwegian Fjords, The place was kept very clean and the hosts was friendly and met us at the place on arrival. There are a couple of negative points - when I originally booked the host made an error and I had to rebook at a higher price, there was no wardrobe, no hair drier & a few hidden extras such as the coffee machine was chargeable, bed linen and towels were extra & most surprised to have been charged 1 kronor per KWh of electricity we used which I could not see in the terms and conditions .
Steven
2015-09-03T00:00:00Z
The area in which the beach house is located in is very exclusive and secluded. The nearest shopping centre in Vinterbro isn't far at all though, just about 10 minutes away, but it feels like another world here. There is a security gate when you turn off an unmarked road and after that it takes about another exciting 10 minutes to navigate the twisting narrow forest road filled with little peaks and troughs, before finally reaching a very steep downhill to the house. We did this in winter, in the dark fog and on an icy road near freezing point, with a rented van criminally mistakenly outfitted with summer tires. It certainly felt like an off-road rally experience. When you do get to the house safely, oh what a magnificent place it is! Inside, tasteful decor with top-end appliances, a closed fireplace, bedrooms with windows directly above your pillow for star gazing, and three places to bath or shower. Outside, heat lamps in the patio, subtle lighting along the perimeter of a long staircase down to your very own mini-pier for fishing or swimming. But the best part of our whole experience was our host. Thanks to the criminal car rental company and the life-threatening lack of proper winter tires, our van got stuck trying to drive up the steep slope just next to the house out to the nearby shopping centre. We tried fitting new snow chains and tried to scale the slope again but the chains just snapped. There was no grip and we were sliding down dangerously in the dark. A van, filled with three old folks, a kid, a baby and two stressed parents, all hungry, cold and frightened. We were stuck, rattled and shaken, with no one to turn to except Bjorn. He readily came to our rescue soon, expertly reversed the van back safely to the house, and drove us to the nearby shopping centre to have dinner. He even went out of his way to drive quite a distance away to a auto parts shop, bang on the doors despite it being just a little past closing time, all to buy a premium set of snow chains for our tires, which thankfully worked the next day and got us up and out. He didn't have to do all this, but he did and no amount of thanks from us can ever be enough for literally saving our lives. A magnificent human being with a magnificent house. What an experience!
Andrew
2015-12-20T00:00:00Z
Myself and my friends stayed in Bjorn's beautiful house for 4 days. We were absolutely ecstatic with our experience. Bjorn couldn't have been more friendly and helpful as a host. We were left in peace to enjoy the beautiful scenery and facilities that the property has to offer. I would really recommend this house to anyone looking to stay near Oslo. Thank you Bjorn!
Michelle
2016-09-15T00:00:00Z
Nach einer leichten Anreise vom Flughafen Oslo mit dem Mietwagen (Dauer ca. 60 Minuten - Achtung Rush Hour beachten) geht es am Ende ca 2 km über einen Forstweg (5 km vorher Einkaufen !) Sehr freundliche hilfsbereite Nachbarn - in den nächstgelegnen Häusern. Björn hat uns persönlich begrüßt und uns in alle Details des Hauses eingewiesen. Darüberhinaus gab er uns viele weitere Tips Oslo und Umgebung zu besuchen. Der Kaminofen passt herrlich zum Design der offenen Küche. Der Ausblick ist grandios, ein rundherum wunderbarer Ort in der Natur abzuschalten.
Markus
2015-10-19T00:00:00Z
Great place in a beautiful surrounding. The house is modern and well equipped. we'd love to come back one day and recommend this place to others.
Hannes
2016-05-09T00:00:00Z
Jenis Bilik
Keseluruhan rumah/apt
---
Jenis Penginapan
Rumah
---
Memuatkan
8
---
Bilik tidur
Ås, Akershus, Norway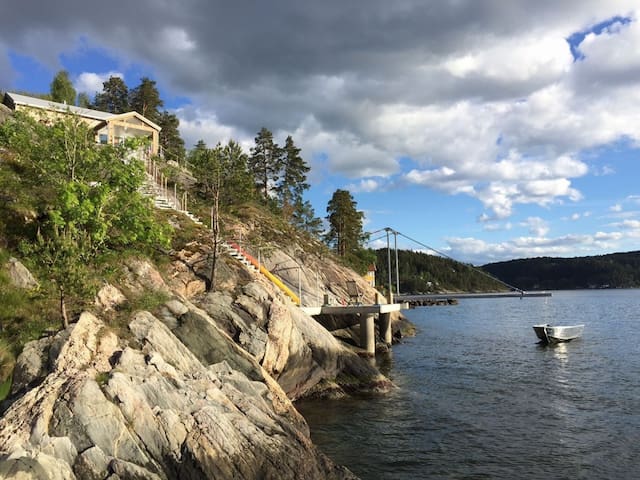 50 m2 room flat with separate bedroom, bathroom and terrace. Studio Kitchen in the living room. The apartment is 2nd floor. In my garage. Very good views, large windows - bright and cheerful home. From the dining table you look out on the treetops! 4km from Biri center.
Mid inland - between Hamar, Gjøvik and Lillehammer.
Guro responderede straks på alle henvendelser og alt var som beskrevet. Beliggenheden er vidunderlig, ligesom stilheden. Lejligheden indbyder til at nyde og hygge. Kan varmt anbefales og vi kommer gerne igen.
anni
2016-07-26T00:00:00Z
Mötte upp vid ankomst, flexibel vid förseningar, höll kontakt vid behov. Platsen och boendet var ännu bättre, än bilderna och beskrivning ger sken av. Underbar utsikt, platsen och lugnet, kan inte få nog! Att komma hit, var som att komma hem.
Isabelle
2016-09-06T00:00:00Z
Cute apartment located on a hill/mountain ca 30min south of Lillehammer. Marvellous view from the house and the terrace on all sides!
Jorryt
2016-09-19T00:00:00Z
Koslig garasjeleilighet i stille og rolig omgivelser i skogen. Fekk ei god natts søvn.
Jonny
2016-01-17T00:00:00Z
Despite the bumpy reservation everything worked out ok. The view is fantastic. The place is as described. I highly recommend Guro's cottage for those who enjoy a relaxes stay with an awesome top view. Too bad the wifi didn't work.
João
2016-06-28T00:00:00Z
Guro var ikke hjemme da jeg kom, men nøkler var lagt ut på avtalt sted. Leiligheten er veldig flott, med nydelig utsikt. Kan absolutt anbefales!
Christine
2016-03-16T00:00:00Z
In the midst of nowhere, on the top of the hill is where you find Guro's castle. We passed by on our way north, and it was awesome. We had a wonderful view over the fjord and the forest. The the cabin could've easily been one of those you see in the design magazines, spotless. Highly recommended for a few days for the true wilderness experience! As a bonus, if you are you into horses, Biri Travpark is just 15 mins away for a Wednesday or Weekend outing! : )
Sjur-Olaf
2016-07-26T00:00:00Z
Amazing Airbnb stay. I would highly recommend this place to anyone. The host was great. One of the best places we have stayed at in our many travels. You won't be disappointed with this place. It was like heaven!
Natalja
2016-07-17T00:00:00Z
Jenis Bilik
Keseluruhan rumah/apt
---
Jenis Penginapan
Rumah
---
Memuatkan
2
---
Bilik tidur
Biri, Oppland, Norway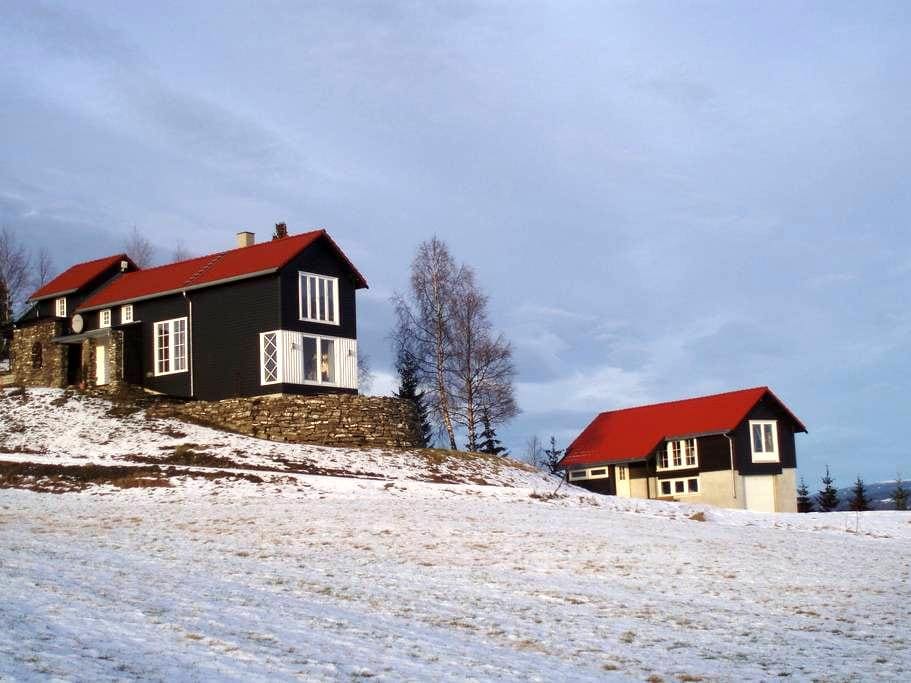 Short walk to main street with restaurants, cafes, nightclub. Cozy house with large garden in the heart of Lillehammer. Three small bedrooms and large bathroom (shower, bathtub & WC upstairs. WC downstairs. Kitchen and large living room on first floor. 2-minute walk to grocery store. Walking distance to Ski Jump, Olympic Arenas, museums. Bus stop one block away. Short driving distance to Hunderfossen Family Park. Wireless internet, cable TV, ample parking.
Utrolig flott beliggenhet, sentralt og plassert i et rolig villastrøk. Huset har en enkel standard. Møtte aldri Kjell Tore, men han var enkel og få tak i, og svarte raskt på henvendelser. Var noe mangel ifht renhold av bad og få håndklær. Men håndklær fikk vi dagen etter. Sett bort i fra småting, så er det absolutt et sted vi ville bodd igjen.
Line maria
2017-01-22T00:00:00Z
We had a wonderful stay at Kjell's house. It was easy to communicate with our host, and he is very welcoming and helpful. The home is quaint, cozy and warm. We had no issues finding the house from the train stop. It was easy to walk to the grocery store and to the bus stop to get to Hafjell.
Katie
2017-01-08T00:00:00Z
Of our many good to excellent experiences with airbnb, this was simply the best. Everything from check-in to check-out ran perfectly smoothly. Moreover, our host was exceptionally helpful in offering tips for local skiing options and other important sorts of information. As well, he responded quickly to a concern about ice near the house entrance by coming by and spreading gravel where needed. The house itself is spacious, comfortable, and charming. All in all, a place and experience we hope to repeat.
Charles Ess
2016-12-28T00:00:00Z
I forbindelse med Baldus cup håndball, leide vi huset til Kjell Tore. For oss var dette et glimrende alternativ til hotell. Huset framstår som hjemmekoselig, rent og ryddig. Vi traff ikke Kjell Tore selv, da han ikke oppholdt seg på Lillehammer denne helgen, men vil takke han for tillit og godt vertskap. Hit kommer vi gjerne tilbake senere en gang.
Andreas
2016-04-25T00:00:00Z
We came to Lillehammer with the crew for a film production and we spent 5 days in Kjell's house. It's a very cozy and warm house, we felt like being at home. Very close to the center, train station and a "cheap" supermarket just around the corner ;)
Maite
2014-12-14T00:00:00Z
We never met Kjell, but he quickly answered all my e-mails and was very helpful. The house is beautiful and is close 10-15 minute walk to downtown Lillehammer. It was very quiet and comfortable. There are three bedrooms upstairs. One has a double mattress on the floor, the second has another double mattress pushed between two walls, no space on the side, and the 3rd is two single beds with about a half meter in between them. This accommodation would be perfect for a family with kids. We wish we had a car because we would have love to gotten out and explored the area around the town. Lillehammer is a lovely town and it was a great way for us to end a busy month of touring Norway.
Paul
2015-08-03T00:00:00Z
Vi har kost oss kjempemasse. Huset var hjemmekoselig og hadde alt vi trengte for en fin weekend på Lillehammer. Vi traff ikke Kjell Tore men kommuniserte via SMS og mail, noe som funket helt perfekt. Tusen takk for et fint opphold:)
Britt
2016-06-13T00:00:00Z
Vi var en venninnegjeng som hadde et utrolig hyggelig opphold på Lillehammer. Kjell Tore var så imøtekommende og hyggelig som man kan få blitt, og alt var i tråd med det vi hadde avtalt på forhånd. Huset ligger svært sentralt (men samtidig i et rolig nabolag), en bitteliten spasertur unna kjernen av Lillehammer. Jeg kan ikke annet enn å anbefale et opphold hos Kjell Tore på det sterkeste. Fleksibel, ryddig, pålitelig og hjelpsom er noen av stikkordene. Vi kommer mer enn gjerne tilbake!
Liv Merete
2015-07-05T00:00:00Z
Jenis Bilik
Keseluruhan rumah/apt
---
Jenis Penginapan
Rumah
---
Memuatkan
8
---
Bilik tidur
Lillehammer, Oppland, Norway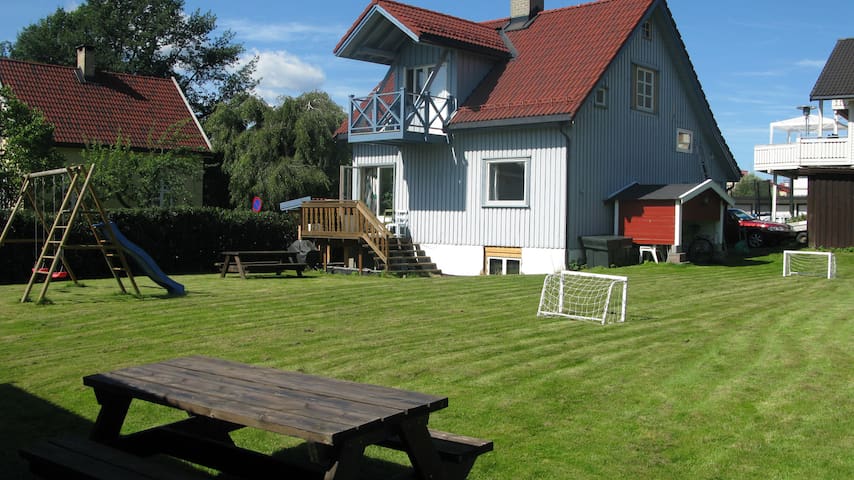 Modern house with amazing lake and mountains view! The house is best suited for 3 guests, but there are two extra sleeping places in the loft + one bed for the youngest. Big terrace. Parking place. Bus stop. Help with transfer. 20 minutes to the city centre/airport by car. Bed linen and towels are included.
The house is about 35 m² with big terrace and nice view over the lake and the typical Norwegian mountains. This place is perfect for vacation if you want to experience both the city and nature. Guests can use & make barbecue on the terrace.
The house is near lake Grimevatnet, the Old Voss Steam Railway and the Viking/Postal Old Route. - the Old Voss Steam Railway: Every Sunday from mid-June to mid-September you have the opportunity to travel on the Old Voss Steam Railway the 18 km from Garnes to Midttun. The steam loco is a ten-wheeler built in 1913 as the first generation mountain locomotives for the Bergen Railway. Along with the locomotive you will find shiny wooden coaches built in the same period(URL HIDDEN) (URL HIDDEN) - the Viking/Postal Old Route: (URL HIDDEN)
A very clean, warm and well equipped cabin with great lake views! Inna was very informative in arranging check in. I would recommend to anyone wanting to stay near Bergen, but outside of the city centre. Thanks Inna and Serge!
Neil
2016-12-15T00:00:00Z
Very nice and pleasant place, well equipped and located, to discover the fjord !
Patrick
2016-12-04T00:00:00Z
FR/EN Magnifique logement avec une superbe vue sur la montagne et un lac. Très spacieux et confortable avec tout les équipements nécessaires même plus. Inna et Serge ont été très chaleureux et serviable. Ils m'ont beaucoup aidé à passer un agréable séjour avec de nombreux conseils. Un grand merci à eux. Beautiful cabin with a wonderful view on a mountain and a lake. Very spacious and comfortable with all equipments required and more. Inna and Serge was friendly and helpful. They helped me a lot with a lot of advice. A big thank you to them
Julien
2017-02-09T00:00:00Z
Inna and Serge are the kindest hosts one could ask for. They were very prompt in all communications, and the house was extremely well equipped. The cabin was very cosy and clean. All in all a highly recommended Airbnb for the price and the location.
Brenda
2016-12-12T00:00:00Z
The cabin was amazing, completely spotless inside and although it's small it's a really great use of space and feels really cosy! We love the new cover outside because it means we could enjoy the incredible view of the fjords even in the rain and snow. We were lucky enough to enjoy a great breakfast outside in the sunshine in march! The cabin is in a perfect location for getting in to Bergen and for exploring further east. We definitely recommend exploring the nearby waterfalls and a trip to flåm and along the fjord - both of which were recommended by our hosts. The hosts were really nice and friendly and didn't mind that we were a little late leaving which was great. Definitely stay here!
Lara
2017-03-21T00:00:00Z
Nice apartment! There is everything necessary for life. Great view! Hosts were very friendly and helpful.
Alena
2016-11-25T00:00:00Z
Super cabine !
Philippe
2016-10-08T00:00:00Z
Everything was perfectly arranged, Irina and Serge were waiting for us upon our arrival, showed us the cabin and explained everything. A great place to start tours to Bergen and to the surroundings.
Stefan
2016-06-15T00:00:00Z
Jenis Bilik
Keseluruhan rumah/apt
---
Jenis Penginapan
Rumah
---
Memuatkan
5
---
Bilik tidur
Bergen, Hordaland, Norway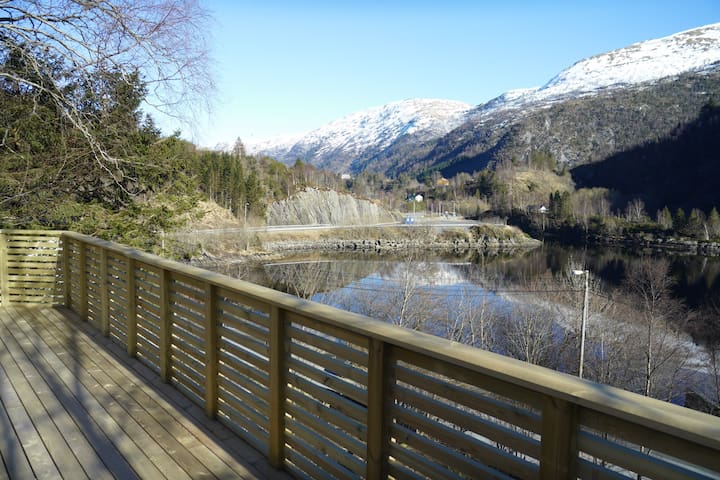 Møkster is a small island likely to melt your heart, all year. You find a local shop and fantastic trails by the ocean. This is the authentic countryside, still close to Bergen. 3 min from the apartment is a good fishing spot and a viking grave.
A room with a view: Private and cozy apartment for rent on this charming island close to Bergen and Flesland airport. Out the big windows you see the fjord and the mountains. On a clear day you can even spot the glaziers. Amazing trails by the ocean start 2 minutes away. The great terrace (40m2) with panoramic fjord-view is all yours during the stay. The apartment has wireless broadband and can also be a workspace if you need surroundings that provide both inspiration and concentration. The living room has two armchairs facing spectacular view. A daybed can be made into a 180 double bed. The dining/bar table is also perfect as a workspace- with the same view to the fjord. In a small bedroom you find a 140 bed. Living room and bedroom was remodeled March 2016. You have your own kitchen (new spring 2014) and a nice, tiled bathroom. Underfloor heating in all rooms except bedroom. Apart from the ordinary equipment, there is a washing machine in the kitchen. The house was built in 2006, so everything is in good shape. The island is a hidden pearl. So if you wish to get away from the tourist mainstream of Bergen city- this is it. You can easily get here from Bergen Center and Flesland Airport. No need for a car. About one hour by boat from Bergen center, 40 min from Flesland Harbor. The flat is 15 minutes walk from the Møkster harbor. The beach is 10 minutes away, the best fishing spot and the playground with football court is 3 minutes away (everything by foot). The flat is 35m2 and suits 1-3 persons. Note that you have to pass through the living room to get from the bedroom to the bathroom. A baby chair and cot is available. You won't find more peaceful nature and stunning beauty this close to Norway's 2. biggest town. Chances are good to spot porpoise passing by or sea eagles by the ocean.
The apartment is only 20 meters from the fjord. During summer, you can bring your towel and have a bath right from the cliffs. 2 min away the trails by the ocean start. A viking grave is 100 meters away. The island has 56 inhabitants living here all year round. Walking up and down to the local shop you will soon feel part of the local community. Every season has it's charm and I recommend a trip here not only in summertime. Activities like fishing and exploring the trails here are fantastic summer, autumn, winter and spring, as is the peace and quiet. Bergen city is also a very interesting, cultural and picturesque city where things happen any time of the year.
I stayed on Mokster for a week and it really exceeded my expectations. Mona is a super nice and relaxed host, always making sure that things are running smooth and available for any questions you might have about the island and its surroundings. The flat is really cosy and has all the equipment you could possibly need, the best part is the terrace with a stunning view over the Fjord. Mokster as such is a stunning island with fascinating landscape and a lot of peace and quiet. Had one of my best stays there - thanks again! Lisa
Lisa
2013-09-02T00:00:00Z
I don't know if it's possible to express how much we enjoyed this treasure! The island was beautiful and for a visitor so easy to get to, while feeling like something unusual and off the trodden route. 'Room with a view' was fantastically well equipped and you can tell that Mona has an eye for detail. The place is delightful and has to be our favourite airbnb visit to date. Nothing beats sitting out on the deck in the sunshine watching dolphins swim by!
Jo & Mike
2014-06-29T00:00:00Z
Mona is very welcoming and helpful, she lives upstairs with her three children. Her apartment is quite small but nicely decorated and tidy with a very spacious bathroom. The bed is a pull-out bed. The kitchen is equiped with everything you need. Møkster has a supermarket with the very basic selection and the island is a great and beautiful place to relax, run and hike. We a had good time on the island.
Nicolas
2014-08-07T00:00:00Z
This is what we can call perfect days. Mona was really kind and made us very welcomed, even if we didn't see her that much during our stay. Everything we needed was in the studio. Big up to the island map she sent us to find her house, felt a bit like a treasure hunt :) About the island, in few words, those great pictures above are a good start to catch the idea, but the mood, walks and landscapes made it becoming like a daydream.
Pierre-Alain
2014-09-12T00:00:00Z
I don't even know how to start describing how much we loved staying in Mona's little apartment on Møkster. Every morning we woke up to sunshine, sea, and immense calm. The island is gorgeous - rocky, green, with wild sheep scattered everywhere. It's sparsely populated and the residents seem calm, easygoing, and happy. The apartment itself is completely lovely - new kitchen with induction stove + a washing machine (! so nice), super cozy beds with big comforters + extra clean sheets, and little details everywhere that make it feel like home. Mona herself was a wonderful host, very generous with us and exactly as accessible as we needed her to be! The space was all ours - we heard kids + life upstairs but it felt a world away from us. We caught quite a few fish and loved hiking around the island. What more can I say.... Everything about our stay was absolutely ideal. Thank you Mona!
Emilia
2015-08-22T00:00:00Z
Møkster is a beautiful, peaceful and quiet island. Transport between Møkster and Bergen is easy. All people on the island are very friendly and they will try to speak English.. :-) Mona is very kind and helpful.. She had a lot of good tips and helped to point out good excursions (ask about the Norway in a Nutshell excursion). I will definitely come back!
Peter
2014-05-05T00:00:00Z
What a nice apartment, what a great host and what a fantastic view. My dad, my 2 kids and I stayed at Mona's place for a whole week. The weather was various but as Long as you have good clothes and are prepared it Will be a fantastic experience. Mona is a perfect host, she was open, friendly and very helpful. We loved the great fishing spot, Andeneset. We got several fishes every day.
Charlotte
2016-07-01T00:00:00Z
We had a wonderful week in Møkster. Highly recommend this apartment for peace and quiet, or for a working getaway. It's nicer and brighter in person than it might seem in the photos. The kitchen was well-stocked for cooking, and everything was very comfortable. We were working part of the time, so we appreciated the excellent, super fast wifi, which seemed so magical to have on such a tiny island! There were a couple of adorable cats running around outside that we enjoyed, too. Mona and her family live in the house upstairs, but they were extremely sweet and respectful and we never saw them. We really appreciated the quiet and calm atmosphere, and Mona was in touch via email if we needed anything. The island was lovely and had a nice hiking trail. The one store carried everything we needed for the week, including fresh fruits, vegetables, and meat.
Leslie
2016-09-08T00:00:00Z
Jenis Bilik
Keseluruhan rumah/apt
---
Jenis Penginapan
Rumah
---
Memuatkan
3
---
Bilik tidur
Møkster, Bergen, Hordaland, Hordaland, Norway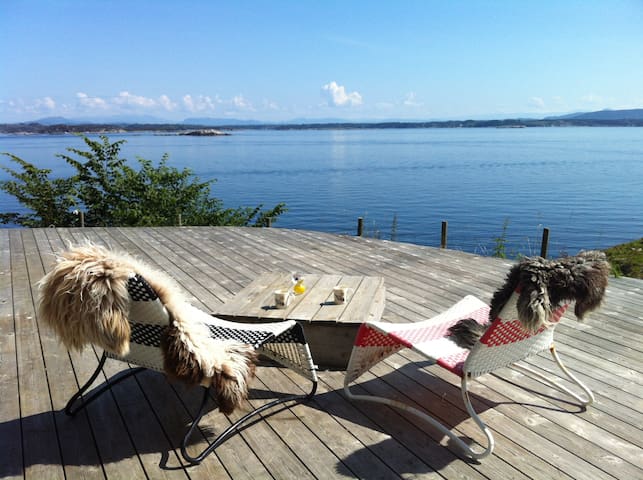 Stort hus kun 10 meter fra havet og kun 15 min fra centrum. Huset har 4 soveværelser, badeværelse, en stor stue, køkken og en stor have med en jacuzzi! Vi har også en robåd for at fiske med. Huset er fuldt udstyret.
If You like the sea and a great view? Then this is the right place for you? Privat property with a beautiful big garden and a perfect location close to Trondheim city. Enjoy sitting on the portch relaxing, looking out on the ocean and maby catch a glimpse of the sea eagles, otter or whales that live near by. Take a swim if you like or try catching a fish or two by going on a boat trip with our yellow rowing boat You will have Access to the whole house, garden, "beach" and ocean. 42" Flascreen TV with many different chanels and free WiFi is available for you to use. And other Things sutch as a gass BBQ, outdoor dining places, dishwasher, Kitchen suplies, rowing boat with life wests, fishing equipement and office. We wan't our gest's to feel like home. It's important to us that you give us possitive and negative respons so that we can be better. Special requests such as breakfast, lunch or dinner we can arrange. Romantic holiday for two or maby honeymooners. We will make our house romantic until you arrive:) Just ask us. We will help you the best way we can:) Close to the forrest on one side, and the Ocean on the other. Good skiing tracks and hiking possibilities. 15 min by buss from Trondheim city. The buss goes 1 time per hour. Nigth buss in the weekends. Good taxi service offcourse. The property is not suited for unsupervised children. But perfect in every other way:)
Luk til skoven på den ene side, og Ocean på den anden. God skiløb spor og muligheder for vandreture. 10 min med buss fra Trondheim byen.
Da unser Flieger Verspätung hatte, kamen wir verspätet an der Unterkunft an. Obwohl es dadurch schon 00:30 Uhr war, konnten wir Michael noch telefonisch erreichen und er kam sehr schnell, um uns die Unterkunft aufzuschließen. Die Unterkunft war sehr schön. Sehr geräumig und absolut sauber !! Der Blick aufs Meer bzw. die Nähe zum Meer sind wirklich wunderschön. Zwar ließen die Temperaturen ein Schwimmen im Meer nicht zu, aber eine Runde mit dem Ruderboot und dabei ein wenig angeln (wir hatten als absolute Laien sogar Erfolg !!), war immer drin. Die nahegelegenen Wanderwege ließen keine Wünsche offen. Selbst bei langen Spaziergängen begegnete man so gut wie keinem Menschen. Ein kleines Manko war das kleine Badezimmer. Mit 4 Personen war es schon manchmal etwas eng. Aber Michael ist dabei, dort ein größeres Badezimmer einzurichten. Absolut empfehlenswert, um einen erholsamen Urlaub zu verbringen.
Thomas
2016-07-22T00:00:00Z
The view, the sound of the waves at night, sunrises, sunsets, watching boats go by and an amazing balcony to take it all in. We loved every minute! We were in Norway for a family reunion and Michaels house was a great place to just relax and enjoy each others company. The swims in the ocean and the jacuzzi as well as just relaxing by the fire with a book were just the icing on the cake. It's not in downtown Trondheim but it is as close as you need to be and also close to hiking trails. You will love it
Gina
2016-09-05T00:00:00Z
Et helt fantastisk hus, som sto til forventningengen! anbefales!
Carine
2016-11-06T00:00:00Z
We really enjoyed our stay at Michael´s house! Living-room and kitchen are spacious, views on the inlet are great, from the porch or through the windows. We loved watching the cruise liners heading for Trondheim or the porpoises swimming in the sunset. (Does it sound to clichéd - it really is like that!) The garden is beautiful, flowers and strawberries were blossoming everywhere. And: If the weather is not to good, there is a cosy place by the fireside. And: Michael is a very caring host! We recommend.
Tina
2015-07-10T00:00:00Z
We didn`t use the living area of the house for the whole holiday. When we were not travelling around we sat on the patio overlooking the sea. We saw porpoises every day, (as Michael said), we saw dolphins, we saw wonderful sunrises and sunsets. We saw the weather change very dramatically, water spouting off the sea and making for great photo opportunities. We were fishing off the rocks at 2 o clock in the morning and seeing the sky in fantastic colours . (We were lucky to have great weather). We watched salmon coming clean out of the water in front of us. We had animal company on the rocks with us we believe were mink. We found beautiful starfish under the rocks at low tide which we carefully did not disturb. We watched old boats going past and used Michael`s binoculars to see who was on board. The best patio we`ve ever sat on. Didn`t really notice the house with all the things we could watch. Marvellous. And finally for a bit of drama into our holiday, we saved the next door neighbour`s boat drifting out to sea after it broke from it`s moorings. He was so grateful he took me for a midnight trip around the Fjord and let me drive the boat. One of best holidays ever.
MrTriumphRocket
2016-07-31T00:00:00Z
Michael was really a great host. He was very caring and helpful. He picked us up at the trainstation and also gave us a lift to the airport. We stayed one week and enjoyed it very much. The bus stop is in front of the house and the bus stopps each hour (on saturdays and sundays is a different schedule). The house was exactly as described: Next to the sea, quiet and beautiful. It was clean and cosy. We highly recommend this accommodation!
Stefan & Verena
2015-08-09T00:00:00Z
We had a wonderful time in Trondheim. The house is in a fantastic location and Michael was a great host. It is a very comfortable house with plenty of room downstairs for dining and relaxing. The veranda is excellent for viewing the fjord and its marine traffic and wildlife through Michael's binoculars. And we particularly enjoyed our little trips out in his rowing boat.
John
2016-08-29T00:00:00Z
Great hosts - speedy responses and useful tips for local shopping and sights. The fjord views are wonderful. We'd love to see it in summer too Thank you
John
2016-11-29T00:00:00Z
Jenis Bilik
Keseluruhan rumah/apt
---
Jenis Penginapan
Rumah
---
Memuatkan
8
---
Bilik tidur
Trondheim, Sor-Trondelag, Norway
Light and spacious ground floor studio apartment in a townhouse with separate entrance and big balcony overlooking garden and fjord. 1 single bed and 1 sofa-bed. Kitchenette with microwave and all the necessary articles. High-speed WiFi and cable TV.
The house stands in green and quiet area of the town, still short walk from the center, war museum, shops and restaurants. Distance to the bus station is 1 km, to the train station - 1,3 km, about 15 min walk. Furthermore, it is about 1,2 km to Narvikfjellet (Narvik mountain) alpine ski facilities and cable car and half an hour drive to Narvik Golf club in Skjomen.
Marina was a lovely host and her flat was absolutely delightful. It's got the BEST view of the city and is fully equipped with everything you'd need. I was able to cook and catch a glimpse of the northern lights all in one night. If perfection had a picture, it would be this flat :)
Simmi
2015-11-10T00:00:00Z
Behind the big window, it is a wonderful place to enjoy the nice view on the city of Narvik and eventually Nothern Lights. The apartment is nice, well equipped. Marina gives us a lot of information and good advices before we arrived. It's a quiet and peaceful place near the center of the city. Probably a good spot to practice ski.
patrick
2016-02-22T00:00:00Z
Marina was a very friendly and helpful host even if we just stayed for one night! The apartment looks exactly like the pictures. It's just beautiful! Narvik mountain isn't far away and definitely worth a visit! Wouldn't hesitate to come back one day!
Michael
2015-08-24T00:00:00Z
Very nice, quite and clean. On a shiny day as we had, the balcony is really great.
Peter
2016-07-14T00:00:00Z
The apartment looked exactly as in the pictures shown, but what we didn't know before was that the toilet is not in the apartment itself but outside... Nevertheless it was very clean and well kept. The location is not far from the busstation and easily reachable by foot from the center.
Karin
2015-09-04T00:00:00Z
Great place, great person. I recommend!!!
Tomasz
2016-01-06T00:00:00Z
Very nice location with sea view from the balcony. Well equiped kitchen. Comfortable bed/sofa bed. Very easy communication with the hostess Marina who lives in the same house, the above apartment. Very clean.
Carl Johan
2016-04-05T00:00:00Z
We really enjoyed staying at Maria's studio. It is located very closeto the main street and the view from the balcony is very nice.
Jean-Baptiste
2016-08-30T00:00:00Z
Jenis Bilik
Keseluruhan rumah/apt
---
Jenis Penginapan
Rumah
---
Memuatkan
2
---
Bilik tidur
Narvik, Nordland, Norway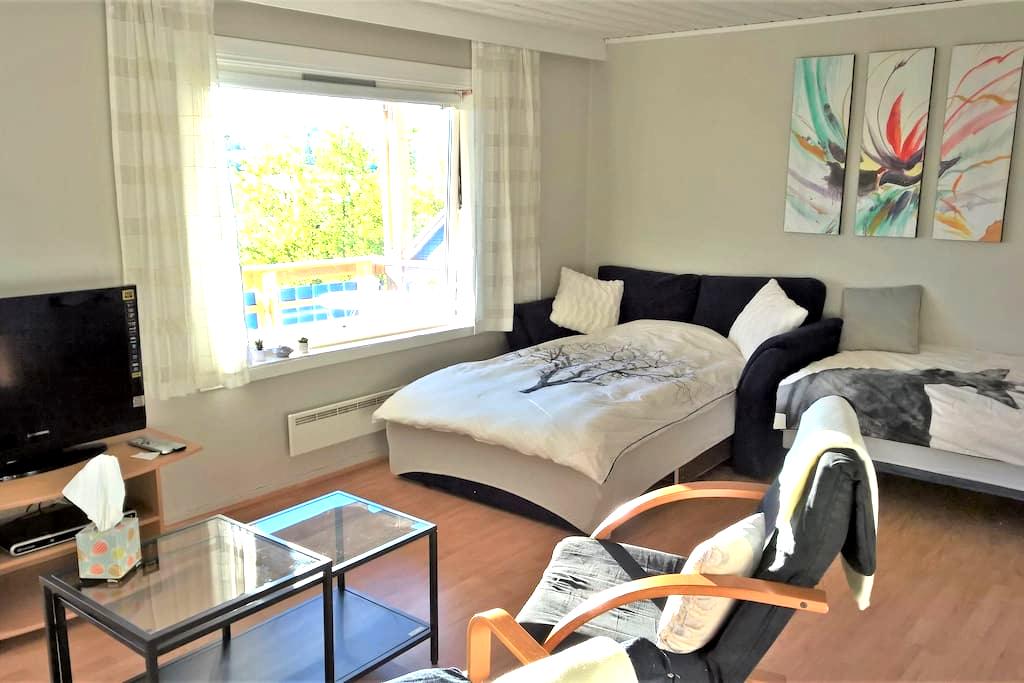 Mitt hus har 2 etasjer, er det sleeping i ekstra gulv, stue og kjøkken i første etasje. Omgivelser er veldig hyggelig med høye moutains og bare 50 meter til ocean.There er en innsjø bare 100 meter fra huset mitt.
Å er et gamelt fiskevær,med godt bevarte bygninger,to museer,Gammelbutikken som er åpen hele året,Bakeriet som er åpent i sommersesongen og Lofoten Reaturant som står på påler over havet og er åpen i sommersesongen
Nice and comfortable place to stay. Clean and light room in house, which is right in the center of the village near the stockfish museum. The host is interesting and considerate person. He gave us some advice about tracking routes nearby, sunset viewpoints and how to prepare fish-balls (thank you, Roy!).
Eugeny
2016-09-07T00:00:00Z
Excellent location and hospitality. A nice place to stay in Å. Roy is very friendly and helpful.
Torstein
2016-03-25T00:00:00Z
Roy is very friendly and generous, his apartment is very cozy and kitchen is equited with everything you need. We really had a great time staying with Roy. Thank you for everything you did for us.
Kelly
2016-10-22T00:00:00Z
Roy nous a mis a disposition sa cuisine et la salle de bain fidelement a l annonce. Chambre spacieuse. Logement calme et au centre de A.
Alix
2016-05-30T00:00:00Z
We loved staying with Roy in his home at the end of the world. It was such a warm place to arrive after driving all day through the cold archipelago. He gave us great directions to get to his place, greeted us and set us up with a delicious soup he made for dinner. We got to hear tales of his travels to Indonesia and look at this pictures of Lofoten. He even went out to look for the Northern Lights for us and made incredible waffles in the morning. I'd recommend this place to anyone traveling through Å.
Ashley
2016-02-14T00:00:00Z
Roy has been a very nice and lovely host and we felt welcome from the first second. He was very helpful with organizing a rental car, he gave us many tips and recommendations and made everything a lot easier for us. We even decided short-date to return to his place for one more night few days later which was also no problem. Our bed was very cozy, we could sleep very good. And we LOVED the waffles Roy made for breakfast. We can highly recomend to stay with Roy and we will definitely do so when we come back in summer one day.
Corinna
2016-03-24T00:00:00Z
Roy is a great and opening mind host, he waited for me for late check in for pick up me in bus station, and also assist me for early check out for a ride to Wharf. Staying in his home just like stay home in a very comfortable way :), Roy always checked with me for eating yet or not, because I traveling alone, he also checked my safety, very sweet of him. Anyway, he is most kindest host from my experiences by using airbnb. Thanks so much to Roy :) RC
Rebecca
2016-10-07T00:00:00Z
Roy is quite the character. Real nice guy. Fun to hear about his stories in Indonesia and his fishing experiences. The room was plenty fine and comfortable. He was a great host. He even cooked me fresh pollack for dinner. Thanks Roy!
Jeremy
2016-02-02T00:00:00Z
Jenis Bilik
Bilik persendirian
---
Jenis Penginapan
Rumah
---
Memuatkan
2
---
Bilik tidur
Å, Nordland, Norway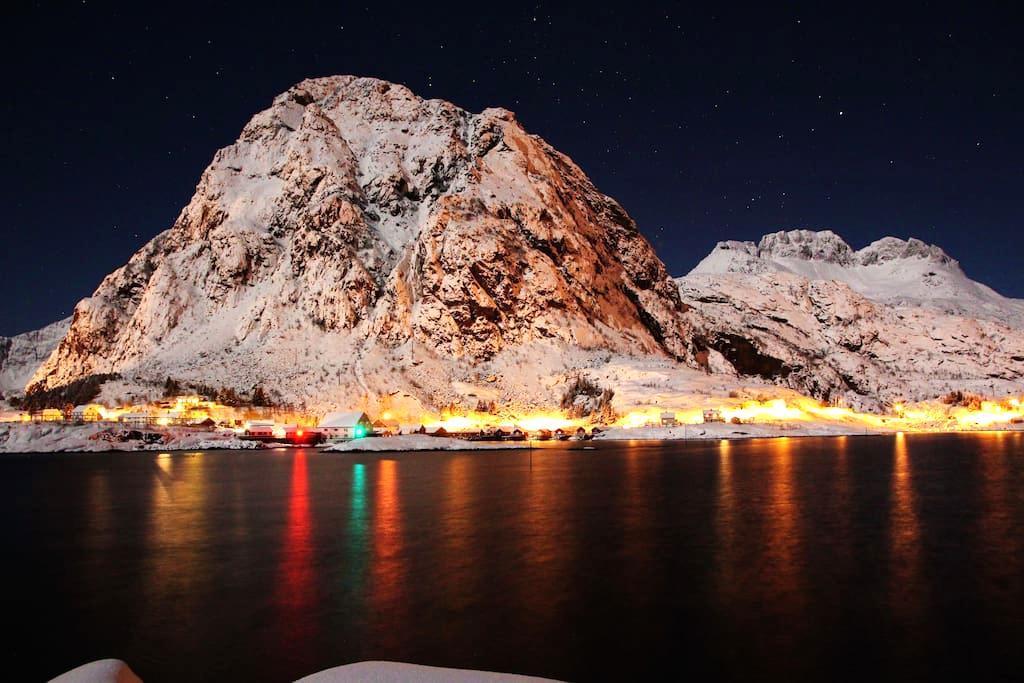 Sjøbod/hytte 3 meter fra sjøen, sørvendt, egen brygge, hytten har høy standard, den er nymalt innvendig med nye møbler. Wi Fi og sjøboden har TV/DVD. Utgang til terrasse med markise, gassgrill og hagemøbler med puter. Båt:15 fot m/motor og kano tilgjengelig. 1,5 km til Kiwi og buss, buss til Kristiansand ca 20 min. Vi tar ikke rengjøringgebyr så det forventes at det ryddes og vaskes ved avreise. Om ikke sjøboden er rengjort ved avreise, så trekkes Nkr 300-600 fra depositum.
Nærheten til havet, morgen sol. Sjøbod/hytte 3 meter fra sjøen, sørvendt, egen brygge, hytten har høy standard, den er nymalt innvendig med nye møbler.
Sjølufta når det er lavvann. Fint turterreng. Fri parkering i nærheten, på andre siden av broen (50m) Buss M1 fra Kiwi 1,5 km. (URL HIDDEN)
Vi hadde noen veldig koselig dager i sjøboden, hvor det gikk helt fint å bo med to barn på henholdsvis 4måneder og 3år. Jarl tok oss imot selv om det var sent på kvelden. Alle fasiliteter var tilgjengelig, stedet kan virkelig anbefales!
Lisa
2015-08-24T00:00:00Z
很好的房子, 就在水邊, 四周環境很美, 很寧靜. 屋主很熱情, 可惜天氣不佳, 不能帶我們出海釣魚. 在這裡渡過了美好的3天, 希望下次能再到這裡.
WAI KEONG
2016-08-28T00:00:00Z
Andre was a fantastic host and the cabin was a high quality one. Andre took us to a boat ride in the sea. We also fished during the ride :-) We were least expecting this to happen! It was a very good experience for us. We are grateful to Andre for providing this great experience. A very comfortable stay and a ride to remember! If you are visiting in a small group anywhere near Kristiansand, this has to be the perfect stay. Totally recommended.
Sandeep
2015-04-06T00:00:00Z
Die Unterkunft war klasse. Wir haben uns sofort sehr wohl gefühlt. Leider waren wir nur eine Nacht dort, werden dieses Ziel aber bei nächster Gelegenheit wieder mit einplanen. Die Umgebung ist toll. Ich kann diese Unterkunft nur jedem empfehlen der in Kristiansand eine Unterkunft sucht. Auf meine Mail s hat Jarl immer schnell geantwortet. Vielen Dank , dass wir dort übernachten durften.
Jörg
2014-10-01T00:00:00Z
My wife and I really enjoyed staying at the boat house. It had plenty of space for 2 people and was well equipped for any cooking needs. The location is fantastic and you can get some good views of the sea within short walking distance. Jarl Andre also let us borrow the canoe to explore the area further. (Careful of the wind!) He was kind enough to let us check in a bit early and gave us a thorough overview of the whole house. The downstairs is wonderfully decorated and has ample space. The bedrooms upstairs were a bit dated and the mattresses weren't the most comfortable in the world but it was suitable for our needs. Use of the grill was a nice touch and the patio area is cozy.
John
2016-09-08T00:00:00Z
Fantastisk idyllisk plass, hyggelig vertskap med stor grad av gjestfrihet og koselig båtnaust med alt du trenger. Vi er veldig fornøyde med oppholdet og kommer gjerne igjen! Stedet var bedre enn bildene gir inntrykk av :) Tusen takk for oss!
Heidi
2016-05-16T00:00:00Z
We loved being at Jarls boathouse. It was really comfy and a good place to relax directly at the sea. Flekkeroy is a beautiful island that we could explore. The house has everything you need, what was very comfortable for us. The walk from the busstation to the house was easy and shorter then we thought. On our last day Jarl even drove us there, which was really nice of him. On the drive he told us some interesting thing about the island. We would definitly like to come back but than for some more days.
Katharina
2016-11-28T00:00:00Z
Jarl Andre` s little lodge is surrounded by a very idyllic surrounding, which is truly perfect if you want to experience the southern coast of Norway. Although the space is very confined, you have everything you need.
Henrik
2015-05-04T00:00:00Z
Jenis Bilik
Keseluruhan rumah/apt
---
Jenis Penginapan
Rumah
---
Memuatkan
8
---
Bilik tidur
Kristiansand, Vest-Agder, Norway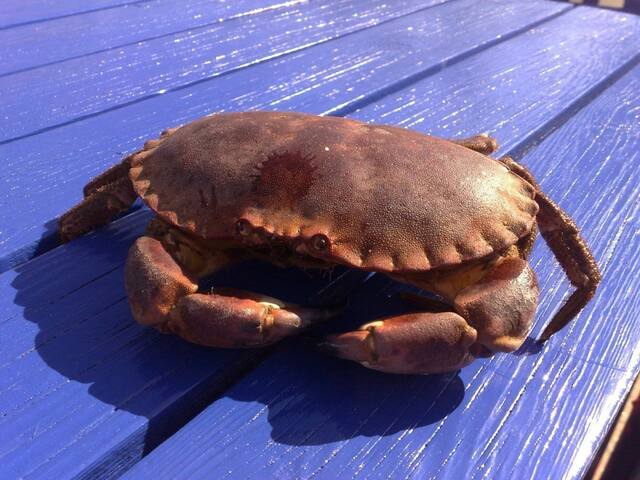 A 3 minute walk away from Bergen city center where there is public transportation to the rest of the city (bus/train/boat). No parking, but just a 1 minute walk to Klostergarasjen parking house. Private and fully equipped kitchen, bed and bathroom as well as free WIFI.
You get your own private apartment with a kitchen equipped with all of the essentials, including basic food and spice items, plates, glasses, cutlery etc to help get your dinner started. We have provided you with laundry detergent (both white and color), dryer sheets, towels, wash clothes, shampoo, conditioner, body wash, and other various toiletries you might have forgotten at home. All of the windows have blinds for added privacy and shade. The apartment has its own entrance on the inside of the house and you will receive a set of keys to be able to lock it up safely. Cleaning before and after is included in the price of the stay.
Knøsesmauet is one of the oldest, most photographed streets in all of Bergen. It is a quiet, family friendly place only a 3 minute walk from central Bergen. There is also a park, soccer field and swimming area a couple minutes walk away. A large aquarium just up the street is fun for both kids and adults on rainy days. The nearest grocery store is at the bottom of our street.
Lisa and Lars were good enough to let us stay in their place for just one night and we were very grateful. The Hanseatic Festival was in full swing (Lots of music and beer in the sun - yes sun!) when we were there so everywhere was busy. The flat is tucked away 10 minutes from the city centre in an attractive neighbourhood which was quiet. Parking for the car was just round the corner in the large underground car park and to unload the car it was possible to drive up to just outside unload, reverse back down and o go out and park. The flat is modest in size but it all works, (I cooked a meal using the oven and hob) and is furnished in a contemporary fashion with a large and very comfortable bed. The flat doesn't have a great view of Bergen but that is besides the point as it is in an older and very pretty part of town. Many thanks Lisa and Lars and thank you for always being so quick to respond to communications.
Brendan
2016-06-13T00:00:00Z
This listing was probably my most favourite Airbnb listing that I've stayed at. The location was perfectly central, on an adorable and quiet street. The apartment was so clean and comfortable. The hosts really make sure that you have everything you could possibly need during your stay. I would, without a doubt, stay here again and recommend it to others!
Emily
2016-06-29T00:00:00Z
Die Lage der Wohnung ist sehr gut! Man erreicht das Zentrum in wenigen Minuten. Die Ausstattung der Wohnung ist gut, sie ist sehr wohnlich eingerichtet. Alles wie beschrieben. Wir haben uns sehr wohl gefühlt.
Peter
2015-08-01T00:00:00Z
Clean and cosy for couple or small family. There is a supermarket just 1min walk from the apartment. Have all the kitchen ware to have simple cooking. very convenient. Nice place to stay.
Sally
2017-03-11T00:00:00Z
This place is amazing and highly recommended! It is so quaint and cozy. The decoration inside is fantastic and captures the mood of Bergen perfectly. One of my favorite AirBNB's ever!
Adam
2017-03-16T00:00:00Z
Lisa was wonderful! Very prompt communication, accommodating to check in/out times, apartment was just as pictured. Highly recommend staying in this picturesque Bergen home. It is perfectly located near all the main tourist spots but also in a very quite neighborhood.
Kristi
2015-08-10T00:00:00Z
We had a wonderful time in Bergen and this apartment was in a great central location! Close to both down town and the harbor. Lisa had everything set up for us when we arrived, including a booklet with any info we may need regarding the city or apartment, also umbrellas! The apartment was as shown in the pictures and we would definitely stay here again as Lisa and Lars were great hosts.
Amanda
2015-09-21T00:00:00Z
What a place! Bergen was beautiful, welcoming, fresh and fun. just everything we could have asked for. Lisa and Lars' apartment was all those things as well. The apartment was good sized with all the conveniences and amenities we needed and MORE!! It is located just off the city centre in historic neighborhood with quaint homes down cobblestone streets and alleyways where tourists are wandering around snapping photos of all the homes. We felt privileged to be staying there. Lisa and Lars couldn't have been more gracious even helping us store our bags for a late departure from Bergen. So if their place is available, grab it!! It is truly a treat to stay there.
Glenn
2015-09-07T00:00:00Z
Jenis Bilik
Keseluruhan rumah/apt
---
Jenis Penginapan
Rumah
---
Memuatkan
3
---
Bilik tidur
Bergen, Hordaland, Norway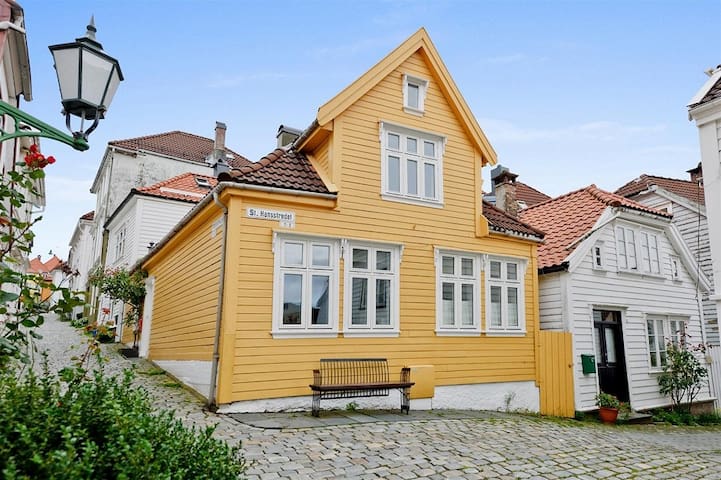 Norway - Airbnb
:
Purata

4.96

daripada

5

daripada

1796

ulasan tetamu
1

–

18

daripada

300+ Rumah Sewa
Masukkan tarikh untuk melihat harga penuh. Yuran tambahan dikenakan. Cukai mungkin akan ditambah.