We are renting two beautiful and high quality double bedrooms in our big family house in a village between Munich and Augsburg. These two rooms and the exclusive bathroom are on a seperate floor. This floor is excusively for you. The rooms face the only for you terrace and the solar-heated pool. Pool only in the summer! Pricing for one night only is 10€ more. Payable after arrival. Included is a rich breakfast. Towels and linen are supplied. We offer laundry service, small 3,50€, large 5,50 €, drying for the same fee. Daily roomservice! We offer at the poolside: breakfast, if weather permits little snacks as salads, chili con carne(URL HIDDEN)currywurst , würstl, Wine, beer,Kaffee and cake parking space available! You can reach us by car on the A8 highway exit Odelzhausen. Public transportation by bus (two walking minutes from the house) is available every hour monday to saturday and brings you straight to Munich in 24 minutes. On Sundays we offer to drive you to a nearby S-bahn station for an additional fee. It is a 12 km ride. On demand we offer coffe, cake, wine, summer salads and warm dishes. Prices on request. The host speaks german, english and french perfect parking facilities. A bavarian farmer shop is located within a two minute walking distance. There is also a historcal mill(16th century) including a cafe about four minutes away. departure: till 10 am arrival(URL HIDDEN)from 2 pm single bedrooms each 55 €
Die Unterkunft ist sehr schön, mit sehr viel Liebe fürs Detail eingerichtet und der Gastgeber ist wirklich zuvorkommend. Dort wird jeder Wusch sofort erfüllt. Dor fühlt sich der Gast noch wie ein König!!!
Stephan
2011-09-26T00:00:00Z
Very beautiful house and garden. The place is very comfortable for us! Host is very friendly!相當舒服的房子,是我夢想中的屋子!主人很友好,早餐相當豐盛!
Lily
2015-08-20T00:00:00Z
We stayed 5 nights at Monika's house and it was really a nice experience. Bedrooms and bathrooms are spacious, clean and over looking a very nice garden. Monika & Manfred were really hospitable & offered help on places to visit and best way to travel in the city of Munich. Breakfast was plentiful and a great way to start each day. We totally recommend Monika's accommodation.
Chris and Shauanna
2014-09-27T00:00:00Z
Monika's listing was very accurate, and in a beautiful countryside neighborhood. We very much enjoyed our drive to and from her home as we explored Munich. Monika made us feel very welcome! She is the perfect host. We enjoyed a lovely breakfast each morning, and felt very at home. We were especially impressed that she worked so hard to find our lost luggage. If it were not for Monika, we may still not have our luggage. She called the airport several times to locate our luggage, and within a couple of days, we had it. I would highly recommend Monika's place to any travelers!
Rachelle
2016-06-26T00:00:00Z
Wonderful host with a Lovely home, with these downstairs room very comfortably and beautifully decorated yards. If you want a wonderful Bavarian experience enjoy the country side and eat at a tradition Bavarian farm house restaurant with excellent local food and own brewed beer this is the place. It's about a 25 min drive to Munich. Very nice
kelly
2015-07-02T00:00:00Z
The rooms are located in a quaint countryside bnb. The hosts are very welcoming and charming. Had an excellent stay with all the comforts of home!
Troy
2016-06-15T00:00:00Z
My family had a great stay in this beautiful house, lovingly built by Manfred himself for his family. The rooms were comfortable, shower was nice and hot, and we appreciate the small common area outside the rooms which we could use to have a takeout dinner after a long day out in Munich. Unfortunately our stay was too short to enjoy the gardens and pool, though they definitely looked welcoming.
Ching Hui
2014-09-06T00:00:00Z
It's one of our best B&B experiences. Monika is warm hearted, introduced a very good restaurant when she heard about we didn't have dinner and gave very useful tips on how to find free parking in Munich. Very clean and lovely house and garden. Breakfast is excellent. It's not difficult to find the house if with GPS.
Geena
2014-10-09T00:00:00Z
Jenis Bilik
Bilik persendirian
---
Jenis Penginapan
Rumah
---
Memuatkan
4
---
Bilik tidur
Pfaffenhofen an der Glonn, Bayern, Jerman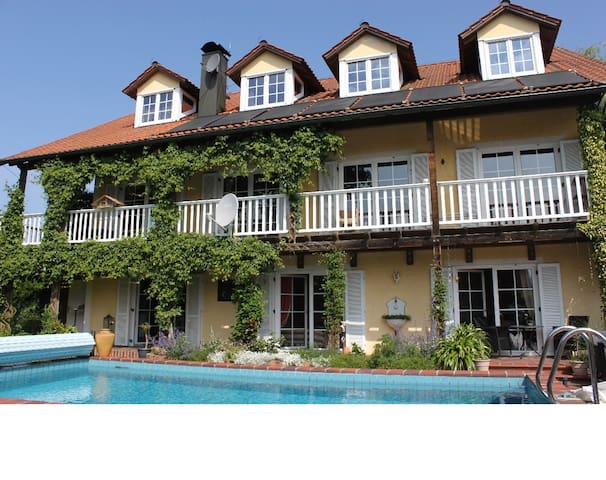 Wir haben ein gemütliches Holzhaus etwas abgelegen, dafür aber sehr ruhig.
Thoughtful host, they were gone on a trip the first night and offered to let us use the living room and kitchen while away. Super sweet, went way out of her way to call the rental car company to help us out. Beautiful house, cute cats, great host. Thank you so much for everything!
Max
2016-07-25T00:00:00Z
Nice welcome in the nature. Simple home but clean. Surrounding nature (with snow) is great.
Fabien
2016-03-16T00:00:00Z
Jenis Bilik
Bilik persendirian
---
Jenis Penginapan
Rumah
---
Memuatkan
2
---
Bilik tidur
Egenhofen, Bayern, Jerman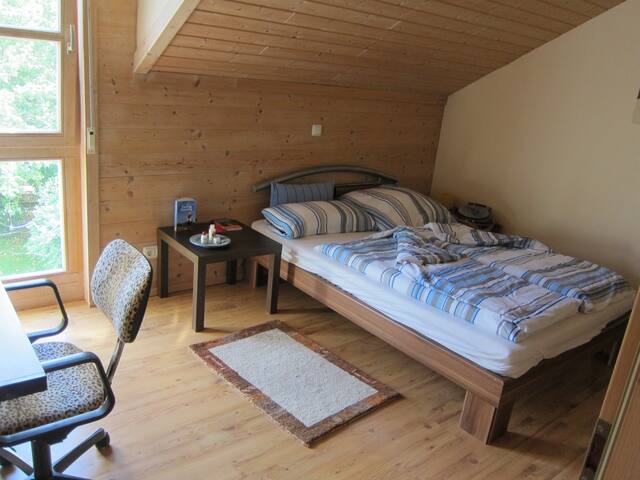 Gemütlich eingerichtetes Gästezimmer, große Fenster mit Rolläden, Heizung, ein Doppelbett für 2 Personen und ein Schlafsofa für 2 Personen, kleiner Schreibtisch, Regal mit Büchern, Laminatboden mit einem mittelgroßen Teppich, kleine Garderobe vorhanden. Kleines eigenes modernes Duschbad mit Fenster.
Siehe Zusammenfassung Fernseher für DVDs vorhanden. Bügeleisen, Föhn und ähnliches kann im Einzelfall gerne kostenlos ausgeliehen werden. Wäscheständer steht zur Verfügung. Haustiere nur nach vorheriger Absprache!!! Wir sind eine vierköpfige Familie (2 Erwachsene und 2 Kinder (8 und 5). Das Haus hat etwa 190 qm. Es handelt sich um ein freistehendes Haus mit 1050 qm Grundstück. Durch die Hanglage haben wir im Erdgeschoss, wo sich euer Zimmer und Bad befindet, nur unser Arbeitszimmer, Kellerzugang und Eingangsbereich. Wir halten uns also hauptsächlich im oberen Bereich des Hauses auf.
Einfamilienhaussiedlung Edeka, Metzger, andere Geschäfte, Restaurants (Asia- Imbiss, Pizzaria, Gasthof), Ärzte, Kindergarten, Schule usw. fußläufig erreichbar. Altomünster hat einen süßen, hübschen Ortskern. Innerhalb von Altomünster gibt es außerdem einen Penny, einen Lidl, Getränkemarkt,...
Jenis Bilik
Bilik persendirian
---
Jenis Penginapan
Rumah
---
Memuatkan
4
---
Bilik tidur
Altomünster, Bayern, Jerman
My house is near Munich and Augsburg, very good train connections to Munich. Altomünster is a picturesque place in the Dachau Hinterland, which has many shops, breweries, inns etc. ..
The host canceled this reservation the day before arrival. This is an automated posting.
Stoycho
2016-10-08T00:00:00Z
Markus was very friendly and hospitable. Before we arrived, he was very prompt with his replies on queries. He also provided us with essential tips for Oktoberfest! Even though his place is located at Altomünster, we enjoyed the place a lot and had no difficulties getting in Munich as the S-bahn was located very near his place. Oh, he has a really friendly dog too! :)
Nedra
2016-10-03T00:00:00Z
Jenis Bilik
Bilik persendirian
---
Jenis Penginapan
Rumah
---
Memuatkan
2
---
Bilik tidur
Altomünster, Bayern, Jerman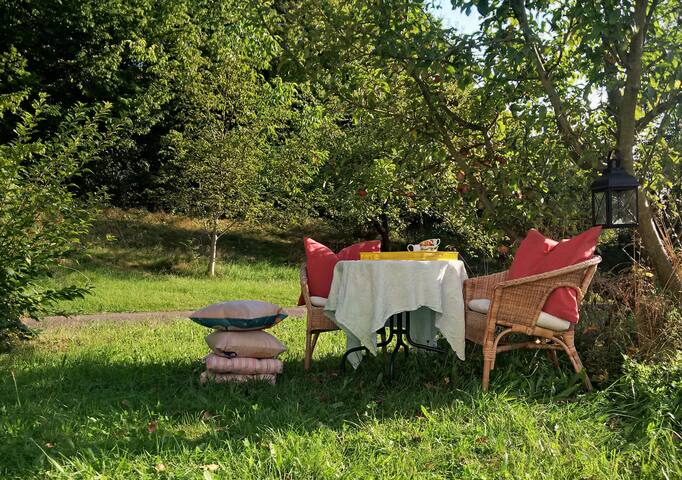 Wohlfühlzimmer! Euch stehen zwei Zimmer mit je einem Doppelbett u Badmitben.zur Verfügung. Unser Haus ist ein sehr gemütliches Landhaus mit viel Holz. Comfortable! Two comfi rooms with double beds in a landhouse :-)
Dich erwartet ein sehr gemütliches Landhaus mit Flair! Deine Räume sind ruhig gelegen. Ein großes Bad mit Dusche steht dir mit zur Verfügung. Two rooms with beds for two people are waiting for you.
Everything was great! It was comfortable and quiet, and all the information we needed, Jutta had on a piece of paper when we arrived. Although Jutta was sick, her and her husband were helpful and lovely. We couldn't have asked for a better stay!
Emily
2015-09-21T00:00:00Z
We stayed here to split our trip from Slovenia to Belgium. We are a family with three little children and were welcomed in a very friendly way by Jutta. She is a lovely host and te rooms were very clean, nice and big. The location is indeed near the A10 and only half an hour from Munich. I would really recommend this place!
Jesse
2016-07-20T00:00:00Z
Einfach super! Zwei weltoffene, sympathische und lebensfrohe Menschen mit Familie – das macht glücklich. Es war das Beste, was meiner Freundin und mir passieren konnte, hier unterkommen zu können. Alles komplett unpromblematisch und übertroffen an dem, was man erwarten will und kann. Immer ansprechbar, stets hilfsbereit und herzlichst entgegenkommend! Und das Haus, ein Traum: Holz, eine Umgebung zum Wohlfühlen, ein Dach darüber und alles im Einklang mit Natur – im idyllischen Bayern. Absolut zu empfehlen und eine tolle Zeit…
Simon
2014-10-03T00:00:00Z
Jutta and Harry were wonderful hosts. Even though we arrived very late, they were very accommodating and responsive, providing us with everything we needed. Breakfast was delicious with a wide variety and the room was clean and perfect. We were visiting the Munich area for two nights for Oktoberfest and Neuschwanstein castle and they even gave us advice and a history lesson on the "mad" King during breakfast. Harry gave us a ride to the nearby S-bahn in the morning that took us to Munich in 30 minutes. Great location, great hosts and great home! It was such a great experience and so lovely to meet you two! We had such a perfect stay thank you!!!
Elizabeth
2014-09-22T00:00:00Z
Wir wurden freundlich empfangen und haben uns insgesamt gut aufgehoben gefühlt.
Jörg
2016-07-02T00:00:00Z
We had a very nice staying with Jutta and her family! A kind, and heartwarming welcome after a long day driving. In the morning a nice cup of coffee which made us ready for the next day!
Ilse
2015-07-29T00:00:00Z
Jutta and Harry and wonderful hosts. Their house is beautiful and they re incredibly friendly people. Would love to go back again. Highly recommended!
Dave
2015-09-26T00:00:00Z
Prima locatie voor een tussenstop naar vakantie bestemming. Heerlijk geslapen en we konden op het laatste moment er nog terecht!
Johanan
2016-08-03T00:00:00Z
Jenis Bilik
Bilik persendirian
---
Jenis Penginapan
Rumah
---
Memuatkan
4
---
Bilik tidur
Egenhofen, Bavaria, Jerman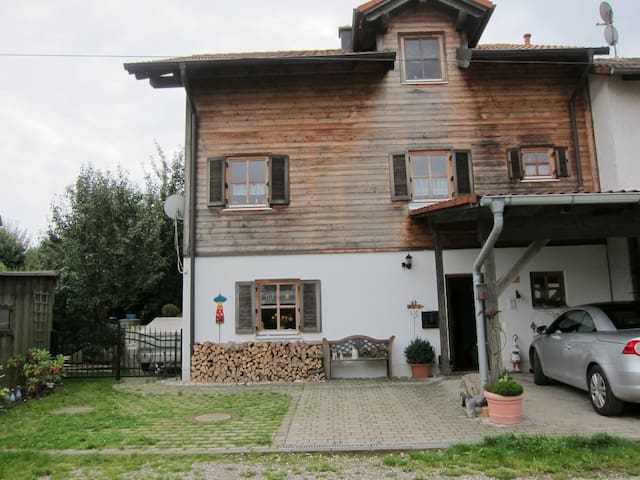 In a cool wooden Cottage - close to the Romantic Road - one or two people to sleep in a nice room and Augsburg (10 minutes) and Munich (30 minutes), exploring the beautiful Lechauen, eight bathing lakes and numerous hiking trails, visit trade fairs, exhibitions and festivals or whatever.
It is very quiet here, nothing to hear mostly except birdsong and roosters crowing, from time to time a car or a tractor. Or sometimes a lawnmower!
Es war sehr sehr schön Ich würde jederzeit da wieder einziehen ☺
Martin
2015-11-01T00:00:00Z
Ich wurde sehr herzlich aufgenommen und konnte bis um 23 Uhr anreisen! Für meine Zeit hier bekam ich sehr gute Tips. Das Haus liegt in der Nähe von Wald und Wiesen, was ich sehr genossen habe. Es war ein sehr gutes Miteinander. Vielen Dank für die schönen Tage!
Sandra
2016-11-02T00:00:00Z
Een heel mooi huis in een heerlijk rustig dorpje. Maar wel vlakbij Friedberg en Augsburg. Vriendelijke ontvangst door Dorothea. En een heerlijk ontbijt.
W
2015-09-19T00:00:00Z
Nos sentimos muy bien y apreciamos mucho su trato amable y su colaboracion.
Guillermo
2014-09-24T00:00:00Z
Dorothea hat gut für uns gesorgt.Trotz dem wir zu spät kamen hat sie uns sehr freundlich empfangen!Als wir abends im dunkeln nach hause kamen leuchtete das Licht in unserem Zimmer,so daß wir uns gut orientiren konnten.Die Beschreibung des Hauses und des Zimmers sind sehr genau.Die ungewöhnliche Atmosphäre im Holzhaus fanden wir toll!
Jörg
2015-06-15T00:00:00Z
accueil très agréable. l' ensemble de la maison est très cosy et très soignée. nous avons apprécié la décoration, mais surtout le calme de la chambre. bien que nous ayons dû repartir tôt, la nuit fût agréable et surtout Dorothea a pris la peine de nous préparer un petit déjeuner pour notre départ à 3h du matin.. souvenir très positif !
elodie
2014-06-26T00:00:00Z
Dorothea is a really nice host. She speaks perfect English. Her house is very cosy, the bedroom is really good with good bed for two. Big bathroom. We could also use her lovely fully equipped kitchen and made a nice dinner together. During the evening had nice conversations and she gave us also some useful tips about the neighbourhood. At morning she also prepared a breakfast for us. We would recommend the place for everyone who wants to stay in the area and have a good company. When we will be in the neighborhood, surely we will visit her again.
Ido
2014-04-21T00:00:00Z
It is a very good place for leisure time. We got clean air and tasty breakfast. The nature around is great. This home has a place for parking and we had no problems wits our car. Thank you for hospitality.
Iurii
2014-09-23T00:00:00Z
Jenis Bilik
Bilik persendirian
---
Jenis Penginapan
Rumah
---
Memuatkan
2
---
Bilik tidur
Friedberg, Bavaria, Jerman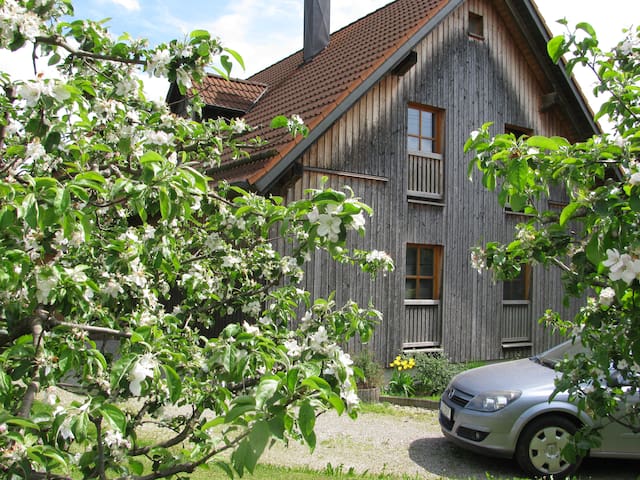 Wir sind sicher, Euch einen angenehmen Aufenthalt in unserem schönen zu Hause bieten zu können. Falls Ihr nicht per Auto kommt,senden wir Euch Wegeplan für Zug+Bus (Station Maisach
There are two rooms with double-beds. One big bathroom for all.
We were so happy to spend a memorable 2 days of our stay in Germany in this quiet and beautiful home... The hosts-Jutta and Harry are extremely amiable people. They were warm and very helpful during our stay there..
Deepak
2015-10-01T00:00:00Z
Jutta and Harry were very welcoming. They pick you up and drop you off at the trains station whenever you need to go into town. The room is just like it looks, very spacious and comforting. They have a very nice house and family and go through the trouble of making you a delicious filling breakfast every morning. I would recommend this country side room for anyone looking to feel at home.
Akshay
2014-09-29T00:00:00Z
Jutta and Harry are a wonderful couple and very kind hosts. They gave us every possible help with directions and suggestions on what to do in munich and everyday there was a big breakfast waiting for us! Their house is big, nice and very clean, the room was changed for a one that it is even nicer! The location is a small village in the bavarian countryside: a very quiet and relaxing place just outside Munich and Augsburg, close enough to the motorway to be easily reachable. We highly advice their house for enjoying a bavarian weekend in a traditional wooden setting!
Stella
2014-09-27T00:00:00Z
А nice, neat, comfortable accommodation and very friendly hosts. It could be a little bit hard to find a place in a dark of evening hours even using navigator. We used Wase navigator and it brought us to the area but not exactly to the house. We got help from locals and finally met hosts waited for us. The hosts are very friendly and helpfully.
Alla
2016-09-26T00:00:00Z
Absolutely lovely home and gracious hosts. Jetta made us feel incredibly welcome in her home. Clean and Cozy room. Since the location is a somewhat removed from Munich itself, the hosts were very helpful in giving us travel tips.
Jenya
2015-07-14T00:00:00Z
This was very nice airbnb experience. We traveled from Netherlands to Croatia and decided to stop over night at Jutta's place, which is approximately on the half of the distance. Our late arrival (23:30) was not a problem and Jutta met us in front of the house. The house itself is amazing and spacious and our room was just perfect. Jutta is an easy going and pleasant person and it is interesting to talk to her. We will definitely come back to this place. Highly recommended!
Marko
2016-06-18T00:00:00Z
Very nice house in a quiet zone near Munich. They gave us a warm welcome and took care of us during our stay.
Patricia
2015-09-22T00:00:00Z
Wir wurden sehr herzlich begrüsst. Für unseren Aufenthalt in München haben wir wichtige Tipps erhalten. Das Haus war gemütlich eingerichtet, so dass wir uns sehr wohl gefühlt haben. Die Vermieter waren wundervolle Gastgeber. Sie überzeugten durch ihre Freundlichkeit, Liebenswürdigkeit und Verständnis. Also wir können die Unterkunft bestens weiter empfehlen.
Christin
2014-09-23T00:00:00Z
Jenis Bilik
Bilik persendirian
---
Jenis Penginapan
Rumah
---
Memuatkan
2
---
Bilik tidur
Egenhofen, Bavaria, Jerman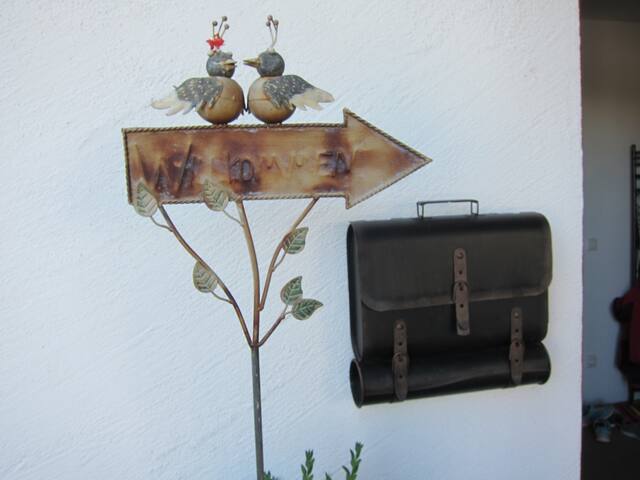 Unser wunderschönes Haus in ökologischer Holzbauweise mit traumhaftem Garten ist ein idealer Ausgangspunkt für Münchenbesucher: 2 Gehminuten zur S-Bahn, 10 Minutentakt in die Innenstadt. Vermietet werden zwei Zimmer mit je einem Doppelbett.
Wohnen in einem gemütlichen Landhaus am Rand Münchens, S-Bahn-Anschluss: 35 Minuten bis Marienplatz, im Berufsverkehr sogar 10-Minutentakt Mit uns wohnt der freundliche Großpudel Crusoe.
Gernlinden ist ein kleiner Vorort von München. In drei Gehminuten findet man einen kleinen Supermarkt, einen Bäcker mit Bioladen, eine Metzgerei und eine Apotheke. Wir schätzen die Ruhe und die nette Gemeinschaft mit unseren Nachbarn. Hier findet im Westen von München findet man viele Seen, schöne Flussauen, Wander- und Radwege zur Erholung. Durch die S-Bahn ist man zu jeder Tages- und Nachtzeit sehr schnell in der Innenstadt.
Wow! Das Zimmer ist wirklich gemütlich und die Gegend ruhig. Genau das Richtige zum Entspannen! Auch die Verkehrsanbindung ist wie beschrieben absolute spitze. Sowohl mit der S-Bahn als auch mit dem Auto. Juli und ihre Söhne sind sehr sympathische und herzliche Gastgeber, ich und meine Freundin Daphne haben uns dort sehr wohl und vorallem "zu Haus" gefühlt. Ein wirklicher "Geheimtipp"! :*
Danni
2015-05-17T00:00:00Z
Julika is super friendly and nice to us. She welcome us even though we arrive quite early in the morning. We had a nice chit chat during breakfast and give us information about Munich and the local dish. We love the dog so much.... So cute and adorable :) the room is very comfy and we have a good and quite rest during our stay. Will definitely stay at Julika's again if one day i ever come back to Munich.
Lenny
2015-10-04T00:00:00Z
My boyfriend and i had such an amazing time at Julika's. She made us feel like we were at home. We were only there for 4 days but we loved it so much and had such a hard time leaving. Julika and her family were greats hosts, very welcoming and friendly. I hope one day I can come back to her home and visit. We miss it already!!
Brooke
2016-09-20T00:00:00Z
Julika was certainly an incredible host !!!!!!!! I arrived late at night on a Sunday .. So I did not have time to buy food for my breakfast. The next day,she left me a note with a lovely breakfast ready in the morning. I had some difficult moments when I lived in North of Germany for about 10 months. Staying in the home of Julika helped me to recover .. I am grateful for that. Her house is like the description bellow in the airbnb, everything was truthful ..A fairy tale house !! It was the best choice I made because I recently moved around to work in Munich and I had to stay in a temporary home until I find the right apartement for me. Julika even helped me with tips to look for an apartment in Munich. Juli made me feel like I'm in my own home with my own family .. she introduced me to some cultural experiences in Munich. We even visited a special Christmas market near her house. The room is very comfortable and I had a good and enough rest for the rest of the day after a busy day at work. I will definitely recommend the house of Julia for my friends and family if any of them come to visit Munich and want to stay temporarily with an adorable family!! I would come back again if it is also possible in future as well and visit the family. I consider Juli as a new friend in Munich and I will definitely stay in touch with her and her family .. I want to introduce her my family and invite her to my house to cook for her family some Tunisian dishes as I promised but I had no time to fulfill that when I was in her house :) I would be happy to welcome them in my home !! Now let's not forget the best part of it, her family is amazing !! She has two adorable children !! Smiling all the time and very welcoming, children reflect the image of their mother who is open minded. Their dog is one of the sweetest dogs I have seen !! Crusoe, I will definitely miss you :( My sister is planning to visit me in the up coming months in Germany . I will kindly ask Julika to allow us to meet again Crusoe !! I showed Crusoe to my family in (SENSITIVE CONTENTS HIDDEN) and they liked him so much. Long Description I know, simply because I really love this family and I had a good experience and a lovely stay. If you love nature, comfy places, with lots of space and light .. A lovely family, a home away from city noises and an adorable dog that will welcome you every time when you are home ... Juli's house will be the best place. Lots of love Juli to you ,the kids and Crusoe Mouah ,Ahlem
Ahlem
2015-12-01T00:00:00Z
Hatten 2 Nächte bei Julika gebucht. Sind super herzlich von der ganzen Familie empfangen worden. Es ist alles sehr gepflegt. Man fühlt sich sofort wie zu Hause. Das Bett ist sehr bequem. Morgens hat uns Julika ein Frühstück gemacht das keine Wünsche offen ließ. Die Lage ist optimal. Direkt vor der Haustür hält die S-Bahn mit der man in 30 Minuten mitten in München ist. Parkplätze gibt auch direkt vor der Tür (Parkplatz vom Bahnhof). Obwohl die Bahn direkt vor der Tür fährt, ist es super ruhig. Wir haben uns sehr wohl gefühlt und würden die Unterkunft jederzeit wieder wählen.
Nicole
2015-09-21T00:00:00Z
One of the most pleasant experiences of my life. Julika and her sons are so caring and so friendly. The space was large and private and restful sleep greeted us every night. We found her location perfect because you are only a few minutes out of city center but so quiet and peaceful. We will definitely be back.
Matthew
2016-09-27T00:00:00Z
Julika's home is just awesome!!! 3 minutes on foot from the train station, 5 minutes to the bakery, supermarket, drugstore and bank =D She takes care of it with a lot of love and attention. Her sons Yuri and Noah are very nice and Crusoe (the big poodle) is also very friendly. I can only say that I was very very happy during the 28 days I stayed there and I will miss everything. Thank you so much Julika for EVERYTHING!
MARIA EUGENIA
2016-10-31T00:00:00Z
Ganz zu Anfang wurde ich von der S-Bahn Station abgeholt, die quasi direkt vor der Haustüre ist. Ich wurde sehr freundlich begrüßt und noch vor dem Eintreten spontan der vorbeikommenden Nachbarin vorgestellt. In einer kleinen Begrüßungskaffeerunde habe ich auch gleich die zweite Untermieterin des Hauses kennengelernt. Mir wurde direkt angeboten am Nachmittag auch mit zum See zu kommen. So hab ich mich schon sofort zu Anfang und auch die ganze weitere Zeit über total integriert gefühlt. Mir wurde aber auch immer Freiraum gelassen zu tun, wonach mir lieb war und konnte mich gegebenen Falls zurück ziehen. Am Ende des ersten Tages hatte ich alle Bewohner des Hauses kennen gelernt, fühlte mich sehr wohl in meinem Zimmer und hatte wirklich das Gefühl gut angekommen und aufgehoben zu sein. Das Zimmer entsprach genau der Beschreibung und ich hatte eigentlich nichts daran auszusetzen. Für meinen ganzen Kram waren auch genügend Schubladen, Regale und Schränke parat. Meine ganze Aufenthaltszeit über habe ich mich sehr gut mit der Gastgeberin, ihren Kindern und der zweiten Untermieterin verstanden. Es war ein sehr schönes, entspanntes Beisammenleben - total unkompliziert. Für einen längeren Aufenthalt in der Münchner Umgebung kann ich es nur weiter empfehlen. Und sollte ich selber auch wieder in die Nähe kommen, weiß ich ganz genau, wo ich als erstes nach einer Übernachtungsmöglichkeit suchen werde :)
Nora
2015-08-31T00:00:00Z
Jenis Bilik
Bilik persendirian
---
Jenis Penginapan
Rumah
---
Memuatkan
2
---
Bilik tidur
Maisach OT Gernlinden, Bayern, Jerman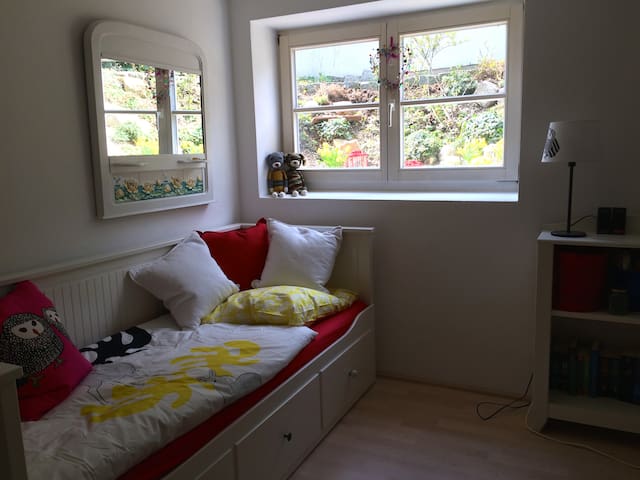 Möbliertes 16m2 großes Zimmer mit 2x1-m Bett und Sofa (=2. Schlafplatz) Ruhig und mit viel Tageslicht. Badmitbenutzung. Frühstücksmöglichkeit. 25 Minuten bis mit S-Bahn zum Hbf München.
hell, ruhig, komfortabel. Parkplätze an der Straße sind ausreichend vorhanden.
Alles Perfekt. Kurzfristige Übernachtung für eine Nacht hat gut geklappt. Gerne wieder!
Udo
2015-01-24T00:00:00Z
Wow! Einfach nur wunderbar kann ich sagen. Jürgen hat uns vom bahnhof abgeholt, weil am Samstag Abend kein Bus mehr fuhr. Wir durften freundlicherweise das WLAN mitnutzen und Sprudel stand auch für uns parat, was an dem heißen Tag auch wirklich super war. Auch wußte er uns mit Tipps zur örtlichen Gastro sehr weiter zu helfen und hat sich alle Mühe gegeben uns alles zu erklären und behilflich zu sein. Das Zimmer war sehr super, ruhig und ebenso gemütlich. Wir konnte n uns sehr gut erholen.
Danni
2015-06-15T00:00:00Z
Top-Unterkunft!!! Die vier Tage die ich hier verbringen durfte, waren einfach toll . Schönes, gemütliches und ruhiges Zimmer und supernette Gastgeber. Jederzeit gerne wieder! :)
Bianca
2013-12-14T00:00:00Z
Jurgen and his wife are very kind and friendly. They house is nice and clean. The room is big enough for two guests. Surrounding area is quiet and Munich is only 10 minutes away.
Laszlo
2016-07-29T00:00:00Z
Alles Tip-Top war meine erste Buchung über Airbnb und ich bin wirklich begeistert. Sauber,ordentlich,freundlich....gibt wirklich nichts zu beanstanden. Würde jeder Zeit wieder kommen....DANKE
Matthias
2013-12-10T00:00:00Z
Hat mir alles gut gefallen! Gerne wieder. Vielen Dank!
Florian
2014-05-11T00:00:00Z
Liebes Ehepaar Schindler, wie meine Eltern berichteten, fanden sie ein sehr nettes Quartier vor mit sehr sympathischen Gastgebern.Das "Katerfrühstück" mit Kater Moritz war für sie ein besonderes Vergnügen.Bei Gelegenheit kommen sie gerne wieder. Liebe Grüße von meinen Eltern Heide und Michael Braun
Christian
2013-11-13T00:00:00Z
Das Zimmer ist schön, ruhig, sauber, alles prima. Herzlichen Dank an Jürgen und seine Frau!
Isabella
2015-04-18T00:00:00Z
Jenis Bilik
Bilik persendirian
---
Jenis Penginapan
Rumah
---
Memuatkan
2
---
Bilik tidur
Olching, Bavaria, Jerman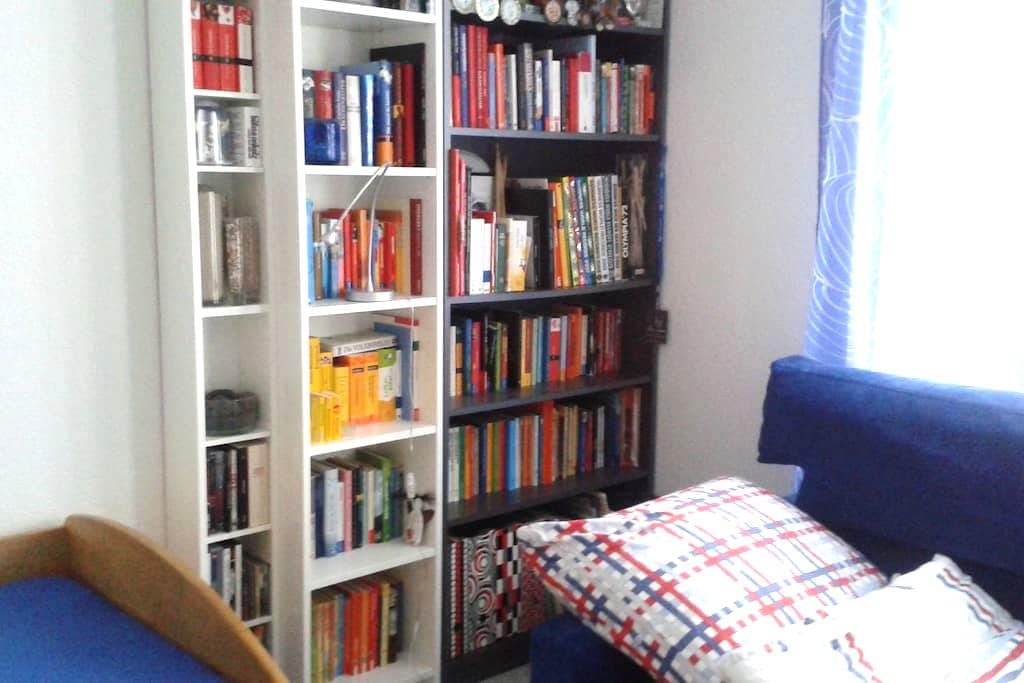 Privates Zimmer im Einfamilienhaus in grüner ländlicher Gegend. Ein Doppelbett (145x200) bietet Platz für 1-2 Personen. Belebter Marktplatz mit Cafés, Restaurants, Bäckereien und einer Eisdiele (von März bis Oktober) in unmittelbarer Nähe.
Einfamilienhaus mit Privatzimmer (ca. 14 qm) im OG, in dem 1-2 Personen Platz finden, Parkplatz direkt am Haus vorhanden, kann kostenlos genutzt werden.
Daniela und Jackob sind super nett und sehr hilfsbereit. Wir wurden sehr herzlich begrüßt. Das Zimmer ist wie beschriebenund meiner Meinung nach sehr gemütlich. Alles ist sauber und ordentlich. Top! Immer wieder gerne :)
May
2016-10-03T00:00:00Z
Daniela y su esposo son muy amables! La casa es impecable, muy limpia, el desayuno es excelente! No es dificil de llegar con (SENSITIVE CONTENTS HIDDEN) maps nos ubicamos bien. Si bien Daniela y su esposo no estaban cuando llegamos, tocamos la puerta de un vecino que resultaron ser sus padres, asique nos hicieron entrar a pedido de Daniela! Y a los 5 minutos llegaron, asique no hubo ningun inconveniente!
Rocío
2016-10-16T00:00:00Z
Jenis Bilik
Bilik persendirian
---
Jenis Penginapan
Rumah
---
Memuatkan
2
---
Bilik tidur
Markt Indersdorf, Bayern, Jerman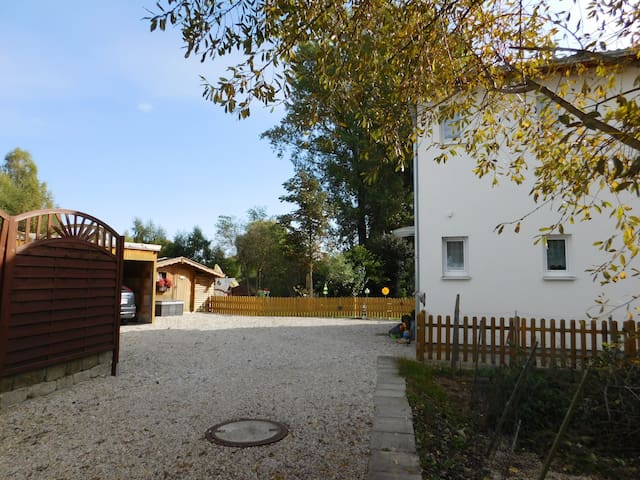 Olching, 25 km west of Munich Good connection to Munich by S-Bahn (20 min.) And the A8 motorway and B471. Our terraced house, built in 2015, has 5 bedroom / children's room with 1 double bed and four 1.40 m beds. Besides the guest bathroom there is 1 bathroom with tub, shower, sink, toilet and 1 top floor bathroom with shower, sink, toilet. Not more than 4-5 people. Pets not allowed. Rental on a weekly basis.
Our house is the middle of a Dreispänners. The other neighbors are affable people with three children aged 5 to 14 years. On the other hand my (Birgit) father, who is also available as a contact resides.
Tom responded within hours of booking and asked about our trip and plans and about our family we corresponded a few times and he made some suggestions when we arrived we were greeted by his father Klaus his family left a note describing where important items were located in the house and instructions for the internet and washing machine also from our conversation he had the train line and stops that we would be using mapped out he even left 2 cold beers for us in the refrigerator the house was beyond our expectations and we had plenty of room and was located close to all amenities as well as a parking space for our rental car the house was in a quiet area and withing walking distance to the grocery store ,train and bus stops it is a warm and well decorated place and you can tell a happy family lives there we felt welcome and safe in the neighborhood our two weeks went by fast but it was nice to have a space to come back to after long days in Munich where we could relax
John
2016-10-04T00:00:00Z
Jenis Bilik
Keseluruhan rumah/apt
---
Jenis Penginapan
Rumah
---
Memuatkan
5
---
Bilik tidur
Olching, Bayern, Jerman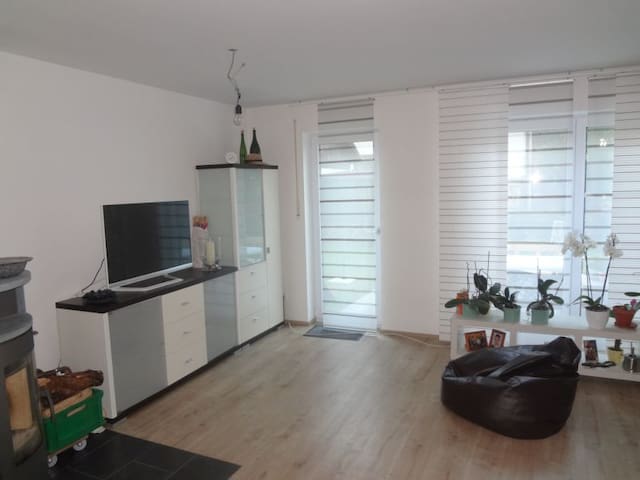 Ein sehr schönes Zimmer. Im Zimmer ist ein 1,40 m Bett. Außerdem ein Schrank und ein Schreibtisch. Die Gäste haben einen guten Anschluss nach München und nach Augsburg mit öffentlichen Verkehrsmitteln. Zum Bahnhof 15 min zu Fuß, 5 min. Mit dem Rad. Ein Fahrrad wird gestellt. Im Haus sind ein Hund und eine Katze. Der Hund bellt nicht. Hund und Katze sind nicht in Küche, Bad und Gästezimmern. Die Räume, wie Küche und Bad werden gemeinsam benutzt.
Es ist eine ländliche Umgebung. Freundliche zurückhaltende Nachbarn. Die Gäste haben einen eigenen Schluessel. Im Erdgeschoss sind ein Hund und eine Katze. Die sind nicht in den Zimmern. Der Hund bellt nicht. Ich wohne selbst im Haus.
Eine ruhige Gegend. Freundliche zurückhaltende Nachbarn.
Jenis Bilik
Bilik persendirian
---
Jenis Penginapan
Rumah
---
Memuatkan
2
---
Bilik tidur
Mering, Bayern, Jerman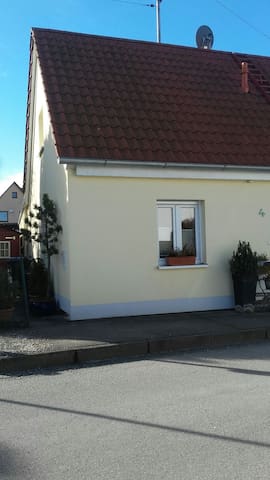 This accommodation in the basement has a separate entrance, two private bedrooms with plenty of storage space, a shower room and a fitted kitchen with seating. The kitchen and bathroom are for the sole use and are opposite in our office.
* This accommodation is very suitable for business * Parking is available in front of the house * Free Wi-Fi
Just outside the city of Munich lies in the west of the city Olching with about 27,000 residents. Olching is a mature, modern community with an excellent infrastructure. All shops, doctors, etc. are on site and are very easy to reach. A variety of restaurants, culture and sports facilities (tennis courts, indoor pool, golf club, etc.) are other pluses. The Amper, the extensive gardens and woodland areas and the Olchinger lake are ideal for walking or cycling.
とても親切に歓迎していただきました。 寝室、台所、洗面、シャワーは完備されとても清潔でした。周囲の住宅環境も最高で、徒歩2分のところにOlching Seeがあることも教えていただきました。 本当にお世話になりました。ありがとうございました。
Komori
2016-06-25T00:00:00Z
Super Unterkunft! Sehr zu empfehlen!
Thomas
2017-01-18T00:00:00Z
Wir waren in einer schwierigen Situation (Renovierung einer Wohnung mit viel viel Arbeit), und das einzige High-Light war die Wohnung bei Gaby und Michael. Sie war nicht nur geschmackvoll eingerichtet und mit allem Notwendigen ausgestattet, auch unsere Gastgeber kümmerten sich rührend um uns und waren jederzeit bereit, uns alle möglichen Hilfen zu geben. Schon bei der Ankunft fanden wir alle Zutaten für Frühstück und mindestens eine Mahlzeit vor. Wir wurden liebevoll empfangen, gut eingewiesen und weiterhin emotional und praktisch unterstützt. Immer, wenn wir nach einem harten Arbeitstag zurückkehrten, freuten wir uns auf unser zweites Zuhause, das Ruhe und Erholung bot. Schade, dass wir nicht mehr Zeit hatten, unsere Gastgeber näher kennen zu lernen. Schade auch, dass wir es nicht schafften, wenigstens einmal um den Olchinger See zu spazieren, an dem wir morgens und abends vorbeifuhren und der ganz in der Nähe liegt. Irgendwann in absehbarer Zeit, wenn wir wieder in München zu tun haben, werden wir versuchen, wieder bei Gaby und Michael unterzukommen und dann auch die Umgebung ein bisschen kennen zu lernen. Wir können diese Unterkunft ohne Einschränkung weiterempfehlen!!! Danke, Gaby, für die Umsicht, mit der du alles gestaltet hast und danke euch beiden für das Vertrauen, das ihr uns entgegengebracht habt
Henriette
2016-10-23T00:00:00Z
Gabriele und ihre Familie waren selbst im Urlaub haben aber alles mögliche getan, um den Aufenthalt für meine Eltern angenehm zu gestalten. Meine Eltern haben sich sehr wohlgefühlt und ihren Aufenthalt rundum genossen. Dank der ruhigen Lage konnten sie sehr gut schlafen. Da die Bushaltestelle direkt vor der Tür ist, braucht man kein Auto für den Aufenthalt. Ganz herzlichen Dank nochmal, sehr gerne werde ich Freunde und Verwandtschaft auch in Zukunft wieder bei Gabi unterbringen.
Ute
2016-08-17T00:00:00Z
Ich war beruflich in München und habe mich aufgrund der Lage für eine Übernachtung in Olching entschieden. Die Gastgeber sind super nett und die Wohnung bietet alles was man benötigt. Absolut zu empfehlen!
Sabine
2017-01-20T00:00:00Z
Wir waren nur eine Nacht und haben uns sofort wie zuhause gefühlt. Warmes Willkommen mit charmanter Einführung in das Appartement und die örtlichen Gegebenheiten. Genügend Zeit auch für einen Plausch. Schöne Räume in einem schönen Haus. Separater Eingang, dadurch kann man ganz für sich bleiben. Absolut ruhig. Alles perfekt perfekt sauber und komplett mit allen Utensilien. Bad und Küche nagelneu, Bett prima komfortabel, wie mit eingebauten Träumen. In der Küche notwendige Gewürze, Tee, Kaffee und Brot. Und für mehr hatten wir keine Zeit. Wir werden sicher wieder dort unterschlupfen beim Bedarf Zielbereich FFB Verbindlichen Dank
Hans-Helge
2016-02-29T00:00:00Z
Unterkunft ist sehr gut, ruhig, sauber, ungestört. Auch die Gastgeber sind sehr nett. Habe mich hier sehr wohl gefühlt.
Monika
2016-04-16T00:00:00Z
Schöne, saubere, moderne Unterkunft in einem ruhigen Wohngebiet unweit vom Olchinger See. Das Zimmer liegt im ausgebauten Keller und ist daher von Charakter praktisch wie eine kleine abgeschlossene Ferienwohnung. Empfehlung – ich würde wieder buchen!
Sven-Malte
2016-07-05T00:00:00Z
Jenis Bilik
Keseluruhan rumah/apt
---
Jenis Penginapan
Rumah
---
Memuatkan
4
---
Bilik tidur
Olching, Bayern, Jerman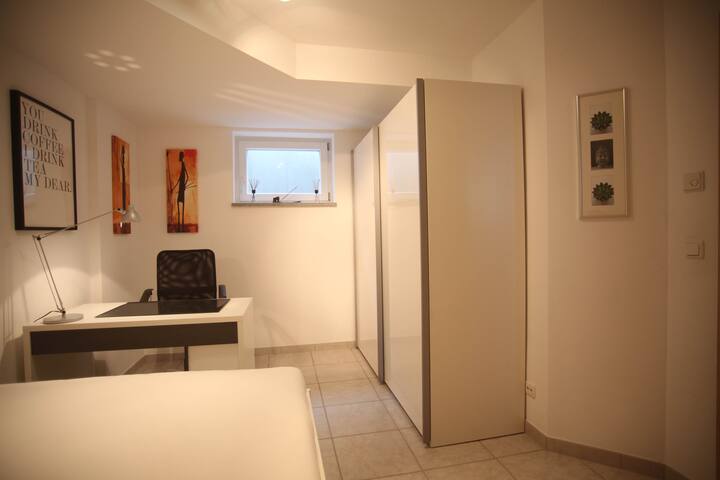 small room in private house in the countryside, near S-Bahn station Furstenfeldbruck, 15 minutes after Munich, close to B2, 15 minutes by car to Munich
Wir hatten eine gute Zeit bei Rudi. Küche, Bad und unser Zimmer waren aufgeräumt und sauber. Unsere An- und Abreise verliefen problemlos. Morgens hat uns Rudi einen Kaffee angeboten, frische Milch vom Bauern, Honig aus eigener Ernte und wir haben seine beiden Söhne kennengelernt. Leider hatten wir gar keine Zeit, die grüne Umgebung zu erkunden.
Martin
2016-04-25T00:00:00Z
Das Zimmer ist wie beschrieben. Rudi ist sehr freundlich und es ergaben sich nette Gespräche.
Christine
2016-04-16T00:00:00Z
A very responsible host who is willing to share his experience. He is a very generous person. The room is clean and beautiful.
Ck
2016-10-01T00:00:00Z
Rundum eine tolle Herberge
Lukas
2016-09-04T00:00:00Z
Neben einer super Unterhaltung gab es Milch vom Bauern zum Kaffee und Abends auch ein leckeres Steak. Was will man mehr!
Markus
2016-10-28T00:00:00Z
Rudi was an excellent host, he made us a delicious dinner one evening and offered up his homemade elderflower lemonade. The room was great, everything was clean, it was almost like being back home. It was also very close to the train station, so we could get back and forth between the city centre. The only suggestion I would make is to close the bedroom window at night because mosquitoes can come in and bite while you're sleeping.
Laura
2016-09-20T00:00:00Z
Super, daß wir so kurzfristig noch unterkommen konnten und das Haus ganz für uns hatten. Damit mußten wir natürlich auf niemanden Rücksicht nehmen mit den Kindern. Da wir auch noch Glück mit dem Wetter hatten konnten wir auch die schöne Umgebung geniessen. Und die Pferde direkt vor der Haustür waren echt toll. Gerne mal wieder.
Stephanie
2015-11-08T00:00:00Z
A friend of mine and I were by Rudy. He is a really nice person, helpful and communicative. He offered us coffee with real milk from farms, delicious. We stayed two days and everything was the way it should be.
Federico
2016-09-30T00:00:00Z
Jenis Bilik
Bilik persendirian
---
Jenis Penginapan
Rumah
---
Memuatkan
2
---
Bilik tidur
Fürstenfeldbruck, Bayern, Jerman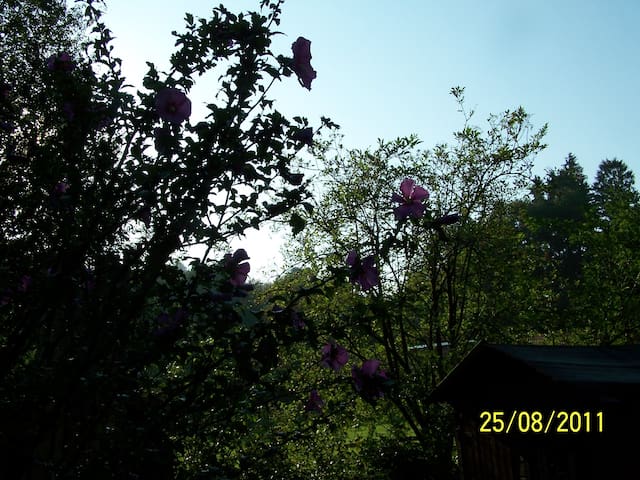 Enjoy our loveley home in Olching near Munich. 18 minutes by train (tube) to the Oktoberfest. 22 minutes downtown, Marienplatz. We rent out 1 bedroom (queen size bed) with separate bathroom use of library Wlan TV/DVD full English or Continental breakfast
Unbedingt empfehlenswert! Manuela und ihr Mann sind tolle Gastgeber. Das Haus ist großzügig, sehr modern und absolut sauber. Das Frühstück ließ keine Wünsche offen. Die Lage ist perfekt - mit der S-Bahn ist man in 30 min. in der Innenstadt von München. Danke für den sehr angenehmen Aufenthalt!
Harald
2015-10-27T00:00:00Z
We had an absolutely wonderful stay at Manuela's B&B. The house is beautifully decorated, modern, clean, and situated in a small and quiet town. On our arrival and departure, Manuela picked us up and drove us to the train station, which is a short walking distance away from their location. It was very simple to get into Munich from their location as well. Manuela is an exceptional host, and provided a delicious and elegant breakfast each day we were there. I would highly recommend this B&B for a most pleasant stay in Germany!
Kelly
2011-09-26T00:00:00Z
Exceptional host! Manuela was extremely welcoming and accommodating during our visit. The house is very clean and comfortable -- about a 15 minute Sbahn ride to downtown Munich. You can take a cab to the house from there or walk. Breakfast was absolutely delicious! Highly recommended!
Marika
2014-09-29T00:00:00Z
Incredible hosts. We need more stars to qualify Manuela and Leonar. very kind people that made our stay in their place so wonderfold. The place is excelent so modern . I recomend 1000%.
David Eugenio
2015-09-27T00:00:00Z
We originally had an arrangement to meet Manuela at the Olching train station at 9pm. However, our flight was delayed and we only arrived in Olching at 12am. Unfortunately, we could not get into contact with Manuela to inform her about the delay, and were locked out of the house on the first night. We had to look for alternative accommodations. That said, we cleared things up the next day, and Manuela turned out to be an excellent host. The house is really nice and modern. Very comfortable. It is an approximately 10 minutes walk from Olching station. There was a delightful breakfast each morning, and Manuela was really nice and friendly. It is a really nice place to stay in, but it would be prudent to keep Manuela informed of any delays in travel, especially if it is late at night.
Thiam Kee
2011-10-02T00:00:00Z
Hands down, our favorite stay, throughout our globe trotting experience! Manuela and her husband were phenominal. The hospitality was beyond our expectations and their home is beautiful. As soon as Marco and I arrived, we were offered cappucino. They were kind enough to take us in alot earlier then we had too, due to technical difficulties (trains). Every morning Manuela fixed us up a buffet of goodies, which I must say, the presentation is beyond words. I would highly recommend them and would most definitely stay again.
Jessica & Marco
2011-09-20T00:00:00Z
WOW ! What fantastic hosts Manuela and her husband were. Stayed there over the weekend of the Champions League Final and my girlfriend or myself could not have felt more welcome from some true Bavarian hospitality . The house is lovely and absolutely spotless and Manuela dishes up a lovely breakfast. The S Bahn train is just a minute or so in a car or an easy 15 minute walk which then takes you into the centre of Munich in about 20 minutes. Manuela certainly has an eye for detail and its like walking into a home from a design magazine. I will certainly be heading back there , hopefully for longer than a week next time. Sorry about the result though Manuela. best team won !
PAUL
2012-05-21T00:00:00Z
The host canceled my reservation the day before arrival.
Tony
2011-10-04T00:00:00Z
Jenis Bilik
Bilik persendirian
---
Jenis Penginapan
Rumah
---
Memuatkan
2
---
Bilik tidur
Olching, Bavaria, Jerman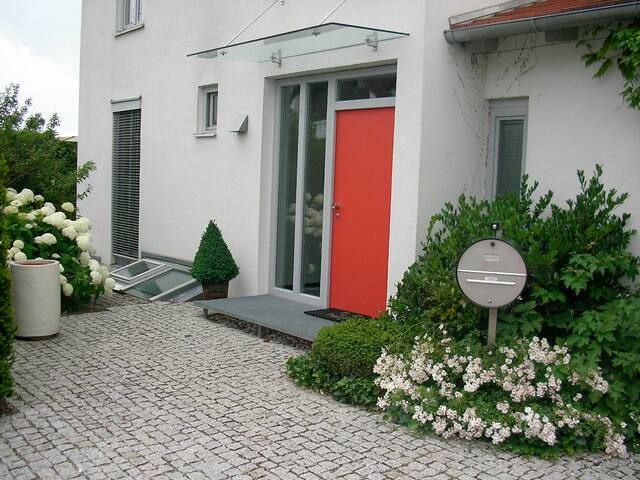 Wunderschönes großes Zimmer in einem Einfamilienhaus in Olching in Bayern. Olching liegt nordöstlich von München und ist ca. 30 Minuten von der Landeshauptstadt entfernt.Das Zimmer ist mit einem Doppelbett, Regalen, einem Kleiderschrank, einem Stuhl und einem Schreibtisch mit Drehstuhl ausgestattet. Das helle, geräumige und geflieste Badezimmer wird je nach Belegung gemeinschaftlich benützt. Dieses ist mit 2 Waschbecken, einer Badewanne und einer Dusche ausgestattet. Handtücher und Bettwäsche werden zur Verfügung gestellt. Jeder Gast hat ein eigenes Fach. Frühstück ist nach Absprache möglich. Anschlüsse den an öffentlichen Nahverkehr: Der Bus 834 (Station Max-Reger-Straße) fährt 100m vor der Haustür ab. Sie S-Bahn Station Olching ist zu Fuß in nur ca. 12 Minuten erreichbar. Mit der S-Bahn S3 fährt man nur 24 Minuten bis in das Münchener Zentrum (Marienplatz). Zum Hauptbahnhof dauert es nur knapp über 20 Minuten (jeweils ohne Umsteigen). Das Oktoberfest kann je nach Verbindung in ca. 30 Minuten erreicht werden. Zum Flughafen benötigt man etwa 1 Stunde. Olching verfügt also trotz seiner ruhigen und schönen Lage über eine sehr gute Anbindung an München.
Das Zimmer war sehr schön und gemütlich. Die ganze Familie Schrauth war sehr freundlich und hilfsbereit. Ich würde jederzeit wieder dort übernachten und kann diese Unterkunft nur weiterempfehlen.
Nikolaos
2012-12-11T00:00:00Z
I was staying in room "Rebeca" in the house of Dorothea Schrauth and her lovely famely. the roomwas very comfertable and very clean, the bathroom altho shared are also very clean. the famely was ver nice respect my privacy, very quiet nice place. highly recomanded.
shira
2013-03-02T00:00:00Z
Dorothea and her family are really friendly and helpful, great hospitality! She made great recommendations for sightseeing tips and I enjoy my stay with her very much. Nice and quiet neighbourhood. Highly recommend if you want to experience Munich suburb life yet easy to get around!
Ivy
2015-10-01T00:00:00Z
Dorothea is very helpful and makes you feel at home. Facilities are comfortable. Also, Olching has a very good connection to Munich with S-Bahn (line S3).
Paweł
2016-04-01T00:00:00Z
Toller Host, sehr freundlich. Räumlichkeiten immer sauber sowie gute Lage und Erreichbarkeit. Gerne wieder.
Philipp
2014-09-30T00:00:00Z
Ich hatte 2 Einzelzimmer gebucht. Beide Zimmer waren gemütlich, freundlich und hell. Eines hatte sogar Zugang zur Terrasse. Die Betten waren sehr bequem und generell war es sehr ruhig. Sowohl beim Ein- als auch beim Auschecken wurde auf unsere Bahnan- und abreisezeiten Rücksicht genommen. Zu Beginn gab es eine kleine Führung und Einweisung , so dass man sich schnell zurechtfindet. Man fühlt sich überhaupt sehr freundlich empfangen. Die ganze Pension macht einen gastfreundlichen, netten, sehr hellen und sehr sauberen Eindruck! Wir kommen gerne wieder und können Dorothea´s Privatpension bestens weiterempfehlen!
Silvia
2015-09-09T00:00:00Z
Dorothea was a great host, the house is near the "banhof" Olching (10 min walking/2 min bus) and has a clean and big bathroom. Definitely was a good decision stay there.
Victor
2015-10-05T00:00:00Z
Dorothea place is very cosy. She makes me feel like at home, even though my stay was only for 2 nights. Olching can be accessed with S3 from Hauptbahnof, which is rather convenient. The room is extremely clean, and they even have floor heating! Thank you Dorothea :-)
Edward
2014-05-05T00:00:00Z
Jenis Bilik
Bilik persendirian
---
Jenis Penginapan
Rumah
---
Memuatkan
3
---
Bilik tidur
Olching, Bavaria, Jerman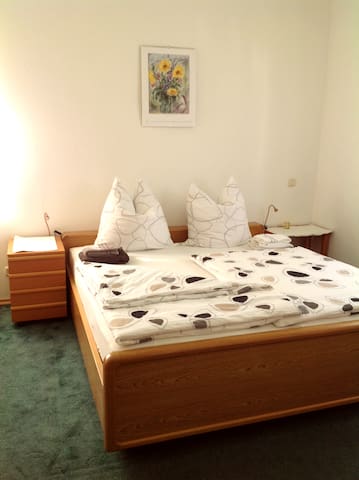 Ein Zimmer in unserem Haus mitten im Zentrum von Olching. Wir bewohnen den Rest des Hauses. Die gut ausgestattete Küche kann mit benutzt werden. Ein großer gemütliche Garten ist auch dabei. Zur s bahn nach München sind es 10 Gehminuten.
Tanta was super nice and very understanding when I had to change my check in time. The room was nice and the wifi was good.
Sarah
2016-10-02T00:00:00Z
Jenis Bilik
Bilik persendirian
---
Jenis Penginapan
Rumah
---
Memuatkan
1
---
Bilik tidur
Olching, Bayern, DE, Bayern, Jerman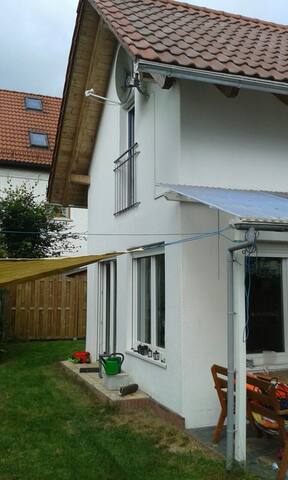 Ich vermiete mein wunderschönes, sonniges Zimmer mit Blick in Garten. Das Zimmer befindet sich in einem Privathaus und ist ruhig gelegen. Vermietung nur an Frauen. Du wohnst zusammen mit einer netten Familie und 2 verschmusten Hundedamen. Des Weiteren hast du Zugang zum geteilten Badezimmer.
Das Zimmer ist schön und hell mit Blick ins Grüne. Das Haus liegt in einer ruhigen Gegend mit guter Verkehrsanbindung. Wenn ihr ein Auto habt könnt ihr dieses problemlos auf der Straße parken. Mit dem Bus oder mit dem Fahrrad (das du gegen eine kleine Gebühr leihen kannst) bist du innerhalb weniger Minuten am Bahnhof. Du brauchst ca. 20min mit der S-Bahn in die Innenstadt/Wiesn. Alle nötigen Läden und Supermärkte gibt es in der Umgebung.
Jenis Bilik
Bilik persendirian
---
Jenis Penginapan
Rumah
---
Memuatkan
2
---
Bilik tidur
Olching, BY, Jerman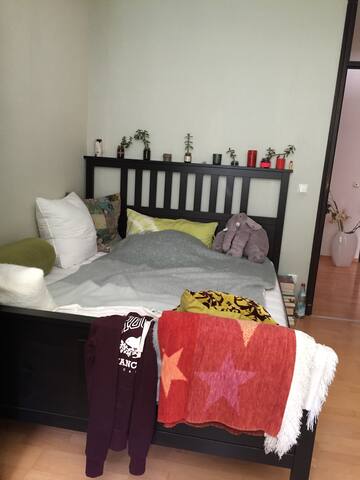 1

–

18

daripada

33 Rumah Sewa
Masukkan tarikh untuk melihat harga penuh. Yuran tambahan dikenakan. Cukai mungkin akan ditambah.