We're on the outskirts of the hillside village of Pellezzano , near the city of Salerno, the Amalfi coast, Pompei, Sorrento, Paestum & Napoli to name a few nearby destinations!!
Your newly renovated holiday home "A casa di Agata" is located on the ground floor of an 18th villa with a wonderful view from your private entry terrace. You will find all the comforts of home in your 50m2 apartment including air-conditioning/heating, TV, free WIFI, washing machine, a fully equipped kitchen and a stunning bathroom.
sulla collina fresca 5km da Salerno
Jenis Bilik
Keseluruhan rumah/apt
---
Jenis Penginapan
Rumah
---
Memuatkan
4
---
Bilik tidur
Pellezzano, Campania, Itali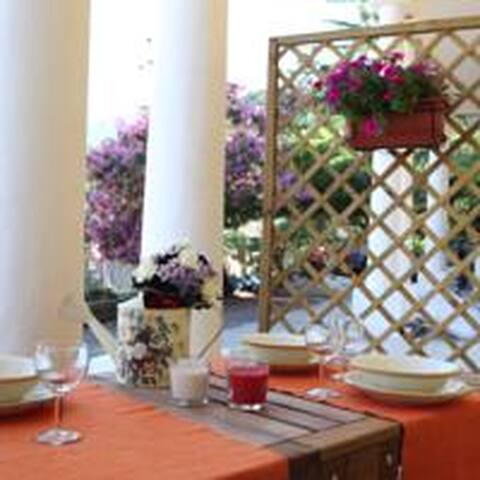 The suitable placement allows you to visit all the wonders of Amalfi Coast,on a hand,to reach transport service and,on the other,to stroll about the interesting downtown by foot. If you have a car, there's free street parking in the neighbourhood.
You are welcomed in comfortable and carefully furnished. The spaces are set on two levels: On the first level: the bathroom , the living area with a fully equiped kitchen and a nice balcony leaning at the main street; On the second level: the romantic bedroom with sloping ceilings with a double and a single bed.
The "Carmine" neighborhood is one of the most popular. Despite is in the center, it offers the possibility of free parking and cheap and chic shopping and many supermarkets nearby.
Buona posizione a pochi min a piedi dal centro e dal lungomare. La casa è accogliente ,pulita ,ben tenuta ,con tutto quello di cui ho avuto bisogno durante il mio soggiorno . Nicola è simpatico e disponibile . La consiglio . Io sicuramente ritornerò .
Alessio
2015-02-05T00:00:00Z
Wir haben zwei Wochen in Nicola`s Flat gewohnt. Die Wohnung ist sehr gemütlich und hat alles was man braucht. Die Fotos sind sehr real. In der Nähe gibt es viele Geschäfte und Restaurants. Am Tag kann es manchmal etwas laut sein, aber am Abend und in der Nacht ist es ruhig, dafür ist man aber auch recht zentral und mitten im Leben. Die Altstadt und das Meer erreicht man in ca. 15 Min auch zum Bahnhof braucht man etwa so lange. Nicola ist ein wirklicher toller Gastgeber. Er hat uns mit vielen Informationen versorgt und ist immer erreichbar, wenn etwas ist. Wir können diese Wohnung und Nicola als Gastgeber sehr empfehlen. Gracie Nicola e Giovanna!
Ruth
2015-05-24T00:00:00Z
Lovely apartment, very good location in central Salerno, a short walk from the old town, boats to the Amalfi Coast, bus stops and the train station. Nicola and Giovanna were so helpful. He was very easy to contact by text message and phone. In advance he emailed us train and boat timetables, while we were there offering to wash clothes and giving us restaurant and bar recommendations. As we were cycling for our second week he also agreed to look after our bike bags, and delivered them back to us a week later at Salerno station! The apartment itself had everything we needed, and was more spacious than it looked on the photos! We had a lovely time, I would definitely recommend this apartment.
Jenny
2015-05-10T00:00:00Z
This apartment is a nice stay in Salerno, but it is Nicola that makes the listing shine. My wife and I stayed in this apartment for four nights in October 2016, using Salerno as a base to travel to see Pompeii, Herculaneum, and Amalfi. Our trip included stops in Catania and Sorrento; with those cities in mind we found Salerno to be an excellent place to stay as a base for travelers looking for a slower paced, affordable, non-touristy environment. Eating out is extremely affordable, and Nicola's apartment is within a block of the grocery store which we frequented daily. Important note - the apartment does have staples in the cupboards, super handy to have if you plan to do a fair amount of cooking. Returning to Nicola - it really is Nicola's thoughtfulness that enriches your stay in Salerno. Nicola has a folder of information about the city that included laminated maps of important places to sample local cuisine, monthly flyers for local events, and flyers for all of the local travel options including train schedule (Trenitalia), Buses (SITABus) and Boats for travel to the Amalfi Coast. For us, we found that planning logistics was time consuming and at times confusing. Nicola gathers all of the current information in this perfect vacationer's travel kit that can save you a ton of time and allow you to focus on what is important - relaxing. Nicola was in constant contact with us throughout our trip to answer questions, even late night responses. A big thank you to his wife for being so understanding, and thank you for the wonderful cake she baked for us waiting for us on our arrival. Nicola offers the option to be picked up at the Naples airport for a fee, which is convenient if you don't want to try to figure out the train lines after a long day. At the end of our trip, Nicola was nice enough to take us down to the train station. Nicola really wants you to absorb the full experience of Salerno. A couple items of note for travelers, that should not be seen as negatives - I am 6' 1" and had to bend over considerably when upstairs. I could only stand upright at the peak. This isn't a negative, but for anyone over 5' 7" you will walk around hunched over if you spend time upstairs. The location of the apartment is within a reasonable walking distance to most items, but it is a 15-20 min. walk to the train / bus station (downhill). While reasonable, this walk will add travel time when taking excursions to other places and needs to be accounted for when needing to make specific times for those transportation options. A huge thank you for Nicola for making our stay perfect!
Jeff and Sarah
2016-10-15T00:00:00Z
L'appartement de Nicola est très accueillant, propre, design et confortable. On s'y sent chez soi tout de suite et l'accueil de Nicola est très chaleureux. Il fait tout pour nous mettre à l'aise et nous fourni toute l'aide nécessaire avec fascicule et carte de la ville à l'appui. L'appartement est bien situé et climatisé. Un accueil irréprochable et familier, nous reviendrons! Merci Nicola!
Aurore
2015-07-17T00:00:00Z
Wow! This was our best stay in Italy so far. Our host Nicola was a wonderful communicator, prompt, friendly, and professional. His niece Martina and her kind friend Chiara picked us up at the station and gave us a thourough tour of the apartment. They took a lot of time and gave us tips about the beautiful city of Salerno. The apartment is beautiful, comfortable, and well equipped. We like to cook and found everything we needed at our disposal. My daughter and I really enjoyed the attention to detail and the welcoming atmosphere of the apartment. The artwork, kitchen colors, and floors were welcoming and comforting. Wonderful shower, hot water and air conditioning were a big plus. The location is perfect. A ten minute walk to the centro storico and a 20 min walk to the station. It is two blocks to the grocery store, across the street from the bus stop and near cafes and pizzerias. The day of our departure it was raining and Nicola drove us to the station. We had time for coffee at the station and enjoyed a lively exchange in Italian, English and Spanish with Nicola. I would recommend this place to any and everyone. Salerno is an incredible city with the nicest people we have yet to encounter. The ocean, the mountains and the accessible ferry system make for a truly awesome experience. Highly recommend this on a 5 star level!!! We would love to return one day.
Grace
2015-09-06T00:00:00Z
From the very first communication, I knew that Nicola was indeed a Superhost! My husband and I stayed for 9 nine days in Nicola and Giovanna's immaculately clean, beautiful and efficient space. Nicola was kind enough to pick me up at the train station when I arrived and spend time introducing me to the apartment. He was always available if I had questions. The Cozy Pad is in a safe and lively neighborhood that is within walking distance to the main shopping area and the historic Old Town. We were able to easily walk to the train and bus station when we were ready to explore beyond Salerno. We loved every minute of our stay in Salerno and are especially grateful for the opportunity to have dinner with Nicola and Giovanna before we left. Experiences like this are the reason we love Airbnb! We explored a beautiful region in Italy and meet two people that we hope to remain friends with through the years. Speriamo di rivedervi presto!
Nancy
2015-11-25T00:00:00Z
Nicola was a great host! He picked us up from the station, gave us a quick tour of the town, and took us to the apartment. It was easy to walk to places in town and was quiet enough at night. He asked ahead of time what we were hoping to do and he got resources for us before we arrived. It was definitely a cozy pad and I'd definitely recommend it!
Tony
2016-10-31T00:00:00Z
Jenis Bilik
Keseluruhan rumah/apt
---
Jenis Penginapan
Rumah
---
Memuatkan
4
---
Bilik tidur
Salerno, Campania, Itali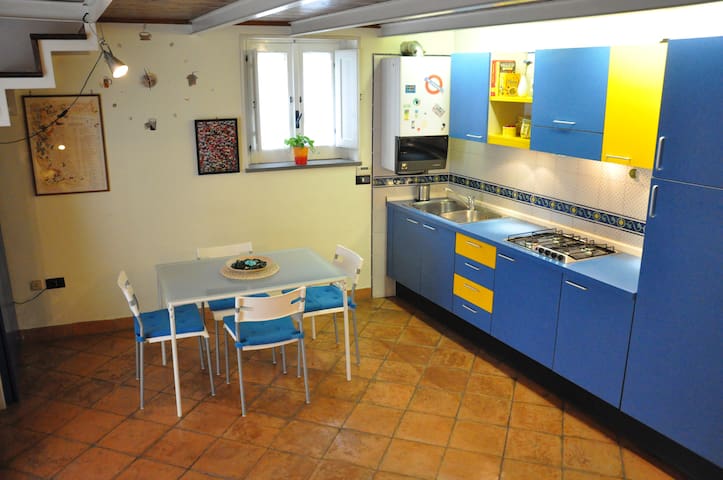 Suite romantica in palazzo storico. Dotata di un letto king size 2mt per 2mt e di un matrimoniale standard, ideale cone family room o 2 coppie . I letti Simmons garantiscono il miglior riposo che possiate aspettarvi in un ambiente romantico e seducente. Gli affreschi, originali, vi ammalieranno al vostro risveglio.
L ampiezza dei locali, gli affreschi e gli arredi originali, con il confort di letti nuovi e materassi e guanciali simmons, renderanno unico il vostro soggiorno.
Quartiere antico, con pub, bar, ristoranti, a pochi minuti dal porto e dai bus urbani e regionali.
Ambiente elegante e pulito. Stanza arredata con gusto. Abbiamo soggiornato per due giorni con assoluta soddisfazione.
Christopher
2016-08-27T00:00:00Z
This place was very grand, almost palatial! Very bright with a high ceiling and beautifully decorated walls. The bed was massive! The whole place was clean and you felt like you should have been on a movie set. We arrived and were met quickly by Mimma who showed us where everything was. The only downside ( but not for us) could be its location and noise at night. A bustly local street with lots going on at all hours. We had all the windows open and loved to hear the locals but it may keep some awake. We would definitely stay again if we return to Salerno.
Laura
2016-09-15T00:00:00Z
Nous avons été très bien accueillis par Mimma. La suite était spacieuse et la literie de qualité. L'emplacement est idéal pour profiter des pubs, restaurants, de la plage et pour prendre le bus pour se rendre sur la côte Amalfitaine. Nous avons une seule déception, le petit-déjeuner, que nous n'avons pas trouvé très varié.
Laurent
2016-08-18T00:00:00Z
Mimma's place is the best we had during our trip in southern Italy. The location was perfect, in the middle of the old town, the beds were amazing, AC worked perfect and a breakfast was waiting for us every day. We would definitely recommend the suite!
Agur
2016-08-06T00:00:00Z
The apartment is superb, the location is amazing and the host very kind. Only one thing to mention, if you go there on a weekend do take ear plugs with you as the area is very crowded and loud on a Saturday night!
Marius
2016-09-05T00:00:00Z
La ubicación de Mimma suites es perfecta, las camas y almohadas son super cómodas. Todo muy bien.
Marisa
2016-08-12T00:00:00Z
Mimma was very friendly and welcoming. We had a brilliant time, the suite was amazing. Great location, close to all amenities. Would love to return, highly recommend!
Sarah
2016-07-14T00:00:00Z
Huge suite and great location. Great communication with host. Kitchen is outside suite and shared with others.
Kat
2016-10-18T00:00:00Z
Jenis Bilik
Keseluruhan rumah/apt
---
Jenis Penginapan
Rumah
---
Memuatkan
4
---
Bilik tidur
Salerno, Campania, Itali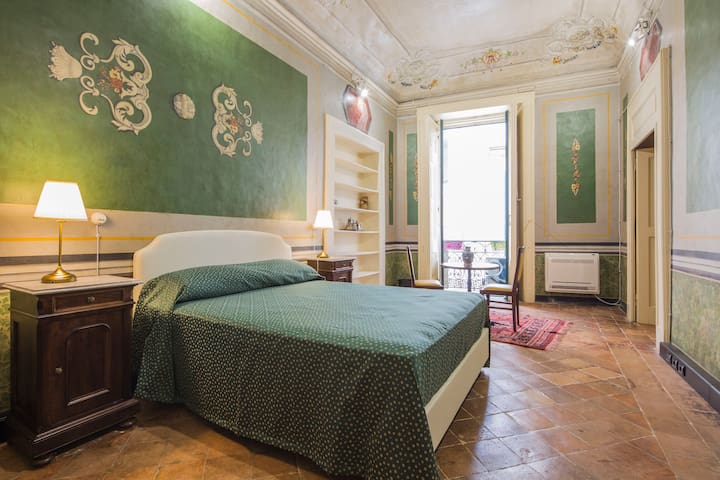 Alma House:the starting point to discover Salerno and all places around. A semi-detached nice apartment in the historic center, in front of Duomo. Just 50 meters from the main shopping streets and the beach. That allows you to enjoy your staying in Salerno no car needed
No car needed. You can visit everything just walking
No car needed. That allows me to walk
Jenis Bilik
Keseluruhan rumah/apt
---
Jenis Penginapan
Rumah
---
Memuatkan
2
---
Bilik tidur
Salerno, Campania, Itali
Lovely apartament located in the Historical Center of Salerno - Amalfi Coast, 250 meters from Lungo Mare, and direct access to Santa Teresa Piazza. We are close to Il Duomo and various Cafes, and the best restaurants of Mediterranean Cuisine.
A double room with a double bed and a private bathroom. The room has a small balcony with a view to the sea and also direct access to the terrace where breakfast is served and which also has a beautiful view to the sea.
This is considered the most traditional and cultural neighborhood of Salerno, filled with history and ancient sightseeings.
Patricia was incredibly welcoming and informative of the area and places we could visit. The apartment is very spacious and clean, though it is a bit of a walk up. The Wifi is best accessed from the main dining area, but this has a fantastic view so we did not mind. We would definitely recommend this apartment.
Emily
2016-07-23T00:00:00Z
L'accoglienza è stata normale. Lei carina, educata, mi ha dato il benvenuto. Il panorama dalla casa (tale e quale come in foto) è stato l'unico dettaglio della descrizione ad essere reale. La casa si trovava al 4' piano senza ascensore (non specificato nell'annuncio). In 3 giorni non ho mai visto la colazione come da annuncio. D'altronde non c'era neanche dell'acqua in casa.. che penso sia il minino, quantomeno da far trovare agli ospiti al proprio arrivo. Purtroppo la camera non era private 100% in quanto le tende troppo trasparenti permettevano una visuale completa, dalla sala, e troppo nitida all'interno della camera (una sera mi sono dovuto vestire al buio perché c'era un ragazzo in casa) . La cosa che mi ha lasciato più perplesso è stato rimanere chiuso fuori casa perché la ragazza era in effusioni amorose sul divano davanti l'ingresso con un ragazzo (se sai di avere ospiti a casa...ti consiglio di fare l'amore in camera tua,non che lasci me, ospite, chiuso fuori) ma poi il tutto si è risolto in pochi minuti fortunatamente. In camera ho trovato i bordi del letto sporchi, pieni di polvere e capelli. Non ho trovato questa premura nel pulire la stanza prima del mio arrivo, e sicuramente non ci sarà stata neanche dopo. Mi spiace perché Patricia è una ragazza molto carina, ma non ha avuta molta attenzione sul resto. Tutte le recensioni (probabilmente molti hanno alloggiato nell'appartamento di fianco e non in stanza del suo appartamento) avevano attirato la mia attenzione. Ma ho dovuto ricredermi su tutto. Peccato, la casa è molto carina e in posizione centrale. Patricia durante il soggiorno l'ho vista si e no 3 volte, alla fine ho usato la camera giusto per tenerci i bagagli e dormire 4/5 ore a notte prima di svegliarmi e godermi le spiagge e il cibo di Salerno grazie ad un caro amico del posto. Premetto che ho apprezzato il piccolo sconto che le ho chiesto sul soggiorno in quanto ho davvero sfruttato la casa pochissimo, se non per una doccia e qualche ora di sonno appunto. Ma non è stato abbastanza questa cortesia a farmi tralasciare tanti dettagli negativi (per me fondamentali) che mi hanno portato a non dare una valutazione positiva sul mio soggiorno. Spero che questa mia valutazione sia costruttiva per lei e che i suoi prossimi ospiti abbiano un occhio in più di riguardo.
Seyed
2016-09-05T00:00:00Z
Patricia was a really nice host, we had a really good time with her, wishing that we could have stay more that one night. She's very helpful and friendly. I definitely recommend you that air bnb guys, the flat is so beautiful, has a good location in the old town and certainly one of the best view. We had everything that we needed to. Thanks Patricia, and as we said here in bocca al lupo! :)
Ornella
2016-10-29T00:00:00Z
Not bad
Jiyoung
2016-06-21T00:00:00Z
This was a wonderful stay. Patricia was very welcoming and made sure breakfast was available each day. We had great talks. The view is beautiful. She helped me so much with great suggestions on places to go. I would highly recommend staying with her.
Pamela
2016-08-23T00:00:00Z
We loved staying with Patricia. She was so friendly & inviting, it was like staying with a friend. The location was lovely and the information she was able to give about the area was great.
prue
2016-09-29T00:00:00Z
We did not end up staying at Patricia's place, but she was very helpful in finding another place in the same street for us to stay, with a very short notice.
Pietro
2016-10-20T00:00:00Z
Patricia was very kind and helpful with us! She was sooo nice! We cooked there and the room was very nice and tidy with a private bathroom. It also has an amazing view and is located in the center of the city!
Mechi
2016-11-11T00:00:00Z
Jenis Bilik
Bilik persendirian
---
Jenis Penginapan
Rumah
---
Memuatkan
2
---
Bilik tidur
Salerno, Campania, Itali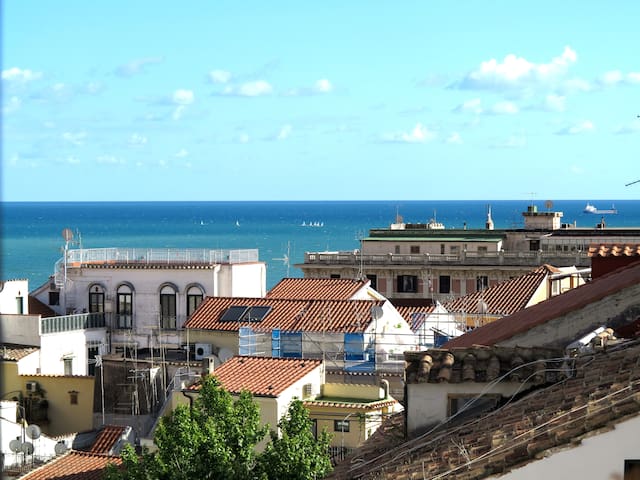 Grazioso monolocale situato nel cuore del centro storico di Salerno in palazzo signorile del Seicento, alle spalle del Duomo, luminoso e adatto a famiglie.
Todo muy bien en el lugar y de acuerdo a la descripción y fotos. La ubicación perfecta muy centrica y cercana a todo. Perfecto todo
Montse
2016-08-28T00:00:00Z
The house is centrally located and in a safe area. I experienced issues with the wifi, as I was here to study this was difficult. The apartment is very hot, however after a fan was provided this was much better.
Jennie
2015-10-01T00:00:00Z
Lei come sempre molto (URL HIDDEN) suo appartamento sempre super accogliente
marianna
2015-10-11T00:00:00Z
Il punto di forza di questo di monocale e' sicuramente l'ottima posizione centrale e il palazzo antico che lo ospita. Dentro però la pulizia e' un po' superficiale e risulta un po' provato dal suo probabile utilizzo frequente. Necessiterebbe di una bella rinfrescata e qualche accorgimento in più per renderlo più confortevole. Si raggiunge attraverso una irta scalinata per cui non è accessibile a chi ha problemi di deambulazione. La colazione non è compresa nonostante molti B&B della zona offrano convenzioni con i bar vicino, non c'è televisione e il servizio Wi-Fi e' utilizzabile attivando il piccolo modem portatile che troverete in una scatolina. Essendoci nell'androne e nella scalinata molti altri appartamenti, si sentono distintamente le voci che hanno disturbato il nostro sonno.
Angela
2016-12-10T00:00:00Z
Monolocale luminoso, pulito e piacevole. Sito in zona abbastanza centrale. Host disponibile e gentile.
Valerio
2016-01-03T00:00:00Z
Logement très bien situé dans le quartier historique de Salernes et à proximité des nombreux points d'intérêt. Nous avons eu quelques difficultés à communiquer puisque nous ne parlions pas italien et que nos hôtes ne parlaient pas anglais. Mais nous avons réussi à nous faire comprendre. Nos échanges étaient assez courts. Concernant l'appartement, le seul hic est le manque d'un ventilo et la douche (qui est assez petite). Nous avons eu aussi des problèmes avec le wifi qui n'a fonctionné que le 1er jour. A conseiller pour un voyage entre amis (max 3) ou en couple. Mais trop petit pour une famille.
Justine
2015-08-19T00:00:00Z
Antonella was usually quick to respond (speaking Italian only - though this is clear from the listing in Italian). Our introduction to the place was a bit rushed as Antonella had to run off somewhere quickly for whatever reason. The place itself is very clean, with nice bedding and plenty of towels provided. The kitchen is big and has everything you need to cook. The bed is comfortable and there is another futon for extra space. There is no A/C, but there is a fan provided which was decent on hot nights. The bathroom had a hairdryer, soap, and shampoo, but needs repair -- the shower head is missing a hands-free holder, and the shower doors were falling apart. The Wifi also was not working despite being listed. All in all, the place was usable but could be improved. The apartment is perfectly located in the heart of Salerno, right next to the Duomo. There are a dozens of amazing restaurants, bars, and bakeries, and a fruit/veg market close by within walking distance. The port and train station are both within 20 min walking distance. The neighbourhood is safe and pleasant to walk around in, but can be a bit noisy early in the morning (not uncommon though). All in all, the apartment has things that can be improved but can be worth it due to its privacy, cleanliness, and location.
Lev
2016-07-17T00:00:00Z
L'appartamento si trova nel cuore del centro storico. E' molto carino, pulito e curato nei dettagli. Antonella è davvero una persona gentile e disponibile.
giulia
2015-08-31T00:00:00Z
Jenis Bilik
Keseluruhan rumah/apt
---
Jenis Penginapan
Rumah
---
Memuatkan
4
---
Bilik tidur
Salerno, Campania, Itali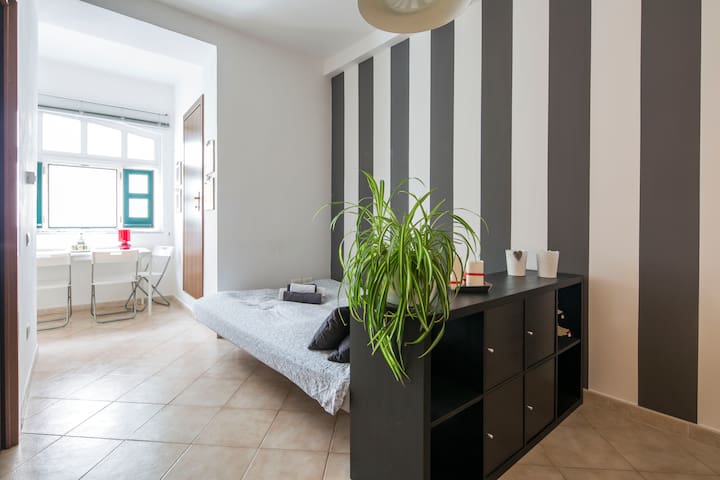 La casa è divisa in due piani. Al primo piano c'è la stanza, molto grande e con un ampio balcone. Al primo piano ci sono le camere della mia famiglia, i due bagni e la cucina.
Very comfortable and private place on the hill just outside the city center of Salerno (20-25 minutes by foot). The room is spacious and bright. The hosts were very kind and peaceful and made me feel at home. The Amalfi coast and beautiful villages as Positano and Ravello can be perfectly visited from here, especially if you like a stunning bus ride along the coast line.
Daan
2016-11-07T00:00:00Z
Pamelas parents were great people and hosts. Also thank you for the pasta meal on my first night & the morning cafe! The accommodation is very clean as described - 20 minutes walk to the sea front and shopping areas. If you are driving its also a good entry point to the Amalfi coast.
Patrick
2016-10-12T00:00:00Z
Spacious, comfortable and spotlessly clean room. Pamela's parents were so warm and welcoming. We really enjoyed spending time with them and getting tips on Italian food! Secure parking was a bonus for us. Great base for exploring the Amalfi Coast. We wouldn't hesitate to stay again in future!
Karun & Lizzi
2016-11-26T00:00:00Z
Had a lovely stay at this house. Hosts were wonderful and friendly people, so helpful and did everything to make our stay the best it could be. I recommend this place to everyone!
Lauren
2016-10-19T00:00:00Z
Alloggio comodissimo, con posto auto, ambiente pulito, cordialità dei proprietari.
Raffaele
2016-12-18T00:00:00Z
It was very nice stay. Pamelas mom was welcoming and friendly. It was like at my own home. I truly recomend it!
Eleri
2016-11-14T00:00:00Z
Pamela's parents are great people !! The house is beautiful, very clean, bright and just 10 minutes from the center. It was a beautiful and enjoyable experience.
Alvaro
2016-10-07T00:00:00Z
Very nice place and nice host! We did not meet Pamela herself, but her parents are super hospitable and made the stay very comfortable and nice! Thanks!
David
2017-02-04T00:00:00Z
Jenis Bilik
Bilik persendirian
---
Jenis Penginapan
Rumah
---
Memuatkan
2
---
Bilik tidur
Salerno, Campania, Itali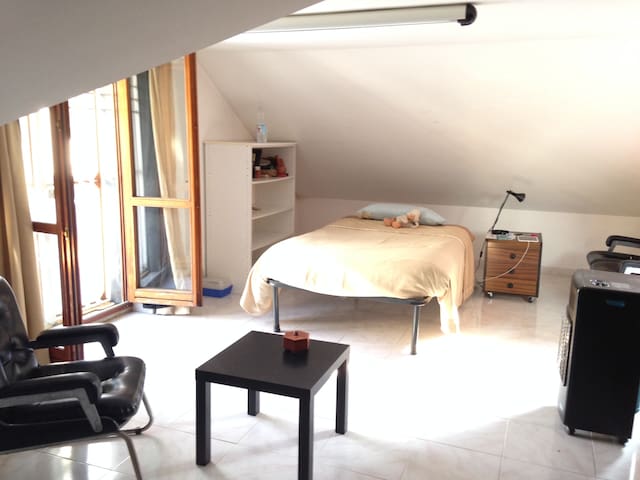 L'appartamento è di mia proprietà .Di Nuova costruzione anche i mobili sono nuovissimi. Dotata di aria condizionata, riscaldamenti autonomi, filo diffusione stereo. Insomma un luogo dove trascorrere qualche giorno senza rinunciare alle comodità
L'appartamento è di mia proprietà .Di Nuova costruzione anche i mobili sono nuovissimi. Dotata di aria condizionata, riscaldamenti autonomi, filo diffusione stereo. Insomma un luogo dove trascorrere qualche giorno senza rinunciare alle comodità di una vera casa. Adatta a chi e dotato di un proprio mezzo di trasporto, a circa 2.5 km dal centro cittadino e a pochi metri dall'ingresso della tangenziale. nelle vicinanze ci sono diversi ristoranti pizzerie, bar tabacchi farmacia e supermercati.
quartiere tranquillo servito da bar ristoranti e pizzerie a pochi metri dall'imbocco della tangenziale utile a raggiungere il centro della città che dista circa 2,5 km.necessaria un auto.
With Assunta nice to talk to, she was hospitable and attentive. The apartment is very cozy, feels like home. Quiet area, views of sea and mountains. 2 balconies and 2 bathroom unit. To the sea walk 40 minutes, but the choice of beaches in the area happy.
Oleg
2015-08-19T00:00:00Z
This night was added to the end of our 6-night stay at Assunta's place. Please see our other review for details.
Øyvind S.
2016-10-04T00:00:00Z
Assunta связалась с нами сразу после бронирования и находилась на всё время нашего пребывания в апартаментах. Фото полностью соответствует действительности. Прекрасные дизайнерские апартаменты. Дизайн апартаментов особенно понравился. Апартаменты чистые. На кухне есть всё необходимое (кофеварка с бесплатным кофе, кухонная плита, духовка, полный набор кухонных принадлежностей, микроволновая печь). Квартира находится недалеко от станции метро Mercatello-Mariconda (15 минут ходьбы). По пути на станцию метро есть супермаркет Todis. Рядом с апартаментами пиццерия, бар и магазин фермерских продуктов. Assunta была очень приветлива и порекомендовала нам несколько мест в посещению: Amalfi (особенно хорошо посетить по морю), Paestum (греческие колонны в Италии, прекрасные песчаные пляжи). Время, проведенное в апартаментах, было очень дружелюбным и приятным. Спасибо Assunta за дружелюбие и гостеприимство.
Alexey
2016-07-16T00:00:00Z
Voglio innanzitutto ringraziare Assunta: host impeccabile, nonchè persona gentilissima, disponibile e discreta. Che dire... la casa è stupenda, luminosa, panoramica, ventilata e completa di tutto. Il quartiere è fornito di bar, supermercati, tabacchi ed altro. Il nostro soggiorno è stato indimenticabile e Assunta ha contribuito moltissimo affinchè lo fosse, una vera amica! Ci ritorneremo sicuramente. Brava Assunta, continua così!
Anna
2015-08-07T00:00:00Z
We stayed at Assunta's place while on holiday in the region. It's a great location for people who want to visit Napoli, Pompeii, Amalfi, and Paestum (don't miss this!). Assunta communicated efficiently, from the time we booked until after we departed. She doesn't speak much English, so plan on using (SENSITIVE CONTENTS HIDDEN) Translate :) She met us upon our arrival, and quickly showed us around the apartment. She was very friendly and answered any questions/responded quickly during our stay. Overall, a great host. POSITIVES: very clean, spacious and modern; 3 balconies; great privacy; view of Salerno/Mediterranean; comfortable couch; strong/quick Wifi signal; effective air conditioner; wonderful shower; Italian 'Nespresso' machine; easy access to highways. NEGATIVES: limited use of kitchen (dishwasher is off limits, etc.); no basic cooking ingredients such as olive oil/black pepper; bed and pillows were very firm (our preference is soft); lack of extra blankets/pillows/towels. Regardless, we can definitely recommend Assunta's place to other travelers. It was really good value for money :)
Øyvind S.
2016-10-03T00:00:00Z
Assunta è un ospite eccezionale, sempre disponibile a qualsiasi richiesta. La casa è molto bella, moderna, pulita, silenziosa e ha tutti i comfort. La consiglio a tutti coloro che vogliono trascorrere uno splendido weekend a Salerno e dintorni. Siamo stati benissimo! Grazie Assunta!
Marco
2017-01-02T00:00:00Z
Cara Assunta,siamo stati benissimo.Confortevole e molto accogliente il tuo appartamento,davvero un gioiellino.hai molto gusto.
Agata
2016-12-11T00:00:00Z
Thank you very much! The apartment was as on the website. I recommend to all.
Anastasia
2015-08-25T00:00:00Z
Jenis Bilik
Keseluruhan rumah/apt
---
Jenis Penginapan
Rumah
---
Memuatkan
2
---
Bilik tidur
Salerno, Campania, Itali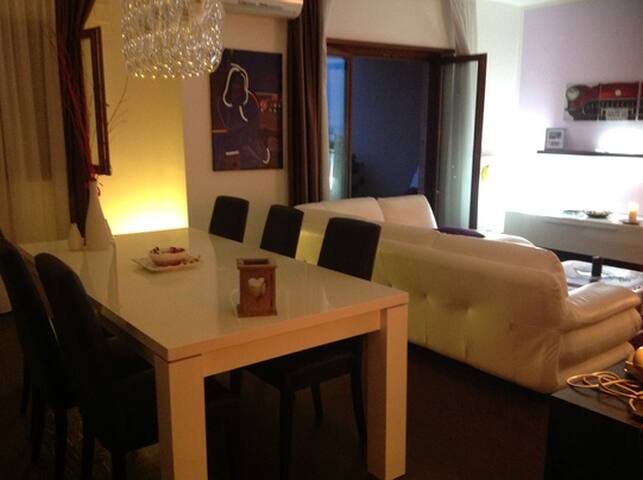 Il mio alloggio è vicino a il centro città. Il mio alloggio è adatto a coppie e chi viaggia per lavoro.
Disponibili n.1 camere privata con un letto matrimoniale e 2 posti letto
Jenis Bilik
Bilik persendirian
---
Jenis Penginapan
Rumah
---
Memuatkan
2
---
Bilik tidur
Salerno, Campania, Itali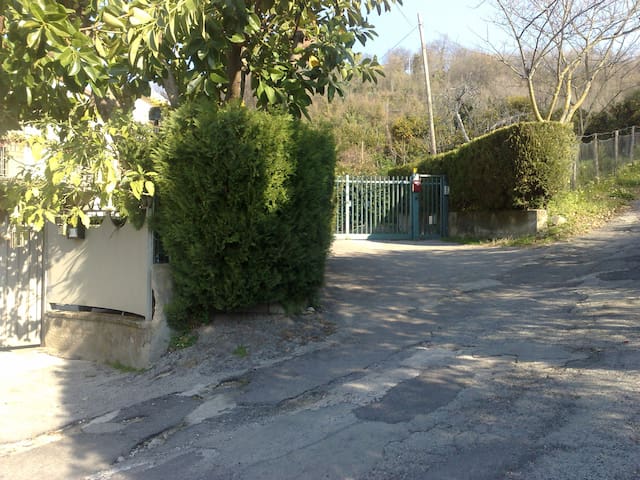 appartamento completamente, e appena ristrutturato nel cuore del cento storico , tutti i punti culturali e di svago a poche secondi a piedi. mi sono buttata da poco in questo settore del ospitalità ma lo faccio con passione. unica pecca il palazzo immerso nella realtà popolare .
la casa e cosi composta da una stanza con angolo cottura e divano letto con ampia camera da letto e un grande bagno alle spalle del bagno c'è una piccola camerina , con ferro da stiro . wifi fibra ottica
guardando intorno a te , trovi la storia di una città e un popolo . Ti ritroverai immerso nella storia medievale di questa magnifica città longobarda , e il centro storico è la parte che più amerai
Hemos estado muy agusto. La casa esta muy bien, muy limpia y nos han atendiado muy bien.
MAIALEN
2015-10-25T00:00:00Z
Lovely appartment in the center, near to restaurants and shopping. The appartment is clean and conform to the photos. It was a nice trip.
Manon
2016-08-27T00:00:00Z
Apartment is cosy, charming and very lovely decorted. Situated in historic center and you really can feel how people live here. We were met upon arrival in the everning and were helped with parking, what was very kind. We cound not make internet work and this upset us, as we stayed for three nights. But we was not luck with internet in almost all places in Italy that trip =)
Victor
2016-05-12T00:00:00Z
Superb location, heart of old Salerno.
Arturs
2016-06-21T00:00:00Z
Mario and Luana are very friendly people. We had a warm welcome and Mario can speak English. The appartment was very clean and cosy. It's a nice place to stay. We had a great time. Also Mario gave us a gift of a free boattrip, which was so nice of him. I would tell everyone to stay in this place.
Ellen
2016-07-19T00:00:00Z
Beautiful place. Set in the centro historico this apartment is in the heart of the old neighbourhood and feels authentic in all the right ways whilst being comfortable, quiet and clean. 2 minutes walk to the beach, thirty second walk to great local restaurants and a bakery for the morning, 20 minutes walk from the train station, 5 minutes walk from the ports for trips along the coast. If you are planning a trip to the Amalfi coast but want to stay somewhere away from the tourists and with more Italian heart I can't recommend this place more highly.
Laurence
2016-09-05T00:00:00Z
This is a place good for 2 persons, not more.
Cristina
2016-09-29T00:00:00Z
When I arrived ti Salerno Luana said she will be waiting in a square near the apartment,but she was not there,so I have to go to a restaurant searching WiFi signal. Then she came in 10 minutes. We walked to a neighbourhood that was around, trough a tunel.We have to go by stairs in a 2° floor. The place HAS NOT GOT WIFI. She said that it was Broken for that week,but she didn't send a message to advice us before. The place was dirty in several things. I have no comunication with her ,except in places (restaurant,bar) that I conected. The stove (electric kitchenette) was Broken,but she buy another New one.
Guemo
2016-11-10T00:00:00Z
Jenis Bilik
Keseluruhan rumah/apt
---
Jenis Penginapan
Rumah
---
Memuatkan
4
---
Bilik tidur
Salerno, Campania, Itali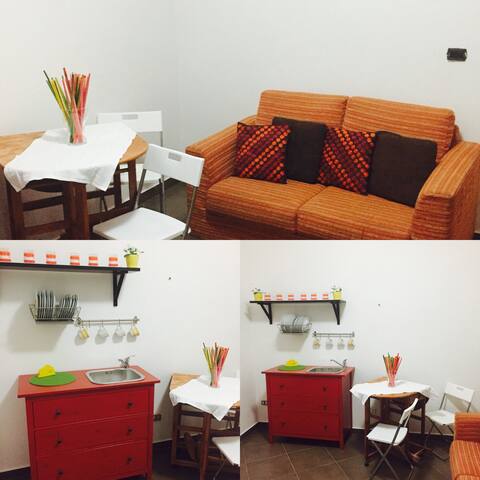 In posizione strategica a poco piu' di 2 km dalla Stazione Fs, Porto Turistico, Stazione marittima per la Costiera Amalfitana, Luci d'artista, casa indipendente molto luminosa, colorata e accogliente, ristrutturata recentemente, 3 camere da letto di cui 2 matrimoniali e 1 con letti singoli, 2 bagni con vasca o doccia,lavanderia, cucina con tavolo, salone con divano e Tv,giardino di circa 50mq attrezzato con tavolo per pranzo, terrazzino con vista, garage con posto per 1 auto di medie dimensioni.
La casa in zona residenziale tranquilla, dispone di garage ad accesso diretto al giardino e all'ingresso della casa. Dalla piccola terrazza la vista si apre fino a Capo d'orso. Camere ampie e bagni completi con doccia o vasca. Tavolo esterno per pranzi all'aperto in giardino, piccolo barbecue. Superficie coperta 100mq. 50mq giardino, terrazzo 8mq circa.
Sala Abbagnano, quartiere residenziale della citta´di Salerno, gode di una vista unica sul Golfo di Salerno a pochi km dalla Costiera Amalfitana. Il giardino abitabile finemente decorato della casa, rende possibile organizzare pranzi all'aperto nell'area esterna di fronte la cucina- salone semi coperta dall'ombrellone esterno. Il tramonto invece, si accende con i sui unici colori, dal lato delle camera da letto e del terrazzo.
Abbiamo soggiornato io e i miei amici dal 30/12/16 al 01/01/2017, abbiamo trovato l'appartamento ben riscaldato e rispondente in tutto all'annuncio. Gli host sono persone molto simpatiche e collaborative sia prima che durante la nostra permanenza. L'appartamento è molto luminoso e spazioso. Consiglierei il soggiorno anche se non è proprio centrale rispetto alla citta' ma comunque vicinissimo. Grazie Johanna abbiamo avuto un bel soggiorno. Piera
Chiara
2017-01-01T00:00:00Z
Casa molto carina ed accogliente! Non abbiamo avuto il piacere di conoscere Johanna personalmente ma, in compenso, il suo amico ed "incaricato " Alessandro è stato disponibilissimo e molto gentile! La zona,inoltre, è perfetta ed è a pochi minuti di macchina dal centro di Salerno. Lo consigliamo
Manuele
2016-12-18T00:00:00Z
Jenis Bilik
Keseluruhan rumah/apt
---
Jenis Penginapan
Rumah
---
Memuatkan
8
---
Bilik tidur
Salerno, Itali
We rent a room with private bathroom in Corso Vittorio Emanuele in Salerno, the main street of the city. The room is in a private apartment, you will be guests, before customers.
The home is on the main street. From Salerno you can go in less of 1 hour to Paestum, Pompei, Napoli, Cilento and other beautiful places.
Posizione Comoda e supercentrale , Davide molto preciso e disponibile a dare informazioni sul Posto . Stanza un po' datata abbastanza pulizia ma non impeccabile.
Gino
2017-01-08T00:00:00Z
Sono stato a Salerno in occasione delle Luci d'Artista. Davide si é dimostrato dall'inizio una persona disponibile. Comunicazione impeccabile sin dalle fasi di prenotazione. La stanza si trova in uno stabile proprio sul corso principale di Salerno. Posizione eccellente per visitare la città e a pochi minuti a piedi dalla stazione. Persona precisa, attenta ai dettagli e accogliente, Davide ci ha fornito tutte le indicazioni necessarie e i consigli per rendere piacevole la nostra permanenza a Salerno. Consiglio di sceglierlo come host!
Fabrizio
2016-12-11T00:00:00Z
Davide e suo padre sono stati davvero gentilissimi e disponibili. La camera era pulita e completa di tutto; è stato un vero piacere soggiornarci. L'ubicazione è semplicemente fantastica perchè a soli 5minuti dalla stazione percorrendo il corso principale di Salerno, strapieno di negozi, bar, ristoranti, streetfood ecc ecc. E' un posto davvero strategico per visitare non solo la città, ma anche la costa e i dintorni come Cetara che consiglio a tutti di farci un salto (soli 30 min di pullman) e di pranzare a Pane e Coccos'! :D Insomma, da qui tutti i luoghi più importanti sono facilmente raggiungibili: a due passi dal centro storico, uno dal lungomare e con tutti i mezzi a disposizione per le principali località dei dintorni (Pompei, Paestum, la costa amalfitana ecc)! XD Ci torneremo assolutamente!
Andrea
2017-01-15T00:00:00Z
L'appartamento è centralissimo, a 10 minuti a piedi dalla stazione e 5 minuti dal centro storico di Salerno. La camera da letto è comoda e in più c'è un piccolo bagno ad uso esclusivo. Il bagno è minimo, ma c'è tutto quello di cui si ha bisogno. Davide è stato molto disponibile e ci ha accolto con tanti consigli su dove mangiare e cosa visitare. Lo consiglio!
Elena
2016-12-18T00:00:00Z
Wow, David is one terrific host, the best we had in 5 Airbnb stays over 3 weeks. His directions were always clear,his English is very good and he is very gracious! He greeted us personally upon arrival, and spent 20-30 minutes with us to help us get orientated to the area without us asking. He even printed some (SENSITIVE CONTENTS HIDDEN) maps for us and wrote all the featured spots on it for our convenience which is very helpful when you arrive and are tired and disorientated. He also shared with us some exquisite pastries which were given to him for a good deed he did for a local,pastry shop owner. The room was clean, very quiet and very well located to all amenities and feature sites in Salerno. In fact we were located on the Main Street and cars are not allowed on it! His dad whose suite we were sharing with our own private bathroom was very sweet and unassuming. There is an elevator in the building which is helpful since the suite is on the top floor (6th floor I think) I would not hesitate to recommend David's Airbnb to anyone as he is one super host who know who to treat his guests right; he has been doing this successfully for awhile and it shows when you meet him.
Richard Tsing
2016-06-16T00:00:00Z
We had a great week in Salerno. Although Davide wasn't there he left us his apartment for ourselves and we could always text him when we had a problem and he was very helpful. Even when we locked ourselves out of the apartment, friends of him took care of us until we could go back inside. The apartment is really nice and clean and has everything you need. The location is fabulous because it's right on the main street and if you go out of the door you're right in the middle of the shopping street. But it's still quiet in the 6th floor. There is a perfect connection to public transport. Train station only 8 minutes walking, bus too and fairy only 10. We really enjoyed our holidays and would always come back to Salerno and to Davide.
Clara
2016-08-07T00:00:00Z
Ottima posizione, stanza ampia, pulita e con bagno privato. Davide davvero gentile e disponibile!
Erdna
2016-01-06T00:00:00Z
ottima accoglienza , persona geltile e accomodante e disponibile ,, grazie di tutto alla prossima
giovanni
2016-06-13T00:00:00Z
Jenis Bilik
Bilik persendirian
---
Jenis Penginapan
Rumah
---
Memuatkan
2
---
Bilik tidur
Salerno, Campania, Itali
Accogliente bilocale con terrazzo privato e accesso in piscina. Situato in tranquilla zona collinare a pochi km da Salerno, è ideale per weekend di relax o per scoprire Salerno, Napoli, Pompei e Vesuvio, le costiere Amalftana e Cilentana, Paestum. Può ospitare fino a 4 persone. Piscina aperta dal 10 aprile al 30 settembre. Wifi, parcheggio, aria condizionata. Quartiere sicuro, senza servizi, in zona collinare residenziale. Strade molto ripide. Auto o moto consigliate. Centro commerciale a 2km.
Delizioso bilocale in tranquilla proprietà privata con uso piscina e terrazzi comuni. Situato su due livelli ha a disposizione un terrazzo ad uso esclusivo, arredato con gazebo, tavolo e sedie. Al piano terra si trovano anche una cucina attrezzata ed il bagno con doccia, mentre al primo piano è situata una grande camera con letto matrimoniale e divano letto. Colazione a richiesta con supplemento. La villa si trova a Cologna, frazione di Pellezzano, in tranquilla zona residenziale collinare. Lontana dal caos cittadino, ma a pochi Km da tutti i luoghi di interesse della Campania: Salerno, la costiera Amalfitana, il Cilento, Pompei e Vesuvio, Napoli, la Reggia di Caserta, i templi di Paestum, Capri e la costiera Sorrentina...
La casa si trova in via Martin Luther King 10, a Cologna, frazione di Pellezzano. Cologna è un quartiere residenziale alla periferia nord di Salerno, nella valle del Fiume Irno. L'autostrada A30 Caserta-Salerno è raggiungibile in 5 minuti. Nei dintorni: Centro commerciale con negozi, fast food e supermercato - 2 km Ristorante Pizzeria Airon - 600mt Ristorante Pizzeria Le Macine - 700 mt Minimarket Caramico - 700 mt Supermarket - 1500 mt Farmacia - 800mt Bus Stop - 800 mt Tabacchi/Edicola - 900 mt Chiesa - 100 mt Attenzione: Cologna si trova sulle pendici del Monte Stella. La strada per raggiungere la casa è molto ripida. Consigliati auto o moto.
Nous avons passé un séjour plutôt agréable. Parfait pour un séjour en famille car il y a la piscine, plein de jeux et d'autres enfants adorable dans la résidence. Les photos sont plutôt fidèle mais l'appartement est un peu sombre.
Adeline
2015-08-18T00:00:00Z
Très beau appartement, situation, 10 minutes du centre ville de Salerne, piscine etc...tout est parfait. Propriétaire très accueillant et très discret durant le séjour.
Gaetan
2016-08-25T00:00:00Z
We stay there for 7 days with our 2 kids (12 and 8) and everything was just perfect! Our best stay in Italy. Very nice and quiet location, pool and ping pong table for the kids and very good advice and tips from Elia to go around the area! We definitely recommend that place to visit the Coast, Naples, Pompei, etc. Our kids will remember for a long time the water fight in Campagna! Thanks for everything!
Daniel
2016-07-14T00:00:00Z
Our stay at Elio's place was FANTASTIC! Elio and his wife made is feel at home from the start, with small details (fresh fruit, water, and sweets) and useful tips. The apartment was amazing, as advertised, if not even better. Further they provided very useful tips and recommendations for our trip! If you are planning to come to the region of Campania, this is a perfect place! Thank you Elio for everything!
Alejandro
2014-09-11T00:00:00Z
We spent two nights at the apartment and enjoyed it very much. We really liked all the different outdoor spaces that we could use, plus our own spacious private terrace, which was sunny until the evening. The pool and table tennis were also much appreciated - and we had them to ourselves, which was a bonus. It was also very quiet when we were there, which made for a good night's sleep. Thank you Elio and Elia for a relaxing stay.
Douglas
2016-06-12T00:00:00Z
La sœur de Elio s'est montrée accueillante et disponible lors de notre arrivée. L'appartement est propre et la piscine très appréciable ! Beaucoup de jeux d'eau et de plein air pour les jeunes enfants. Quelques commerces à proximité mais voiture recommandée. Séjour très apprécié.
lucile
2016-08-01T00:00:00Z
Elio and Elia were excellent hosts! They gave us great directions and gave us loads of helpful tips on visiting the surrounding sights. The apartment was great! We enjoyed the BBQ and ping pong
Jennifer
2015-09-30T00:00:00Z
Elio en Elia hebben ons zeer hartelijk ontvangen. Ze hebben een uitleg over het huis gegeven en praktische dingen uitgelegd, zoals waar de supermarkten zijn. Locatie is een prima uitvalsbasis voor o.a. Salerno, Amalfi kust, Napels, Capri en Pompeï. Contact met Elia was zeer goed en snel. Flexibel met in- en uitchecken (als de accommodatie niet opnieuw geboekt is). Goed bed, meerdere terrassen waarvan een met mooi zwembad.
marco
2015-09-11T00:00:00Z
Jenis Bilik
Keseluruhan rumah/apt
---
Jenis Penginapan
Rumah
---
Memuatkan
4
---
Bilik tidur
Cologna di Pellezzano, Campania, Itali
Situata al centro di Salerno, a pochi km dalla Costiera Amalfitana e a 15 minuti dalla stazione ferroviaria. Gli ospiti beneficiano di una terrazza. V'è una zona salotto e una cucina completa di forno, frigorifero e piano cottura. Gli asciugamani e lenzuola sono inclusi. Located in the center of Salerno, a few km Amalfi Coast and 10minutes from station of Salerno. There is a seating area and a complete kitchen. Towels and bed linen are provided. Casa Sabrina include a sun terrace.
Casa Sabrina ,situata nel cuore del centro storico di salerno, è dotata di codizionatore ed è composto da saloncino con divano e angolo tv, bagno con vasca/doccia , camera da letto matrimoniale, camera da letto con letti singoli e cucina abitabile dotata di frigo, congelatore, fornelli, forno e stoviglie per 5-6 persone. La struttura offre lenzuola,asciugamani e prodotti igienici per la casa. Gli ospiti potranno beneficiare di una terrazza. Casa Sabrina, located in the heart of the historic center of Salerno, is with codizionatore and consists of sitting room with sofa and TV area, bathroom with tub / shower, double bedroom, bedroom with twin beds and kitchen with refrigerator , freezer, stove, oven and dishes for 5-6 PEOPLE. The Property Offers sheets, towels and hygiene products for the home. Casa Sabrina include a sun terrace.
L' appartamento si trova a 5 minuti dal corso di Salerno che, oltre ad essere la strada dello shopping cittadino, è un quartiere ricco di locali, ristoranti, pizzerie e bar. Inoltre in zona non mancano bar, farmacie, alimentari etc A pochi metri, dopo una piccola discesa, di fronte si troverà la prestigiosa Villa Comunale di Salerno e il lungomare meta prediletta dai salernitani per passeggiare, praticare sport od, anche, solo per prendere un po' di sole. Vicino casa inoltre vi è una fermata autobus dove è possibile raggiungere velocemente la Costiera Amalfitana. Data la vicinanza con la stazione centrale, l'appartamento può essere anche un'ottima base per visitare Napoli, Pompei ed Ercolano e la vicina Paestum L 'apartment is located 5 minutes from the course of Salerno that, in addition to being the city's shopping street, is a district full of bars, restaurants, pizzerias and bars. Also in the area is full of bars, pharmacies, food etc A few meters after a small slope, in front you will find the prestigious public garden and the waterfront of Salerno, favorite destination for walking, playing sports or even just to get a bit 'of sunshine. Near the house there is also a bus stop where you can quickly reach the Amalfi Coast. Given its proximity to the central station, the apartment can also be a great base to visit Naples, Pompeii and Herculaneum and nearby Paestum
Jenis Bilik
Keseluruhan rumah/apt
---
Jenis Penginapan
Rumah
---
Memuatkan
5
---
Bilik tidur
Salerno, Campania, Itali
Centralissimo a Salerno, adiacente alla stazione, 3 minuti da corso Vittorio Emanuele, 10 minuti dal porto turistico. Bagno in camera e colazione compresa. Internet ADSL. Possibilità di pranzo con la padrona di casa o di cucinare in autonomia.
La casa è moderna ed accogliente, la stanza molto luminosa. Connessione ad internet, scrivania, bagno in camera, aria condizionata e riscaldamento.
Via zara è a pochi metri dalla stazione ferroviaria, a 5 minuti da corso vittorio emanuele, a 10 minuti dal porto turistico.
We had a wonderful stay with Michele. His mom's house is very nice, modern and comfortable. He gave us good advice and provided all we needed for a pleasant stay! Thanks for everything.
Starla
2015-08-22T00:00:00Z
Michele fue muy amable con nosotros. Nos ayudó mucho buscando información de buses y trenes. Nos recibió con unos ricos paninis y el desayuno era muy completo. La habitación era amplia y cómoda. Y su casa esta bien ubicada, cerca a la estación de tren.
Florencia y Juan Pedro
2015-07-01T00:00:00Z
Michele ci ha accolti in modo molto amichevole e cordiale, con tanta disponibilità a offrirci info utili per un primo approccio alla sua città. Un bel succo di frutta e dell'ottima frutta preparata da sua madre hanno completato il nostro arrivo! La casa è molto vicina alla stazione, da cui si arriva in pochi minuti a piedi, in pieno centro a Salerno. La camera e il bagno corrispondono alle foto del profilo fedelmente, abbiamo avuto subito le chiavi per essere autonomi e in un giorno di temporale anche gli ombrelli indispensabili per uscire. Michele è molto discreto, ma anche accogliente: una sera ci ha cucinato un'ottima pasta al pesto e siamo rimasti piacevolmente a parlare con lui in salotto, conoscendoci un po' meglio. La casa è in un palazzo, è pulita, non manca nulla. Rapporto qualità-prezzo del tutto adeguato e conveniente.
Andrea
2015-08-17T00:00:00Z
The host canceled this reservation 8 days before arrival. This is an automated posting.
marianna
2015-07-31T00:00:00Z
Michele fue muy amble y atento. Nos ayudo buscando horarios de buses y aunque solo estuvimos una noche nos hizo sentir como en casa. Buena ubicación, recomendable.
Maria
2015-08-10T00:00:00Z
Michele è stato un super host, gentilissimo e molto disponibile! La stanza è molto carina e la posizione è davvero comoda! Bellissima esperienza, grazie ancora!!
Beatrice
2015-08-21T00:00:00Z
Jenis Bilik
Bilik persendirian
---
Jenis Penginapan
Rumah
---
Memuatkan
2
---
Bilik tidur
Salerno, Campania, Itali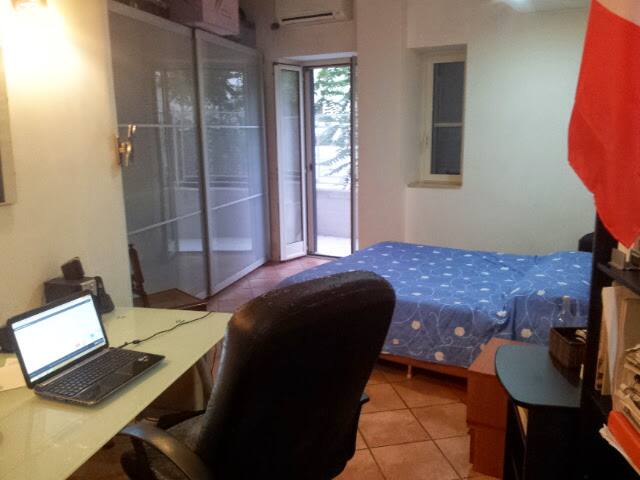 Villino H is an elegant mansion, ideal to enjoy the beauty of the Amalfi coast, a bright and comfortable guest-house, located in the panoramic area of Salerno near the city center and conveniently surrounded by greenery, with a large garden and private car/motorcycle parking. In the structure it's possible to enjoy of the outdoor garden, eat in the shade of the pine trees and relax on comfortable lounge chairs to sunbathe.
In the facility you can use the private garden, eat in the shade of pine trees and relax on comfortable sun beds. The entire facility overlooks the city and is beautiful to view. One of the bedrooms also has a private terrace where you could enjoy breakfast or a glass of wine watching the port of the Amalfi Coast .
Nei dintorni è possibile visitare la splendida Costiera Amalfitana, i Giardini della Minerva, il Duomo, le rovine di Paestum, la famosa Badia Benedettina di Cava dè Tirreni e tanti altri siti di interesse storico. Per godere al massimo della vacanza è consigliato l'uso di un mezzo privato auto/moto.
We had a wonderful stay at Villino H and would definitely come back. The accommodation is very comfortable and the views are incredible! Maria is a relaxed host and we were also given great restaurant recommendations.
Nathalie
2016-10-11T00:00:00Z
Very nice house with good view. A little difficult to find with (SENSITIVE CONTENTS HIDDEN) map.
JINGFANG
2017-01-31T00:00:00Z
Beautiful home, very spacious with a pretty view of the city. Very close to the city but car is needed.
Giovanni
2017-01-02T00:00:00Z
l'accoglienza è stata buona anche se una cauzione di 250,00€ dopo aver già pagato l'intera somma del soggiorno ci è sembrata esagerata
Catia
2017-01-04T00:00:00Z
The house is located in a spectacular place and is really magnificent. Bruno, the person who greeted us, was very friendly and helpful. He explained everything we needed to move in Salerno. Everything worked perfectly. If your choice is to stay in Salerno, this is the perfect place.
Marcos
2017-01-26T00:00:00Z
The host Maria was extremely friendly and helpful, giving us several recommendations of great restaurants on the Amalfi Coast and helping us with directions to and from house. Her home was very comfortable and we had a really enjoyable stay. Highly recommend her home to anyone who is visiting the Amalfi coast in the future.
Navruz
2016-09-12T00:00:00Z
Ho appena passo due giorni meravigliosi e sono rimasto incantato. A pochi minuti dal centro senza essere nel caos urbano, me l'aveva consigliato un amico e devo essere sincero mi sono trovato molto bene. La casa è grande, ben tenuta e rispetto a molte case vacanze si percepisce quel tocco diverso determinato dalla assenza di mobili Ikea... Abbiamo apprezzato molto il giardino ben attrezzato dove poter passare la sera senza il minimo rumore, totalmente cullati dal rumore delle cicale. Ci tornerei volentieri..
Doriano
2016-09-10T00:00:00Z
Jenis Bilik
Keseluruhan rumah/apt
---
Jenis Penginapan
Rumah
---
Memuatkan
7
---
Bilik tidur
Salerno, Campania, Itali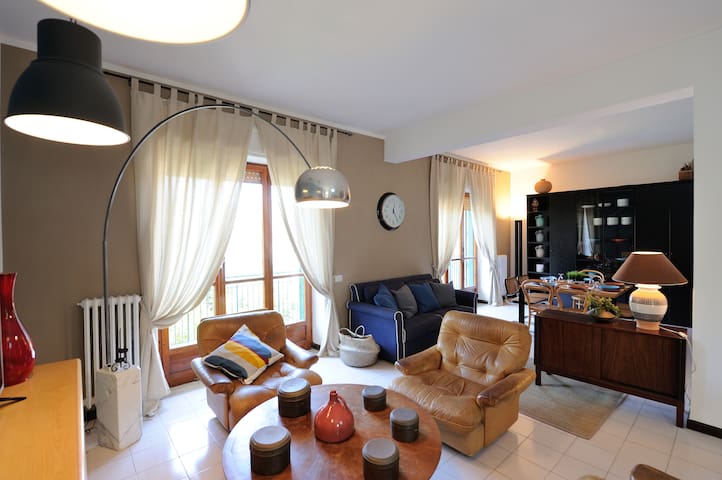 La Suite Aranceto si sviluppa su due livelli, I° livello ampia sala con camino, cucina componibile a induzione e divano letto, ampia camera con letto matrimoniale corredata di guardaroba open e TV, bagno con doccia extra large e fohn. II° livello camera con letto una piazza e mezza dotata di guardaroba open e TV, bagno e terrazzo/solarium con panorama sul golfo di Salerno. L'intera struttura è munita di impianti ad aria condizionata ed è circondata da un ampio giardino con zona barbecue.
La Suite Aranceto è situata nel cuore del centro storico di Salerno a due passi dalla Cattedrale, è al centro di tutti i punti di interesse, all'interno del suo pacchetto servizi comprende anche, noleggio auto con conducente (Jaguar XF), noleggio imbarcazione o semplice giro in barca per la costiera previo accordo, e scampagnate sui monti della costiera amalfitana anch essi previa prenotazione
L'unicità della zona nella quale è collocata la Suite Aranceto, è data dalla presenza di storici ristoranti, pasticcerie e pizzerie che, nel corso degli anni, hanno saputo dare l'impronta del buon gusto e della prelibatezza da tutti apprezzata e divulgata. Inoltre, i rumori assordanti non sono compresi nella permanenza all'interno della Suite. Silenzio e tranquillità, sono le parole chiave che ci rendono unici. Dalla Suite, si ci affaccia sulla Cattedrale e alzando lo sguardo, sul Golfo di Salerno.
Ottimo appartamento. Centrale ma tranquillo. Arredato con gusto, funzionale. Letto su un piccolo soppalco davvero suggestivo. Solo scomodo da raggiungere con il passeggino, ma comunque fattibile.
Cristiana
2017-01-15T00:00:00Z
Appartamento nuovissimo, centrale, situato alla fine di una scalinata dove poi si accede ad un bel cortiletto privato e tranquillo. L'appartamento si articola su tre piani, Ammobiliato con gusto. Sotto Il fabbricato passa la ferrovia ma a noi non ha dato particolarmente fastidio. Non consiglio l'appartamento a famiglie con bambini piccoli che si avvalgono di passeggini. I proprietari Marco e Cristiano si sono rivelati estremamente cortesi e disponibili anticipando e proponendo persino la soluzione a problemi intervenuti durante il soggiorno. Grazie!
Maurizio
2017-01-05T00:00:00Z
Consiglio vivamente questo appartamento per la sua ubicazione centralissima e per la nuovissima struttura. Molto curato e dotato di ogni confort. L'host è una persona molto disponibile e gentile. Ci ritorneremo sicuramente.
Martina
2017-01-07T00:00:00Z
Jenis Bilik
Keseluruhan rumah/apt
---
Jenis Penginapan
Rumah
---
Memuatkan
5
---
Bilik tidur
Salerno, Campania, Itali
Il mio alloggio è vicino a il centro città, arte e cultura, parchi, splendide viste panoramiche e ristoranti. Il mio alloggio è adatto a coppie, avventurieri solitari, chi viaggia per lavoro e famiglie (con bambini).Appartamento con panorama mozzafiato,situato in un palazzo storico del centro in un quartiere caratteristico e folcloristico .Unico neo di questo appartamento,terzo piano senza ascensore.
La casa è stata recentemente ristrutturata con materiali pregiati, ci sono i colori del mare e del cielo per rendere piacevole e sereno il soggiorno degli ospiti che possono fare colazione di fronte al mare.Durante il periodo delle Luci d'Artista gli ospiti possono recarsi nei maggiori punti d'attrazione della manifestazione cittadina.
La Sig Elena, molto gentile e disponibile. Descrizione e foto alloggio sono precisi. Un pò scomodo raggiungere la casa x le vie del centro. Inoltre molto difficile parcheggiare.
stella
2016-12-30T00:00:00Z
La proprietaria del BnB è veramente gentile, disponibile e simpaticissima. L'appartamento è nuovo, pulito, caldo, silenzioso e accessoriato e c'era anche la colazione. Sta in pieno centro ed è caratteristico anche per dove si trova. Alla fine abbiamo deciso di soggiornarvi anche un'altra notte e anche se aveva altri ospiti, ha permesso noi di restare trovando una soluzione alternativa per i nuovi arrivati. Ci torneremo!
valentina
2017-01-05T00:00:00Z
The host canceled this reservation 34 days before arrival. This is an automated posting.
Francesca
2016-11-27T00:00:00Z
Jenis Bilik
Keseluruhan rumah/apt
---
Jenis Penginapan
Rumah
---
Memuatkan
3
---
Bilik tidur
Salerno, Campania, Itali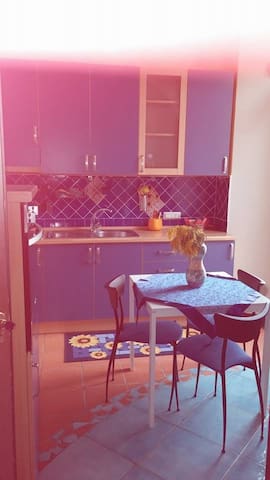 Pellezzano - Airbnb
:
Purata

4.55

daripada

5

daripada

320

ulasan tetamu
1

–

18

daripada

129 Rumah Sewa
Masukkan tarikh untuk melihat harga penuh. Yuran tambahan dikenakan. Cukai mungkin akan ditambah.