Masukkan tarikh untuk melihat harga penuh. Yuran tambahan dikenakan. Cukai mungkin akan ditambah.
This lovely older farmhouse has been refinished to enhance its naturally beauty! Charming 2-story farmhouse with original hardwood floors, front porch, full kitchen, and beautiful scenery!
This farm house is perfect for families. Plenty of yard for kids to enjoy and yet quiet enough for a family to relax and enjoy one another away from day to day distractions.
I keep a supply of breakfast items at the house for my guests as well as coffee.
Kathleen could not have been a better hostess! We ended up arriving later than planned and she let us know that it was not a problem. Before arriving I would text her and she would text me right back with answers. The house was everything she said and more!! This was more than a home away from home! She made muffins that were sitting on the counter waiting for us when we arrived. My kids loved playing outside. Kathleen also had a few games in the house for the kids to play. And I loved having a fresh cup of coffee while sitting on the front porch in the morning fresh air. This home is truly a Charming Countryside Farm. The next time I'm in Wausa I will make sure this is the place that we will be staying at.
Robin
November 2016
Jenis bilik
Keseluruhan rumah/apt
---
Jenis Penginapan
Rumah
---
Memuatkan
5
---
Bilik tidur
3
Wausa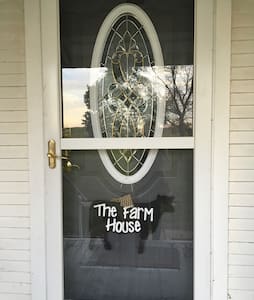 This listing is for our upstairs bedroom, bathroom, sun room and living room. The bed and bath areas are able to be closed off from the rest of the house. The kitchen would be shared with myself and our family. Guests would have full access to the garden, deck, front porch with grill, and farm atmosphere (we can even let you gather the eggs for breakfast!) We will provide breakfast, linens &toiletries. My place is good for couples, solo adventurers, business travelers, and families (with kids).
Kathleen and her husband were exceptionally welcoming, gracious and accommodating. I would gladly stay with them again.
Ross
September 2016
Very friendly, clean, easy and quick to communicate with. Even accommodated my dog as we traveled through for the night! Would stay again!
Quinn
February 2017
Jenis bilik
Bilik persendirian
---
Jenis Penginapan
Apartmen
---
Memuatkan
3
---
Bilik tidur
1
Wausa
Our cozy and comfortable private basement living area(separate entrance) comes complete with bedroom, living area, and bathroom. There is a flat screen TV, treadmill, and coffee bar! We are located on a peaceful farm with scenic views just 3 miles from Wausa, NE.
My mother and I returned to Cozy Acres again this summer on our way from Kansas to Minnesota. Curt and Kathleen live in the most beautiful area of the whole trip - in the rolling hills between Norfolk and Yankton. They have recently renovated their guest living quarters. It was perfect in every way, from an incredibly comfortable bed, adjacent private restroom, and inviting sunroom/sitting area to the beautiful garden area just outside the door. We were delighted to meet sweet little Lola! After our long drive, we were treated to hot apple crisp (homegrown apples) and ice cream, and breakfast the next morning was supurb. I can't say enough good things about Curt and Kathleen. They are so easy to visit with and they made sure we had everything we needed. It was more like visiting old friends rather than just having a place to stay for the night. They truly have the gift of genuine Christian hospitality. We will be back!
Nita Kay
August 2016
We had a great time staying with Kathleen and Curt. They were lovely hostz and made us feel very welcome. Five stars all the way! Thank you for your hospitality.
Hilary
August 2015
This place is a true gem. Curt and Kathy are fabulous hosts - very warm and accommodating. They made sure we had everything we needed, and were very easy to visit with. My mother and I were heading from Kansas to Minnesota, and this was a perfect stopping place. We had plenty of room, the bed was comfy, and I loved the tiled shower. Kathy's breakfast was superb, and we enjoyed seeing her beautiful gardens and hearing familiar farm sounds. They are truly living the country lifestyle that so many people only dream of. Because of this Airbnb experience, I never want to stay in a hotel again! We will be back!
Nita Kay
August 2015
Staying with Kathleen and Curt was awesome! They are very gracious and caring people. I had a wonderful breakfast in the morning, and they shared their dinner with me the night before. She even left snacks out for me. Their place was clean and comfortable! I highly recommend them.
Andria
June 2016
Kathleen & her husband were kind enough to wait up even though I arrived a couple hours later than expected. The atmosphere in their home is very welcoming. Also, Kathleen provided a pleasant (though unexpected!) breakfast before I left the following morning. The lower level of their house has been configured for guest usage and includes a private bath, den and rec room. Overall: very clean & comfy. I would definitely stay again if I go through that area. Heads up that this is a rural location. I did not have (AT&T) cell coverage for the last hour or two and that threw a glitch in communicating travel delays or getting extra directions. Also, beware that a few of the nearby streets are unpaved. Watch that your GPS doesn't send you down one. (All the major roads to the house are paved, but a few of the side/cross streets are not.)
Reese
September 2015
We were seeking a mini vacation in a lovely rural setting and Kathleen's home was PERFECT! Our stay at Kathleen's farm was WONDERFUL! She offered up her farmhouse accross the highway as it would hold our larger family well. IT WAS AMAZING! We began our stay with warm fresh baked muffins and apple cider, so very thoughtful. Our children spent much of our stay exploring the outdoors and playing games (provided by Kathleen) upstairs in a darling playroom. They got to feed the chickens, walk through Kathleen's lovely garden, feed fish in the pond and play with her adorable little dog. She provided snacks and breakfast items for the morning. The home was clean and beautifully appointed. We felt so cared for and blessed by our stay. If you need to stay near Yankton, this is THE place!
Katie
October 2016
Kathy and Curt are the sweetest people! They are so very accommodating. The basement is large and comfortable. We had access to the washer and dryer and since we travel on business most of the time that was a huge plus. Although Kathy has to be at work early she still got up EARLY and made us an amazing breakfast every morning! SO SWEET AND THOUGHTFUL! Their home and gardens are so beautiful and RELAXING. There were snacks in a basket and a keurig coffee maker in the basement...PERFECT....wish we could have stayed longer! We hope we have the opportunity to stay with them again!
Mary
June 2014
Lovely place! Welcoming and cozy! Enjoyed the beautiful gardens and slept like a rock! Thank You also for accommodating my Dad's needs as well, he enjoyed playing the piano!
Lisa
June 2015
Jenis bilik
Bilik persendirian
---
Jenis Penginapan
Rumah
---
Memuatkan
3
---
Bilik tidur
1
Wausa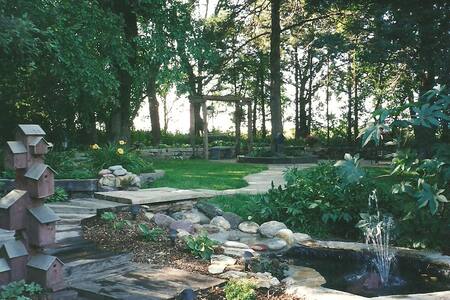 Private room in a modern home. Shared bathroom. Access to whole house including living room, kitchen, and laundry. I want you to feel at home here. Norfolk is great community with everything you need.
The room is great for two people. Queen bed. Television with DirecTV in your room. Guests will have access to the whole house. Full use of kitchen and living area. Feel free to use the laundry. Bathroom is a shared bathroom. Interaction with guests will be as much or as little as you are comfortable. I am gone a lot so may not be at the house while you are there. I am a school teacher so during the school year I am many times tired up until 4pm.
My neighborhood is on two quiet streets with great people. Very low traffic. Great area if you like to walk or run. There is a taxi service in Norfolk. I am also an Uber driver and would be willing to drive you if needed. I have a crib available if needed. I have dogs on the property but not inside.
It was my 1st time to us Airbnb for renting a room. I had a great experience. Ken is really welcoming host. Everything was prepared and room was nice and clean. Would stay there again :)
Liisi
July 2016
Very nice stay. Host is Very accommodating. Great access in the area. Quiet.
Rondi
February 2017
Jenis bilik
Bilik persendirian
---
Jenis Penginapan
Rumah
---
Memuatkan
2
---
Bilik tidur
1
Norfolk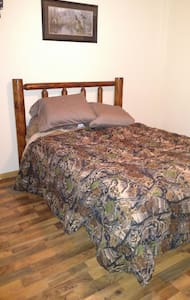 Large room with new queen bed frame and mattress.
The house was build within the last 10 years. Located on the corner of two quiet streets. Guests have full access of the house with the exception of the other bedroom. I am gone often but will interact as much or as little as you like.
I have excellent neighbors in a quiet neighborhood. At this time the other room in the house is occupied by a traveling nurse. This room would be great for another nurse needing an extended stay.
Very easy to work with. Highly recommend
Jm
February 2017
Jenis bilik
Bilik persendirian
---
Jenis Penginapan
Rumah
---
Memuatkan
2
---
Bilik tidur
1
Norfolk
This house is a new build within 10 years. It is fairly open design with a large kitchen - living room combination. Two nice rooms with queen beds. Easily sleeps 4 with room for air mattresses for more. A crib is also available if needed.
Ken was there and ready with all smiles when the dogs and I arrived for our stay - was super friendly and available if I needed anything. Felt like an old friend from the start :)
Sarah
October 2016
Big and great house
Liu
August 2016
The host was good. The house was not in the best shape but it was ok. Fewer personal things would make the house more comfortable for the guests. The neighborhood was safe, nothing ver happened to me but it wasn't a very nice neighborhood. It was ok and got the job done.
Mahsa
September 2016
The house was great. Ken was great had the house ready for our arrive, he worked around our schedule.
Esther
September 2016
Ken was a great host. This was the first time we used AirBnB and it was perfect. We were a bit later than we expected but he saw us coming down the road and greeted us at the door. We felt very much at home. I would highly recommend Ken's listing to anyone needing a place to stay in Norfolk.
Aimee
August 2016
We enjoyed our visit to Ken's home and appreciated the several personal amenities that he provided. The neighborhood was as he described and we felt very safe and "at home."
Don
October 2016
Jenis bilik
Keseluruhan rumah/apt
---
Jenis Penginapan
Rumah
---
Memuatkan
4
---
Bilik tidur
2
Norfolk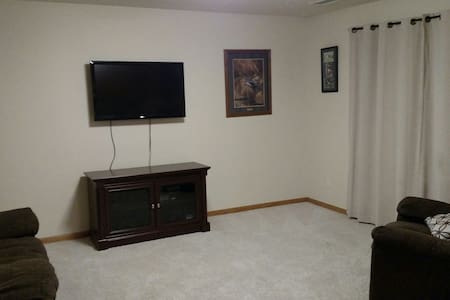 As close to nature as it gets! Across from Lewis & Clark Recreational Park. The property was originaly designed by handicapped bow hunter. The ground floor entrance is a walkout door, you enter a House," it is a natural blind of Trumpet Vines. Great to sit & have a morning cup coffee & wait for deer & turkey. rental has private entrance,(unless rain or snow) +One California King bed in a private room. +One foldout couch +couch +walk in shower,mini fridge,coffee maker
Previous owner handicapped bowhunter, enjoy his planning! Bottom floor is yours. California King Size Bed,pullout couch, single couch.walk in shower, coffeemaker, microwave, fridge, 2 miles from restaurant. Bottom porch and , "Vine house". It depends on what guest need !
Although surrounded by State & Federal land it is in a residential district. Yes, camping across street, but this is one step close to nature, and warmer. No Cable, WiFi, Yankton is a progressive town ! Please visit the new Easton Archery facility if you are a hunter.
Jenis bilik
Bilik persendirian
---
Jenis Penginapan
Lain-lain
---
Memuatkan
3
---
Bilik tidur
1
Yankton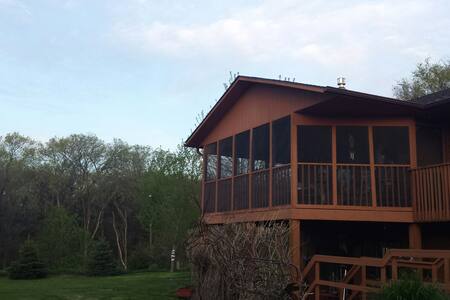 Just 1 mile South of the Outlaw Trail Scenic Byway, and just North of the Bow Creek, you'll find Bow Valley. Home to the famous quinquennial Bow Valley Schuetzenfest, we take great pride in our traditions, our heritage, and our old fashioned mid-western hospitality. North Crick Lodge has been a part of Bow Valley for over 100 years. We are a newly renovated 2 bedroom, 1 bath Vacation Rental. We offer WI-FI, Internet Cable (Sling TV), and Local Phone Service.
Kitchen is full service with microwave, refrigerator/freezer, stove/oven, basic pantry items, dinnerware, bakeware, utensils,etc. provided. Full Bathroom with heated floors and seperate water closet. Comfortable bedding, with a television and private patio in the Master Bedroom. All linens are provided. Livingroom has TV, stereo, and dvd player with select movies for your viewing enjoyment. We also provide family board games for those rainy Nebraska days, as well as a Welcome Packet with area information on dining, services, and local attractions. This home is very well maintained, offers a very Unique Vintage decor and amenities focused on providing Our Guests an experience they will cherish. Guests will have access to the entire home and front yard. We will give you your space, but will check in daily via text or phone call, unless you request otherwise. We will be available 24hrs/day and contact information will be included in your Welcome Packet.
We are 8 miles north of Hartington, 20 miles SE of Yankton, SD, 50 min. from Ponca State Park, and 15 min. from Missouri River access. We are privileged to be Home to One of the Most Beautiful Churches in Nebraska ; Sts. Peter & Paul Catholic Church(see article in Nebraska Life Magazine). We also have a Dance Hall, Blacksmith Shop, Community Playground, and a Service Station/Restaurant. Nearby attractions include the Nissen Winery, St. James Marketplace, Wiseman Monument, Cedar County Museum & Corps of Discovery Welcome Center. We are very rural, there is no source of public transportation available in the area.
Jenis bilik
Keseluruhan rumah/apt
---
Jenis Penginapan
Rumah
---
Memuatkan
5
---
Bilik tidur
2
Hartington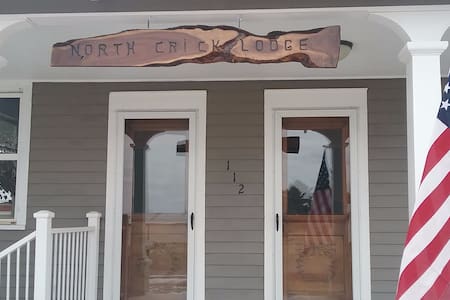 Spacious lake view loft with two bedrooms that provide a private wooded retreat. All the amenities of home including satellite TV. Wildlife is abundant grazing in the yard. Spectacular sunsets while relaxing on a beautiful patio with built in fire pit.
Michelle was a great host! She was very easy to communicate with. Loft was brand new and very clean. We will def. be back.
Jacob
August 2015
Jenis bilik
Keseluruhan rumah/apt
---
Jenis Penginapan
Loteng
---
Memuatkan
6
---
Bilik tidur
2
Crofton