Velice pěkné bydlení se dvěma soukromými ložnicemi a jednou koupelnou. Budete mít samozřejmě přístup do kuchyně, obývacího pokoje do zahrady a na bazén. Máme náhradní parkoviště před naším domem pro Váš vůz. Nachází se ve velmi klidné neigborhood
Even though we only stayed there for one night, we really enjoyed it. Lili is very easy going and was there to answer our questions. We definitely recommend staying there.
Manuela
2016-04-15T00:00:00Z
Otima hospedagem, ótima recepção, tudo muito bom, voltaremos em breve, nota 10!
Evandro
2015-10-08T00:00:00Z
Matt and Lili are very cordial and welcoming to their guests and seem willing to address any request. For example, we had a camera break down on us and were able to order a replacement and have it sent to them. They helped us receive that order. They had good information on the area and sights to see. The description of the home, room and grounds were accurate. However...Furnishings in the home are minimal, which may not work well for older tourists.
Kathleen
2016-04-30T00:00:00Z
We had only a one Night stay but Lily is very friendly and the House was very clean and beautiful :)
Mona
2016-05-11T00:00:00Z
Hosts were very nice, accommodations were good, house is too far from Miami to actually claim it is in Miami
John
2015-10-31T00:00:00Z
Sensacional! O lugar é maravilhoso, a casa é maravilhosa e os anfitriões, Lili e seu marido são extremamente simpáticos e educados. Valeu e muito ficar aqui, certamente quando voltarmos à MIAMI nos hospedaremos na "NICE HOME". ;) Obrigado Lili!
Roberta
2015-12-02T00:00:00Z
Alles super! Kann ich empfehlen! Man ist zwar auf ein Auto angewiesen, wohnt aber deshalb sehr ruhig
Elli
2016-10-31T00:00:00Z
Great couple, friendly and beautiful house.
Diego
2016-12-05T00:00:00Z
Jenis Bilik
Bilik persendirian
---
Jenis Penginapan
Rumah
---
Memuatkan
4
---
Bilik tidur
Miami, Florida, Amerika Syarikat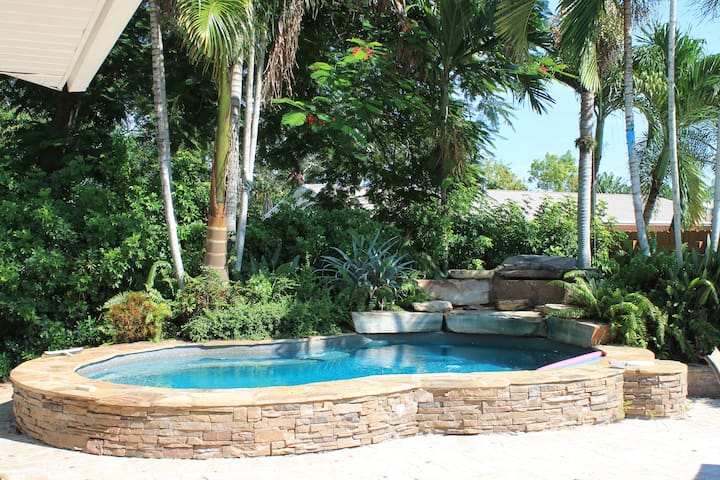 Ve středu mezi Miami Beach a Key West. Příjemné a klidné neiborghood. 45 minut od mezinárodního letiště v Miami
Velmi blízko cestovního ruchu atrakcí, tj zoo, pláž, v blízkosti letiště, Everglades parku, Corral hradu. a více. Může ubytovat až čtyři osoby
vchod a existují proto, aby Floridy silnice v těsné blízkosti mého domu. Residencial neiborghood, supermarket uzavřít tím, nákupní centrum, kino, a jeden z nejlepších nemocnice na Floridě je asi 5 minut jízdy.
Stayed for two night. Room exactly as described, very clean. Host very welcoming, felt like at home with aromatic coffee and great breakfast every morning. Thank you!
Gustav
2015-10-26T00:00:00Z
"My home is your home". It was the best welcome I received ever. A beautiful private room & bathroom with all what can you need. Like a 4* hotel ! Also a beautiful house in a quiet residential district. I recommend totally theses hosts ! Ivelisa and Santiago are very nice and warm welcome people ! If you want eat something really good, Ivelisa is a wonderful cook ! Thank you very much it was a very good stay in your house ! I learned about your country thanks to you ! - 1h drive from Miami, Everglades - 2h drive from the Keys
Emilien
2015-07-12T00:00:00Z
Very nice family, all was perfect and very clean, you feel like home :-) I raccomend this place at all.
Alberto
2016-03-09T00:00:00Z
Santiago and his lovely wife made us feel right at home during our stay. We were treated like family and wished we could have stayed longer. The room was cool and cozy with a very comfortable bed, with a clean and well supplied bathroom. We would definitely recommend staying here.
John
2015-06-26T00:00:00Z
Thanks for sharing your home. Absolutely spotless. Wonderful family. Nice breakfast included. Highly recommended.
Lawrence
2016-01-29T00:00:00Z
Santiago came out to greet us when we arrived, even though it was pretty late. His home is lovely and immaculately clean. This AirBnB exceeded my expectations and had everything I needed!
Stephano
2016-08-15T00:00:00Z
Accueil très chaleureux, reçu par Belissa, femme très gentille et très très agréable. Nous avions une salle de bain pour deux chambres mais l'autre n'était pas réservé. Café et jus de fruit offert le matin, petite collation de proposé également. Maison très sécurité. Nous avons du téléphoner à notre hôte pour qu'il nous ouvre la porte, pas trouvé de sonnette. Nous avons très bien dormi.
Julie
2016-03-12T00:00:00Z
The house is particularly clean, warm and comfortable; the host is particularly warm, gracious, residential feel particularly good, next time also come to Miami, I will choose here. Best wishes to the family.
海
2015-08-05T00:00:00Z
Jenis Bilik
Bilik persendirian
---
Jenis Penginapan
Rumah
---
Memuatkan
4
---
Bilik tidur
Homestead, Florida, Amerika Syarikat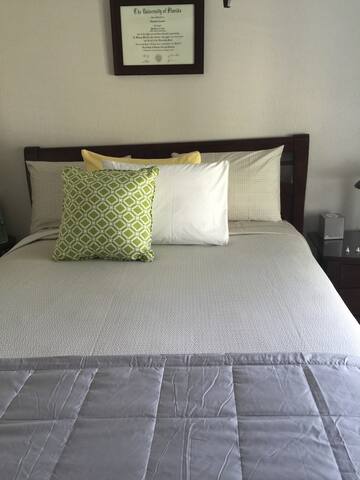 Die Villa ist ein 4/2 Haus mit italienischen Möbeln, Miami Touch und herrliche Küche. Es verfügt über einen großen Pool, Terrasse Tische, Grill Gas-Grill, im Schatten von schönen Bäumen, Pflanzen und Blumen, in ihm großen Garten ist. In einem wunderschönen und exklusiven Gegend von Miami.
Die gesamte Wohnfläche des Hauses ist 2190 sq-ft, ausgestattet mit schönen, komfortablen, großen italienischen Möbeln und Betten. Einschließlich, 5 Flachbild-TV. Die Küche verfügt über moderne Geräte, Kochgeschirr, Geschirr und vieles mehr, wie Waschmaschine und Trockner. Das Grundstück ist 32100 sq-ft, das entspricht der Hälfte der Größe eines Fußballfeldes. Außerdem ist das Land mit schönen Bäumen, Blumen und anderen Pflanzen um. Weitere Merkmale des Hauses verfügt über einen großen und privat, Pool, Terrasse und drei Parkplätze.
Die Nachbarschaft Pinecrest ist eine wunderschöne Gegend voll von wunderbaren Villen, Häuser und Villen, voll mit Bäumen, Pflanzen und Blumen. Pinecrest hat eine Vielzahl von Einkaufszentren, Supermärkte, Geschäfte, Parks und gute Restaurants zur Auswahl. Pinecrest ist neben der South Bay von Miami, Coral Gables, Coconut Grove, The Grove, Coco Plum und anderen exklusiven Gegenden von Miami, in dem Sie die schönsten exklusivste, würzige Bars und Restaurants finden. Darüber hinaus hat Pinecrest einige der am höchsten eingestuften öffentlichen und privaten Schule im Land. Die meisten Menschen in der Gegend sind nett und höflich. Und das durchschnittliche Haushaltseinkommen in Pinecrest ist rund $ 200.000. Während des Tages ist Miami eine wunderschöne Stadt wegen seiner Kultur und Landschaft, wie Seen, Kanäle, Buchten, Grünflächen und Landschaften. Doch in der Nacht ist die Stadt voller Leben und schöne Lichter, die Gebäude der Stadt, Bars und Restaurants leuchten. Pinecrest ist neben der Bucht und hat viele schöne Parks, Einkaufszentren, Restaurants und vieles mehr und Sie können sie alle oder die meisten alle in einem privaten Auto oder öffentlichen Verkehrsmitteln zu besuchen. Hier ist eine Liste der am häufigsten besuchten Orte, Strände, Einkaufszentren, Parks und Attraktionen (Die Zeiten gebucht werden unter der Annahme, die Gäste hat ein Auto); Orte in Miami Sie besuchen sollten: Fairchild Tropical Botanic Garden -------- 10 min Zoo Miami ------ 15 min Vizcaya Museum & Gardens ------------ 20 min Wynwood ----------- 20 min Die Grove & Coco-Weg --------- 20 min Key Biscayne ---------- 25 min Sun Life Stadium (Dolphins Stadium NFL) ------------ 25 min American Airlines Arena (Miami Heat NBA & Musik Konzerte) ---- 25 min Bay Side und Hard Rock Café (Bay Seite) ---------- 25 min Marlins Stadion NBL ---------- 25 min Downtown Miami -------- 25 min Süd Everglades Nationalpark ------- 30 min Racing Speedway ----- 30 min Miami Kindermuseum & Jungle Island (Parrot Jungle) ----- 30 min South Beach Miami Beach & --------- 30 min Hard Rock Café & Casino (Hollywood Area) -------- 40 min Fort Lauderdale -------- 50 min Key Largo (die Schlüssel) ------------ 1 Stunde Einkaufszentren The Falls Mall ...................... 5 min Dadeland Mall ..................... 5 min Sunset Place Mall ............ 10 min Mall of the Americas .......... 20 min International Mall ............... 20 min Dolphin Mall .................. 20 min Parks Montgomery Botanical Center ................................ 5 min Matheson Hammock Park (Strand) & Marina ................. 13 min Amelia Earhart Park .................................... 25 min Crandon Park (Strand) ...................... 25 min North Shore Open Space Park ............... 30 min Lummus Park (South Beach) ................ 30 min Memorial-Plan Dade Memorial Park ............ 30 min Miami Shores Country Club ........................ 30 min Süd-Memorial Park .................. 40 min Oleta River State Park ........................... 40 min Haulover Park (Strand) .................... 40 min Indian Creek Country Club ................... 50 min Restaurants IHOP Restaurant 24/7 geöffnet .............. 5 Minutes McDonald Open 24/7 ........................ 5 Minute Pinecrest Bäckerei öffnen 24/7 ......... 5 Minuten
Carlos was a perfect host. I found it very easy to communicate with him, regarding my wishes, and the special accommodations. The house was exactly like the pictures in his profile, and the neighborhood was quiet. I would stay here again!!
Brian
2015-10-26T00:00:00Z
We needed temporary housing while having our house fumigated for termites. Carlos' house was a perfect solution for this purpose, and just about a mile away from where we live. The place was comfortable, and our stay was very pleasant.
Debora
2016-09-15T00:00:00Z
It was love
Rene
2016-09-07T00:00:00Z
Everything was fine. No problems at all.
Jenna
2016-11-21T00:00:00Z
Rigtig fint hus og perfekt til en stor familie.
Mette
2015-12-31T00:00:00Z
Malgré notre arrivée tardive 22 heures locale Carlos est venu nous accueillir la villa correspond exactement à ce qui a été décrit super intérieur est très propre Notre seul regret c'est de ne pas vous avoir pensé à apporter un cadeau de France pour Carlos c'est sa femme
Maissa
2016-03-06T00:00:00Z
Carlos made us feel welcome and we would return again.
Karen
2016-05-15T00:00:00Z
Carlos was a great host. He was always available when we called or texted. The house is in a great location in Miami. Not far from Matheson Hammock, Coconut Grove and The Falls. The neighborhood is lovely , safe and US-1 is down the street for anything you need. He house accommodated the whole family comfortably. The house was clean and beautiful. I would definitely recommend this property.
Divina
2016-04-25T00:00:00Z
Jenis Bilik
Keseluruhan rumah/apt
---
Jenis Penginapan
Rumah
---
Memuatkan
10
---
Bilik tidur
Miami, Florida, Amerika Syarikat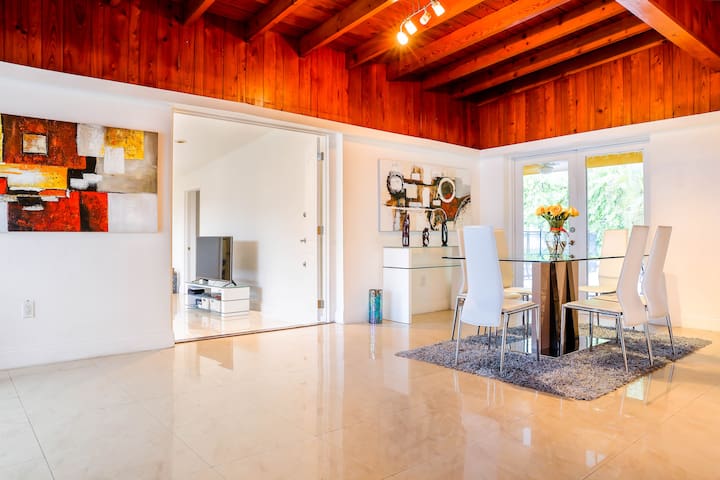 Jedná se o jeden master suite pokoj a jeho soukromý pronájem koupelna. Je pojme až 8 osob. Tento pokoj má 2 ultra-pohodlné manželské postele, 1 futon a můžeme přidat jedno dvojče skutečnou postel a 1 vysoká kvalita vzduchu královna mattress.This je největší místnost. Ušetřit peníze na svou rezervaci. Pomocí tohoto odkazu, takže můžete získat $ 40,00 úvěru vůči jakékoli rezervace. www.airbnb.com/c/arosario14
Náš elegantní domov má nádech kalifornského stylu s krásnou designér exteriéru kamene, ozdobné okenice a detaily přízvuku, cihlová dlažba příjezdové cesty a ikonických španělském stylu střech. Nově postavená a plně jmenován jako vacational domov, váš domov. Jsme v lásce s naší domácnosti a je připraven se podělit o své lásce s vámi. Máme 4 ložnice, 2 koupelny k dispozici. To je obsazené Alicia rodiči, protože Alicia a Luis se stěhoval do Houstonu hledají nové dobrodružství. Alicia rodiče žijí na místě, aby pomohl hostům na cokoliv, co oni potřebují. Ty budou sdílet parkoviště s ostatními hosty stejně. Bezpečné nějaké peníze! Pomocí tohoto odkazu, takže můžete získat $ 20,00 úvěru vůči jakékoli rezervace. https://www.airbnb.com/c/arosario14?s=8
Užijte si kousek ráje každý den v našem sousedství. Ponořený v Florida tropech - a to nejlepší z Floridy životního stylu - tato exkluzivní komunita třpytí s pobřežním obývacím půvab. Užijte si procházku mnoha klikatými uličkami-pláštěnky a užít si různé krásné domácí vzory. Máme štěstí, že žijí ve velké blízkosti. Jsme v blízkosti vše, co potřebujete, včetně 5 minut jízdy na Southland Mall nebo Black Point Marina se dívat nádherný západ slunce!
It was a very comfortable stay. We didn't get to meet anyone at the house. However, everything was great. Comfortable room. Will stay again.
Abhinav
2016-04-01T00:00:00Z
These hosts know how to treat their guests. They made me feel really at ease. The house is unbelievable: Modern and clean with a family atmosphere. It surpassed my expectations. The neighborhood is safe, near shopping malls, a big supermarket and and the main roads. I really recommend it!
Jair
2014-11-23T00:00:00Z
Great house and the hosts were very kind, offering delicious breakfast. Really spent a good time in your house. Thank you!
yu chen
2016-03-15T00:00:00Z
Excellente chambre, très spacieuse, propreté et décoration impeccable. Nous avons vraiment apprécié y séjourner. Quartier résidentiel et famille très discrète. Excellent rapport qualité/prix!
Inaki
2016-04-14T00:00:00Z
Un séjour de 2 nuits chez Luis & Alicia très sympathique, la chambre et la salle de bain sont très spacieuses, fidèles aux photos, et Luis nous a accueilli très chaleureusement avec beaucoup d'attention. Le petit déjeuner était compris, et très bon. La maison se trouve dans un grand lotissement très calme, localisation sans grand intérêt en elle-même, mais très bien située pour rayonner sur les Everglades à la fois sur la partie sud (route vers Flamingo) et sur la partie Nord (Shark valley sur la Tiamiami).
Dominique
2015-02-15T00:00:00Z
Really fancy place!! Great stay!!
Niklas
2016-10-08T00:00:00Z
This was my first time using the site so I must have misunderstood when I paid to stay in. I wasn't informed until I spoke with them that there were people staying in the home. It was awkward but they were extremely nice once I met them! The place was beautiful! and everything in the room was great!
Katherine
2015-12-05T00:00:00Z
I can not rave enough about how amazing the hospitality was. Alicia and Luis are the sweetest couple and they made my 10yr old son and I feel like home. Luis even included my son while he was working on his Harley. My son was in heaven :). The breakfasts were delicious and I really enjoyed meeting all the unique guests that came and went during our stay. The home looks just like the pictures, gorgeous and super clean. Safe neighborhood and close to everything. We can't wait to go back and stay there again!!! Thank you Luis and Alicia for having us and making us feel so welcome. Your the best!!!
Nancy
2015-02-04T00:00:00Z
Jenis Bilik
Bilik persendirian
---
Jenis Penginapan
Inap sarapan
---
Memuatkan
6
---
Bilik tidur
Homestead, Florida, Amerika Syarikat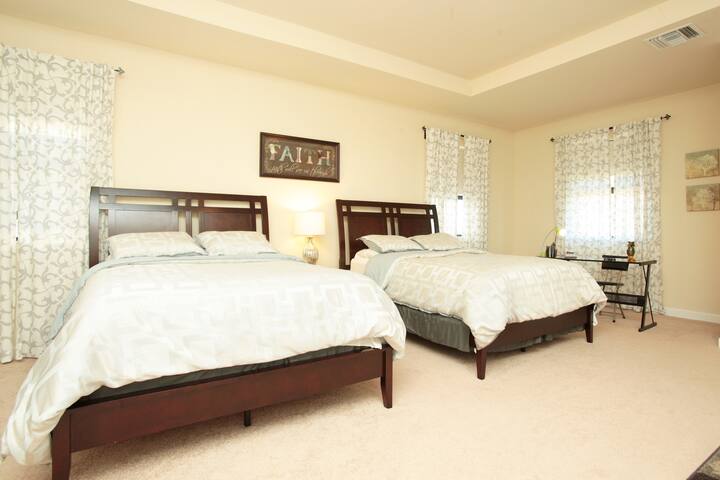 Das Poolhaus direkt hinter dem Haupthaus am Pool getrennt. Dies ist ein komplettes Haus. Es verfügt über 2 Schlafzimmer, beide mit Memory-Foam-Queen-Betten, 2 in voller Größe bequeme Futon, eine kleine Küche, ein Badezimmer und einen offenen Bereich, mit allen Glas-Schiebe-Türen öffnen sich zum Pool.
Wir bieten ein einzigartiges Erlebnis. Wir sind eine andere Art von Bett und Frühstück. Egal, ob Sie im Haupthaus, Poolhaus oder Wohnmobil jeder hat das Frühstück sind zusammen das ist ein B & B, Familie Stil. Kochen ist nicht in den RVs vorgeschlagen, Menschen genießen das Kochen entweder auf dem Ducane Grill oder in der Hauptküche, die jeden möglichen Gewürz hat man sich vorstellen kann. Ich werde das ganze Haus, Ihnen zu erklären, damit Sie verstehen, diese unglaubliche Ranch. Es gibt einen schönen beheizten Pool Bildschirm bedeckt, für alle zu genießen. Wenn Sie zum ersten Mal benutzen, klicken Sie auf den Klick für eine einfache Erklärung sind ... https://www.airbnb.com/c/nanderson3 Zuerst gibt es das Haupthaus. Im Haupthaus befinden sich 2 Schlafzimmer, die verfügbar sind, die Everglades Zimmer (Es wird aufgeführt B & B in der Nähe von Everglades) und Bed & Breakfast in der Nähe von Keys, beide mit voller Betten und ein Gemeinschaftsbad. Dann gibt es ein Poolhaus direkt hinter dem Haupthaus am Pool getrennt, natürlich. Das Poolhaus ist ein komplettes Haus. Es verfügt über 2 Schlafzimmer, beide mit Doppelbetten, zwei in voller Größe bequemen Memory Foam Ikea ausziehenbett, eine kleine Küche, ein Badezimmer und einen offenen Bereich, mit allen Schieber offen zum Pool. Hinter dem Pool-Haus ist Vintage Row. Wir haben 7 Vintage Flugzeug inspiriert Anhänger. Die Anhänger reichen Datum aus dem Jahr 1951 bis zum Jahr 1977 die durch sie 1 zu einem Zeitpunkt gehen lassen. Beachten Sie, dass diese Klassiker Bedeutung sind, dass es viele von Originalteilen einige über 50 Jahre alt. Wir haben sehr hart versucht, dieses Original mit Originalteilen zu halten, so sollten sie alt aussehen. Jeder Airstream verfügt über ein eigenes Bad im Freien, darunter eine zweite Toilette, Waschbecken und Dusche. Sie sind großartig!!!! 1. 1969 Airstream International. Dieser Aluminium bodied Caravan hat ein King-Size-Memory-Foam-Matratze und 2 Einzelbetten, ein Bad und einen kleinen Kühlschrank. Es verfügt über eine überdachte Fläche Veranda von 1954 Spartan von einem schönen Holzdeck getrennt. Am Ende des Decks ist Ihr privates Bad unter freiem Himmel. 2. 1954 Spartan. Es verfügt über einen Memory-Schaum California Kingsize-Bett (das 4 schlafen kann, wenn man eine enge Familie sind, ist es so groß !!!), ein Memory-Foam-Queen-Size-Bett und die Vintage ursprüngliche Küche Essecke als Doppelbett. Es verfügt über eine überdachte Fläche Veranda von 1969 Airstream von einem schönen Holzdeck getrennt. Am Ende des Decks ist Ihr privates Bad unter freiem Himmel. 3. 1955 Airstream. Wir nennen dies eine der Honeymoon-Suite. Dieser ist sehr einzigartig, hat eine benutzerdefinierte King-Size-12-Zoll-Memory-Foam-Bett gemacht, die alle auf der Rückseite des Anhängers einnimmt, vorne Toilette, Waschbecken auf der Rückseite der Toilettenschüssel so kein Wasser verschwendet wird, eine benutzerdefinierte Königin-ish Bett, ein Memory-Foam-Doppelbett, ein kleiner Kühlschrank und verfügt über ein eigenes Bad im Freien, darunter eine zweite Toilette, Waschbecken und Dusche. 4. 1970 Avion hat 2 Einzelbetten und einen vorderen Memory-Foam-Queen-Bett, Kühlschrank und Badezimmer, die Dusche ist winzig aber als Bonus es über einen eigenen Bad unter freiem Himmel, darunter ein zweites WC, Waschbecken und Dusche. Wir haben keine Propan für die Küche angeschlossen, ist das Haupthaus Küche bevorzugt. 4. 1977 Avion A nach Maß King-Size-Bett und 2 Einzelbetten Memory Foam-Matratzen, Kühlschrank und Badezimmer, die Dusche ist winzig aber als Bonus es über einen eigenen Bad unter freiem Himmel, darunter ein zweites WC, Waschbecken und Dusche. Wir haben keine Propan für die Küche angeschlossen, ist das Haupthaus Küche bevorzugt. 5. 1976 Airstream Dies ist ein sehr Spaß Airstream. Es bietet Platz für 6. Es gibt zwei Memory-Foam-Queen-Betten und 2 Einzelbetten. Es gibt einen überdachten Raum, der über einen eigenen Außen Bad und Dusche, Kühlschrank und Sitzgelegenheiten. 6. 1951 ist unsere älteste Spielzeug. Dies ist der Hund Platz. Dieser verfügt über ein Queen-Memory-Foam-Bett, ein vollständiges Speicher-Size-Bett und eine im Inneren WC, eine erstaunliche Bad im Freien und einen eingezäunten Hundebereich. Wir serviert ein unglaubliches Frühstück, vor allem aus dem eigenen Garten. Farm Fresh Bio-Eier, Papaya, Sternfrucht, Bananen, Mango, Ananas, Kokos, Avocado, Tomate, Drachenfrucht, Pfirsich, Blutegel, Passionsfrucht, Jack Obst und Mispeln. Das ist nicht vollständig, aber es ist saisonal, wenn es in der Saison werden Sie es von unserem Resident privates Executive-Chef Glen serviert werden. Wir versuchen, "aus dem Land" zu leben. Wir erheben Huhn. Sie erhalten alle Pflanzen zu erkunden. Die Abende sind die perfekte Zeit, in der heißen Wanne einweichen, schwimmen im beheizten Pool oder am Außentisch in der Mitte der beiden sitzen und einen Drink und großes Gespräch genießen. Da wir weg von der "Stadt" sind, können wir die Sterne sehen deutlich. Wir bekommen auch Meldungen von der NASA in Bezug auf die Raumstationen Weg und oft ist es klar sehen-können von unserem Hof. Ein Spiel von Hufeisen oder Croquet ist eine einladende Herausforderung. An kühleren Abend ist ein Lagerfeuer eine große Bereicherung für die Ruhe unserer Umgebung. Wir leben im Paradies und würde gerne mit Ihnen und Ihrer Familie zu teilen. Wir möchten Sie auf das gute Leben zu begrüßen. Sehen die andere Auflistung Blick unter unserem Bild gibt es eine "meine anderen Angebote," die anderen Bereiche zu sehen. Wir können 40 Personen mit den verschiedenen Unterkünften beherbergen. Unsere Betten schlafen 2. Wir sind in der Nähe des Everglades-Nationalpark, Biscayne National Park, Schnebly Redland der Winery & Brewery, Coral Castle, Fruit & Spice Park, RF Orchideen und wir sind nur 24 Meilen von Key Largo. Redland, manchmal Redlands pluralized, ist eine landwirtschaftliche Gemeinde in Ballungs Miami, Florida, USA, etwa 20 Meilen (32 km) südwestlich von Downtown Miami. Viele Betriebe, original Schindel Häuser der frühen Siedler, u-Pick'em Felder und Korallenfelswände prägen die Landschaft. Es ist für den roten Ton genannt, die das Gebiet, auf einer massiven Schicht aus oolite Rock dominiert. Das gesamte Gebiet ist mit reinem Wasser aus dem Biscayne Aquifer genährt.
You won't be disappointed if you stay here! It truly is a lovely place. 100% recommanded
Kate
2016-04-20T00:00:00Z
It has taken us a while to write this review because it is hard to put into words to describe our stay with Natalie and Glen. From the moment we arrived we felt at home with a genuine warmth. And that continued until we left. Their way of natural living changed us, our daughters now want an array of fruit for breakfast! And we are all more aware of how we live with regards using natural products. The breakfast we were given was amazing. To describe this place as BNB is not enough as we were looked after constantly, from tourism advice to evenings spent around the fire talking, laughing. We met other guests from all around the world. Would we stay their as a family again? Absolutely. When we left, there were many tears and still we are sad not to be there. Congratulations to you both as your hard work and friendliness has created a dream place to stay.
Janet
2014-01-03T00:00:00Z
A fascinating place, but we only stayed overnight so barely saw it. The pool house is beautiful, the pool wonderful and the breakfast delicious, though. Natalie was very welcoming and helpful.
Sarah
2015-04-11T00:00:00Z
We had really enjoyed this place. Natalie and Glen are lovely, great host. Breakfast was wonderful. Thanks a lot.
Frédéric
2015-03-26T00:00:00Z
What a wonderful experience staying at Natalie's place. I had only reserved one day but after seeing the pool house and grounds, I asked her immediately to stay again. Wow! The neighborhood is lush farm lands and very large homes and grounds. Her place looked like a tropical paradise. Her husband Glen was funny and kind. They have all kinds of fruits growing on the grounds and as you can see in the other reviews, they really oudo thenselves with their cooking. I stayed in the 2 bedroom poolhouse but I also saw these darling vintage trailers all decorated. This would be a great place for a large group to stay. With their cooking,a hospitality, and friendlness, it would be a hit. I was sad to leave, honestly. Thanks for making me feel so welcome.
Elizabeth
2014-02-04T00:00:00Z
Nice, helpful hosts. Good location to start your Everglades explorations from. Fantastic breakfast. If your intention is to rest up and relax with little kids this place might not be for you.
elke
2014-12-26T00:00:00Z
Beautiful place, great location, and amazing hosts! Would definitely recommend.
Ryan
2017-03-17T00:00:00Z
房子很好,very good!
健
2015-04-24T00:00:00Z
Jenis Bilik
Keseluruhan rumah/apt
---
Jenis Penginapan
Rumah
---
Memuatkan
8
---
Bilik tidur
Homestead, Florida, Amerika Syarikat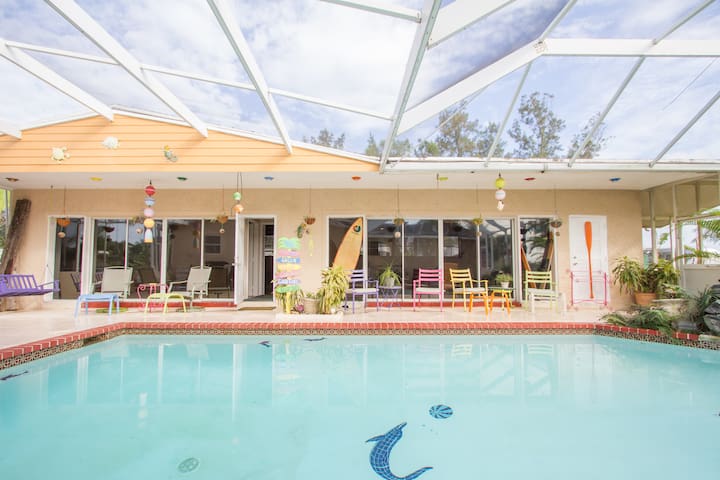 Paradise living in a quiet safe neighborhood. You can experience living in Paradise with your private Oasis in your very own backyard. Near Black Point Marina, great restaurants, malls, shopping centers, & much more.
This 3 Bedroom 2 Bath Home has wood floors in all three bedrooms and tile throughout the rest of the house. Tall ceilings in most of the house, and open floor plan. There's a one car garage attached to the house that has been closed off for my storage. At times I need to pick up some items but I will not disturb my guests. I enter through the outside garage door and NEVER go inside the house when my guests are there unless they invite me in or there is an emergency. There's a washer/dryer for your convenience. The back yard has a beautiful swimming pool and a Jacuzzi. There's an oversize Tiki Hut (10X24) with a hammock, barbeque grill, and patio furniture for you to relax and get the feel of Paradise.
The neighborhood is safe and also very quiet and family friendly. Please be courteous of the noise and time. Although you are on vacation my neighbors work and their children go to school.
It was great
Moustapha
2016-09-01T00:00:00Z
The house was great and the pool area was amazing. The kids loved it. Sandra was an excellent host and she texted a couple of times to make sure all was well. Only thing was no TV sets which I did not read on the description but it actually was great since the kids did puzzles that she had at the house and we were able to watch Netflix, Internet Services was great and fast. I will recommend this house definitely
Cristina
2016-06-18T00:00:00Z
a little challenging to find...gps issues.. Sandra guided me via telephone all good.
philip
2016-03-08T00:00:00Z
I traveled to Miami for a Girlfriend's Getaway and to escape to some sun but not the bustle of south beach. We loved the house and the fact it was in beautiful residential area on a very quiet street. The rooms themselves seem best suited for a family traveling with children but the three rooms worked great for our party of three. There were lots of little touches that you would expect at a hotel. We were provided with shampoo and conditioner, beach towels, and condiments in the refrigerator. Our host was very warm and inviting but not intrusive, which we really appreciated. She responded to every request. Hope to stay here again.
Ashley
2016-04-01T00:00:00Z
Sandra's place is absolutely wonderful and she is genuinely interested in you having a great, comfortable time. Everything was superbly clean and ready for me and my family. I would definitely come back to her place when I visit again. Know that all of the pictures she posts about her property are EXACTLY the way they are. She has an oasis for a backyard. It was so relaxing.
Tosha
2017-03-12T00:00:00Z
Great host, great house would recommend.
Jonathon
2016-07-28T00:00:00Z
We went to the wrong adress at first but Sandra and her husband was kind enough to pick us up and show us around the house, they even took us shopping for groceries and showed us around town. Very clean house and everything was in order. We had a very nice stay and would not hesitate to go there again.
Robin
2016-09-19T00:00:00Z
We had a wonderful time! Sandra provided all toiletries and had everything labeled. She also heated up the hot tub when we arrived without us asking. She is very helpful and is willing to explain anything that is asked. There were tiny ants in the kitchen and the toilet is dismounted off the ground but other than that the house is a great place to vacation in. She also provided floaties and laundry soap which was highly appreciated. I would come back to this home when I vacation in Miami next time.
winnie
2015-12-25T00:00:00Z
Jenis Bilik
Keseluruhan rumah/apt
---
Jenis Penginapan
Rumah
---
Memuatkan
11
---
Bilik tidur
Cutler Bay, Florida, Amerika Syarikat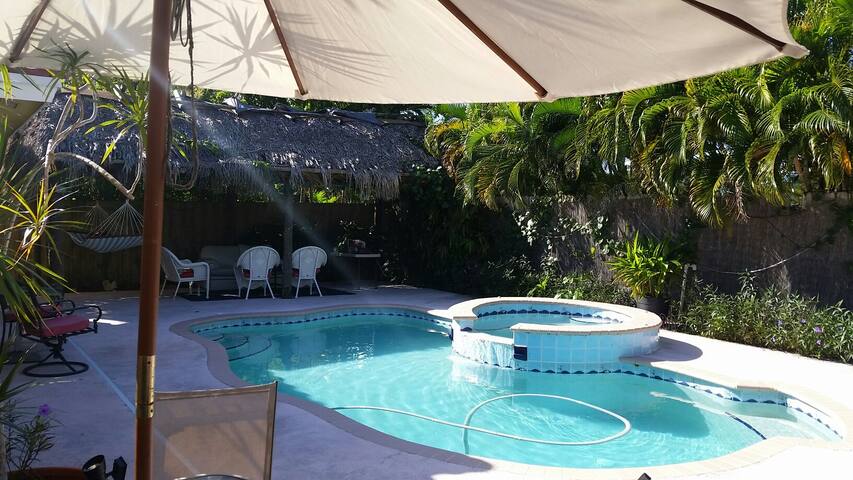 Naše 3počet 2 a 1/2 BathroomFeaturing Gourmet Kitchen, Patio, kryté garážové, Vysokorychlostní 75mbps WiFi, DirecTV a vybaven vysoce Kvalitní nábytek. Nachází se v klidném letovisku BrandNew-Style Condo s 24/7 zabezpečení vozidel v Cutler Bay-FL. To je v docházkové vzdálenosti od Publix a major restaurační řetězce; 1,5 míle od Southland Mall; 3 míle od Monkey Jungle; Během 10-15 minut od několika parků a spoustou přírody, Miami Zoo, Coral hrad, Gold Coast muzeum železnice, Thalatta Estate; Během 25-30 minut od letiště MIA, Seaquarium, a Magnific ostrovů na klíče!
Mi espacio se adapta cómodamente a 3 personas. El tercer huésped se le dará un colchón de espuma de memoria de doble :) Hay un montón de espacio en la casa, ya que es sólo mi prometida y que viven aquí, pero que viajan con frecuencia. Cada habitación tiene su llave y se puede cerrar la puerta y mantener la tecla mientras su estancia. Cada mueble y aparato es nuevo. El baño puede o no puede ser compartido dependiendo de la ocupación de la otra habitación.
Velmi slušní lidé, klidnou a příjemnou sousedství. Jen zřídka slyšet něco před domem.
Great Place, awesome hosts, nothing to criticize, one of our best stays - nothing more to say!
Moritz
2017-03-10T00:00:00Z
Igor's brand new home was very comfortable and clean. He was fast to communicate and it was clear our comfort and happiness were very important to him. Definitely recommended.
Matt
2017-02-06T00:00:00Z
I definitely recommend this accomodation, Igor and Alejandra are great hosts, we had so much fun there! The apartment was perfectly clean,
Alexander
2017-03-07T00:00:00Z
This stay was my first time using Airbnb so I was a bit nervous. Igor & Alejandra made my stay very comfortable from beginnging to end ! Would refer them to anyone.
Ayanna
2017-03-13T00:00:00Z
La pareja muy agradable, atentos siempre. La casa muy bonita con todas las comodidades. De verdad han sido muy lindos anfitriones nos hemos sentido muy a gusto. y los recomendamos a todos los usuarios de airbnb Muchas gracias y saludos desde Peru
Marycarmen
2017-03-25T00:00:00Z
Place is brand new , spec clean and in a calm and budding community. Igors hospitality warrants a double mention. He was helpful in finding the place Nd offered to use most of the amenities. Overall it was a great experience that I would go back to anytime !!
Leela
2017-02-20T00:00:00Z
Igor is a great host. He is very thoughtful and helpful. He is very friendly and we enjoyed our conversations greatly. He makes efforts to ensure we have a comfortable stay at his new house. His new house is very clean and everything is brand new. The location is also convenient for us to visit either Everglades National Park or great Miami areas. My family and I enjoyed our stay in Igor's house very much. Highly recommended!
Zhan
2017-02-26T00:00:00Z
Igor est tres accueillant; chambre et salle de bain propre, quartier calme et proches des commodités.
Agathe
2017-02-28T00:00:00Z
Jenis Bilik
Bilik persendirian
---
Jenis Penginapan
Rumah bandar
---
Memuatkan
3
---
Bilik tidur
Homestead, Florida, Amerika Syarikat
Mé místo je v blízkosti veřejné dopravy, parky, nákupní střediska a FL Keys. Zamilujete si svoje místo, protože pohodlné postele, na pohodu, a vysokými stropy. Mé místo je vhodné pro páry, sólové dobrodruhy, a obchodní cestující. Nachází se v Miami, Florida, ale Homestead naplní, protože se jedná o novou oblast. Unincorporated Miami Dade County. :) 18 mil od mezinárodního letiště v Miami 81 mil od Florida Keys 111 míle daleko od Key West / špičce FL. 23 mil od South Beach
Las habitaciones privadas se entrega amueblada con una cama de matrimonio de espuma de memoria, un armario lleno walk-in, plancha, TV, cajones para guardar la ropa, un organizador de zapatos y una pequeña nevera. Voy a tener un par de botellas de agua para empezar, pero no dude en detenerse en supermercado Publix a poca distancia de la casa para abastecerse de algunas cosas pequeñas.
Okolí je bezpečný a lidé jsou přátelští. Jsem obklopen škol a psí chodci. K dispozici je také venkovní posilovna v docházkové vzdálenosti od domu
Doug was an awesome host!! This was our first time using airbnb and we are so glad our experience was above expectations. Thanks for making everything so easy Doug!
Ajay
2017-03-17T00:00:00Z
Doug's house is fabulous. I stayed there for two nights with my fiance. We stay in airbnbs often, and this was one of our best experiences ever: Doug is incredibly warm, responsive, and responsible. He is attentive and respectful. The house is very comfortable, and the room quite private (as other reviewers says, it's a whole wing of the house on the upper floor, so it's private and spacious). The accommodations are luxurious: big bathroom with fancy shower, super comfy bed, nice sheets, etc. We felt so welcomed and comfortable! The house is in a very quiet neighborhood a few blocks from a grocery store. A great location if you're going to the Everglades or Keys. And under an hour from Miami! I would definitely recommend Doug's place!
Sasha
2017-01-22T00:00:00Z
Doug was very welcoming and friendly. Very nice house, spacious room with access to a private bathroom. Unfortunately it was for our last night in Florida. If we had known, we would have booked several nights. Host recommended at 100% !
Beaufort
2017-01-28T00:00:00Z
Nice place to stay and recommend to others.
peter
2017-03-18T00:00:00Z
Place is very comfortable, clean, peaceful and quiet. Doug is a great host, very hospitable !! I recommend it !!
Ricardo
2017-02-15T00:00:00Z
PERFECTION!!!! I travel for a living, Doug's home and hospitality rivaled any 5 star hotel I've been to.... Doug's home is immaculate, he's very knowledgeable about the area and is willing to help in any way.... And his banana pancakes are to die for.... The next time I'm in Miami his house is my go-to spot!!!!
Phyllis
2017-01-17T00:00:00Z
Great location for my trip! My stay was cozy so clean and peaceful. I'd stay again. Doug was awesome extremely hospitable. His response time exceeded my expectations. His fiancé was sweet, minimal interactions. I personally couldn't get the TV past the Internet home page but that was just user error lol. (not tech savvy) Thank you, Zee
Zerlina
2016-12-30T00:00:00Z
My travel buddy and I have spent 5 nights at Doug's place. Originally we had only booked for 3 days, but it soon became clear that there was no need to look for a different place in Miami to crash; it wasn't going to get any better than this. From all Airbnb experiences we had during our trip through the US and earlier trips, our stay with Doug was (by far) the best. The room and bed are as clean as you can get and Doug makes sure (multiple) fresh towels are present every day. Doug is very easy to communicate with and does his utmost to accomadate his guests. For example he arranged an additional room for us to use for our luggage (without us asking for it) and helped us with looking for a rental car. We have never felt uncomfortable during our stay with Doug and would recommend his place to everyone!
Beni
2017-01-03T00:00:00Z
Jenis Bilik
Bilik persendirian
---
Jenis Penginapan
Rumah
---
Memuatkan
2
---
Bilik tidur
Homestead, Florida, Amerika Syarikat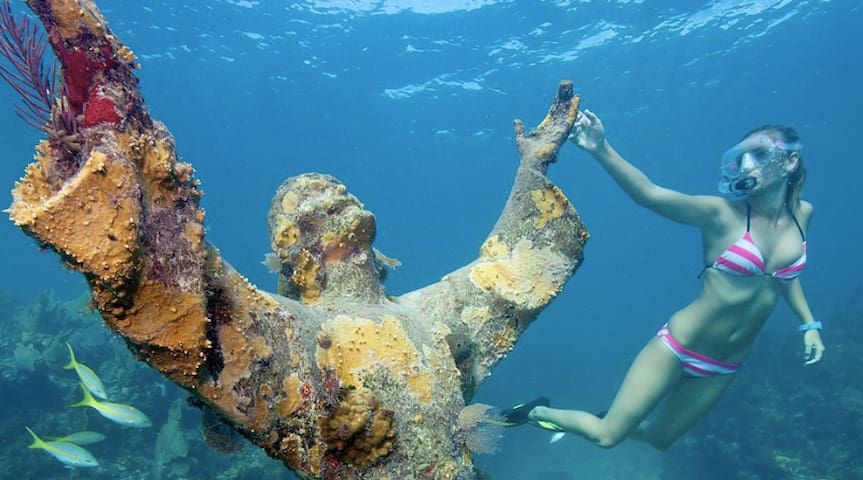 A large house with a shared bathroom and private room . Shopping, banks , restaurants , pharmacies , and supermarkets. We have a pool for your use. We also have gas stations and points of attraction and shopping centers , and the Miami Metro Zoo .
In the space fits a family of five. The price is $ 65.00 (two people) per night, and $ 15 additional per person
House with all necessary facilities, located in quiet residential area and safe !!!
Mi experiencia ? Excelente ! Todo muy ordenado, muy limpio, cuidado de detalles que hacen agradable la estadía. Doña Norma es una excelente anfitrión, muy amable, amena plática, muy atenta. La casa es muy bonita, y amplia, tienes TV en cada habitación, patio amplio, y columpios con juegos si tiene niños. La descripción del anuncio no podía estar más correcta: "Vacaciones en un paraíso" Muchas gracias por todo doña Norma, la próxima vez que viaje a Miami no dudo que regresaremos con mi familia a su casa.
Marvin
2015-12-21T00:00:00Z
hola!!! la estadia fue impresionante de verdad nos sentimos como en casa, la atencion fue excelente les recomiendo ya que la la casa es muy bonita y sobre todo aseada, en realidad no tengo palabras para decir lo bien que la pasamos y antemanos darle las gracias a la propietaria por su excelente atension y bonitos detalles con lo que nos sorprendimos dia a dia!!! mil gracias y bendiciones
wilmer
2015-03-15T00:00:00Z
Norma's House is definitely one of the best places you will ever come across airbnb. The house and especially the pool is really beatiful. We immediately felt like home and will definitely come back.
Frederick
2016-02-13T00:00:00Z
Perfect stay. Host is very friendly and makes you feel welcome. Beautiful home very clean and all the amentities one would need.
Nicholas
2016-10-28T00:00:00Z
Te sientes como en tu casa, tienes a disposición las comodidades de la casa. Norma estuvo pendiente todo el tiempo de nuestra hora de llegada. El sector es muy tranquilo, relativamente cerca de los sitios para ir de compras. Lo recomiendo para ir con la familia. Una experiencia maravillosa!!!
Yesid
2016-10-24T00:00:00Z
Clean! Friendly! Safe! Affordable! Cozy! Comfortable!
Damon
2016-12-09T00:00:00Z
Like home! Norma was fantastic. For sure I will return.
JOSE
2016-10-06T00:00:00Z
非常享受在这里的停留时光,房东热情款待并及时解决问题。我是玩到早走的,norma把一切事情安排得妥妥帖帖.非常感谢愿意推荐给其他朋友.
Fernando
2016-03-12T00:00:00Z
Jenis Bilik
Bilik persendirian
---
Jenis Penginapan
Rumah
---
Memuatkan
2
---
Bilik tidur
Miami, Florida, Amerika Syarikat
K dispozici je bezplatné parkování na příjezdové cestě. Mé místo je v blízkosti nákupního centra a autobusové zastávky. Mé místo je dobré pro páry a sólo dobrodruhy. Nachází se v blízkosti Keys. Je to 45 minut na pláž autem.
Awesome quiet place!! I would recommend to anyone. Go there without worries.
Adrian
2016-11-20T00:00:00Z
Michelle was a great host. She is interested is that you feel good and confortable. Thanks for hosting me
Esteban
2017-01-26T00:00:00Z
Michelle was really nice with us. She have a really nice and clean house. The house is near from Miami or the Keys. Really usefull to plan somethings to do around.
lea
2016-07-27T00:00:00Z
In fact Michelle was a great person however she was ill she tried her best to help me and guide and waited for my late check in with a smile. The home is good, big, comfortable, cosy, with a large back yard, and everything you need is in the kitchen. The only bad thing was that the bed linens and pillows covers were not clean and I had to buy pillows. Thanks Michelle for hospitality.
Hossamelden
2017-02-05T00:00:00Z
Michelle was very quick with the replies . The house is so nice for long stay ,though she was in a vacation she made sure that we were comfortable with all the things mentioned. One should definitely give a try .
nath
2016-11-28T00:00:00Z
The host canceled this reservation 4 days before arrival. This is an automated posting.
Sandra
2016-06-21T00:00:00Z
It was a very pleasant experience. It was very comfortable and accommodating.
Anibal
2016-07-16T00:00:00Z
The host canceled this reservation 56 days before arrival. This is an automated posting.
Vanessa
2016-07-19T00:00:00Z
Jenis Bilik
Bilik persendirian
---
Jenis Penginapan
Rumah
---
Memuatkan
2
---
Bilik tidur
Miami, Florida, Amerika Syarikat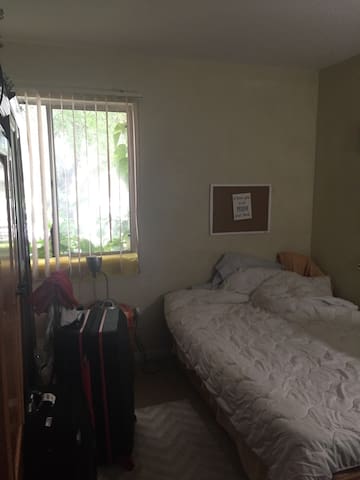 Acogedor, cómodo, y tranquilo, esto es lo que necesitan vacaciones. Esta sala es perfecta para una pareja. Este es un dormitorio y un alquiler de cuarto de baño compartido. La cama es muy cómoda y segura que puede prometer que va a disfrutar de vosotros. Ahorrar dinero en su reserva. Use este enlace, para que pueda obtener $ 40,00 crédito para cualquier reserva. www.airbnb.com/c/arosario14
Unser elegantes Haus hat einen Hauch von Kalifornien Stil mit schönen Designer Außen Stein, dekorative Fensterläden und Akzent Details, Ziegel Fertiger Auffahrt und ikonischen spanischen Stil Dächer. Das neu gebaute und voll als vacational nach Hause, zu Hause bestellt. Wir sind in der Liebe mit uns nach Hause und bereit, mit Ihnen unsere Liebe zu teilen. Wir haben 4 Schlafzimmer, 2 Badezimmer zur Verfügung. Es wird von Alicias Eltern besetzt seit Alicia und Luis nach Houston bewegt Suche nach neuen Abenteuern. Alicias Eltern leben vor Ort Gäste auf irgendetwas zu helfen, die sie benötigen. Sie werden auch Parkplätze mit anderen Gästen teilen.
Genießen Sie ein Stück Paradies jeden Tag in unserer Nachbarschaft. Eingetaucht in den Florida-Tropen - und das Beste aus der Florida Lifestyle - diese exklusive Gemeinschaft schimmert mit Küsten leben Reiz. Genießen Sie einen Spaziergang durch die vielen verwinkelten Gassen-Umhänge und genießen Sie die verschiedenen schönen Heimat-Designs. Wir haben das Glück, in einer tollen Gegend zu leben. Wir sind in der Nähe alles, was Sie benötigen, einschließlich 5 min Fahrt zum Southland Mall oder der Black Point Marina einen herrlichen Sonnenuntergang zu beobachten!
Su casa es mi casa ! Très bon séjour, chambre très confortable, accueil adorable, rien a redire. Merci !
Gilles
2015-11-02T00:00:00Z
Beautiful home! I felt like I was staying at a 5 star hotel. The home is big clean and modern. From the moment that I stepped in the energy felt very zen like. The room is clean and cozy the bed is so comfortable. The bathroom is big and clean with modern finishes and decor. The neighborhood is quiet and safe. I really enjoyed my stay here I relaxed the whole time. Alicia and Luis were not there but they were very responsive via text. Their parents were sweethearts and although they are not fluent in english they know enough to communicate with you. I highly recommend this lovely home! Thanks Alicia and Luis for renting such a beautiful space at such a convenient price!
Candice
2015-12-13T00:00:00Z
We were heading down to Key West the next day & Alicia's place was a great place to stay & make the journey less. We had a lovely comfortable room & enjoyed meeting her parents very much. It was a lovely neighborhood to stay in. Thank you!
Anne
2015-09-23T00:00:00Z
It was a wonderful stay! Beautiful house and very clean and comfortable room.
Elisa
2016-08-29T00:00:00Z
We had a warm welcome. It was a pleasure to meet Alicia's parents in this lovely and quiet house. The breakfast was delicious. We recommad you this host. Louis claude and Betty
louis-claude
2015-11-12T00:00:00Z
I was greeted by Alicia's parents who were very nice and responsive. If I'm ever in the area again, I will be sure to spend the night!
Gary
2015-11-21T00:00:00Z
We had a wonderful night of rest in this lovely room. The bed was super comfy, with a walk-in closet and a TV. If you're looking to have an amazing airbnb experience, this is definitely the right place to be. This beautiful, vanilla-scented house is spacious, clean, and filled with cozy furnitures and pretty decorations. The kitchen has everything, fridge, microwave, oven, and dinnerware in the cabinets. I like the way they design the bathroom, putting toilet and shower in their own small room while keeping the two vanities separate. Alicia and Luis are great hosts, hospitable and responsive to our messages. I'd definitely come back if I visit the area again!
Allie
2016-12-27T00:00:00Z
Though I didn't meet Alicia and Luis, I did meet Alicia's parents and they are wonderful, sweet hosts. The home is beautiful and very clean, and the room is perfect for a couple or a solo traveler. The location was perfect for where I was working in Cutler Bay. Highly recommended!
Jory
2015-10-31T00:00:00Z
Jenis Bilik
Bilik persendirian
---
Jenis Penginapan
Inap sarapan
---
Memuatkan
2
---
Bilik tidur
Homestead, Florida, Amerika Syarikat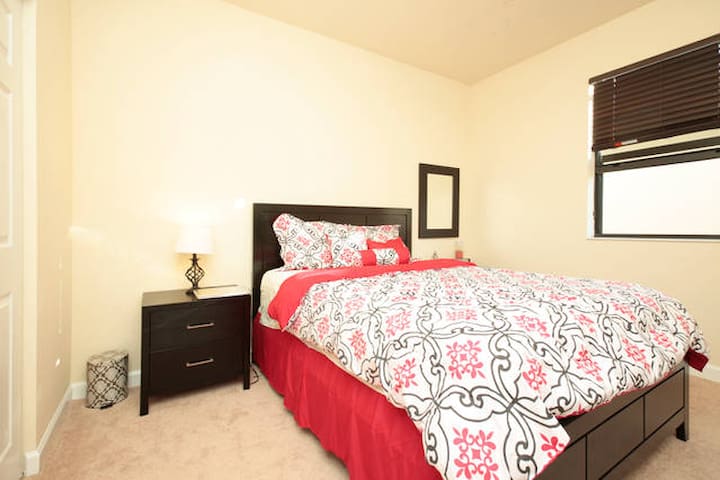 Náš domov je klidný, klidný. V blízkosti nákupní, Florida Keys, a Everglades. Máme krásný bazén a dostatek životního prostoru pro naše hosty. Máme Wi-Fi a kabelová televize stejně, a pračka a sušička na oblečení.
Jasné osvětlené prostory ,. , Back yard plocha je více než 2300 čtverečních stop paluby kolem bazénu. Krytá terasa, stejně jako Tiki Hut.
Našem sousedství, je docela tichý ,. ideální pro jogging nebo procházky v den nebo večer. V pravém ročním období tam je dokonce jahoda farmě blízko pro ty, kteří chtějí navštívit.
It is wonderful place in very quite and safe area, but also it is very close to highway exit - exactly what we were need during our intense trip. Home is very clean and backyard with pool is amazing. George is very kind host which provided us all necessary things. I would like to recommend this place for any travelers.
Dariia
2016-06-21T00:00:00Z
George et Miriam sont des hôtes très sympathiques nous avons été très bien accueillis et nous sentions chez nous , la localisation était parfaite . La maison est propre et le lieu est un havre de paix . Nous recommandons très fortement ce lieu . Pas un seul défaut pour notre première expérience air b&b. Vous pouvez venir les yeux fermés . Nous reviendrons avec grand plaisir !
Helene
2017-03-11T00:00:00Z
This was a really great stay. George made us feel at home and we loved it. It is a really great house with a great neighborhood. We met his daughter as well and she is really nice too. We would easily stay here again. So warm and cozy place!
Malin
2015-11-12T00:00:00Z
George and his home was great!! Amazing location and hospitality! We had a very comfortable stay
Benjamin
2016-07-19T00:00:00Z
Miriam is very cuteeeee. She's so nice, patient. I'm so impressed by her using translator to communicate with us. She's so thoughtful. Nice nights in her house. Btw her house is beautiful and full of decorations.
Tian
2016-12-24T00:00:00Z
George was very welcoming and communication was awesome. The house is very nice the backyard with the tiki hut and pool is really cool for hanging out.
Lyle
2017-02-23T00:00:00Z
My visit with George and Mirian again was a return to "home away from home." They are always great hosts, concerned with their guests feeling at home, and always interested in their guests as people, not just business. I consider them good friends.
GERALD
2016-01-07T00:00:00Z
As described. Wonderful value. Great place to stay if you want to check out the Everglades or do a day trip to the Keys
Lee
2017-04-12T00:00:00Z
Jenis Bilik
Bilik persendirian
---
Jenis Penginapan
Inap sarapan
---
Memuatkan
2
---
Bilik tidur
Miami, Florida, Amerika Syarikat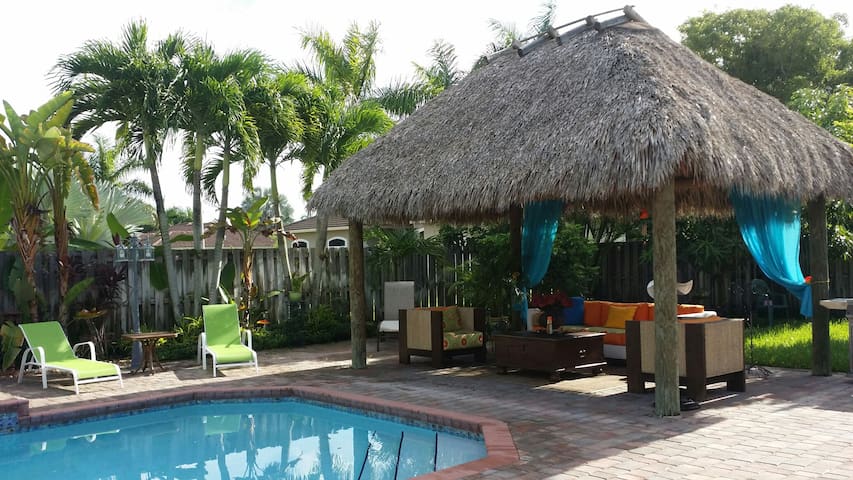 Maximale Gelassenheit und Ruhe für diejenigen, die den Lärm zu entkommen. 4x2, friedliche Nachbarschaft. Nur wenige Minuten entfernt von der Turnpike, Bequemlichkeit in die Läden und Einkaufszentrum. 10 Minuten entfernt von den Florida Keys.
the air condition will be a little hot
Cuqui y Luis
2017-03-12T00:00:00Z
We had a wonderful stay at Cristhian's place! It was a nice, quiet neighborhood and a very cozy setup: comfortable room, clean bathroom and access to kitchen. Cristhian even provided towels and showering soaps. A great location if you are planning on drive down to Key West, like we did! Though we weren't able to meet in person, Cristhian was very responsive and helpful during our whole stay! Thanks!
Kathleen
2017-03-26T00:00:00Z
Cristhian was a very friendly host. We only stayed one night at his place but had some great conversation with him. Place was clean, bedroom had a comfy bed and localisation was perfect for either visiting the Keys or traveling to Miami.
Kevin
2017-03-21T00:00:00Z
Great neighborhood, great host! Perfect location for heading to the Everglades early in the morning. Highly recommended
Johannes
2017-03-24T00:00:00Z
Cristhian made me feel like home. He offered snacks and beverages. His house is spacious and very clean. Very calm neighborhood.
Vladimir
2017-03-16T00:00:00Z
brand-new, very nice house in a safe and quiet neighbourhood with a very soft bed. Cristhian is super laid back and very accomodating, we would definitely stay here again
Marianne
2017-04-07T00:00:00Z
We only stayed for one night at Cristhian's place but he was really nice and helpful. His place is very nice and we enjoyed our stay :)
Elena
2017-03-17T00:00:00Z
Has the most comfortable bed I've ever slept in. Very clean and friendly host. Would highly recommend this place to anyone.
Wayne
2017-03-02T00:00:00Z
Jenis Bilik
Bilik persendirian
---
Jenis Penginapan
Rumah
---
Memuatkan
2
---
Bilik tidur
Homestead, Florida, Amerika Syarikat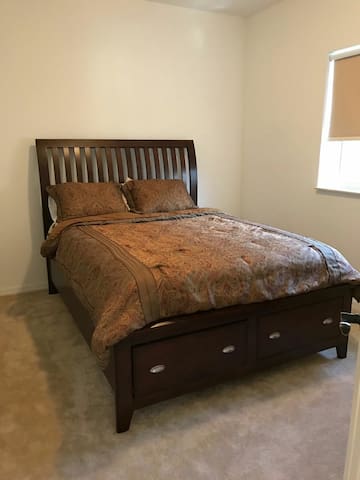 Ein gemütliches privates Schlafzimmer und eigenem Bad nur 30 Minuten von den Keys, 45 Minuten von South Beach (je nach Verkehr), 1 Stunde von Fort Lauderdale. Das Hotel liegt in einer neuen Entwicklung, Silver Palms, haben die Gäste können auch den Zugang zum Clubhaus mit Fitnessraum, Schwimmbad und bequemen Liegebereich.
Weniger als fünf Minuten von South Miami Dade Cultural Arts Center für große Theater, Tanz und Musik. Auch weniger als fünf Minuten von der Turnpike, verbinden Sie bequem in den Keys, Miami Beach und alle Punkte dazwischen.
Wir hatten 2 schöne Tage bei William. Die Wohnung ist perfekt für Ausflüge in die Everglades. Das Zimmer und das Bad waren sauber. William hilft einem gerne weiter und gibt Tips für Ausflüge. Tolle erste air bnb Erfahrung.
Christina
2015-11-22T00:00:00Z
Very nice neighborhood and accurate listing. William was very helpful and took us in on very short notice late in the day! Really comfortable bed and amenities.
Loren and Claire
2015-02-06T00:00:00Z
Sehr saubere und ordentliche Unterkunft in ruhiger Wohnlage. Der Eigentümer ist sehr freundlich und gibt gerne Reisetipps.
Daniel
2016-01-08T00:00:00Z
we had a very good time at Williams house. William is a perfect host, we definitely would recommend. Thanks William, we had a great time;)
susanne
2016-02-18T00:00:00Z
Our stay with William was great. We loved it. His home is so comfortable, clean, quiet and roomy. He is a kind gentle soul.
Nancy
2017-03-01T00:00:00Z
Host was very welcoming and the bedroom and bathroom were very clean. He has a couple of dogs that are very well behaved and not a bother at all. Highly recommended.
Greg
2016-04-12T00:00:00Z
Vor der Reise haben unser Gastgeber William und wir viele Informationen ausgetauscht, die uns sehr geholfen haben, den Anderen etwas besser kennezulernen (Schule, Arbeit, Hobbys, Reisepläne). William empfing uns persönlich und zeigte uns sein Haus. Die Küche konnten wir mit vollem Eqiupment benutzen. Das Schlaf- und Badezimmer waren beide sehr sauber und gut ausgestattet, sodass wir uns sehr wohl fühlten. Alles war genauso wie wir aufgrund der Fotos und Beschreibungen erwartet hatten. Die Nachbarschaft war sehr schön, besonders toll fanden wir das Clubhaus mit Pool und Fitness-Center. William war sehr offen und half uns mit Tips über Ausflugsmöglichkeiten oder Restaurants rund um Miami und Homestead. Ebenfalls lud er uns zu einer Party mit seinen Freunden ein, ein toller Abend mit netten Gesprächen und leckerem Sushi. Die Lage des Hauses ist sehr zentral, wenn man von allem Etwas in Süd-Florida sehen möchte. Bis Key Largo, den Everglades und Miami fährt man jeweils etwa eine Stunde. William ist ein super netter Gastgeber, war toll vorbereitet und hat sich stets um alles gekümmert. Danke dafür!
Lara-Madeleine
2015-01-05T00:00:00Z
William is a great host with a lot of good advices for things to do in south florida, especially in the Everglades. Don't hesite to book the room!
Alexandre
2015-06-07T00:00:00Z
Jenis Bilik
Bilik persendirian
---
Jenis Penginapan
Rumah
---
Memuatkan
2
---
Bilik tidur
Homestead, Florida, Amerika Syarikat
Kommen Sie und genießen Sie Ihren Urlaub oder Geschäfts in sind Gästehaus, ist alles privat in diesem Gasthaus. Wir bieten einen eigenen Eingang erreichbar von der rechten Seitentür, Ihre Gäste Haus verfügt über eine Mini-Küche mit Waschbecken, Esstisch, Kühlschrank mit Gefrierfach, Mikrowelle, Toaster, Hot Pastete, Kaffeemaschine mit Kaffee, Kaffeesahne und Zucker ohne zusätzliche Kosten. Sie verfügen über ein eigenes Bad mit WC, Waschbecken und Dusche. Wir stellen Handtücher, Shampoo, Seife, Zahnpasta, Conditioner, Haartrockner, Bügeleisen, auch ein brandneues Kingsize-Bett mit Schaum-mastress. NEW 32 TV mit Kabel und einem eigenen A / C-Einheit. Wenn Sie ankommen, wir begrüßen Sie mit einem Flaschen Wasser, Kaffee und ein paar Snacks, alles kostenlos ohne Kosten. Wir freuen uns, Ihr Gastgeber zu sein. Wir haben viele Attraktionen in der Nähe. (Metro Zoo, Monkey Jungle, 20 Minuten vom Flughafen entfernt, der beste Ort, um die Schlüssel zu gehen, Malls. Restaurants, Lebensmittelgeschäft usw. Wir werden unser Bestes für Sie tun, wenn Sie irgendeine Frage haben Sie mir oder SMS bei jeder anrufen kann Zeit. Nur 3 Minuten von LARRY UND PENNY THOMPSON PARK !!! Camping-Bereich mit 270 Morgen natürlichen Wald, Zaumzeug Spur, Wanderweg und einem Süßwassersee, können Sie diesen Park in unseren zwei Menschen Fahrrad genießen, werden Sie diesen Ort zu lieben und ich weiß, Sie würden nicht wie die anderen Vermutungen gehen wollen! !!
Unser Haus ist in einer tollen Gegend, sicher und freundlich, können Sie ohne Sorgen in der Nacht zu Fuß, nur 3 min von LARRY UND PENNY THOMPSON PARK !!! Camping-Bereich mit 270 Morgen natürlichen Wald, Zaumzeug Spur, Wanderweg und einem Süßwassersee, nur eine Meile von den öffentlichen Verkehrsmitteln
The appt is clean and sufficient. However no daylight. Only when you leave the door open you get some light/fresh air in the appartment. But then you hear the noice from the big airconditioner unit which is right next to that door. The bedroom is great with a big bed and A-C. Bathroom great shower rest is very small. Kitchen is small, no place to cook or pots of pans. Great to be able to use the terras of the house. We needed help because of problems with the rent a car. His wife who hardly speaks english helped us a lot with help of her son. If you contacted Nelson through airbnb they responded very quickly.
Britta
2016-09-29T00:00:00Z
The host was excellent. He is very welcoming. I felt like I was visiting family. I enjoyed my stay. I will defiantly stay there again. Beautiful decorations.
Adijat
2016-07-06T00:00:00Z
Séjour de 2 nuits très agréables avec un hote attentif à nos besoins. Petit défaut de ce studio c'est qu'il n'y a pas de fenêtre mais un puit de lumière
cédric
2016-09-08T00:00:00Z
Very nice place. Clean and tidy. Perfect communication. Smooth check in/out. Very comfortable bed ! I highly recommend
Artur
2016-10-14T00:00:00Z
It was ok to stay there,but I expected something else.It was clean and tidied up and we also get snacks and coffee.But it was unpersonal.We never saw the people and if we had a question we only texted.I felt a bit lost there cause we didn't have a car and the area was very quiet around.
Kristin
2016-08-31T00:00:00Z
!!!+++!!! Everything was great!!!+++!!!
Tamira
2016-09-25T00:00:00Z
Our stay was completely comfortable and relaxing. Claudia, Nelsons wife was able to assist us with an additional night stay because of an early flight arrival. Everything was centralized and we will be looking at staying with them in the future if we visit Miami again. Nuestra estancia fue completamente cómoda y relajante. Claudia, Nelsons esposa fue capaz de ayudarnos con una estancia de noche adicional debido a una llegada temprano de vuelo. Todo estaba centralizado y estaremos buscando en alojarse con ellos en el futuro si nos visita Miami de nuevo.
Jason
2017-01-17T00:00:00Z
Nelson lives in a very nice neighborhood. He's very easy to communicate with and he responds to your messages in a timely manner. My wife and I felt very comfortable staying in his guest house. I would highly recommend Nelson's guest house to anyone who is looking to stay in Miami.
Rob
2016-08-24T00:00:00Z
Jenis Bilik
Keseluruhan rumah/apt
---
Jenis Penginapan
Rumah
---
Memuatkan
2
---
Bilik tidur
Miami, Florida, Amerika Syarikat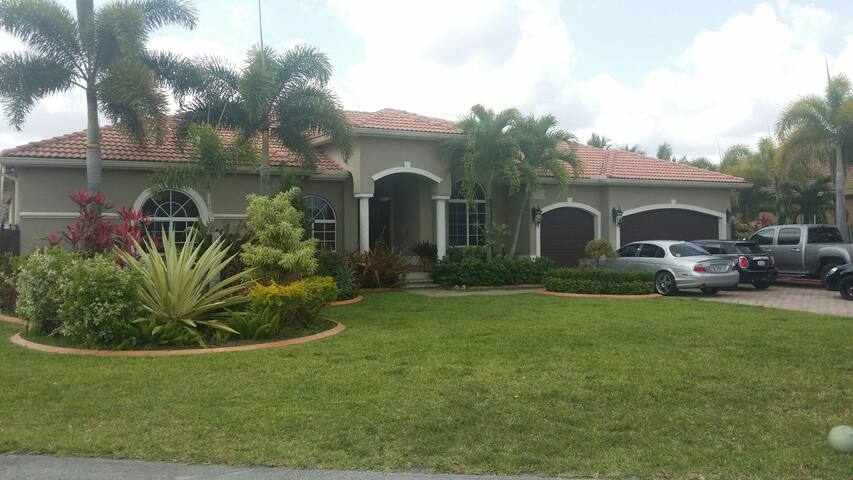 Welcome to the Serenity of a true Homestead, Florida! Guests are welcomed by an exclusive private bedroom with inclusive walk-in Closet and private bathroom for you and your partner to enjoy the perfect getaway. We enjoy all-natural products in household products to minimize chemical usage for your health!
The entire household is 100% maintained and cleaned with completely natural and eco-friendly plant based products being a big plus for people with heavy allergies. Spa specialist which can provide relaxing facial with exfoliation, cleansing, and full mask treatment with cold and hot towels also done with natural plant based products for sensitive skin.
-The entire neighborhood has cameras scattered throughout to ensure security -Between 1-3 security guards present every night -Gym access within the community with several treadmills, full leg workout region and upper body area to maximize your gains and fitness while on vacation -Pool access with many lounging chairs so that you can enjoy a morning tan or soak of Vitamin-D in the South Florida Sun!
Maribel's place was just what we needed, a clean easy space to stay. It is just as pictured with a bed and full bathroom. She provided soap, shampoo and toothpaste as well. Thankfully, they held a parking place as the apartment complex is very busy. Her son was also very welcoming and a great translator. We enjoyed our stay and it was clean and a great price. Thanks!
Laura Lynne
2017-02-14T00:00:00Z
Maribel was very pleasant and welcoming to us, giving us privacy. Everything was nice and clean.
Ashley
2017-04-09T00:00:00Z
Maribel was a WONDERFUL host! Her and her son made sure we had everything we needed to make our stay comfortable. The room is very relaxing. I also love that she cleans everything with natural products. The location is also great because there are tons of places to eat at. The only thing is that if you plan on staying here, make sure that you get the directions from Maribel because the gps does tend take you to the wrong area. My hubby and I would definitely stay here again!
Ileana
2016-12-27T00:00:00Z
Place was good and comfortable. Maribel was communicative and made us feel at home. It's a new construction. Bathroom was clean and all the provisions were there. Though was not very comfortable with response time for call/sms. We messaged before starting for her place and took nearly an hour drive reaching @ 10:40 am. After reaching her building tried reaching her mobile with no luck. Suddenly got message that can check in only by 12 pm. Though were able to sort the problem and she was accommodating on my suggestion to leave our luggage and come back late in evening. I would recommend the place. Maribel is a good host and place is clean and well maintained.
Vikrant
2016-12-30T00:00:00Z
Maribel was a WONDERFUL host! Her and her son made sure we had everything we needed to make our stay comfortable. The room is very relaxing. I also love that she cleans everything with natural products. The location is also great because there are tons of places to eat at. The only thing is that if you plan on staying here, make sure that you get the directions from Maribel because the gps does tend take you to the wrong area. My hubby and I would definitely stay here again!
Ileana
2016-12-26T00:00:00Z
We chose Maribel's place for it's proximity to the Everglades and for the pool. It was an excellent location for us, so much so that I never got to the pool. The place was very clean but spare, as in the photos. The bedroom could benefit from a chair and bedside tables and lamp. Maribel was helpful and courteous.
Kathleen
2017-03-16T00:00:00Z
The Apartment was very clean. And Maribel is a great host. She made breakfast for us and we could stay in her apartment although she went to a buisness trip. Only the check in was complicated, because we didn't know the apartment-nr. So ask for this before. :)
Cäcilia
2017-03-11T00:00:00Z
It was a little bit tricky to find the appartment, but the stay at Maribels house was very nice and comfortabel. Thank you Maribel!
Lydia
2017-01-01T00:00:00Z
Jenis Bilik
Bilik persendirian
---
Jenis Penginapan
Apartmen
---
Memuatkan
2
---
Bilik tidur
Naranja, Florida, Amerika Syarikat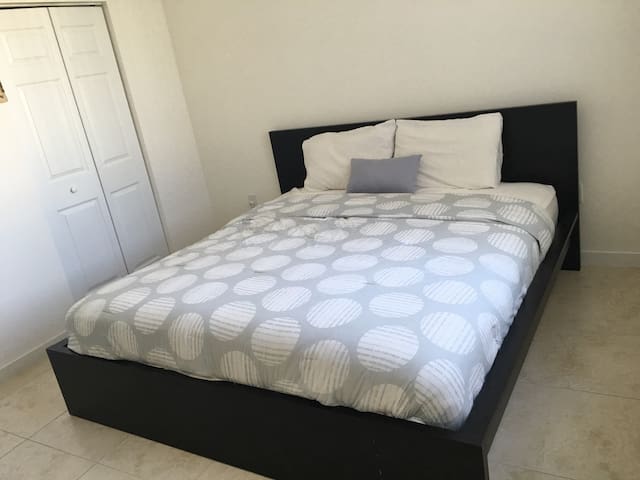 私人小开,在一个相当轻松的居民区自己的私人入口。两个房间,一个客厅/饭厅和一间卧室,厨房和私人浴室。完整的隐私权在我们的迷你公寓的价格优惠!没有为您的车辆免费停车位。它有自己的私人庭院。什么是共享的。您将有完整的隐私。
Es ideal para parejas !!
Está cerca de tiendas (las cataratas, Southland Mall, metro de parque zoológico, selva del mono).
Great spot for 1 or 2 people! Perfect for last minute booking! Warm host and a clean place!
Donovan
2017-04-01T00:00:00Z
Jenis Bilik
Keseluruhan rumah/apt
---
Jenis Penginapan
Apartmen
---
Memuatkan
2
---
Bilik tidur
Miami, Florida, Amerika Syarikat
linie ulice klidný strom tři úrovně městský dům. Soukromé jedna ložnice v horním patře.
Perfect when you go from key west to the everglades.
Manuel
2017-03-25T00:00:00Z
My friend Christopher and I were doing a road trip trough florida. We checked in with Margaret on a Monday as we arrived in Miami coming from a weekend Bahamas Cruise. Her House is very new and she hosted us very well. We had a comfortable bed and fresh towels. I realy enjoyed talking to her and get to know her. Although it was just one night we stayed with her. I would totally recomend staying with her.
Michael
2017-04-04T00:00:00Z
Margaret is a Superhost. The complete house was new. Everything was fine and Margareth was very friendly. She helped us and gave us also tips what to do in the environment. Everything was uncomplicated. It would be good to have a TV in the room but this is the only thing we could claim.
Harald
2017-03-05T00:00:00Z
Margaret was a great host. There isn't much to the room itself, but it was perfect for allowing us to do all kinds of fun nearby activities (Everglades, Florida Keys, etc.) then have somewhere inexpensive to sleep at night.
Stephen
2017-03-27T00:00:00Z
Everything was all right. Good location.
Johannes
2017-02-14T00:00:00Z
I could not have chosen a better place. The neighborhood was quiet and peaceful and Margaret could not have been more accommodating. My girlfriend was not feeling well and since I had to work, Margaret went above and beyond to make sure she was comfortable. From making her breakfast and soup to offering to take her for walks, all without being asked; you could see that she that she was genuinely concerned. This is the place of choice in this area. It is certainly a no-brainer for me on my next trip.
Shawn
2017-03-02T00:00:00Z
Awesome stay. Clean and pleasant home. Safe and beautiful neighborhood. Welcoming host. Thanks Margaret!
Michael
2017-03-24T00:00:00Z
Margarete is very warm hearted person. The room was Clean and nice, the kitchen as well.
Jonas
2017-03-21T00:00:00Z
Jenis Bilik
Bilik persendirian
---
Jenis Penginapan
Rumah
---
Memuatkan
2
---
Bilik tidur
Homestead, Florida, Amerika Syarikat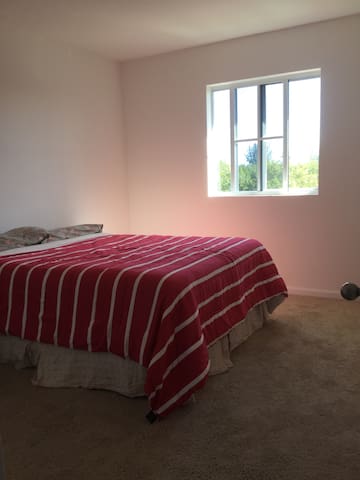 Princeton - Airbnb
:
Purata

4.89

daripada

5

daripada

1493

ulasan tetamu
1

–

18

daripada

300+ Sewaan
Masukkan tarikh untuk melihat harga penuh. Yuran tambahan dikenakan. Cukai mungkin akan ditambah.