Located 5mins from Chiang Mai's largest shopping mall Central Festival, Big C Extra, and 10mins from Thapae Gate. Villa Lanna is the ideal property for our guests whom enjoy the hustle and bustle of the city, and yet would like to come home to a relaxing getaway. A historical teak house refurbished to meet modern day living standards and more. We have brought a whole new meaning to experiencing Thailand. Our guest will have no worries on transportation, or visiting attractions.
The premier Lanna homestay destination in Chiang Mai. A historical teak villa, refurbished with all the contemporary conveniences to ensure the comfort of our guests. Bringing to our guests a unique experience of a true Thai holiday without breaking the bank! Come stay with us and unravel the beauty of Chiang Mai!
Located within a Thai community allows our guest to truly experience Chiang Mai, with easy access to surrounding restaurants, supermarkets, factory outlets, and Chiang Mai's largest shopping mall.
十分好的體驗,沒想到房東提供了旅遊資訊和免費的摩托車租用。而且還接送我們去他家甚至送去機場,很是感激!下次也會推薦朋友來住的~另外Lanna很特別,是我印象最深的一次體驗。
Zitng
2016-09-22T00:00:00Z
住在这间别墅的体验比想象中的还要好,房东是个非常友善的新加坡人,中文相当流利,热心的给了我们很多关于在清迈旅行很多很好的建议,房子特别干净,虽不在老城附近但是房东免费提供摩托出行非常方便,别墅在住宅区,特别安静,所以我们休息的很好。晚上可以坐在院子里乘凉,和房主聊天。房主还自己经营着旅行社,让我们了解到普通旅程不会了解到的事情,比如那些热门大象营和保护营的区别,也亲自一早送我们到接送点。总之下次一定会叫上朋友一起再来住这里,厨房配置齐全,还可以在院子烧烤!来清迈住这里一定不会后悔。
idea
2016-09-24T00:00:00Z
非常棒的一次住宿体验。在普吉清迈一共八天,在Villa lanna的感觉是最舒服最好的。四十多年历史的柚木屋,很干净,装修非常棒!地理位置好,周边都是清迈最舒服的乡村,很清净,傍晚开着摩托车在乡道驰骋伴着落日斜阳那种感觉最美不过了,去古城也不过是十多分钟的摩托车程。房东很好,一直给我们建议,从接机到送机聊的很开心,都在互相分享身边的事情。下次来还会选择这家!
Jackson
2016-08-28T00:00:00Z
清迈到来之后最大的惊喜,特别满意,很棒!房东也很热心!
欣
2016-08-03T00:00:00Z
这间别墅真的非常棒,房东也很好,很nice ,别墅很安静,干净,性价比很高,会来接我们,送我们去车站,告诉我们哪里好玩,哪里吃好的,房东涉足很广,提供旅行社服务,租车服务,帮忙打uber,这里离big c ,central festival 很近。
Gia
2017-04-01T00:00:00Z
兰纳时期风格的小别墅,非常适合一家人入住,安静温馨。房内设施齐全,干净卫生。房主非常周到热心。因为无法使用Uber,房主每次都帮忙安排进出车辆,即安全又省钱。带着家人进城去玩,还帮忙照顾在家孩子的午餐。是一位细心,认真的优质房主。
Lulu
2017-02-12T00:00:00Z
Villa Lanna was amazing. A place where you can unwind all your hectic lifestyle aside and just enjoy the cool weather, enjoy the stay in a traditional but yet 100% newly renorvated Taekwood house. My husband Vincent & my 3 kids love it and we have plan to come back again. Isaac & Ying family are very friendly & helpful. Oh you may get admission tickets (place of interest) or rent a car through him because it is definitely cheaper. The location is superb convenient & safe, 5mins from supermarket, 15mins from airport & 15mins to town. Would recommend to self-drive in chiangmai. :)
Michelle
2016-12-03T00:00:00Z
旅行就是一種生活,別墅里的一切都讓我們有在家的感覺,無論是房東的熱情招待,還是別墅里的住宿環境,都真心很棒。来的时候飛機延誤,非常感謝房東在機場等我們一個多小時,降落的時候下大雨,房東很體貼的把車子開到出口處讓我們不用淋雨可以直接上車,然後還帶我們去買吃的,旅行的感動。。。房東超級能聊天的,各種跟我們分享,很nice。下次來清邁還會去住這個蘭納別墅的,五星推薦!
Amy
2016-10-28T00:00:00Z
Jenis Bilik
Keseluruhan rumah/apt
---
Jenis Penginapan
Rumah
---
Memuatkan
6
---
Bilik tidur
Chiang Mai, Thailand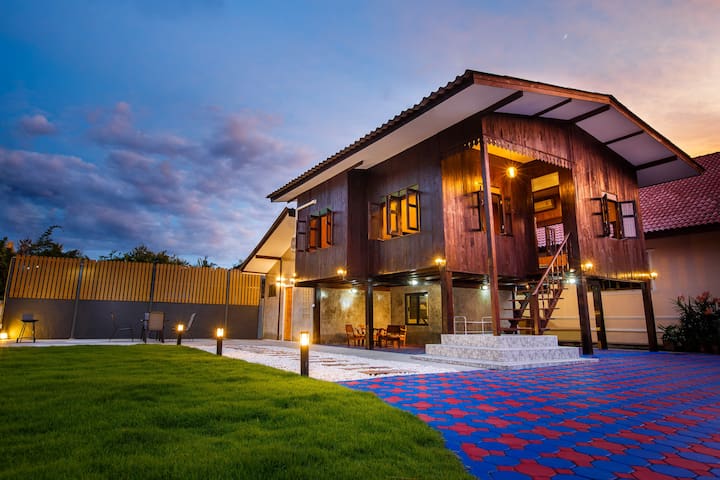 The surroundings are quite and has relaxed countryside and a traditional feel. Come and Experience peace and relaxation away from the city in the natural environment of northern Thailand. We offer clean and comfortable accommodation and authentic culture.
Jenis Bilik
Bilik persendirian
---
Jenis Penginapan
Rumah
---
Memuatkan
2
---
Bilik tidur
Tambon San Klang, Chang Wat Chiang Mai, Thailand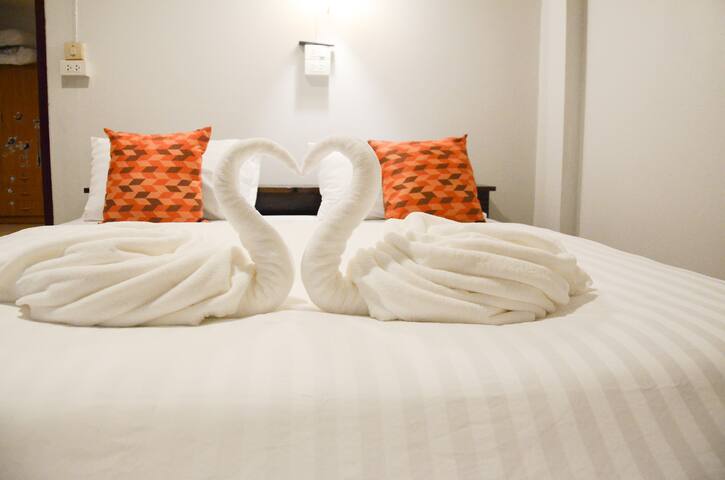 Suitable for travelers come for business, ladies, couple, and anyone who love to stay in a quiet and private place, not far from the city.
Baan Nai Suan means "house in a garden", located in Muang District, only 15 minutes by car from Chiang Mai International Airport, heading to the East of the city. It was built in 2010 in my garden, next to my house where I live now. It has been used for my relatives and friends to stay for a short time when they come for business in Chiang Mai. It is now under redecoration to welcome travelers worldwide. Baan Nai Suan gives you experience of ordinary life with local people in a warm atmosphere and safety environment. It is the place to calm your mind after a long day of business, get fresh air and relax in the natural garden.
It takes around 7 minutes by car to to umbrella village (Bo Sang). Other attractions in this side of Chiang Mai are San Kamphaeng Hot Springs and Mae Khum Pong Village which take around 40 minutes to an hour.
My most beautiful fairy-tale holiday. Little house with a garden just for me. Ratana is a great hostess and makes the best breakfast. She took care of me as my own. They showed me around and entertained me. Very thank you for everything.
Eliška
2017-01-21T00:00:00Z
Ratana is beyond a good host! We enjoyed Chiangmai very much and mostly because of this lovely house and its surrounding garden. She made us feel very welcomed and it's a bonus to this trip in Chiangmai. I would definitely recommend my friends and family members to stay at hers while visiting Chiangmai. The house is cute and tidy, all wooden and traditional (love the balcony) located in a peaceful quiet garden by a small river. Though it is a bit far from the city center, abt 20min ride by motorbike. However I would say it's a perfect place for those who wants to just chill and relax. Thank you Ratana!
Elva
2017-02-09T00:00:00Z
Jenis Bilik
Keseluruhan rumah/apt
---
Jenis Penginapan
Rumah
---
Memuatkan
2
---
Bilik tidur
Muang district, Chiang Mai, Thailand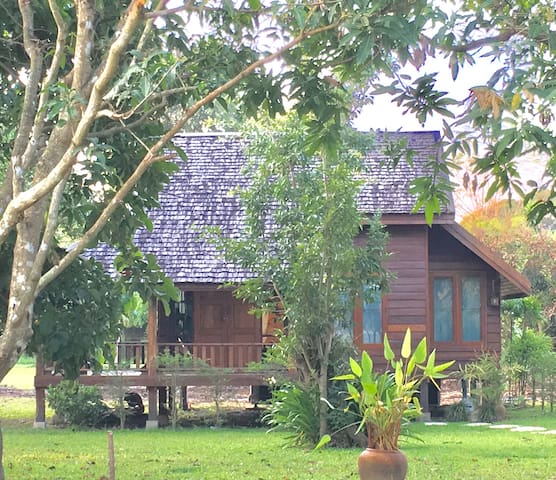 Ban Kamsane Kamnoi คำแสนคำหน้อย Welcome to our cozy house in a fruit farm area, where our family spent quality time here. If you come during June-August there will be fresh Longan fruit in the garden. You can relax in the garden areas or read books, painting in our outdoor living spaces. Your space detail: A private bedroom, private bathroom, pretty patio in Saraphi, Chiang Mai, south of Chiang Mai old city. Learn how to live like locals, many activities to do in this area, Free WIFI, complimentary teas and coffees, spacious outdoor space for you to walk around or bike around. Location: Our place is 10 km. from the city. Vieng Khum Kham is only a few minutes away. Umbrella village is only 4 km away. Airport is about 25 minutes away. Promenada mall is about 4 km away from here. Golf couse is only 1 km away. I am certain you will love it here. Enjoy your private retreat!
Wow… What an amazing experience I was made to feel so at home as soon as I arrived. I was loved and cared for by the hosts Kit and Nong who are both school teachers . Nong invited me to her school But unfortunately I couldn't get to go to the school on that particular day I did however give her some pens and stickers for the children and she came home that evening saying how much the children really loved their stickers The accommodation was comfortable and warm and just as the pictures are shown on the website it is truly idyllic. Albeit a distance from Chiangmai they loaned me a bicycle for two weeks and drew me a map of how to get to Sunshine Massage School where I was studying (Kit you are brilliant at map drawing). I cycled there every day making friends on the way with the local dogs& chickens shopkeepers & street traders and also the traffic policeman on the highway ! Nong would alwsys text to see if I was ok - when I needed something they were there to assist ie.... Needing a taxi at 07.00 to volunteer on an elephant sanctuary which she helped me organise they even took me to the airport- I hope because they liked me and had the time in there very busy schedule. Her cooking is good and her heart massive - I've left my heart there and will one day return to collect it .... Thank you both so much for your warmth love and friendship you are amazing !
Carole
2016-01-23T00:00:00Z
I totally love it here. I was welcomed and well taken care of. The host made sure that I had a ride from the airport and got me settled in as soon as I arrived. The rooms are clean and lovely, certainly the vision of my time away that I was hoping for. The grounds are beautiful and quiet. And, also, I have had most of my meals here at the resort and the food is home-cooked and delicious. The host takes special care of each guest to make sure everyone is provided for. I was initially planning to go on to the city and stay in a hostel but after staying here a few days, I rescheduled my trip to finish my time in Thailand here. Not to be missed!
Meg
2016-02-15T00:00:00Z
This resort is definitively the best that I tried ! The resort is wonderful amid the nature. The family host is absolutely amazing ! so kind, so nice, so generous... They bring us to the school (where the mother works) and we have shared incredible times with thais children. The breakfast is super hearty (fried rice, fruits from their own farm, toasts, beverages, thai soup...) Enough to don't eat for lunch !!! And it's included. I could go on and on to tell you our amazing trip in this resort.. Don't hesitate one minute !! Go there and I promise that you will never forget this local experience. Thank you again to having us... I will come back for sure !
Clara
2016-12-23T00:00:00Z
Simply amazing home away from home.... Abs Yummy breakfast
Pankaj
2017-01-01T00:00:00Z
This place was lovely and the staff was great. But it was just so far away from everything. If you rented a motorbike (very easy to do in the city) it should be fine. But everytime I wanted to go into town I had to call a $10 taxi. It really added up.
Brette
2014-01-04T00:00:00Z
Beautiful property, delicious food and very helpful staff. Very quiet and peaceful. I slept so well hearing the birds and natural noises in nature.Thankyou!
Hannah
2015-11-27T00:00:00Z
Staying at Bansuan was certainly a highlight to our trip in Thailand. Not only was the scenery, food, and room wonderful but the people and hospitality was what really made our stay worthwhile. We left with a new family and great memories. We couldn't be more thankful for all that they have done for us and we will absolutely stay there in our future trips to Chiang Mai. Further more, bansuan thanormpat offer all of the relaxing get away experiences while still being 10 mins away from the city center/ night bazaar and about 30 to 45 mins away from all of the amazing things to do and see in the chiang mai area, tigers, elephants, hot spring etc etc, we highly recommend a visit if you're in chiang mai! Cheers.
Liav
2013-11-13T00:00:00Z
I am writing a second review because after staying a few days here, I decided to extend my day into the end of my time in Chiang Mai. I was treated like family by my incredibly kind staff and host here. My host invited me along to many experiences that I believe are rare for a traveler like Buddhist ceremonies, school, markets, and a local events that I don't think I would have found without her. She told me great stories and made sure I was well fed. The lobby is decorated by her daughter's paintings, the grounds are green with fruit trees and flowers, and the room was always clean and beautiful. I was so happy here with this big-hearted place.
Meg
2016-02-28T00:00:00Z
Jenis Bilik
Bilik persendirian
---
Jenis Penginapan
Rumah
---
Memuatkan
2
---
Bilik tidur
Pa Bong, Chiang Mai, Thailand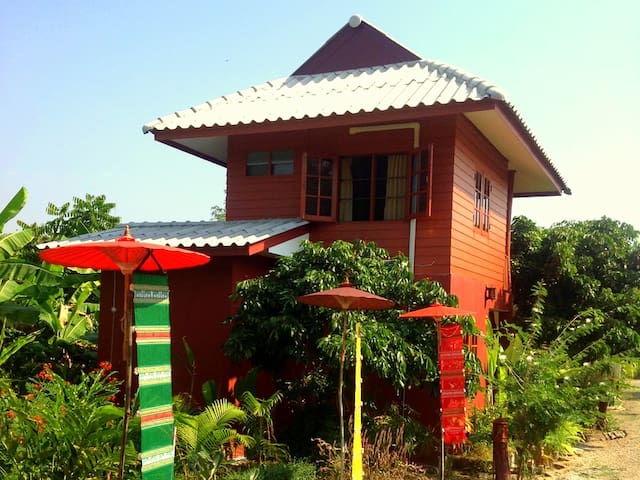 Very beautiful brand new home. Including: Full Air conditioning (every room!) Internet wifi Refrigerator Honda Click Automatic 110cc scooter !! Two bedrooms Two bathrooms Washing machine Kitchen Microwave Eventually Honda pcx150cc for rent 200bath/day for skilled drivers with drive license Excluding electricity: 3.7 Bath per unit (normal price) ..
The rent is EXCLUDING electricity: 5,3 Bath per unit. Please write down the amount on the upper meter in front of the house. In hot season max 1500 bath per month when use both aircon's . In the cold season (December-February) around 350 bath per month, for you don't need the aircon's The airco's (latest generation) are very quiet and lower on electricity use. When you like fishing is this the best spot you can get. The house is Only 800 meter from Bo Sang fishing park. Famous for their enormous catfish up to 50kg! Fishing gear available
The Host is great. Renting a house with motorbike is a bargain. Although the area is little far from heart of chiang mai, but with a transport its very easy to go around. Thanks dolf!
Supatchaya
2016-08-13T00:00:00Z
I stayed 2 weeks at Dolf's place with my husband and ma children. Dolf answer quickly to all our questions. communication with him is esay and great, althought he leaves in another country. The house was big enough for us all (5 people), a lot of windows, we did not use de aircon at all, but there are 2. The kitchen allows to cook a lot a things, the yard is great for kids to run and play. The beds were comfy and the rooms spacious. We were there to work remotely and slow down the pace of travel. The neighborhood offers a bit a eveything, but I should say it is not the best place to be with children (cars a running fast, not a lot of things for them). Having a scooter is a great idea if you want to stay there and visit Chiang Mai too.
Bianca
2016-03-13T00:00:00Z
The contact with Dolf was flawless, he's a good host ! The house is beautiful and the scooter is pretty new and strong ☺️ The bed in the small bedroom was a little uncomfortable for me but if you like it a little harder, you'll like it. The other one was really nice tho. We didn't have to use the aircon, it was cool enough. The Windows have a good protection from insects and you can sleep with open windows, listening to the beautiful night. It's not really central, you need to ride a little with the scooter to get inside Chiang Mai but for us it was really nice. The streets are great and it's much fun to ride there. Nice bathrooms with nice hot shower. Great big living room/kitchen with some speakers to listen to your favorite music. Had some small problems, which really weren't that bad. We found a solution for everything within minutes. I would definitely come back !
Philip
2016-02-21T00:00:00Z
Very nice house in a nice neighborhood of Chiangmai, just up the road from the umbrella factory. Dolf is great to work with - he answers questions very quickly and wants to make sure his guests have a good stay. For the price, the house is great. It's clean, spacious, and the furnishings are new. The scooter rides really well and there are 2 helmets. We had a great stay!
Megan
2015-10-26T00:00:00Z
Absolutely perfect. We had a great welcome by the housekeeper Somchai and his Gf. My girlfriend and i had each its own bathroom which was great and a huge bed. Wifi was blazing fast, Kitchen and living room great to hangout at. The free motorscooter was very comfy to get around and we even drove to doi sunthep a great wat and mountain nearby. Helmets were provided of course. The house was also equipped with a gas cooking and microwave. For laundry needs there was a basic washing machine behind the house. 10 of 10 points Rating! We enjoyed our 7 days very much. Be sure to go to buak ped soi 5 in bosang, right after the yellow pedestrian sign turn left into the soi. Chok dee!
Martin
2015-08-18T00:00:00Z
Dolf was beyond a great host! From the time we inquired he was very helpful and the whole process was simple and easy. He even organised a driver to pick us up from the station! The property it self is exactly what you see in the pictures and it has everything you need to aircon in all rooms and fully equipped kitchen (we loved the blender). It is about a 40min ride to the city via public transport (bus right at the end of the street for just 15 baht) but with the free use of the scooter it makes life very easy. Bo Sang is a wonderful area, mainly made up of locals but has everything you need from great food, local markets, public transport and many attractions near by. This space is great for families (plenty of room), people who need to work from home as the wifi is very good and anyone who wants to get away from the city. We hope to come back one day!
Vanessa
2016-04-19T00:00:00Z
Well what can I say here that has not already been said in the reviews about this holiday house,everything was perfect we did not want to leave.The house is very well secured but the area is so quiet and safe it leaves you totally relaxed.
garry
2016-06-28T00:00:00Z
The host canceled this reservation the day before arrival. This is an automated posting.
BREE
2017-03-21T00:00:00Z
Jenis Bilik
Keseluruhan rumah/apt
---
Jenis Penginapan
Rumah
---
Memuatkan
4
---
Bilik tidur
Chiang Mai, Chiang Mai, Thailand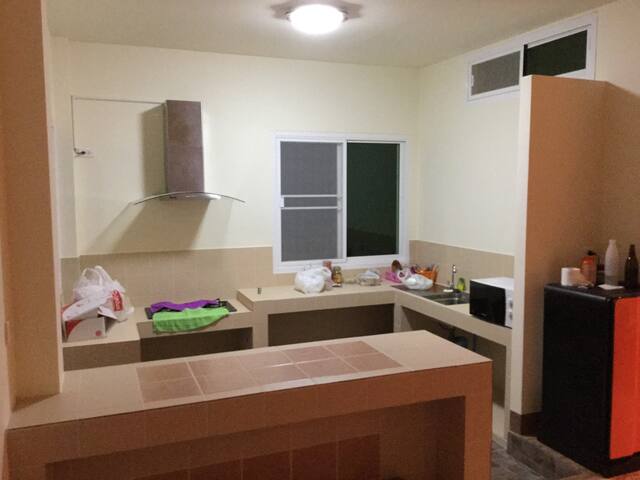 My place is good for couples, solo adventurers, business travelers, families (with kids), and big groups. The private property is perfect for those looking for a little seclusion after exploring all day. Two bedrooms, two bathrooms, spacious living room, full dining and kitchen. Outdoor spaces include garden and backyard, rear terrace, and covered front porch.
Our spacious home is great for all types of travelers, whether one couple, multiple couples, or groups of friends or family up to six people. Two private bedrooms accommodate four people while the sofa in the living room also folds down to become another bed. The front porch and back terrace and yard are great for winding down during your stay.
This neighborhood is very quiet and offers a retreat from the busy city, which is 15 minutes away. Please keep this in mind and don't plan to make a lot of noise.
Nina and her family are beautiful people! They provided everything we needed.. even a new barbecue and we had a special christmas dinner! The house is comfortable and clean with a relaxing garden. Thank you for your hospitality and see you soon!
Fabrizio
2016-12-26T00:00:00Z
Very comfortable that we stay. Owner take care us like their family. Recommend this house !!!
Ling
2016-12-19T00:00:00Z
( Location for other customers- (SENSITIVE CONTENTS HIDDEN) map with "agape coffee shop" , it is 200m nearby(URL HIDDEN) Very good experience in Nina's house, from the booking to the stay! Nina gave a lot of helpful suggestion to us during our booking and we followed her saying from the massage and view point. The house is big enough for 5 person, new clean and well-equipped. It is a bit far from old town, 15km away. So you must have a car. There is a BigC extra nearby, about 3km and can get everything. The house is exact same as the pictures, new tidy and well-equipped. No any other requirements. Nina is a very nice host. Given me a lot of helpful suggestion from massage shop to view points. Thank you so much, nina! Compared with the price, highly recommended!
Hai
2017-01-29T00:00:00Z
it's so beautiful house and yard。we're very like here. Very happy living days . Go to the city central need 20 minutes. And village is beautiful。
雅君
2016-12-30T00:00:00Z
Our family of four (including two toddlers) had a lovely time at Nina's house. This was in no small part due to the kindness and hospitality of Nina's parents who are looking after the flat and guests as the hostess herself is living overseas. Some initial hiccups regarding cleanliness were quickly and efficiently taken care of. This is a good base from which to explore Chiang Mai and surroundings, but guests definitely need their own transport (rental car).
Steffen
2017-02-18T00:00:00Z
Nina's place is exactly as pictured. It's the perfect distance from the city and Nina is super responsive and made my time really enjoyable. I highly recommend her place!
David
2017-02-07T00:00:00Z
Nina's place is very comfortable to stay with your friends and your family. There is spacious area both inside and outside building. And they have a pretty garden with dining table at outside. Including garage for a car. The location is around 8 KM far away from the city which is good to avoid traffic jam. And my family is happy to stay here.
Sasipen
2016-12-28T00:00:00Z
Nina's home was the perfect place for our group of 4. The photos make it look big, but it actually feels larger in person. As two couples, we each felt like we had the place to ourselves. The outdoor spaces were lovely to use, and when we swing back through Chiang Mai we will definitely be staying here again!
Jared
2016-09-06T00:00:00Z
Jenis Bilik
Keseluruhan rumah/apt
---
Jenis Penginapan
Rumah
---
Memuatkan
6
---
Bilik tidur
Tambon Ton Pao Sankampang, Chiang Mai, Thailand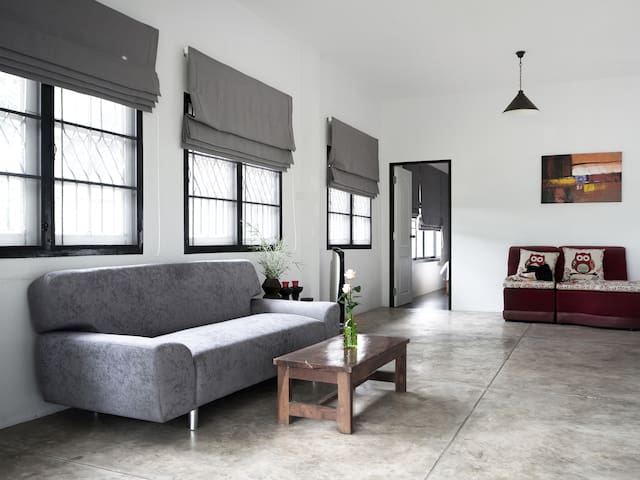 You'll love my place because it is a cozy house, friendliness of house's owner, and you can also learn Thai food cooking. My place is good for couple, solo adventurer, and familie (with kids). It's a local area, a bit away from the crasy touristic center. But I have a bike that you can use for free. Chiang Mai's Old Town : 2.5 km (10 minutes biking) My place is close to Train station : around 500 meters Busterminal 1.6 km. 5 minutes walk to convenient store Airport : 10 minutes driving
Cozy and warm welcome host.
Jareme is a great host. She helped us with the late pickup on the airport and her house is really nice place to stay. I would definitely stay again.
Jaroslav
2017-03-04T00:00:00Z
Jareme真的是位超赞的房东,人超级好,每天回来和她还有她朋友她妈妈聊天都很开心,有什么需要也会全力帮助!房间干净整洁,和图片一样,安静,离火车站汽车站很近,住的很舒服。下次去清迈还会选择Jareme家!
Crystal
2017-03-07T00:00:00Z
Best host ever I have met! Very friendly host and comfortable room with clean restroom.
Eunkyung Natalie
2017-02-17T00:00:00Z
Jaramee was a great host! Anytime I had a question before I arrived or when I needed to contact her when I was there, she gave me a fast response. She picked me up and her friend took me to the airport. The room is spacious and clean. The mattress is very firm. There was always filtered, bottled water available. If you are looking for a place outside the hustle and bustle of the very commercial tourist area, choose Jareme's home. Be sure to get her address in Thai for Uber drivers, and also her phone number in case they need to call her.
MaryLynn
2017-03-02T00:00:00Z
Jareme is a great host, i stayed for one week and i decided to stay longer ! As i already said the room is very good and apartment great with high wifi connection. I met few of or friends and they are all good people . She gave me very good advice about the city and show me the best quality and cheap restaurant close to her house where i had dinner almost every day ! Thank you again !
Bruno
2016-12-08T00:00:00Z
Very good & highly recommended !!!
Emmanuel
2017-03-09T00:00:00Z
Jareme is a very nice girl ! One of her friend went to pick me up at the train station ! Her apartment is perfect and the room big with a private bathroom and high speed wifi. Situated in a local area , one kilometer from the crasy busy touristic center ! She bring me to nice places to eat and even let me use her bike ! I stayed one week and decide to stay longer, thanks a lot !
Bruno
2016-12-04T00:00:00Z
Jareme's house is beautiful decorated and very clean as well. Jareme and her friends (Don, Keng , Tan) they were totally out of expectation, they makes me feels comfortably as warm welcome me like I staying in my own house. It was a pleasant time staying here. I would highly recommended this place to be one of the best hosts I have met and I will definitely come back to stay here for my next trip.
xiqing
2016-11-14T00:00:00Z
Jenis Bilik
Bilik persendirian
---
Jenis Penginapan
Rumah
---
Memuatkan
2
---
Bilik tidur
Chiang Mai, Chang Wat Chiang Mai, Thailand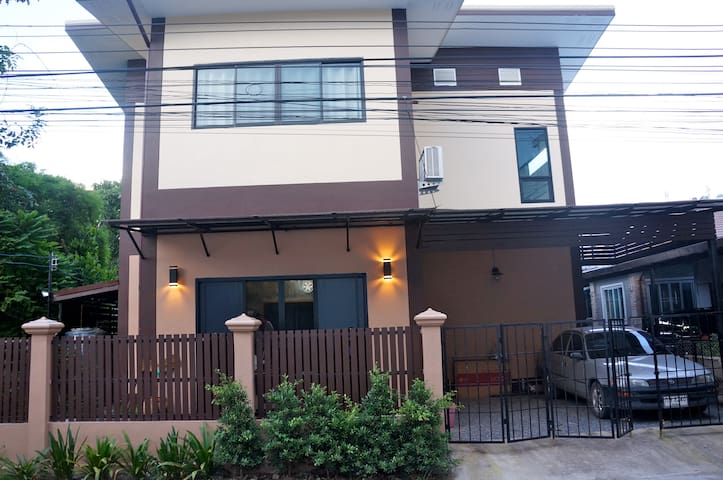 别墅占地总面积600平方,建筑面积300多平方。为全柚木装修泰北兰纳风格建筑,全柚木家具配套。有齐全的厨房、洗衣用具提供使用,也有办公台和全方位覆盖的Wifi 信号,在这里生活、休闲和商务工作都可以不耽误。另外,如有需要,我们还提供免费的接送机服务(提前预订)。如果需要自驾也可以提供汽车租赁服务。总之,住在这里就是我们的家人!
Our garden villa is located in the upper reaches of the ancient city of Chiang Mai high-end villa area, the location of the location, the district quiet and unique environment, the district surrounding and complete internal, 24-hour security for your security escort.
There are 7-11 convenience stores in front of the station, opposite Chiang Mai's most distinctive Promenada Resort Mall, supermarkets, restaurants, shopping malls, cinemas, Thai massage, night market, lawn, fountain, evening, band, everything is so beautiful!
感谢马哥给了我们一次完美的旅游。住宿的地方离机场很近。而且房东非常贴心在机场等了我们很久而且非常体贴见面还给我们带了一束花。到了别墅以后真的是很惊喜。高档别墅区很安静小区环境特别清悠。安保也很好。而且小区的游泳池没什么人。特别大的泳池等于被我们承包了。而且房东还有配烧烤用品。晚上逛街出来以后慢悠悠的准备烧烤。特别惬意。我们第二天我们说缺微波炉房东马上就买了一个全新的送过来还买了西瓜送我们吃。很贴心。屋子里面所有家电都齐全。洗衣机。各种的都有。什么都不用担心。有什么事告诉房东他都非常热心帮我们搞定。而且距离古城不远打车或是租个小摩托都很近。特别方便。家门口附近就有小酒吧还有711商店。买东西啥的都很方便。反正就是特别特别棒的体验。因为房东自己开公司的别墅之前闲置刚开始做别墅。我们是第一批住户非常幸运。如果看到这个房源的看到我的评价希望对你们有用。强烈推荐
伟榕
2017-04-07T00:00:00Z
Jenis Bilik
Keseluruhan rumah/apt
---
Jenis Penginapan
Rumah
---
Memuatkan
8
---
Bilik tidur
清迈, 清迈府, Thailand
The surroundings are quite and has relaxed countryside and a traditional feel. Come and Experience peace and relaxation away from the city in the natural environment of northern Thailand. We offer clean and comfortable accommodation and authentic culture.
Jenis Bilik
Bilik persendirian
---
Jenis Penginapan
Rumah
---
Memuatkan
2
---
Bilik tidur
Tambon San Klang, Chang Wat Chiang Mai, Thailand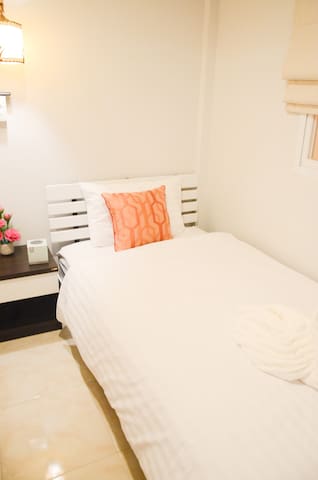 3BR Private & Restful We Would like to invite all of you come to take a rest with us, Warm Private & Restful Only 10 Mins from Chiangmai International Airport, Convenience to Tourist Attraction Thai Massage nearby 3 minnute by walk And very cheap , 7 - 11 near by 5 minnute by walk too . Here is local place , Not hard to find taxi
Go straight heading to Wat Buak krok noi village school till you see intersection (T-Junction) then turn lest you will see our place located at your left hand side right away For taxi ขับมาทางโรงเรียนชุมชนวัดบวกครกน้อย เลย โรงเรียนมาเล็กน้อย จะมี สามแยกเล็กๆ ก่อนเลี้ยวซ้าย มีป้ายว่า ทางตัน เลี้ยวซ้าย ปุบ บ้านจะอยู่ทางซ้ายมือค่ะ
To airport 10 - 15 minnute by car To old town 15 - 20 minnute by car To shoping Mall 10 - 20 minnute
Good place to stay for our family with 4 children. Had the basic essentials.
Simon
2017-02-03T00:00:00Z
Host was very nice, she met us at the house and was very attentive with any questions we had and always would respond to emails as if they were texts. It is in a local area about 15 min away outside of shaingmai. She had a drive pick us up and take us to the airport. Very pleasant
daniel
2017-01-09T00:00:00Z
Sehr geräumige Unterkunft in einem zweistöckigen Haus. Schöne Schlafzimmer, aber nur in einem der drei funktioniert die Klimaanlage. Die Bäder sind etwas alt und etwas renovierungsbedürftig, aber alles funktioniert. Die Küche ist eigentlich nicht zu gebrauchen, da keine Ausstattung vorhanden ist. Zudem waren in der Küche Ameisen. Das ganze Haus ist etwas alt und unsauber. Für den Preis aber ok. Die Gastgeberin war sehr nett und freundlich, sie hat uns am Flughafen abgeholt und uns am nächsten Tag ein Taxi organisiert. Allerdings hat sie anscheinend eine Liveübertragung der Überwachungskameras, was etwas seltsam war. Keine Luxusunterkunft, aber für eine günstige Übernachtung vollkommen okay.
Maxi
2017-01-24T00:00:00Z
Jenis Bilik
Keseluruhan rumah/apt
---
Jenis Penginapan
Rumah
---
Memuatkan
7
---
Bilik tidur
Chiang Mai, Chang Wat Chiang Mai, Thailand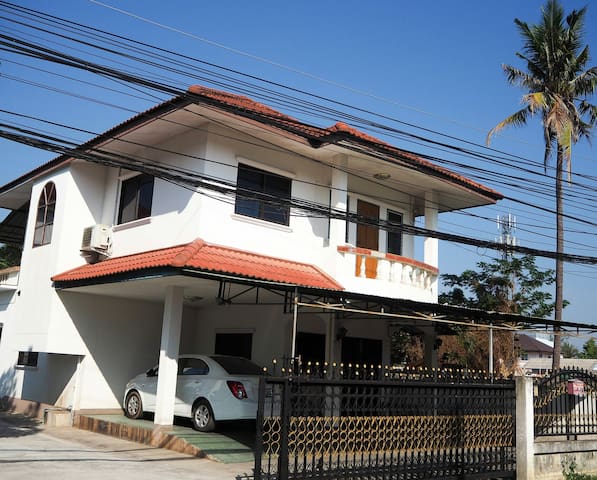 This property is perfect for groups who need clean empty spaces for their workshops. The villa is a 2-storey house with a garden, a covered terrace, and large rooms for all kinds of group activities : trainings, exhibitions, meetings, parties, classes (yoga, art, sports, taichi, dance…) The organizer can stay on site in a private bedroom with bathroom. The house is easy to reach, 15 mn from Chiang Mai and 5 from Promenada Mall. I can also prepare meals, buffets, coffee breaks during your event.
Jenis Bilik
Keseluruhan rumah/apt
---
Jenis Penginapan
Rumah
---
Memuatkan
2
---
Bilik tidur
Chiang Mai, Chiang Mai, Thailand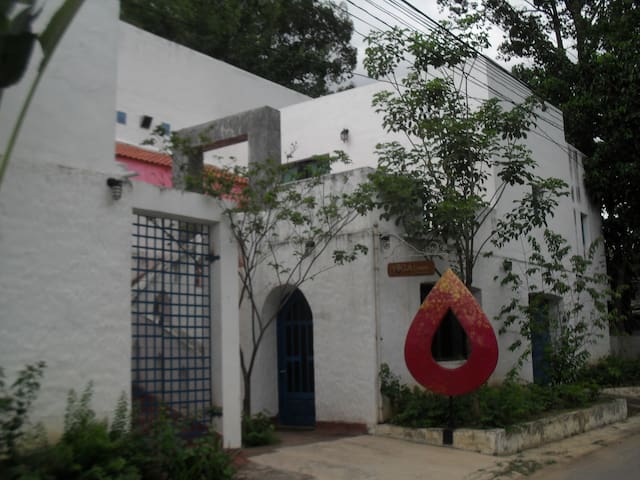 Situated in Chiang Mai, this air-conditioned holiday home features a balcony and a garden with a terrace. It provides free private parking. Composed of 4 bedrooms and 3 bathrooms with bath or shower and shower, features a flat-screen TV.
我们五人入住,还多出一个房子,房东夫妇超级好人,因为房东有车,用车很方便,住得非常舒适,谢谢房东一家人热情接待,是一次难忘的旅行!真心谢谢房东!
過長空闪烁瞬间
2015-10-31T00:00:00Z
Overall i would say this is a very nice homestay. It's clean, quiet (due to the location actually quite far from town), and suitable for family stay.
Yee
2016-11-17T00:00:00Z
Excellent communication from the host, who was really helpful. The airport collection and drop off service was great. The house was clean and modern and the bedrooms were very comfortable. As the house is quite far from Chiang Mai town a bit more information on how to get around and local amenities would be useful (lots of taxi drivers didn't recognise the address).
Emiko
2016-03-31T00:00:00Z
House is fine but it will take 20-30 minutes to the old city, it is not easy to take a taxi. Free airport pick up is good.
Sue
2015-11-27T00:00:00Z
房东人很好,我们过去的第二天遇上暴雨,房东还特意提醒我,我们走的时候落下了一个包,房东还特意找我们。
泽威
2016-04-30T00:00:00Z
非常适合家庭人数较多的旅行,但必须有车才方便.开车到古城也就15-20分钟.安静、舒适、可以做饭.如果喜欢慢节奏的生活可以考虑这.房东也很热情!
hui
2017-01-30T00:00:00Z
She was great and very helpful.
Soraya
2016-10-26T00:00:00Z
非常不错的别墅,非常棒的体验!房子离老城区稍微有些距离,但是房东会安排接送。我们去之前也问了房东很多问题,他都一一给我们回复解答了,特别耐心负责,点赞!这套别墅适合多人一起住,晚上还可以开party,我们玩得非常开心。
孟轩
2016-08-08T00:00:00Z
Jenis Bilik
Keseluruhan rumah/apt
---
Jenis Penginapan
Rumah
---
Memuatkan
9
---
Bilik tidur
Chiang Mai, Chiang Mai, Thailand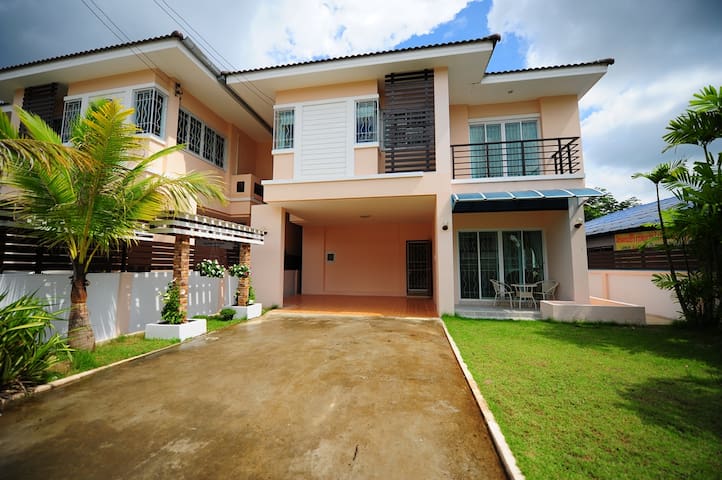 Easy to come and go between home and an Old city. Also we have a Free Daily vehicles service from home to town. You can stay at home as your home in beautifully and peacefully way of Life.
Great decoration and clean and sefty typs.
Friendly and helpful.
We just finished our stay in house 5. What can I say - perfect conditions, perfect hosting. Nuchy was always helpful and there for us. We were in touch all the time and she always advised us what to do, where to go and how to organize ourselves to optimize our 3 days in Chiang Mai.
Angel
2016-01-28T00:00:00Z
Good house, good landlord, give me a lot of help, thank you, let me have a nice holiday in Chiang Mai
Fan
2016-01-06T00:00:00Z
ผมและครอบครัวได้ไปพักที่บ้านพักของคุณNuchy ที่เชียงใหม่ บอกได้เลยว่าประทับใจมาก ทั้งบ้านน่าอยู่ สะอาดสอ้านทันสมัยมีทุกอย่างยังกะบ้านตัวเอง แม้กระทั่งเครื่องครัว สะดวกสบายมาก อยู่ในหมู่บ้านที่มีความปลอดภัยสูง ถึงจะอยู่นอกเมืองหน่อยก็ไม่ลำบากอะไร ไปไหนมาไหนได้สะดวก สุดคุ้มจริงๆครับ คุณNuchyเป็นกันเอง อัธยาศัยน่ารักมาก ดูแล ให้คำแนะนำ และช่วยเหลือในทุกๆเรื่องที่ขอความช่วยเหลือ ผมและครอบครัวบอกได้เลยครับว่าไปเชียงใหม่เที่ยวนี้ทั้งสนุกและมีความสุขมาก ต้องขอขอบคุณคุณNuchyอย่างมาก ไปอีกเมื่อไหร่ต้องใช้บริการอีกอย่างแน่นอน ตอนนี้ก็บอกต่อพรรคพวกหลายรายแล้วให้ไปใช้บริการครับ
สุพิศิษฐ์
2015-12-25T00:00:00Z
Jenis Bilik
Keseluruhan rumah/apt
---
Jenis Penginapan
Rumah
---
Memuatkan
7
---
Bilik tidur
Saraphee, Chiang mai, Thailand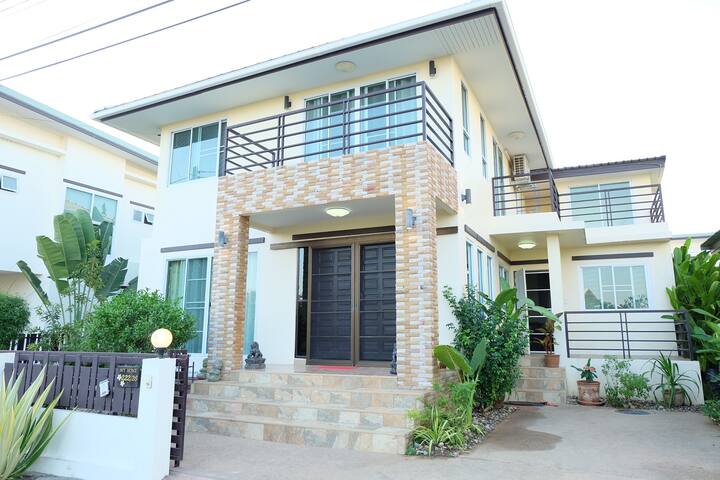 Swiss-Lanna Lodge – New guesthouse The Buddha's Room is another of our cheapest rooms. Two single beds in a well-decorated, cosy and luminous wooden room, ideal for two friends willing to share an inexpensive but quality accommodation.
Sawasdee Jao! The Swiss-Lanna Lodge is a new guesthouse located between the main railway station (less than 2km or a 5min ride) and the Night Bazaar, in the heart of a residential area in Chiang Mai, on the shores of the Ping river (not far from the Holiday Inn and only a 15 minute ride to or from the airport – 7km – and 10 minutes from the Arcade Bus Terminal, 5km). Our genuine Thai house is the ideal place for you and your family to rest in. Toto, a native Thai, born in Chiang Mai, will welcome you. Toto speaks English and French.
Close to the Night Bazaar, Wat Ket and Sansai are neighborhoods where you will discover the Thai daily life, with two nearby markets and a wide choice of restaurants.
在toto家住了好几天,屋子非常有特色,大家进屋子都是脱了鞋子的,因为木制地板真的很干净。离古城也不算远,出入可以到主干道拦双条车,人少会比搭嘟嘟便宜。如果想入住当地特色房,非常推荐,哈,最后一天我都是在狂拍照留念了~~
maya
2015-10-02T00:00:00Z
What to say about this (URL HIDDEN) AWESOME! :) I've been here for 3 nights, the style of the house is so good! Is best place where I've been in Thailand. Toto and the staff are really kind and nice, and really funny :) They've helped me with any trouble, practically is also a little travel agency! if you need to book or rent something just ask and she'll provide you what you need! And the breakfast is good as well! I really liked this place and If I'll ever be back in chiang mai I'll be back here!
lorenzo
2016-12-12T00:00:00Z
Living in Swisslanna was definitely one of the most fantastic experiences in Chiangmai. The staffs there were always friendly. It was clean everywhere and the house was decorated by fresh flowers. It was a shame that we hadnt got enough time to try the nice breakfast more. Everything was just perfect (except the mosquitos). Hope to stay here again if we have the second chance to visit Thailand!
Qiyun
2016-06-23T00:00:00Z
Beautiful authentic house with very kind and helpful staff! Only drawback is the close military training camp with their loud early morning training sessions.
Fritz
2016-01-08T00:00:00Z
I had a memorable stay at the Swiss Lanna Lodge and i would love to come back! Toto was the host everyone should have, very helpful, pleasant, smart and sweet, Rose was also very nice and handy; Toto went above and beyond, she was a great help when i needed it the most since i had an issue with my American bank and c.c. she helped me solve it and i am indebted for it!! Overall the place is immaculate, the decor made with good taste, spacious, there's a menu and a well stocked kitchen, fridge, etc. very quiet are since it is outside the "big" city, i rented a bike which you can rent for less than $5 Dollars a day and it's the best to get you around! Toto and Rose can give you all kind of recommendations and they are always at your reach, i highly recommend the Swiss Lanna Lodge and the Buddha's is precious, it has two full size beds and three windows overlooking three different sides of the B&B and access to two toilets, one of the with a full shower. I would not hesitate to return to this place!
Bernardo
2014-01-22T00:00:00Z
The house is amazing, charming. Everybody make as feel very welcome. Breakfast was delicious. We had everything we needed. Easy to reach the city centre with TukTuk. We woud definitely recommend to stay in this place. Thank you
Ule
2016-03-25T00:00:00Z
Accueil très chaleureux. Nous avons passé un très bon moment au Swiss Lanna Lodge. Toto est la gentillesse même et Marco a pris le temps de nous donner beaucoup d'infos utiles sur les environs de Chiang Mai. Un tout grand merci aussi à Rose pour son accueil et sa disponibilité!
Anne-Christine et Xavier
2014-04-24T00:00:00Z
The place was charming, original and with a friendly atmosphere. Everybody made us feel very welcome. the food was good, the room was nice and it was excellent value for money. The staff often went out of their way to make us feel special. We would definitely recommend staying here again, perhaps one day we will return.
Natalia
2016-02-23T00:00:00Z
Jenis Bilik
Bilik persendirian
---
Jenis Penginapan
Rumah
---
Memuatkan
2
---
Bilik tidur
Chiang Mai, Chiang Mai, Thailand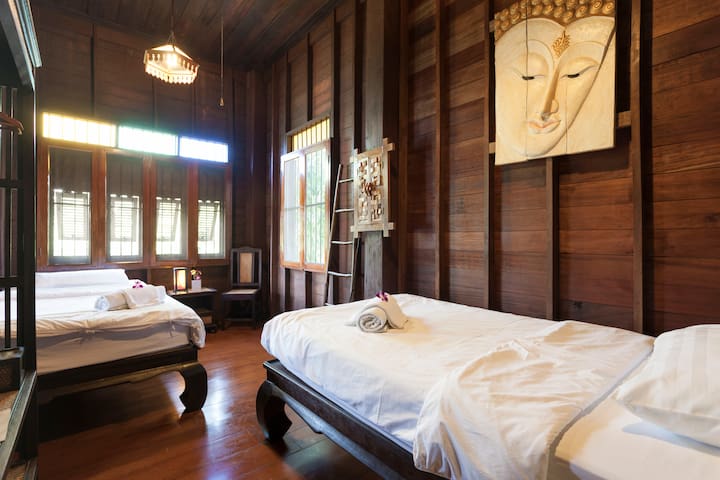 "Chiangmai CC House"is a guest house with 3 villas and 1 big swimming pool and super garden inside a quiet residence community.Each villa has 4-6 bedrooms,all with its own (URL HIDDEN) 15 mins drive to old town or Chiangmai international airport.
The room is on the 2 floor of villa with 1 king size bed and 1 single bed for 2-3persons.About 35 sqm,air conditions,private bathroom. simple breakfast: 50 THB/person. _________________ "Chiangmai CC House"is a guest house with 3 villas and 1 big swimming pool and super garden inside a quiet residence community.Each villa has 4-6 bedrooms,all with Air condition and its own bathroom. 12 bedrooms for rent.9 double-bed rooms with king size bed,2 twin-bed rooms and 1 family room with 1 king size bed and 1 single bed. The house location is near the cross of Road 121 and Road 1006(which straight to Tha Phae Gate.)You can take a taxi or rent a car or a motorbike into town,everywhere you like!About 15 mins drive to old town or Chiangmai international (URL HIDDEN) there are Central Festival,Big C. We have a kitchen,guests can use it to cook food,it charges 20 THB/person for using fee and seasonings.We also have BBQ tools,guests can take a BBQ party in the garden,500 THB for carbon and sevice fee.All foods need be prepared by guests self. I am Vivi from Shanghai China.I love meeting people from around the world and share tourist infomation with our guests.Hope you will spend a happy time in Chiangmai CC house!
We really love the quiet atmosphere around the house!
Jenis Bilik
Bilik persendirian
---
Jenis Penginapan
Rumah
---
Memuatkan
3
---
Bilik tidur
Chiangmai, Chiangmai, Thailand

Walk to Bo Sang Handicraft Centre 650m. 8 min. From Chiang Mai Airport 15.7 Km. 30 min By car. ->>You can watch the whole process as the workers hand make the paper lamps, fans, umbrellas and parasols from start to end.
Jenis Bilik
Keseluruhan rumah/apt
---
Jenis Penginapan
Rumah
---
Memuatkan
4
---
Bilik tidur
Ton Pao, Chiang Mai, Thailand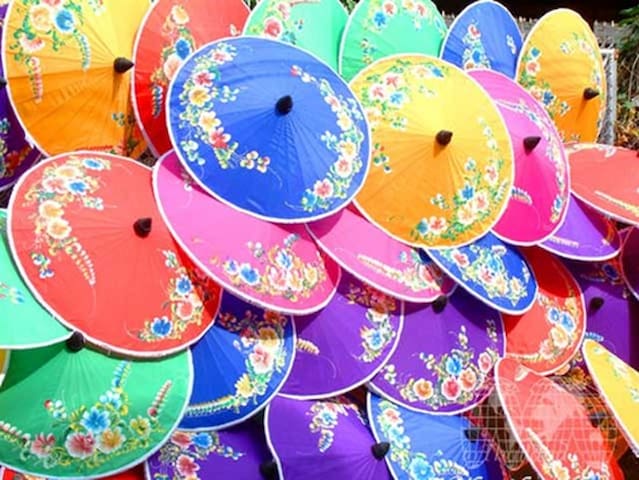 In the private zone with special decoration for relaxation
Our stay in Chiang Mai was wonderful thanks in large part to the generosity and friendliness of our hosts.
Julian
2016-08-16T00:00:00Z
We visited Chiang Mai for 2 days and we tried to fit in a weeks worth of activities. Thanks to Non's help, we were able see everything we wanted to! He went way out of is way to help us figure everything out! The first day we were there he let us rent is scooter to go explore the city. The next day we rented a motorcycle to go see the White Temple in Chiang Rai. Due to our lack of time, Non proposed to return the rented motorbike for us so we could go to on a elephant sanctuary the next day. The elephant sanctuary was to pick us up at 6:30am, which Non had also organized for us, and the bike store didn't open until 8am. Non made sure that tour company would drop us off first after the elephant sanctuary so we would be back in time for our flight. He even arranged for his brother to take us to the airport! What a great host!!! I highly recommend Non's place to everyone. You can trust him with any recommendation he has to give you. He's truly a great guy!
Sebastien
2016-08-25T00:00:00Z
Thanks to the amazing hospitality I had a one of a kind experience in Chiang Mai. My time spent was perfect and it was largely thanks to the help afforded to me by Non. He not only worked with me to plan adventures for each of the 3 days I stayed in Chiang Mai but went out of his way to make sure everything was effortless for me. On the first day he let me rent his motorbike and ride around the city visiting the most famous temples and various night festivals. In the second day he organized an adventure into the jungle where I got the opportunity to go on the most amazing 500m zip line, feed and bath with elephants in the river and go white water and bamboo rafting. And, on the third day he made the necessary calls to organize a full day excursion to a Thai Cooking school on a farm 20km outside the city. Moreover, that night he got me a seat to see some serious Muay Thai at the stadium with transportation to and from. If you have a chance to visit Chiang Mai there are several reasons you should choose to stay with Bunyarit & Non. I could not have asked for a better experience and it was all thanks to the incredible hospitality provided throughout my stay.
Neal
2016-11-29T00:00:00Z
We really enjoyed our stay at Non's place. Non was very helpful with recommendations for activities and helping us arrange tuk tuks to get around town. On our first day in town he even gave us a ride himself. The location of his house was perfect for what we were looking for. It is far enough away from the tourist areas of Chiang Mai to give you the experience of a local neighborhood, but still close enough to be able to easily visit all the sites. We really enjoyed seeing the local neighborhood, visiting the local bakery shop, and walking through the small local Wat at the end of the street. Non recommended a local restaurant at the end of the street that was one of the best meals we had in Chiang Mai, and by far the cheapest! The teak house itself was very charming and great if you are looking for a more unique experience. Because it is an antique teak house, it isn't insulated and you will hear all the sounds in the courtyard and small street. That said, I would definitely stay here again. This place is great for travelers seeking something original.
Emily
2016-12-04T00:00:00Z
This was a great find! Bunyarit and Non were incredible hosts, and went above and beyond to book us transportation, tours, cooking classes and more. The place was perfect for a couple. Had private bathroom and shower and air conditioning in the room. The outdoor common area was a beautiful place to sit and relax and we were very greatful for the free breakfast every morning. This isn't quite within walking distance to major downtown areas, but it was just a very cheap Uber or taxi ride away. Would definitely recommend!
Emily
2017-03-26T00:00:00Z
Before even coming to Thailand, Non took the time to communicate with me so that I had directions in Thai before landing! He answered any and all questions I had, and made my first Air BNB experience absolutely amazing. Upon arrival, Bunyarit and Non gave my husband and I a tour and ensured we were comfortable and settled in! The one thing that I wanted to do on our Chiang Mai adventure was to ride a motorbike- Non provided us with fantastic quality motorbikes and gave me lessons on how to ride (being a first timer)! I am grateful for a treehouse paradise tucked away, just outside Old City Chiang Mai. Stunning, clean, and wonderful hosts - you can't go wrong at this place!
Rachel
2016-12-28T00:00:00Z
房东很热情,住的也很舒服,推荐哦
shu
2017-03-08T00:00:00Z
What a special place to stay in Chiang Mai! The guesthouse is wonderful and the setting with the jungle plants and pond is very nice. Breakfast was great and Non was very helpful with any questions we had or help we needed. Highly recommend staying here. Thank you again!
Kristin
2017-02-20T00:00:00Z
Jenis Bilik
Keseluruhan rumah/apt
---
Jenis Penginapan
Rumah
---
Memuatkan
2
---
Bilik tidur
Chiangmai , จ.เชียงใหม่, Thailand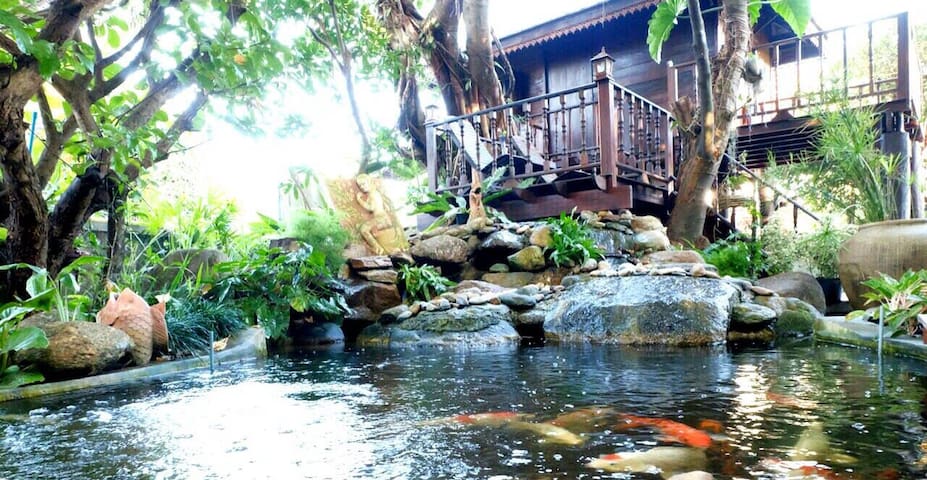 Cool charming bed room with high speed internet 30 mb. Cable tv, parking, nice host, and feel like a family.
Party and hangout
Jenis Bilik
Bilik persendirian
---
Jenis Penginapan
Rumah
---
Memuatkan
2
---
Bilik tidur
Tha Sala, Chiang Mai, Thailand
1

–

18

daripada

300+ Rumah Sewa
Masukkan tarikh untuk melihat harga penuh. Yuran tambahan dikenakan. Cukai mungkin akan ditambah.