Το σπίτι βρίσκεται 25 χλμ από το κέντρο της Φεράρα, 42 χλμ από την Μπολόνια, 55 χιλιόμετρα από την Μόντενα, 70 χιλιόμετρα από Κομάκιο (Po Delta), 100 χλμ Πάντοβα, Βερόνα, Ραβέννα (Θαυμάτων ψυχαγωγικό πάρκο), 135 χιλιόμετρα Βενετία, 150 χιλιόμετρα της Φλωρεντίας, 170 χιλιόμετρα Δημοκρατία του Αγίου Μαρίνου Και «πλήρως ανεξάρτητη και εξοπλισμένη με μεγάλο κήπο. Ε »σε δύο ορόφους: το ισόγειο θα βρείτε ένα ευρύχωρο χωλ, κουζίνα και καθιστικό, ένα υπνοδωμάτιο, ένα μπάνιο με ντους και πλυντήριο ρούχων? Ο πρώτος όροφος τρία υπνοδωμάτια (ένα διπλό και δύο δίδυμα) και ένα μπάνιο. Και «σε μια ήσυχη και ειρηνική περιοχή
Είμαστε στην ύπαιθρο, στη μέση του τέσσερα μικρά χωριά
Francesca's mother greeted us warmly when we arrived. She had a large platter of fruit in the kitchen along with sparkling water, butter, etc. The living quarters were very large and comfortable: two full floors with a bathroom on each floor, and a washing machine. Upstairs were two spacious bedrooms and a sitting room. The house has charm, nicely furnished. Francesca was away for work but answered all of our questions by text in a timely manner. We visited Bologna which involved a twenty minute car ride to the train station and a twenty-five minute train to Bologna. Well worth the trip!
Robert
2016-09-01T00:00:00Z
Molt còmode i tranquil
Cristina
2017-03-24T00:00:00Z
La preocupación de Francesca y sus padres es total, son unas personas muy simpáticas y preocupadas por que todo salga bien, en cuanto a la propiedad es excelente, habitaciones grandes y bien equipadas ademas de contar con estacionamiento y WiFi, es tal como se muestra en la publicidad, seria un agrado volver a quedarme con ellos si tuviese que volver.
Alfonso Domingo
2016-10-18T00:00:00Z
Una casa accogliente e pulita e molto molto grande!una gran bella accoglienza!francesca e la sua famiglia si sono rivelata delle persone gentilissime e degli ottimi padroni di casa!al nostro arrivo ci hanno fatto trovare un pacco di pasta e un sugo pronto per il pranzo e tutto il necessario per la colazione...vacanza da rifare e la casa di francesca è da consigliare!@@
Erika
2016-02-29T00:00:00Z
We didn't get to meet Francesca but her mother and father were very delightful. We loved her farm house and wish we could have stayed more than 1 night. Francesca has thought of everything that you might conceivably need. We had a little difficulty finding it because our GPS took us on a strange dirt road. I highly recommend this place if you are looking for a Italian Farm/Country house type stay!
Andee
2015-11-22T00:00:00Z
Immersa nella campagna ferrarese, la location è grande, silenziosa e rilassante. Ideale per raggiungere Ferrara e Cento. L'accoglienza è stata ottima, i genitori di Francesca simpatici e disponibili.
Carlo
2016-05-02T00:00:00Z
I was a little hard to find the house, but we found someone that helped us. The place is really very big, two floors, in very quiet area far away from noise. All of this connected with the old furniture made the girls were afraid of ghosts.
Gabriel
2015-07-28T00:00:00Z
Casa accogliente , grande e pulita. Ottimo punto di partenza per visitare il delta del Po e le città d'arte limitrofe. Grazie ai genitori di Francesca che ci hanno accolto in modo assai cordiale.
Anna Maria
2015-12-09T00:00:00Z
Jenis Bilik
Keseluruhan rumah/apt
---
Jenis Penginapan
Rumah
---
Memuatkan
8
---
Bilik tidur
Sant'Agostino, Emilia-Romagna, Itali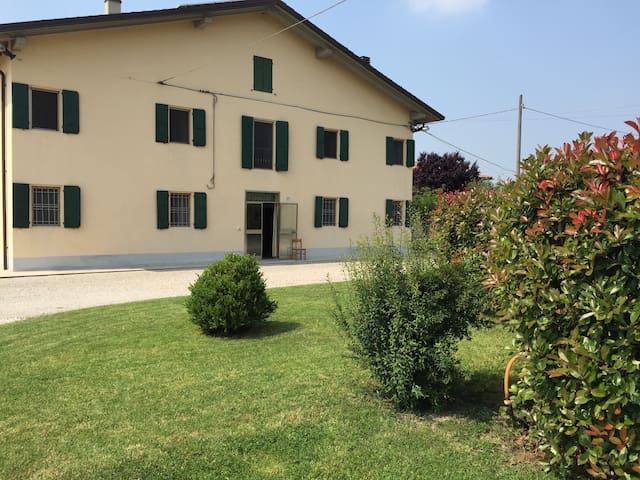 Studio with kitchen-living room, bedroom and bathroom. double bed and sofa bed for 2 people. TV, washing machine, air conditioner, free parking. Wifi on demand with little addition. It is 10 'from Cento, 20' from Ferrara and 50 'from Bologna.
Esperienza abbastanza positiva. Ci abbiamo messo un po' a trovare l'indirizzo perché il navigatore ci ha portato da un'altra parte lì vicino. Buona accoglienza e le istruzioni fornite. La casa aveva tutto quanto c'era nella descrizione. Segnalo la presenza di un piccolo giardinetto che forse andrebbe curato meglio. Bello e grande il bagno
Andrea
2017-03-05T00:00:00Z
Soltanto appartamento di "appoggio "
Antonio
2017-04-09T00:00:00Z
Stefano si é dimostrato sin da subito molto gentile e disponibile. Ad accoglierci é stata la madre di Stefano, una persona molto cordiale. La casa era molto profumata, ordinata e pulita, ben servita di ogni comfort. Se dovessimo ricapitare da quelle parti sicuramente opteremo per la casa di Stefano. Consigliato al 100%
Noemi
2016-09-27T00:00:00Z
Molto pulito e confortevoe. Adatto a soggiorni lunghi. Molto tranquillo
Teresa
2017-02-27T00:00:00Z
L'appartamento è accogliente, pulito e silenzioso e Stefano e la sua mamma sono stati gentilissimi e disponibili. Sinceramente raccomandato!
Cloud
2016-09-09T00:00:00Z
The host canceled this reservation 21 days before arrival. This is an automated posting.
Emanuele
2017-03-01T00:00:00Z
disponibilità nell'accoglienza
anna
2016-10-16T00:00:00Z
Stefano e suo padre sono stati gentilissimi, e disponibilissimi ad assecondare tutte le nostre richieste. L'appartamento è spazioso, la cucina ben servita ed il bagno ottimo. Ottimo come base per esplorare i dintorni.
Dario
2016-08-28T00:00:00Z
Jenis Bilik
Keseluruhan rumah/apt
---
Jenis Penginapan
Apartmen
---
Memuatkan
4
---
Bilik tidur
Cento, Emilia-Romagna, Itali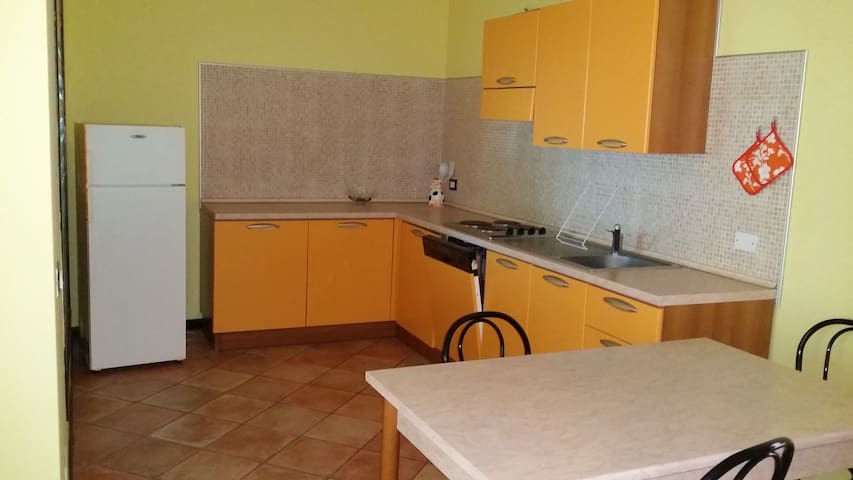 Sant'Agostino - Airbnb
:
Purata

4.87

daripada

5

daripada

47

ulasan tetamu
Masukkan tarikh untuk melihat harga penuh. Yuran tambahan dikenakan. Cukai mungkin akan ditambah.