OFFERTA: 6-10 APRILE 4 NOTTI € 296 La Casa di Alice, si trova in zona centrale per la visita di Montalcino e della Valdorcia. Tutta ristrutturata e molto luminosa, può ospitare da 2 a 4 persone. Interamente coperta da Wifi, ha due camere da letto matrimoniali, ciascuna con bagno privato, una cucina accessoriata dove potersi preparare i pasti, un soggiorno relax con tv led, poltrone, camino a legna per le fredde sere d'inverno. Riscaldato con energia pulita e restaurato con materiali ecologici.
Siamo nel territorio di Montalcino, più precisamente nel Borghetto Medievale di Castelnuovo dell'Abate, a mille metri dall'Abbazia di Sant'Antimo. La foresteria del Borghetto, mette a disposizione due camere matrimoniali ciascuna con bagno privato all'interno della camera. Gli ospiti hanno a disposizione una cucina accessoriata, una zona relax con TV led, Wifi gratuito all'interno della struttura.
Venire a Castelnuovo dell'Abate è come ritornare indietro nel tempo. Qui viviamo con il ritmo delle stagioni, che portano con sé feste e riti. A tal proposito vi potete imbattere in estate in una cena nel borgo oppure a mangiare castagne cotte sulle braci di un fuoco acceso per strada. La strada è la nostra casa dove mangiamo, parliamo e dividiamo gioie e dolori! Nelle serate fredde d'inverno capita di trovarsi con gli amici di sempre per sorseggiare un ottimo vin brulé ed ascoltare una vecchia storia... questo è Castelnuovo! Venite non ve ne pentirete! P.S. A 200 metri dal Borghetto ci sono due ristoranti di cucina toscana. A 50 metri un market ben fornito di tutto (orario (PHONE NUMBER HIDDEN)). A 10 metri dalla casa c'è il circolino, il bar del Borgo (apertura ore 13:00)
Where I even start?!?!? I don't think ever been anywhere as charming as Castelnuovo dell'Abate. We were there for just 1 night (literally got there in the evening and left the following morning) and immediately regretted not having planned to stay there longer! Stefania was there to meet us as we arrived and gave us a great restaurant recommendation for dinner. The apartment - BEAUTIFUL! Very clean, very spacious, newly renovated so it has many modern amenities, yet kept so much of its rustic charm. Each bedroom has an en suite bathroom so you have complete privacy. The views from the apartment are just ridiculous, overlooking fields of beautiful Italian country side. Castelnuovo dell'Abata - something out of a fairy tale. You drive through fields of vineyards and olive tree farms to pull up to a medieval town on a hill. Some of the best wine in the country is produced here, so be sure to go out and ask for recommendations. Had we stayed for longer, we certainly would have walked around a lot more, but in the limited time that we had there, we were in a constant state of awe. Thank you for the experience, I would highly recommend anyone driving through the area to spend time at Stefania's apartment!
Mohamed
2016-05-10T00:00:00Z
Great place, very characteristic, cosy, clean, rustic environment, beautiful.
Jeroen
2016-09-27T00:00:00Z
A precious gem! Do yourself a favor and stay in Castelnuovo dell'Abate, it is charming Italian village overlooking the beautiful countryside. Stefania was so helpful - greeting us when we arrived and showing us all the details of Borghetto. She also drew out a complete map of everything to do and see in the area - if it wasn't for this, we would have missed several of the amazing places.
Jill
2016-10-13T00:00:00Z
The place is great. You can't go wrong booking this. Clean modern interior with mediaeval outside charm. Stellar views. The picturesque village is in a great central location but still not touristy at all.
Olaf
2016-09-03T00:00:00Z
Nous garderons un excellent souvenir de cette halte en Toscane au cœur d'un vignoble grandiose. Stefania nous a accueilli avec gentillesse. L'appartement est magnifique dans un village typique.
Serge
2016-08-08T00:00:00Z
Stefania was a terrific host and the accommodation is located in a quaint little town just outside Montalcino. It is a true Tuscan experience and everyone in the town is sooo lovely! Thanks Stefania!
Nidhi
2016-09-10T00:00:00Z
L'appartement, au coeur d'un très beau village toscan, est simplement magnifique. Décoré avec beaucoup de goût, confortable et d'une propreté irréprochable. Merci Stefania pour l'accueil. Village idéalement situé pour visiter la région. Très bon restaurant en bas du village.
Valérie
2016-08-04T00:00:00Z
Dit is een adres dat we van harte kunnen aanbevelen, een luxe, mooi en sfeervol ingericht appartement, op en top verzorgd, schoon en met alle voorzieningen die we wensten. Het contact en de bereikbaarheid met de verhuurder is optimaal en prettig. De ligging is centraal, vanuit de woning kun je alle kanten op in Toscane zonder al te ver te moeten reizen.
Robert
2016-09-19T00:00:00Z
Jenis Bilik
Keseluruhan rumah/apt
---
Jenis Penginapan
Rumah
---
Memuatkan
4
---
Bilik tidur
Castelnuovo dell'Abate, Siena 53024, Itali
A soli 1,5 km di distanza dal centro del paese, la bella casa di campagna è stata ristrutturata in tempi recentissimi, avendo cura di mantenere lo stile architettonico e di arredamento proprio degli antichi poderi della collina montalcinese.
Ha tre camere molto grandi (una con cabina armadio, camino, letto matrimoniale, letto singolo e bagno interno; una con cabina armadio e letto matrimoniale, e l'altra con letto matrimoniale e bagno interno); tre bagni in totale, dei quali uno con vasca e gli altri due con box doccia; ampissimo soggiorno con grande tavolo da pranzo, stufa a legna, pianoforte, tre divani e una poltrona; grande cucina con ampio tavolo e grande camino; grande ingresso con un divano letto singolo; forno a legna esterno; è circondata da 4 ettari di giardino, oliveto, frutteto e bosco.
Cecilia was a great host, she gave us recommendations for local restaurants, wineries and a special request from me for a nearby swimming pool.
Sharon
2015-06-09T00:00:00Z
Cecilia was a most gracious and accommodating host. She met us at the bus and transported our luggage and three of us to her lovely childhood home. The house was spotlessly clean and perfect for three couples. Staying here was one of the highlights of our two weeks in Italy. It was quiet and peaceful and the views of the valley below Montalcino from the terrace were spectacular. The house is situated 1.5 km from town down a fairly busy winding road and then down a semi-private country lane. Since we did not have a car, this meant a walk into town daily for food, sightseeing, and hiking. While this was not a problem for us, it is something that future guests should note.
Karen
2016-06-08T00:00:00Z
Tanto la descripción del anuncio como las fotografías se ajustan totalmente a la realidad! Es una casa con mucho encanto y muy acogedora y las vistas son preciosas, una auténtica maravilla. La comunicación de carretera con el pueblo es buena también. Cecilia, y sus padres, fueron muy buenos anfitriones y estuvieron a nuestra disposición en todo momento por si necesitábamos cualquier cosa. Recomendable 100%!
Cristina
2016-04-04T00:00:00Z
Cecilia was a wonderful host and kindly met us in town to make sure we found her lovely home easily. It's on a hill overlooking the most wonderful wineries and olive groves. Looks like a painting - and we couldn't believe it was ours for a whole week. We spend the entire time in Montalcino - in town, at the local Brunello wine estates. There was so much to see and do, I am sure we'll be back. The house was rustic, yet chic and cozy and friendly with great heating and wi-fi access. The location was perfection and we can't wait to visit again with friends because the house is just so spacious (this one was for our honeymoon!)
Valerie
2016-11-28T00:00:00Z
Ho soggiornato qui con il mio fidanzato e altre due coppie di amici per il ponte dell'immacolata. La casa è poco fuori Montalcino, con una vista mozzafiato sulle colline toscane. L'esterno è curato e molto caratteristico ma è l'interno la vera scoperta. Ambiente curatissimo in ogni dettaglio, caldo e accogliente, rustico ma con un tocco moderno. La sala da pranzo è bellissima. Abbiamo cenato in un'atmosfera magica con il camino acceso. La casa è super attrezzata di tutto, particolarmente apprezzata la lavastoviglie. Le tre camere sono arredate con gusto e due hanno il bagno in camera. Il terzo bagno è comunque accanto alla camera. Una in particolare è enorme e con il suo camino. La zona è ricca di posti da visitare facilmente raggiungibili, comprese le terme. Siamo stati benissimo, da ritornarci per poter pranzare nel patio esterno. Complimenti alla padrona di casa...casa meravigliosa!
Laura
2015-12-08T00:00:00Z
I was hesitant to leave this review because I want this villa to be available on my next trip to Tuscany, but that would be unfair to Cecilia who was the perfect host! This house was the perfect base for a week out in Tuscany for my Wife and I. We spent each day doing day trips to Montalcino, Montepulciano, Pienza, Cortona, and San Gimignano, and after a long day we were always thrilled to come back "home"... *It is very close to the center of town - Montalcino (3min drive to the castle or 15min run) for groceries, shopping, or restaurants. *It is tucked away in a very peaceful setting which is off the main road but you wouldn't know it from just outside the house - instead you see the beauty of the Tuscan hills from each window - think vineyards. *The interior is filled with character, typical tuscan vibe, very clean, and nice/interesting art. My wife and I spent most of the time in the kitchen - was was our favorite room - she cooked, and I kept the fire cooking, while we ate local cheese and salami and sipped local sangiovese. *Cecilia was the perfect host. She was extremely responsive before and during the stay , very welcoming & friendly when we met her there on the first day, and also gave us some very good recommendations in the area for shopping & activities. My wife and I are excited to visit again (hopefully soon!)
Matthew
2016-11-23T00:00:00Z
Lovely home in a serene & peaceful location very near Montalcino. Cecilia is a caring host.
Beverly
2016-09-29T00:00:00Z
We enjoyed our six days in Cecilia's house very much. The house is spacious, clean, well equiped. We loved braekfasts in the garden under the flowering pergola and also evenings in the glassed terrace with a piano. The view to Mont Antimo and countryside is amazing during days and absolutely silent nights. 100 meters from the house, there is a local wine maker having nice Brunelo, Rosso and other products. It is possible to walk to Montalcino, but better to use car, because the traffic on the road. Cecilia is a great host, flexible and helpful.
Stepan
2015-05-11T00:00:00Z
Jenis Bilik
Keseluruhan rumah/apt
---
Jenis Penginapan
Rumah
---
Memuatkan
8
---
Bilik tidur
Montalcino, Toscana 53024, Itali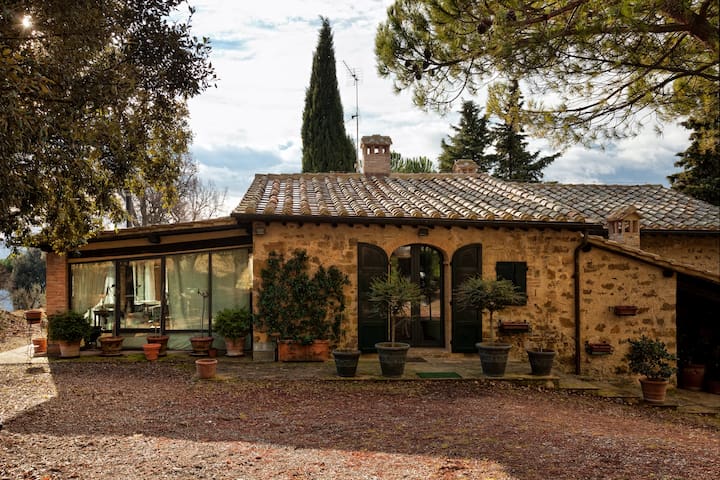 Sehr persönlich renoviertes Stein-Bauernhaus von Toscanaliebhabern in 2. Generation, kleiner Pool, 5 Hektar Land, Weinberge, 200 Jahre alte Olivenhaine und wilde Natur, 4 separate, individuell eingerichtete Schlafzimmer und ein separater Schlafzimmer- Anbau mit eigener Terrasse, grosses Bad, 2 Wc, alter Weinkeller, grosse Atelier-Scheune. Das Anwesen ist für 8-10 Personen, aber auch wegen absoluter Einzellage für Paare ideal, eigene Wein- und Olivenöl Produkte, Gemüsegarten , 3 Terrassen, ruhig.
Das Haus und das Land dort sind beseelt, viel viel Natur, eigener Gemüsegarten, eine dort in der Nachbarschaft ansässige Familie, die für alle Fragen der Gäste da ist, ist jederzeit erreichbar, aber man ist ganz für sich. Kein Luxus, aber dafür viel Charme und liebevolle Details, die in 2 Generationen dort entstanden sind. Wir leben Gastfreundschaft mit Freunden, KünstlerInnen, lieben Menschen schon seit 30 Jahren dort. Das Haus ist geräumig, hat fünf individuell unterschiedliche Schlafzimmer, ein grossen klassischen Rundbogen- Wohnraum mit originalem toskanischem Kamin, grosses Bad, überall sind Kastanienholzdecken und Terracottaböden im Original erhalten und gepflegt. Aussen hält ein 12qm Pool wegen seiner Tiefe auch im August eine erfrischend kühle Temperatur. Man blickt weit ins Tal auf den höchsten Berg der Toscana, den Monte Amiata. Für Kinder ist das weite Land mit Wald, Naturquelle im Tal, Pizzaofen(betreibt auf Wunsch Alberto) und dem Pool und 5 Hektar Land ideal um Abenteuer zu erleben. Davon zeugen hunderte von Einträgen und Zeichnungen in unseren 5 Gästebüchern seit 30 Jahren :-) Gemütliche Küche mit allen Grundnahrungsmitteln ausgestattet zum wiederauffüllen, hauseigener Wein und Olivenöl. Eigenes Bio-Gemüse zum selber ernten im hauseigenen von Alberto bewirtschafteten Gemüsegarten, 9qm kleiner Pool, kein TV kein Internet, aber Handyempfang.
Montalcino in 7 km Entfernung ist ein sehr berühmter Weinort mit vielen bekannten Weingütern. Das bekannteste von Biondi Santi ist sehenswert. Der Freitag vormittag- Mark in Montalcino ist sehr lebendig. Das Kloster San Antimo ist eines der schönsten romanischen Klöster Italiens in 45 min Fussweg vom Haus und Castelnuovo sieht man von der Terrasse aus und ist ein entzückendes vom Tourismus unberührtes Bergdorf gleich in der Nähe des Klosters . Ausflüge: Heisse Quellen in Bagno Vignoni: 40 min, Pienza, 45 min, Siena, 1 Std, Parco degli Ucelli, ein naturbelassener Strand bei Grosseto am Meer 1,5 Std, Skulpturenpark Daniel Spoerri grossartig, ca 1,5 Std. Die Liste wäre endlos…im Haus gibt es viele Reiseführer und Bildbände über die Gegend zum schmökern und planen.
Nous avons passé un super séjour dans la maison de Nikolai. Une belle maison de famille dans la campagne Toscane, l'idéal en famille et pour se couper des ondes, du travail etc. Nous n'avons pas rencontré Nikolai mais il est très prévenant et répond rapidement aux messages. Sur place, Alberto était là si nous avions besoin. Une adresse que l'on garde préciseusement. Nous avons tous été sous le charme. Le charme de l'ancien, maison de vacances confortable et bien équipée. Avec une très bonne atmosphère.
manon
2016-10-26T00:00:00Z
I spent the weekend at Nikolai's place with a couple of fiends. We had a great time. The house and surrounds are really beautiful. Everything was organised perfectly. I would love to go back and spend some more time there.
Steven
2017-02-06T00:00:00Z
La casa è bella, location meravigliosa peccato la gestione: riscaldamenti non funzionanti ed acqua calda solo a tratti. Illuminazione esterna inesistente ed ultimo tratto di strada sterrata piena di buche, buia e senza indicazioni del casale. Non è stato un buon soggiorno
Melissa
2017-01-02T00:00:00Z
Questo bell posto si fa bene per essere nel campo fuori di tutto. Prendi una macchina alta per un'avventura sulle strade remote in un posto tranquillissimo!
Fr.Matthew
2017-02-20T00:00:00Z
We had a fantastic stay here. The property is full of great character and the scenery and setting were incredible. The roads leading to the property were very remote and could be tricky for a little car - but you need a good solid car for driving around Tuscany anyway. We had everything we needed and both Nikolai and Alberto the local contact were very accommodating and helpful. Come if you want a lovely secluded getaway with real Tuscan charm - and awesome wine from the excellent town of Montalcino, full of great food and wines and nice people too.
Anthony
2016-09-17T00:00:00Z
Traumhaft schöne Unterkunft zwischen Olivenhain und Weinreben. Absolute Ruhe und doch nur ein paar Minuten bis ins lebhafte Montalcino. Sehr stilvoll und gemütlich eingerichtet. Mehr als ausreichendes Geschirr und Besteck, auch für viele Leute. Die Küche ist mit 90cm Gasherd und Backofen für alle die gerne selbst kochen sehr gut ausgestattet. Den hauseigenen Wein und das Olivenöl können wir nur empfehlen. Diese Unterkunft können wir mit bestem Gewissen weiterempfehlen.
Bettina
2016-09-27T00:00:00Z
The host canceled this reservation 17 days before arrival. This is an automated posting.
Christoph
Bossolino ist ein wunderbares Anwesen in einer traumhaften Umgebung! Wir haben unseren Aufenthalt sehr genossen. Die Kommunikation mit Nikolai und vor Ort mit Alberto war herzlich und gut. Die Anfahrt ist mit Hilfe der Beschreibung kein Problem, die Zufahrt auf den letzten Metern ist zwar etwas holperig, aber wenn man keinen Sportwagen hat dennoch problemlos zu meistern. Die Ausstattung ist für ein Ferienhaus mitten in der Natur sehr gut und entspricht voll und ganz der Beschreibung. Die Räume im Haupthaus sind sehr geräumig. Wir kommen bei Gelegenheit sehr gerne wieder, dann für einen längeren Aufenthalt! Vielen Dank, Nikolai!
Philipp
2016-08-01T00:00:00Z
Jenis Bilik
Keseluruhan rumah/apt
---
Jenis Penginapan
Rumah
---
Memuatkan
10
---
Bilik tidur
Montalcino, Tuscany 53024, Itali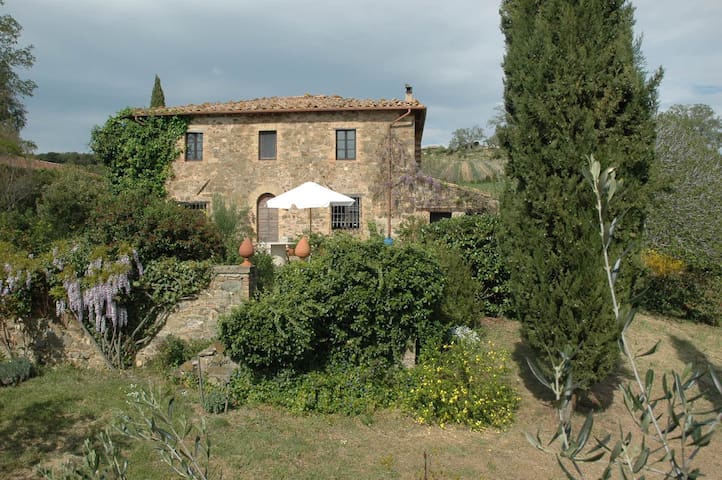 1

–

3

daripada

3 Rumah Sewa
Masukkan tarikh untuk melihat harga penuh. Yuran tambahan dikenakan. Cukai mungkin akan ditambah.