Traditional house with individuality, in a quiet natural environment, located 10km east of Rethymno, 50m from the sea (Golden Beach), close to the national road Rethymno-Heraklio. A comfortable, fully equiped house, 1 bedroom, 1 extra for kids, yard with trees, free parking outside, supermarket
Quiet comfortable space surrounded in trees
One should know that the house is situated just on the highway and cars passing sound is heard during the whole day and night. When you're going to the seashore you need to cross two roads and pass a tunnel where a car may suddenly appear. I can't say that's a big disadvantage but you should be aware as you plan your staying. The house has incredible interior which is more than designer's. Also what is very attractive there's a lot of books in the house, even they are in Greek it's a real pleasure to hold them in your hands and just to leaf the pages. I'm disappointed I hadn't had enough will to steel one ore two :)
Dmitry
2016-08-07T00:00:00Z
I went twice in Rena's house, it means I really like it. The house is comfortable, it has everything you need in a perfect position and it has a beautiful courtyard. Rena is a Young and nice woman, ready to help you. I hope I'll back soon.
Veronika
2016-05-16T00:00:00Z
Ρενα is a very nice host ! Place is tidy, super clean and we loved our one-night stay there.
Thibault
2015-08-25T00:00:00Z
Très gentil, aucun problème !
Stef
2016-09-06T00:00:00Z
Étant donné que Rena nous a proposé un appartement à Rethymno par la suite je ne peux pas vraiment jugé cet appartement. Rena est très aidante et dispo. L'appartement dans lequel nous avons logé était propre, très bien situé, calme et cosy. La wifi fonctionne parfaitement.
Adele
2015-10-19T00:00:00Z
Nice Apartment
Andy
2015-10-09T00:00:00Z
Rena was super nice and kindly accepted our last mins same day request. Her house was clean and artist with a big front yard. House is close to old road but quiet. She also prepared a few breakfast items for her guests, very thoughtful. Thank you!
Jan
2015-09-09T00:00:00Z
Το σπίτι ήταν πολύ καλό και θάλασσα πολύ κοντά. Η οικοδέσποινα πολύ ευγενική
Σεργιος
2016-08-20T00:00:00Z
Jenis Bilik
Keseluruhan rumah/apt
---
Jenis Penginapan
Rumah
---
Memuatkan
3
---
Bilik tidur
Sfakaki, Crete, Yunani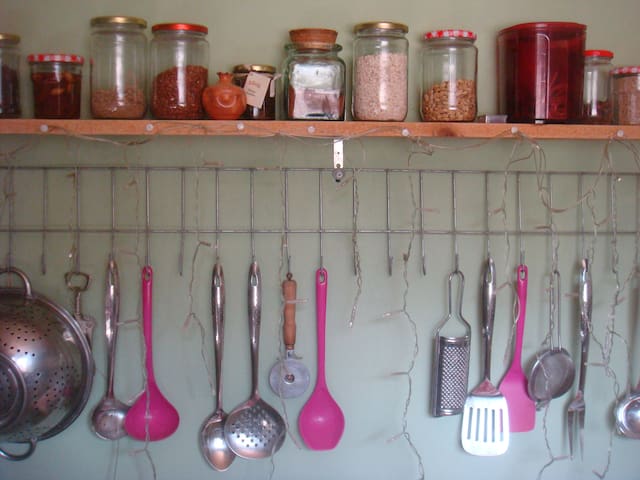 House in the traditional village of Pigi Crete.The house is situated in a quiet environment 1km from the sea and 7 from Rethymnon city.Facilities at the ground floor - patio,kitchen,bathroom, 3 beds bedroom. First floor (attic) with a double bedroom and a cozy 30m2 veranda.Easy access by foot or by a motorbike.100 meters walk from a free car parking area.We stay close to the accommodation and we are at your disposal if you need something.Τo welcome you to offer traditional homemade dishes !!!
In the center of Crete !!! From here you can divide your routes and have quick access to the entire island. 50 minutes from Heraklion and 40 to Chania. One hour of our beautiful southern blue and crystal-clear beaches. 1:45 minutes to Agios Nikolaos. 25 minutes of wonderful places with ponds, natural water sources, popular historic monasteries, castles and Byzantine buildings and churches !!! Τo welcome you to offer traditional homemade dishes !!!
It has been declared a traditional settlement that residents keep their old habits. At 30 meters there is the large central square with cafes-tavernas. It also has a pharmacy, butcher, mini market, bakery and citizen service center.
We have stayed at Pavlos as 4 people for 1 night and we were surprised. The house itself was better looking than in the photos, the house had a nice view from outside and we found even more amenities than we could use. In conclusion, the price and quality ratio was 10/10, but that is not everything - Pavlos brought us fresh pastries (which were delightful) even though we stayed for only one night. Would recommend without hesitation!
Karolis
2016-09-30T00:00:00Z
Very nice and quiet place. We only spent 1 night but we appreciate it very much (especially the terrace).
Sandrine
2017-04-06T00:00:00Z
Theanos House, is located in the Centre of Pigi, a small village close to Rethymno. We only stayed the one night, but we found everything we needed. Pavli and his son, Dimitri, were attentive and only a phone call away for the few questions we had. Great value for money !!
Ian (Γιαννις) & Bev
2017-01-08T00:00:00Z
Our days in Pigi an original traditional village of rethymno were very comfortable and restfull after our job. We had the oppurtunity to walk in the little streets of the village at Sunday cause we didnt work due to the strike and we loved your village. Additionaly we had great moments in the evenings at your place cause we felt very cosy and warm in your house that has something familia´we have to say. We found fine and warm wellcoming and a loveable hosting, thank you for everything!
Marcus
2016-12-12T00:00:00Z
Paul en Theano hebben in korte tijd ons hart veroverd. 'Gewone Griekse gastvrijheid' zegt Paul, maar voor ons voelde het alsof we bij onze beste vrienden op bezoek waren. Geen moeite was ze teveel, ze lieten ons kennis maken met heel veel Griekse lekkernijen (ook zelfgemaakte heerlijke wijn), gaven ons tips over de mooiste stranden en interessante plekken om te bezoeken, alles in een relaxte sfeer met begrip voor onze privacy. De communicatie is makkelijk, vooraf en tijdens onze vakantie hadden we steeds snel en hartelijk antwoord op onze vragen. Het huisje is zeer schoon en compleet ingericht, vaak werd er schoongemaakt en kregen we nieuwe lakens en handdoeken. De nachten zijn rustig, de bedden zijn prima en het huis biedt meer dan genoeg ruimte voor vijf personen. Op het terras is altijd schaduw en een verkoelend windje. En je hebt heerlijk uitzicht over het dorp, de heuvels en je kunt zelfs de zee zien! Het dorpje zelf is bijzonder sfeervol met de smalle straatjes en witte huisjes. Ondanks de vele ruïnes oogt het geheel toch verzorgd. Het winkeltje is twee minuten lopen, daar vind je eigenlijk alles wat je nodig hebt voor brood en avondeten. Ook is er een leuk restaurantje in het dorpje. We hadden leuk contact met de locale bevolking, iedereen is even vriendelijk en gul. Met de auto ben je binnen vijf minuten bij het strand (lopen is net iets te ver), daar vind je gezellige tavernes met goed eten en ook weer zeer vriendelijke mensen. Kortom: de ideale plek voor een relaxte zon- en zeevakantie in een authentiek en vriendelijk dorpje.
Katja
2016-08-02T00:00:00Z
Το σπίτι ήταν πεντακάθαρο και πλήρως εξοπλισμένο.Με το που φτάσαμε, παρότι ήταν πολύ νωρίς το πρωί, μας υποδέχθηκε ο γιος του Παύλου για να μας δείξει το σπίτι και να μας κατατοπίσει.Δύο μέρες πριν το ταξίδι, λάβαμε αναλυτικές οδηγίες από τον Παύλο (χάρτες κλπ κλπ) και έτσι δεν αγχωθήκαμε καθόλου για να βρούμε το σπίτι.Το σπίτι μας ενθουσίασε γιατί ήταν πεντακάθαρο και είχε μέσα οτιδήποτε μπορεί κάποιος να χρειαστεί. Καφετιέρα, τοστιέρα,σίδερο,πιστολάκι,πλυντήριο κλπ κλπ. Ακόμα και παγάκια μας είχε στην κατάψυξη και διάφορα γλυκίσματα για να μας καλωσορίσει. Τα πάντα ήταν άψογα. Τα σεντόνια και οι πετσέτες πεντακάθαρα, όπως και όλο το σπίτι. Ο Παύλος και η Θεανώ ήταν ευγενέστατοι και πολύ διακριτικοί. Μείναμε 4 μέρες και τη δεύτερη μέρα μας έφεραν και άλλα γλυκίσματα. Η κρητική φιλοξενία απιστευτη όπως και οι άνθρωποί της, αν κρίνουμε από τους δύο οικοδεσπότες. Παύλο και Θεανώ σας ευχαριστούμε ΠΑΡΑ ΠΟΛΥ για όλα και ελπίζουμε να σας δούμε του χρόνου.
IASON
2016-08-23T00:00:00Z
Pavlos e sua moglie sono stati degli host premurosi e molto gentili. All'arrivo ci hanno offerto dei deliziosi piatti tipici della zona . La casa era completa di tutto il necessario è molto pulita e ordinata. Si trova in un villaggio caratteristico e molto tranquillo. Durante il nostro soggiorno il Wi-Fi non era disponibile. Nel complesso il soggiorno e' stato piacevole e rilassante.
Silvano
2016-07-12T00:00:00Z
Pavlos et son épouse nous ont accueilli avec tellement de gentillesse et de générosité ! Nous avons été comblé, un excellent rapport qualité prix, une maison bien tenu où rien ne manque dans un village calme ou vous trouverez sur la place une taverne très sympa. On se sent chez soi. Que du bonheur. Je le conseils sans restriction !
Jacques
2016-10-18T00:00:00Z
Jenis Bilik
Keseluruhan rumah/apt
---
Jenis Penginapan
Rumah
---
Memuatkan
5
---
Bilik tidur
Rethymno, Crete, Yunani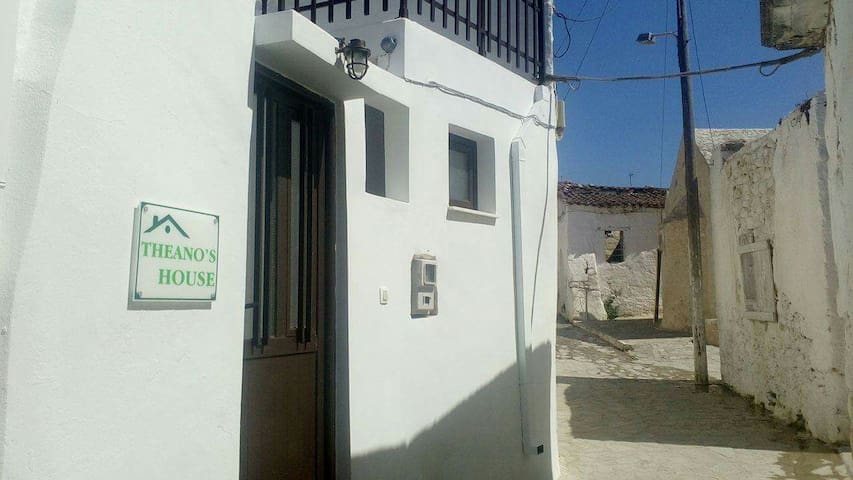 Cool Villa with AC and private pool. Two separate bedrooms and fully furnished house. Roof terrace with sea view. 350 sqm, for infants and suitable for grilling. 4 bikes included. Happy holidays including bathing -. Beach towels. The house is located in Asteri with about 100 residents - if someone looking for peace and yet not far things liven up - then they are in the house Asteri Right. 2 km from the larger city and sea.
Very clean, air-conditioning, insect screens on all windows with shutters. private pool with beach and bath towels
small and fine
Petite maison neuve et propre avec sa piscine vraiment agréable au mois d'août. L'eau est bonne et la piscine est nettoyée 3 fois par semaine. La clim est efficace et bienvenue pour rafraîchir la maison en fin de journée et dormir au frai. Les photos sont tout à fait conformes à la réalité. De la maison on voit la mer et un monastère (?). Le jardin est agréablement fleuri. Quelques produits dans le frigo (eau, jus d'orange, olives, feta, biscuits locaux...) ont été appréciés à l'arrivée. Carol est souriante et accueillante, même quand on vient la déranger deux jours de suite parce qu'on a fermé la porte avec les clés à l'intérieur. Astéri est un village calme à quelques kilomètres de la mer. On y trouve une mini épicerie qui vend du pain frais dès 9 heures le matin. La taverne Poliou est vraiment sympa et pas trop chère. Nous y avons mangé presque tous les soirs. Le musée de la taverne est à voir. Cette partie de la côte crétoise n'est sans doute pas la plus belle de l'île, mais la mer est belle est propre et on peut avoir la chance de voir les tortues venir y pondre ou les bébés tortues courir vers la mer. La magnifique La Canée n'est pas loin, la côte sud non plus ! Bref, de quoi passer de bonnes vacances.
Véronique
2015-08-10T00:00:00Z
Wir hatten einen sehr schönen und erholsamen Urlaub auf Kreta. Das sehr schöne Ferienhaus lag in ruhiger Lage und entsprach unseren Erwartungen und der Beschreibung. Wir hatten einen guten Kontakt mit Erwin, der immer sehr schnell geantwortet hat.
Tanja
2014-07-27T00:00:00Z
Wir waren das zweite Mal Gäste in der Villa Asteri. Wie auch schon im Vorjahr hatten wir einen schönen Urlaub. Eigentlich können wir nichts anderes schreiben als wie beim letzten Mal. Carol war immer sofort zur Stelle, wenn etwas war oder wir Fragen hatten. Wir waren bestimmt nicht das letzte Mal in der Villa Asteri!
Oliver
2016-08-20T00:00:00Z
Haus Asteri is an amazing house with a great location close to the beach away from all the tourists. We just loved the swimming pool. Inside the house you will find everything that you need airco is also so nice during the hot summer. Erwin is a very understanding and patient man the perfect host, the perfect house, the perfect location. Fred and carrol are verry friendly they will come to see if you are okay and will clean the pool. Dont hesitate and go to haus Asteri when you come to Crete you wont regret it.
Stef
2015-08-18T00:00:00Z
Es war eine wirklich tolle Woche in Deinem Haus, Erwin! Nach anfänglichen Schwierigkeiten mit dem Pool (der war leider trüb, als wir ankamen, weil zuvor die Pumpe ausgefallen war... Fred war aber sofort zur Stelle und hat sich um alles gekümmert, Wasser einmal abgelassen und Pool neu gefüllt), konnten wir ab dem 3. Tag alles in vollen Zügen genießen. Das Grundstück ist traumhaft gelegen, keiner kann den Garten einsehen. Im Haus ist es z.T. etwas eng, aber da wir ohnehin überwiegend draußen waren, war der Platz absolut ausreichend für uns 4. Die Küche ist gut ausgestattet, Waschmaschine ist auch vorhanden. Ein kleiner Mini Market, wo man das nötigste kaufen kann, ist direkt um die Ecke. Der nächste Supermarkt mit dem Auto 5 Minuten entfernt. Das absolute Highlight war aber definitiv der Pool!!! Einfach ein Traum! Das Haus liegt in einer ruhigen Nachbarschaft, es gibt wenig Touristen. Wir hatten ein Auto gemietet und haben jeden Tag verschiedene Strände erkundet. Die Umgebung ist wirklich sehr schön. Nach Rethymno ist es mit den Auto nur 15 Minuten, dort waren wir abends ein paar Mal, es gibt schöne Restaurants und Geschäfte. Eine rundum wirklich sehr gelungene Woche und wir würden gerne mal wieder kommen. Vielen Dank auch an Carol und Fred, die immer sofort zur Stelle waren, viele gute Tips geben konnten und sich immer sehr gut um alles gekümmert haben.
Annette
2016-08-28T00:00:00Z
Dans le réfrigérateur, le nécessaire pour préparer un premier petit déjeuner, des produits basiques mis à disposition (sel, poivre, huile vinaigre, pâtes...); La piscine propre, les lits faits...
Evelyne
2016-10-20T00:00:00Z
We had a great experience at Erwin's lovely holiday home - the place was really nice, and had everything we could need. The pool was a particular highlight - we spent a couple of hours in it every day! His friend Carol also came to visit us twice to make sure we were doing well. Crete is a lovely island, and this is an ideal place to base yourself, being up in the hills but only a 5-10 minute drive to the national road on the coast. Just one thing - make sure you are aware that the place does not have wi-fi, as the mobile phone reception is very patchy! There are plenty of local places you can go to use their network.
Joe
2016-09-21T00:00:00Z
Wir haben 12 sehr schöne Tage im Haus Asteri verbracht. Die Umgebung ist sehr ruhig und der Ausblick von der Dachterrasse ist traumhaft. Die Taverne im Ort Asteri die man fuß läufig erreichen kann ist sehr gut und das Essen schmeckt. Der Ort und das Haus sind etwas schwer zu finden und man braucht ein Auto (an der Stelle danken wir Carol für die Fotos). Die Nachbarin Carol die sich um das Haus kümmert ist sehr freundlich und hilfsbereit. Den Pool haben wir fast jeden Tag benutzt und er ist eine schöne Abkühlung. Da wir abends in heraklion gelandet sind hat Carol bzw. Erwin uns einen Willkommenskorb bereitgestellt und es war alles da was wir brauchten. Sauberkeit war ok. Kontakt mit Erwin war freundlich und er hat immer schnell geantwortet. Das Haus ist wirklich sehr schön und nur zu empfehlen!!!!
Laura
2015-07-12T00:00:00Z
Jenis Bilik
Keseluruhan rumah/apt
---
Jenis Penginapan
Rumah
---
Memuatkan
4
---
Bilik tidur
Asteri, Kreta, Yunani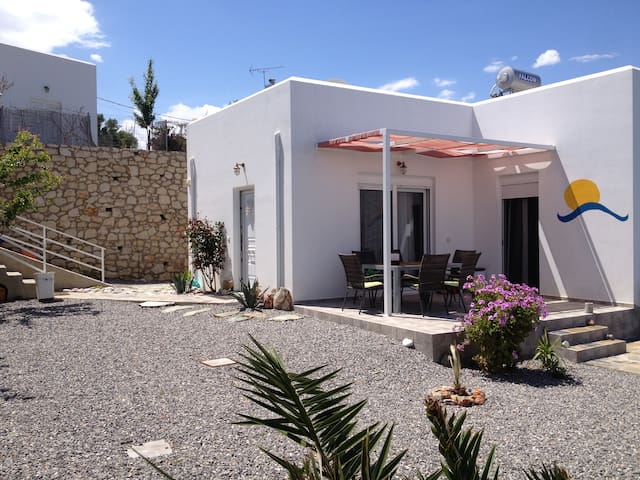 My place is close to restaurants and dining, the beach, nightlife, and family-friendly activities. My place is good for couples, solo adventurers, business travelers, families (with kids), and big groups.
Jenis Bilik
Keseluruhan rumah/apt
---
Jenis Penginapan
Rumah
---
Memuatkan
4
---
Bilik tidur
Gazi, Yunani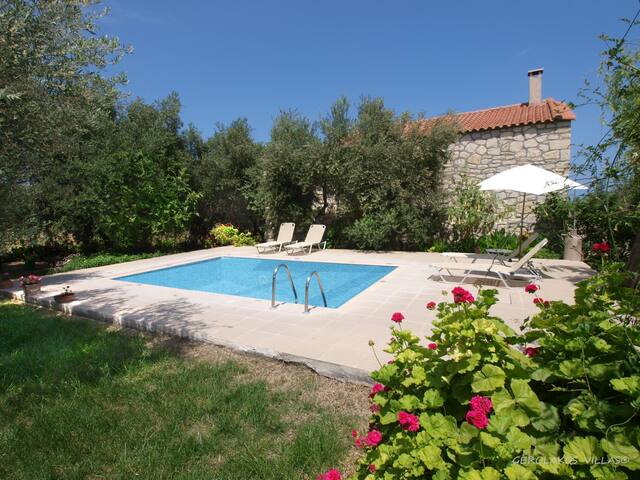 Villa Telika is a quiet and tranquil holiday home with private pool, garden and 80 m2 roof terrace with panoramic views of the ocean and sunset. Here you will get charged batteries while you have all the amenities nearby. Wonderful area for cycling, hiking and swimming.
Living room with kitchen, dining room and TV area with access to the terrace. There are two bedrooms with veranda. A bathroom with tub and shower. There are several seating areas around the property, and the pool area is equipped with sun loungers, outdoor shower and parasol.
Cozy area me friendly neighbors. Lite view of the pool area. Go-kart track with large play areas and dining by the beach.
Jenis Bilik
Keseluruhan rumah/apt
---
Jenis Penginapan
Rumah
---
Memuatkan
6
---
Bilik tidur
Pigianos Kampos, Crete Region, Yunani
This Villa (110sqm) is located in Pagalochori village 800m from the Sea, 10 km from the main town Rethymno and 1 km from a supermarket, bakery, restaurant and all the necessary shopping you need to do. Do you need something else?
This Villa (110sqm) is located in Pagalochori village 800m from the Sea, 10klm from the main town Rethymno and 1 klm from a supermarket, bakery, restaurant and all the necessary shopping you need to do. From the balconies someone can enjoy an endless view of the Mediterranean Sea and mountain views in the side. Furthermore a swimming pool for the warm days of the summer is located on the side but with rather small surrounding area. The only thing is that they share the same entrance and parking with an identical villa which is built next to each other. The villa has 3 bedrooms and 2 bathrooms here on the second floor 2 double beds are situated sharing one of the bathrooms and the other twin bedroom is on the ground floor. All bedrooms have balconies and air conditioning. At the entrance there is an air-conditioned living-dining room and a fully equipped kitchen. French doors open onto a balcony with lovely views and patio furniture. A TV with CD/DVD player is found in the living room, a well-equipped kitchen is fitted with fridge, stove and microwave and Wi-Fi can be found throughout the villa. Floors Layout. First floor: I fully Equipped Kitchen, living room with Flat screen TV, CD player, air-condition, 1 bathroom, 1 Bedroom with 2 single bed and private balcony Second floor: 2 double bedrooms with air-condition, TV and private balcony in each one, where one of the balcony is 16sqm, 1 bathroom Ground floor: Garage for one car. More space for parking can be found outside the villa Outside area: Private Swimming Pool, Portable BBQ, Lounge chairs, Deck Chairs CreteVillas4u General Services: -Welcome Basket -Cleaning Twice per week (1 week stay means 1 time cleaning/linen change, 2 weeks stay means 3 times cleaning) -Concierge Service -Chef Services in Villa -Transfer Service -Car Rental Service with additional discount for our guests -Wine Tasting in Villa -Sailing Service -Wedding Service
The villa is 10 km from the main town Rethymno and 1 km from a supermarket, bakery, restaurant and all the necessary shopping you need to do. Rethymnon is the capital of the prefecture of the same name. It lies between the other two large towns - Herakleion to the east (at a distance of 80 kms.) and Chania to the west (at a distance of 60 kms). Rethymno City is really close. Small but beautiful and authentic in every aspect, Rethymno will give you the chance to come close to the Cretan culture and make you realize why Cretan hospitality is so famous. One thing is for sure: you will be coming back to Rethymno. As a favorite local songwriter put it "Rethymno is not the city you go; it is the city you go back". Rethymnon is a blend of modern and old-time dignity and charm. It has a population of about 20,000 inhabitants and is the administrative and commercial center of the prefecture, as well as a communications center. It is well provided with travelers facilities and prides itself on its cultural activity and its significant presence in the general cultural life of the island, much of which is centered around the Faculty of Letters of the University of Crete, established here. Artistic events are regularly organized, as are exhibitions, plays, concerts and lectures. Rethymnon is linked by bus with the main towns and villages of the prefecture and also with Herakleion and Chania. There is also a regular year-round boat service linking Rethymnon with the port of Piraeus, but the town also makes use of the nearby port of Souda. Rethymnon has no airport, but it does have regular connections with the Chania airport.
We stayed for 10 days in this beautifull house near the Creatian coast. The only remark about the house is the lack of a dishwasher But for the rest nothing but a truly positive review. The swimming pool is not very big , but big enough too refresh during the hot days. Altough it's in general never too hot because of the sea breeze. If you hire a car there are several good spots to visit. We especially liked The Kournas Lake where you can hire paddle boats and swim in the cool water of the lake. Also the old city of Rethymnon is very close and a great hangout for a day. Certainly visit the excellent Prima Plora restaurant! There are several nice beaches in the environment, we especially liked Prevelli which reminds with his 'green river, palm trees and quiet beach almost too an exotic spot in Thailand. Also Georgiupolis beach was very relaxing. We discovered these spots thanks to our great host Manos who provided us with a lot of interesting info. You certainly have to visit his bar in his hotel Axos in Rethymnon, they serve excellent cocktails and play very good music. Big thank you also to Apostolos , his wife and son for their hospitality even in these difficult times for Greece, they never lost their smile. Only one way to help them out of the crisis, go visit Crete and hire this house for example, you're not going to regret it.
Werner
2015-07-09T00:00:00Z
We had an excellent time at Manos'! The house: Beautiful house with a breathtaking view. The house itself is very comfortable spacious and has modern amenities. You have a totally private pool complete with pool table and sun beds. House was extremely clean and well equipped. The Service: Fantastic service. The housekeeper lives on site in different location and is ever ready to help. We had no issues so didnt really need his help but he was always accessible and catered to our smallest needs. One instance that stands out was when our wifi was spotty, we received a range extender the next morning. The Location: Great location. It is up the street from a super market and a restaurant. The steep road is a handful to drive up sometimes, but the view from the house makes it totally worth it! Rethymnon is literally 10 mins away. Great beaches and restaurants. Right off the freeway so it was a breeze to drive to Heraklion and Chania. Overall a 5 star experience! Would totally recommend. We were 2 families (3 each) and we found this a comfortable stay.
Vijay
2014-06-19T00:00:00Z
This beach house/villa is located in Sfakaki, about a 10 minute drive from the larger Rethymno. Manos was very responsive during the booking process, answering all questions in a timely manner, providing recommendations for car hire and places to see. We arrived by ferry, and our onsite host Apostolos (or "Tolos") was waiting outside the gate. Tolos doesn't speak the best English, but he was one the best hosts we've ever had, very friendly and accommodating. The flat was perfect for us (my wife and I, her parents (seniors), and our 12 year old nephew), as there are 3 bedrooms, 2 baths, living room, and several balconies. There is a private swimming pool, which we spent several afternoons relaxing at. We cooked the majority of our meals, as the kitchen was well equipped. Cable TV and a good Internet connection kept everyone entertained. Tolos had cold beer waiting for us, and each day he would check on us to see if we needed anything, usually providing us with complimenatry coffee or watermelons. The villa is located on top of a hill, about a 10-15 minute walk from the beach, but because of the elevation, you had amazing views of the northern Crete coast. There are markets and tavaneras close by that you can easily walk to for all of your needs. Next to the villa, is a small hotel, and they were equally as nice to provide us with information. We watched several World Cup Games at the bar of the hotel, as they also serve alcohol and coffee. Overall, we stayed one week and loved every minute of it. I would definitely recommend a car hire, as Crete is gorgeous. We took day trips to several of the beaches, and visited Rethymno and Chania. Can't thank Manos and Tolos enough for a wonderful vacation at this great villa. Highly recommended.
Jason
2014-07-03T00:00:00Z
We hebben een week verbleven in het huis. Het was een heel aangenaam verblijf, de ontvangst was hartelijk en het huis was volledig in orde. De kinderen vonden het leuk dat ze in het zwembad konden staan. De voorafgaande mails met tips over restaurants en stranden waren heel handig.
Ruth
2015-08-01T00:00:00Z
Apolon Villa is definitely a place to remember and to come back again, with all the needed facilities, clean and well located. Manos is an excellent host, check-in and checkout process went smoothly and he provided to us all kind of useful information regarding the surroundings.
Mihai
2016-08-31T00:00:00Z
Great location and the house and garden are maintained to a very high standard all throughout the week. The pool area is excellent. The only thing to make it better would be a bigger area to have a bbq and a slightly more equipped kitchen... although with great tavernas nearby hardly a problem! Manos was brilliant and super helpful without being at all intrusive. And the people looking after the place on a day to day basis were the same. Excellent venue... great little town and so close to everything... recommend it very highly.
Pete
2016-06-06T00:00:00Z
Mr Manos Villa was fantastic since the first day!! We were very well welcomed with sympathy and with a very beautiful and sweet basket of fresh fruit! We didn't have the chance to meet personally Mr. Manos, but he has there two awesome guys, that are always there for you, and are always ready to help in anything! The house stays in an awesome and calm place, near the see, near bars, tavernas and shops. In 5 min by car you have a beautiful city (Rethymno), and this city stays half away from Heraklion from one side, and half way from Chania the other side, another great cities to discover. From this point you have also an easy way for the south part of the island with beautiful beaches and landscapes. The house is it as Mr. Manos described! You can have a great breakfast in the balcony seeing the sunrise, or take a dive in the pool having a cocktail and seeing the sunset, it is just unspeakable!! Next time (and it will be a next time) I won't think twice and will contact Mr. Manos for another staying. Me and my friends don't have the words for the amazing week we spent there. Just an advice, 1 week is too little :p Thanks for all :D
Débora
2016-09-18T00:00:00Z
Apostolis, the host who welcomed us, was great and met our expectations. He was very helpful and friendly. Always made sure we had everything we need. The house was beautiful and we loved the time we spent there. The house was very beautiful and it was obvious that a lot of thinking had been put into designing it, it was clean and very well kept. All accessories (kitchen, restrooms & showers, etc.) were of high quality and very well maintained. The location was great!!! It is better to ask for the unit that has view to the sea (excellent view from almost all locations in the house and its terraces.
Shoshan
2014-09-14T00:00:00Z
Jenis Bilik
Keseluruhan rumah/apt
---
Jenis Penginapan
Rumah
---
Memuatkan
7
---
Bilik tidur
Sfakaki, Crete, Yunani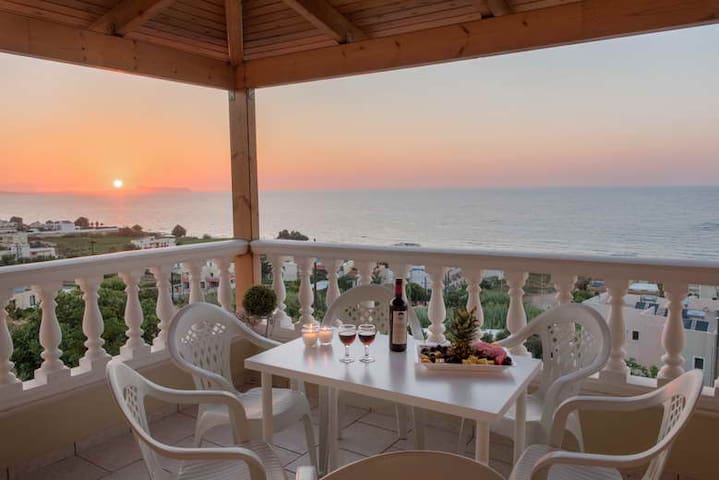 Vrijstaande villa met eigen zwembad, 10 min. per auto van het strand en dichtbij de oude en gezellige stad Rethymno. Villa Athina, nieuw gebouwd in 2008 in het pittoreske dorpje Loutra geeft vanaf het terras een schitterend uitzicht op de omgeving.
De luxe villa is smaakvol ingericht en goed uitgerust en ligt in de buurt van Rethymno. Het omvat een open keuken , eetkamer en woonkamer met schuifdeuren naar een met een pergola overdekt terras . Treden leiden naar het zwembad , terras bij het zwembad en de tuin . De woonkamer leidt naar een kleine hal en vandaar naar de badkamer en 2 slaapkamers. De master bedroom is voorzien van inbouwkasten en heeft openslaande deuren naar de tuin . Treden leiden rechtstreeks naar het zwembad en de tuin . De andere slaapkamer is ingericht met 2 eenpersoonsbedden en heeft ook inbouwkasten . De badkamer met douche is ook toegankelijk vanuit de hal . De woonkamer en beide slaapkamers zijn voorzien van airconditioning . Een trap vanaf het terras leidt naar het dakterras waar de hele dag de zon uitbundig schijnt met uitzicht over het prachtige omringende landschap en de zee. Voor de verhuur beschikken we over de officiële EOT licentie van het Griekse Bureau voor Toerisme MHTE (PHONE NUMBER HIDDEN).
De villa ligt in Loutra, een klein oud Grieks dorpje op ongeveer 10 km van Rethymno en 3,5 km van zee. Rethymno zelf heeft een lang zandstrand en een uitgebreide oude kern met winkels en markten en restaurants. De locatie combineert de rust van de natuur met gemakkelijke toegang tot de levendige plaatsen zoals Adelianos Kampos, Pigianos Kampos, Platanias en Rethymno stad.
Jenis Bilik
Keseluruhan rumah/apt
---
Jenis Penginapan
Rumah
---
Memuatkan
4
---
Bilik tidur
Loutra, Crete, Yunani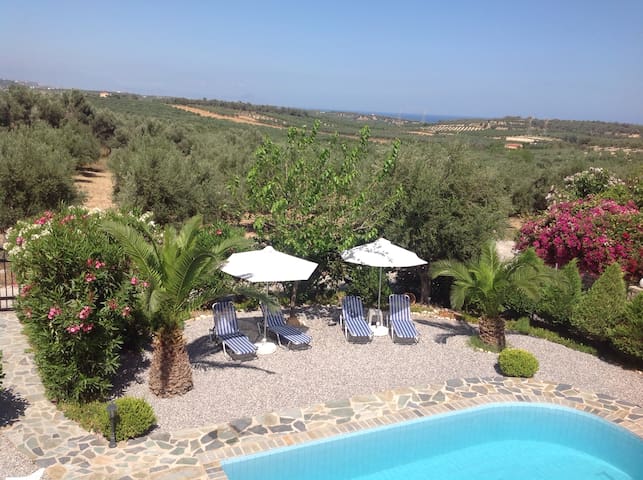 Enjoy your stay on a classic mediterranean landscape, surrounded by olive groves spreading all the way to the sea. Near the traditional village of Pigi and just 10km away from the beautiful city of Rethymno, our cozy apartment is an ideal destination for those who seek a quiet and peaceful base, while travelling and exploring the island. Spacious and bright, with a private patio and a wonderful view of the garden, it is also perfect if what you need is to just kick back and relax.
The apartment is 60m2 with a cozy living room, fully equipped kitchen and dining room. There are two bedrooms, one with a double bed and one with two bunk beds, plus a spacious bathroom with shower. There is a private front garden with patio furniture and a nice view of the swimming pool. A wide variety of plants and flowers is visible from every part of the house.
The apartment is located on a complex of beautiful houses built around a lovely garden and swimming pool, surrounded by olive groves spreading all the way to the sea. It is a quiet and peaceful neighbourhood, an ideal place to relax with your friends or family. The closest village is Pigi, a small traditional village where you can find shops for all the basic necessities (mini market, pharmacy, bakery etc).
Jenis Bilik
Keseluruhan rumah/apt
---
Jenis Penginapan
Rumah
---
Memuatkan
4
---
Bilik tidur
Loutra, Yunani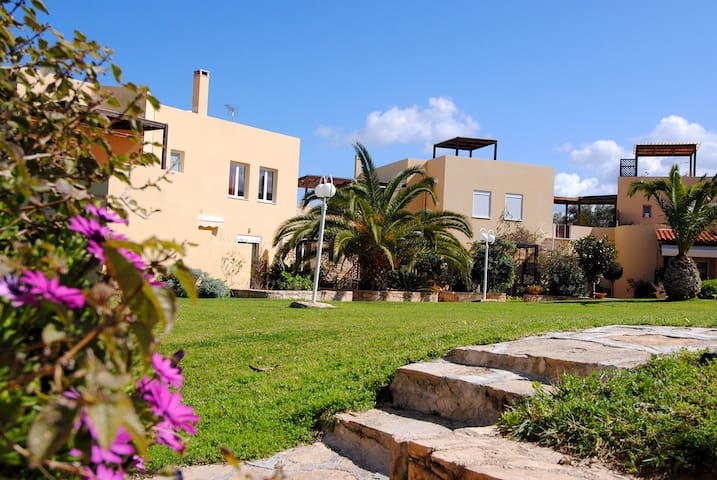 My place is close to village shops , tavernas and beach. You'll love my place because of the ambiance, the neighborhood, and the outdoors space.for anyone who wants to experience cretan village life. eat at zorbas taverna , the best local food and wine. handmade suasages from giorgias the butcher, or local honey,cheeses and fresh bread every day.from the village bakery.ideally placed to explore the wonderful countryside and archeological history of crete. or short drive to beach.
traditional stone built village house, with modern amenties , lovely courtyard garden and large stone built BBQ.
Jenis Bilik
Keseluruhan rumah/apt
---
Jenis Penginapan
Rumah
---
Memuatkan
4
---
Bilik tidur
Pigi, Crete Region, Yunani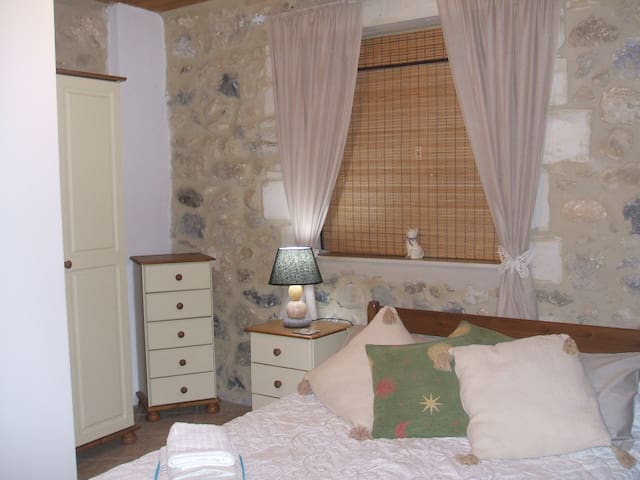 Herzlich Willkommen auf Kreta wie zuhause! In einem sehr gemütlichen schönen Ort, nur 10 Kilometer von Rethimno entfernt, mitten auf dem endlosen Strand auf der Insel Kreta, liegt der kleine Dorf Sfakaki. Den gleichen Namen trägt unser Ferienhaus, das sich nur 400 Meter vom Strand befindet.
Jenis Bilik
Keseluruhan rumah/apt
---
Jenis Penginapan
Rumah
---
Memuatkan
4
---
Bilik tidur
Sfakaki, Crete, Yunani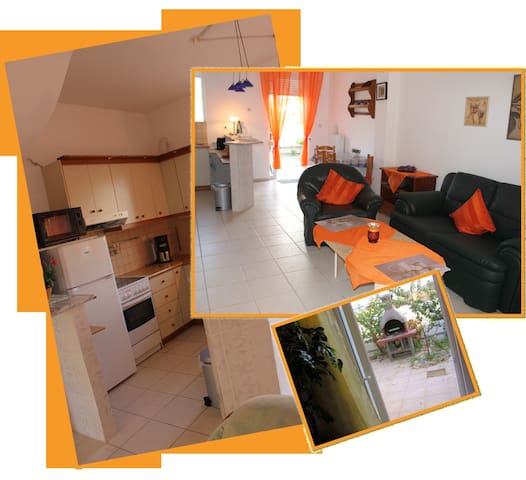 Nice traditional villa 600 years old
Jenis Bilik
Keseluruhan rumah/apt
---
Jenis Penginapan
Rumah
---
Memuatkan
4
---
Bilik tidur
Asteri, Rethymno, Crete , Yunani
The villa is suitable for 6-7 people, and has the benefit of its own private 40sqm swimming pool, and stone built BBQ. The area is equipped with sunbeds, umbrellas and patio furniture. There is also a swimming pool for children to swim.
Eros Villa (3 bedrooms, 2 bathrooms, sleeps up to 7). Single storey, three bedroom villa beautifully designed and built with a wealth of stone and wood to exacting standards, sitting on a small slope, on the edge of the traditional village of Asteri.The villa is suitable for 6-7 people, and has the benefit of its own individual 40sqm swimming pool, and stone built BBQ. The area is equipped with sunbeds, umbrellas and patio furniture. The swimming pool is the ideal place for sunbathing, as it has sun almost all day. There is also a swimming pool for children to swim and play safely. From the front of the house there are lovely open views over the countryside, with distant views to the sea from the spacious sun terrace. The interiors are delightful and airy with high beamed wooden ceilings and stone faced walls, while the furnishings are very modern and elegant.From the gardens a flight of stone steps lead up to the main entrance. From here one enters a spacious open plan living area with corner fireplace, twin sofa beds for children, coffee tables, satellite TV, dining table, and a superb modern kitchen with a dishwasher. Air conditioning is available. The villa is about 125sqm in size. There are two twin bedrooms, one opens to the front terrace, while the other has air conditioning and a large veranda, and both share a bathroom with bathtub/WC. The third double bedroom has air conditioning and is en-suite with shower/WC, and washing (URL HIDDEN) the surrounding countryside there are many trees, such as olive trees and orange trees and various plants giving a feeling of peace and relaxation that guarantee unforgettable holidays.The little village of Asteri is 14 km east of the town of Rethymnon, with the nearest beach just 3 km away.
Very near to the beach just a 5 minutes drive and a 15 minutes drive to the town of Rethymno.
Cudowny host i cudowna okolica! Dom zdecydowanie ładniejszy i większy niż widać to po zdjęciach. Polecam wszystkim serdecznie! W 6 osób było aż nadto miejsca
Aleksander
2016-10-02T00:00:00Z
Lovely Villa (actually don't think the pictures do it justice), including a large pool area. Very welcoming hosts!
Lucy
2016-08-29T00:00:00Z
Jenis Bilik
Keseluruhan rumah/apt
---
Jenis Penginapan
Rumah
---
Memuatkan
6
---
Bilik tidur
Asteri, Crete, Yunani
En un marco incomparable en pleno contacto directo con la naturaleza, el clima y la maravillosa costa de la isla, ofrezco un acogedor piso para disfrutar de una estancia de ensueño y relajación.Situado en primera línea de mar, a tan sólo 150 metros, este apartamento tiene 110 metros cuadrados de espacio muy bien aprovechado. El acceso principal del habitáculo lleva a una terraza enorme ideal para disfrutar del cálido sol en cualquier estación y de la siempre agradable brisa marina.Una vez dentro de la vivienda, encontramos un colorido y placentero living para relajarnos, leer, charlar o sencillamente disfrutar en buena compañía. Esta estancia cuenta con una barra estilo americano que la separa de la cocina, creando así dos ambientes totalmente diferenciados aunque comunicados entre sí para comodidad del (URL HIDDEN) cocina de corte minimalista es espaciosa y luminosa, en sintonía al resto de la casa que está rodeada por enormes ventanales a modo de cristalera que nos muestran el paraíso cretense que nos rodea, así como por las dos enormes terrazas que la preceden a ambos lados.Además, la casa cuenta con dos estancias matrimoniales ideales para acoger parejas de amigos o una familia con hijos. Ambos cuartos son amplios y cuentan con cama matrimonial y dos camas individuales, además, también hay calefacción y aire condicionado.Por si esto no fuese suficiente la vivienda posee un lavabo totalmente nuevo con plato de ducha y ventilación. El piso también posee todo tipo de electrodomésticos tales como nevera, lavadora, horno y microondas.Está situado cerca de la autopista lo cual permite una buena comunicación con el resto del territorio. Se encuentra ubicada a tan sólo 11km de Rethymno y a 70km del aeropuerto internacional de Heraclion. Para disfrutar plenamente de la estancia es recomendable el alquiler de un coche que después podéis aparcar en la misma vivienda arrendada. Como colofón final a esta magnífica vivienda, alrededor de la misma, se puede disfrutar de huertos, animales de granja como conejos, cabras, ovejas, gatos y demás fauna silvestre típica de la zona rural dandoles a cada uno de los huespedes una muestra de los productos ecológicos cultivados por los propietarios de la finca. La Creta más auténtica!!!
Exactement comme décrit dans l'annonce, plage à proximité, nous avons profité des légumes frais tout les jours et on nous a même gatés avec des plats cuisinés maison !!! Encore merci pour tout cela ! Je recommande cette location !
Sylvie
2013-08-29T00:00:00Z
We were welcomed by Evangelos's parents who are very kind and invited us into their home for coffee and cake before showing us the apartment. The apartment is spacious, very neat and has everything to make you feel comfortable during your stay, in addition the hosts left some snacks for us to enjoy. The house is located on a small farm owned by Evangelos's family and has a great view of the ocean, located just of the main road between Heraklion and Chania, easy to find and near a number of supermarkets. We enjoyed our stay and recommend this apartment to anyone who intends on staying in Rethymno.
Sean
2013-11-01T00:00:00Z
Evangelos Eltern empfingen uns sehr herzlich mit Kuchen und frischem Obst. Im weiteren Verlauf wurden wir regelmäßig mit Eiern und Obst aus eigenem Anbau reichlichst versorgt. Evangelos´ Eltern sind unglaublich nette, zuvorkommende Menschen, die ihr möglichstes taten, uns den Aufenthalt angenehm zu machen. Bei Rückfragen stand uns Evangelos´ Schwester telefonisch als Dolmetscher zur Verfügung, so dass auch die Kommunikation kein Problem darstellte. Die Wohnung ist exakt so, wie auf den Bildern dargestellt. Ein herzliches Dankeschön an die Familie für den angenehmen Aufenthalt.
Katharina
2016-09-23T00:00:00Z
We had such a fantastic stay! We were greeted by his very very kind family with fruit and raki. They chatted with us and made us feel very at home. The apartment is perfect! Ideal spot and very authentic - surrounded by their working Greek farm! Vegas and animals . Walk straight through the property to a beach. We loved our stay so much and would stay again if possible and definitely going to recommend to friends. Lovely friendly family and very obliging to anything we might've needed.
Margot
2015-08-05T00:00:00Z
We had a fantastic week in Evangelos' apartment. The parents of Evangelos gave us a warm welcome. They were so kind and hospitable to us, such lovely and intense sympathetic people. The apartment offers really all the comfort one can think and is absolutely neat and clean. It has a magnificent view at the sea. The beach is nearby, only a short walk of 200 meters through the vegetable gardens. Not far from the entrance to the beach, there is a nice taverna with friendly personnel who serve quality food and drinks for very reasonable prices and of course free wifi (also in the apartment). There is a supermarket at two minutes walking from the apartment. Rethymnon takes a drive of 10 minutes. One day we visited the south side of Creta after less than an hour driving on calm roads through the beautiful Cretan nature. The historic city Chania takes a drive of an hour and 10 minutes. We will never forget the moment we departed and said goodbye to the parents of Evangelos. As a present they gave us artichokes and wine, and above all their words and looks were endearing. This all is how good a holiday on Crete can be. April 2014
Ewoud
2014-04-29T00:00:00Z
The house is amazing. I stayed there with my friends, three of us in total. We were very kindly welcomed. Apartments are full technically equipped (condition, blow drier, iron etc.) and very cozy. The location is lovely: very quite, several beaches near the place, great views. One of the greatest hosts I've ever had!
Katerina
2013-05-28T00:00:00Z
We have just returned from our holidays on Crete. We have been 2 weeks there and lived in one house with Evangelos parents. They lived on the first floor. The hosts were very friendly. They treated us with very tasty coffee and wonderful fried pies. There were vegetables, eggs, water and cookies in the refrigerator prepared for us on our arrival. It was very nice and convenient as it was evening already and there was no need to go to the shop for food for breakfast. Evangelos parents also treated us with eggs and fruits. We are very grateful for that, they are wonderful and really hard-working people. The house was as described, quite big. 2 bedrooms, kitchen and lobby were at our disposal. There were 2 big sea-view terraces, one of them was in the shadow and another very sunny. The sea was close to the house. We rented a car and visited Chania and Rethymno as well as the south coast - Plakias, Matala, Kalamaki, and also Aptera, Eleftera.... It wasn't our first time on Crete, but only this time and thanks to our communication with Evangelos parents we realized that the main Crete treasure are kind, open-minded and very hospitable people. And they are also very brave as we understood after visiting Arkadi monastery. Many thanks, Evangelos parents! We are very happy with our vacation. We saw the Crete from a new side.
Виктор
2016-08-11T00:00:00Z
Séjour authentique et chaleureux ! Nous avons été accueillis par les parents d'Evangelos, des hôtes gentils et accueillants ! Le logement est conforme aux photos et à la description ! Nous gardons un merveilleux souvenir de ce séjour et notons précieusement l'adresse pour un prochain séjour en Crète !
Sébastien et Delphine
2015-08-16T00:00:00Z
Jenis Bilik
Keseluruhan rumah/apt
---
Jenis Penginapan
Rumah
---
Memuatkan
4
---
Bilik tidur
Rethimnon, Kriti, Yunani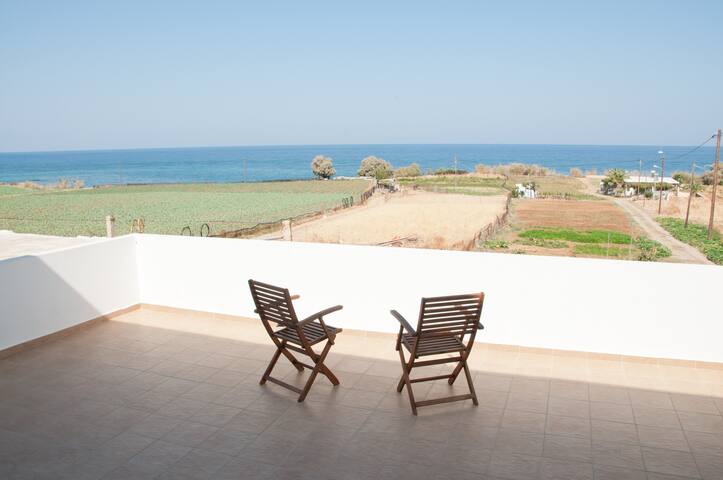 Καλωσήλθατε στο σπίτι των χρωμάτων της φύσης! Απολαύστε τον καφέ σας και τις εξαιρετικές γεύσεις της κρητικής παραδοσιακής κουζίνας, στην ταβέρνα της παραλίας, με την δροσερή αύρα της θάλασσας και το μαγευτικό κρητικό ηλιοβασίλεμα! Κολυμπήστε στην φανταστική παραλία της Σκαλέτας και στα κρυστάλλινα νερά των κοντινών παραλιών Γεροποτάμου και Σπηλιές. Σας ευχόμαστε μια αξέχαστη διαμονή με την φιλοξενία και την αρχοντιά της κρητικής παράδοσης!
To κτίσμα και η τοποθεσία Ένα εξοπλισμένο νεόκτιστο σπίτι 120 τ.μ. με minimal σχεδιασμό και σεβασμό στην παράδοση και το φυσικό του περιβάλλον εντάσσεται στο ύψωμα στην Βόρεια παραλία του Ρεθύμνου, στην περιοχή Σκαλέτα σε απόσταση 13 Km ανατολικά του Ρεθύμνου και 230 μέτρα από την ομώνυμη παραλία. Η ιδανική τοποθεσία του με πανοραμική θέα προς τον κόλπο του Ρεθύμνου και τα Χανιά σας προσφέρει ηρεμία και χαλάρωση απολαμβάνοντας τον Κρητικό ήλιο στις κοντινές παραλίες, τα τοπικά λαχανικά του βιολογικού κήπου, την εξερεύνηση της περιοχής και τη διασκέδαση. Το σπίτι οικοδομήθηκε με υλικά φιλικά προς τη φύση και τον άνθρωπο προκειμένου να βελτιωθεί η βιοκλιματική του συμπεριφορά και η υγιεινή διαμονή. Οι εξωτερικοί χειροποίητοι ώχρινοι σοβάδες εξασφαλίζουν τη διαπνοή των υλικών και τη συμφιλίωση με τα χρώματα των γύρω πετρωμάτων. Εσωτερικά, η τεχνική του πατητού σοβά προσδίδει την οικειότητα και ζεστασιά του χειροποίητου και τη γήινη αισθητική της ατέλειας. Φυσικά, ζεστά, γήινα υλικά επενδύουν τα εξωτερικά και εσωτερικά δάπεδα καθώς και την πέργκολα του καθιστικού όπου απολαμβάνετε δροσερά πρωινά από τη δυτική αύρα της θάλασσας και ειδυλλιακά ηλιοβασιλέματα. Τα μεγάλα ανοίγματα του καθιστικού επιτρέπουν τη φύση να «εισχωρεί» στο κτίριο δίνοντας την εντύπωση ότι η παράδοση συνομιλεί με τη σύγχρονη πραγματικότητα. Το ενεργειακό τζάκι καίει ξύλα ελιάς προσφέροντας τη θαλπωρή του τον ήπιο χειμώνα της Κρήτης. Το σπίτι βρίσκεται σε ιδανική τοποθεσία για να μπορεί κανείς να εξερευνήσει τις υπέροχες παραλίες και όλες τις άλλες ενδιαφέρουσες περιοχές που η ενδοχώρα της Κρήτης έχει να επιδείξει. Η θέση του είναι εκπληκτική για να επισκεφθείτε το εσωτερικό αυτού του όμορφου νησιού, όπου κρύβεται το αληθινό κρητικό πνεύμα! Το διαμέρισμα είναι διακοσμημένο με την αισθητική της οικοδέσποινας, προσφέροντας ηρεμία και χαλάρωση. Κατά την είσοδο ανοίγεται μπροστά σας ένα μεγάλο σαλόνι με 2 καναπέδες, τζάκι και πλήρως εξοπλισμένη κουζίνα. Στην αριστερή πλευρά, σχεδιάστηκε ένας χώρος για μελέτη με βιβλιοθήκη, έναν καναπέ και ένα τραπέζι-γραφείο με laptop για τις ανάγκες σας. Η βεράντα κάτω από την πέργκολα προορίζεται να προσφέρει άμεση θέα στη θάλασσα. Πρόκειται για ένα άνετο και σκιερό μέρος για να χαλαρώνετε απολαμβάνοντας το ηλιοβασίλεμα κάθε βράδυ. Στο ίδιο επίπεδο υπάρχει ένα μπάνιο και ένα υπνοδωμάτιο με 2 κρεβάτια, τα οποία μπορούν να μετατραπούν σε διπλό αν είναι απαραίτητο. Το υπνοδωμάτιο διαθέτει ένα μεγάλο μπαλκόνι με θέα προς την ανατολική πλευρά του σπιτιού, στον κήπο με τα λαχανικά βιολογικής καλλιέργειας. Το μεγάλο υπνοδωμάτιο, το οποίο έχει το δικό του WC, είναι σε μισό επίπεδο υψηλότερα από το υπόλοιπο του σπιτιού, με θέα προς τον ανατολικό κήπο επίσης. Το σπίτι μπορεί να φιλοξενήσει 5 άτομα σε κρεβάτια και μέχρι 7 άτομα, (ένας καναπές-κρεβάτι μετατρέπεται εύκολα σε διπλό κρεβάτι εάν είναι απαραίτητο), ή 3 ενήλικες και 4 παιδιά ηλικίας 6-12 ετών. Παιδικό κρεβατάκι και υπερυψωμένο καρεκλάκι είναι διαθέσιμο κατόπιν αιτήματος. Αυτόνομη θέρμανση και 3 μονάδες κλιματισμού.
Αποστάσεις και γενικές πληροφορίες Το "Cretasunset" βρίσκεται σε μια ήσυχη, όχι πυκνοκατοικημένη, σχεδόν βουκολική περιοχή με θέα στη θάλασσα, ιδίως στο μπαλκόνι της κουζίνας όταν απολαμβάνετε το πρωινό σας. Μόλις 70 λεπτά με το αυτοκίνητο από τα αεροδρόμια του Ηρακλείου και των Χανίων. Και τα δύο αυτά αεροδρόμια έχουν άμεση πρόσβαση από τις περισσότερες Ευρωπαϊκές πόλεις. Σε απόσταση 230 μέτρων θα βρείτε την εθνική οδό που διαπερνά τη βόρεια παραλία της Κρήτης και ενώνει τους 4 νομούς και ακριβώς αποκάτω τις στάσεις των λεωφορείων για Ρέθυμνο, ΑΤΜ, μίνι market, γραφείο ενοικίασης αυτοκινήτων, και το σταθμό του "yellow train" με καθημερινές εξορμήσεις σε αξιοθέατα μνημεία ( το ιστορικό μοναστήρι του Αρκαδίου, την Αμνάτο, Την αρχαία Ελεύθερνα, το φαράγγι των Μύλων, την Αγία Ειρήνη κ.λ.π.). Επίσης σε κοντινή απόσταση ιατρική βοήθεια, φαρμακείο, super market για τις καθημερινές σας κ.λ.π. Η τοπική παραλία της Σκαλέτας (σε 230 μ.) είναι πολύ όμορφη αλλά σε απόσταση 5 και 7 λεπτών με το αυτοκίνητο προς τα ανατολικά θα ανακαλύψετε 2 άλλες πεντακάθαρες παραλίες, τις "Σπηλιές" και το "Γεροπόταμο"! Σας τις συνιστώ ανεπιφύλακτα! Πηγαίνοντας προς το Ρέθυμνο θα συναντήσετε σε 7και 10 λεπτά με το αυτοκίνητο γνωστές τουριστικές περιοχές: Αδελιανός κάμπος, Εσταυρωμένος, Πλατανιάς με πολλά καταστήματα, supermarket, restaurants και bar. Σε 15 λεπτά με το αυτοκίνητο προς τα δυτικά θα φτάσετε στην πόλη του Ρεθύμνου για να απολαύσετε περιπάτους στους γραφικούς στενούς δρόμους της παλιάς πόλης, να περιηγηθείτε το Ενετικό Λιμάνι, τον αρχαιολογικό χώρο της Ενετικής Φορτέτζας, να περπατήσετε κατά μήκος της αμμώδους παραλίας που απλώνεται μπροστά από την πόλη. Περισσότερες πληροφορίες θα βρείτε στον τουριστικό οδηγό για να εξερευνήσετε όλα τα αξιοθέατα του νησιού.
Местность - пляжи в пешей доступности нам не понравились - в воде камни, полоса узкая, водоросли и около отелей - воняет. Привыкли к более свободным пространствам на Крите на юге и других частях. Поэтому могу порекомендовать только тем кто арендует авто, чтобы ездить на пляжи - от 2 км ( 2 пляжа с галочкой в бухтах справа) и до 10-20 км на многокилометровые знаменитые песчаные пляжи Ретимно (как до так и после города в сторону Ханьи). До города до исторического центра на машине - 10 км или 15 минут. Апартаменты а лучше сказать половина виллы - лучшее где мы останавливались за 3 года посещений Крита. Шикарный дом, спроектированный и построенной хозяйкой в современном стиле но с особенной изюминкой - своим характером. Дело в том что в доме много предметов старой и дизайнерской мебели и интерьера, отделка стен по старинной технологии окна в пол, куча керамики от местных дизайнеров, картины и вязанные занавески ручной работы. Все очень красиво. 2 спальни в одной огромная 2хспалтная кровать со своим санузлом и балконом, в другой в кровати - по 1.20 шириной каждая: мы составили и там спокойно уместилось 5 детей возраста 6-12 лет. Там же большой балкон со столом и сушилкой. В обоих спальнях встроенные шкафы во всю стену. Большая спальня находится на подуровень выше чем все остальное. Вообще дом сделан у сетом ландшафтных особенностей и на разных уровнях. Огромная гостиная с камином и 2 диванами, один раскладывается спокойно в 2х спальную кровать. К гостиной примыкает библиотека с большим столом и софой а также шикарная кухня. Кухня полностью оборудована всей техникой, посудой, есть все необходимое для готовки и пр. Хозяйка живёт ы этой части дома и на лето сдаёт - не было вообще никаких сложностей с точки зрения бытовых нужд. На кухне стол обеденный но есть выход на Террассу где мы и кушали все время. Вид на море и на ЗАКАТ!!! Есть также крытая Террасса на которую выходишь из гостиной - там 3 дивана и стол - отличное место для вечерних и ночных посиделок с вином при свечах. Вокруг дома все зелено - свой огород и садик. Все как на фото!!! Мы спокойно разместились 9ю человеками: 4 взрослых и 5 детей. Хозяйка Литса - просто образец гостеприимства и доброты. Мало того что лично встретила и целый час объясняла все про свои апартаменты, так ещё и периодически появлялась для уточнений и маленьких сюрпризов. По приезду нас ждал приготовленный ужин и Муссауи на 12-15 человек и огромный пирог. Также арбуз и полный холодильник еды (нам хватило на 3 дня на завтраки на всех). Также Литса снабдила нас огромной корзиной апельсинов (около 15 кг) и томатов, которых нам хватило на 5 дней прибывания для соков и салатов!!! Своё оливковое масло, мед и прочие вкусности. Привозила также инжир. У хозяйки свой сад и она снабжает оттуда своих гостей - все органик и натуральное. Литса при отъезде подарила нам 2 литра оливково масла собственного производства. Чувствовалась постоянная забота хозяйки. Обязательно вернёмся рекомендуем другим гостям для пребывания. Лучшая комбинация: дом с видом на море и замечательная хозяйка!!!
Pavel
2016-08-14T00:00:00Z
The location, the layout, furnishing and atmosphere of this place is excellent, even better than expected from the information/pictures available online. Litsa is a fantastic host: provides far more support than one can expect during their stay. She surprised us with delicious Cretan dishes and fresh local products, helped us decide where to go on the island and made sure we had a fantastic time in her apartment. We highly recommend Litsa's apartment and cannot thank her enough for her extreme thoughtfulness and kindness.
Orosz
2016-09-17T00:00:00Z
We a family of four stayed at litsas place for a week. Litsa was vary nice, and welcoming, she left us a home baked cake and fresh vegetables from her garden, it was a fantastic beginning to our trip. The house is extremely clean, very restfully designed and had everything you can think of for a relaxing effortless vacation. We highly recommend litsas place! Thank you for everything (:
Maya
2016-10-24T00:00:00Z
We had a wonderful 10 day visit to Crete staying in Litsa's apartment and we highly recommend it! The apartment was beautiful - tastefully decorated, spotlessly clean and relaxing to spend time in. The balcony/outdoor space provided a comfortable and shaded place to sit/eat out with a view to the sea where we could watch the sunset each evening. The apartment is perfectly situated for access to lovely beaches and exploring all the other interesting sites that central Crete has to offer. The local beach is good but there are 2 other stunning beaches (which Litsa told us about) within a 5 minute drive which we would recommend. Litsa herself was an incredible host and absolutely lovely. She went above and beyond to ensure that we were happy and had everything we needed (which we did). On arrival we were greeted with a delicious cooked meal in the oven, a home baked cake and a fridge full of fruit and vegetables. She even arrived one evening with a tray of the most delicious stuffed vegetables. She also took the time to show us around and advise on places to visit - she really did put herself out to make sure our stay was perfect. This was true Cretan hospitality from the heart!
Rachel
2016-08-26T00:00:00Z
We - a family of five- stayed a week at Litsa's place and had a wonderful time there. First of all, the location is terrific for visiting the whole central region of this beautiful island. The house is a 5 min walk from the beach and tavernas and a few minutes drive to an even lovelier quiet beach. The house itself is situated in a quiet and pretty, pastoral area with a lovely sea view especially from the porch where we enjoyed our breakfast. The house and grounds are gorgeous- very asthetic ,spotless, spacious and comfortable. The highlight was Litsa the owner who was an outstanding hostess!!! She had welcomed us with a fridg full of organic products from her garden and terrific casserole and cake she had made, among other food products that were available to us. She did everything to make us feel at home, she personally showed us around, gave us information and pampered us throughout our stay. I would highly recommend Litsa's place!
Udi
2016-08-07T00:00:00Z
We had a great time at Litsa's appartment which is cosy and confortable. Located in walking distance of beaches and main road. The pictures are conform to the reality and all provided details. Litsa gave us a warm welcome and was really helpful and friendly at recommending places to visit in Creta. We had a chance to enjoy the local food homemade by Litsa herself. She is really a good host. Definitly we recommend Litsa and her appartment as well to visit Creta island.
Eluard
2016-07-24T00:00:00Z
Jenis Bilik
Keseluruhan rumah/apt
---
Jenis Penginapan
Rumah
---
Memuatkan
5
---
Bilik tidur
Skaleta, Crete Region, Yunani
The village of Sfakaki is a small seaside holiday resort just outside the main busy area of Rethymnon. It has nice sandy beaches, shops, mini-markets, restaurants, tavernas and just a short 20 minute drive into Rethymnon. A car is suggested to enable you to get out and about and explore the local area.
This villa has all the amenities to make for a great family holiday. It is set in its own grounds and has a private pool and a bbq. This villa is situated in a quiet area but still close enough to get to the beach and only a few minutes drive to the busy resort of Platanes which is full of bars, tavernas, night clubs, supermarkets and souvenirs shops. Platanes is set along the beach front and gets very lively.
Beautiful beaches and plenty of tavernas and easy access to get out and about .
The Villa is very nice, has modern, luxurious design and is very spacious and comfortable. Our family spent beautiful holiday here, the way to the Mediterranean see took 10- 15 min by walk and villa guests could use the privat beach, pools etc. by hotel Crini. The owner was very friendly, helpful every time- thank you very much. The villa was also completly cleaned every 3 days, our towels were changed.
Michaela
2015-06-30T00:00:00Z
Jenis Bilik
Keseluruhan rumah/apt
---
Jenis Penginapan
Rumah
---
Memuatkan
8
---
Bilik tidur
Sfakaki, Crete, Yunani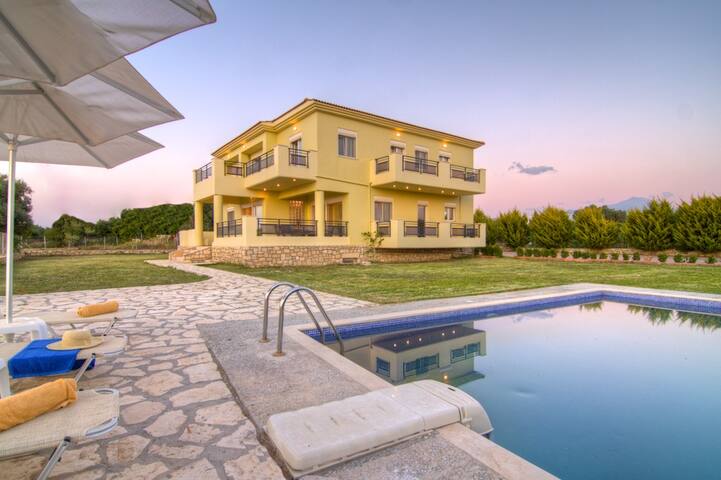 ** Special Offer April - May 2017 is now Available** Villa Mario is a 160 square meters villa located in Pigianos Kampos. The beach where you can easily go on foot is only 1 km away while lively areas where you can find a variety of shops, taverns and supermarkets are 1.5 to 2 km away.
Villa Mario is a 160 square meters villa located in Pigianos Kampos, in a newly constructed neighbourhood called "Papida" which contains only a few houses surrounded by the Cretan nature and olive trees. The area is totally quiet offering both sea and mountain views. The beach where you can easily go on foot is only 1 km away while lively areas where you can find a variety of shops, taverns and supermarkets are 1.5 to 2 km away. The two storey villa was constructed in 2010 and totally renovated in 2015 in order to be a perfect holiday home for our guests! It is furnished in a combination of romantic and minimalist touches and can accommodate 6 people in beds and up to 7 people if it is necessary. Entering the villa on the ground floor there is a spacious open plan area consisting of the living room with fireplace and home cinema with a 46" HDTV and video games, the indoor dining area and a fully equipped kitchen of top quality fixtures and appliances. Also on the same floor there is a bathroom with shower and a washing machine. The living room has direct access to a furnished balcony where you can find an other dinning table with views to the pool area and the sea. On the first floor you will find the main bathroom with bath and 3 bedrooms. There is one bedroom with two single beds which was mostly designed to accommodate children and an other one with double bed. Both bedrooms have access to a furnished balcony where you can relax and enjoy the sea views. Finally on the other side there is the main double bedroom with en-suite bathroom with shower and an 42" HDTV. Outdoors there is a 200 square meters highly fenced area covered by grasses and trees! More specifically our outdoor facilities include: - 25 sqm swimming pool with 4 sun-beds. - Fully equipped charcoal barbecue area with dinning table. - A variety of furnished spots (with sun beds, outdoor sofas and armchairs) for relaxing in the balconies and the gardens around the villa. - Safe areas for children to play. - Gated parking for two cars. Although there are neighbouring houses nearby, the outdoor area offers privacy because of the high trees which are around the fence.
The villa is located in Pigianos Kampos area, in a new constructed neighbourhood called "Papida" which is 8 km east of Rethymno town and around 1 km away from the beach. The long 15 km sandy beach of Rethymno lies in front of Pigianos Kampos stretches. In Pigianos Kampos and Adelianos Kampos you will find options for eating, shopping, entertainment and activities such as tennis court and kart tracks, most of them are reachable in around 1 to 2 km distance. In the beach you find both isolated spots which are not organised and spots which are very well organised with umbrellas, lifeguards, changing rooms, showers, bars, etc. It is very popular for its infrastructure of the water sports and beach sports. The sea is shallow but often wavy, like all open beaches of north Crete. Sea turtles lay their eggs on this vast beach and that is why you might see some marked points with ropes and signs. Next to Adelianos Kampos and before the town of Rethymno, you will find an other well known touristic area which called Platanias. In this area you can find even more shops, restaurants, beach bars, nightclubs, supermarkets and everything else that you might need! It is a great location for vacations in Rethymno, close to everything but also a quiet place to relax..!
We spent lovely 10 days in Crete, and our experience with Mario and his lovely home was just great. Villa has great location, it's very modernly equipped, and in quiet neighborhood. Mario and his lovely family are perfect hosts, went out of their way to make our stay as welcome as possible. We hope to come back again, and can definitely recommend Villa Mario to everybody.
Andrija
2015-08-05T00:00:00Z
We zijn 8 dagen in Villa Mario verbleven en zijn hier zeer welkom ontvangen. De villa is van alle gemakken voorzien en alles wat je je maar kunt bedenken is in de villa aanwezig: handdoeken, douchegel, lakens, etc. Maar ook een gevulde koelkast, fruit, kruiden, brood, cereals, etc. Ook de keuken is van alle gemakken voorzien, zoals een oven, vaatwasser, grote koelkast, blender, tosti apparaat etc. Verder zijn Mario en zijn vrouw erg vriendelijk, ze hebben van alles uitgelegd en hebben de eerste dag zelfs met ons mee boodschappen gedaan. De villa was bij aankomst zeer schoon, tijdens ons verblijf werd er ook voldoende schoongemaakt, met name het zwembad. Kostas, onze contactpersoon via Airbnb, is ook erg behulpzaam en heeft ons goed op weg geholpen. Tot slot is de ligging van de villa prima, ik raad echter wel aan een auto te huren, de eerste restaurantjes en winkels zijn ongeveer op 2 km afstand (20 min. lopen), alsmede het strand. Rethymon stad is op een kwartiertje met de auto (€12,- per taxirit, enkel). Al met al zijn we zeer tevreden over ons verblijf.
Jaimie
2015-08-22T00:00:00Z
Nous (mon ami et mes parents) avons résidé 10 jours à la Villa Mario début septembre. Xénia et Mario, les propriétaires, nous ont chaleureusement accueilli dans leur villa et ont pris le temps de nous présenter tous les équipements de la maison ainsi que leur fonctionnement. Ils ont toujours été disponibles lorsque nous avons eu besoin d'eux. La villa correspond en tout points avec les détails donnés tout comme le quartier qui est à env. 10mn de la ville de Réthymnon. Nous y avons passé d'excellentes vacances (piscine, plages, visites) et recommandons vivement la Villa Mario !
Adeline
2015-09-18T00:00:00Z
Jenis Bilik
Keseluruhan rumah/apt
---
Jenis Penginapan
Rumah
---
Memuatkan
6
---
Bilik tidur
Rethymno, Crete, Yunani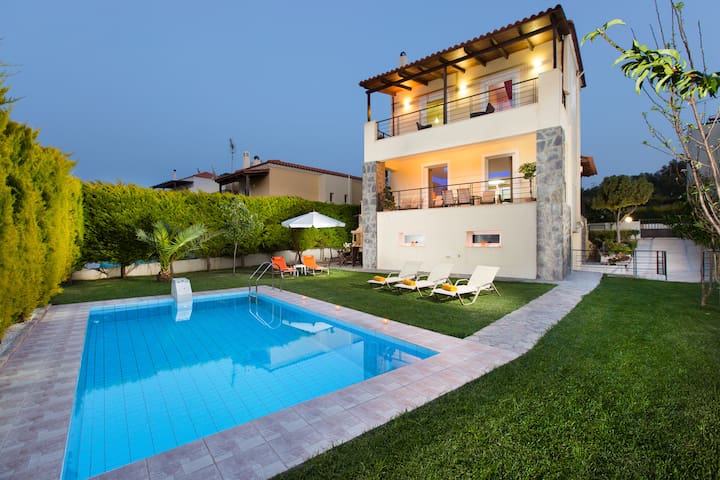 Recently renovated (2014) to combine wood and stone in a perfect balance with its natural surroundings, Nostos Home will give you many reasons to feel nostalgic at your departure and keep the fire for your return going in your heart .
Nostos Home can easily accommodate 11 guests in 5 (URL HIDDEN) of them (one with a double bed and en-suite bathroom and three with twin beds) are on the ground floor along with the living room, the kitchen, the dining area, 1 WC/Bathroom, 1 WC/Shower bathroom and a big balcony. All bedrooms have private balconies .On the first floor there is a double bed, a sofa bed and another balcony.On the outside, four acres of land will grant you absolute privacy and plenty of room for relaxation, Enjoy the sun by the pool , while a BBQ area will give you the chance to organize the ultimate outdoor experience.
Nostos Home is only a few km by the sea , and just outside the village Prinos where you can find all the necessary ( grosseries , traditional restaurants ) .
Jenis Bilik
Keseluruhan rumah/apt
---
Jenis Penginapan
Rumah
---
Memuatkan
11
---
Bilik tidur
Rethimnon, Crete Region, Yunani
Traditional stone built villa with private pool with nice view & near the sea amazing sea views & very close the sea and Rethymno town. Heraklion airport at 75 km
The villa consists of one floor (60 m2) with a unified space including the living room, the kitchen and a wooden gallery with double mattress viewing the living room. The villa also has a bedroom with two single beds, in the same room exists a gallery with double mattress viewing the bedroom. The villa Filia can accommodate up to 6 people. Small wooden stairs lead to the galleries with the double mattresses. The villa has three verandas, at the front door, the living room and in front of the bedroom.
Lefteris è gentilissimo e molto disponibile, la casa è perfetta, si trova in mezzo agli ulivi, consiglio un aperitivo e un bbq al tramonto a bordo piscina ( privata )
Mauro & Emi
2015-08-25T00:00:00Z
We spend four beautiful days in this amazing property. Everything was found as illustrated on the pictures. Even better. Lefteris is a superb host and has serveral tips for the area around. We will try to come back! Thanks for the short escape from usual pace...
Oliver
2016-09-27T00:00:00Z
Great house, amazing view and bueautiful garden! The host was a kindly man. 15 minutes from Rethynon by car.
liza
2016-09-28T00:00:00Z
Lefteris was very welcoming and very helpful. He did everything to make sure we felt at home and had the things we needed to make our stay comfortable and relaxed. The pool and the house are well kept and the surrounding environment (olive trees, view of the sea) is great! The main thing that we struggled with were the kittens and cats surrounding the house, which looked a bit neglected. If you love animals (like us) it's great to have a lot of kittens and cats around. However some of the cats looked skinny & in need of medical attention. Lefteris does provide them with some food & water, but we fed them extra because we really felt for them.
Sjoerd
2016-08-15T00:00:00Z
Lovely villa with gorgeous private pool. Everything you need to relax and enjoy the island. Thanks Lefteris for the very late check out and your warm welcome.
Marcel
2016-07-19T00:00:00Z
An attractive stone villa (one of three in the overall premises) with its own self-cleaning pool and a very large garden. Lefteris was very friendly, suggesting restaurants and beaches to visit and generously offering complementary local produce such as olive oil and raki liqueur. The interior was handsomely furnished and clean – we had feared we'd be tormented by mosquitos at night but in fact encountered none at all (though the occasional small insect or spider would find its way indoors from the veritable forest outside). The sea view from the upper floor was excellent. The location – about ten minutes by car from Rethymnon – is convenient, with quick access to both the east-west and north-south highways.
Mia
2015-05-26T00:00:00Z
Wonderful house with clean, refreshing pool, beautiful seaview, peaceful surrounding and lovely, welcoming hosts. All you can wish for.
Malou
2015-08-09T00:00:00Z
We stayed at this villa for 3 nights and absolutely loved it. The place was clean and perfect for what we wanted. The villa is very private and has a great pool, balcony & outdoor space. The location is a bit out of the way, which has its pros and cons. I would recommend renting a car if you have any interest in touring around Rythmnon and surrounding areas. But it was nice to be away from all the craziness and tourists, and to have our own private base. We didn't have the chance to meet with Yiannis, but there was someone else who was available to greet us and checked in on us before we left. Thanks Yiannis.
Bryan
2014-09-19T00:00:00Z
Jenis Bilik
Keseluruhan rumah/apt
---
Jenis Penginapan
Rumah
---
Memuatkan
3
---
Bilik tidur
Stavromenos, Crete, Yunani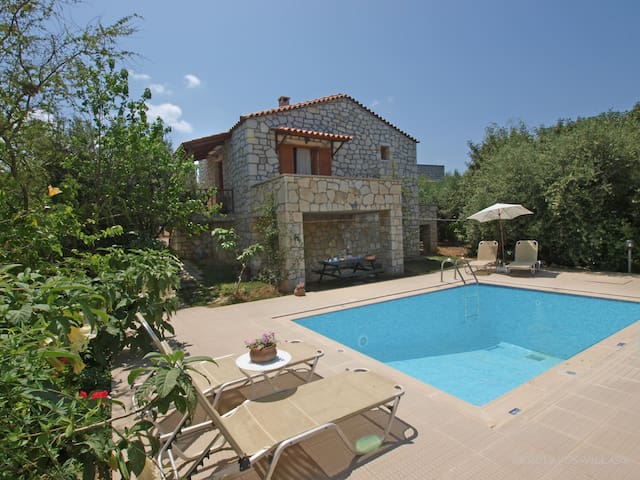 Sfakaki - Airbnb
:
Purata

4.8

daripada

5

daripada

117

ulasan tetamu
1

–

18

daripada

87 Rumah Sewa
Masukkan tarikh untuk melihat harga penuh. Yuran tambahan dikenakan. Cukai mungkin akan ditambah.