Jenis Bilik
Keseluruhan rumah/apt
---
Jenis Penginapan
Apartmen
---
Memuatkan
2
---
Bilik tidur
Toms River, New Jersey 08753, Amerika Syarikat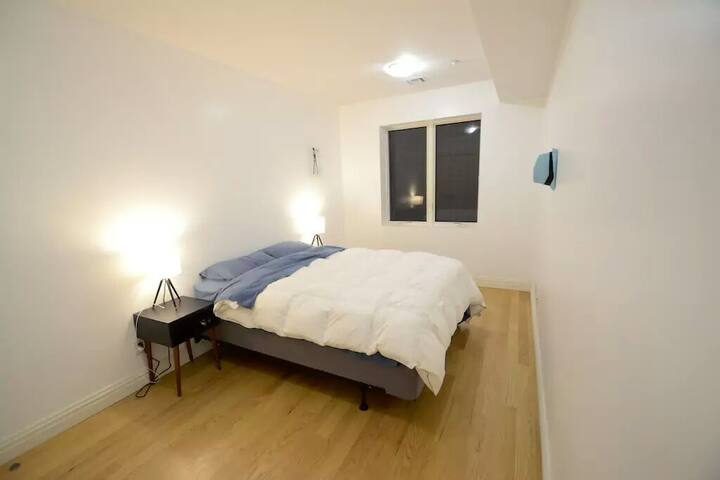 Our cool and comfortable one bedroom is state of the art with marble counters tops stainless steel appliances fireplace and a beautiful theme. Upscale home so alot of respectful people live in this area. Very safe! Located only 5 minutes from the ocean county mall and 15 minutes from seaside
Free parking. 1 queen size bed fit 3 also have a new nice air matress under bed that can hold 2. Huge living room kitchen and bedroom. 900 sq ft
Neighborhood is beautiful. Nicest apartments in the area. Its quiet people are respectful. I recommend going to shoprite down the street for food and ocean county mall for shopping. There are a lot of things to do and if you like clubs I recommend going to seaside heights 10 min drive
We enjoyed our stay at Randy's place. It was just like described. It was a very comfortable setting. The Apt. was clean. Randy was a great host. He made sure we know where everything was and told us if we needed anything not to hesitate to contact him. Next time we are in Toms River we will make sure to stay at Randy's place.
Steven, Sylvia & Stevie
2015-06-04T00:00:00Z
Very lovely 1 bedroom apartment/condo in a nice and newly developed neighborhood. Modern decor and furnishings. Very convenient area with lots of shops and restaurants. Randy was a great host, making sure we knew how to use everything and we're comfortable with the place before he left. He checked to make sure all was well. Very good experience.
Gayle
2015-06-29T00:00:00Z
Randy was a good host he gave us tips about places to eat around the apartment and welcomed us as we showed up. Would defiantly come back.
Dylan
2016-06-13T00:00:00Z
Randy walked us through everything and gave us a nice tour of the place. It's sad to say that his photo's don't do the location justice. The location is just amazing too, you're within a small,quiet community that's near popular restaurants and grocery stores and just a short drive from seaside heights. The bar was set really high for my first Airbnb experience and I would definitely stay here again.
Daniel
2016-09-08T00:00:00Z
Randy is an excellent host. The place was spotless when we arrived. He met us on time for check in, gave us a quick explanation of the condo, and then left us with the keys. The condo is really nice. MASSIVE TV, great kitchen area (with dishes and silver wear), bathroom, bedroom, and even a balcony. I would highly recommend this condo to anyone that is looking for something a lot nicer than any of the hotels around the area, for less money. Me and my girlfriend stayed here for two nights. Getting to the beach and the boardwalk was really a breeze, only about a 20 minute drive to seaside park. And, we were able to save some money by cooking a few meals in Randy's kitchen. All in all We were absolutely stunned by how great of a value this condo is, and how nice and professional Randy is. Definitely come stay here, you won't find anything better I guarantee it!
Jon
2016-08-01T00:00:00Z
Host communicated well. Place was fantastic and even better than described. Location was super convenient to parkway. Everything was so comfortable. Will come again!
Danielle
2015-07-02T00:00:00Z
Randy was a great host and the listing was honestly nicer/larger than the pictures convey. He even set up the air mattress, including sheets and blanket, which was really nice for us after a long day out and about. Lastly, he let us help ourselves to food in the kitchen which was something i've never seen before and it was so very appreciated.
Tori
2016-08-15T00:00:00Z
Randy was very welcoming and the apartment was even nicer in person than it looked in the pictures. The complex was great and the parking was easy. My three girlfriends and I stayed there and there was plenty of space. Randy even set up and made up an air mattress for us. If you want to stay at the shore, it's just a skip and a jump to Point Pleasant, Belmar, and Asbury Park. Can't say enough good things about how responsive and helpful Randy was. We had all we needed at the apartment and more.
Emily
2016-08-25T00:00:00Z
Jenis Bilik
Keseluruhan rumah/apt
---
Jenis Penginapan
Apartmen
---
Memuatkan
4
---
Bilik tidur
Toms River, New Jersey 08753, Amerika Syarikat
1

–

2

daripada

2 Apartmen Sewaan
Masukkan tarikh untuk melihat harga penuh. Yuran tambahan dikenakan. Cukai mungkin akan ditambah.