Buastova Hyggeleg, lite feriehusvære i gardstun. Frå husværet har ein fin utsikt utover dalen og elva Vosso. Staden er godt utgangspunkt for turar i fjella rundt både sommar og vinter. I elva Vosso er det mogeleg å fiska laks og aure.Buastova ligg ved hovedvegen E 16 mellom Bergen og Oslo, 1.5 km frå jernbanestasjon/buss stopp på Bolstadøyri. Henting på stasjonen kan avtalast.
Om feriehusværet. Buastova har ei sitjegruppe , lite kjøkken og ei familiekøyeseng med plass for 3 personer. Det er bad med dusj og toalett og varme i golvet. Buastova ligg vegg i vegg med ei gamal røykstove. Visning er mogeleg etter avtale. Bygda Bolstad Attraksjonar på Bolstad som er verdt å sjå er det gamle gjestgiveriet bygd i Louis Seize stil, eldste delen er frå 1663, Flåtemuseet som ligg ved Bolstadfjorden (1,7 km), Postvegen mellom Bergen und Kristiania med ei steintrapp hogd inn i fjellet (1,5 km), og "Slottet" på Horvei bygde i dragestil 1.5 km.
Jenis Bilik
Keseluruhan rumah/apt
---
Jenis Penginapan
Apartmen
---
Memuatkan
3
---
Bilik tidur
Voss, Hordaland, Norway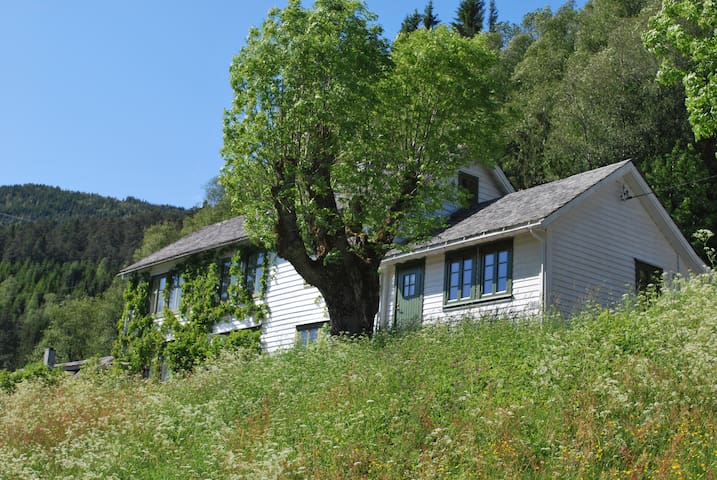 Tilltalande leiligheit, i unikt og ærverdig bygg i idylliske Sandviken.Gangavsand til det urbane bylivet og de majestetiske byfjellene like bak.
Jenis Bilik
Keseluruhan rumah/apt
---
Jenis Penginapan
Apartmen
---
Memuatkan
2
---
Bilik tidur
Bergen, Hordaland, Norway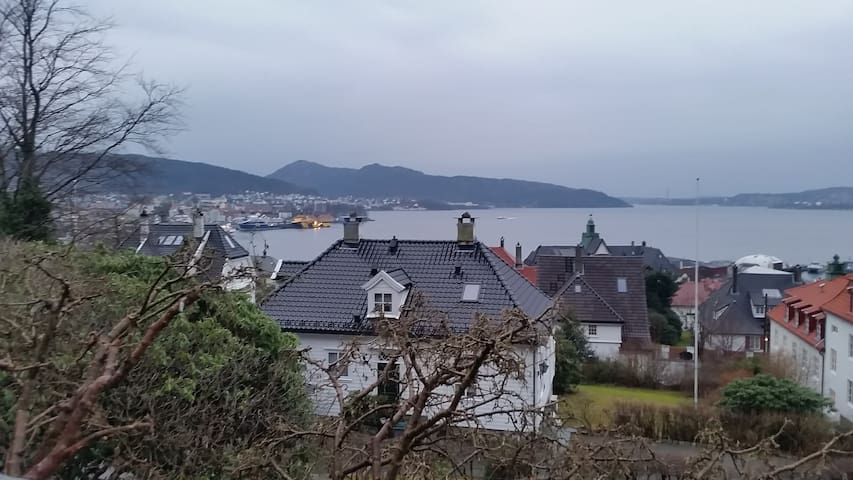 Velkommen til denne nyrenoverte leiligheten med en fantastisk utsikt over Hardangerfjorden, Norges nest lengste fjord. Leiligheten ligger 10km fra Kinsarvik , 55km fra Trolltunga og 40km fra Voss. Du har ellers lett tilgang til Hardangervidda Welcome to this newly renovated apartment with a beautiful view over the Hardanger Fjord, Norway´s second longest fjord. The apartment is located 10km from Kinsarvik and about 55km away from Trolltunga. Easy access to Hardangervidda National Park.
It was great ! My friends and me came to a warm, clean, beautiful house in a perfect location ! We absolutely loved it ! Thank you Knut for your hospitality
Selma
2016-09-11T00:00:00Z
perfect, Nice view
Julien
2016-10-23T00:00:00Z
The most stunning place I've ever stayed!! The views are phenomenal! Right in the middle of nowhere! The apartment has everything you need and a very comfortable sleep!
Lucy
2017-02-23T00:00:00Z
A beautiful cosy place with a lovely view! We really appreciated such a great place to stay in and to rest for a while. Thank you!
Tereza
2016-09-10T00:00:00Z
Jenis Bilik
Keseluruhan rumah/apt
---
Jenis Penginapan
Apartmen
---
Memuatkan
4
---
Bilik tidur
NO, Norway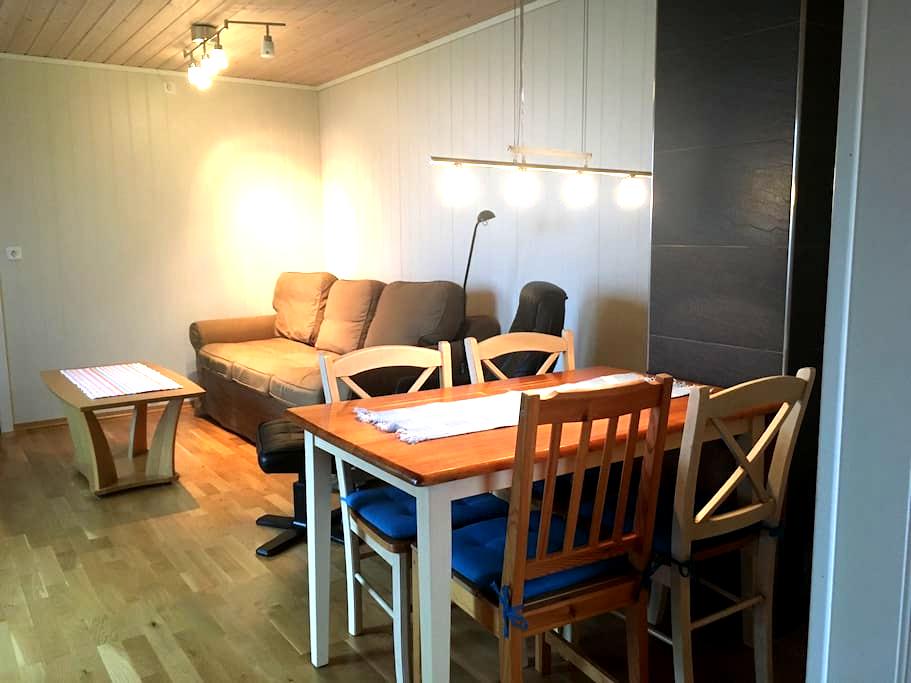 Lovely location right in Hardanger, with access to fjords and mountains, and golf, summer ski day trip to Trolltunga, or much more like Hardanger has to offer. Search happy to various web pages about Hardanger and Learn more. Close to the center of Øystese and Norheimsund with shops and eateries. All equipment to cook even exists. Bring food and clothes, and be welcome. You live on a small farm with house and outbuildings.
Suitable gladly best for couples or singles, but the possibility of an extra bed if required.
Quiet and peaceful neighborhood.
Jenis Bilik
Bilik persendirian
---
Jenis Penginapan
Apartmen
---
Memuatkan
2
---
Bilik tidur
Kvam, Hordaland, Norway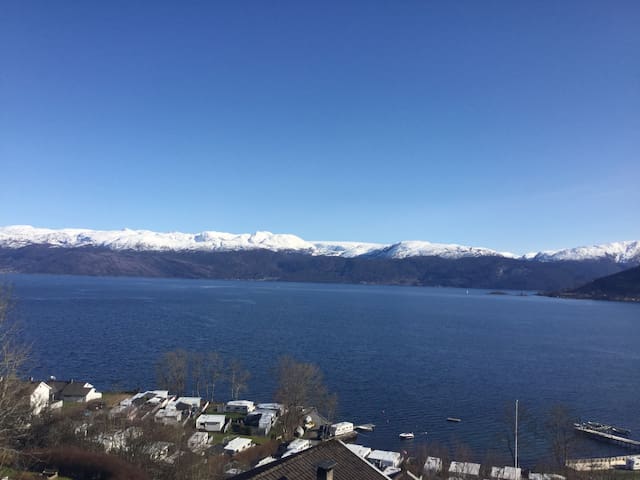 Nyt den romslige Icehouse og beroligende utsikt over Hanevik-bukten på Askøy - 30 minutter utenfor Bergen. Slapp av og få energi til å utforske Bergen, fjordene og den vakre vestkysten av Norge, eller for å delta på virksomheten i området.
Velkommen til Icehouse i Hanevik, ble kjelleren i huset brukes til lagring av isen ca 100 år siden. Nyt den spektakulære utsikten over fjorden gjennom glassdører. En ombygd hus (2006) som inneholder alt du trenger for selvhushold. Alle gulv er vann oppvarmet, peisen gir ekstra varme som trengs på en frysing vinternatt. Den inneholder nå et soverom med glassdører, bad, kjøkken i forbindelse med den store, åpne stue. På loftet er det to senger. En liten hage er koblet til ishus. Vi holder til på Askøy, 30 minutter med bil (27 km) fra sentrum av Bergen. Veldig og praktiske for å besøke byen og deretter forlate buzz til å slappe av, for å gjøre en grill i hagen, for å fiske eller gå i skogen. Bergen har en rekke attraksjoner, og det er også possble å bruke vårt sted som base for å besøke de mer spektakulære fjordene nord og øst for Bergen på dagsturer. Vi er i et landlig område så det nærmeste Foodshop ligger 5 km unna. Askøy er også kalt "lille Norge" for sine varierte landskap. Det er steinete og goldt i nord-vest og grønt og frodig i sør-øst. Den har sine egne attraksjoner, som for eksempel fine turer i skog, innsjøer og små fjell. Det er golfbane på den vakre, koblet øya Herdla. Den Askøybridge koble våre øyer til fastlandet. Det er 20 busser pr dag, med avreise fra bussstasjonen som ligger ved siden av jernbanestasjonen, og der bussen fra flyplassen stopper også. Bussen tar en time. Vi har to hus til leie, er det andre som er oppført som "Seafront tilflukt i nærheten av Bergen". Vennligst sørg for at du bestiller det du vil ha.
Den Icehouse sitter i en rolig landsby ved sjøen. Nabolaget består av private hus og hytter. Virksomheten ved siden av er en skjermet workshop med arbeidstid 8-15.
Das Ferienhaus befindet sich in wunderschöner Lage mit einer Panoramaaussicht auf das Wasser. Es ist Teil einer Häusergruppe, von der ein Haus von den Vermietern bewohnt wird, eines dauerhaft und zwei an Feriengäste vermietet werden. Umgeben ist es von einem sehr gepflegten, liebevoll angelegten Garten, der zur Benutzung zur Verfügung steht. Das Ferienhaus ist gemütlich und liebevoll eingerichtet. Die Küche ist sehr gut ausgestattet (einschließlich Backofen, Waffeleisen, Auflaufformen, Gefrierschrank....) und lässt es an nichts fehlen. Ein Fernseher mit während unseres Aufenthaltes drei norwegischen Sendern ist vorhanden. Größerer Strauraum für Kleider war jedoch nicht gegeben. Das eine Schlafzimmer ist durch Türen aus grauem Glas vom Wohnbereich abgetrennt. Insbesondere in den hellen Sommernächten ist es dadurch in dem Zimmer auch nachts sehr hell und das Zimmer ist recht hellhörig. Das weitere Schlafzimmer ist über eine recht steile Treppe zu erreichen und befindet sich unter dem Schrägdach, so dass keine volle Stehhöhe besteht. Dieser Raum ist lediglich durch eine Tür ohne Klinke von dem übrigen Wohnbereich abgetrennt, so dass dieser ebenfalls hellhörig ist. Vom Ferienhaus benötigt man ca. 30 Minuten mit dem Auto nach Bergen. Da das Ferienhaus recht abgelegen liegt, ist ein Auto unbedingt zu empfehlen. Da man mit dem Auto mehrere mautpflichtige Strecken passiert, fallen auch mit Blick auf die Parkgebühren hierdurch jedoch nicht unerhebliche Kosten an. Ingrid und Per sind sehr freundliche, hilfsbereite und aufmerksame Gastgeber, die ihre Gäste jederzeit bereitwillig mit Tipps unterstützen.
Kerstin
2016-07-10T00:00:00Z
We had the most pleasurable stay at this divine cottage! The Icehouse is comfortable, well equipped for cooking, and an overall quaint and relaxing accommodation. Ingrid and Per are fabulous hosts, who will help you with whatever question you may have. Would love to come back here someday!!!
Samantha
2016-12-01T00:00:00Z
We were welcomed most warmly by Ingrid and Per on our arrival and received all the information we needed for the accommodation .The Ice House has the most beautiful view which we found so therapeutic .The house has everything you need and was very comfortable. I would recommend this place to anyone that wants peace and quiet in a lovely setting.
Clyde
2012-08-21T00:00:00Z
Mum & dad loved it. Thank you Ingrid.
Alexandre
2014-08-12T00:00:00Z
We enjoyed our stay at Ingrids and Pers Icehouse to the outmost. A beauty house, perfect surroundings, like nature, the water, the silence the beauty. The sleeping room upstairs is only useable for young people. The steep stairs to it are not that fine for elderly people. Everything else in this beautiful and perfect house is perfect! Absolutely fabulous... You need a car though to get there ;-) we will definately return to this fantastic house.
Michel
2016-08-30T00:00:00Z
We had an amazing few days staying at the Ice House last week. The house itself is so clean, peaceful and relaxing. We were fortunate to be able to borrow Ingrid and Per's boat, and that was one of the highlights of our trip. The owners are extremely responsive and checked in with us every now and then to make sure we had everything we needed. I highly recommend staying at this house, we personally can't wait for the opportunity to go back again!!!
Lauren
2016-06-01T00:00:00Z
Very lovely characterfull place with a beautiful view over the bay. The Icehouse was an ideal place to rest and visit Bergen. The welcome was very warm and our daughter was very happy she could play with the cat in the garden.
Michiel
2015-06-17T00:00:00Z
We loved our experience at the Ice House! Ingrid and Per were so accommodating and welcoming. We received lots of recommendations and help whenever we needed anything. The instructions they sent us before our arrival helped tremendously as we were completely unfamiliar with navigating the complicated roads of Bergen. This was the perfect relaxing home base for exploring Norway. We were able to get into Bergen easily by car every day throughout our visit. Per even got us all set up on their boat for fishing--although we didn't catch anything, it was one of our favorite little adventures. Don't hesitate to book this place, you won't regret it! We arrived after a week of camping in Iceland, and I could have cried at how perfectly charming and luxurious it was.
Emily
2016-08-25T00:00:00Z
Jenis Bilik
Keseluruhan rumah/apt
---
Jenis Penginapan
Apartmen
---
Memuatkan
6
---
Bilik tidur
Askøy, Hordaland, Norway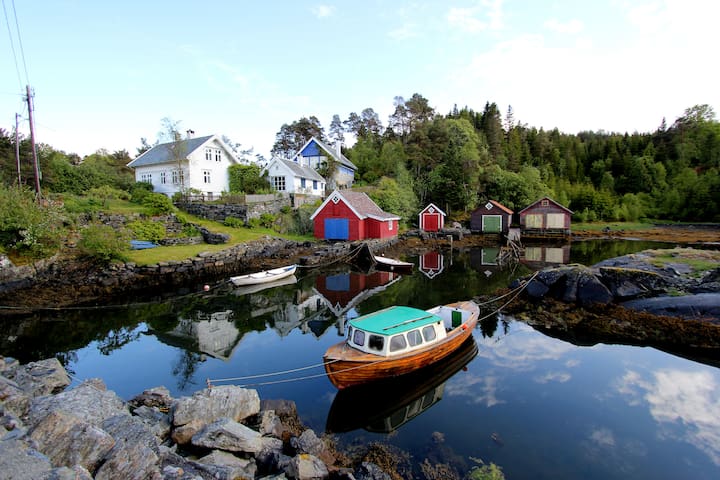 The apartment is close to the sea, public transport, the airport, and family friendly activities. The place is perfect for families with children, couples or friends.
Beautiful view overlooking the sea.
Very quiet area, with the sea as your closest neighbour.
The apartment is amazing. Its in 2 floors with 3 bedrooms and a beautiful terrace facing even more amazing seaside sunsets. We were 4 adults and a child and it was a perfect for us. We had complete privacy. Everything was provided, clean bed sheets, towels. Christian and Hege were very nice and welcoming.
Syed Hassaan
2016-08-17T00:00:00Z
Everything was ok. Thank you for our stay.
Marek
2016-08-29T00:00:00Z
The hosts went out of their way to get the keys to us after a mix up on our part. They were very helpful with advice on the local area, offering lifts and providing more than was mentioned on the list (bike and fishing tackle). The apartment was very clean and was in a such a beautiful spot. We had a wonderful stay. We could have done with instructions on how to use the heating, and a kettle would be handy.
Andy
2016-08-26T00:00:00Z
Vi skulle ha filminnspilling på Os og verten her tok veldig godt imot de som skulle sove her. Et kjempe flott opphold med en flott vert som vi anbefaler sterkt. Takk for oss :)
Marie
2016-09-12T00:00:00Z
Appartement spacieux traversant avec 2 vues mer , bien rénové . Une table de salon de jardin serait bienvenue sur la terrasse Quartier isolé très tranquille! Idéal pour se reposer
Fabienne
2016-07-24T00:00:00Z
We booked this appartement really late in the afternoon and appreciate the quick response of Hege and Christian. They hurried to make the appartement ready and we met around 21.45 h! The appartement is very spacious, huge kitchen with all commodities and lies in a quiet groupbuilding with other appartments in a harbour at the see 40 min south from Bergen. We could use the dishing gear and bike. This appartment is a good place if you like to visit Bergen and surrounding areas. Hege and Christian thanks for your warm welcome and hospitality.
Karen
2016-08-12T00:00:00Z
Lovely quiet spot, great hosts, perfect stay!
Silke
2016-08-09T00:00:00Z
Apartement is in a quiet area about 45 mins drive away from Bergen. For us a good place to stay. Hosts were friendly. Only downside was that the wifi didnt work. Everything else was good
Tim
2016-07-31T00:00:00Z
Jenis Bilik
Keseluruhan rumah/apt
---
Jenis Penginapan
Apartmen
---
Memuatkan
7
---
Bilik tidur
Os, Hordaland, Norway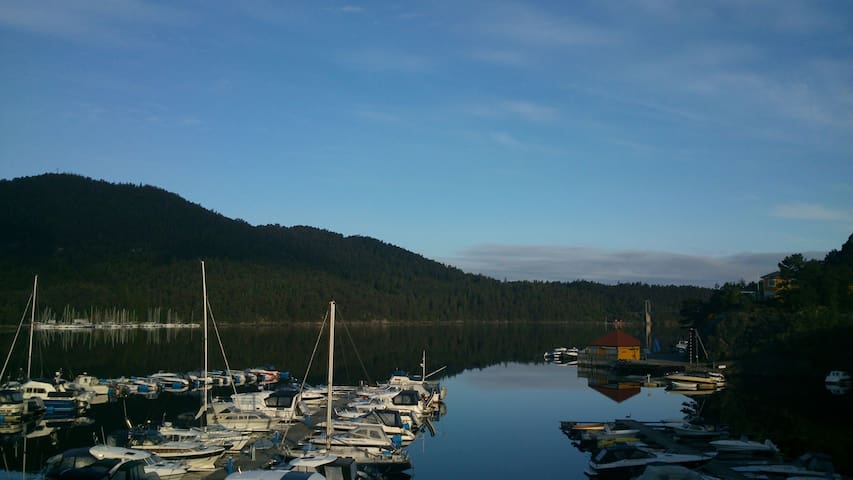 Dette er ein god plass for dei som er glade i naturopplevelser. Fine turmuligheter både i fjell og båtur på fjorden. Tilgang til robåt for fjordfiske. Ein halvtimes køyretur til start for tur mot Trolltunga.
Jenis Bilik
Keseluruhan rumah/apt
---
Jenis Penginapan
Apartmen
---
Memuatkan
4
---
Bilik tidur
Kvinnherad, Hordaland, Norway
Sjarmerende leilighet med en fantastisk utsikt over Hardangerfjorden. Bare en 8 minutters kjøring fra Norheimsund. Velkommen til Homlagarden og vår økologisk gård og kunstgalleri. Alltid en vakker utsikt å våkne opp til.
Leiligheten er en sjarmerende åpent loft bygget av lyst tre og dekorert med kunstverk. En av dobbeltsenger sitter mot et sett med vinduer som gir utsikt over gården og ut i de vakre fjordene. Første etasje av leiligheten er det stue med åpen kjøkkenløsning. Ett nivå opp (4 trappetrinn du har en dobbeltseng med vakker utsikt. På samme nivå har du et separat soverom med en dobbeltseng. Dette soverommet har ventilasjon, men ingen vinduer. Det tredje nivået, også åpent, har en enkeltseng . Her igjen er en liten trapp.
Det er flotte turer å gå direkte fra gården eller i nærheten. Fra gården kan du ta lett tur gjennom lander og skog. Også svært egnet for en kveldstur. For lengre spor, jeg personlig anbefale en tur til Krokavatn. Det er en 10 minutters kjøretur og deretter opp til en innsjø, en flott tur og landskapet, og fantastisk utsikt. Også Torafjell og Kvamskogen er i nærheten og har vakre spor å gå.
Fantastic experience in this lovely and magical place. Els and Bjorn were fantastic hosts and completely made us feel like at home. We will be back!
Rebecca
2016-08-21T00:00:00Z
I cannot say enough good things about this gem of a home away from home! The whole property is in harmony with its surroundings and it radiates with the pride of all the work which has been put into its existence throughout the years. By far our favorite place to have stayed in our Scandinavian adventure :)
Shaula
2016-08-25T00:00:00Z
We had a wonderful stay at Els' apartment and would enthusiastically recommend it for those wanting a beautiful and unique experience in rural Norway (while still only being a hour and a half away from Bergen!). The location is absolutely stunning - the apartment overlooks the fjord and the scenery is breath-taking. The apartment is located at the back of the studio, which is a lovely, light-filled space - we enjoyed walking through it and seeing the artwork on our way in. Els is an incredibly friendly and warm host, giving us lots of great recommendations for exploring Norheimsund and Bergen and for walks in the local area. We got in late on the first night and she kindly left us two turkey eggs and a freshly grown zucchini, which was lovely! Thank you Els for having us, we thoroughly enjoyed our stay!
Alexia
2016-08-31T00:00:00Z
Els was the kindest, sweetest host! She made us feel extremely welcome at her beautiful place. She sat down with us and suggested different hiking routes and helped us to have a wonderfull time. If we are ever in Norway again, we will definately be coming back.
Rasmus
2016-09-16T00:00:00Z
Els was the most gracious host. Along with the most picturesque location of her property, we greatly enjoyed visiting with her, taking an unplanned hike and having great conversation. She provided us with some fresh chicken eggs and chives for breakfast, and gave us great walking and eating recommendations. When we come back to Norway this is where we want to visit again! Thanks for your hospitality!
Sarah
2016-05-22T00:00:00Z
Els was a great host. The apartment is indeed lovely and the location is perfect. It's only a few minutes away from a small town where you can get groceries and gas. Els recommended and gave us directions to a beautiful hike up the fjord. We were blessed by great weather and amazing views on the way up to a half frozen lake on the top of the mountain (late May). A must!
Anna
2016-05-28T00:00:00Z
Communication with Els was excellent and she gave us lots of tips and advice on places to see and walks to do. The place is spacious, tastefully decorated and has amazing views of the fjord, not to mention the private art gallery that you have access to. We had light organic supper waiting for us. Els is a super-friendly host and made us feel at home. We would definitely revisit in the near future.
Reza
2016-06-27T00:00:00Z
The best holiday experience we have ever had. Amazing apartment with the nicest View you can imagine. Elizabeth was the perfect host. She welcomed us with the farm's products in our fridge and she took us to the nicest trek in the mountains. Really recommended.
Moti
2015-09-17T00:00:00Z
Jenis Bilik
Keseluruhan rumah/apt
---
Jenis Penginapan
Apartmen
---
Memuatkan
5
---
Bilik tidur
Norheimsund, Hordaland, Norway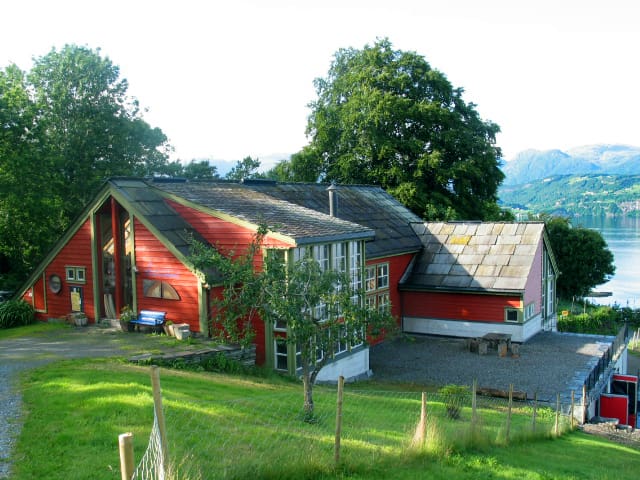 Apartment with normal standard. 5 pers, one single bed + one 120cm bed + sleeping coach for 2pers. Swimming in the fjord. Daytrips to Trolltunga, Folgefonna, Vøringsfossen is recomended. Breakfast not included but you can bring food and make your own in a fully equiped kitchen.
Located in the heart of Hardanger, with good views of Sørfjorden. Børve lie on the east side of the fjord, about 25 km from Odda and about 15 km from Kinsarvik.
The host was welcoming and the views were very nice. It was warm inside and beds were comfortable. We would like the kitchen to be more equipped, otherwise everything was OK.
Julia
2015-10-31T00:00:00Z
Great place! So beautiful! Just as description! Really loved the cat King !!
Alison
2016-05-07T00:00:00Z
Wonderful experience for living in such a stunning view. How lucky the house owners are and how lucky we are to be able to share this luck! Well equipped kitchen and a big TV :)) clean and comfy :)) many thanks!
Alisa
2014-10-03T00:00:00Z
We really enjoyed our stay. The place was clean and very well equiped. The view is amazing. Stop searching, this the place you are looking for.
Krystian
2014-09-28T00:00:00Z
The view through the windows was splendid ! Waking up with moutains and the lake just in front of you is magic ! The apt was a little bit old, especially the bathroom but hosts were available for our requests
cécile
2014-08-16T00:00:00Z
Awesome view over the Fjord when waking up - thanks!
Lukas
2015-12-30T00:00:00Z
Great place and in a fantastic part of the country - unfortunately it was only a very brief stay but I would happily return if I was to visit the area. Our host was amazing with finding out travel details prior to our arrival.
Shane
2016-08-31T00:00:00Z
We had a great 1 night stay at the apartment the night before we hiked the Trolltunga. We arrived later than expected but were greeted when we arrived and given everything necessary for a great stay. He even recommended a great restaurant for us to eat at. The apartment was stocked with movies to watch and it felt very cozy. It is a great place to stay if you are hiking the Trolltunga; a short drive to the car park.
Daniele
2016-09-03T00:00:00Z
Jenis Bilik
Keseluruhan rumah/apt
---
Jenis Penginapan
Apartmen
---
Memuatkan
5
---
Bilik tidur
Børve, Hordaland, Norway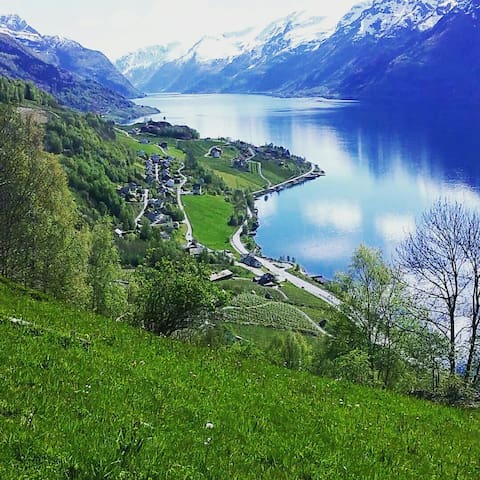 Cosy holiday apartment just on the scenarios fjord. Surrounded by beautiful Norwegian nature, but easy to get to the city.
Great hiking and fishing possibilities! Or, you can explore Bergen City going by local train half an hour.
Jenis Bilik
Keseluruhan rumah/apt
---
Jenis Penginapan
Apartmen
---
Memuatkan
3
---
Bilik tidur
Bergen, Vaksdal kommune, Hordaland, Norway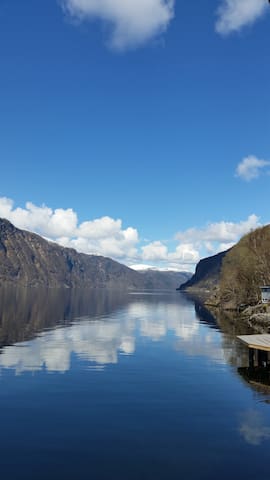 The best thing about the apartment is the amazing terrace with the beautiful view over Bergen city! Excellent location just 2 minutes walk from the train station and downtown main Bus terminal. There is a supermarket and a great bakery right outside the house! The apartment is located on the 6th floor of a cobblestone walking street so even if its in downtown Bergen you escape traffic noise and loud party people. Perfect place to enjoy Bergen!
My place is on the 6th and last floor of the building witch gives it a very beautiful view over Bergen city. Its surrounded with a large private terrace witch makes its a very nice place to stay especially if the sun is shining! From the terrace you will see Lille Lungegårdsvann, Mount Ulrikken, Fløyen mountains and main city streets of Bergen!
Jenis Bilik
Bilik persendirian
---
Jenis Penginapan
Apartmen
---
Memuatkan
2
---
Bilik tidur
Bergenhus, Hordaland, Norway
Available before 9th of May. 14m2. Near to NHH/supermarket/buss stop. Buss to center 12m. Private bathroom. Shared kitchen have everything you need for cooking. Quilt @ pillow can be provided. Price negotiable. Key hand over any place within city train like city center or airport. Contact +(PHONE NUMBER HIDDEN) or (EMAIL HIDDEN)
The host canceled this reservation 35 days before arrival. This is an automated posting.
Finn
2017-04-07T00:00:00Z
Jenis Bilik
Bilik berkongsi
---
Jenis Penginapan
Apartmen
---
Memuatkan
1
---
Bilik tidur
卑尔根, Hordaland, Norway
Newly rennovated appartment perfect for 1-2-3 travellers!
Located 5 minutes from the historical Bryggen area and 10 minutes from the city center, with walking distance to several hiking trails near the mountains Fløyen and Sandviksfjellet, this 28 square meters appartment works well for singles, couples and does include a sleeping-sofa in the livingroom for a third person without extra charge. The living room includes a small kitchen with all necessary equipment for home cooking, with the local store across the street.
It's located in the Sandviken neighbourhood with coblestone streets and charming wooden houses.
Great place to stay for a couple of days, almost in Bergen city center. 15min by walk to the train Station. The flat is well equiped, andreas and his girlfriend are pleasing and attentive
Yannis
2015-08-17T00:00:00Z
Great location! A bit small for a couple but we were not inside much because there was so much hiking, shopping, and sightseeing within walking distance. Flat was tidy and well equipped.
Vicki
2015-08-15T00:00:00Z
It was my first airbnb experience which went berty well. Andreas met us at the bus station even though we arrived earlier and brought us to the appartment. Everything was clean and we found everythi g wee needed. Hoghly recimended. Thanks, Andreas!
Elina
2015-08-14T00:00:00Z
Jenis Bilik
Keseluruhan rumah/apt
---
Jenis Penginapan
Apartmen
---
Memuatkan
3
---
Bilik tidur
Bergen, Hordaland, Norway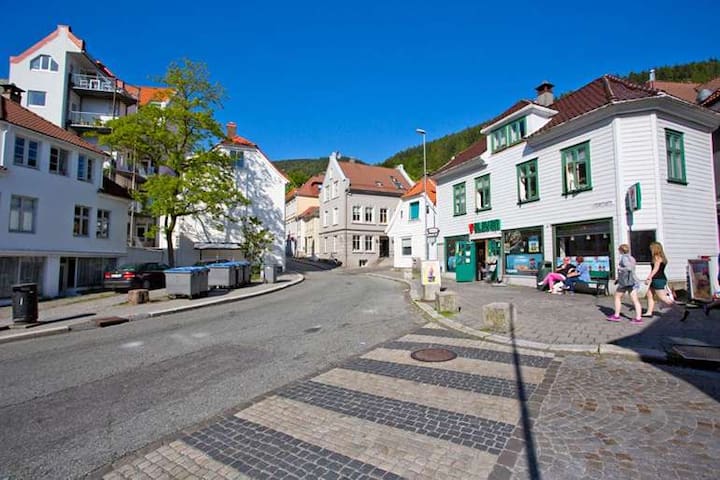 Situated in the trendy Møhlenpris area, this top floor apartment is in walking distance to nearly everything Bergen has to offer. Shared apartment, two bedrooms with double beds. Prices are per room. It is also possible to rent the entire apartment, please contact us for more information. All guests will also receive our insiders guide to Bergen with tips to what to do, see, eat and experience during your stay.
The apartment is situated on the top floor in a quiet street and building in the area called Møhlenpris. The apartment is bright and spacious and suitable both if you spend most of your time outside or want to stay in.
Møhlenpris is a quiet but trendy area in Bergen. Both students and families live here, and with the big park, cozy cafes and bars, the sea and city centre nearby and its quiet streets, its everything you want from your neighborhood.
A very friendly couple, really easy to talk to. Very organised with instructions for the loft as well as a guide to Bergen. Henrik showed me around and gave me the keys when I arrived. The loft is very spacious. Ten to fifteen minutes walk from the city centre.
Ryan
2016-06-01T00:00:00Z
Hanna's flat is lovely! Super spacious and full of light. Enjoyed our stay here. Within a walkable distance to most things in Bergen.
Zachary
2016-07-11T00:00:00Z
Hanna & Hendrick flat is bigger than it's seems in pictures, well situated and very nicely decorated. The room we stayed had a black curtain to get the room dark which was really appreciated but one and the only disappointing element is the lack of soundproofing. Hanna & Hendrick ' guide of Bergen is very detailed and helpful, Thanks again !
pauline
2016-08-14T00:00:00Z
Great location in a lovely apartment! Hanna was very accommodating and made sure we had everything we needed. I would definitely recommend it!
Olivia
2015-08-07T00:00:00Z
Everything is just perfect. The apartment is so Nordic and cute. I strongly recommend Hana and Henrik's house to all of you.
任杰
2016-08-03T00:00:00Z
The host canceled this reservation 41 days before arrival. This is an automated posting.
Emilie
2015-09-26T00:00:00Z
We had a very nice stay at Henrik and Hanna's. Beautiful apartment, you have everything you need and more. Great location and the personal city guide they give you helps you find the perfect spots in the city without having done any research.
Stéphanie
2015-08-15T00:00:00Z
Hanna and Henrik were wonderful hosts in Bergen! They gave us a list of parks we could go to, restaurants we could eat at, and activities we could enjoy, as well as a map of Bergen! It really helped us organize our activities. Their apartment is very spacious, and they are very generous. We were able to use their kitchen supplies, fridge, dining room living room. They were very hospitable to say the least. A minus point is that their floors were not swept, so it was a little dusty. The location is extremely convenient. It was 15-20 minutes from the station or to the city center. We would definitely recommend this place, and ask to stay here if we came again! Thank you Hanna and Henrik!
Kritika
2016-06-17T00:00:00Z
Jenis Bilik
Bilik persendirian
---
Jenis Penginapan
Apartmen
---
Memuatkan
2
---
Bilik tidur
Bergen, Hordaland, Norway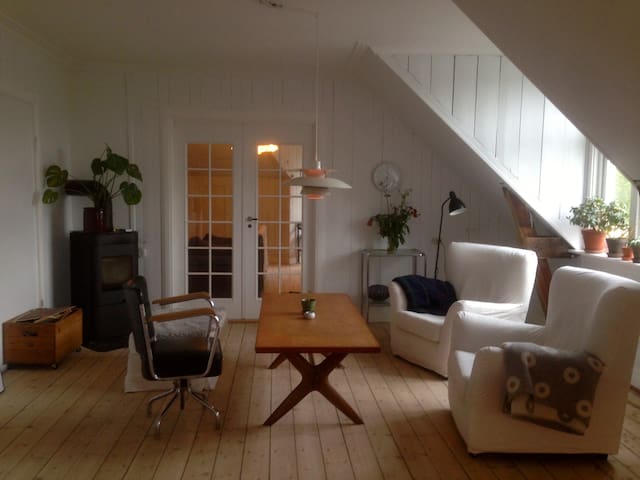 This is a great base to explore Bergen from. Close to the city center, bus nr 19 stops literally right outside the house both ways. You can be in the city center in 7 minutes. Beautiful nature and view to the sea. Free parking and wifi. The sofa and the gardrobes won`t be there as it is a period between moving out and moving in. There is a double bed (120 cm, which is good for couples :) and madrasses are thick (20 cm) and very comfortable. That is why we can give it on such a good price.
Jenis Bilik
Keseluruhan rumah/apt
---
Jenis Penginapan
Apartmen
---
Memuatkan
4
---
Bilik tidur
Bergen, Hordaland, Norway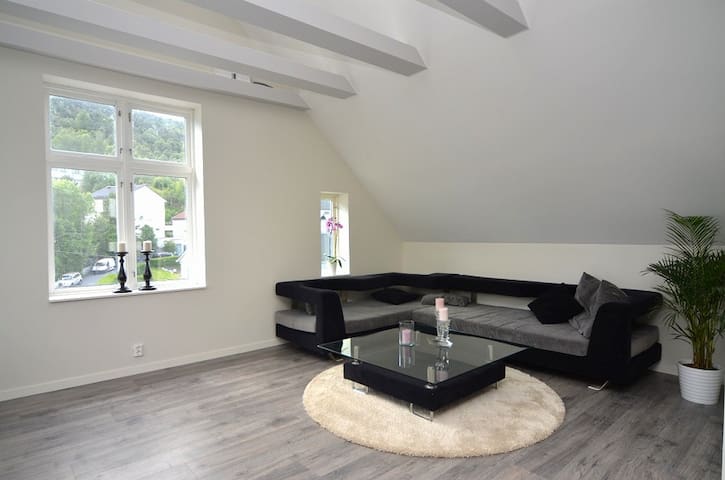 Modern apartment just 10 minutes drive from the parking for the Trolltunga hiking startpoint in beautiful Hardangerfjord. This is as close as you can get. 1 hour drive from the Folgefonna Skicenter.
Jenis Bilik
Keseluruhan rumah/apt
---
Jenis Penginapan
Apartmen
---
Memuatkan
5
---
Bilik tidur
Tyssedal, Hordaland, Norway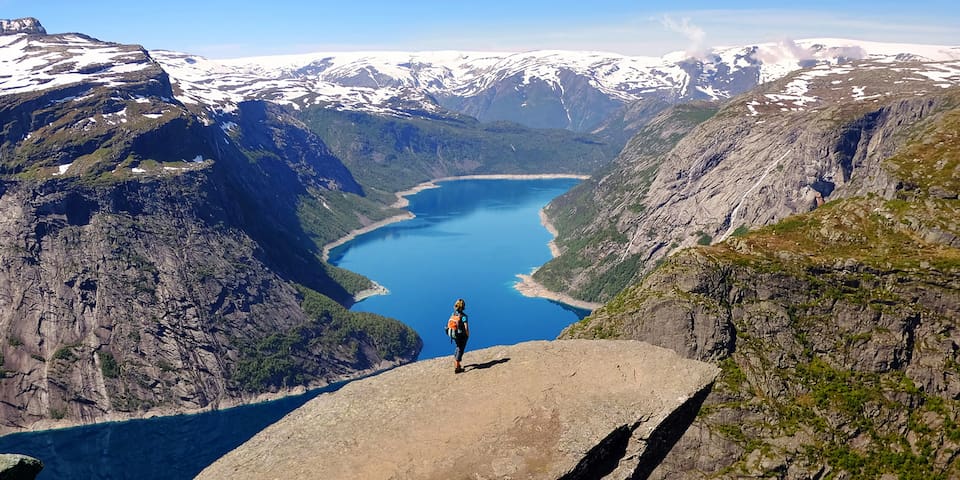 Big and modern apartment in City Center. 2 living rooms, 2 bedrooms, bathroom/toilet and big kitchen. High standard with all facilities. Location is close to Johanneskirken and Bergen Cinema. 3 minutes walk to Torvalmenningen. "Everything" is close by.
This is an apartment from the late 18 century with 3,2 meters to the ceiling. The old style is kept, but the facilities is up to date.
Jenis Bilik
Keseluruhan rumah/apt
---
Jenis Penginapan
Apartmen
---
Memuatkan
6
---
Bilik tidur
Bergen, Hordaland, Norway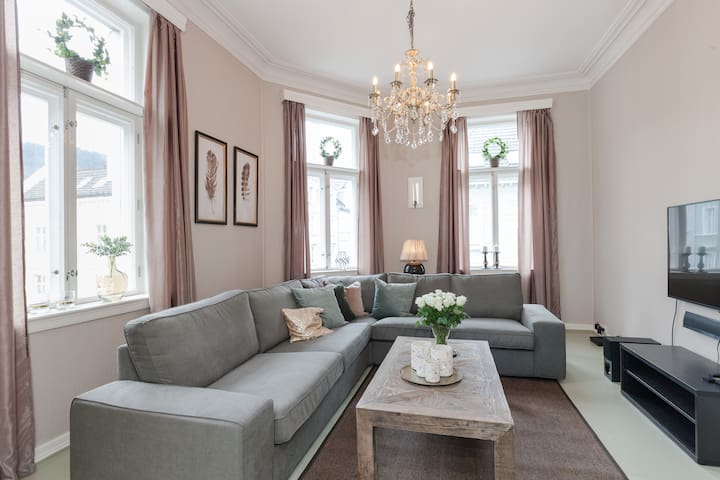 Great location with a beautiful view! Located just a few minutes walk to the center of Voss and in beautiful surroundings on the riverside. This is a great place to stay if you want to live in walkable distance to the center, and at the same time having beautiful nature outside the door. From our garden you have direct access to the river, and the popular park Prestegardsmoen is just outside the door. This place is perfect for a couple with or without kids.
The apartment has a main living room with a couch, a queen size bed and a kitchen corner with a dining table for four people. There is also a small room with a single bed and a bathroom. One travel cot for a baby is also available. Please notice that you have to pass through the bedroom with the single bed to access the bathroom. The kitchen is supplied with: - smalll fridge - microwave - top for cooking - water cooker - coffee machine for Senseo pads - basic kitchen supplies for cooking The apartment is connected to the house where we live, but it is separated and has it´s own entrance. So you don`t have to worry about noise.
We live in a quiet neighborhood with nature outside the door, with only a short flat walk to the center of Voss. The popular park area Prestegardsmoen is just on the other side of the architecture award nominated bridge Tintrabrua, and this is where the locals go for their Sunday walks and weekly runs. If you are visiting for Voss Cup or Ekstremsportveko, this is the perfect location.
Jenis Bilik
Keseluruhan rumah/apt
---
Jenis Penginapan
Apartmen
---
Memuatkan
4
---
Bilik tidur
Vossevangen, Hordaland, Norway