Enchanting converted Wesleyan chapel furnished with luxury and comfort in mind. The chapel which is believed to date back to 1832 has been sympathetically converted to create a unique lifestyle living space. Double pillars and a gated entrance welcome you into this chapel garden, although compact, this front garden is as unique as the property and boasts a rich mixture of plants and shrubs, outdoor furniture and barbeque facilities.
This is simply an utterly delightful place hosted by a thoroughly delightful couple. If we could stay for ever it would not be too long. For us this was a sanctuary. A jewel. Perfectly warm, very comfortable, well equipped, high spec. A darling, well equipped kitchen and a lovely generous dining area. We cooked and dined in for all meals, why leave? Vaulted ceiling gives a wonderful spacious feel. It was a perfect 2 day stay leading into a very special weekend for us. We can't thank you enough. I've already recommended this place to all my dearest friends. Stay '2' was as great as stay '1'. Looking forward to stays 3, 4, 5 ... Adriana and Ian - thank you!
Esse
2016-10-22T00:00:00Z
it' s a nice house and beautiful . close to Oxford and Bicester . And a big playgroup with a green grassland .这是一个漂亮房子,主人家很热情,每一寸地方都布置得让人看出很有心思。前身是小教堂,旁边有一片很大的绿草地,美得不要不要的。强烈建议大家有机会选择
oscar
2016-11-28T00:00:00Z
Adriana and Ian made everything perfect to receive their guests. There were flowers, chocolates and candles. The house was spacious and idyllic. The atmosphere was relaxing. It was comfortable though the outside temperature was high, the hottest autumn in 30 years! We loved the walk in the field and footpath right outside and enjoyed so much the experience. I would definitely recommend the listing to everyone.
Rhoda Man Kee
2016-09-14T00:00:00Z
We had a wonderful time in the Chapel - it is beautifully decorated, such a neat little kitchen with everything you could need, and we really appreciated the extra little nice touches like chocolates on the bed!
becky
2017-01-15T00:00:00Z
Excellent Chapel Experience, very nice host!
Tim
2016-10-03T00:00:00Z
From the moment of booking, all the way through to the follow up after the booking, the communication has been fantastic. They always responded to my many questions without making me feel like I was being a pain. As for the property... well the images are perfect on here. It is a stunning location to be based and offers a peaceful sanctuary away from the dramas of life. I am already working out when I can return!
Dean
2017-03-22T00:00:00Z
We had a wonderful time at Adriana's beautiful house. The converted chapel was such a special place to spend the weekend. We had dinner reservations at le manoir and Adriana's house is ideally situated - just a ten minute cab ride away. The apartment was clean and well equipped and communication was very prompt and clear. If you're looking for beautiful countryside and lovely pubs, the village is ideal. I'd recommend Adriana and Ian's chapel without hesitation and hope we can come back to visit again!
sian
2017-01-08T00:00:00Z
Our hosts were fantastic, and knowing that we'd just got married, left us a bottle of wine, which was an amazing touch. They were also extremely quick to rectify a very minor problem we'd had with one of the window blinds, which showed their attention to detail and the level of care and effort they put into the place. If you're looking for a secluded get away, look no further!
Adrian
2017-01-25T00:00:00Z
Jenis Bilik
Keseluruhan rumah/apt
---
Jenis Penginapan
Lain-lain
---
Memuatkan
4
---
Bilik tidur
Warborough, England, United Kingdom
This family-friendly cottage is set in the ancient village of Brightwell-cum-Sotwell, located in South Oxfordshire. A recently built annex with modern facilities, private off street parking and includes a pretty rear cottage garden away from the main house. Excellent links to Oxford (11 miles), Henley on Thames (12 miles) and motorway links. The property is within walking distance of the historic town of Wallingford with its beautiful castle ruins and walks by the river Thames.
Set within the grounds of a beautiful Grade II listed cottage, this private annex is ideal for couple, families and solo visitors. The gated driveway offers private off street parking in front of the cottage and is accessible for both wheelchair users and pushchairs. As you enter the cottage there is a small hallway/entrance area, leading to the master bedroom and living room. The cottage is light, airy, spacious and offers underfloor heating throughout. The very large master bedroom includes king size bed, a large en-suite bathroom (including walk-in shower/separate bath) and plenty of space for storage. The second bedroom is located up a short flight of stairs above the living area and includes two single beds and storage space. The main living room is large and includes access to a pretty private patio area with seating, as well as large bi-fold doors, opening to the front of the property. The modern kitchen with granite worktops leads off from the living room and includes a large fridge/freezer, dishwasher, washing machine, oven/hob and all basic modern appliances.
We love our village for its picture postcard prettiness it's, ancient houses and narrow winding roads, steeped in history with views of the Iron Age ramparts on Wittenham clumps, our village is home to Mount Vernon, home of Dr Bach of Bach flower remedies. The Island Farm donkey sanctuary is a great place to visit, there are lovely walks, and trails through the the village where you can stop for Lunch at the Red Lion, or pick up provisions for a picnic from our village stores at highlands farm shop you can buy eggs. It's only a short walk to Wallingford with its castle remains and grounds, it's open air swimming pool, Cholsey and Wallingford railway, the Thames national trail and riverside walks. Midsomer Murders and Agatha Christie trails. There are abundant cafes, pubs, restaurants, a museum and cinema and not to forget the farmers market and weekly Friday market. We lie near the Thames path and Ridgeway making it a great base from which to explore some of England's most lovely and historic countryside on foot or cycle.
This is a real gem, close to Wallingford. A wonderful space in a charming garden in a cute village. Anne-Marie was a great host.
Nicky
2017-03-31T00:00:00Z
Terrific stay in Anne-Marie's gorgeous garden annex. Idyllic peaceful spot looking out onto beautiful garden and thatched cottage. Anne Marie was extremely thoughtful when it came to providing for our 3 and 1 year old - couldn't have asked for more. 5 stars thank you !
Daisy
2017-04-08T00:00:00Z
Jenis Bilik
Keseluruhan rumah/apt
---
Jenis Penginapan
Rumah
---
Memuatkan
4
---
Bilik tidur
Wallingford , Oxon, United Kingdom
A delightful home in the heart of the English countryside. Warborough Village is famous for its quintessentially British feel, so much so that it is often the set for the series Midsummer Murders. It has a delightful pub, village shop, post office, playground and village green all within 2 minutes walk from the property. The house is very child friendly with a secure garden and extensive playroom.
This traditional Victorian house has a large kitchen extension which comfortably seats 8 and a new master bedroom both overlooking the historic Church. The kitchen has UFH and you're welcome to use all appliances. You will have access to the entire house. As this is our main residence we respectfully ask that you do not open cupboards, drawers and cabinets (other than the kitchen!) as they are obviously full of all our personal belongings. A wardrobe will be allocated to you for the duration of your stay. We have a travel cot available on request. You are welcome to use Sky and the large DVD collection.
A friendly, happy neighbourhood. The village is surrounded by lovely county walks, pubs and shops nearby in Wallingford or further afield in Oxford.
Jenis Bilik
Keseluruhan rumah/apt
---
Jenis Penginapan
Rumah
---
Memuatkan
6
---
Bilik tidur
Warborough, England, United Kingdom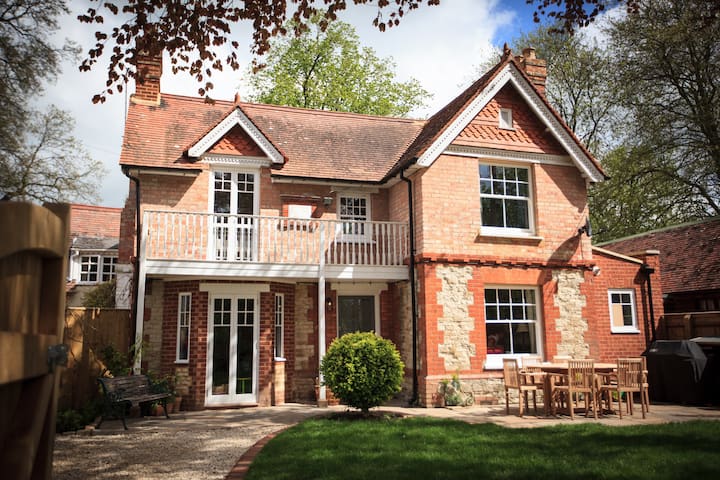 My place is close to the River Thames, the Thames path, the lovely village of Dorchester on Thames and Dorchester Abbey, as well as the historic small market town of Wallingford. I have recently moved into a spacious bungalow which I have largely renovated into a modern and welcoming home. My guest will have their own bedroom and private bathroom, plus the use of the house facilities. Benson is a pretty riverside village, with plenty of local amenities. (Max stay 1 wk)
I have refurbished my front bedroom as a smart modern guest room, in which I look forward to hosting my visitors. The room is comfortably fitted out with TV, though the big one in the sitting room is better, tea and coffee facilities and hanging space. There is wireless internet access as well.
A friend an i had a wonderful stay at Sue's. We had car problems and because of it we weren't able to arrive any earlier than 00:15. Sue stayed up for us and even put a light in front of her house to show us the way. After she offered us a good late night cup of tea we slept like a log in the comfortable beds. Those were so great! We wanted to see more of the countryside in the Chilterns and Sue got us some brochures which we used to travel around in our short 2 days. Great views and some excellent pubs nearby. We would highly recommend staying at Sue's place. The place is clean, quiet and with great beds. Sue herself is very nice and welcoming, and let us use the house as we pleased. Thank you Sue, for a great couple of days.
Bjorn
2016-08-02T00:00:00Z
Sue was at the door to meet and greet us, and took a lot of time to explain all the facilities and ensure we were comfortable. The property description was very accurate. We lacked for nothing.
Helen
2016-07-17T00:00:00Z
Sue welcomed us with much needed refreshments and a comfortable place to crash after 4 nights of camping at Reading Festival. Sue's hospitality couldn't have been more perfect.
Phil
2016-08-31T00:00:00Z
Sue made us very welcome in her lovely home, with a cup of tea as soon as we arrived. Although there were full tea and coffee making facilities and a TV in our warm, comfortable room, we were welcome to make drinks in the kitchen and sit in the main lounge. Our beds were bvery comfortable and there was plenty of hot water in the well appointed bathroom. The premises is situated in a quiet cul-de-sac in a small village which is close to main roads. Sue's local knoweldge is excellent and she is only to happy to help with advice and suggestions.
Andy
2017-01-05T00:00:00Z
Sue is a relaxed and friendly person who welcomed me warmly. She was spending the evening out with friends so I was encouraged to make myself at home. We 'hit it off' from the start and it was all very easy.
Jan
2016-08-05T00:00:00Z
Benson is perfectly situated for exploring many stunning little villages and areas of Oxfordshire - and suited us perfectly as we were visiting friends in the village. Sue was friendly and welcoming, and the comfortable room exactly as advertised. We will definitely be approaching Sue again when in need of accommodation in the area. Thank you!
Par
2016-11-21T00:00:00Z
Sue is really sweet and careful host. She picked up us from bus stop to bring us at her home and provided for breakfast every day. Unfortunately we haven't had no enough time to stay at home and enjoing her company. I definitely recommend Sue Guest Room!!
Michela
2016-10-27T00:00:00Z
The host canceled this reservation 45 days before arrival. This is an automated posting.
Margaret
2017-04-08T00:00:00Z
Jenis Bilik
Bilik persendirian
---
Jenis Penginapan
Banglo
---
Memuatkan
2
---
Bilik tidur
Benson, United Kingdom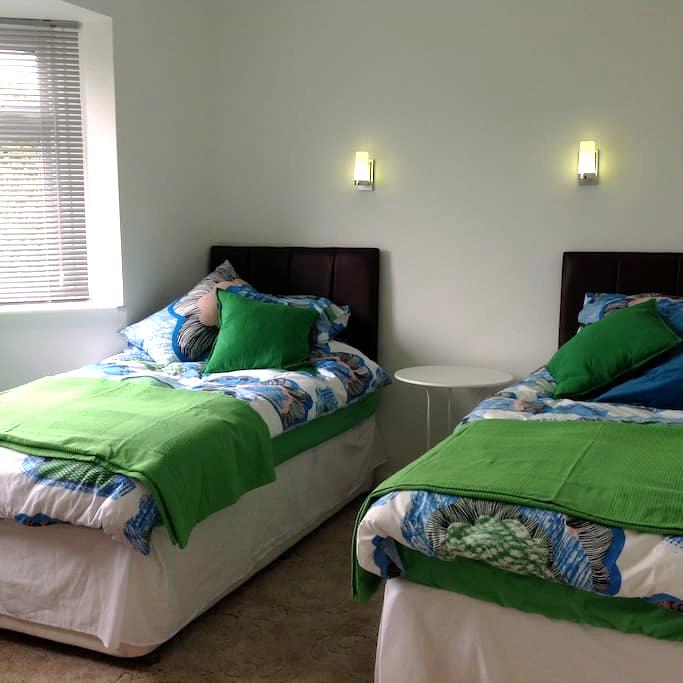 My place is close to public transport. You'll love my place because of the ambiance and the comfy bed. My place is good for couples, solo adventurers, and business travellers.
They were so kind and friendly and the house was lovely, the room was quiet nice and lovely. She treated me like her friend and sometimes she made me dinners , it was amazing. I could spend great time there because of them.
Ayako
2017-03-03T00:00:00Z
Beautiful house, attention to detail, fully equipped, and a spotless spacious double room. Julie has been a great and friendly host. Just the right place to go if you want to feel at home while away!
Lucila
2017-01-01T00:00:00Z
Jenis Bilik
Bilik persendirian
---
Jenis Penginapan
Inap sarapan
---
Memuatkan
2
---
Bilik tidur
Benson, England, United Kingdom
People who come to the cottage love it. It is rural but with access to OXFORD and other cities. The accommodation is spacious and the facilities good. We now have totally reliable Wi-Fi so everyone should be happy. The two single beds in the attic are air beds. People have found them comfortable.
Welcome to this spacious yet cosy cottage within the grounds of our family house. There's a large living room and kitchen area with a wood-burning stove which makes for a very comfortable atmosphere. You'll also enjoy a nice double bedroom as well as some loft space for children and teenagers. I now have two comfortable air beds. The loft is carpeted and it has basic furniture but is essentially a camping-style arrangement and would be unsuitable for toddlers. Having said that, young children have slept there recently with no problem. I can provide a travel cot for a baby if necessary. We have recently upgraded the wifi connection and it is now working perfectly. We live in a little village about 20 minutes' drive from Oxford. There is an hourly bus to Oxford from Stadhampton which is about a 20 minutes walk away. There are lots of walks and country pubs around, as well as some nice market towns like Wallingford and Abingdon. We're also very close to the Thames for river walks. If you have any questions or special arrangements, please get in touch and we'll be happy to help. The formal garden is off limits I am always at home at the beginning and end of a guest's stay and always contactable.
The cottage is within the grounds of our house but very private.
The cottage was the perfect place for a week away from the fray. It's in a quiet location, secluded from traffic -- yet still convenient to Oxford. Valerie is a very gracious host, offering plentiful advice on local walks and always quick to respond to any questions. The wood-burning stove was a bonus: It makes for a cosy addition to the cottage, which is as bright and light-filled as the photos suggest. I'd gladly stay again.
Nathan
2015-08-28T00:00:00Z
We were made to feel welcome at this lovely cottage, as soon as we arrived. The cottage is situated within the grounds of a lovely house & garden. My wife and I thoroughly enjoyed our week in Oxfordshire and looked forward to returning to this clean, well appointed cottage every day. I would recommend Cosy Garden Cottage to all.
Tony
2015-06-27T00:00:00Z
My friends and I were attending a course in Oxford and needed a place to stay at short notice. The cottage was absolutely wonderful! Close enough to Oxford for a short drive in and a beautiful place to relax at the end of a long day. Valerie was there to show us around when we arrived and kindly provided bagels, milk and marmalade for breakfast. We were sorry we couldn't stay for longer to enjoy the area and hope we will be able to return soon.
Dale
2014-05-15T00:00:00Z
We had a lovely time staying at Valerie's cottage during the easter bank holiday weekend. The place is just as described - cozy, well-equipped and clean. We enjoyed the wood burning stove and cooking in the kitchen. The shower was amazing and all beds were very comfortable. Highly recommended for a weekend away. Communication with Valerie was excellent and she was a lovely host.
Kaitlin
2016-03-28T00:00:00Z
We stayed in Valerie's cottage for our honeymoon and it was absolutely perfect! The property is exquisitely beautiful--it made me feel like an aristocrat. We especially enjoyed walking through the extensive gardens. The cottage itself was spacious, well stocked, comfortable, and very charming. We spent most of our time in Oxford (a 20 minute drive or so) and enjoyed relaxing in the cottage in the evenings.
Conor
2014-02-15T00:00:00Z
Stayed two nights, me and my girlfriend really enjoyed it. The cottage is really cosy and homely. Valerie was very forthcoming and let us stay even though it was on very short notice. She gave us a really friendly welcoming and I would definitely stay again.
Henric
2015-04-27T00:00:00Z
This place is amazing. So far on our trip we've stayed at 3 air bnb locations and this one has been our favorite by far. Valerie has been such a gracious hostess...we look forward to returning next week and will recommend this place to our family that may visit the area as well! Top notch all around!
Carrie
2016-10-08T00:00:00Z
Valerie是非常热情的房东,早在我们赴英国之前就开始了解我们抵达的时间。她挂在厅里的中国山水画让我们很有亲切感。房子很干净,也很有特点,尤其是客厅一圈很温馨。房后的大片花园让人羡慕不已。孩子对于睡在阁楼很兴奋。出租房和Valerie自己住的房子处在一个大院子里,有自动门和围墙,感觉很安全。
Jianping
2015-09-03T00:00:00Z
Jenis Bilik
Keseluruhan rumah/apt
---
Jenis Penginapan
Kabin
---
Memuatkan
4
---
Bilik tidur
Newington, Oxfordshire, United Kingdom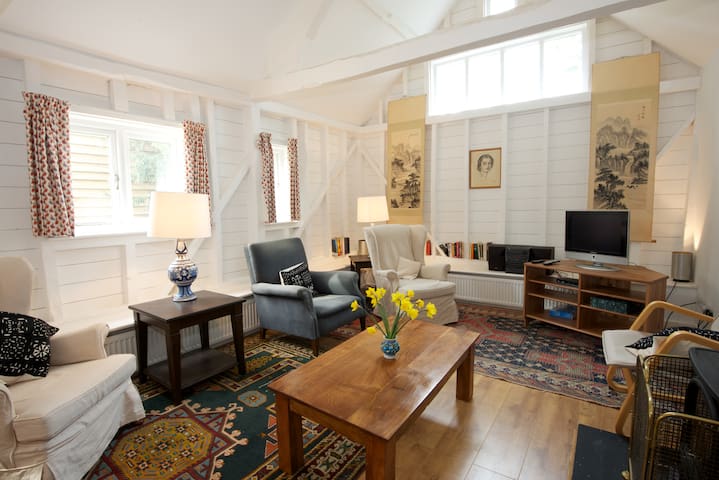 Delightful thatched cottage in traditional English Oxfordshire village. 10 mins from Oxford. Fully equipped kitchen, modern stylish shared bathroom with roll top bath and separate mains power shower. Mediterranean courtyard garden. Large cosy lounge and friendly chilled out dog. Light breakfast of tea/coffee and toast/cereal will be provided.
Beautiful traditional thatched cottage offering spacious cosy rural accommodation. Comfortable room with new double bed, sleeps 2 people.
We're in a very traditional Oxfordshire village, Dorchester on Thames. Midsummer Murders is filmed here! There's a lovely historic Abbey, gardens, museum and we're spoilt for choice with three great local pubs doing fabulous food and a locally owned coffee/farm shop over the road and Co-op virtually next door. We're in some beautiful countryside and there's some lovely dog walks and runs within 3 minutes walk. Oxford is also very accessible 10 mins by car.
The host canceled this reservation 21 days before arrival. This is an automated posting.
Chris
2016-06-18T00:00:00Z
Superb hosts! They were very accommodating and kind. The historic home is incredible and with modern appliances. The village is filled with beautiful homes and an abbey. Would definitely stay again!
Janelle
2016-08-31T00:00:00Z
We enjoyed our stay at Annie's place. They were easy to communicate with prior to our visit and kept in touch regarding check in. The room was comfortable and fairly cosy for 3 adults. They were on hand in the morning and left us to have our breakfast in the sunny courtyard garden.
Gillian
2016-08-15T00:00:00Z
A Bed & Breakfast MUST include breakfast. We were very surprised not to be offered anything other than tea or instant coffee. If the visitor has to go to the local shop to purchase his breakfast then this should be clearly stated in the property listing.
Charles
2016-07-12T00:00:00Z
Lovely hosts who did everything possible to make us feel welcome.
Nancy
2016-07-10T00:00:00Z
We felt very welcome the moment we stepped in the door. Annie and Ali were abroad when we arrived, but Annie's instructions were perfect, and when they came back half way through our stay, we felt very comfortable together. It was the perfect home from home.
Mary
2016-10-27T00:00:00Z
The host canceled this reservation 4 days before arrival. This is an automated posting.
PATRICIA
2016-05-24T00:00:00Z
I stayed with Annie and Ali for one night and my stay was wonderful, they have a beautiful house, a friendly dog and warm welcoming personalities. It was a pleasure to stay with them both and I throughly recommend their home to anyone wanting to stay in the area. Thankyou Annie & Ali. x
Rosheen
2016-04-28T00:00:00Z
Jenis Bilik
Bilik persendirian
---
Jenis Penginapan
Rumah
---
Memuatkan
2
---
Bilik tidur
Dorchester on Thames, United Kingdom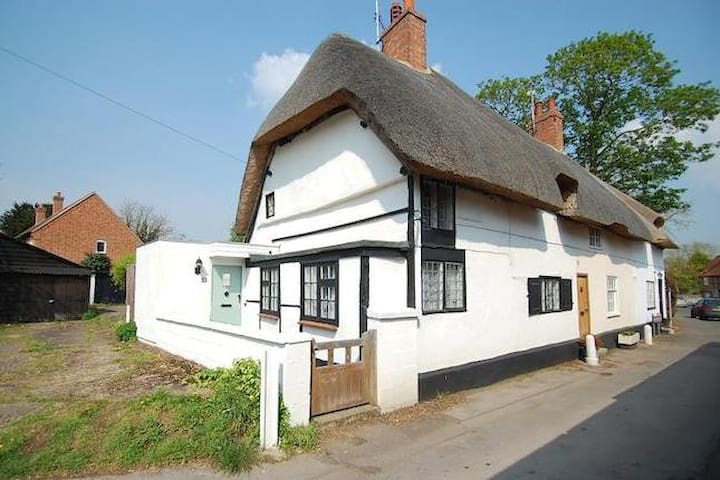 If you want to stay in a typical english village, in a 16th century cottage, our house is perfect. Situated on the quiet village green, yet 30 seconds stroll from the pub, church, cricket pitch, tennis court and village shop.
What a lovely stay we had! A beautiful, slightly eccentric 17th century cottage on the village green. Millie was very informative and the house was well appointed, with comfy beds, good showers, a lovely back garden overlooking the church and great, proper country pub just across the green...30 seconds on foot, maximum! And fresh eggs! Overall, very, very good; we will definitely be back.
Ellen
2016-07-12T00:00:00Z
Jenis Bilik
Keseluruhan rumah/apt
---
Jenis Penginapan
Rumah
---
Memuatkan
7
---
Bilik tidur
Warborough, Oxfordshire, United Kingdom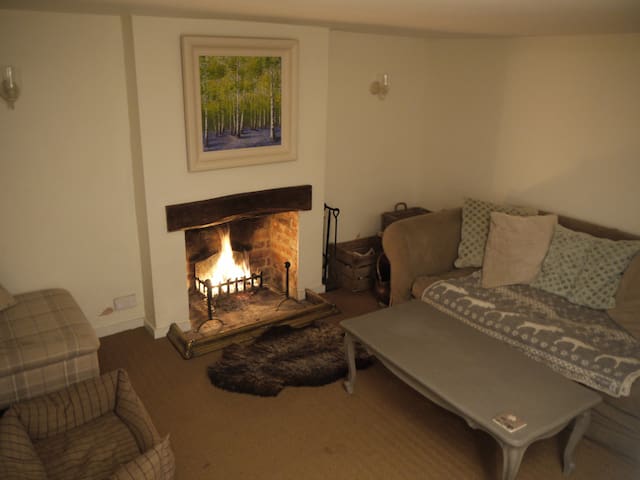 Our Hotel Boat 'Down the Hatch' is a fully crewed super sized wide beam river cruiser, with more space per guest than any other Hotel Boat on the River Thames. Join us for B&B, B&B Cruising Breaks or All Inclusive Cruising Breaks. You have a choice of bedroom, twin bedded or super king, both with en suite. Enjoy 5 star hospitality on a 'one to one' basis, this is the perfect way to fully appreciate Britain's greatest river. The entire boat benefits from central heating & 4G WiFi.
Jenis Bilik
Bilik persendirian
---
Jenis Penginapan
Bot
---
Memuatkan
2
---
Bilik tidur
Shillingford, England, United Kingdom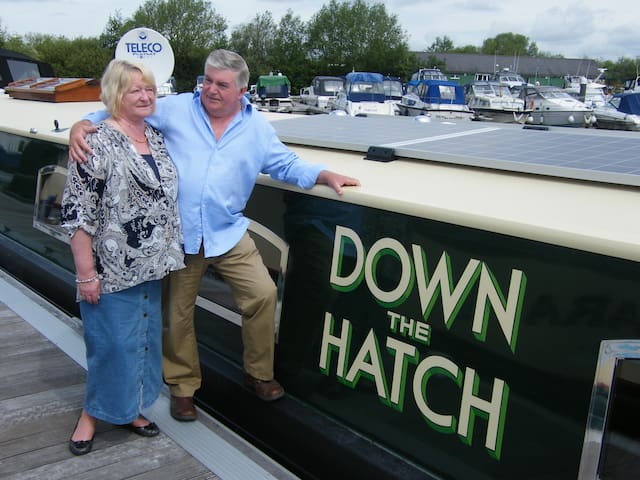 Our Shepherds Hut nestles into it's own space just next to the house, it has an ensuite shower etc, double bed and gorgeous west facing country views. Only a five minute walk from the centre of the village it is a haven of peace and tranquility.
The Shepherds hut is equipped with everything you need to make your stay great, There is a fully stocked hospitality tray with a range of teas, coffees and fresh milk, home made biscuits, fresh fruit and flowers. The shower has been praised as "the best this holiday" In the morning come over to the conservatory to enjoy a delicious breakfast, freshly squeezed orange juice, cereals, fresh fruit and yogurt. To follow, a choice of the full English breakfast, including our own hen's eggs cooked however you like them and toasted home made bread. The hut is really well insulated with sheep's wool keeping it warm in summer and cool in winter, however you are welcome to fire up the wood burning stove if you wanted it a bit warmer. There is no TV but free fast WiFi in the Shepherds hut and the conservatory.
Brightwell cum Sotwell is probably one of the most attractive villages in the area, the main road by passes the village so there is not a lot of traffic, it is a lovely place to wander around on a pleasant evening as there is such a range of lovely houses and gardens to admire. The traditional, thatched village pub is a great place to stop off, the food and beer are both great. The villagers are very friendly and there is a lot going on. Most weekends there is some event be it a village quiz, talent show, summer fete, and we have a live music festival once a year, Many of our guests have enjoyed one of these events and have loved feeling like a 'local'.
This is a really special place to stay! The shepherd's hut sits in a beautiful garden with breathtaking views of the surrounding countryside. The hut itself is luxurious: fitted with a lovely shower room and with pretty and practical furnishings. There is great attention to detail, with Sue really having thought of everything you could possibly wish for. My daughter announced she would like to live there, though whether this was due to Sue's warm and welcoming nature, the unique accommodation, or to the cookie jar provided, we will never know...
Jessica
2017-04-08T00:00:00Z
Unusual and lovely hut in beautiful surroundings. Breakfast was fantastic.
Colyn
2016-07-18T00:00:00Z
We had an absolutely wonderful time at the shepherds hut! It was the perfect place to spend our anniversary & Bob was so welcoming. The breakfast was so so delicious - such a treat! Thank you Bob & Sue!
Tom
2017-03-12T00:00:00Z
A peaceful beautiful & clean environment plus wonderful host.
lily
2017-03-21T00:00:00Z
Susan is very welcoming and attentive, but not intrusive.
Nick
2014-08-05T00:00:00Z
We stayed 1 night in the Shepherds hut and had a lovely relaxing visit. The hut is cosy but once inside its been designed to work perfectly and doesn't feel small. It's perfectly clean and tidy with everything you need. The shower worked very well. Sue has a beautiful garden that we felt welcome to relax in. We sat outside all evening and watched the amazing sunset. Breakfast was in the conservatory - it was all delicious. Thank you for our lovely stay.
Daisy
2014-07-22T00:00:00Z
100% perfect. Wonderful cosy Shepherds hut. Great pub down the lane. Fabulous generous full English breakfast with lots of home made jams and some amazing local sausages. Sue was the perfect host and a lovely woman.
clare
2015-11-24T00:00:00Z
I stayed in the Sheppards hut for 4 nights whilst working away with work. I choose it because it was something different and that it was. The hut itself is decorated beautifully and sits in it own private area looking view open views over fields. It was very peaceful and comfortable. Sue, is the perfect host and with my unusual working times was flexible and lovely. You will have no fears of coming and going here, you have your own entrance and will have a fantastic breakfast spread to look forward to each morning. I would definitely stay here again when back in the area and I would highly recommend you to do the same.
Ben
2015-08-22T00:00:00Z
Jenis Bilik
Bilik persendirian
---
Jenis Penginapan
Inap sarapan
---
Memuatkan
2
---
Bilik tidur
Brightwell cum Sotwell, Oxfordshire, United Kingdom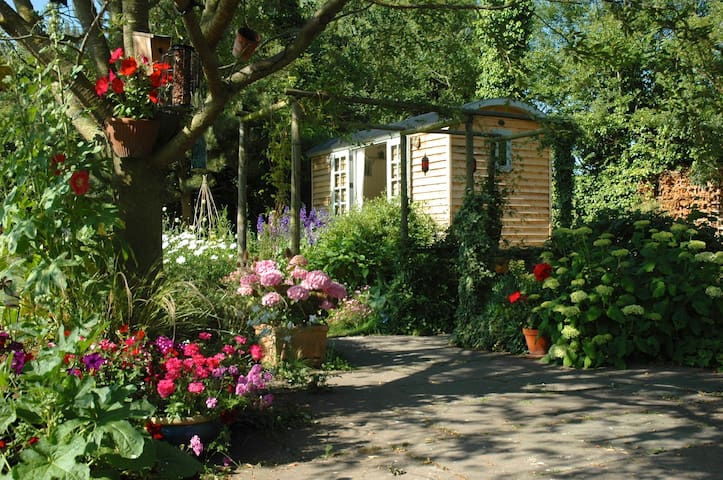 The site is on the Thames Path and close enough to the River to easily port canoes to the site. Beautiful countryside and riverside walks are immediately accessible. There are fine eating places within 25 min walking distance and numerous restaurants and dining places in Wallingford, a 5 min drive away. Oxford is only 30 minutes away by bus or car. The tent is pitched in a secluded glade surrounded by trees and shrubs and is good for couples and singles. A small family could fit in.
We arrived at the Bell Tent and were struck by how secluded and peaceful the plot was. There is long, wild grass surrounding it, and there's a nice round clearing which is perfect for picnics and general relaxing around the tent. It was clean and dry inside and the bed was very comfy - true glamping! Our 4-year-old boy slept better in the little inflatable toddler bed than he sleeps at home. The camping kitchen was a nice touch: a proper standing-up sink and double gas hob - far better than the usual camping experience. It was great for teas and coffees (tip: we brought a stove-top espresso maker which worked really well), as well as for proper meals (on the second night my wife cooked a proper curry from scratch). At night the site was tranquil and quiet. You can hear the sound of the occasional car passing along the nearby road but other than that it's largely just birdsong and the wind in the trees! There are loos and a gas-powered shower on the site, and you can pop over to the house if you need anything - Phil and Rosie are always warm and welcoming. We have a lovely time and would love to stay again some time!
Drew
2016-08-27T00:00:00Z
Jenis Bilik
Keseluruhan rumah/apt
---
Jenis Penginapan
Khemah
---
Memuatkan
2
---
Bilik tidur
Shillingford, England, United Kingdom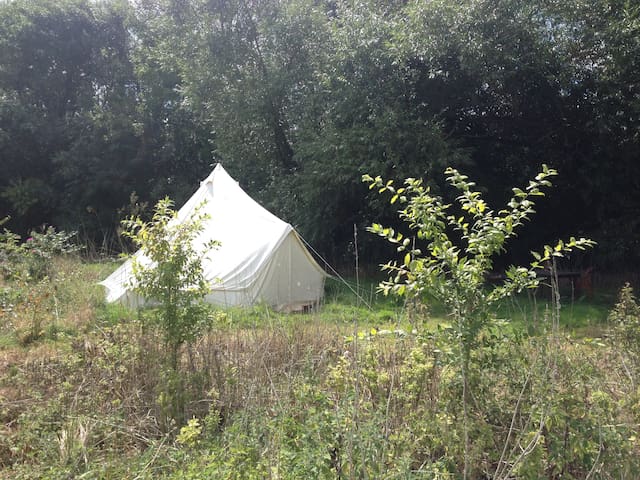 Our place is a 10 minute walk away from the Thames path and the stunning river. We have views of fields and are close to stunning countryside. We are a 20 minute car journey to Henley-on-Thames which hosts a very popular annual regatta. We are a 10 minute walk from the centre of Wallingford where there are great restaurants, pubs and bars. There's a supermarket 10 minutes walk away. There's an outdoor pool by the river perfect for children. We are close to Oxford and Reading.
Our home is a peaceful and relaxed bohemian place to stay. We have recently renovated almost the whole house (the bathroom is still quite dated but fully functional with shower and bath). We have a spacious and rustic living room with lots of personal touches such as artwork and vintage treasures. We have a spacious dining room-come-kitchen with a washing machine. We also have a sunroom which leads to the garden. Our garden is beautiful with a pond and many mature trees and plants. It spans 3 sides of the house as we are on a corner plot. We have comfortable outdoor seating to catch the last of the day's sunshine. We also have a patio suitable for relaxing on.
Wallingford is a buzzy old English market-town beside the beautiful river Thames. Our favourite restaurant is Avanti which serves delicious Italian food. A great bar is the Keep but it is small. There are a number of pubs but the perfect one for a cold drink by the River is The Boathouse which sits beside the bridge in town. We are surrounded by beautiful countryside for great walks.
Jenis Bilik
Keseluruhan rumah/apt
---
Jenis Penginapan
Rumah
---
Memuatkan
4
---
Bilik tidur
Wallingford, England, United Kingdom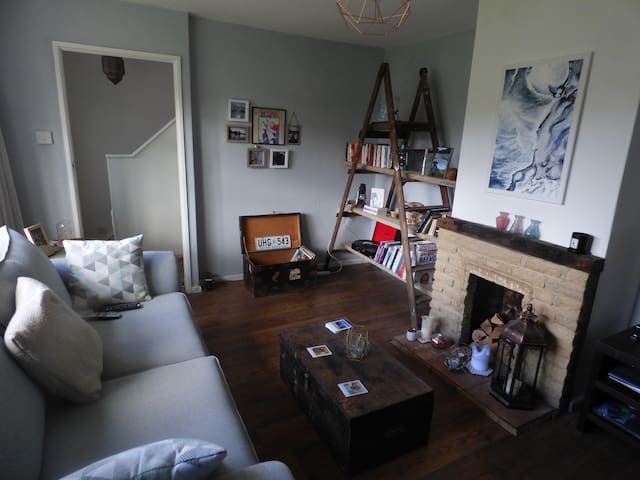 Lovely newly refurbished double room with en suite in historic cottage, set in four acre orchard, with walks in surrounding area of outstanding natural beauty; we are a 5 minute walk from the Earth Trust and 20 minutes from Oxford by car; London 45 minutes by train from Didcot (4 miles). Pubs with good food in nearby villages. Access to Thames moorings 400 metres. Kettle for tea / coffee making in room; if required, use of small kitchen with oven, microwave, fridge, toaster, washing machine etc)
Clive's home is a beautiful cottage set in stunning and quiet countryside teeming with wildlife. Clive was accommodating of our arrival time and gave us a warm welcome - ensuring we knew where everything was despite the fact he was hosting guests at the same time. We are sorry we had to leave early in the morning without saying goodbye!
Joe
2016-07-17T00:00:00Z
A lovely comfortable room in a gorgeous setting, with really amazing friendly and helpful hosts. I was made to feel so welcome and nothing was too much trouble. Highly recommended! Ideally located for the Earth Trust Centre if anyone is looking for accommodation close by, within walking distance. All just perfect, many thanks!
jan
2016-07-02T00:00:00Z
Clive was a great host, he managed to accommodate my times. The house is lovely, room very clean and tidy; this will be my place to stay on my work trips.
Victor
2016-11-25T00:00:00Z
Jenis Bilik
Bilik persendirian
---
Jenis Penginapan
Inap sarapan
---
Memuatkan
2
---
Bilik tidur
Little Wittenham, United Kingdom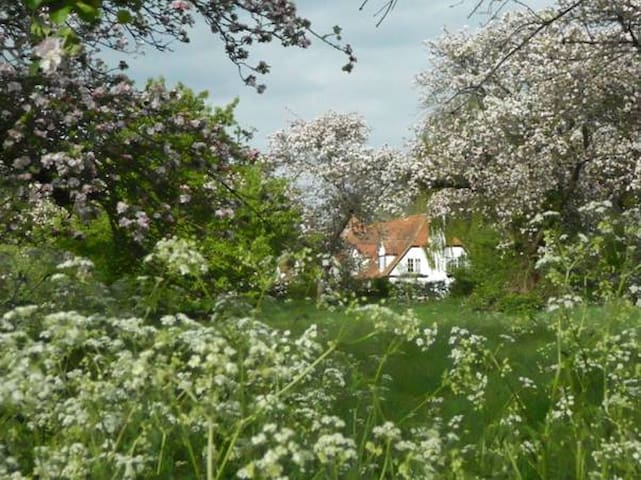 Marsh House is a large family home set in a private road providing ample parking in a peaceful, rural setting. We strive to keep Marsh House as a family home rather than a larger more impersonal guest house.
All bedrooms have ensuite bathrooms, a tea tray and wifi is available free in all the rooms. We have installed a water-softener to erase the local hard water! All bedrooms have garden views, which is particularly important as we are surrounded by a beautiful verdant garden giving a feeling of peace and tranquility. Breakfast is served by a patio door overlooking the garden and swimming pool. Breakfast consists of a full English breakfast, or an alternative continental breakfast of cereals and toast, fruits and yoghurt. We always serve freshly made cafetiere coffee and we have recently purchased an expresso machine to offer seriously delicious coffee. We also have a substantial choice of teas including fruit and herbal teas.
Marsh House backs onto the 'Thames Path' making it a perfect location for walkers. We are also approximately 300 metres from the River Thames. The Shillingford Bridge Hotel is situated just across the Shillingford Bridge, offering swimming in its outdoor pool and squash. There is the opportunity to hire a boat from Benson Marina which is less than 10 minutes away from the house. The Springs Hotel offers an 18-hole golf course to any player and as we are all golfers we can advise you as to when the best time to book a tee would be! There are local tennis courts which can be booked for the hour. Fishing is available on the River Thames with a local fishing licence. Many railway enthusiasts come to the Cholsey Railway line which holds various events during the year. Our local attractions include Dorchester-on-Thames, the site of an early medieval monastery of where the magnificent Abbey remains. Wallingford, is a small market town on the banks of the River Thames which boasts 'The Wallingford Story' in its museum which is housed in a medieval house in the High Street. Henley, home to the famous annual 'Henley Regatta' can be reached by car or the local bus and is definitely worth a visit. Oxford is obviously the main attraction as it is easily accessible by car or bus.
Jenis Bilik
Bilik persendirian
---
Jenis Penginapan
Inap sarapan
---
Memuatkan
1
---
Bilik tidur
Shillingford, United Kingdom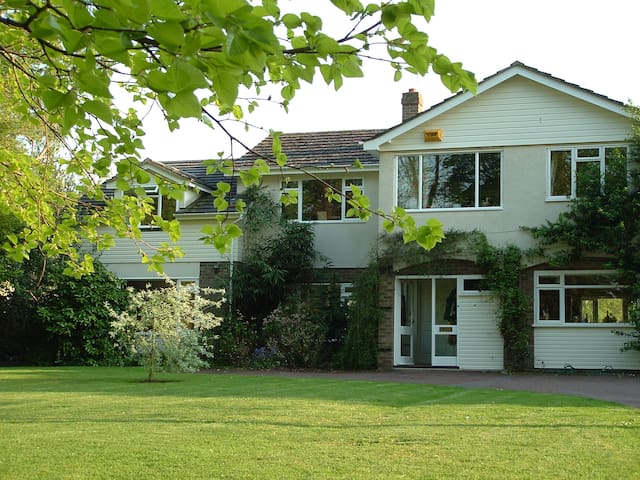 Our lovely house in Wallingford is close to the market place, restaurants and coffee houses, cinema/theatre and is a short walk to meadows & the river. The large double bedroom has its own bathroom (bath and shower) and breakfast room. Car parking. Buses to Oxford, Henley & Reading.
Large bedroom (5 ft double bed/ 152cm) overlooking garden. Own bathroom. An additional or alternative bedroom is available on request (4 ft 6 inch double bed / 137cm). Breakfast room.
Just opposite the house is a footpath (Castle Lane). It is a 5 minute walk down to the river, the Thames Path National Trail and the 41 acres of Wallingford Castle meadows and ramparts, where red kites soar and circle. The town centre is also only 5 minutes walk away with its shops, restaurants, coffee houses, tourist information office, local cinema/ theatre, and museum. Riverside swimming pool in summer months. The Streatley to Watlington section of the Ridgeway National Trail passes within a few miles of Wallingford.
Our host, Guy in this case, made us very welcome, we had already received a welcoming text from our hosots. The property was very comfortable and it was lovely having a separate breakfast/kitchen to sit in at our leisure. Internet access was also very good on our floor and allowed us to deal with necessary business while in the UK. We used to live in the area, but it was lovely being within a two minute walk of the town centre, but not in the least bit noisy.
Penny and Mike
2016-04-01T00:00:00Z
Gude is a very welcoming host. Very beautiful home and a very comfortable stay. Very quiet location and perfect location to walk into the pretty town of Wallingford.
Angie
2016-06-06T00:00:00Z
This house was one of the truly memorable stays in air bnb. Wallingford is a lovely village, and to have the entire third floor - comprising an enormous bedroom, bathroom and kitchen / diner - is amazing. The host Gude was away, but her husband Guy was an amiable, interesting and highly entertaining replacement host. I can only give the highest recommendation possible.
Tony
2016-10-07T00:00:00Z
Superb! The accommodation at the top of this charming house is comfortable, spacious and immaculate. We couldn't have asked for more. Beautiful Wallingford is a three minute walk away with its independent small shops, restaurants and the River Thames. A great base from which to explore Oxfordshire and the Thames valley. Thanks Güde and Guy, we thoroughly recommend you.
Rich
2016-05-10T00:00:00Z
The room was brilliant, lots of space with a breakfast room on the same floor. Gude and her husband were extremely helpful and arranged a booking for an evening meal at a local village pub which had excellent food.
Sue
2016-07-31T00:00:00Z
Non intrusive perfect hosting.
Jenny
2016-01-01T00:00:00Z
My first Airbnb stay and I have to say it was excellent. Good communication, beautiful guest room and bathroom. Cant fault it.
Alex
2016-06-20T00:00:00Z
Gude and Guy made me feel most welcome in their lovely home in Wallingford. The room was spacious and quiet and it was handy that there was an additional room with microwave and fridge. I'd would recommend staying here. Whilst sleepy, Wallingford is nice town with plenty of local amenities.
Nicholas and Heather
2015-07-18T00:00:00Z
Jenis Bilik
Bilik persendirian
---
Jenis Penginapan
Rumah
---
Memuatkan
2
---
Bilik tidur
Wallingford, United Kingdom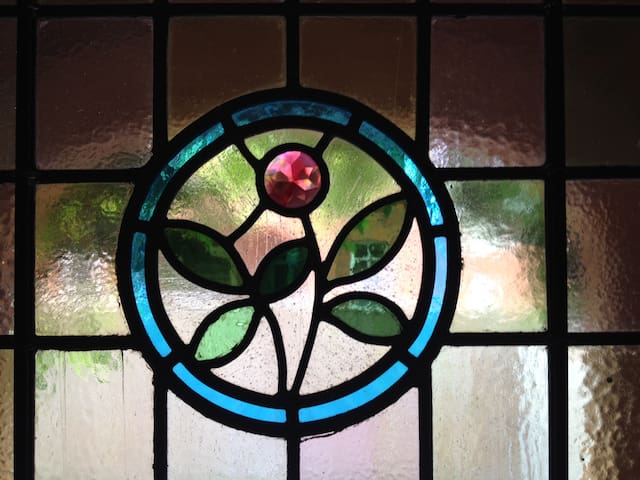 The Cloisters offers unique self-catering accommodation at a reasonable price. A natural mixture of wood, stone and light walls blend to create a stunning space. Perfect situation for Oxford, Heathrow , walking in the hills and by the river.
The Cloisters has all the space and light of modern living with all the character of a period home. The downstairs is open plan with the south west wall completely glazed with carved oak mullions supporting the windows. These overlook a private walled garden. There is a study area ideal for the business person with free connection to wifi. The beautiful kitchen has every amenity for modern living and it's crowning glory is the blue pearl granite work surface. The spiral staircase made from one of our own trees makes a stunning centre piece to the area. The sitting area is partly enclosed by a flint and brick wall and the large leather corner suite offers a comfortable and cosy area to relax in front of the 52" around sound TV system. The solid white oak floors accentuate the modern light feel of the area. There are 2 double bedrooms on the first floor designed to accommodate up to 4 people. One bedroom can be locked off so the price can be reduced for 1 or 2 people. The price includes 1 bathroom but a second bathroom is available on request. The Cloisters is not suitable for children under 8 years.
Benson is a vibrant village with plenty of local shops. Our grounds border the next village of Ewelme which many of you will have seen in' Mid Somer murders' or the film of 'Les Miserables'. There is excellent walking from the door. Turn left out of the gate and you come to the river and right you walk through Ewelme to the Chilterns. It is also a perfect spot for visiting at least half a dozen National Trust houses. The highlight of course is being so close to Oxford. 15 minutes takes you to the Park and Ride . We are spoilt for choice for eating!
Spacious but cosy with some quirky elements built in to this delightful property.... Just perfect for our stay over Xmas.
Valerie
2015-12-31T00:00:00Z
We had a perfect stay in Benson at Christine's place. Our self-contained unit with two bedrooms was perfect. It was beautiful, clean, bright & modern in a serene setting. We thank you for your hospitality and charm. Next time we will stay longer.
Jil
2015-07-04T00:00:00Z
Throughout our stay in the Cloisters Christine has been an endlessly helpful and friendly hostess. The Cloisters is a charming, warm and comfortable conversion in a lovely setting within easy reach of attractive open country. We would thoroughly recommend the Cloisters to anyone for whom character and charm are a priority.
Simon
2015-12-12T00:00:00Z
The Cloisters is a lovely retreat that is sympathetic to its environment. Christine welcomed us warmly and took time to show us around the property which was of a very high standard with lots of added extras thoughtfully included. We thoroughly enjoyed our time in Oxfordshire and will highly recommend The Cloisters to friends and family. Thank you Christine. :(URL HIDDEN)
Gina
2015-09-13T00:00:00Z
Fyfield manor is a stunning house with a wonderful mix of wild and tended gardens. The Cloisters behind the main house has been skillfully renovated to make a lovely retreat from the hustle and bustle. Christine made us feel welcome and gave us a comprehensive tour of the cloisters. She also gave us tips on where to eat out locally and helped us out with info on the buses. The offer of home grown lettuce and rhubarb was simply too good to refuse. Christine also kindly offered to get us a starter pack of shopping for when we arrived. Christine was on hand throughout our stay if we needed help with directions or anything else. The house was positioned so that we had our own little garden and privacy and could come and go as we pleased. As we were on foot and public transport we were a little worried about the distance from shops but were pleasantly surprised. A footpath leads past fields and a stream to Benson and through the Water cress beds to the beautiful village of Ewlme.
Beth
2015-05-19T00:00:00Z
Jenis Bilik
Keseluruhan rumah/apt
---
Jenis Penginapan
Rumah
---
Memuatkan
4
---
Bilik tidur
Oxfordshire, United Kingdom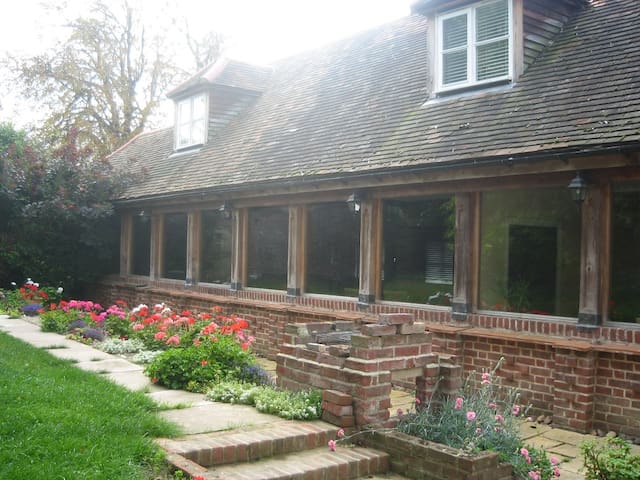 New studio apartment in Wallingford town centre, completely self-contained. Double bed, new shower room en-suite and fully fitted and equipped kitchen. Easy access with every town amenity within walking distance. 2 night minimum stay.
This flat was newly converted in April 2016 and all the furniture and fittings new at that point. It is located in the High Street and is on the ground floor, warm, cosy, clean and comfortable.
Wallingford is a beautiful market town with many individual and interesting shops, cafes and restaurants. It is situated in South Oxfordshire and is almost equidistant from the City of Oxford (12.5 miles to the North) and the City of Reading (13.5 miles to the South). Buses run every half hour to these two cities and there are bus and rail links to London and to Heathrow Airport from Oxford and from Reading. The nearest railway stations are at Cholsey and at Didcot. Beautiful walks along the Thames are just 5 minutes away over the bridge and a proper market every Friday on the town square just around the corner. See (URL HIDDEN) and (URL HIDDEN) for further information on this lovely area.
Fantastic stay and lovely little touches to make your stay easier.. Milk bread cereal etc and really quick wifi! Would definitely stay again, thank you
Tom
2016-08-22T00:00:00Z
Excellent location with supermarket just at door step, and surrounded by great restaurants and little boutique shops. Apartment is very new, clean and fully equipped with whatever you need in a house.
Brian
2016-11-03T00:00:00Z
This is a really nice studio flat in a great location for what we wanted. We took our own tea. coffee and food for breakfast but what a nice touch that this was all (URL HIDDEN) it was scrambled eggs on toast for breakfast. The flat is very well equipped and immaculately clean. Peter the host was really friendly and we look forward to returning again.
paul
2016-06-12T00:00:00Z
This is an excellent place to stay in Wallingford for one or two people. It's modern, central, has parking (anyone who knows Wallingford will know how important that is!) and quiet, as well as being about a one minute walk from Waitrose!
John
2016-12-20T00:00:00Z
As the other reviewers have said, it's a lovely place, exactly as described by Peter, very well situated and cosy and quiet. Wallingford was a nice surprise, with plenty of choice for food. It was a great stop off for me while going from Henley to Oxford along the Thames Path. Peter's communication was great and I would look forward to staying there again.
Iain
2017-03-19T00:00:00Z
I thought the apartment was wonderfully situated right in the heart of Wallingford, yet tucked away from traffic noise, with good quality accommodation. It suited a couple like us visiting family close by for Christmas. You could self cater quite adequately with Waitrose and a range of good shops nearby, and a well equipped kitchen diner. This was also within walking distance of bars and restaurants, and of course the River Thames.
Sophie
2016-12-26T00:00:00Z
Fantastic, lovely flat and a very smooth relax stay. Nothing more could be asked for.
Ieuan
2016-10-07T00:00:00Z
Clean, comfortable and well equipped.
Tony
2016-06-23T00:00:00Z
Jenis Bilik
Keseluruhan rumah/apt
---
Jenis Penginapan
Apartmen
---
Memuatkan
2
---
Bilik tidur
Wallingford, United Kingdom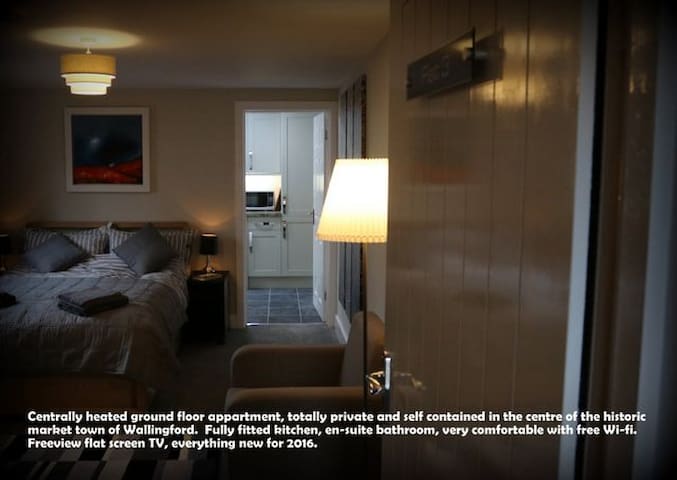 This charming and quiet home has its own private entrance and parking. It benefits from its own kitchen and bathroom! With views over the rolling hills of Oxfordshire. Come and go as you pleased and enjoy our freshly laid eggs and breakfast items :).
Jenis Bilik
Keseluruhan rumah/apt
---
Jenis Penginapan
Rumah
---
Memuatkan
2
---
Bilik tidur
Benson, England, United Kingdom
1

–

18

daripada

85 Sewaan
Masukkan tarikh untuk melihat harga penuh. Yuran tambahan dikenakan. Cukai mungkin akan ditambah.