Masukkan tarikh untuk melihat harga penuh. Yuran tambahan dikenakan. Cukai mungkin akan ditambah.
We came a little late (08pm) in the evening, but Sylvie was very welcoming. She drove us to the best place to have dinner, even though she had grandchildren to watch over. The place is so near to the belgian border, that we went to Belgium to eat! The room is beautiful and large,and the bed was absolutely fantastic - slept like a princess. The toilet and bathroom are separated and decorated beutifully. The next morning Sylvie had prepaired a wonderful breakfast in downstairs in our private diningroom - The bread - uhm! We had
Susanne
July 2016
Merveilleux accueil de nos hôtes autour d'une bonne bière belge. Rien de tel après une étape de 90km à vélo :-) Que dire de la chambre dans ce cas... Encore plus belle que sur la photo et un lit confortable à souhait. Sylvie et Mario ont été disponibles à tous moments et nous ont même proposé un lift jusqu'à la gare le matin lorsque nous voulions démarrer sous la pluie. Bref, à recommander tant pour le logement que pour les hôtes.
Jérôme
July 2014
Super, spacieux et propre, comme à la maison quoi (enfin j'espère pour vous...). Merci M. PAGANI pour votre accueil, une adresse à gardée sans aucun doute. Au plaisir, Stéphane G.
Stéphane
July 2016
Very accommodating, we arrived late and Sylvie stayed up to greet us with refreshments. Lovely room and we didn't realise the room included our own living space and kitchen complete with open fire. Super Mario very kindly lit the fire each evening. Just splendid location, moorish if you will.
Alasdair
November 2014
zeer gastvrije ontvangst, mooie lokatie en ruime mooie kamer met ruime living gedeeld met een tweede kamer
Pieter
September 2016
Sylvie & Mario went out of their way to assist us with local attractions, restaurants and lent us their GPS so we could find them easily:) We were only at their lovely farm house for 3 nights but enjoyed the firm bed with very quiet environment and the great breakfast of homemade jams and piping hot coffee or tea. I would recommend thei(URL HIDDEN)anyone wanting to be in the area of Dunkirk /Flanders to visit historic war sites or just enjoy the warm atmosphere of the area. Alan & Martha Capyk, Ottawa, Canada
Alan
August 2015
Perfect location near enough to Belgium and still in France. Just 100% perfect hosts, fantastic room, amazingly comfortable bed, shower so good and to polish it off a great breakfast to set you up for the morning. Highly recommend to all travellers.
Beverley
November 2016
Séjour parfait, accueil très chaleureux et sympathique, maison adorable, rénovée avec beaucoup de goût, au calme, tout est fait pour qu'on s'y sente bien. Sylvie et son mari ont également été très disponibles pour nous informer sur les activités du coin.
Sonia
August 2016
Jenis bilik
Bilik persendirian
---
Jenis Penginapan
Rumah
---
Memuatkan
3
---
Bilik tidur
1
Steenvoorde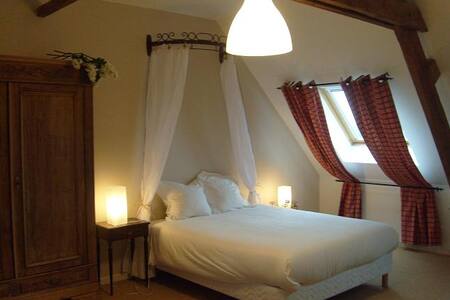 Wir wurden im Quartier von Sylvie und Mario charmant und liebevoll empfangen und haben uns dort sehr wohl gefühlt. Das Haus und die Umgebung ist, anders als unsere bisherigen airbnb-Quartiere, in Wirklichkeit noch deutlich schöner als auf den Fotos. Später Empfang um 22.30 Uhr und frühes Frühstück um 7 Uhr waren kein Problem. Das Frühstück mit selbstgemachter Marmelade war köstlich. Diese Gastgeber sind wirklich zu empfehlen. Bis zum nächsten Mal!
Lars
August 2015
Delightful stay - warmest of welcomes, and a real pleasure. We'll be back!
Mark
June 2016
Dificil encontrar el lugar, aunque las indicaciones para llegar estan bien, en el camino y en las calles no estan muy visibles, y no es facil encontrar el camino, ademas las indicaciones venian sin numero de (URL HIDDEN) se puede preguntar en todas las casas que se encuentran averiguar si es ahi donde hay que ir.
Armando
April 2016
Chambre spacieuse et cosy au sein de cette ferme flamande. L accueil de sylvie et Mario a été très agreable. Nous avons été enchantés de notre sejour. Merci à tous les deux!
Aurélie & Karim
March 2015
We had a fantastic stay with Sylvie and Mario. The room was lovely, the house was beautiful but the best thing about our stay was the hospitality of our wonderful hosts.
Colin
August 2015
Zeer vriendelijk en warm onthaal door Mario en Sylvie - Prachtige en propere kamer met badkamer en aparte WC - Eenvoudig maar lekker ontbijt - Zeer rustige omgeving, ideaal voor mensen die van stilte en rust houden
Annelies
July 2016
Mario est un hôte très sympathique et très serviable. Sa maison est charmante décorée avec goût et simplicité, la chambre est spacieuse, extrêmement confortable et la literie est formidable. Le prix comprend un petit déjeuner qui nous convient parfaitement avec d'excellentes confitures faites maison. Nous avons apprécié cet endroit calme et nous y reviendrons.
Alain
August 2015
Goede en verzorgde kamer. Zeer ruim en alle voorzieningen aanwezig. Groot pluspunt is de eigen keuken, eetkamer en salon (delen met andere kamer)en het aangeboden ontbijt. Een aanrader als uitvalsbasis in Noord Frankrijk en de het Belgische grensgebied (Watou, Heuvelland, Dranouter)
Steven
July 2016
Jenis bilik
Bilik persendirian
---
Jenis Penginapan
Rumah
---
Memuatkan
3
---
Bilik tidur
1
Steenvoorde